From creating a proposal or quote, until it is signed, there are a lot of steps and workflow hurdles that take a ton of time. The good news is, our April release will help make your document process more smooth and efficient. Here's how:
Create new editable documents and templates from your existing .docx files using our one-click conversion Import to Editor feature.
Analyze your sales performance and identify possible workflow gaps with advanced Reporting capabilities.
Change document status manually for expired documents and drafts.
Easily convert your existing docs into editable PandaDoc documents
When working on proposals and other sales documents, occasionally you'll face numerous rounds of negotiations, comments, and edits. For these instances, the PandaDoc editor is best to create editable documents and templates.
But, when creating a new piece of content from scratch, it might take a bit longer. Therefore we developed the Import to Editor feature to help save a ton of time. Now, automatically convert your existing documents into PandaDoc editable documents and templates. Use your existing Microsoft Word .docx files to import in the "New document" or the "New template" flow.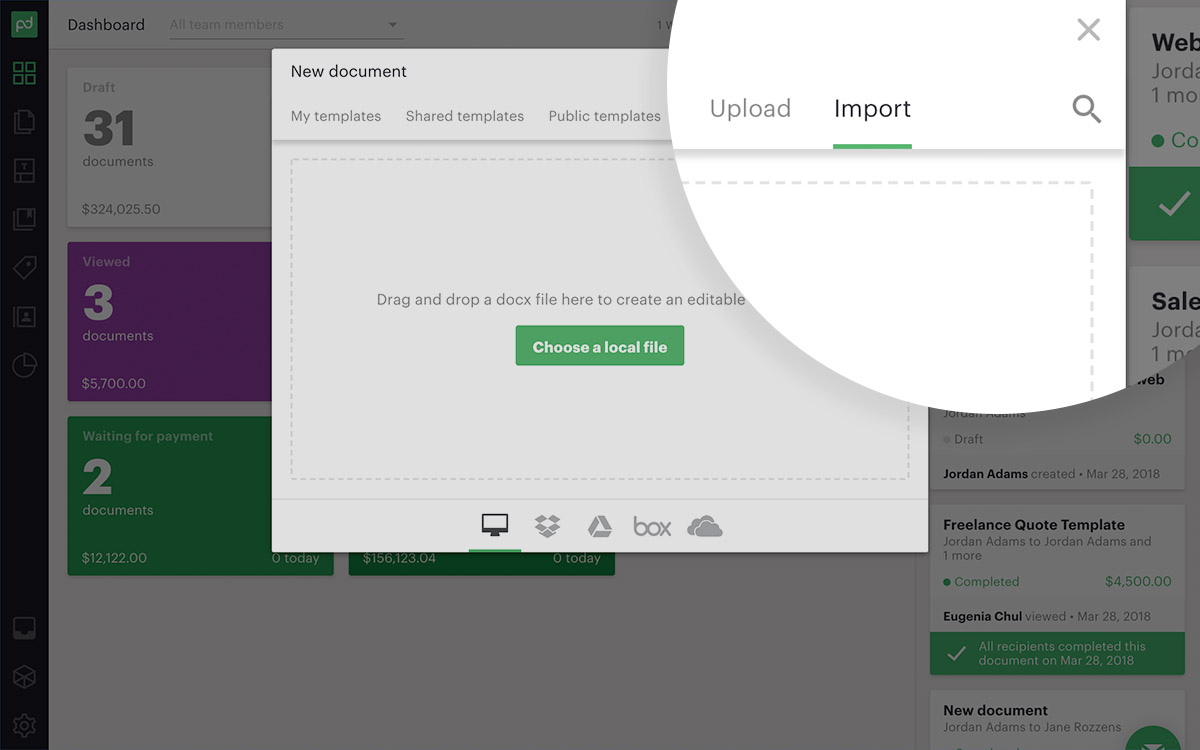 Once imported, your .docx file will convert into our native editor and PandaDoc will match the original format as closely as possible. Keep in mind; this is an automated conversion so you'll want to check your content for accuracy and make adjustments as needed. The Import to Editor feature takes care of the heavy lifting for you!
Import to Editor is available for all plans. Simply enable it under the Productivity category in the Add-On Store.
Track sales KPIs and performance with advanced Reporting
Our new robust Reporting module allows you to track individual and team performance metrics and content usage statistics.
The Activity Reporting page features performance metrics including time-to-close, document conversion rate, document funnel stages, and each team member's performance for any designated period.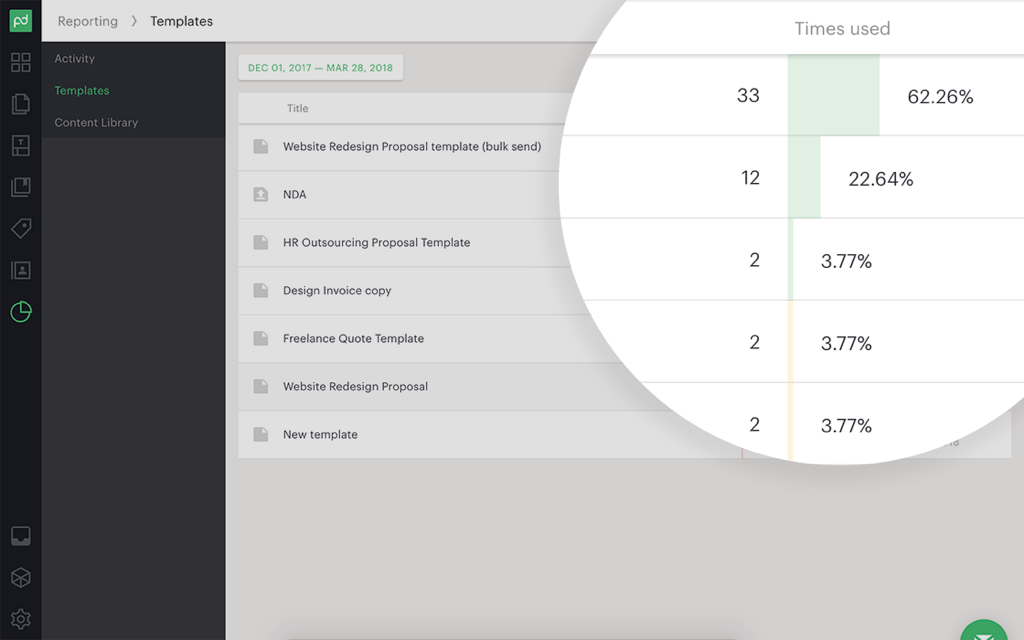 The Content Usage Reporting displays how often specific templates or content library items are used. Keep your library up-to-date by eliminating unused content or reference your top-performing content items to guide future strategies.
You can enable advanced Reporting in the Add-On Store. Advanced Reporting is available for Enterprise plan users only.
See also: Analyze and improve your sales performance with the new Reporting
Keep your document stages up-to-date with Manual Status Change for drafts and expired documents
Was your document completed outside of Pandadoc but is still showing as "Viewed" on your dashboard? "Waiting for Payment" but already paid? Do you need to mark the document as expired and revoke access immediately?
With the Manual Status Change feature, you can cover almost all the possible workflows for documents signed offline or paid outside the PandaDoc application. This feature helps keep your records up-to-date and push the documents to the next stage of the buyer's journey by changing their statuses manually (e.g., issuing an invoice, sending a contract).
With the new update to this feature, you can now change the status of the documents for drafts and expired documents too. These documents can be moved to "paid" or "completed" stages.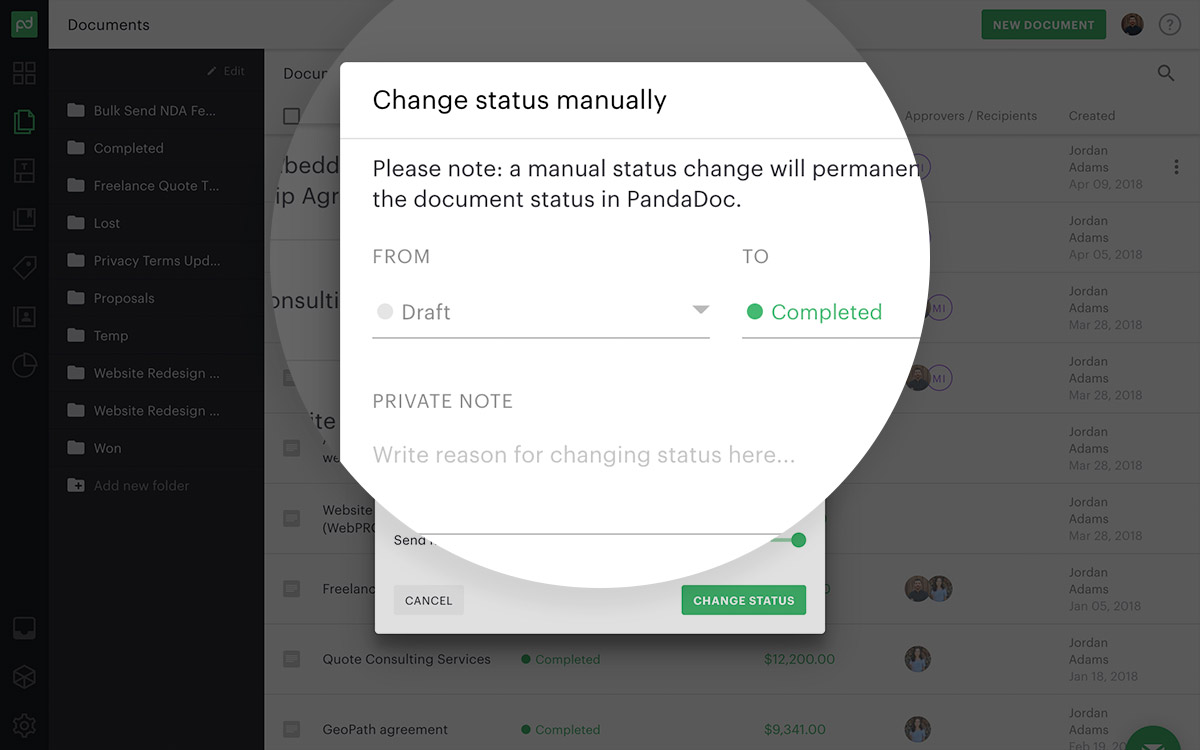 If you haven't enabled Manual Status Change yet, you can find it under the Workflow category of the Add-On Store. It's available for all PandaDoc Plans!
When you're ready, try all of these features by logging into your PandaDoc account or starting a free 14-day trial.