So, you're in revenue operations and you want to improve the speed to lead performance? Well, lucky you!
Because at PandaDoc our revenue operations team is all too familiar with the challenges that arise when a business tries to expand at a crazy-fast rate. This precarious phase of startup life typically includes a myriad of metrics and problems that need solving.
So, here's your chance to dive into a few of the optimization tests our revenue operations team ran to try and fix our own issues. At the very least, we hope our case study of experiments inspire you and your team to shake things up with smart solutions in your sales, marketing, and customer success operations.
To hear more experiments of how we improved our Speed Lead Performance in Revenue Operations from the RevOps leaders at PandaDoc + Chili Piper, catch the recording of our webinar above.
Speed to Lead Experiment #1: Decrease the time it takes for a salesperson to respond to a lead request
For PandaDoc to scale at the rate we're planning for this year, we realized about a year ago that our conversion rates needed to improve. So, we asked ourselves: what's the health of our "speed to lead" today and how can we improve that workflow?
This was important to us because ultimately we wanted to achieve two outcomes.
Create a high-quality customer experience.
Improve overall conversion rate metrics throughout the rest of our funnel.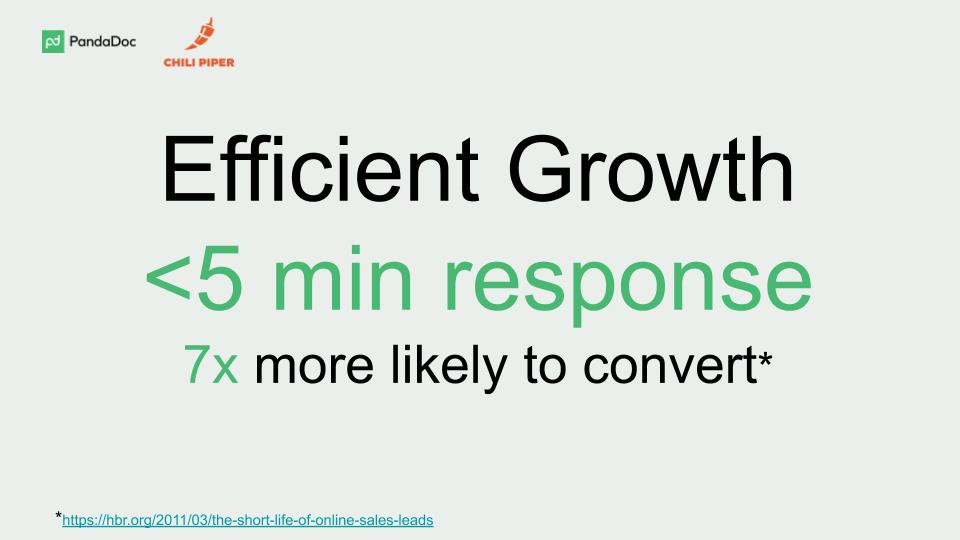 There are a few studies out there that argue that if you don't respond to a lead within 5 minutes or less you risk losing them forever. So we decided to take a look at our own sales data to see if this was the case for improving our speed to lead performance in revenue operations.
This diagram might make some of you cringe. We certainly did when we uncovered the truth about our own speed to lead rates. We looked at our inquiry stage for when someone is filling out a form and then transitions to our marketing suspect lead (MSL) stage. We were averaging about 30 minutes of time. Which is rough.
And then from our MSL to our MQL stage, it was even worse. We were seeing that it took an average of three hours for the sales rep to accept the lead and pull them into a Salesloft cadence. Sometimes it was much worse. Sometimes it was much better. This all depended on the time of day and where the leads were coming from. But overall it was still not within the 5-minute benchmark.
As an Ops team, we took it upon ourselves to review our systems and see what the flow was within our technology. We wanted to cut down on the time it took for some of our API calls between tools (HubSpot + Salesforce).
We found that over time, as our business scaled, our systems became more complex over the years. Our processes got a little out-of-hand. They were all doing important things such as data quality checks, lead scoring, and data enrichment. But they were all conflicting with each other and we had too many wait-stops.
Therefore, we decided to hit the reset button. We selected a few MarTech steps in our process and made them occur after a human was involved. This consolidation of systems allowed our Inquiry → MSL time to go from 30 minutes to 1 minute.
A big realization we had during this experiment was that our sales reps were treating all leads the same. So here are a few things we did tactically to help stop the bleeding to some degree and put the right focus/prioritization on the leads coming through the pipeline.
We developed new lead views inside Salesforce so our sales team could see which leads are out there that should've been contacted a few days or even a few minutes ago? This gave our SDRs the visibility to make the right contact.
Another speed-to-lead tactic we experimented with was personalizing their outreach based on campaign history. Our SDRs want to have meaningful conversations with prospects, but they are spending too much time thinking about how to communicate in terms of cadences and steps to take. They weren't sure if they should call or text or email? What messaging should I use?
So we started to transform our messaging and cadences through SalesLoft and better templatized those based on lead activity. We also wanted to equip our SDRs with some simple campaign history based on someone's activity. This allowed us to slightly alter our messaging so it was more relevant to that individual.
Speed to Lead Experiment #2: Revenue Operations Provides Improved UI for Lead Prioritization
A key business problem impacting our conversion and our speed-to-lead effort was when SDRs had their focus on the wrong areas at the wrong times.
We wanted to go beyond just fixing our lead views. We needed to give our SDRs automated prioritization so they could really focus on the leads that were more likely to convert. So we did that by removing some of the complexity from the metrics in our lead scoring/grading systems and drive more simplified sophistication.
Say hello to the Panda Faces.
There are other cartoonish fireballs or flames out there that Marketo and other CRMs use that inspired us. But we decided to take it a step further and use the Panda faces to excite people and go along with our brand.
The panda face model as a decision layer on top of lead scoring. So anything that has a greater propensity to close and was more likely to convert to closed-won has three panda faces. Anything below that might have 1-2 panda faces.
The results speak for themselves. Our data shows that our SDRs improved conversion from MQL to Opportunity by 12 conversion points.
The 5,000 foot view of RevOps Experiments
We know we aren't perfect. While these experiments have had great success, anytime you're going through the challenge of lead scoring and qualification, it's never going to be perfect. That's why we developed a lead feedback channel in Slack, where salespeople can tell us if leads are not lining up with their panda face value. Our official stance is that when it comes to revenue operations, lead scoring, and sales optimization — there are always going to be anomalies, and it certainly will never be perfect.
Overall, though, the experimenting has helped us significantly improve our MQL to Stage 0 opportunity conversion. We have been successful (so far) in making our sales teams more high-performance.
If you'd like to dive deeper into these experiments, feel free to connect with us on LinkedIn to learn more and start a conversation with our Director of RevOps, Patrick Phelan.