Invoice Template
A proven template for invoicing clients, which includes a pricing table, payment terms, signature fields, and embedded payment options.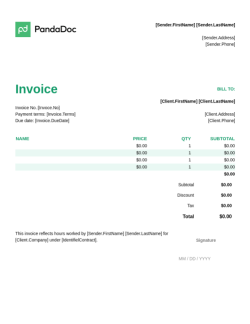 What is an invoice?
Invoices are one of the most commonly used documents in the B2B and B2C spheres. If you've been in business for any length of time, you've likely received and sent your fair share.
A sales invoice is a payment request sent by an entity selling goods or services. Invoicing is carried out by a host of organizations and individuals: small businesses, companies, non-profits, contractors, and freelancers, and more.
Invoices usually include a line-by-line description (line items) of the goods and/or services sold, required payment amounts for each item, relevant subtotals, a final total figure, and payment terms.
This free invoice template can be used by anyone who needs to create and send an invoice.
It includes the following standard invoice fields:
A unique invoice number;
Name and contact information of the buyer and seller;
An area to list the invoice's due date;
A pricing table to document item names, descriptions, prices, taxes, and discounts;
An area to document payment terms;
Electronic signature fields for client approval;
Embedded payment buttons and integrated gateways.
Why use this free invoice template?
There are hundreds of invoice templates to choose from online. What makes this one any different?
While PandaDoc free invoice template allows you to create a detailed, accurate invoice and send it electronically, a host of other features are also included over and above what's offered in generic word processors like Microsoft Word and Google Docs.
Once you send the invoice, you can track it to ensure that your customer receives and views the invoice. You can also set reminders to follow up with your customer if the invoice goes unpaid beyond its due date.
Here's a quick overview of what makes this template different:
Electronic signature fields for multiple recipients
Adding an electronic signature to documents enables individual or multiple clients to quickly give their approval. Including electronic signatures to documents has also been proven to boost conversions. What's more, electronic signatures are legally-binding, ESIGN and UETA compliant.
Add payment options that allow clients to quickly pay for goods and services immediately after approving and signing a sales invoice – with only a few clicks. This removes the hassle of lengthy bank transfers.
Track which invoices are open and approved. Set automatic reminders for clients with pending or overdue invoices.
When you send an invoice (and when it is approved), copies will automatically be stored on PandaDoc servers, ensuring a full "paper trail" should any problems arise.
How to properly prepare and create invoices
Because invoices are legal business documents, best practice dictates that generally accepted-guidelines should be followed when preparing them.
This free invoice template is pre-formatted to simplify this process.
Ensure all of the following elements are included when formatting your invoices:
Contact details should be added to the top of the invoice template. Be certain that the name, address, account number, phone number, and any other contact information used in your invoice are accurate and up-to-date to avoid confusion.
Provide plenty of details in the pricing table on the invoice template. At a minimum, you should have a product name, a basic description, and a product price. If possible, you should also include product serial numbers or SKUs. This will help your customer validate and pay your invoice faster.
Payment terms and the due date
Every invoice should include clear payment terms and a firm final due date for complete payment of all listed amounts. Use the appropriate areas in your free invoice template to note whether your payment terms are Net-30, COD, or any other payment term, and be sure that the due date is accurate and compliant with the listed payment terms.
The pricing table on our free invoice template allows you to include discounts and taxes. Don't rely on your customer to calculate taxes or discounts on their own. Refer to any previous proposals, contracts, or agreements, and make sure to include any applicable sales taxes, discounts, or other fees (such as delivery or disposal fees) in your invoice. This will prevent any confusion as to the actual amount owed to you.
How to ensure invoices are paid in a timely manner
Unpaid and overdue invoices are the bane of any business. What's more, late payments for large invoices can significantly disrupt cashflow.
Here are a few practical ways to ensure full and on-time payment when invoicing clients:
Tracking documents is useful for a number of reasons. When you know which clients haven't opened an invoice, or which have approved an invoice but failed to pay, you can send appropriate reminders to push them over the finish line. Second, you can test different invoice templates and send times to see which formats and processes generate the most engagement.
Automated reminders remove the need to manually follow up unresponsive clients, saving time and resources for your team.
Streamline approval and payment
By embedding payment options into your invoices, allowing clients to check out using a gateway with Stripe (bank transfer, credit card), PayPal, Authorize.net (credit card), Square (credit card), QuickBooks Payments (credit card), you instantly remove the hassle associated with manual bank transfers. This is one of the easiest ways to overcome the client mentality that says, "I'll deal with that later."
Clearly show terms of payment
Showing terms helps clarify any uncertainty recipients may have about payment. Clients that are unsure about which payment options (including plans, methods, and refund/warranty policies) are available can lead to requests for clarification or, in the worst-case scenario, non-payment.
Don't forget to make copies!
Avoid problems when processing client online payments by making copies of all approved invoices.
Always keep a copy of every invoice you send in your customer files. Once you've completed and sent them, you can download invoices (PDF copies) for your records. PandaDoc will automatically generate and store PDF versions of approved invoices.
You can also set automated rules to make and store copies on Google Drive, Box, or Dropbox.
This will aid you in the event that a customer loses their copy of the invoice, and will make it easier to resolve any questions or disputes related to the invoice.
Sign up for a PandaDoc 14-day free trial to take this professional invoice template for a test-drive. PandaDoc is a complete invoice generator and invoicing software solution. You'll have full access to all the bells and whistles, including electronic signatures, embedded payment buttons, and tracking and analytics.