April showers bring May flowers and here at PandaDoc, when it rains it pours. We've been hard at work putting together new features and product updates that we're very excited to share with you.
This past month we've been focused on two areas of PandaDoc: user administration and sales enablement. We're always working towards making PandaDoc a better experience for you, the user. But we also want to make sure that we're making a powerful product to make your days more productive.
So let's jump into it.
New admin panel
Many of our clients have multiple workspaces. But once they begin managing 3+ workspaces, it can become hard to manage users across all of them. Previously, users needed to manually switch between every workspace to do something. Not anymore!
Meet our new organization admin panel
Workspace Management we are introducing a new Workspace management screen. Admins will see all of their workspaces on one page. On this admin panel, you'll have the ability to search and easily jump to settings for each workspace.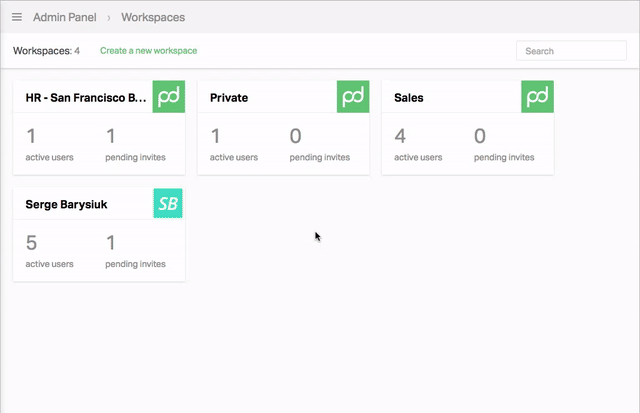 Workspace settings
No longer will you need to switch between workspaces to manage users. Admins will be able to manage users for all of their workspaces from a Workspace settings screen, without ever leaving the admin panel.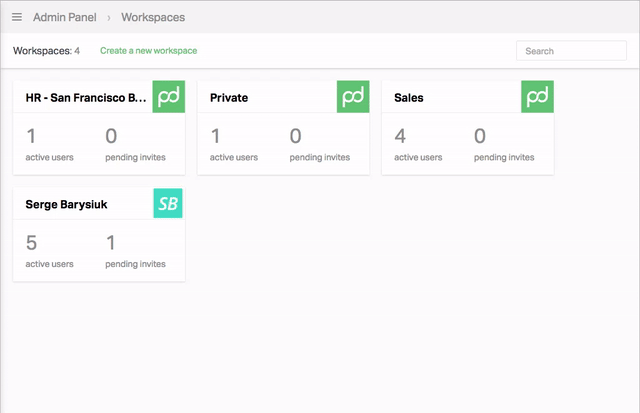 Users we've had this request from a lot of our customers and we're happy to announce it's finally here. Admins are now able to see all users across their entire organization on a single page. It's easy to add and remove users from certain workspaces and change their roles — all from within a user profile panel. What used to take 10 to 15 minutes now takes seconds!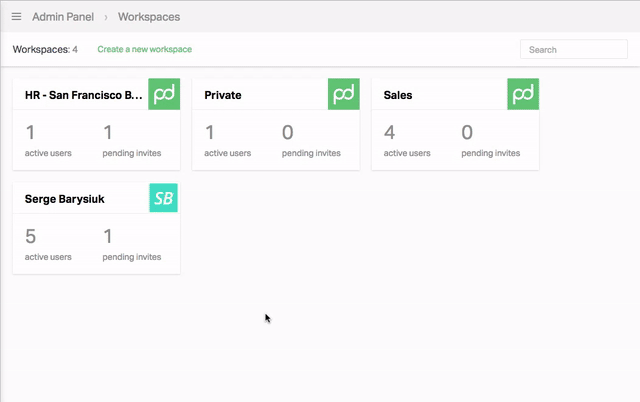 Custom roles and granular permissions
We've also added a separate page where admins can see available system roles, view permissions for each of them, and create custom roles.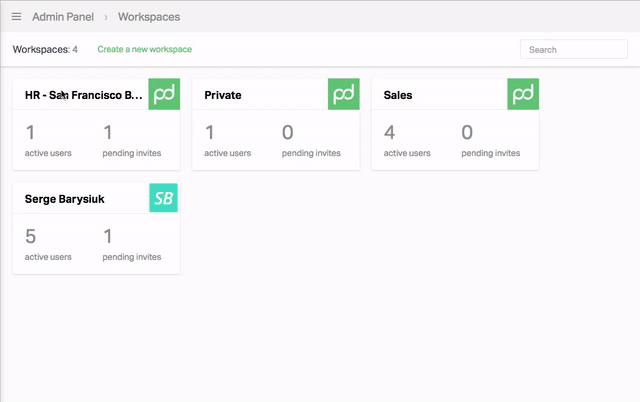 Creating custom roles is useful if you want to restrict certain functionality for certain users. For example, if you don't want "team members" to be able to edit catalog items, you can create a custom role. It's easy to make modifications on an existing system role to set your own custom permissions.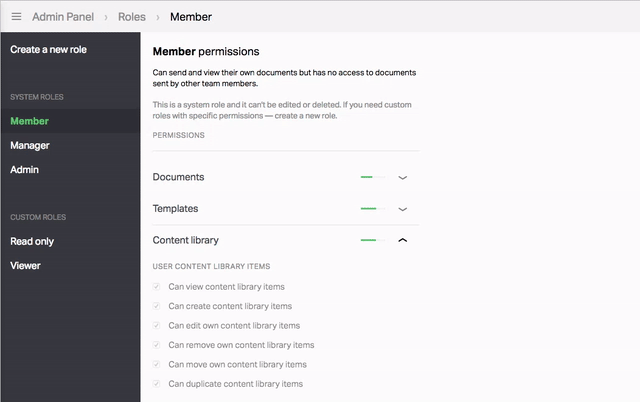 All these features are available for Enterprise. Please contact your Account Manager to enable custom roles.
Sales enablement
Another focus has been around sales enablement. You'll hear us speak a lot about sales enablement here at PandaDoc, which is about enabling a better sales process through better content. The following features will help you better organize, find, and use your custom content.
Content sharing
This is another long-awaited feature. The new Content Sharing functionality allows you to share Templates and Content Library items between workspaces.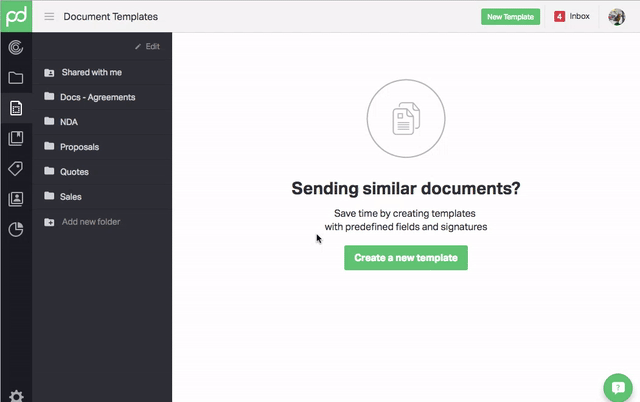 You will find shared items in a special "Shared with me" folder in the Templates and Content Library sections of your workspaces. In the original workspace the shared content is from, you will see shared icons next to folders and items which have been shared.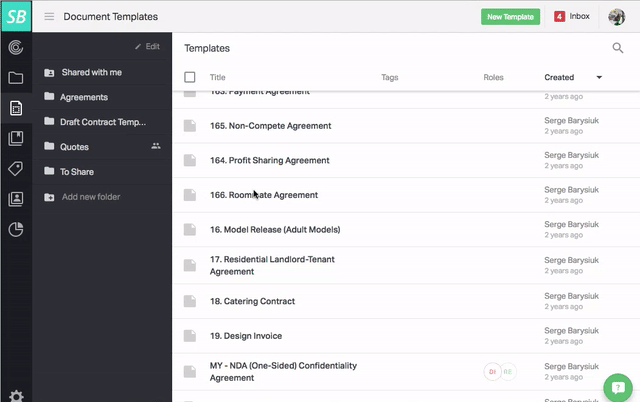 Available for Enterprise. Contact your Account Manager to enable Content Sharing.
Tags
Since we've been focusing on content, we needed to have a way to better categorize and organize it.
Currently, the easiest way to organize content is through folders. You may have folders for "Testimonials", "Case Studies", "Competitors Comparison", etc. That's great, but we wanted a way to go even further with content organization.
Imagine you have testimonials that you want to categorize by Industry, Company Size, Use Case, etc. Or you may want to separate documents and templates by type, like Proposals, NDAs, Contracts, etc. Getting this specific wasn't possible with just folders, but now it is with tags!
And… it's extremely easy to use.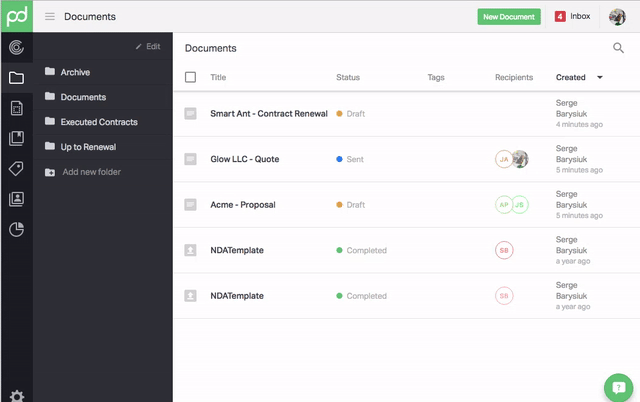 Tags are available now for all plans.
Better Search FunctionWe are also introducing a slightly improved search in this release. Now you are able to search by tags and document name, as well as easily filter them. The new design makes all of this very intuitive.
You can even use tags to filter Content Library items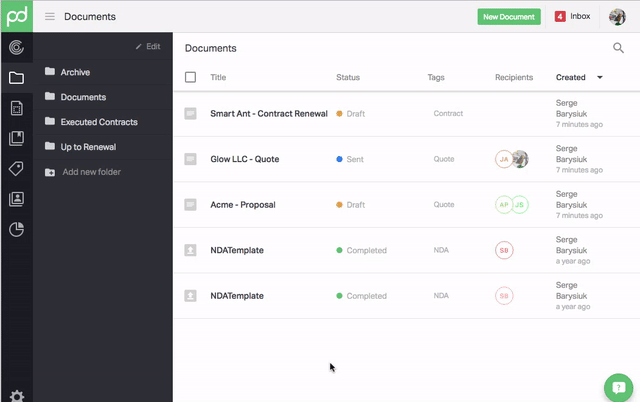 Content library preview
We gave some love to our Content Library in this release. Now you can preview items before adding them to your document. We're bringing it to a whole new level!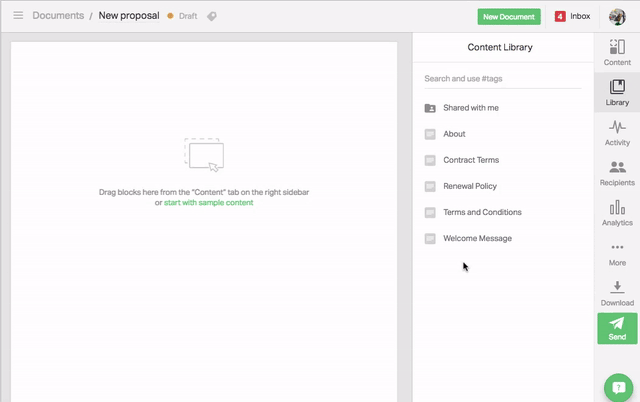 Improved lists
Since we've been working on tags, we also decided to improve document/template/library/contact lists in our applications. They are now much faster and we've added some cool features to boot.
It's easier to recognize uploaded and editable documents with added icons. We've also completely reworked the recipients list. We're planning to improve this list in future to show who has signed and who has viewed documents.
We've also added new designs for individual and bulk actions.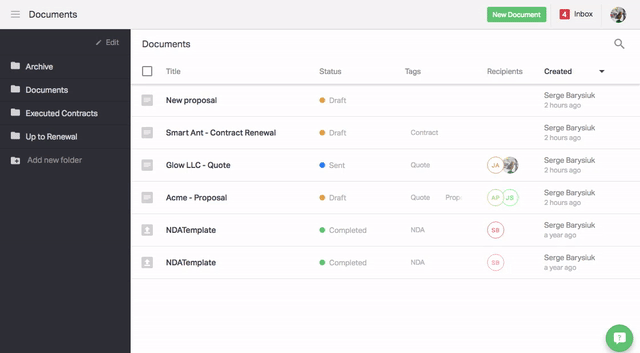 If you have any questions about how to use any of these new features, check out our FAQ or feel free to contact us. Let us know in the comments what features you're excited about!