Looking for an alternative to Adobe Sign?
When you switch from Adobe Sign (formerly EchoSign) to PandaDoc you can expect better document creation, robust integrations, and premium support.
| | Adobe Sign | PandaDoc |
| --- | --- | --- |
| Enterprise-grade security | | |
| Electronic signatures | | |
| CRM integrations | Enterprise only | |
| Digital signer certificates | Enterprise only | |
| Custom workflows | Enterprise only | |
| Unlimited templates | Enterprise only | |
| Phone and email support | Enterprise only | |
| Drag and drop document builder | | |
| Advanced analytics | | |
Better document creation
AdobeSign requires users to use Acrobat Pro (or another external program) to create documents, making creating documents far more complicated and time-consuming than it needs to be. PandaDoc tackles document creation head-on with a host of features designed to help you spend less time creating documents.
Here are just a few of the features that PandaDoc users rely on to streamline their document creation process:
Custom template and content libraries;
Automatic document generation via CRM integrations;
Drag and drop (WYSIWYG) document builder.
Better support
Our support pandas are always available to help you get the most out of PandaDoc. While AdobeSign requires costly enterprise subscriptions to access live support, we give every user unrestricted access to our industry leading support team. There are a variety of ways PandaDoc users find help when they need it, including:
Robust knowledge base;
Dedicated customer success managers;
Email support;
In-app chat.
Better workflows
The workflows that surround documents are just as crucial to your success as the documents themselves. Our custom workflows, signing orders, and software integrations allow you to build truly custom document processes without requiring an enterprise-level subscription. Here are a few of the ways PandaDoc saves you time and money by streamlining document workflows:
Automate your approvals process;
Unrestricted access to more than 30 integrations;
Create, send, track, and eSign documents inside your CRM;
Access custom workflows and integrations with every PandaDoc plan.
Better security
When the validity of your documents are called into question, PandaDoc has your back. Every PandaDoc user gets access to our robust security and authorization features, including:
Automatically generated audit trails;
Digital signer certificates;
SSAE16 SOC2 compliance;
PCI DSS level 1 secure payments.
What you get when you switch to PandaDoc
A complete document solution
PandaDoc is the one tool that will revolutionize the way you approach documents. From start to finish, PandaDoc offers powerful features that save you time and frustration. When you switch from Adobe Sign, you eliminate the need for multiple products supporting your document needs. Document creation, approvals, collaboration, tracking, signing, and storage are all supported without the need for additional software.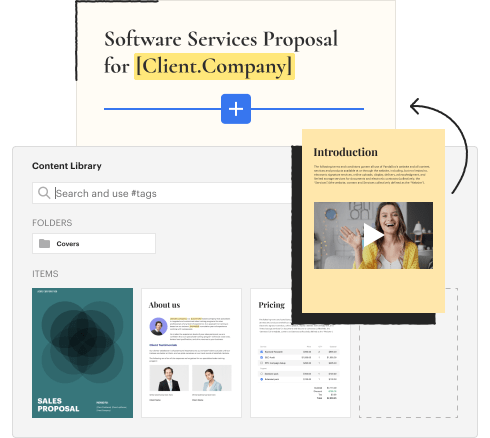 Documents and signatures without limits
Whether you need to create one document per month or a thousand, PandaDoc offers simple subscription plans that give you more of what you want. We offer every PandaDoc customer unlimited templates, content storage, documents, and electronic signatures with no costly upgrades or hidden fees. All it makes PandaDoc a good alternative to Adobe Sign.
Detailed analytics
PandaDoc document analytics "cut out the guesswork" in a way that Adobe Sign can't match. Gain unprecedented insight into how users interact with your documents, such as detailed engagement metrics for every page of the documents you send. Know exactly when to reach out thanks to custom deadlines and signature notifications.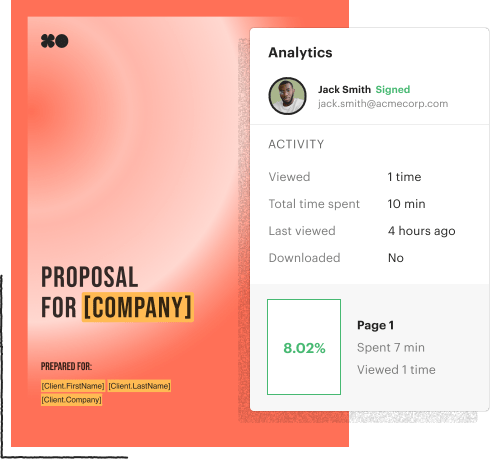 Faster deployment
PandaDoc is designed with end users in mind, so you don't have to spend months on customization or training. Companies with large, geographically distributed sales teams have been able to configure and deploy PandaDoc in less than a week.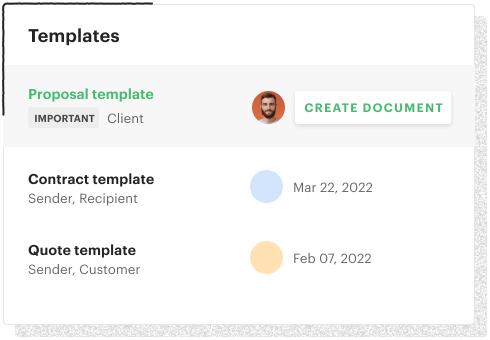 Integrate with the tools you use today
Why separate your document process from the tools that you use on a regular basis? PandaDoc integrates with more than 30 popular business software platforms, including every major CRM. Your employees will love being able to enhance the tools they use today with a robust digital document solution.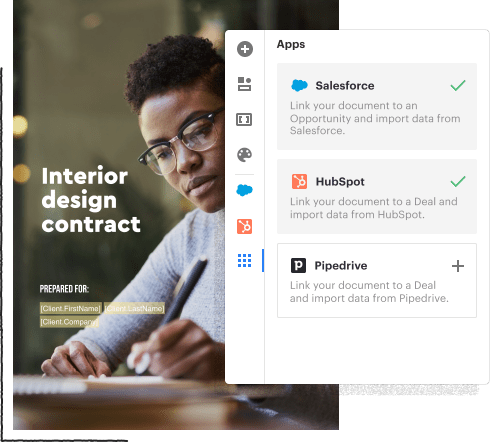 Find the perfect PandaDoc solution for your business