Boost your efficiency with a PandaDoc Salesforce integration
The PandaDoc Salesforce integration supercharges your sales team. Simplify how sales teams generate, customize, and eSign professional-looking proposals with the PandaDoc Salesforce integration.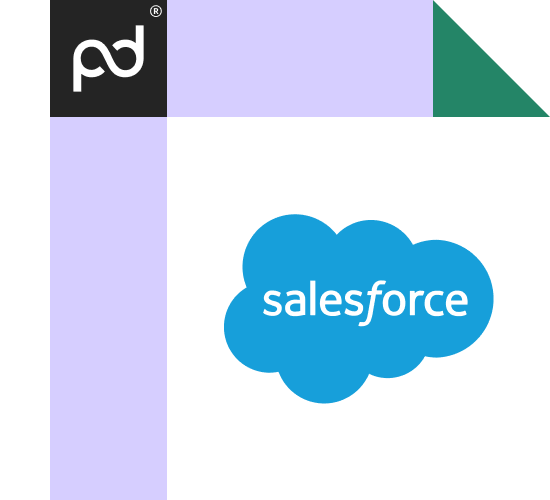 increase in completed docs
per month

87%

decrease in document
creation time

50%

increase in close rate

36%
Reach your optimal level of productivity
Eliminate tedious copying and pasting of customer data into sales documents when you introduce the functionality of PandaDoc to Salesforce and start sending docs out the door in one click.
Upgrade Salesforce with PandaDoc
Increase momentum with a workflow that works
Make it easy for your sales team to create, track, and eSign documents, all within Salesforce. A smooth end-to-end workflow automates tasks and keeps teams producing consistent collateral at lightning speed. Lock content on documents, use a signing order, and set approval rules to check all the boxes while still getting sales proposals out in a timely fashion.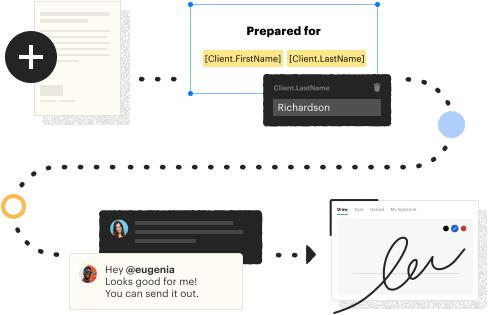 Stop wondering and start closing
PandaDoc's real-time document status updates are accessible in Salesforce to let you know exactly which prospects are interacting with your documents and when. These insights give the ability to act quickly at the most opportune times. Benefit from having all deal-related conversations and negotiations on proposals, contracts, and agreements embedded within Salesforce.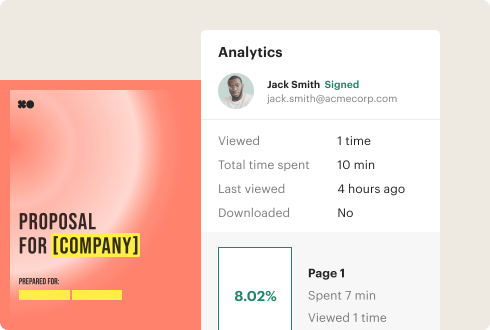 Start quickly and win big
Setting up and customizing the Salesforce CRM integration is quick and easy. No coding required. PandaDoc set up tools include out-of-the-box settings to customize your workflow: a token builder for pulling in data, field mapping (including custom fields), data sync, document triggers, file storage, cleanup rules, and more.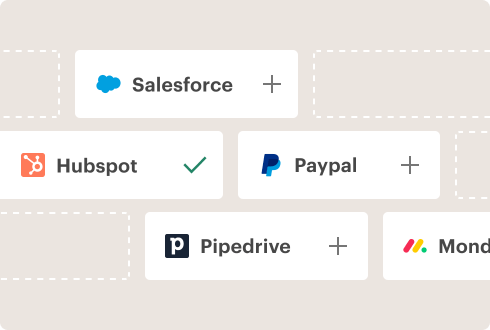 Works with your Salesforce edition
For the best experience, PandaDoc integrates with all Salesforce Sales Cloud editions. The PandaDoc integration is Lightning-ready which means you can seamlessly switch from Salesforce Classic to Lightning without breaking your deal and document processes. The official PandaDoc Salesforce AppExchange listing is the place to go to download the latest integration package.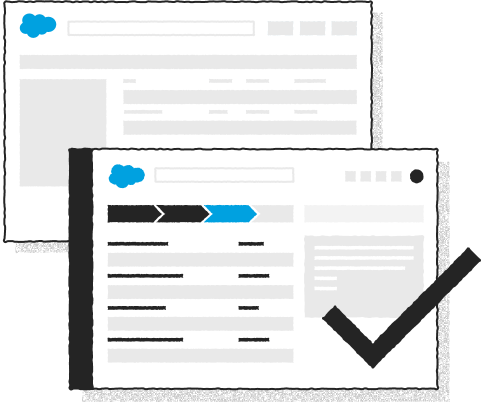 Create a one-stop-shop for closing opps
Take the team's productivity to the next level
The PandaDoc integration with Salesforce provides efficiencies that will allow your team to spend less time building and customizing documents and more time focusing on growing the business. The team will gain access to ready-to-use document templates that they'll automatically populate with accurate customer, product, pricing, and opportunity data from Salesforce. Even when the details of an opportunity are changed in Salesforce, all it takes is one click to update documents with the latest information.
Automate key processes and allow reps to focus on closing
Being fully integrated with the Salesforce platform, PandaDoc provides data sync capabilities that go beyond document generation. Your Salesforce opportunity status will automatically update once your PandaDoc document stage has changed. Your team will be notified through real-time document status updates that communicate with Salesforce every time your prospect interacts or comments or eSigns a document.
Create a single source of truth for everything sales
Gain instant access to the latest document versions, right from your opportunities, contacts, or any other Salesforce object. Your team will not only have quick access to their business-critical documents, but they'll also gain visibility into all the conversations, negotiation, and back and forth that occured within those documents. Centralization is easy when automated document storage rules set in PandaDoc allow you to automatically store PDF copies in the Notes and Attachments section of Salesforce.
Frequently asked questions
Where do I find the latest integration version?
Do you support deployment in the Sandbox?
Yes, you can have a fully-functional free trial to test if PandaDoc meets your business needs without connecting PandaDoc to your live Salesforce instance.
Where do I learn more about how to configure the Salesforce integration?
If you're interested in using the PandaDoc Salesforce integration to benefit your business, it's quick and easy to do so without requiring the help of a coding professional. 
To find info about how to get set up, you can read all the necessary information on how to configure the app in our handy help article. By clicking the link for the help article, you'll also find a demo video to introduce you to the app.
How can I customize the Salesforce integration?
Leverage the PandaDoc API for deeper customization of your Salesforce CRM integration. Customize the  PandaDoc Salesforce integration through the use of numerous customizable templates that are easy for everyone to use, regardless of their role in your company. 
You can also customize the fields in your documents to best suit your needs on a case-by-case basis. There's no need to worry if you're not a coding pro because all the hard work has already been done for you, allowing a quick and easy installation and customization process. 
Benefits of PandaDoc Salesforce integration include fast document creation time, the ability to view real-time document analytics, and a reduction in average payment times.
Do I need to buy eSignatures separately?
Every PandaDoc subscription includes enforceable, legally-binding, ESIGN and UETA compliant electronic signatures with a complete audit trail so that you do need to buy a separate eSignature solution. Send any document for signature or collect it in-person. And when the signature is completed, send a PDF copy back to your Salesforce CRM for storage.