Payment solutions software
Collect payments instantly right from your contract. Reduce the average payment time to 2 days and increase your close rate by 36%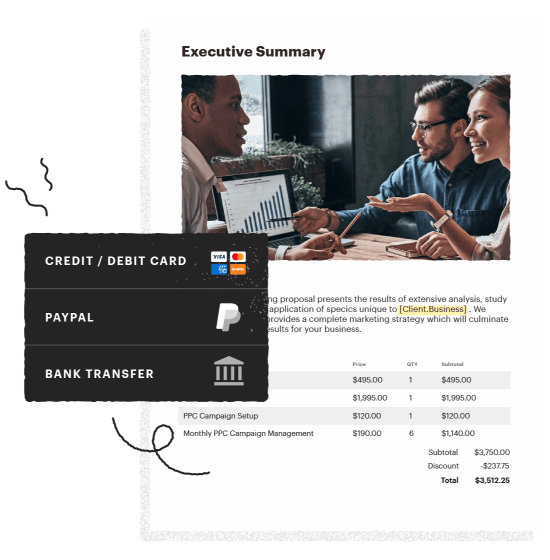 Signed. Paid. Done.
Designed for all types of organizations – from online businesses and eCommerce retailers to multinational corporations – online payment processing is hassle-free with PandaDoc. Request eSignatures and collect payments in minutes, wherever you are. As soon as a document is signed, your customers can pay instantly with a credit card – including the EMV three (Europay, Mastercard, and Visa), debit card, bank transfer, a merchant account, PayPal, and more. No delays. No chasing payments. Enjoy easy, global payment processing that's a win-win for you, your team, and your customers.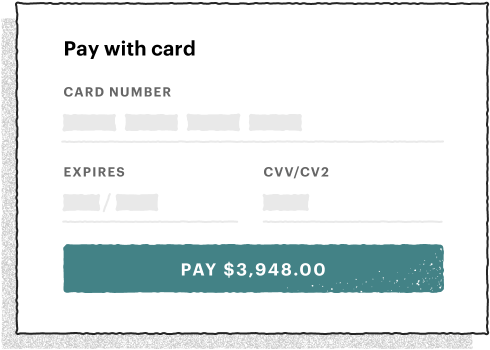 Reduced online payment times
Say goodbye to waiting weeks or even months for payments. Cut average payment times to two days. Get deals signed and paid for on the same day. PandaDoc offers supreme functionality, and mobile payment options, helping you streamline your payment processing for a better customer experience at the point of sale. Give your awesome accounting team a break from chasing invoices too, and free them from mountains of paperwork.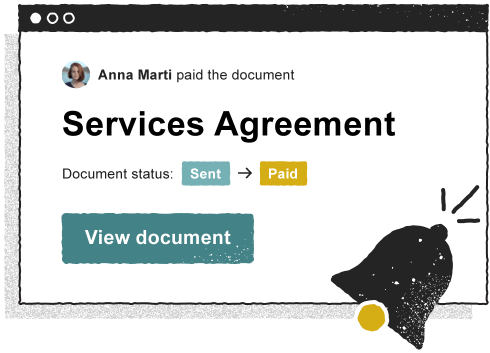 Combine with your accounting software
Like a Panda to a stick of bamboo, PandaDoc connects payments to your existing accounting software and payment systems with Zapier and API integrations. Your customers can pay using their preferred PCI DSS compliant gateway, speeding up invoicing.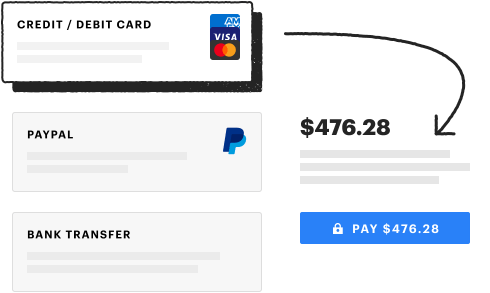 Make payment collection efficient
Reduce the average payment time to 2 days and improve business metrics by attaching online payments to contract signing requests
increase in completed docs
per month

87%

decrease in document
creation time

50%

increase in close rate

36%
PandaDoc + 
the tools you love
PandaDoc payment processing software connects with all your favorite CRM software. Get your proposals, contracts, and more out the door faster and cut out data entry errors.
See all integrations
Keep docs moving and process payments faster with PandaDoc
Still have questions? We've got answers.
PandaDoc Payments is packed with features to make life easier for you and your customers. If you have questions, please ask. Here are six questions we're frequently asked.
How can I collect recurring payments online?
You can offer flexible payment options thanks to PandaDoc's integrations with Stripe, Square, and Authorize.net, which allow you to locate customer billing information after collecting payment. You can take ACH payments, card payments, Apple Pay payments, PayPal payments, and more by creating a recurring payment or subscription.
Is PandaDoc payment secure?
Yes, we work with payment processors you can trust. PandaDoc acts as a merchant service, seamlessly integrating with top payment gateways like Stripe, Authorize.net, Square, QuickBooks, and more. They are all security-focused and PCI DSS compliant, giving you complete peace of mind over your online payment processing. PandaDoc uses tokenization to protect payment information. Meanwhile, digital wallets allow you to store funds and track payment histories easily.
How do I set up a PandaDoc Payment?
Getting started is simple. When creating your document using PandaDoc, add a payment block and integrate it with your preferred online payment processor. Click here for a step-by-step guide.
Does PandaDoc Payment integrate with PayPal?
Yes. PandaDoc makes it easy for your customers to pay with PayPal. You can take credit card payments, too using your preferred payment gateway. Streamline your checkout and enable your customers to pay in seconds, without ever leaving your proposal, quote, or contract. PandaDoc will integrate with your POS system, shopping cart, and CRM system, too.
Will PandaDoc Payment save me money on transaction fees?
Yes. PandaDoc payment solutions help you save big on transaction fees. Save even further by adding Stripe ACH and only pay 0.8%, capped at $5 per transaction and no monthly fees.
Is PandaDoc free to use?
Yes. There is a free version of PandaDoc available, which gives you access to some features. You can try PandaDoc free for 14 days, too. We also offer fair monthly pricing plans that give you access to more automation features and integration possibilities. Learn more, here.