Create lasting customer relationships
Powerful customer success software to help you easily deliver relevant, personalized documents throughout the entire lifecycle and free your team to focus on what matters the most – your customers.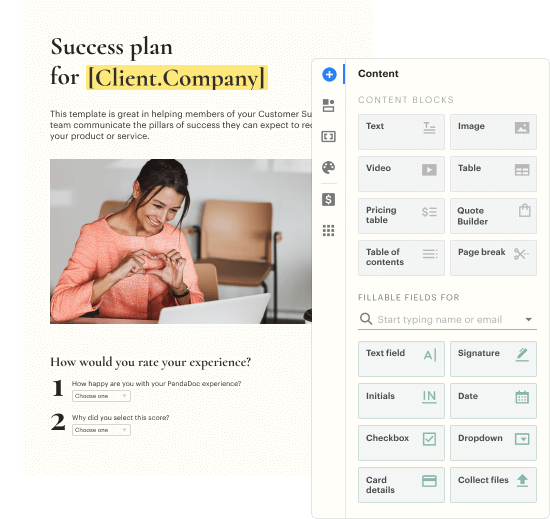 Build a lightning-fast expansion and renewal flywheel
Guide customers to value every step of the way
Provide the best customer support from onboarding to driving adoption or securing renewals quickly and efficiently with dynamic documents. Save your team the burden of manual outreach with a customer success software that offers forms and trackable content library items like videos, screenshots, or GIFs. Help them share onboarding documents, product updates, or success plans.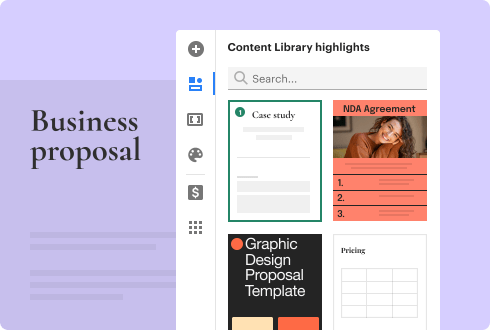 Kickstart strategic conversations every single time
Easily build personalized documents with style for every customer check-in or QBR. Showcase your value with pre-approved branded templates that pull in the right customer data to help you continue to provide incremental value to your customers.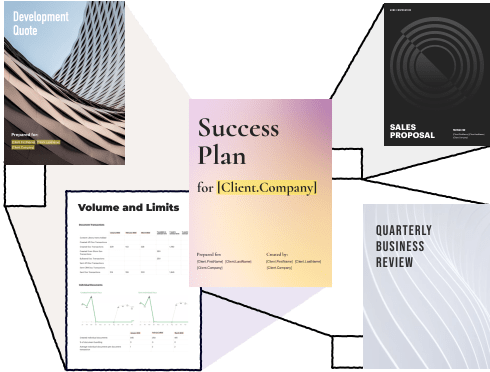 Help your business grow with the right document workflow
Support your renewals and expansion process with a customer success software that can help you get personalized agreements out the door in minutes. Easy to use templates with interactive pricing tables that allow them to instantly choose which package is best plus auto-renewal notifications, ensuring you never miss another churn risk, expansion, or renewal opportunity.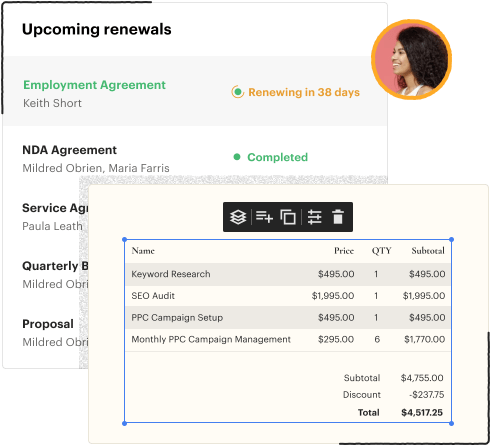 Features built for rockstar success teams

Templates
Save time while keeping your branding consistent. Automate all your documents with our good-looking and easily editable templates with smart fields that can automatically populate with the right data from all your favorite tools.

Interactive pricing
Simplify annual renewals by providing customers with an interactive pricing table with optional upgrades and add-ons and auto-renewal notifications ahead of time so you can painlessly manage the entire process.

Analytics
Easily track your customer's progress and proactively engage when the time is right so you always know when to bring value to their business.

Rich media
Speed up product onboarding and wow your customers with embedded photos, videos, product screenshots, gifs, and more.

Forms
Automate and simplify the way you collect any type of info from your customers with our electronic forms that can be embedded in our interactive documents.
Integrations with the tools you love
Get tailored performance metrics for each customer automatically into any document by integrating PandaDoc with the tools that house your customer info.
See all integrations
PandaDoc + 
the tools you love
Say goodbye to mind-numbing work. Integrate PandaDoc with your everyday tools so your team can get back to focusing on the important things they need to get done.
See all integrations