According to our research, 96% of PandaDoc customers send more than one document to a single recipient, including proposals, contracts, invoices, and more. So, if you're reading this, it's pretty likely that you have sent (or will send) multiple documents to the same person.
Why does that matter?
When sending several documents to the same recipient, there's typically some common information in them (like recipient names, contact info, company information, etc.) which means you'd be entering the same information multiple times. Since our goal at PandaDoc is to reduce "busy work" so you have time to focus on what really matters, we've created a way for you to transfer that information between documents, automatically.
With the "Transfer Data To" feature, you can automatically copy recipient details, contact info, token data, and pricing table information that you already filled out in one document into your next document (great for creating contracts from existing proposals, invoices from signed contracts, etc.).
How it all works
Start by creating Templates for the documents you want to transfer data between, a template for your proposals and a template for your invoices, for example. To move information (such as customer name, address, customer company name, pricing table line items or descriptions) from one document to another, use the same Roles and tokens across all of those templates.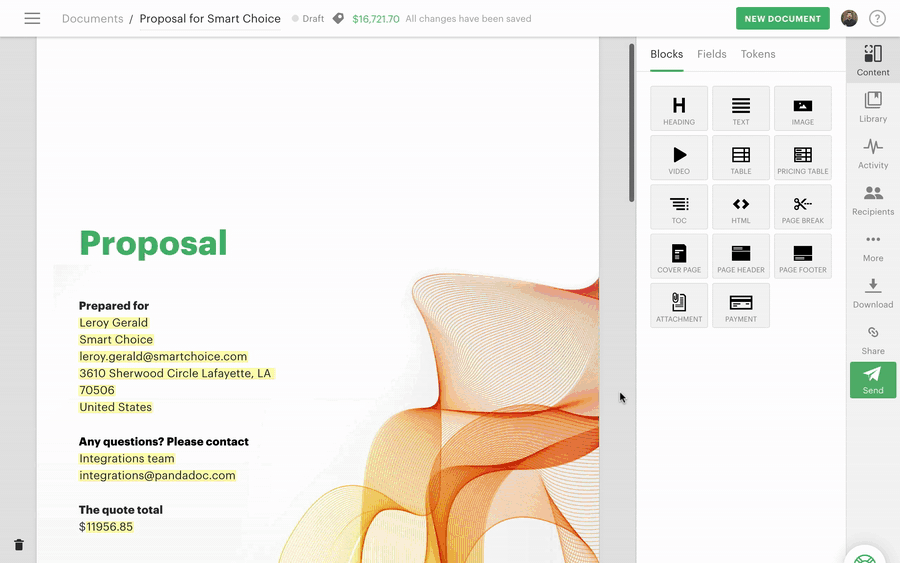 Learn more about how to set up the templates for data transfer in this FAQ article.
Once you have your templates, all you need to do is fill in the first document. From that document, you can generate and transfer data to new documents by clicking "… More", then "Transfer Data To" and selecting one of the templates you prepared.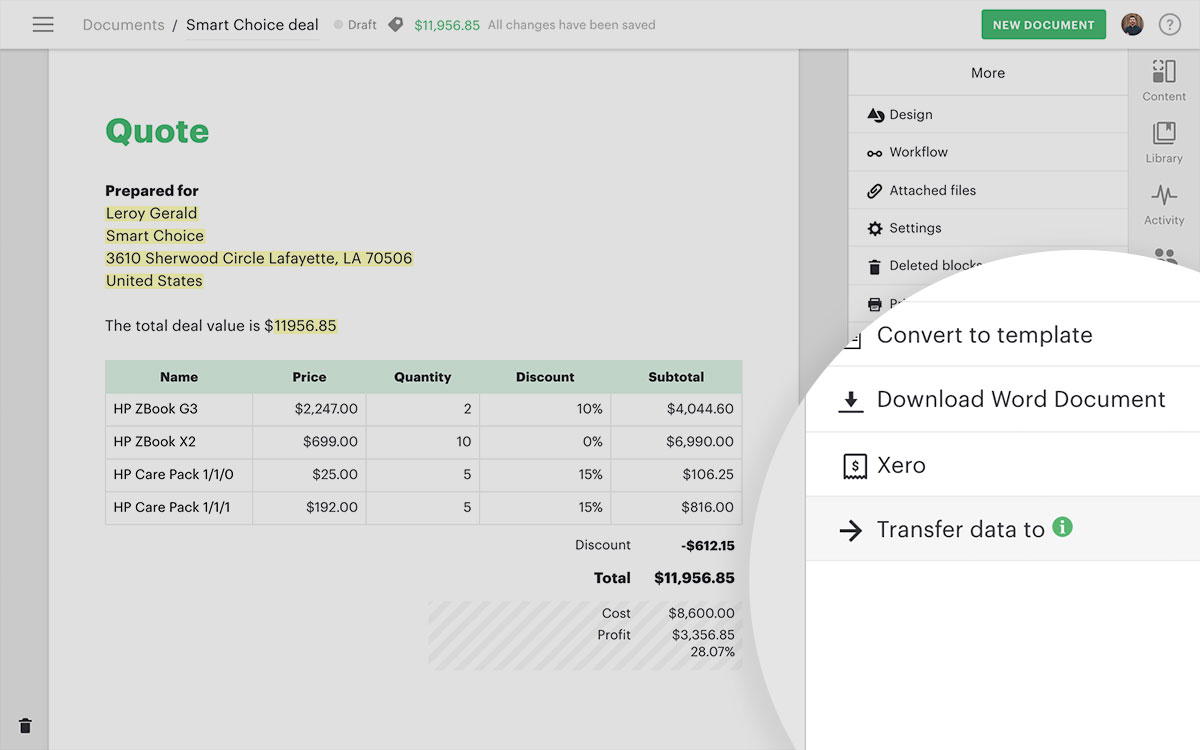 Template settings such as approval flows, expiration dates, and attached files can be customized ahead of time so that each document has its own appropriate workflow.
For example, sales proposals must be approved by the Sales Director and are set to expire after 60 days. Once the sales proposal is accepted, the Sales Manager creates a contract from the accepted proposal. The contract is then automatically sent for approval to the Legal Team with the Terms & Conditions attached and set to expire after 14 days.
Tracking related documents from your CRM
Great news for anyone using our CRM integrations: if you create the original document from your CRM, you will see all the subsequent promptly generated with the "Transfer Data To" feature in your CRM document list. Check with the Support Team to see if your CRM integration supports this sync.
"Great doing business with you"
Quickly delivering error-free documents and offering both the speed and convenience of digital eSignatures creates a winning professional image for you and your brand.
With PandaDoc and the "transfer data to" feature, you can smoothly transition the deal from one stage to the next and provide accurate documents promptly. In a highly competitive market, automated processes become a true competitive advantage by helping build a professional reputation and enjoyable business experience.
Manage your risk
Protect your business by maintaining control over the content of your legal documents. With PandaDoc, you get a full toolset for managing documents with compliance requirements in mind. Use "Content locking," "Approvals," and the "Transfer Data To" features to prevent reps from making unapproved edits, to ensure proper approval workflows are observed, and to minimize the risk of manual errors and improperly entered data.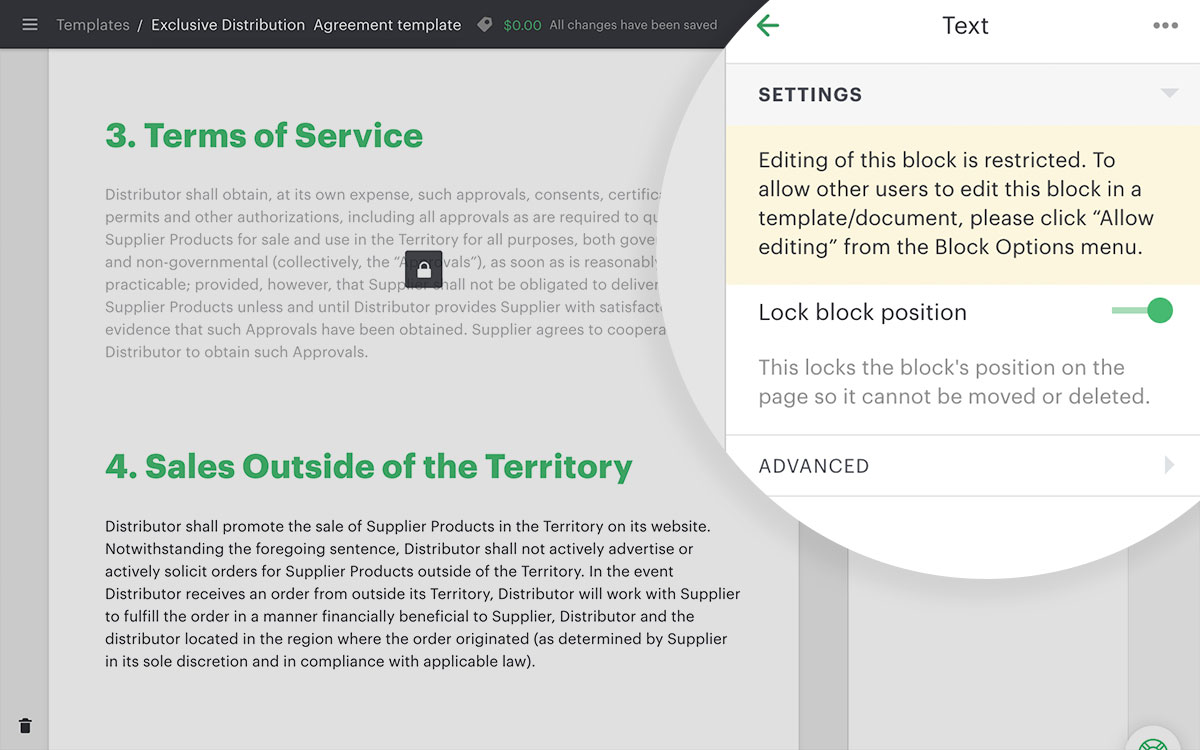 If time kills deals, speed is of the utmost importance. With automated approval workflows, sales teams aren't stuck chasing down approvals from the legal or finance department. The result is that customers get their documents faster and reps can move deals through the pipeline quickly.
Ready to give it a try?
The new "Transfer Data To" feature is included on the Enterprise plan: just log into your PandaDoc account to give it a try. If you're on the Business plan, you can add it to your subscription as a paid add-on: contact your Customer Success Manager or our Support Team to learn more.
New to PandaDoc? Start your free 14-day trial to see how PandaDoc can help you close more deals.