"[PandaDoc] saves me a ton of time. I can put out a proposal that previously would've taken me an hour or two, at least, and now I can do that within a few seconds, literally. Because it's connected to my HubSpot CRM."

Pete Nicholls, Founder & CEO of HubDo
Not the integration we deserved, but the integration we needed.
Do you know what feels good?
Being in the top 5 sales enablement apps on the HubSpot App Marketplace. It's like being the superhero of the sales and marketing world.
*Cue the power pose
Don't believe us? Check the screenshot.
Rather than rely on Google docs or Microsoft word to create, send, track, and eSign sales new documents, users are turning to our application more and more to close deals faster. And to celebrate our awesome partnership with HubSpot, we're turning on the bat signal for this powerful integration and revealing our 2 superhero tips for creating docs faster.
? Cool Video Alert! ?
We love when others recognize how great PandaDoc and HubSpot can be. Check out this video from Sprocket Talk. Pete Nicholls, the HubDo Founder / CEO, discusses how he helps his clients leverage this powerful integration.
If you're reading this, then maybe it's time you put on your sales cape and become the vigilante your team needs. You can start by checking out how sales teams are already streamlining their sales processes in the rest of this article. ⬇️⬇️
Superhero tip #1: Use templates
"With great power, comes great responsibility."

Uncle Ben, Spiderman
With the power of PandaDoc and HubSpot, you have a responsibility to use templates.
Creating and sending new documents is way easier when you don't have to start from scratch. Using PandaDoc templates increases productivity, creates consistency, eliminates errors, and automates manual tasks. Essentially, you create less work for yourself by using templates.
PandaDoc has a beautiful, easy-to-use content builder where you can add, copy, move, and delete blocks like cover pages, headers/footers, text sections, images, videos, pricing tables, and a whole lot more.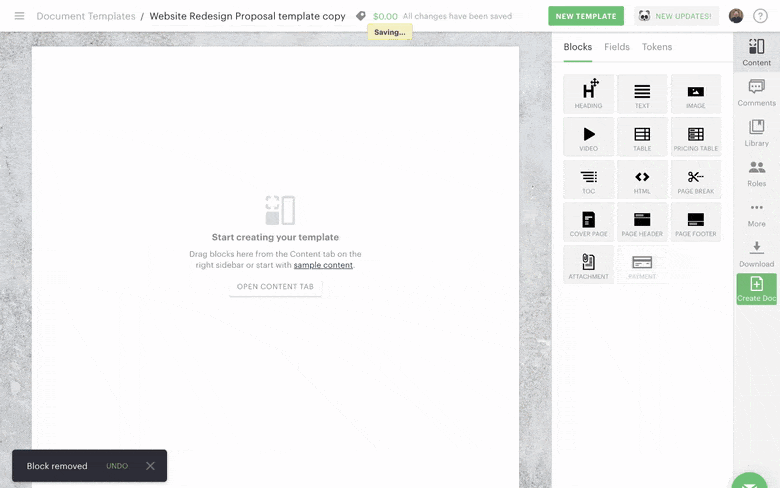 Take a look at our template library that has 450+ templates and start a trial today for free.
Another neat feature to stack onto your templates is the PandaDoc content library. If you build out a flippin' sweet pricing table or cover page that you want to reuse in other documents, just save it to your content library and reuse it over and over again.
Learn about it here.
Superhero tip #2: Use tokens
Now that you've designed the look and feel of a template, you need to make sure they're set up to accept data from your HubSpot CRM account. That way you can generate a customized document directly from a deal, company, or contact page all without ever leaving the HubSpot interface in just a few clicks.
In order to push all your account or new contact information from HubSpot into a PandaDoc document, you need to set up tokens.
Tokens are merge fields designed to save you time by auto-filling any info that frequently occurs in your documents with data from your HubSpot CRM.
For all you visual learners out there, these images will show you what it looks like from your perspective.
1. Inside of HubSpot, scroll down to the PandaDoc module. Click on Actions > Show PandaDoc tokens ⬇️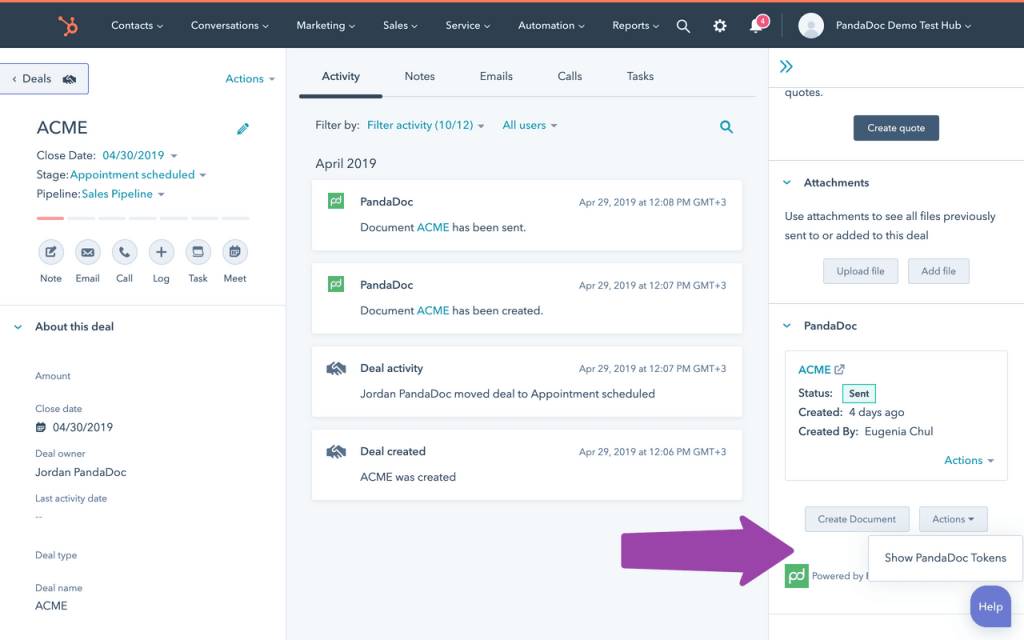 2. Find the token you want to use, and copy the token code. E.g. [Company.Name] ⬇️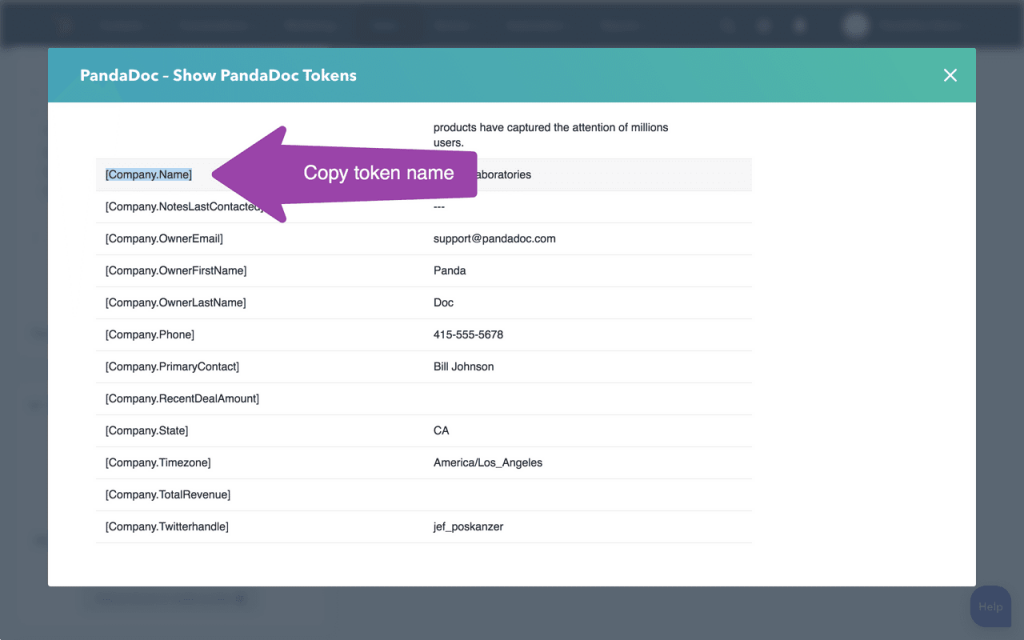 3. Go back to your template, and paste it wherever it's needed ⬇️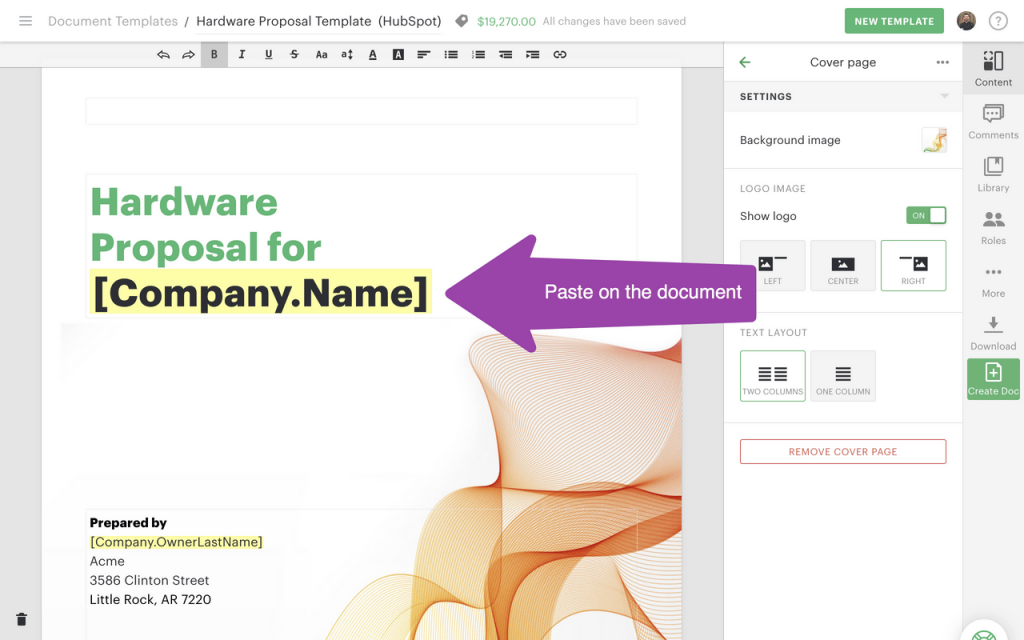 4. Rinse and repeat these steps for each field you want to auto-populate from your HubSpot CRM into the template
You only need to do these fancy token placements when you're creating a template for others to work from. So it should take WAY less time once your team starts auto-creating documents from your badass template by using the HubSpot CRM Integration.
If you're still a little confused, no worries!
Just watch this video that our Product Manager, Margie Burton put together. It can be easier to play and pause a video with her walking you through it then looking at the screenshots.
You wouldn't like us when we're angry
If your team is tired of sales processes that are "just fine" you could be experiencing opportunity cost — meaning you must give up X to achieve Y.
If you're starting to get angry about things, that's good! Let that fuel your inner Hulk. Just don't turn green and smash your office.
Deal?
Take a few small steps to optimize your process. If you're already using HubSpot, speak with your team about PandaDoc and how it can optimize your sales pipeline and customer lifecycle. Share the ways you can turn your passable process into something legendary.
If you need help convincing anyone on your team about PandaDoc and HubSpot, send them the eBook below and they'll be gushing over this match made in heaven.