In Episode 11 of The Customer Engagement Lab, our hosts Patrick Downs and Travis Tyler talked about addiction and mental health with guest Tim Clarke.
Tim Clarke is a big advocate of mental health, and in late-2018, he co-founded a non-profit organization called UNCrushed.
UNCrushed is a platform and community for mental health awareness. The non-profit provides a safe space for people to talk about mental health and share their stories of experience, strength, and hope.
UNCushed's mission is to raise awareness of the many mental health challenges faced and how people have overcome them. By providing a space for people to talk about their challenges, they hope to break down the stigmas associated with mental health.
During our conversation with Clarke, he shared his struggles with mental health and addiction and provided advice for those just getting started in the sales industry.
When asked what advice you would give to a young salesperson, he said:
"My biggest piece of advice would be to take care of your health. It seems so obvious, and I didn't do this just for the record. You know, I worked around the clock. My boss used to say to me if I didn't respond to his email in five minutes, he felt something was wrong."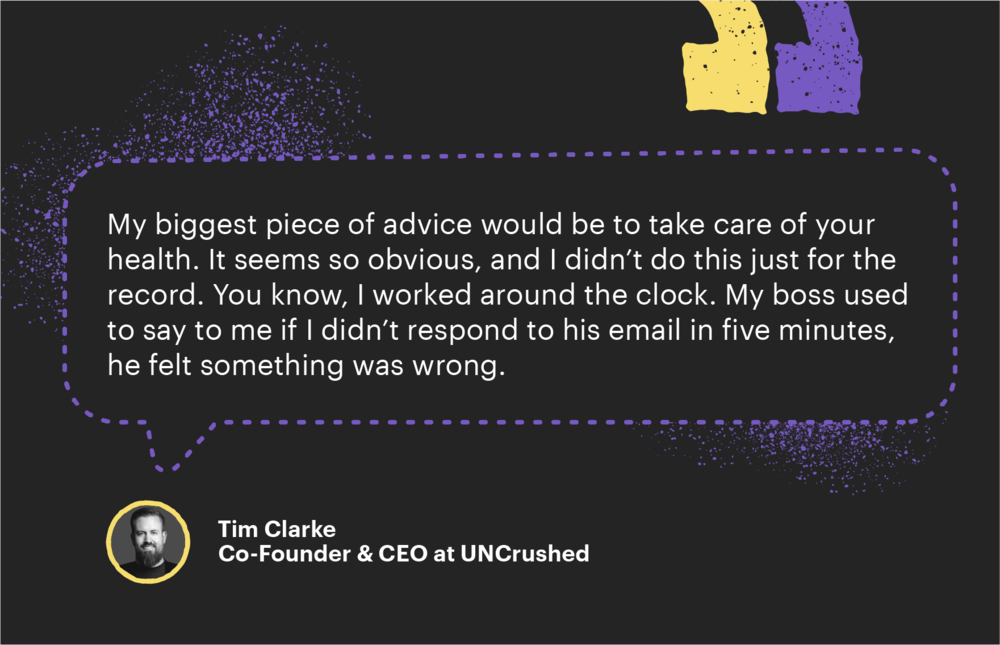 Clarke continued with, " Imagine your body is four different rooms, so you've got your physical, mental, emotional, and spiritual room… and just try and visit each room every day. "
If this idea sounds familiar, you may know it as the wellness wheel. The wellness wheel illustrates seven dimensions: social, occupational, spiritual, intellectual, physical, emotional, and environmental.
Your health is more than the physical condition of your body. To have a well-rounded and balanced lifestyle, you need to pay attention to each dimension of your life.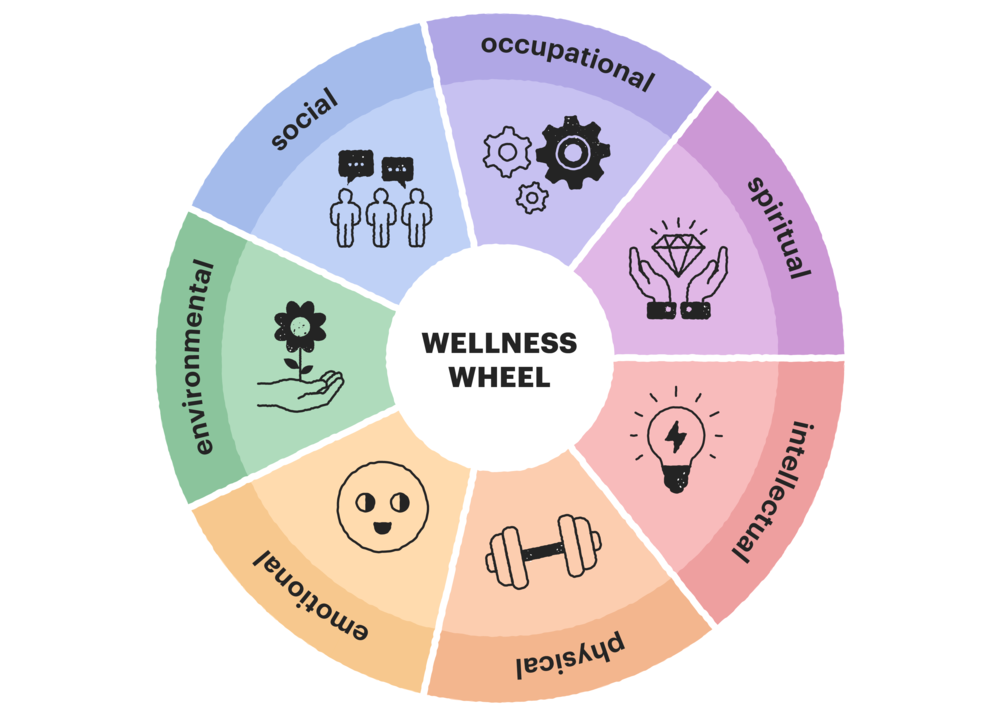 According to the UNCrushed website, "1 in 5 adults in America experience a mental illness." Although mental illness is becoming a more mainstream topic, there are still many preconceived notions about mental health and mental illness.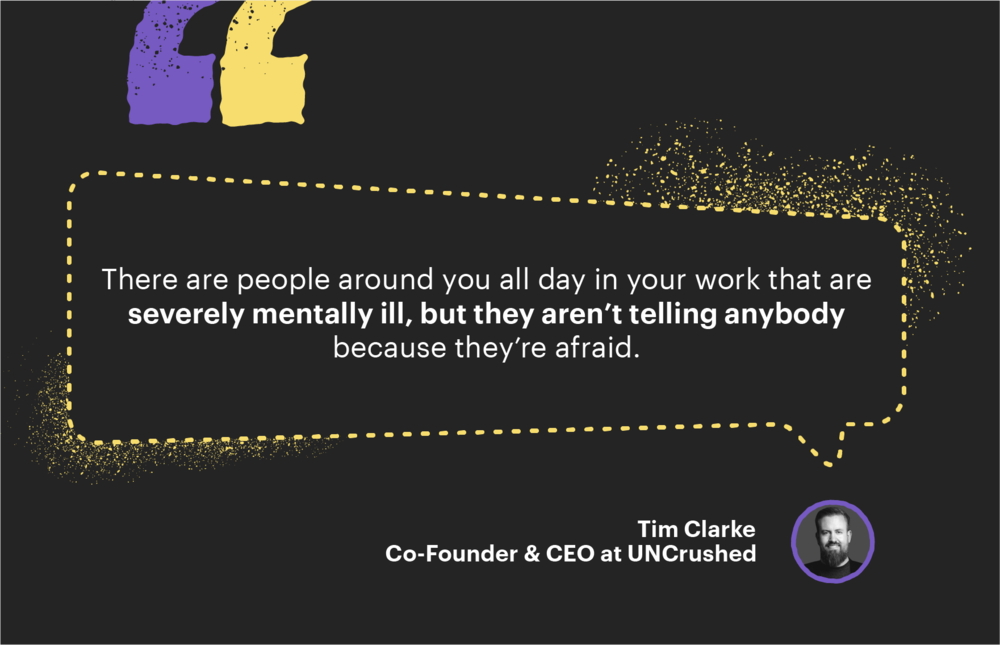 These negative stigmas are why many don't come forward, especially in the sales sector. Many fear becoming vulnerable is a sign of weakness and could ultimately jeopardize their career.
Luckily, technological advancements have made it easier for those struggling with mental health and mental illness to get the help they need from the comfort of their own homes and, in some cases, right from their smartphone or tablet.
Today, we're going to highlight the five different apps available to help you create a more well-rounded and balanced lifestyle.
BetterHelp
BetterHelp gives users access to licensed and accredited psychologists, therapists, counselors, and social workers. In addition, to live sessions, BetterHelp includes unlimited text messaging and live text, phone, and video sessions for no additional cost.
BetterHelp's mission is to "make professional counseling accessible, affordable, convenient – so anyone who struggles with life's challenges can get help anytime, anywhere."
Cost: Pricing ranges from $60 – 90/wk. They offer a variety of membership plans, and financial aid is available.
Happify: for stress & worry
Happify empowers users to take control of their emotional life with cutting-edge science and innovative technology. The self-improvement program is available through desktop and their mobile app.
The platform's "science-based activities and games can help you overcome negative thoughts, stress, and life's challenges." Happify offers various curated content like webinars, weekly live yoga sessions, self-help articles, and more to help users reduce stress and worry.
Cost: Happify offers a free version and a premium version for $11.67/mo.
Headspace
Headspace is your guide to mindfulness for your everyday life. The app offers guided meditations, sleepcasts, ambient and nature sounds, and breathing exercises to help you improve your sleep, health, and happiness.
In addition to offering mental health resources, the platform now offers 30-minute workouts to help focus on the mind-body connection with courses taught by Olympians and other trained experts.
Unlike some of the other apps mentioned, Headspace has a designated section for children with features from Elmo and the entire Sesame Street gang. For children, the app focuses on teaching them how to relax and the importance of kindness.
Cost: Headspace offers memberships for $12.00/mo or $69.99/yr. In addition, they have family plans for six accounts at $99.99/yr. For teachers and school administrators, Headspace is free.
Skillshare
Skillshare is a learning platform with thousands of classes available to inspire learning and growth. Skillshare offers topics in four major categories: creative, business, technology, and lifestyle, with courses ranging from water coloring and interior design to plants at home and cookie decorating.
The platform empowers members to get inspired, learn new skills, and make discoveries. Perfect for anyone looking to learn a new career skill or get lost in a new passion/hobby.
Cost: Skillshare offers a monthly plan for $32/mo and an annual plan for $168/yr.
Nike training club app
Nike Training Club App is the ultimate training app to help you improve your long-term physical and mental health. The app offers class-style workouts, whiteboard workouts, multi-week training programs, and nutrition and wellness guidance.
Nike Training Club users can get a customized training plan created by answering a few questions when they first sign up, or they can just choose a workout from a recommended list.
Cost: The Nike Training Club app is now 100% FREE for all users.
Ultimately you know what works best for you. Whether you adopt one or all of our recommended apps, just make sure that you prioritize your health and wellbeing.
Hear the whole conversation – tune into the Customer Engagement Lab!