We'd like to start this update by saying "thank you" for all of the feedback and ideas you share with us in the Idea Portal, support tickets, interviews, and surveys.
Our November update features the top requested features and integration enhancements according to your feedback, including:
Sharing PandaDoc documents via links;
Importing contacts (with Zapier);
Ability to merge HubSpot Products into pricing tables;
Adding Vidyard videos to PandaDoc proposals.
On top of all that, we're excited to announce the launch of 24/7 live chat support for all Business and Enterprise users to quickly troubleshoot and resolve your PandaDoc questions.
Share document links with your recipients
Now you can share your PandaDoc documents via direct links. Generate unique links for each recipient and copy/paste them into an existing email thread, text conversation, slack message – whatever is most convenient. Once the link has been shared, the document automatically moves to "Sent" status, and you can track opens and views as usual.
How link sharing can improve time-to-close and overall process efficiency:
Seamless communication: paste the link into an existing conversation and avoid the confusion of multiple threads.
Speed: quickly copy/paste the link to share the document – in Slack, on your phone, wherever.
Custom, multi-channel reminders: leverage link sharing to craft custom, timely reminders and deliver them in the way that is most likely to resonate with their recipient.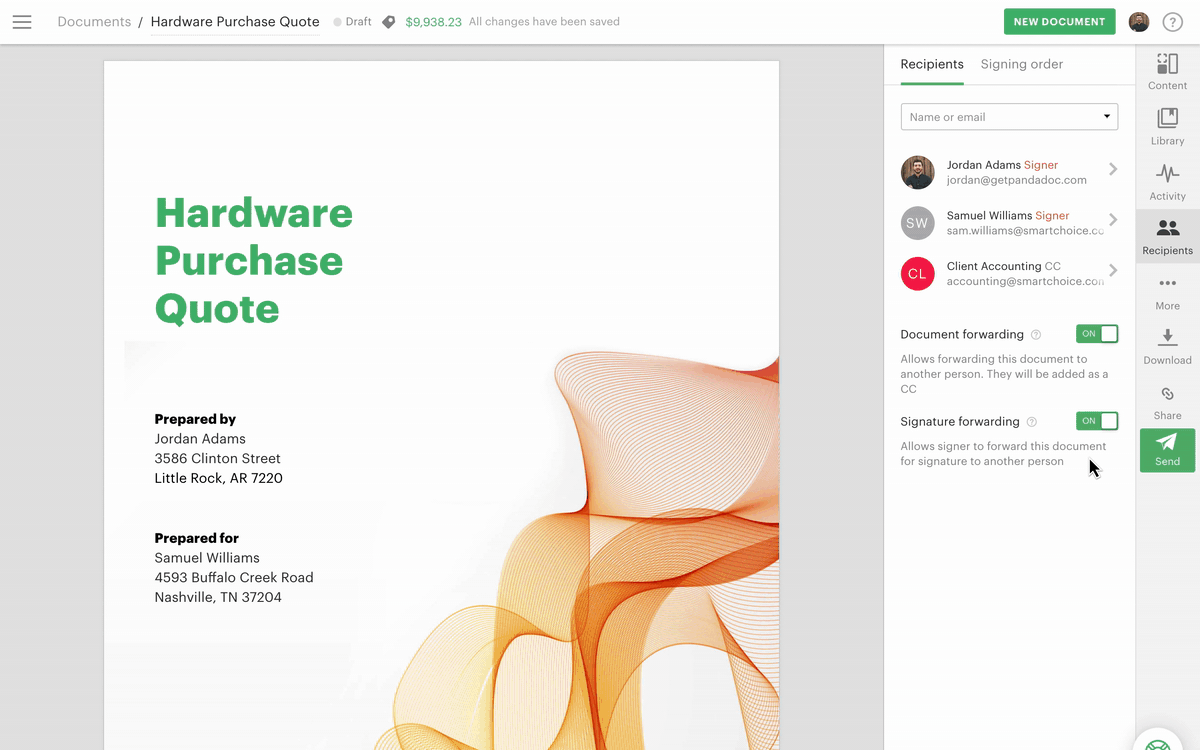 Link sharing is available for all PandaDoc users. Try it out and share your thoughts in the in the blog comments.
Embed Vidyard videos to boost (and track) engagement
According to our document analytics, proposals with videos or pictures are 32% more likely to close. Now you can embed Vidyard video messages into PandaDoc proposals in addition to Youtube, Vimeo, and Wistia videos. Create personalized videos with Vidyard and use their analytics to understand how your content is performing.
Use videos to power up your PandaDoc proposals by including:
a company or team intro to personalize the proposal
a quick video overview of your proposal
specific product or service video presentations
product walkthroughs and tutorials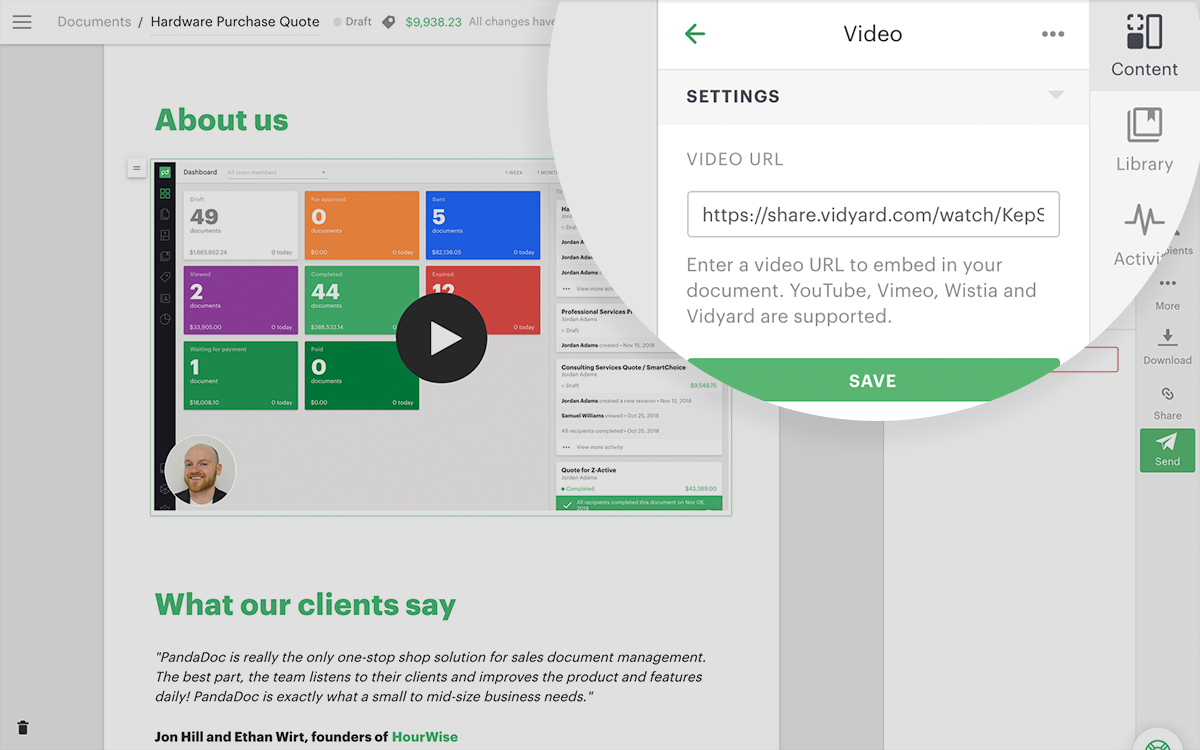 You can add a Vidyard video to your proposal right now, it's already available for all PandaDoc users.
Import contacts to PandaDoc using Zapier
Import new contacts into your PandaDoc account from external forms, Google Sheets, CRMs, QuickBooks and other tools using our Zapier integration.
Create PandaDoc contacts from Google Sheets
Import contacts from Google Sheets: whenever a new row is added in a Google Sheets spreadsheet, a new contact will be created in PandaDoc.
Import contacts into PandaDoc in bulk
If you need to import a whole list of contacts into PandaDoc, you can do it with a free Zapier account and Google Sheets. Set up the Zapier connection and upload your contacts to the Google Sheets template. Now all your contacts are in PandaDoc. It's that easy.
Create PandaDoc contacts from new form entries
You can go even further and automate the entire document flow for the new form entries: from submission to signing. When you have a new form submission, PandaDoc generates a new document with the data from this form and sends it for signing to the person who submitted it. And it all happens automatically with PandaDoc templates and Zapier.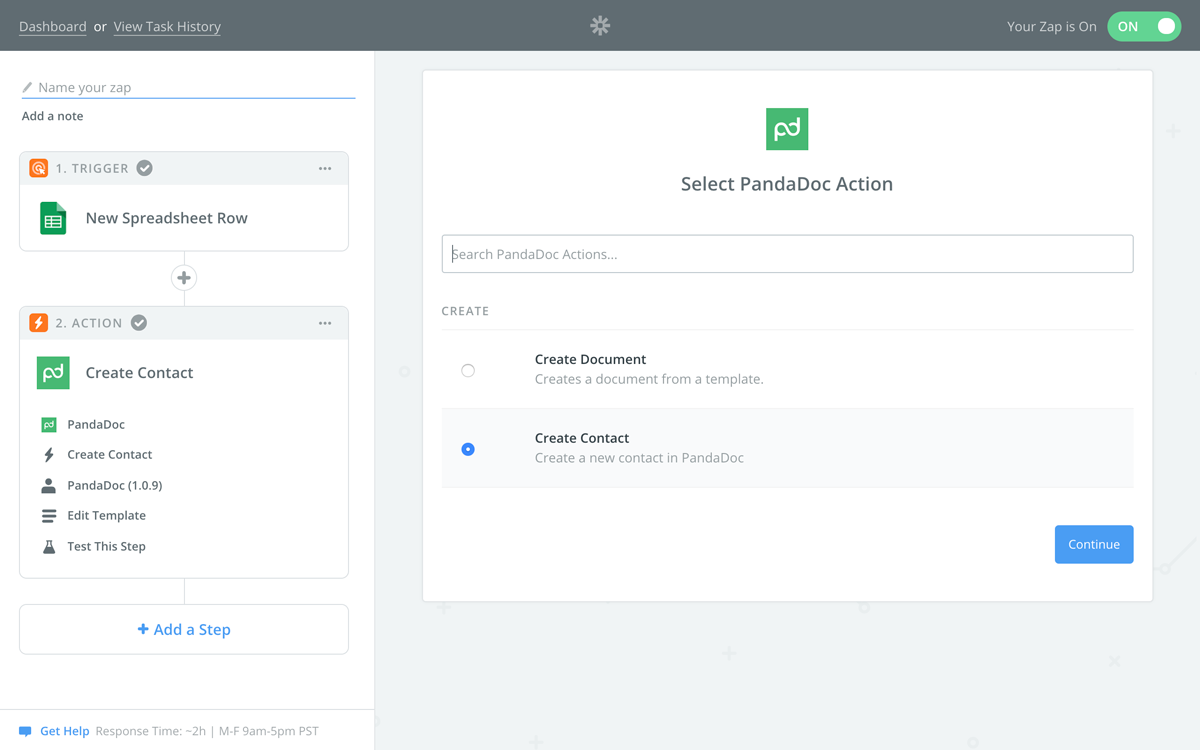 If you have already connected your PandaDoc account to Zapier, follow this guide to import contacts. If you have not enabled Zapier yet, you can do it the Integrations section under Workspace settings.
Merge Hubspot products into PandaDoc quotes
This integration update is for all the PandaDoc customers working with HubSpot products in their Sales Hub. Now, deal products from HubSpot will auto-populate in PandaDoc quotes to display product details from a deal record like price, quantity, discounts, line item names, descriptions, and costs.
Once you've imported all the product details into PandaDoc, you can further adjust table formatting or content. Use advanced pricing table features to add taxes, calculate the margin of your deal, or upsell by adding optional items. If you already connected Payments to your PandaDoc account, your customers can also pay right from the quote after they sign it.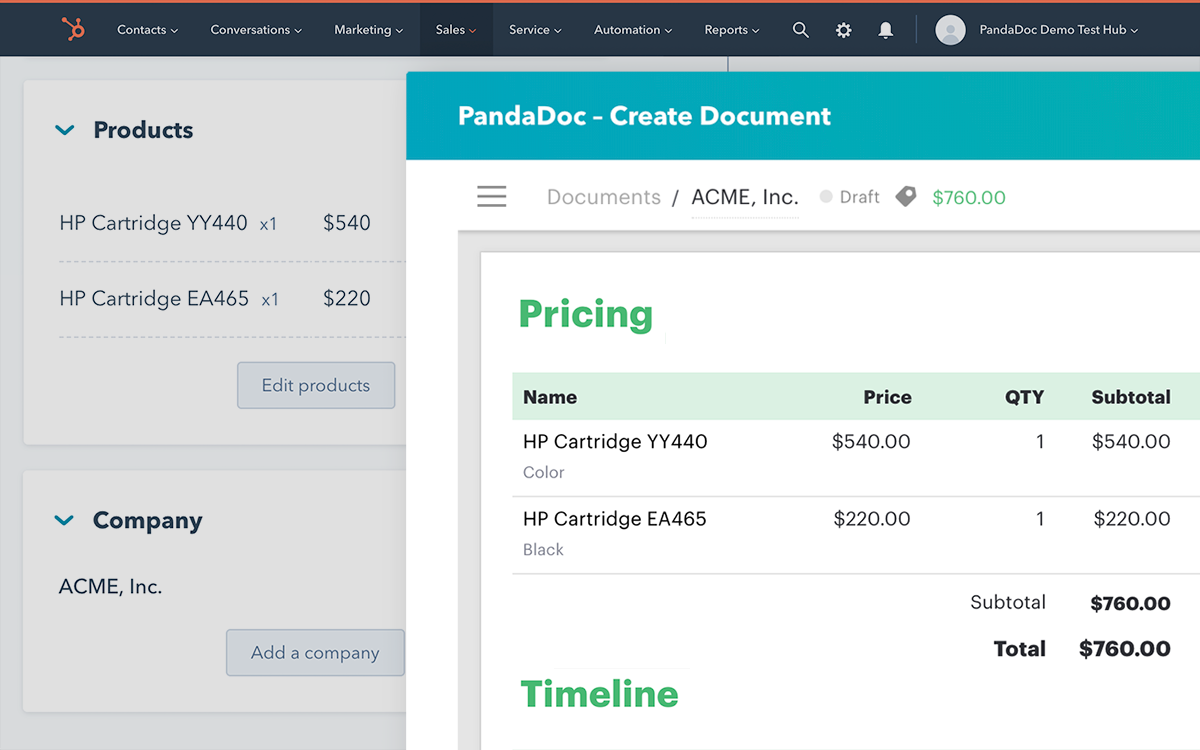 To activate this, just check your permission settings in HubSpot (no need to re-install the PandaDoc integration!) If you have any trouble, our support team will be happy to help.
Customer live chat support is now available 24/7
We've been working around the clock (literally) and are happy to announce the launch of 24/7 customer live chat! Available for all Business and Enterprise users, we're here to support you by answering product questions and helping with troubleshooting – anytime.
Open live chat right from your PandaDoc app or submit a ticket to get help with:
Troubleshooting: address any issues you have with PandaDoc or our integrations so we can pinpoint the cause and get a quick resolution.
Onboarding: if you're new to the product and need some help setting your account up, let us know.
Product walkthrough: get the most of your PandaDoc subscription by walking through its features and capabilities. We'll share some key tips & tricks.
Workflow optimization: feel like you could be doing more with PandaDoc, but you're not sure how? Describe your current process, and desired outcome and a support specialist will work with you to improve your setup to optimize your workflow.
Sharing product feedback: let us know if you would like to request new features or share feedback and ideas for how we can improve PandaDoc.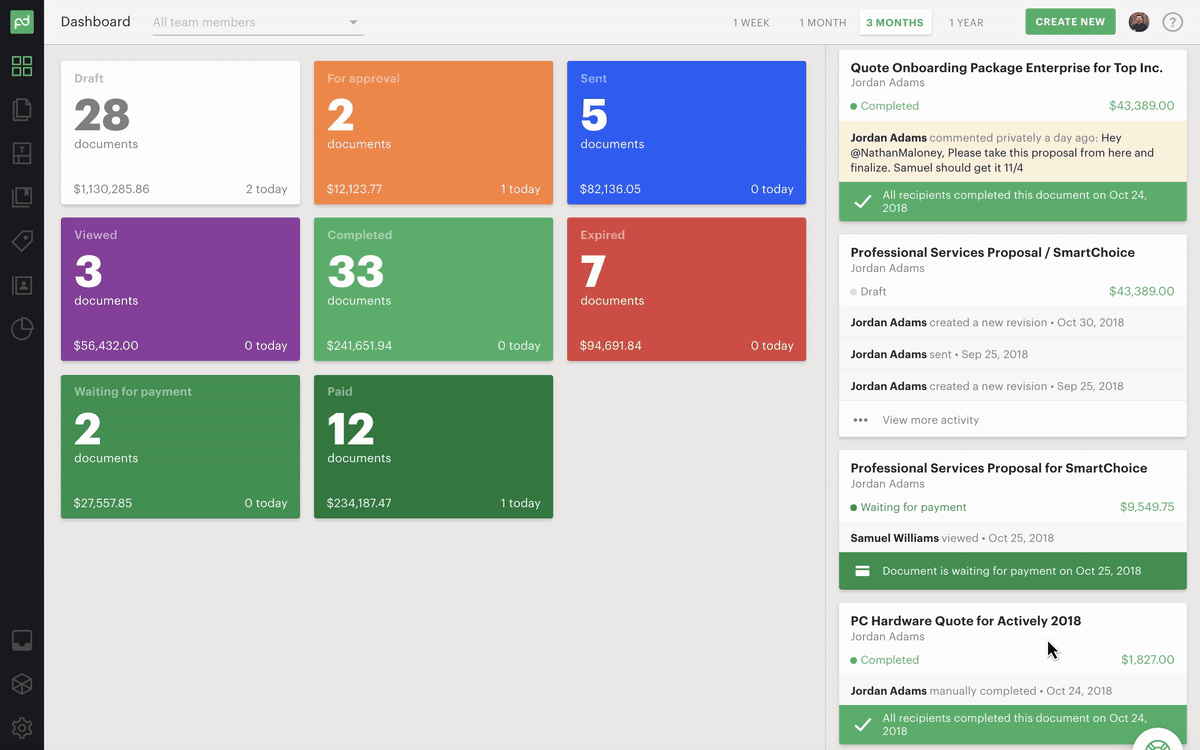 All these updates are live – start using these features today by logging into your PandaDoc account or starting a free 14-day trial. We're working on more features you voted for so stay tuned. Let us how we can improve PandaDoc and vote for product ideas in the Idea Portal. We love hearing from you!