Currently, a PandaDoc document's status depends on where it is on its document journey. However, there are times when a document changes status offline which aren't recorded in PandaDoc.
We're happy to announce that you can now manually change the status of your documents! This is helpful for when the following situations occur:
The document was completed outside of PandaDoc
You received a payment on a document outside of PandaDoc
You may want to void a document immediately
Let's explore these scenarios below:
A document was completed outside of PandaDoc
Sometimes recipients may print, physically sign and send back a PandaDoc document. While this isn't our preferred this method of collecting a signature, it can (and does) still happen.
If the document is signed offline, your document's status would stay in "Sent" or "Viewed" status which can leave your dashboard and reporting in disarray. Now, you can change the status to "Completed" and upload the attachment of the signed document for your records.
It is important to note that since there is no eSignature associated with this type of document, you will not receive an eSignature Certificate.
You received a payment outside of PandaDoc
Including a payment block in your proposal/contract is an easy way to collect payments immediately. Because the only thing better than receiving a signature is receiving a payment at the same time!
Our Stripe payment block accepts credit card or ACH payments, but sometimes people prefer to pay via check or good ole' fashion cash.
If this is the case for your business, good news! Instead of your document status being stuck at "Waiting for payment" you can manually change it to "Paid."
You'd like to immediately void a document
Let's say you sent a document to a recipient but they didn't sign it for two weeks and you don't want to leave the document available to the recipient. Instead of leaving it in "Sent" status, you can change it to "Expired" which means the recipient can no longer access the document.
By default, documents are set to expire after 60 days but you can change this setting for your workspace or any Document / Template. To learn more about document expiration and how to customize this for your account, check out our FAQ.
Lastly, here are some commonly asked questions that we can help answer.
Where can I change the status of my documents?
There are two places where you can change a document's status. The first is in the document list view.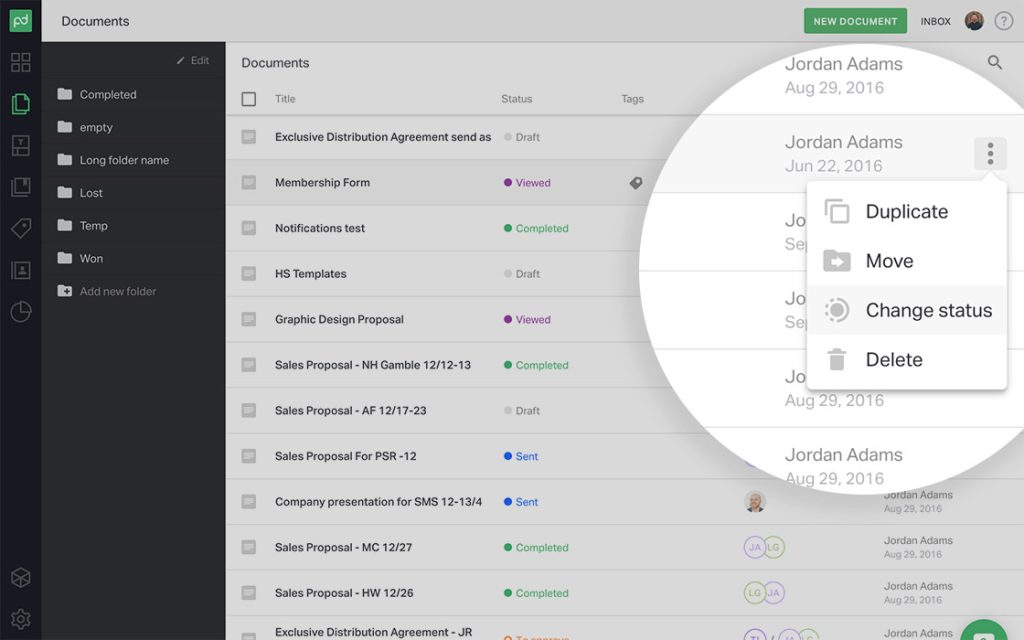 And the second is the document settings section within the document.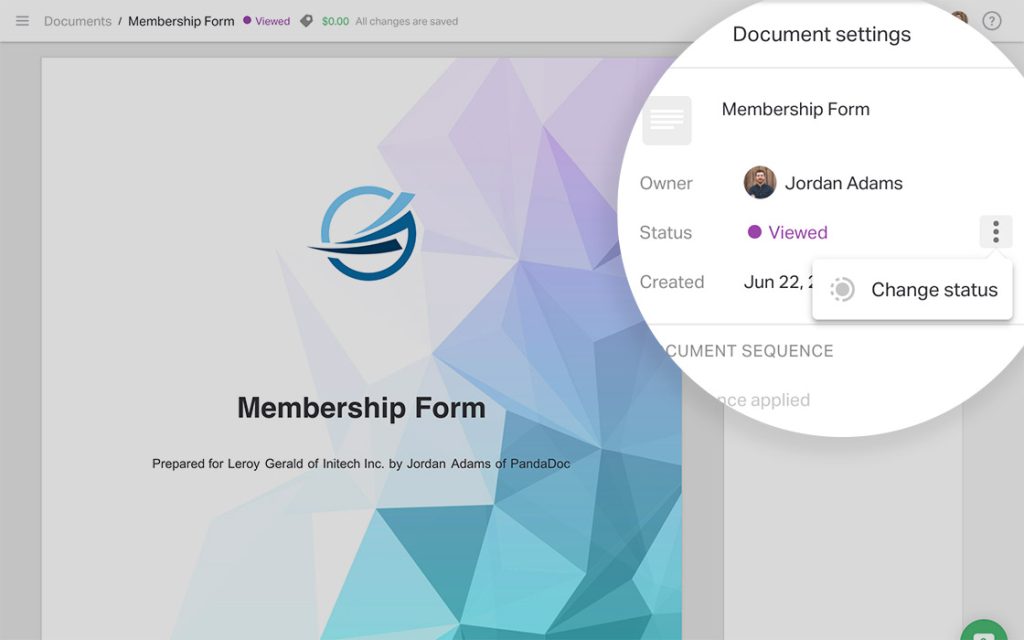 After clicking the status change button, here is the screen that will display: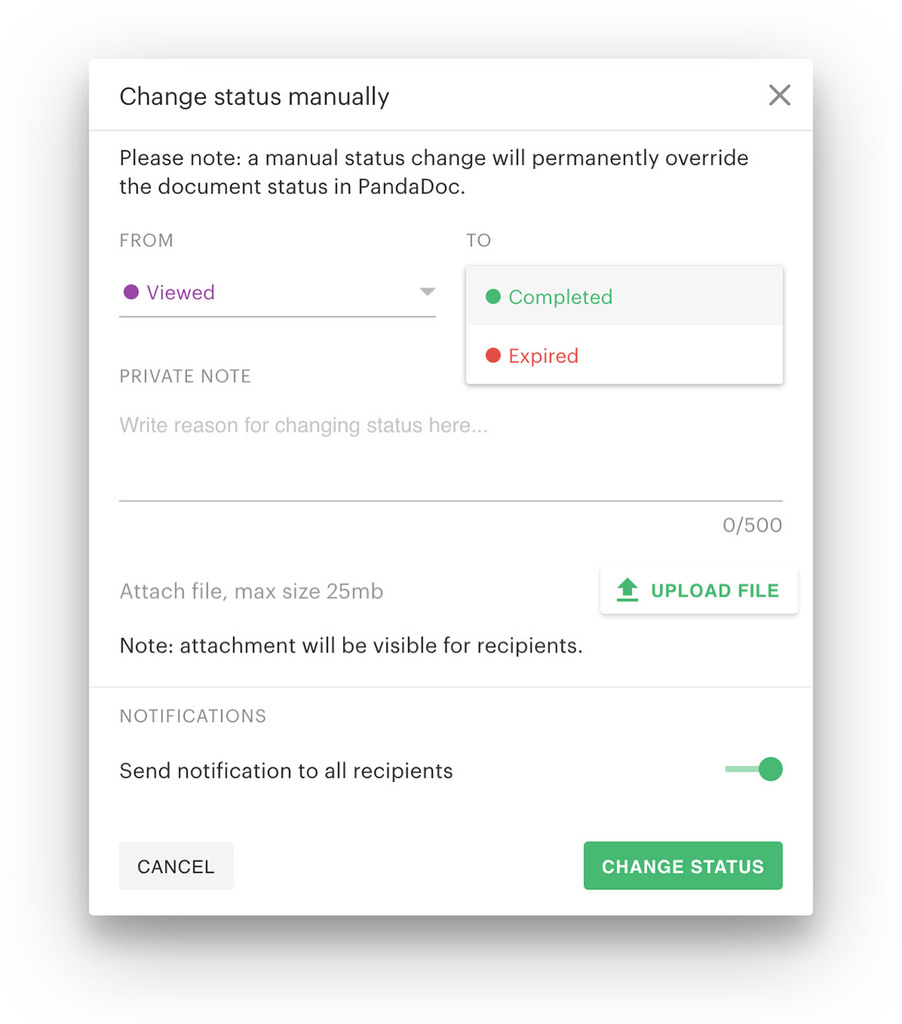 You will then have the option of adding a note, adding an attachment and notifying all recipients. If notifications are enabled, the recipient will receive the following message: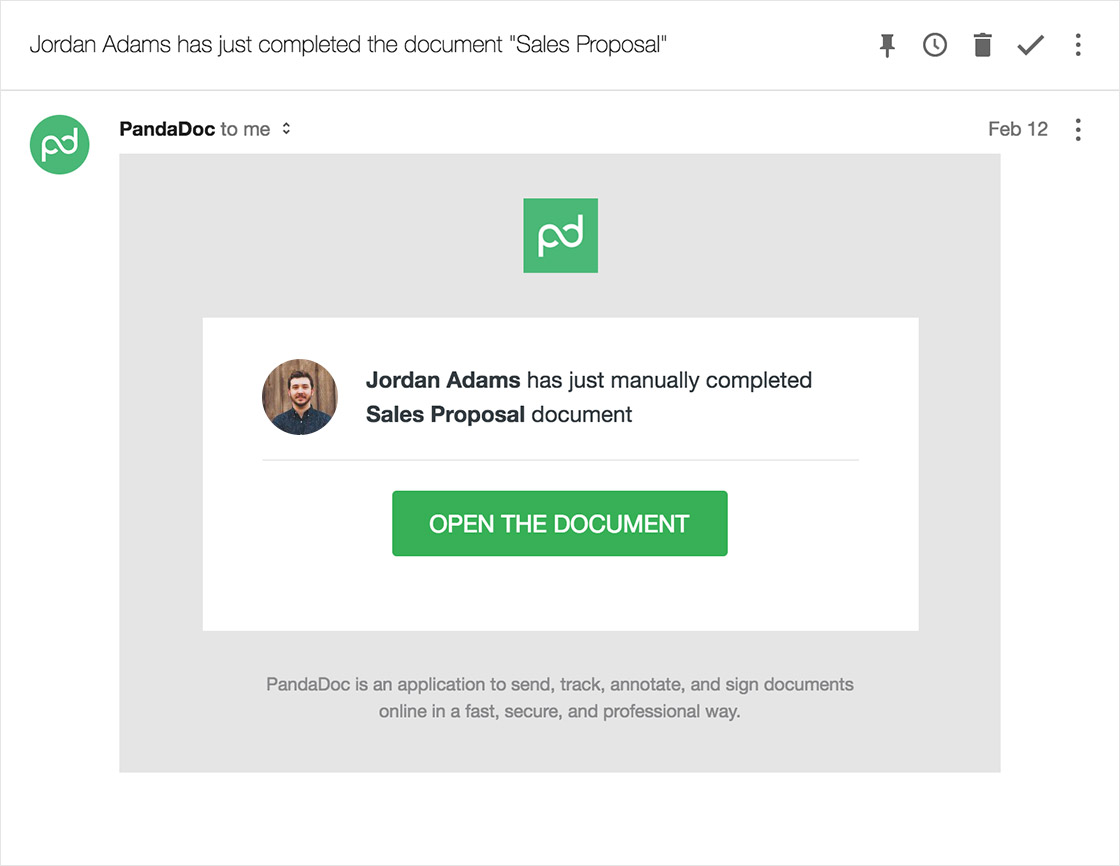 How do I enable this feature?
This feature will be available in our add-on store. The administrator of your PandaDoc account can enable this feature for your workspace.
If you have any questions, feel free to shoot support an email at support[at]pandadoc.com.
New to PandaDoc? Give us a try for free for 14-days. Ready to manually change some of your documents statuses? Login to your PandaDoc account here.