Customer relationship management, also known as CRM, are crucial practices, strategies, and technologies that every sales organization must utilize. The goal of any CRM is to improve customer relationships, assist in retaining those customers, and drive sales revenue.
There are four key players in the CRM technology market: Salesforce, Oracle, SAP, and Microsoft. But one company has emerged from the pack… SugarCRM. SugarCRM has recently become an innovative leader in the CRM marketplace with over 1.5 million users relying on the tool to log their day-to-day sales activities.
Their recent rise amongst enterprise organizations caught our attention. Many large companies choose SugarCRM over the leading competition because of their deployment flexibility and seamless integration with systems, thus the integration of PandaDoc was born – extending the ability of SugarCRM with document automation.
How does it work?
PandaDoc takes the SugarCRM opportunity data you are already viewing and merges it with your quote, proposal, or contact — eliminating the manual back-and-forth to create client facing documents.
To merge the data, tokens are used as placeholders for recipient information such as first name, last name, and email address. You can even populate your documents with opportunity details such as expected close date, likely revenue, and description.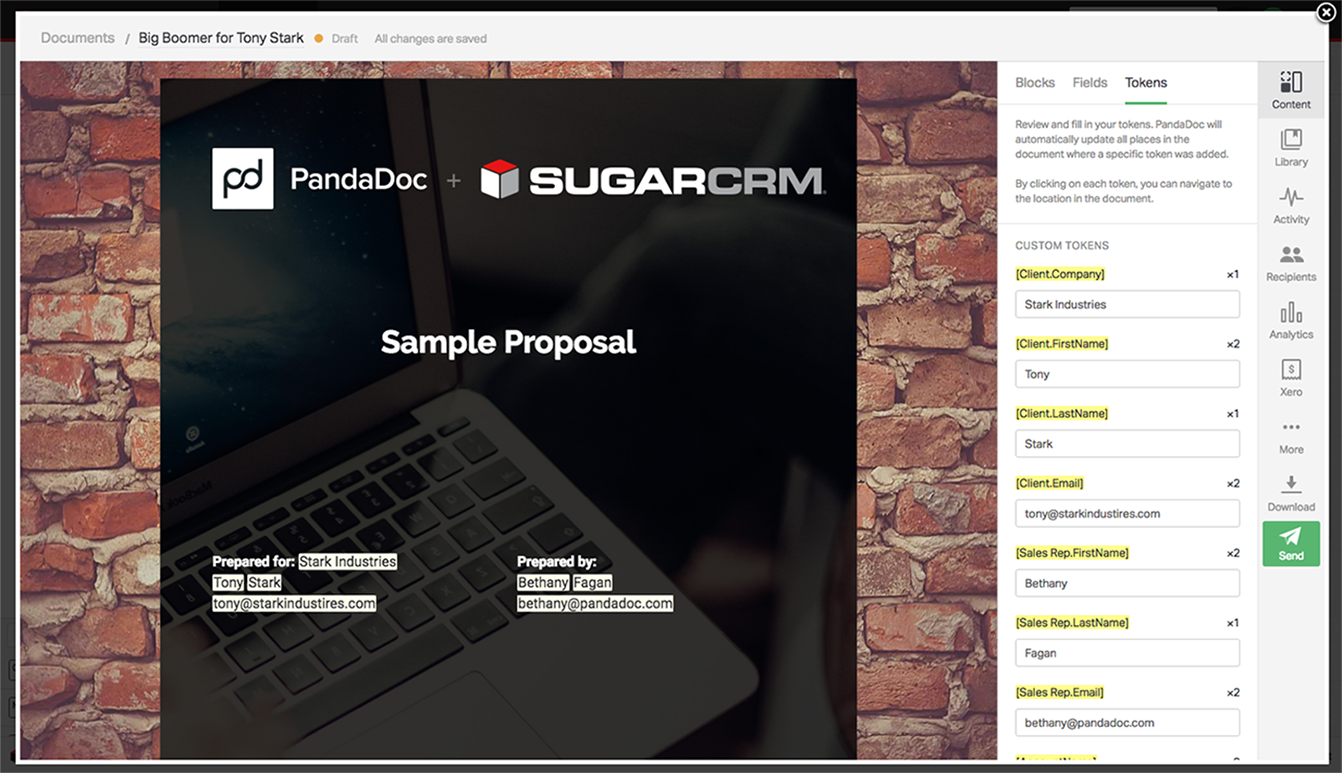 How do I connect the integration?
To start using the integration, you will first need to download and install a Zip file. You will then upload the file to SugarCRM via the Module Loader. For full instructions, visit our FAQ here.
How do I send out a document?
While viewing your opportunity, the custom data from the page will merge directly into the template to create a new document. All you need to do is make your final edits via the PandaDoc interface and send your document.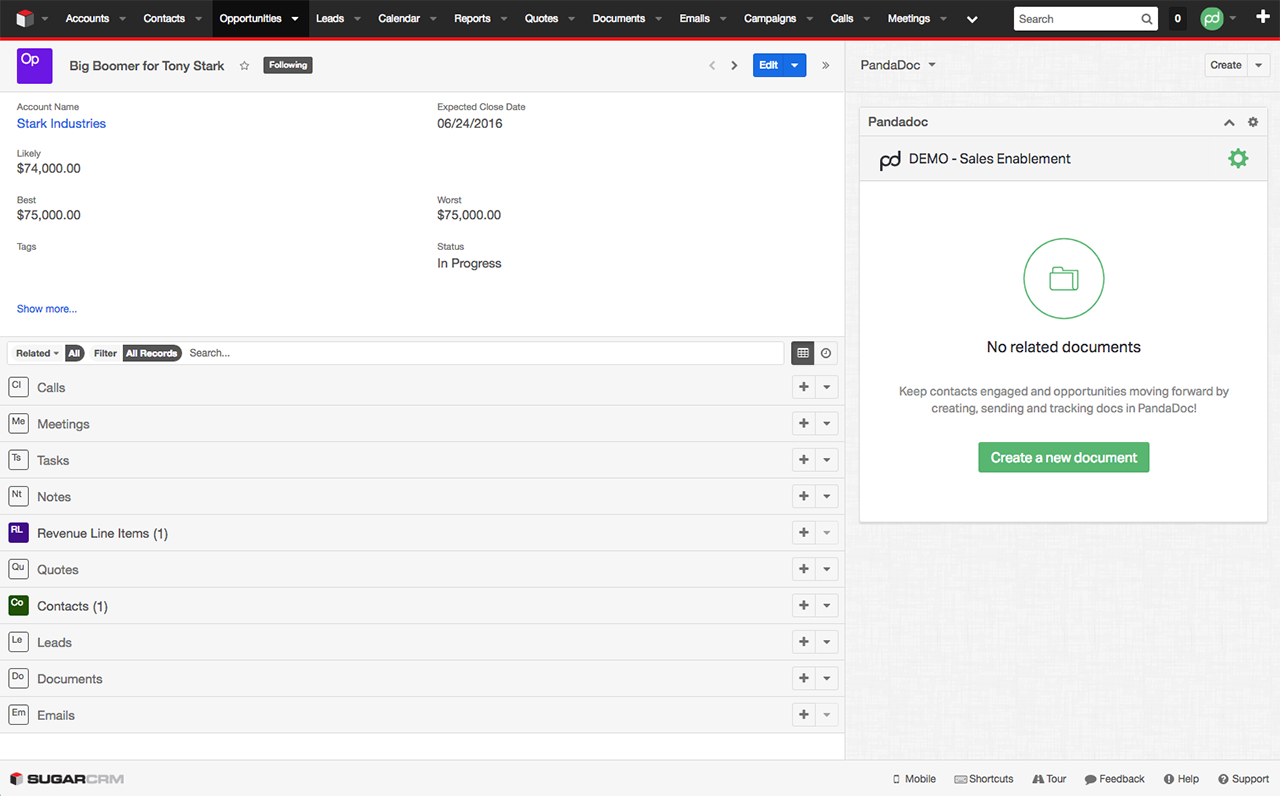 After sending your document, easily track its status via the PandaDoc module within SugarCRM for timely follow up.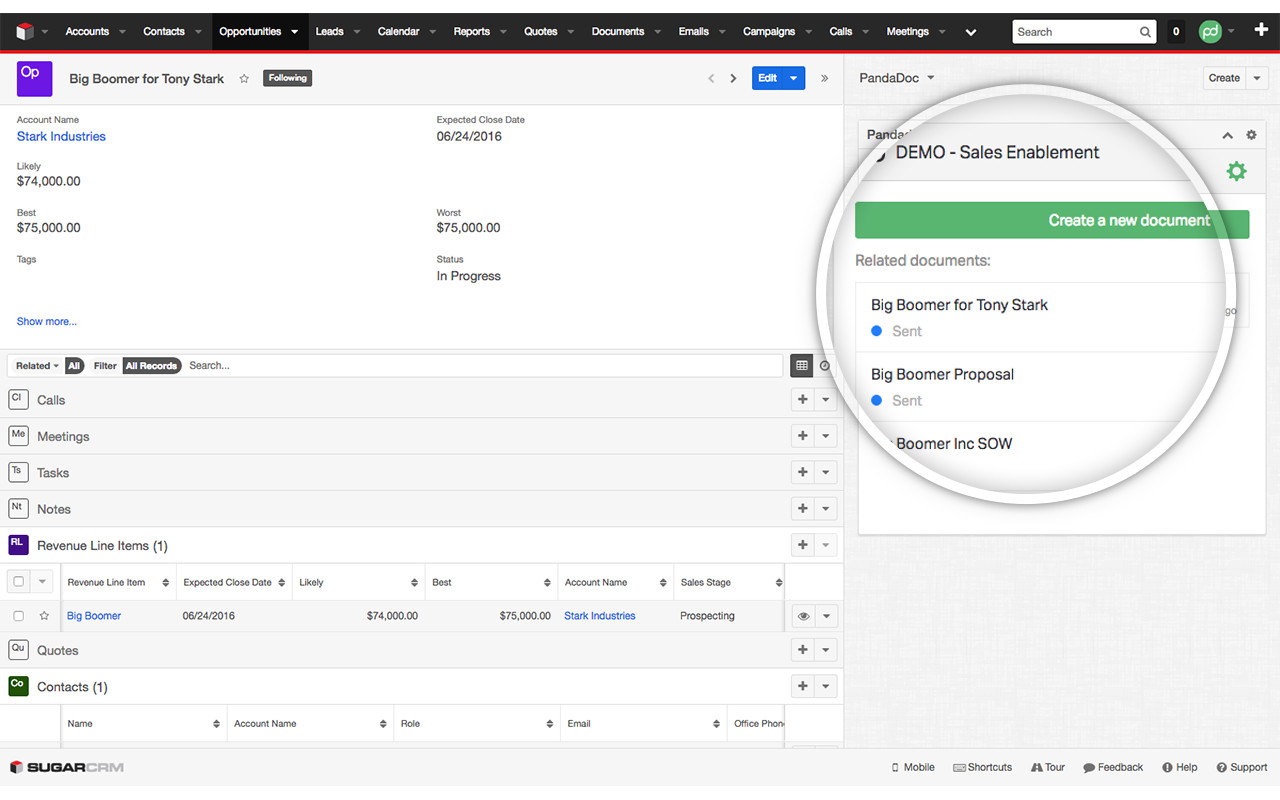 With PandaDoc entering the SugarCRM ecosystem, we are significantly improving the way sales community creates, sends and signs sales collateral. In fact, David Faye, CEO of Faye Business Solutions Group (FayeBSG), PandaDoc's newest Partner, says: "FayeBSG's success as an Elite Partner within the SugarCRM ecosystem has been predicated on our ability to deliver tightly knit sales solutions.
We're excited to join PandaDoc as a partner to drive home the value of a lead to close sales stack that makes sales reps more effective."
For a deeper insight into the PandaDoc and SugarCRM integration, read more info here.