On average, a sales development rep uses six sales tools, and each of them is a necessity to their daily work. But what if you could make their life easier by making the apps work better together?
We have great news for sales champions!? Let's say you need customer details from a signed PandaDoc contract added to a new invoice. The old way is to copy-paste each field manually. The new way is to use our Zapier integration!
With new Triggers and Actions, you can connect your PandaDoc documents and templates to 1300+ applications from the Zapier directory.
Zapier setup doesn't require any coding knowledge. And installation will likely take less time than reading this blog post.
Create new invoices or send team messages when your contract is viewed, signed, or paid. Also generate new bills and agreements from PandaDoc templates using the data from your CRM, accounting, or other business tools. You can start by utilizing the PandaDoc Zaps (ready-to-use templates) or create a custom document workflow in your Zapier account.
What's new in PandaDoc integration for Zapier
The new PandaDoc integration for Zapier works with the list of Triggers and Actions to set up bi-directional workflows:
Capture data from other tools and generate a new PandaDoc document with this data.
Send the data from a PandaDoc document (fields and document status) or a PDF copy of the document in your CRM, cloud storage, and other tools.
With Zapier connections your data automatically moves from one application to another. And the best news is, you won't have to eliminate any features when you set up your automation rules with PandaDoc. Every functionality available within your existing tool can be used with your documents.
Just utilize the new PandaDoc actions for Zapier to automate document generation and eSignature collection. And while PandaDoc generates your invoice or a contract and sends it out for you, you can keep enjoying your morning coffee.
Keep your data up-to-date in every tool
PandaDoc provides built-in tools for tracking document statuses and activities. Zapier Triggers help to share these updates with your connected tools or publish them in a Slack channel.
For example, when a contract is signed in PandaDoc, you can change the opportunity in HubSpot to won, send a hooray! Slack message in the #saleswins channel, and then store a PDF copy of the contract in a dedicated Google Drive folder – all simultaneously with the PandaDoc Zapier integration.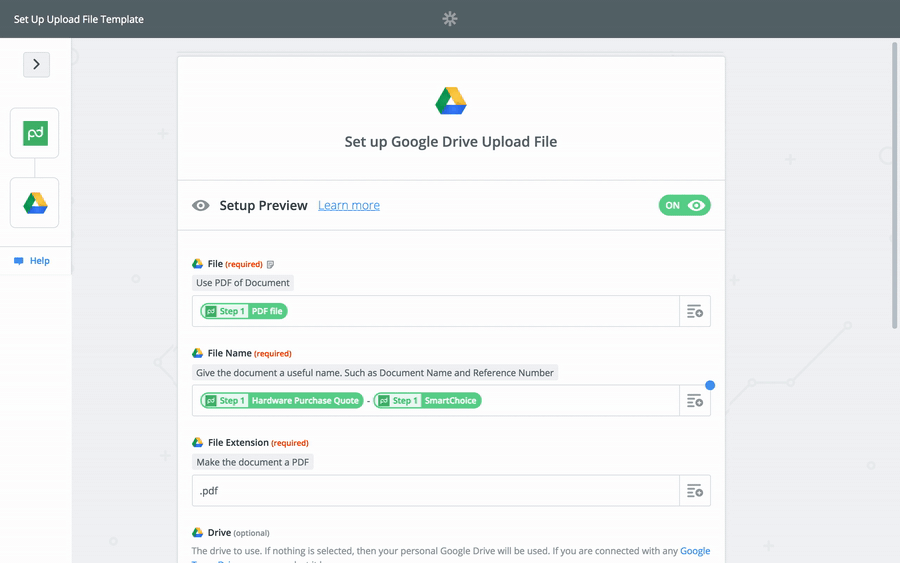 Get started in minutes with ready-to-use Zap templates
Zapier is designed for businesses who need to integrate tools quickly and easily. To get started even faster, use our library of ready-to-use Zap templates that feature the most desired connections.
These include: storing PandaDoc documents to your Google Drive, sending PDF copies of the signed documents via email or to a Slack channel, or generating a new invoice once a contract is signed.
Create invoices on the fly from signed agreements
Our integration works with your pricing tables from PandaDoc documents too. When a contract or proposal is signed using PandaDoc, QuickBooks or another invoicing tool of your choice can generate an invoice automatically.
The auto-generated invoice contains the list of the products, prices, quantities, and other customer data from your initial document. Just give it one last look, and you're ready to send your invoice for payment.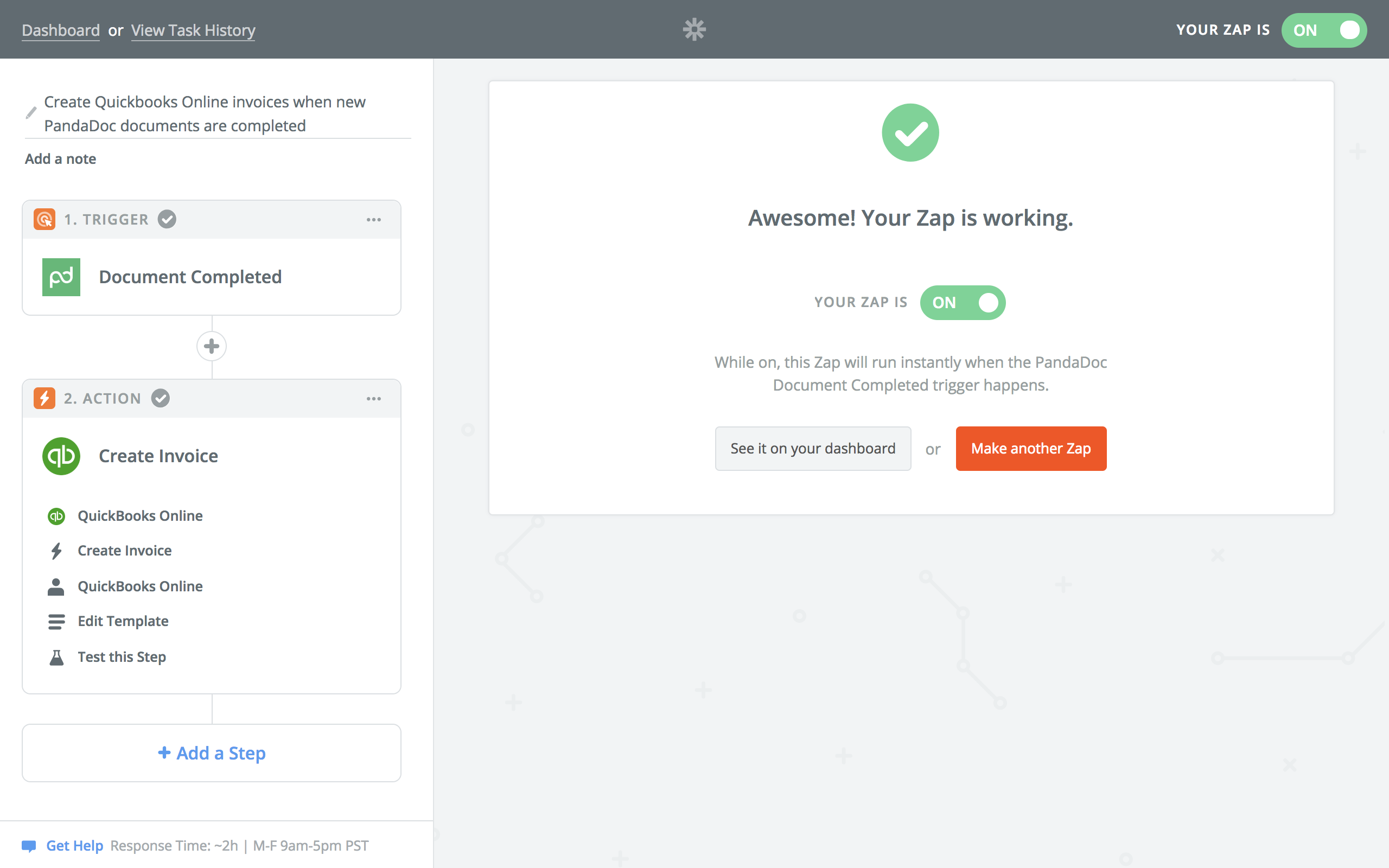 Celebrate a deal once your document is signed
Keep pushing your deals forward to close them faster. Everyone knows that the last step in finalizing an agreement is to get your prospect to sign on the dotted line. If you're familiar with PandaDoc, you already know that our software includes legally-binding eSignature technology.
But today, you can now start generating documents and collect eSignatures from any application that is connected to PandaDoc with the Zapier integration.
Did a deal move to the negotiation stage in your CRM Zapier can create a document from a PandaDoc template and add customer contact details and products right into your proposal. Next thing you know, your proposal or quote is on its way to your client without a single click in PandaDoc.
Need some ideas?
You've already shared a lot of great product ideas with us, and we genuinely appreciate your feedback. The Zapier integration was one of our top requests, and now that it's up and running, more of your top integration requests are possible. Ones like:
Store your signed documents in the cloud, including Google Drive, Box, DropBox, OneDrive and many more. Now you can use your preferred storage for document creation, organization, and storage.
Create invoices or bills in your preferred invoicing tool using product items and pricing from completed quotes or agreements.
Update your team by pushing document activity messages to Slack or sending email messages that include PDF copies of signed contracts.
Create the actions mentioned above and other integrations by following the guided setup in Zapier or choose the Zaps from the list.
Ready to go? Enable Zapier integration for your PandaDoc account
The Zapier integration is available with our Business and Enterprise plans. All you need to get started are PandaDoc and Zapier accounts.
Happy Zapping! Oops, happy Zapping selling with PandaDoc and Zapier!