Ever since the beginning of (marketing) time, those involved in the industry have had strong opinions about email marketing.
For some, the practice was dead before it had even been born; for others, there has never been a better tool than email marketing.
The numbers agree with the latter set of marketers. Here's why:
4.6 billion users are expected to use emails by 2025 (which is more than half the projected world population by then).
The same report by Statista also concluded that by 2027, the industry would be valued at $17.9 billion.
According to Campaign Monitor, email marketing is used by 64% of small businesses.
More importantly, it's quite possible to get $36 as ROI for every dollar spent on email marketing.
The fact remains that there might be multiple marketing channels out there, but email marketing has its own share of benefits.
We'd even go out on a limb and say that it might be one of the most powerful forms of marketing.
After all, there has to be a reason why 81% of marketers call it their preferred form of content marketing, right?
If you're wondering what all the hype is about, you've come to the right place.
In this article, we'll take you through the ins and outs of email marketing, explain its benefits (and possible cons, if any), and give you actionable tips on how to incorporate email marketing into your marketing strategy.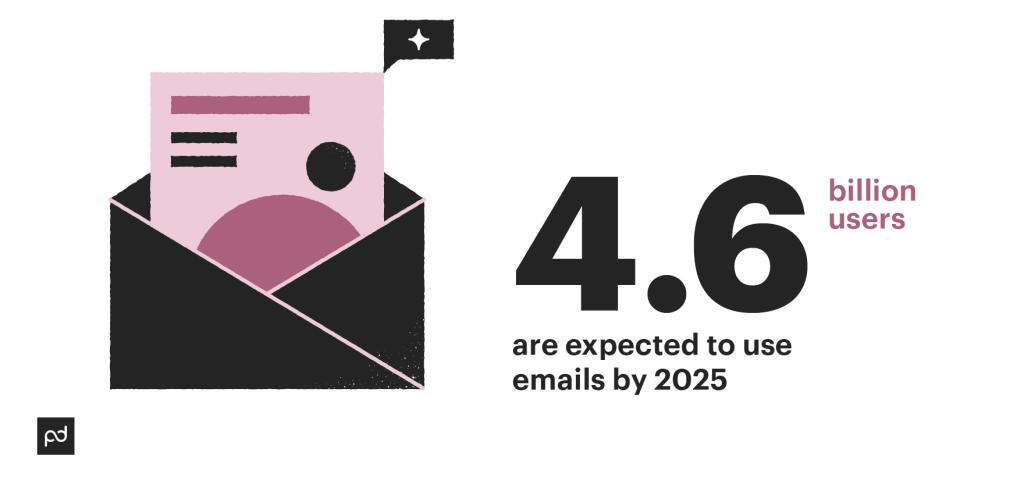 What is email marketing?
Email marketing is just one of the hundreds of forms of marketing.
As the name suggests, this form happens over emails (which, because emailing itself is now ancient, also makes it one of the oldest tools in the playbook of digital marketing).
Marketers use this strategy to target both their potential and existing customers in the hope that those customers will buy or continue buying products from them.
This is mainly done by creating an email list and sending them information about your latest offers, distributing value-add content, and sharing other insightful information.
Do people really believe in email marketing or is it just a fad?
There's always going to be some set of people who will underestimate the power of email marketing.
To be fair, this marketing channel is something that might not be optimal for every business — just the same way that not every business needs to focus on SEO, or social media, or cold calling, or a million other things.
For the most part, however, email marketing is here to stay. So businesses who have the resources to implement an email marketing strategy should really opt for it (for several reasons).
Better yet, even employ the help of marketing automation software to convert prospects faster.
The first reason is that marketers swear by the benefits of email marketing — according to Litmus, 78% of marketers considered emails as a reason for their company's success.
The other reason is that people who have shifted to this marketing strategy have seen impressive results from it.
Take "Watsi," for example. The healthcare fund wanted to engage with people so they'd donate more. Initially, they thought people donated to the company because they were moved by patient stories.
However, they soon realized not everyone has the same reasons for wanting to donate, so they started segmenting their email campaigns — by doing this, they made everyone who received their emails feel connected to the brand.
Their strategy was inclusive of good email marketing practices — they included social proof, they made their audience feel special, they customized the content according to their liking, A/B tested mails, etc.
But at the same time, they took creative liberty with their emails.
The end result? Watsi saw a 126% increase in donations (through conversions), and a 35% increase in click-throughs, (and they were backed by Y Combinator!).
Read more about the case study here: What startups can learn from Watsi's wildly successful email campaign.
But if you're still second-guessing the relevance of email marketing in 2022, then this guide might help address all your doubts: Is email marketing still relevant in 2022?
What are the benefits of email marketing?
In this section, we're deep-diving into all the possible advantages of email marketing.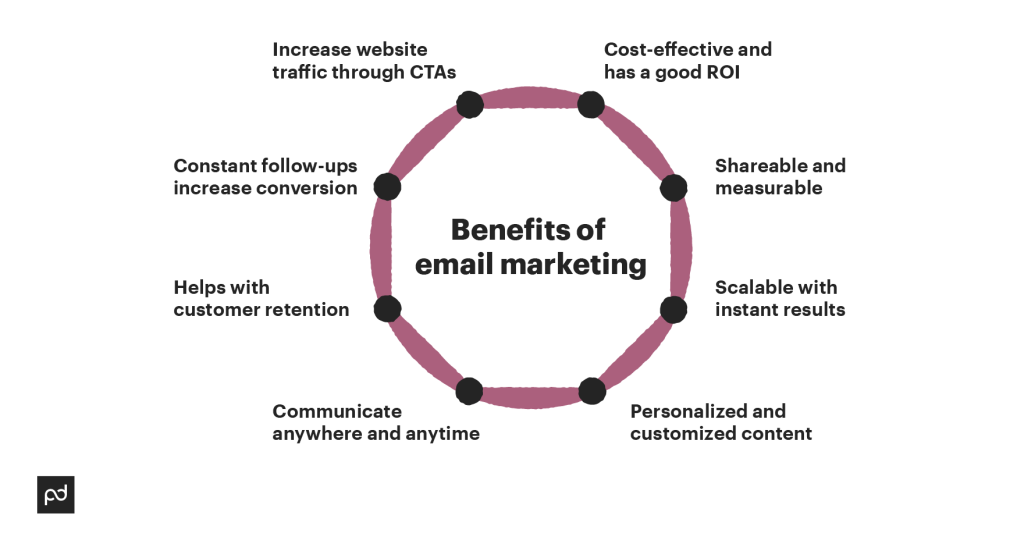 1. Incredibly cost-effective and has a good ROI
The first and foremost reason why anyone would want to switch to this strategy is that it makes the most sense as far as marketing dollars are considered.
Although different studies have had different results, one thing remains common amongst all these studies: email marketing has a better return on investment when compared to any other marketing channel.
One study suggests that it's possible to get $36 in revenue for every dollar spent on email marketing. If we put the number into percentages, that's an ROI of 3600% right there.
Even with the growth of other social media channels these past few years, email users have been growing just as steadily.
Besides, email marketing campaigns can be personalized based on the audience's interests, which is something that you might not be able to achieve with your social media. But more on that later.
2. It's easily shareable and measurable
When we say that emails are shareable, we're looking at two parts of a story. The first part is that as soon as an email arrives in an inbox, the user can easily forward it to whomever they want.
The other part is that setting up an email list and sharing content through emails is not something that would be considered a complex task (hence it's easily shareable for brands too) — and marketing automation software can be a great help here, as it can assist you creating and customizing emails and segregating email lists.
Another great benefit of email marketing is that the results are almost instantaneous and easily measurable.
CTR (also known as click-through rate) is the most common type of metric used to measure the success of email marketing campaigns — what it basically does is tell you the percentage of people who have clicked on the link(s) mentioned in your email(s).
Here are a few other metrics you should know to be able to measure the results of a campaign:
Unsubscribe rate: This rate measures the percentage of people who decide they no longer wish to receive emails from you after initially getting on your subscription list.
Open rate: Open rate measures the percentage of people who (you guessed it) opened your email once you sent it to them.
Bounce rate: Bounce rates usually happen when there's a problem with sending someone an email. So the percentage of people from your email list who can't access your emails gets classified as bounce rate.
Conversion rate: The conversion rate takes into account the percentage of email subscribers who completed the desired action. For example, if you asked them to fill in a survey through the mail, this represents how many of them clicked on the link to fill out the survey.
List grow rate: List the grow rate measures at what speed your email list is growing.
To know more about these email metrics, check out this guide: 18 email marketing metrics every marketer should know.
3. Extremely scalable with instant results
Email marketing campaigns hold a very special place in the hearts of marketers for two reasons.
Reason no.1 is that it's easy to see instant results. Reason no.2 is that it is easy to scale an email marketing strategy.
With any email marketing strategy, as soon as the email drops into your prospect's inbox, they have the option to click on a link and buy the product quickly.
The same cannot be said if they were to see a print or television ad. On these channels, you'll only get the product information and have to make the purchase somewhere else.
They are also highly scalable (especially when you have the assistance of marketing automation software), and having an email marketing strategy works in any scenario.
Even if you're targeting new customers or already established, even if your list is small or big, and even if your target audience is young in age or a little more "seasoned" (everyone from Gen Z to Boomers has an email address).
4. Excels at creating personalized and customized content
Email personalization begins by targeting and segmenting the audience; once you do that, the results are nothing short of phenomenal. To illustrate our point, here are two case studies:
Case study #1: A pharmaceutical company was sending non-relevant emails to 700,000 of its subscribers.
Tired of receiving email content that wasn't relevant to their practice, the subscribers opted out or didn't engage with it.
Deloitte stepped in to analyze five years' worth of data in a span of 10 weeks.
During this time, they understood the intent for which the healthcare providers had subscribed, what would cause them to opt-in, what would drive engagement, etc.
The end result was that the company was able to deliver one-on-one engagement plans for its unique users. This allowed them to improve their customer relationships, and also lowered their opt-out rate by 50%.
Case study #2: Dormify, a home decor retailer, used email marketing to drive up its revenue.
The company quickly identified the buyer persona of its target demographic and personalized three automated emails (welcome email, cart abandonment email, and post-purchase email).
Within a year of implementing this strategy, they improved their revenue by 92% and saw a better conversation rate from emails (when compared to the conversion rates of an average website visitor). Email subscribers who went on the website visited 20% more pages and stayed for 40% longer.
Learn more about their email marketing strategy: How automated email marketing to millennials led Dormify to a 92% lift in revenue.
If you're interested in learning how to create a personalized email strategy for your business, then the podcast The Email Marketing Show will definitely help.
And we'll also dive further into how to personalize your email content in the text below.
5. You communicate with your target demographic, anywhere and anytime
Email marketing has an extremely unique benefit that perhaps no other marketing channel offers: your customers are there willingly.
Since your entire email list is permission-based, this in itself qualifies people who are already interested in what you have to offer.
Another great thing about email marketing is that you can reach a wide variety of audiences at a time that suits their schedule.
Say, for example, you have an email list of freelancers based across the globe.
If you were to send out an email at a particular hour, this would mean that some would receive emails at night, some in the afternoon, some in the daytime, etc.
This could potentially ruin your engagement rates. But if you segment the audience and schedule emails at a time when they're most active online checking them, there's a better chance to interact with them fully.
Compare this with another marketing channel. Take social media, for example — you post content the time you post it, and there's no going around it.
With email marketing, you also have the flexibility of reaching your audience on multiple devices, because emails are just as accessible on phones and tablets as they are on your laptop.
6. Helps with customer retention
An email marketing strategy is not only essential for acquiring new customers — but it also provides the benefit of customer retention.
Marketers often target established customers by sharing valuable content, engaging them with retargeting campaigns, and personalization as per their preferences.
Even if your existing customers aren't interested in buying your product for the second time, if you constantly engage with them, they become loyal customers and sing your praises to other prospects.
Targeting your existing customers also helps if you're trying to gain feedback from them.
Once you understand the pain points from the horse's mouth (so to speak), then it becomes much easier to tweak your marketing campaigns to attract new customers by leveraging the aforementioned pain points.
Read more about how you can improve sales and boost brand loyalty through retention campaigns here.
7. Constant follow-ups increase conversion
Even a simple shopping experience where your customer goes to your website to buy a product has multiple touchpoints.
These touchpoints include initially visiting the site, logging in (or registering as a new customer), adding a product to the cart, invoice, and confirmation of the product being sent.
Once your customer ends up buying the product, it's only common courtesy to acknowledge them with a receipt on their email.
However, some eCommerce brands also use email campaigns to retarget customers by telling them they've abandoned their cart, or they haven't completed signing up.
Following up with customers to help them finish their purchase increases opportunities for activation, retention, and conversion.
Some of the most common follow-up emails are welcome emails, ticket support emails, promotional emails, discount emails, abandoned cart emails, review emails, etc.
Read more about the need-to-have follow-up emails for every e-commerce brand: 7 must-have eCommerce follow-ups every eShop needs.
8. Can increase website traffic through CTAs
Email marketing also presents an excellent opportunity to drive up website traffic.
If you have a CTA at the very end of your email copy, then clicking it takes the prospect directly to your website, and hence boosts traffic.
The most effective way of promoting good click-through rates is by producing great content and by presenting great offers.
However, you can adopt a few more strategies to boost website traffic:
Create landing pages relevant to the offer you're mentioning in the email.
Segment your audience and personalize content.
Add social media links to your emails.
Make your content mobile-friendly.
Be consistent with your approach.
How do I incorporate an email marketing strategy into my business?
You'll need to begin with an email list.
Start by building an organic list (which you can do by getting an email address in exchange for gated content, adding opt-in signups, using landing pages to access email IDs, and building hype about your newsletter, etc).
Next, start segmenting the email list, which can be done by focusing on a few factors.
How you want to segment the list is totally your prerogative, but most marketers segment these lists by considering factors like age, location, gender, lifecycle stage, user behavior, etc.
Once that's done, you can begin firing up emails!
Just a few essential pointers to keep in mind:
Make sure you're always consistent with your content.
Try to craft compelling subject lines (as they can boost open rates).
A/B test your subject lines and CTAs instead of seeing what sticks.
Decide upon a tone, style, and design.
Measure metrics and keep revising your strategy as and when necessary.
How can PandaDoc help?
To engage with your audience and turn them into loyalists, you need to share value-add content and resources that resonate with them.
You also need to know how well these resources are performing, to know what sticks with your audience and what doesn't.
So, it's a credible guess if we say that at one time or another, you're bound to send your readers ebooks or templates (as resources), forms (to collect their feedback), or even business proposals (if your readers have trickled down the funnel and are about to become customers).
This is where PandaDoc comes in and how we can help you improve results: PandaDoc offers real-time analytics.
That is to say, we can tell you exactly what your readers like and what they don't.
We don't just cover basics — we go in-depth.
Every page they linger on, pages they don't interact with, data they glance at, stuff they truly like — we have all the information on our hands.
That way you figure out what exact changes to make to optimize your results. But that's just half of it.
We also have a library of resources and templates, and we can help you create and customize assets as per your business needs.
If this sounds like something you're interested in, you can have it at only $19/month. Learn more here.
What are some of the best email marketing strategies?
1. Make your content mobile-friendly
According to Campaign Monitor, one out of every three email clicks happens on a mobile device (in other words, a whopping 33% of emails are opened on cells, iPads, or tablets).
So making your content mobile-friendly is not so much so as a nice-to-have but rather a need-to-have in today's landscape.
To make your content mobile-friendly, you need to focus on design layout, font, visuals, etc.
Make sure your CTAs, as well as your landing pages, align just as nicely on mobile phones as they do on laptops.
2. Personalize your content
The benefits of personalization in email marketing are far too many to be ignored.
You have better open rates, conversion rates, ROI, and engagement rates, and you create an overall better experience for the reader if you choose to personalize emails.
On the flip side, if you don't personalize your emails, you'd just end up sharing generic content that would be a hit-or-miss for the reader.
In short, you won't be doing yourself any favors in the long run (because the audience will start trusting you less and less with each passing email).
But if you're looking to personalize emails, then you can do so by deep-diving into your data.
3. Focus on providing value
This strategy provides the same benefit as personalizing your content.
If the content you share provides the reader with value the first time, they are much more likely to open your emails the next time they see it in their inbox.
Suppose you keep sharing content that only focuses on addressing your company's selling points.
In that case, the engagement rates you would see will not compare to those you'd see when you focus on addressing your customer's pain points.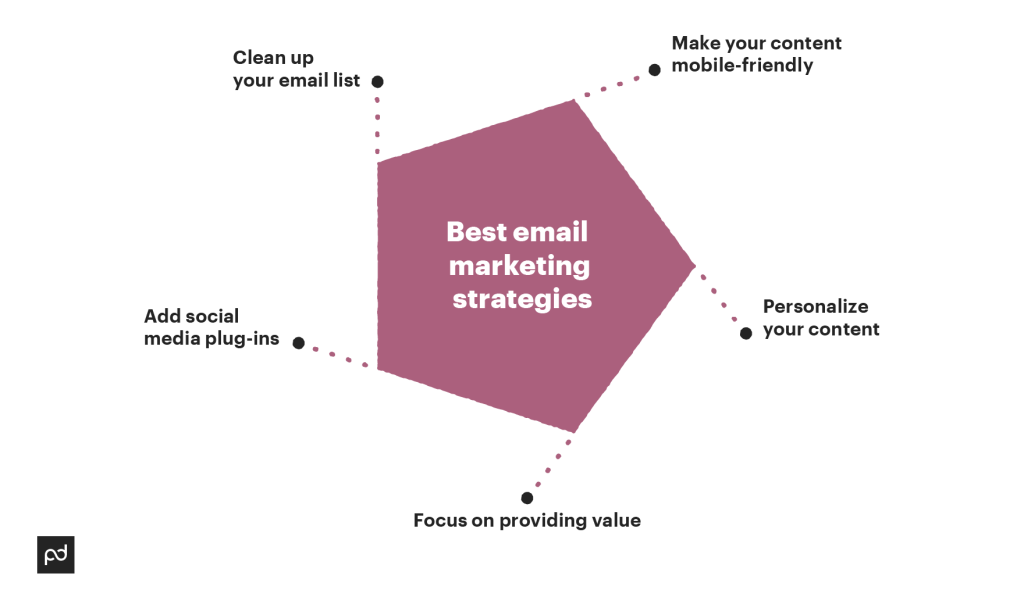 4. Add social media plug-ins
Adding social media to your emails is a no-brainer and for a few reasons. Chief among them:
They extend the reach of your email marketing campaigns.
They boost website visits.
They improve brand recall.
You improve follower count on these social sites (and attain the subsequent benefits of having an impressive follower list).
You can add them at no cost.
They don't ruin your email design and structure (if anything, you might look more professional).
5. Clean up your email list
Having a clean email list can do wonders for your email marketing metrics — mainly because you have a reputation to keep with ISPs (internet service providers) and advertisers.
Having a clean email list will reduce your bounce rate, improve email delivery, and result in better open rates.
However, the most important benefit of cleaning up your email list is you reduce the amount you spend on every subscriber.
It might be a difficult decision to clean your email list, but doing so will help you improve your strategy and will lead you to have conversations with people who actually care.
Conclusion
If you've trickled down to the end of this article, then it's safe to say that you're considering adopting an email marketing strategy for your business (or maybe you're just here for research to fine-tune what you already implement).
Either way, you now better understand the importance of email marketing.
And if you're seriously considering email as a marketing tool, then the very next step is to employ the services of marketing automation software.
Of course, besides us, there are alternatives. Here's a link where you can find our competitors and cross-compare our benefits.
Or you can opt for a service that has worked wonders for clients in the past.
Enter PandaDoc, a solution that has helped (and will help you too) increase close rates by 36% in half the time. Connect with us, and we'll tackle email marketing together!
Originally published May 5, 2020, updated Jul 12, 2022
Disclaimer
PandaDoc is not a law firm, or a substitute for an attorney or law firm. This page is not intended to and does not provide legal advice. Should you have legal questions on the validity of e-signatures or digital signatures and the enforceability thereof, please consult with an attorney or law firm. Use of PandaDocs services are governed by our Terms of Use and Privacy Policy.