Our February product release is for those who want to become absolute champions of proposal and contract management. These new features help to move your sales automation to the next level and customize the language of your recipient interface.
Our February update includes:
Ability to send to multiple recipients (Bulk Send)
Recipient view localization (French, Italian, and English)
Updates to the Salesforce integration
Bulk Send
Have you ever tried to send out proposals to dozens of new prospects after an event? Or had to edit and send a bunch of updated policy docs or terms and conditions agreements to your customer base manually? If you have, then you know how time-consuming and error-prone this process is.
There are a lot of email tools that help you bulk send those emails but they cannot help you when it comes to both emailing and managing documents.
Our new "Bulk Send" feature enables you to send customized documents to up to 1,000 customers at once and track if they have opened and eSigned these documents individually. This winning combination of bulk email sending, document management, and eSignature functionality results in substantial time savings. And yes, you can do it with one single tool!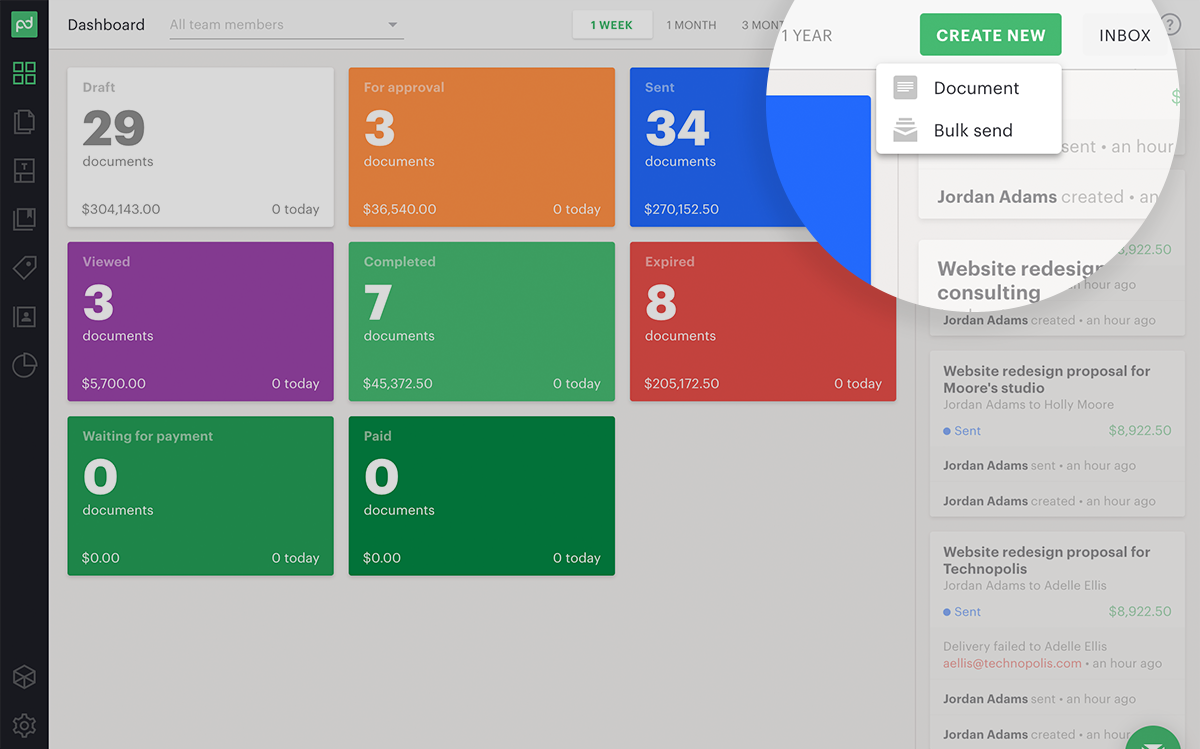 The process starts with choosing a Template with pre-assigned Roles and preparing a CSV file using the .CSV file sample (PandaDoc will generate a blank CSV file for you to use with all the necessary columns). Using tokens, you can customize the documents for each recipient or a group of recipients.
Once you upload your .CSV file, PandaDoc will flag any errors or missing data before the email is sent so that you can correct and re-upload it if necessary. If you set up reminders and document expiration settings for the Template you use, these settings will be applied to all the documents. Before you hit send, you can double check the settings in the send dialog and adjust them as you see fit.
All of the newly created documents are automatically filed into a separate folder and every single document can be tracked individually. And you'll receive a confirmation message once your bulk send has been processed.
The Bulk Send feature is available for Enterprise plan users. Contact our support team to enable this feature by submitting a help request in the application or sending us an email.
French and Italian recipient view localization
We understand how important it is to be a customer-centric company and speak the same language as your clients. Literally 🙂 Now you can choose the language for the interface where your customers interact with your documents. The language options include French, Italian, and English (by default) for now.
The localization setting is available on the:
Workspace level (e.g., if a particular team works with French-speaking customers, this setting can be enabled for the entire workspace)
Template level (if a particular template is in Italian and intended for Italian-speaking customers, for example)
Document-level (e.g., if this particular recipient speaks this language)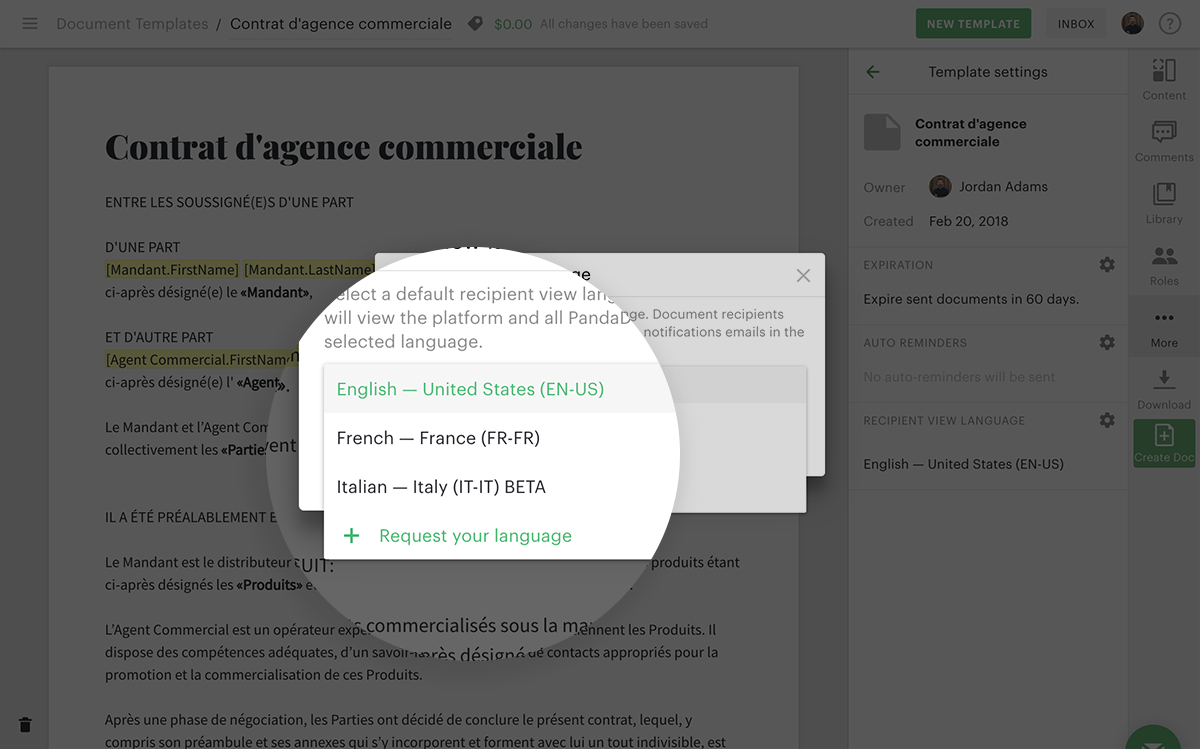 In addition to customizing the recipient view language, you can customize the document delivery email messages to help your customers accept and sign their document in minutes.
If you'd like to translate your recipient view into another language, submit your request in our in-app localization form! And if you're a native speaker and ready to help with the translation, let us know. With the help of our users, we can translate PandaDoc's recipient view into new languages more quickly.
Voilà! Perfetto!
Salesforce integration update
We are happy to announce the release of a new Salesforce integration version which provides advanced administration settings to increase productivity. These enhancements help to tune the sales document workflow by setting up smart notifications to control document statuses, among other capabilities.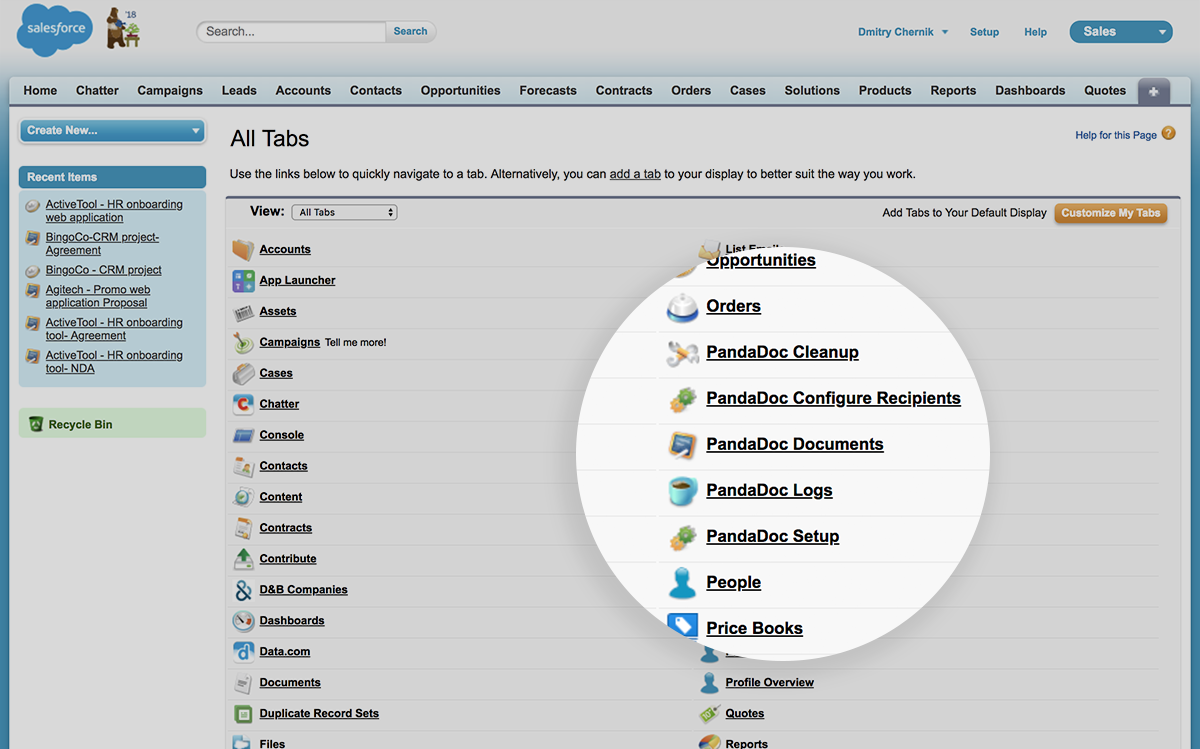 We have also made additional updates to the integration for users who would like to try PandaDoc in their Salesforce instance before completely implementing the product. We improved deployment in your Sandbox so you can have a fully-functional trial to test before you connect the integration.
If you need help with updating your current integration or trying a new Salesforce setting with PandaDoc, contact our support team.
When you're ready, try all of these features by logging into your PandaDoc account or starting a free 14-day trial.