There are often financial or legal cases in your company where you'll need documents that are verified as official.
For example, if your business is handling a significant financial transaction, it's essential that this is documented correctly to mitigate the risk of fraud.
To ensure the authenticity of these types of documents, you'll require them to be certified by a notary public. This is known as a notarized letter.
Let's look at how to write a notarized letter, together with use cases for notarized letters in your own business.
What is a notarized letter?
A notarized letter is a document certified by a licensed public officer (known as a notary public).
This impartial witness oversees the signing of documents and confirms the authenticity of the included signatures.
A notary public is an official trained in verifying identities, witnessing signatures, and recording the notarization process.
Identifying a fake or counterfeit ID is a crucial element of notarizing documents.
To verify legitimate signatures, a notary public must perform a sequence of careful checks during the notarization process.
Along with identity verification steps, they must also check for potential signs of coercion.
A notary public must certify that all the signers understand what they are signing and that they have legal capacity to sign.
For example, if an individual is heavily medicated or not of sound mind, the notary would refuse to notarize the document.
During the document notarization process, the notary will ask you to present a current identifying document to verify your identity.
This must include identification containing a photograph, signature, and physical description.
Acceptable forms of ID for a notary include a driver's license, passport, or military ID.
Documents must not be signed in advance, because the notary needs to watch you sign.
If the notary doesn't witness your signature, they can't verify the signature on the document.
Bear in mind that notaries are not able to provide legal advice or evaluate documents. It's possible that to get a notarized letter you will need to pay a fee to cover notary expenses.
How does a notarized letter look?
The notarized letter format can vary depending on the type of document.
Every notarized letter, though, will contain a stamp along with the date on which the document was notarized.
Often a notary will include a notary seal or raised stamp to emboss the document, which sets a notary letter format apart from standard documents.
Notary seals are inked rubber stamps that can come in various colors, shapes, and sizes.
Typically, notary seals are round or rectangular and provide the notary public's credentials for authentication.
A notary seal includes the important and unique information to the notary public—their name, state, commission number, and commission expiration date.
The purpose of a notary seal is to certify the authenticity of a document and confirm that the contents of a document are correct.
How to write a letter to be notarized
Writing a notarized letter must include certain elements. Let's break them down: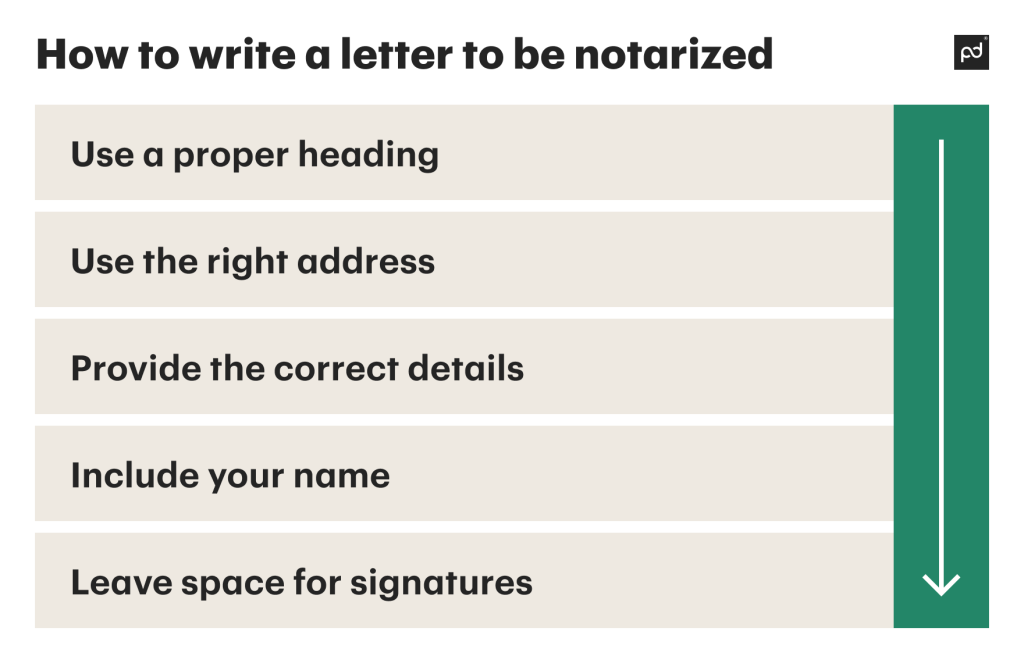 1. Use a proper heading
First things first, to make it easy for the notary to understand the document they're notarizing, use a distinct heading.
For example, to make notarizing affidavits easier you might add the term, "Affidavit" in the heading.
Placing the heading of the document in the middle of the page draws the notary's attention to it and makes notarizing a simpler task.
The clearer you can make the information for the notary, the better.
2. Use the right address
To ensure your letter gets notarized properly, include your complete address—this means your country and state, too.
3. Provide the correct details
Your personal notarized letter must include all the correct information, including the addressee, the purpose of the letter, and any other important details.
This is because the notary may ask clarification questions if any information differs.
4. Include your name
Write your full name and leave enough space for you to add your signature later.
As previously mentioned, it's essential that the person signing should only do so in the presence of the notary.
If you sign the letter without the presence of the notary, the letter cannot be notarized or verified.
5. Leave space for signatures
In addition to blank spaces for signatories on the notary letter, also leave room for the notary's stamp.
You might need to add the location, time, and date to the letter, too.
Where can I get a letter notarized?
Moving on to how to get a notarized letter, let's look at where you can get a letter notarized.
Options include courthouses, credit unions, and asking a legal expert at a law office, but there are many others.
Wherever you decide to get your letter notarized, ensure you take your identification and check in advance the requirements for each individual location.
Local university
Check out your local university.
It's possible you may find notary services you can use at local colleges by asking at the front desk.
Bear in mind that some students decide to become notaries as a part of their educational process, so your local university is a great place to start to get a notarized letter.
Hospital
There may be free notary services available at hospitals.
Again, walk up to the front desk and ask the hospital secretary if there's a notary available who can assist you.
If you are connected to the hospital in any way, obtaining a free notary service is more likely.
UPS
UPS provides notary services for a fee, the cost of which varies depending on if you pre-book an appointment.
In this case, getting a notarized document will only cost a small fee.
Walk-in UPS visits will cost more. UPS can notarize items such as court documents, trusts, and deeds.
Mobile notary
For a more convenient option, a mobile notary service is the way to go.
Many mobile notaries operate on weekends and after-hours.
Enlisting the service of a mobile notary involves them traveling to your location.
During the notarization process, a mobile notary will collect signatures of all the relevant parties and verify their identities.
A mobile notary will also check the signatories against specific details and ensure none of the parties involved are signing the documents due to intimidation.
You can find mobile notaries online.
Online notary
Another favorable way to get documents notarized is to use an online notary service.
The advantageous thing about this method is that you don't have to travel anywhere or payout associated costs.
For example, PandaDoc Notary is a state-approved remote online notary service which enables you to notarize from anywhere.
Including unlimited audio-video recordings and cloud-based electronic journaling of every notarial act, you get peace of mind that your notarized documents are legitimate.
Every notarial act includes secure ID verification to reduce fraud with KBI (knowledge-based identification) questions and ID credential validation.
PandaDoc Notary delivers an authorized and trusted Remote Online Notarization platform that allows you create, edit, eSign, and notarize documents at your convenience.
You can even invite multiple signers to one document at the same time from any location.
Not only that, but if you need help getting started with your notarized letters, PandaDoc provides notary letter templates, too.
Examples of notarized letters
Turning now to notarized letter examples:
Notarized letter of authorization
A notarized letter of authorization is a legal document that allows someone to act on behalf of the person writing the letter—perhaps even to notarize for a family member.
Letters of authorization are often used to ask someone to take control of your business, power of attorney, or in a situation where you're sick and require duty cover.
A notarized letter of authorization is a formal document that legitimates your word.
This means that if any future legal issues arise, the document can be used as proof in court proceedings.
In the letter of authorization, you must clearly state your reasons for delegating the tasks to the person mentioned in the document, together with the specific duties the person must undertake on your behalf.
Authorizing someone to act on your behalf means that they're accountable for the task, as notarizing it means it becomes a legally-binding document.
Don't forget to add your contact information in the letter.
Notarized letter of residency
Another notarized letter example is a letter of residency (also known as an affidavit of residency).
This is a legal document that attests to the legal city, state, country, or township of residency of the person executing the affidavit.
A notarized letter of residency is used for driver licensing, vehicle registration, and voter registration requirements.
A notarized letter of residency is also often used for educational needs, such as a school requiring parents to formally confirm the proof of residency of a student.
For example, state-supported universities often offer in-state students substantially reduced tuition, so they need to verify the student's residency.
A residency affidavit is typically used as the supplemental documentation required by the university or college.
Another use case for a notarized letter of residency is for tax purposes.
In situations where a person has more than one home, they must declare one of them as their official residence in order to pay the correct taxes.
Notarized letter of consent
The last example of a notarized letter is a notarized letter of consent, and is typically valid for a period of 90 days.
An example case of this is for child travel, when someone needs to confirm that they are legally allowed to take a minor out of the country.
A parent's consent is required by way of a notarized letter of consent.
Examples of notarized document statements
Some examples of notarized document statements include oaths, affidavits, and certificates that you can create with document management software.
Let's look at these in a little more detail:
Oaths
Oaths are written or spoken formal affirmations that support a statement or act to be honest or truthful.
Usually serving three purposes, oaths confirm that a statement is the truth, that a testimony will be the truth, or that an individual will faithfully perform public office duties.
Affidavit
Affidavits are statements that confirm individuals act out of their own free will.
These types of document statements are used in court proceedings, such as property dispute litigation matters, divorce, and family law cases.
Certificates
Examples of notarized certificates include records of birth, death, marriage, and incorporation.
A notary officer must ensure that copies of certificates are exactly the same as the original document.
Create legally binding notarized documents
Creating legally-binding notarized documents is simple with PandaDoc.
If you need a remote notary service, PandaDoc has your back. On-demand notaries are available to complete your notarization document online within minutes.
Not only this, but PandaDoc Notary delivers secure ID verification, helping to eliminate fraud and perjury.
Let's check out some key features of PandaDoc Notary services:
Activity tracking and notifications: Quickly monitor the status of any sent document and receive notifications for every open, read, or sign event.
Rich media drag and drop document editor: Drag and drop any type of content with ease.
Custom branding: Customize your documents with your business's branding to provide brand continuity and a seamless customer experience.
Content library: Duplicate content from your legal and marketing teams to quickly create notarized letters.
CRM, Salesforce, and Zapier integrations: Plus more direct integrations to streamline document creation.
Audit trail and document analytics: View every stage of your documents to meet compliance requirements.
World-class security: Audio and video recordings encrypted at REST, stored documents encrypted and stored via AWS, and 256-bit SSL processing for all stored data.
Two-point identification: Knowledge-based identification is combined with live credential information to visually and electronically analyze signers' ID and identities.
With competitive prices for state-approved notary services, you'll find that you can create and edit documents such as a notary acknowledgment template on any mobile device.
If you need to notarize multiple documents, you can do this too using multiple signers.
Frequently asked questions about notarized letters
The official process of notarization applies to documents relating to the adoption of a child, citizenship certificates, and some transcripts.

Any documents related to bank statements, financial records, and official documents related to accounts often also require notarization.

Other examples include business or corporate records like articles of incorporation, commercial invoices, business registration documents, and employment letters.

Because notaries are trusted individuals, a specific vetting process is required for an individual to be able to notarize a document.

This process typically includes registering signatures with a professional organization, in addition to registering for government-approved educational courses.

Notaries also must take the oath of office and buy their own notary seal to authorize notarized documents.

If you're learning how to write a notarized letter, you'll need to visit a notary public, validate your identity, sign the document to be notarized, and if relevant, pay the fee for the notary's signature and time.

To this end, you'll need your original valid photo identification document, together with proof of your residential address.
Disclaimer
PandDoc is not a law firm, or a substitute for an attorney or law firm. This page is not intended to and does not provide legal advice. Should you have legal questions on the validity of e-signatures or digital signatures and the enforceability thereof, please consult with an attorney or law firm. Use of PandaDocs services are governed by our Terms of Use and Privacy Policy.