Document management is one of those fields where businesses lose time and money — when, in fact, the opposite is possible, and an efficient strategy could save them the most.
On one hand, paperwork within the traditional approach is highly labor-intensive and full of routine. The 2022 Nitro Productivity Report claims that employees spend about half of their working hours on document creation and management.
On the other hand, it potentially causes hordes of errors big and small that cost businesses a significant part of their profits.
According to the same report, document issues alone (to say nothing of the inefficiency of traditional paperwork overall!) account for more than 20% of all productivity loss.
Moreover, research by InfoRouter found that about 7.5% of all the business documents created then become lost.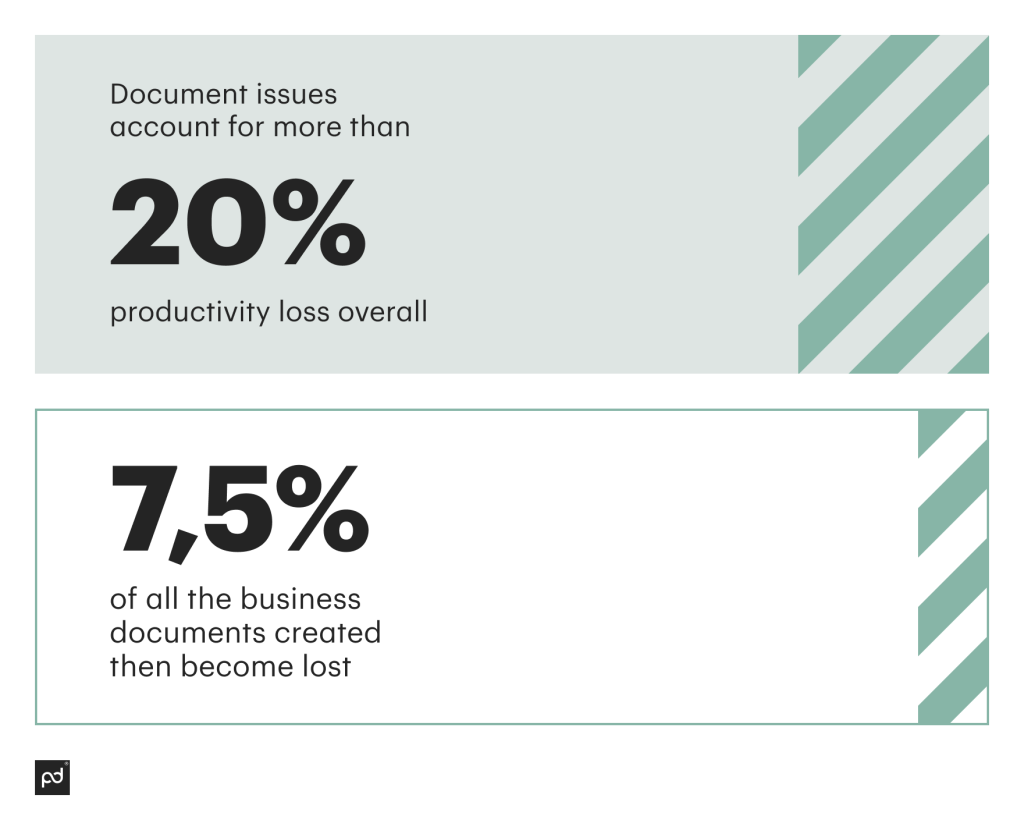 Document management software (DMS) is aimed at solving these issues, streamlining and automating most of the routine, as well as reducing the number of errors significantly.
There are naturally thousands of different document management software tools that exist. Let's delve into the DMS world, choose wisely, and review the best of these systems.
What is document management software?
First of all, let's define what document management systems are.
A document management system is a software system that streamlines and automates the creation, receiving, storing, editing, and tracking documents electronically, significantly reducing the usage of paper.
Most state-of-the-art document management systems are cloud-based.
This makes it possible to access them on a wide range of platforms and devices, making it extremely valuable at a time when remote work is highly popular.
Typical DMS features
Before reviewing the best DMS software choices, we should take a look at the typical features such systems usually have. You can find them below:
Archiving and retention (continuously or permanently storing the data that isn't used actively at this time)
Collaboration (features that offer to share and edit the files collaboratively within the working group)
Compliance tracking (tracking the changes of any regulations with reporting)
Classification system (tags helping the team label docs and then finding them quickly)
Document generation (a tool for automated generation of the document templates with the repetitious parts already added)
eSignature (a feature for adding authenticated electronic signatures online without a need for a paper signature)
File converter (converting new file types into others like DOC into PDF)
File recovery (the ability to restore lost files from automatically created backups)
Offline mode (a sync feature helping match the changes you made in any document being offline once the connection is available again)
Text recognition (a way to recognize the text from scanned documents in printed or written forms)
Version control (an ability to restore your documents to previous versions).
Not all DMS software offers all the features mentioned above. That's why it's important to thoroughly evaluate options when choosing the best system for your company to use.
How we sourced our data
Preparing the content below, we always considered quality and only used trusted sources of information. Among them are:
User reviews are very valuable sources of information but require a critical approach.
On one hand, they can show you aspects the vendor doesn't want to be too visible.
On the other hand, they're based on personal experience and may be biased.
That's why we've analyzed a high volume of reviews to understand whether the pros and cons described are common or just the personal opinion of a single reviewer.
1. PandaDoc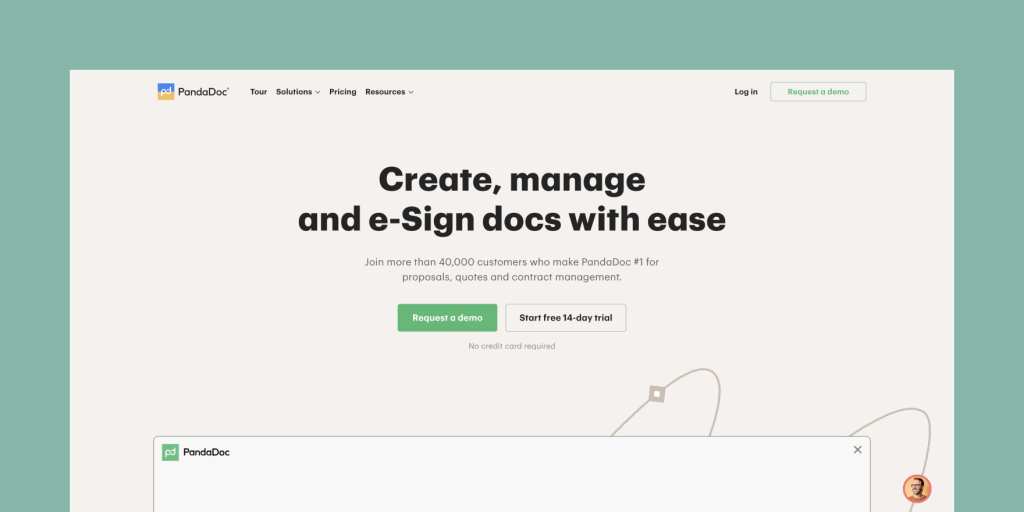 Price: from $0 to $49/user/month, paid annually
The best for: SMBs to Enterprise businesses
Ease of use: 4.6/5
Functionality: 4.7/5
Key features
Built-in highly secure proprietary eSignature option is available for free.
A huge collection of editable document templates, including more than 750 variations and constantly expanding
An advanced analytics and document tracking system to track all the actions of the stakeholders like reviews or edits.
Free trial: yes, 14 days + free version
The first system in our comparison is homebrew. PandaDoc is a business product whose features lay far wider than the DMS typical feature set.
The system helps increase the number of documents created per month by 87% on average, reducing the time spent by half.
Here you can find everything you need for document creation, especially with Business and Enterprise pricing plans.
You can create your document from scratch or select a template from the library and then customize it. The library contains more than 750 templates for different types of documents, so you'll easily find the one that best fits your unique business case.
The content library feature allows you to manage any content stockpile at your discretion, including creating, storing, searching, updating, sharing, or organizing your content pieces in the way you need.
You can also keep your documents fully consistent and change their branding features in bulk with a few clicks.
The collaboration feature is aimed at sharing documents among the workgroup members for simultaneous access and editing.
Tagging people who you want to elaborate on a certain task right in the document helps assign small tasks faster and easier.
You and your team members can work with the documents from home, the office, on business trips, or on the go, using a laptop, tablet, or phone.
You can also set up your workflow and automate its routine tasks.
Other, smaller automation features are super handy as well. For example, there is no need for manual sending of reminder emails, making approvals, or controlling events.
PandaDoc keeps all the documents secure thanks to its full compliance with GDPR, HIPAA, and FERPA. Another important security aspect is the permissions system, granting access to selected documents for certain users.
One extremely valuable, completely free tool is PandaDoc's eSignature feature.
Alongside the rest of the functions presented in the system, there are a bunch of out-of-the-box integrations with third-party software like CRMs or project management tools.
The benefits of PandaDoc as a document management system are evident.
Among them is a huge base of glossy document templates, advanced editing, and collaboration tools, high reliability and security, and all at an affordable price point (plus all the free features!).
There are, however, some aspects of a DMS not present here that certain businesses may find desirable: an offline mode and text recognition features, for example.
2. Bynder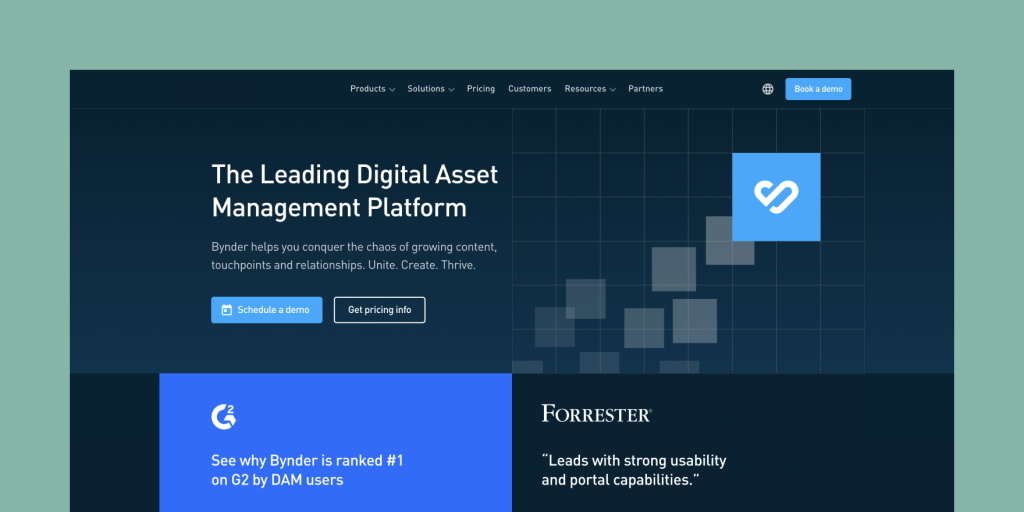 Price: not provided by the vendor
The best for: medium-sized (50+ users) to Enterprise businesses
Ease of use: 4.6/5
Functionality: 4.3/5
Key features
Advanced tools for digital content management and distribution cover a much wider scope than the usual DMS software.
Brand guidelines help align all the content pieces and make them fully consistent within your brand.
Creative workflow is a set of automation tools aimed at the most creative processes that are usually the hardest to be automated.
Free trial: yes, 14 days
Apart from PandaDoc, Bynder is well-positioned as creative management software and aimed at managing all types of digital content, not just documents.
The system offers a lot for creative producing and marketing teams like branding, advanced custom themes, and advertising management features.
At the same time, Bynder is "off the shelf" with most of the features DMS software should support.
A digital documents management module contains many of the features we're looking for.
Centralized storage allows you to store documents, as well as pictures, videos, and other types of content.
Special features are available to share your documents, add watermarks, and categories, or embed special codes.
Like PandaDoc, the content management tool is quite handy, even on the go — the user interface is fully adaptable to different display sizes.
You can adjust the default workflows following your own ones, add branding guidelines, add comments and annotations, as well as approve changes quickly.
Creative templates aren't as focused on business documents as PandaDoc's template library, which offers more for creative teams.
By the way, the collection is constantly growing, so tomorrow you'll have a chance to get what may not have been available yesterday.
With Bynder, there are many third-party integrations available.
Bynder has a trial but lacks a free version.
Other features missing are a compliance tracker, document generation using pre-designed custom elements, as well as offline access, and printed or written text recognition.
3. DocuSign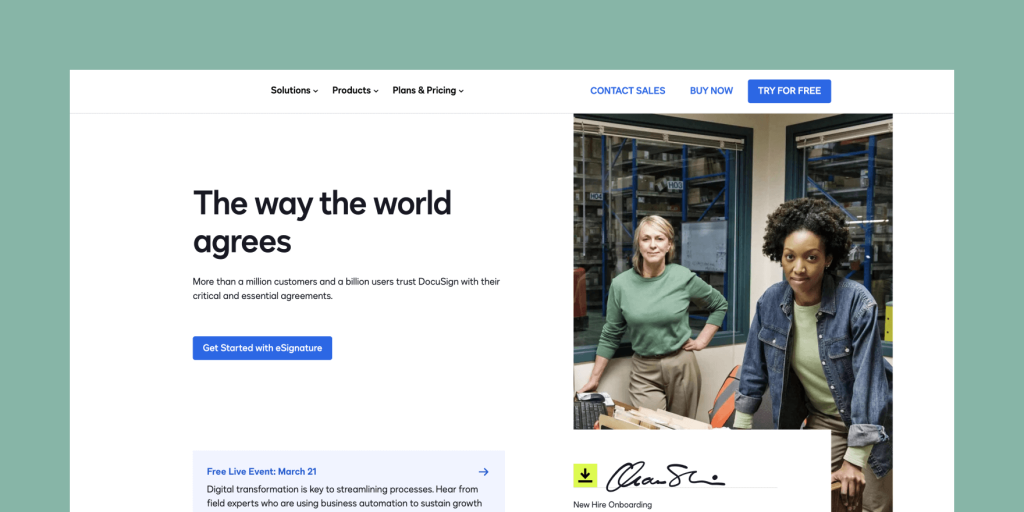 Price: from $0 to $40/user/month, paid monthly
The best for: SMBs to Enterprise businesses
Ease of use: 4.7/5
Functionality: 4.4/5
Key features
The built-in eSignature solution is a flagship feature, and the main focus of DocuSign is on different agreement-like documents.
Contract collaboration automation is presented at every stage of the contract lifecycle.
Advanced API coupled with hundreds of out-of-the-box integrations make the implementation easier.
Free trial: yes, 30 days + free version
As one of the oldest eSignature software and a niche leader for a long time, DocuSign has had enough time and resources to emerge into something wider.
Currently, the system isn't a single product but a string of digital document management tools.
The document generation feature is named Gen and acts in tandem with Salesforce, using the CRM as a source of data about you, your offer, and your customer.
In these cases, if you're using any other CRM software or not using one at all, you can upload any form and then make your notes on top of it, set placeholders for other stakeholders, add custom fields, or save it in Word, PDF, or DocuSign Agreement Cloud format.
However, It should be noted that the system is aimed at agreements and other sales-related documents: non-disclosure agreements (NDAs), statements of work (SOWs), master service agreements (MSAs), quotes, and proposals.
A built-in payments feature also makes it available to create and manage invoices, receipts, and transaction statements.
Once the document is ready, you can mark it as a template for reuse.
If a template must remain unchanged or can only be changed by certain persons, you can just lock the access with a password.
The document tracking feature helps streamline the final negotiations and signing process.
A special dashboard shows the current status of the documents sent, as well as actions history and some other data.
There is also a real-time reporting feature available.
The out-of-the-box integrations portfolio includes more than 400 third-party systems, including CRMs, project management, corporate communication, payment, and many other types of software.
And that number is growing.
The pricing policy is flexible and includes both per-user and per-feature options, as well as a free 30-day trial and demo.
Another strong point of DocuSign is its user-friendly interface and ease of use.
4. Google Docs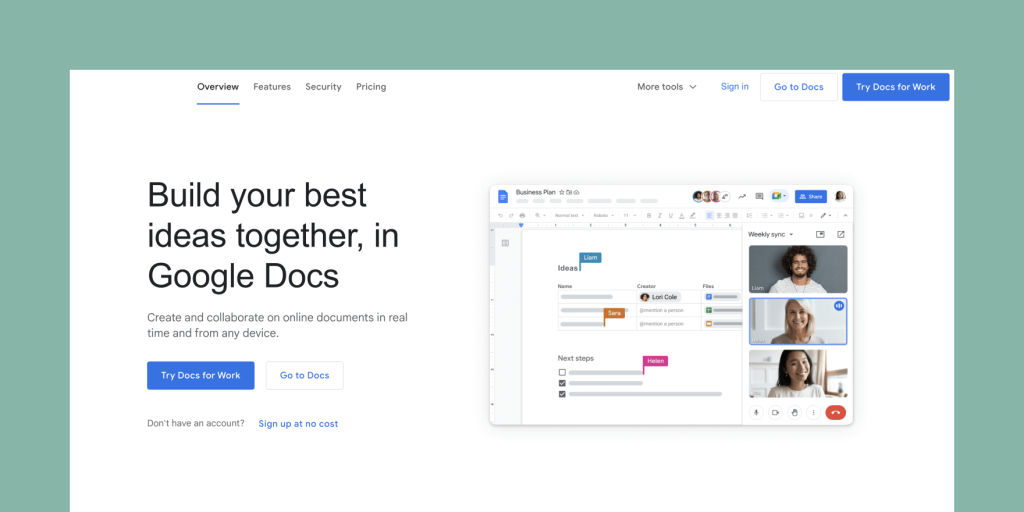 Price: from $0 to $18/user/month, paid monthly
The best for: SMBs to Enterprise businesses
Ease of use: 4.8/5
Functionality: 4/5
Key features
The UI is common and recognized by most users globally and doesn't require additional training from your staff.
A Google product — with an advanced knowledge base, support, researched case studies, integrations, etc.
Lacks many features important for DMS, especially in terms of eSignature and workflow automation.
Free trial: yes + free version
The next entry is probably the most famous on our list, seen and tried by probably almost everyone who reads it.
Google Docs is a part of the Google Workspace suite, which also includes Gmail, Drive, Meet, Chat, Docs, Sheets, Sites, Forms, and Slides. But within our article, we'll review Docs only.
Having fairly advanced functionality, Docs has just a few intersecting features with our list of typical DMS necessities.
Among them are document generation, collaboration, and version control.
Document editor is the main advantage of Google Docs.
This editor allows you to create documents from scratch, copy and edit already created ones, share them, as well as to edit documents in a collaboration with other users.
The collaboration process uses roles with different permissions — reader, commenter, or editor.
The changes can be made whether in the suggestion mode where the old entries are shown crossed out or in the usual (editor) one.
All the changes are reflected in a history of changes and can be restored. Users can communicate via comments.
As a SaaS, Docs is a web-based browser application that requires an internet connection.
In real time, when losing connection, changes are saved in the cache, and then uploaded to the server once the connection is restored.
Editing options are really huge here, which helped Google Docs to get a stake in the market previously occupied by MS Word.
Being fully integrated into the Google ecosystem, Google Docs doesn't seem like a full-fledged independent DMS. But it looks great within the Google family as one of its essential parts.
5. Microsoft 365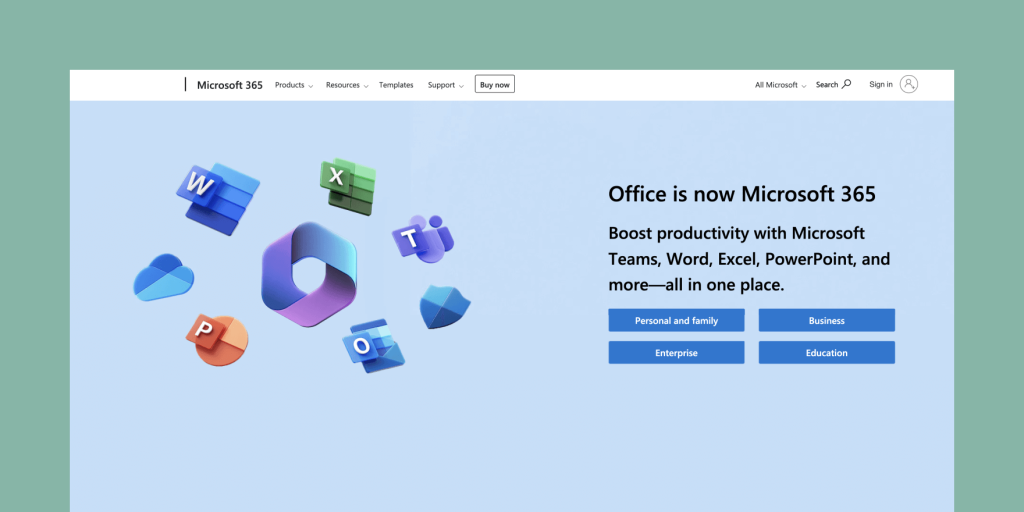 Price: from $6.99/month flat rate, from $6 to $22/user/month, paid monthly
The best for: small businesses (2—10 users)
Ease of use: 4.7/5
Functionality: 4.2/5
Key features
Powerful document creation and editing tools make it available to create and edit documents of any complexity.
Highly recognizable UI is easy to be accepted by your staff.
Various Microsoft Azure cloud business-related services help expand the functionality.
Free trial: yes, 30 days
Microsoft 365 (formerly Office 365) is a suite of famous office applications — Word, Excel, PowerPoint, and Outlook.
But, apart from the old Office, these apps are cloud-based and augmented with a string of state-of-the-art cloud services like OneNote, OneDrive, Calendar, Access, Publisher, and others.
And, unlike Office, which was retail, Microsoft 365 is now subscription-based, which means now you must pay each month rather than one-time during the purchase.
The Word, Excel, and PowerPoint apps are rather powerful tools for document creation, each in its own class.
They allow you to create and edit texts, tables, spreadsheets, and pitch decks of almost any complexity.
You can add formulas, calculations, images, animated graphics, code listings, videos, or any other content types; change formats in a wide variety of options; add macros and scenarios; and much more.
A brand new feature is Microsoft Editor — an intelligent writing assistant.
The tool helps write more clear and concise copy, checks grammar and spelling, and offers change suggestions where it is required.
Editor in its basic functionality is also available for free (without the best parts of 365) in the form of browser extensions for Chrome and Edge.
Once created, these content items can be saved using a variety of proprietary or open formats like DOCX, TXT, PDF, and RTF.
You can save them to either your local storage or the cloud thanks to the OneDrive cloud storage service (1 TB of cloud storage is included in all plans).
The last option also offers sharing and collaborative editing possibilities.
Within the DMS typical scope, Microsoft 365 has a less impressive feature set than some of the competitors like PandaDoc.
Indicatively, the suite lacks compliance tracking, classification, eSignature, file converter, and file recovery, as well as scanned text recognition features. But generally, this is a very powerful office suite with a wide set of features.
6. Legito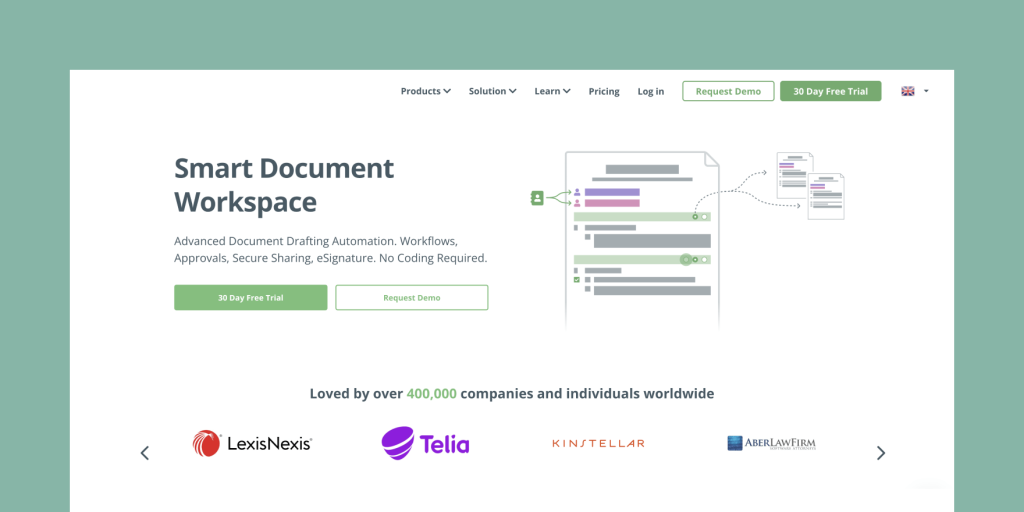 Price: from $800/10 users/month, from $100/user/month, both paid annually
The best for: legal teams from SME to Enterprise businesses
Ease of use: 4.9/5
Functionality: 4.8/5
Key features
Legito is fairly expensive compared with the other systems on our list.
The unique automation feature offers an unusual approach that is not yet highly rated among users.
Document Management Landing page — a powerful web-based dashboard for controlling all the processes.
Free trial: yes, 30 days
When a new player enters a busy market niche, most of them usually fail, sooner or later. But sometimes there are exceptions.
Legito is one such example: released in 2015 and pivoted in 2016, the system has now hit its stride and is loved by users.
Yes, its popularity is far behind most of the other products on our list, but its much higher price point, coupled with a focus on lawyers as desirable customers, clearly explains this.
The solution named Legito Smart Document Workspace consists of three separate areas — Template Automation, Smart Document Drafting, and Smart Document Management, along with the template marketplace.
The Template Automation toolset is aimed at the creation and further usage of templates.
This is namely the thing that differentiates Legito from PandaDoc and other competitors the most.
You may create your own template, import and modify the existing one, or use the imported doc unchanged.
The templates combine structural elements and corresponding logical conditions, both forming automation.
Smart Document Drafting enables you to draft new documents based on templates.
Here, you also have an option for importing all required data, including a bulk import.
Both features allow you to prepare complicated judicial documents multifold faster than if executed manually.
The Smart Document Management area combines all the features for workflows in use, data from both generated and uploaded documents, and eSignature features.
There are two options for eSigning: an integration with DocuSign and Legito's proprietary biometrically-proven digital signature technology named BioSign.
Document Management Landing Page is a dashboard where you can check all the important information, apply filters and search, check statistics, generate drafts in bulk, export records in CSV, and download all the data within one click.
Legito is definitely an interesting, if unusual, document management software, offering some unique features and showing a high degree of efficiency.
But both its sharp industrial focus and the highest price tag on our list seriously limit its applicability.
7. Dropbox Business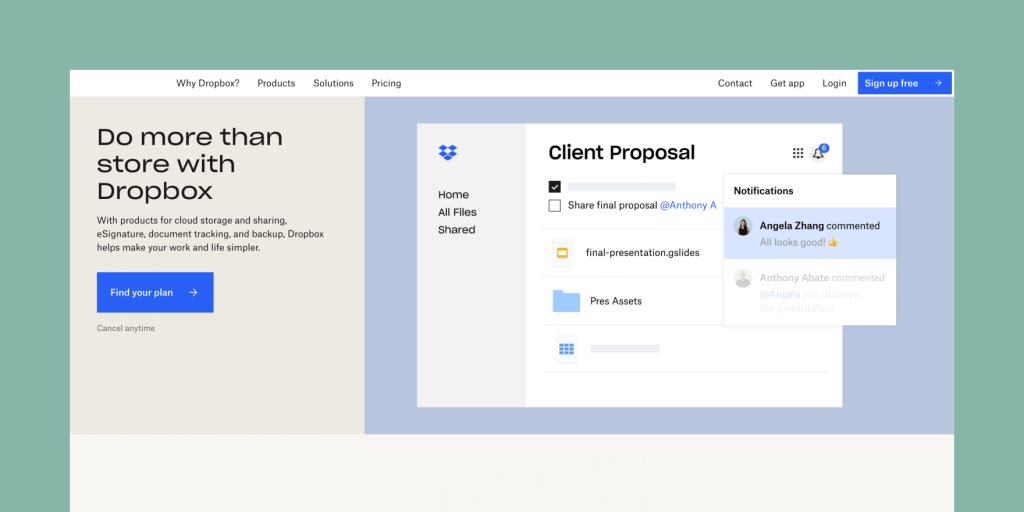 Price: from €12/user/month, paid annually
The best for: SMBs to Enterprise businesses
Ease of use: 4.6/5
Functionality: 4.8/5
Key features
Various business applications within one Dropbox family can be purchased with a single subscription.
Robust, native cloud infrastructure, DocSend, and paid Transfer for secure and reliable storing and sending of your documents with no limits on volume.
Dropbox Paper — a proprietary glossy-looking visual online editor derived from the acquired startup.
Free trial: yes, 30 days + free version
Launched in 2007 as a cloud file hosting service, Dropbox has finally emerged into something bigger.
Currently, the company represents a multi-billion dollar corporation with almost 2,700 people on staff, as well as the services that extend far beyond the initial scope.
Most of the positive changes happened thanks to a few successful acquisitions. Hackpad, a document collaboration startup and acquired in 2014, was among them.
As a result, in 2015, Dropbox Paper was released — an online document editor aimed at creative collaboration.
Now, Dropbox is a multi-purpose document management service, along with cloud hosting features.
The Paper app accounts for document creation and collaborative editing. You can create a new document or start editing the old one with one click.
The interface of an editor is pretty clean and friendly.
Despite it seeming to be very simple, the toolbar includes all the necessary for successful text formatting.
You can align your text and divide it into paragraphs; add both numbered and bulleted lists; insert tables, images, videos, or even random files from your storage; convert text strings into to-do list checkboxes.
The tool allows users to leave comments, tag each other, and arrange presentations right on the Paper.
You can share the files you have or request sharing from others right in Dropbox with a few clicks.
There is, however, a lack of a standard feature for sending files securely.
For this purpose, Dropbox acquired DocSend, and is now offering this feature as an option.
Actually, DocSend works with relatively small files only.
For larger files (up to 100 GB for regular accounts and up to 250 GB with the special add-on subscription), there is a special paid feature named Transfer.
Dropbox also backs all the connected devices up in auto mode with the so-named feature.
You can also find a built-in electronic signature feature powered by HelloSign (check the comparison with PandaDoc), as well as a password management tool, simply named Password.
And there is much more going on in the Dropbox App Center, which is constantly updating with new apps.
A new feature set worth mentioning is called Automations.
Here you can set up the workflows for automatic file sorting, converting documents to PDF, converting audio and video in different formats, or bulk unzipping of files to a certain folder.
While the feature is relatively new, it is likely to be expanded with new use cases.
8. DocuWare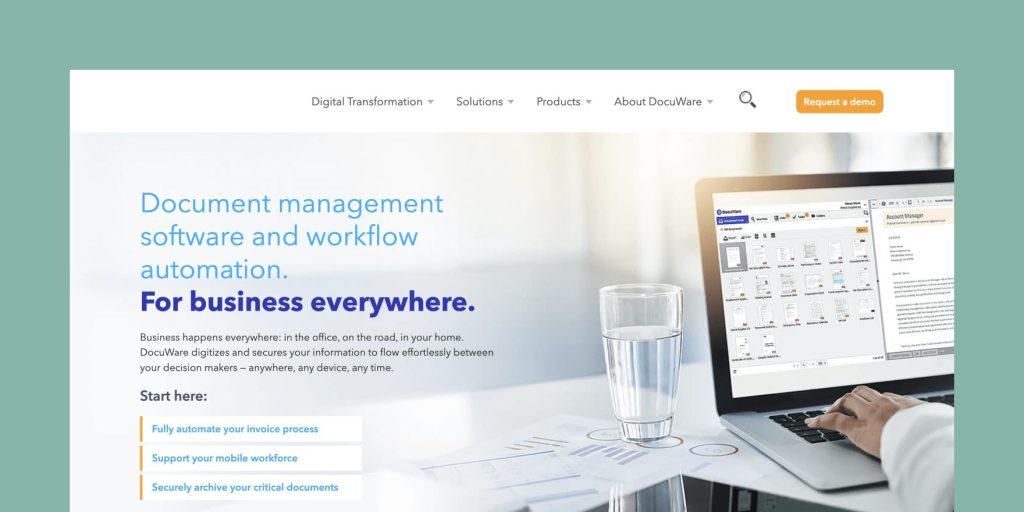 Price: from $300/4 users/month
The best for: SMEs to Enterprise businesses
Ease of use: 4.6/5
Functionality: 4.8/5
Key features
Advanced invoice processing including preconfigured workflows and tracking tools.
Intelligent indexing based on self-learning AI helps identify and index the data from uploaded documents in automated mode.
Secure cloud storage offers collaborative access to your documents based on roles and permissions.
Free trial: yes
DocuWare was initially launched at the end of the 1980s and still focuses on enterprise businesses.
That's why the lowest pricing plan starts from $300 per month for 4 users maximum.
In exchange, DocuWare offers almost all the features common for DMS software, except the file converter and document generation.
The strongest points of a system are its document importing abilities, working with forms, and invoicing processing.
You can easily import any document into the system, and save it to the secure cloud storage for further usage.
Intelligent indexing is an AI-powered feature for smart identification of data from the documents you're uploading.
Each time the analyzer finishes its job, you can check it and make corrections to the mistakes found.
The self-learning AI analyzes your corrections and slightly changes its behavior to avoid mistakes next time. Usually, the process becomes smooth and error-free just in a few iterations.
The documents from the storage can be edited; whether personally or in collaboration, it is possible to leave comments on the docs, and assign them out to certain staff members.
Users with permission can access the system from anywhere, and by using different platforms.
There is also a workflow automation feature, with the workflows then stored in the cloud.
A simple drag-n-drop visual interface makes the workflow design process easy and understandable. Once the workflow is created, you can control it and arbitrate when it will be required.
Other features DocuWare offers include task management, eSignatures, electronic forms, fast creation, and integrations with some third-party software.
9. FileHold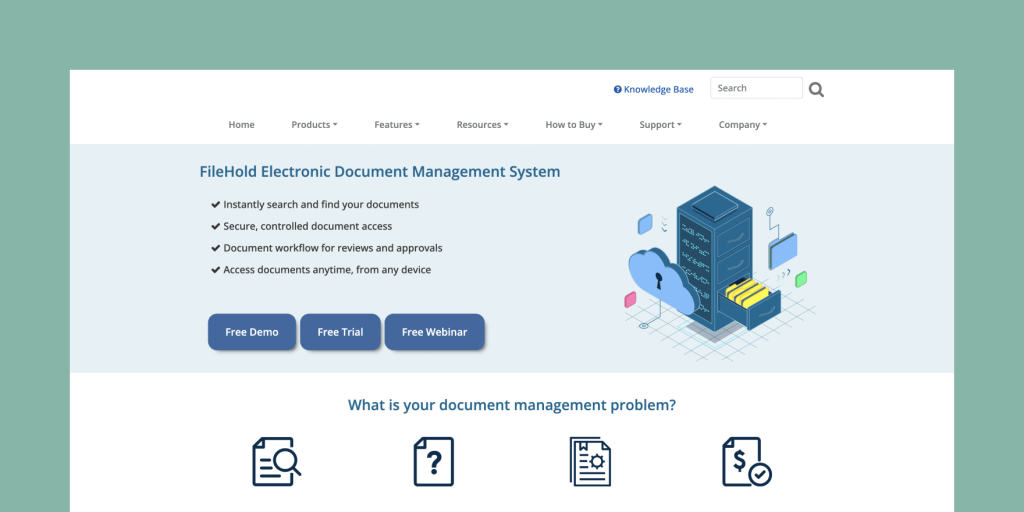 Price: from $25/user/month
The best for: mid-sized (11+ users) to Enterprise businesses
Ease of use: 4.6/5
Functionality: 4.8/5
Key features
Visual document creation and editing tools have different capabilities depending on the pricing plan chosen.
A traditional UI that is considered very convenient by users.
Secure cloud storage offers collaborative access to your documents based on roles and permissions, including secure transfers and tracking.
Free trial: yes, up to 10 days
FileHold is one of the comparatively older market players, having launched in 2005.
The company positions its product as a powerful document workflow and approval automation primarily for large organizations.
Unlike PandaDoc, it lacks any free version and offers a short trial time, limited to 10 days.
FileHold's focus is reflected in a more traditional user interface instead of modern cloud solutions, which is considered convenient.
The company's Enterprise plan is aimed at 20+ users, and its price is upon request only.
The system is packed with the full set of DMS' typical features.
The built-in document viewing and visual editing tool have three different groups of capabilities depending on the pricing plan you're paying for.
The first one, for example, allows users only to view comments, and 2 and 3 allow users to create them, as well.
The MS document creation software integration can also be used for document creation and editing.
There is also a scanning, imaging, and recognition feature helping businesses go paperless by scanning and digitizing any paper documents.
Thanks to an electronic form processing feature, FileHold helps make document processing a bit more automated.
Another interesting tool is named FileHold Courier.
It is aimed at collaborative document management both inside and outside your organization.
Courier proofs the secure delivery of documents for approval, and notifies you each time the document is opened by a recipient.
A version control feature prevents documents from any unauthorized changes.
There are, however, many more features available for different pricing plans.
Among them are naming standards control, many third-party integrations, document-to-document linking, as well as many other functions.
10. LogicalDOC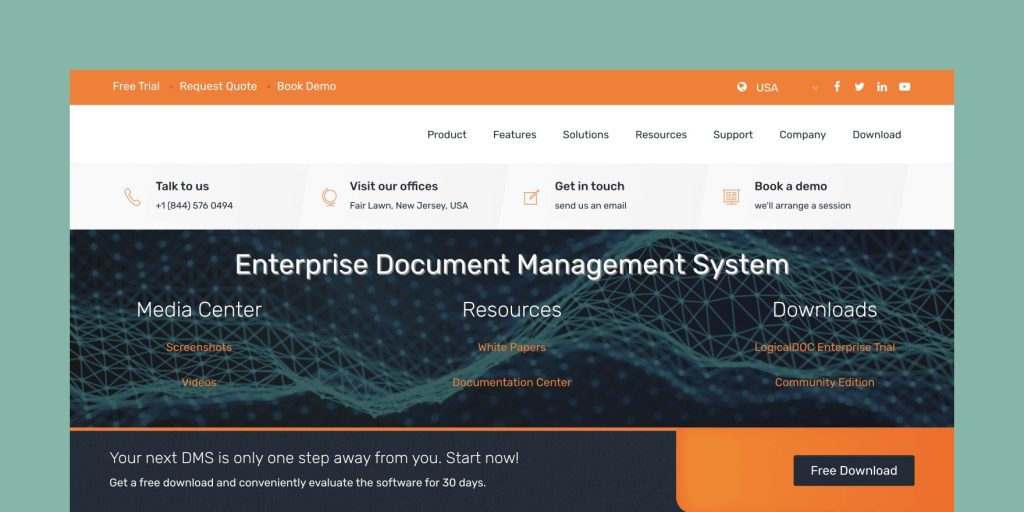 Price: not provided by the vendor
The best for: SMBs to Enterprise businesses
Ease of use: 4.6/5
Functionality: 4.7/5
Key features
A free, open source-based version named Community is available with limited capabilities.
A comprehensive feature set for the most advanced pricing plans.
Lack of some important features even in lower paid plans and additional payments required for others.
Free trial: yes + free version
Founded in 2006 in Italy, LogicalDOC is a fairly mature service compared with most of the others in this list. It isn't a flawless system though.
Like many others, it is suited for a wide variety of small, medium, and large businesses.
The vendor positions its product as highly adaptable to different industrial needs and applicable in banks, healthcare, mechanical industries, municipalities, and so forth.
There are four pricing plans — Community, Business, Enterprise, and Cloud.
For each of them, there is a free trial available. The Community version is completely free and based on open-source parts of the project.
The prices for the rest, however, are disclosed upon request only, making our comparison a bit less accurate.
The set of features differs for each plan.
Even the free Community plan offers all the basic features to make the first step toward a paperless business.
The basic features for this are document importing tools.
The toolset includes a converter among different formats, as well as optical character recognition features.
The system lacks a similarly functioning visual editor feature like the one PandaDoc has.
Instead, LogicalDOC offers Google Docs' out-of-the-box integration as a primary editing solution. For the Community version, however, this integration isn't available.
For any imported and digitized documents, LogicalDOC has everything to make your staff's journey efficient enough, including multilingual full-text indexing, templates, tags, an advanced search for both folders and documents, drag and drop from desktop, bookmarks, saved search, and many more.
Disappointingly, many really helpful features aren't available in the next tier, their Business price plan.
Furthermore, other functionalities require additional payments, even at the top tiers.
We mean digital signature for both parties (PandaDoc, in comparison, offers it for free for everybody), web forms, synchronization of files and folders, or backups. In our opinion, these are the main disadvantages to using LogicalDOC.
11. Bitrix24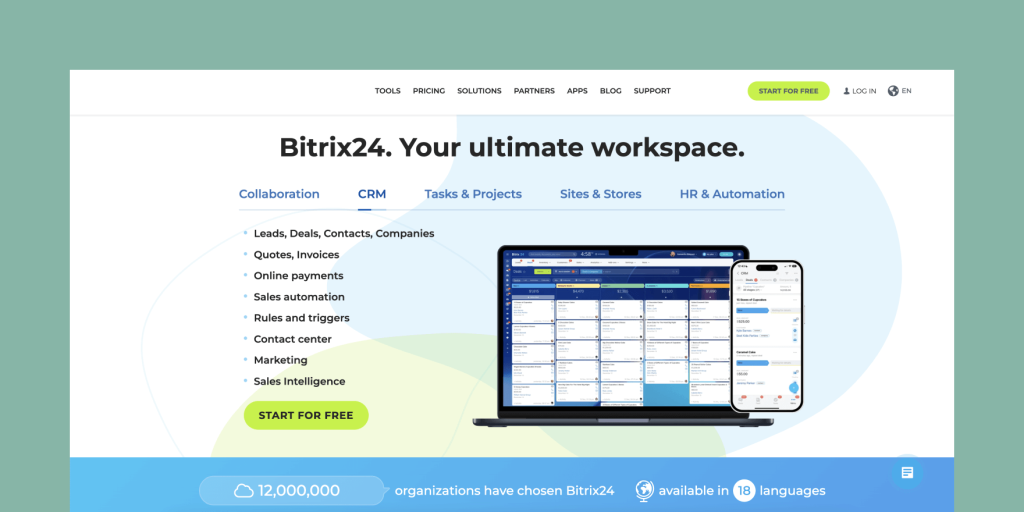 Price: from $49/5 users/month
The best for: from midsize (50+ users) to Enterprise businesses
Ease of use: 4.0/5
Functionality: 4.1/5
Key features
Not just a DMS but a fully-fledged CRM with 35 different business tools.
Private cloud storage within the price plan is limited to 5 GB and can be expanded for an additional payment.
Advanced collaboration system with an instant right management tool.
Free trial: yes + free version
Bitrix24 isn't just a document management platform.
This is a full-scope CRM system, combining more than 35 business tools in one platform and a very good fit for both midsize and large businesses.
There is, however, a free plan with an unlimited number of users that exists, but its feature set is rather concise.
The Bitrix24 system is quite popular, just in the role of DMS, so let's take a closer look.
The integral part of Bitrix24's document management platform is a set of tools named Bitrix24.Drive.
This is private cloud storage with its own UI, aimed at efficient collaboration within your corporate document management activities.
Basically, the storage is limited to 5 GB but can be expanded to an unlimited amount for an additional $199/month.
The collaboration process can be instantly regulated by granting or restricting rights to a certain user related to any single document separately.
Using the built-in document editor or integrated Office365 or Google Docs application, you can create different types of documents and edit them collaboratively with your colleagues.
The cloud is secure enough to keep your corporate secrets reliable.
Bitrix24 DMS is fully equipped with all the CRM functionality one might expect, also allowing users advanced project management capabilities.
Among them are task and role assigning features, meetings, and notifications, KPI setting and evaluating, as well as many more.
The system does have its flaws, though.
First of all, there is a lack of some features important within the DMS scope, like optical character recognition.
Second, some users claim an insufficient level of customer and quality support from Bitrix24 (see some examples here, here, and here).
That said, Bitrix24 is much more a CRM rather than a DMS system.
When choosing your document management system and considering this option, best to keep this aspect in mind.
How to choose a suitable document management software
Below are some tips on how to make your choice easier and less risky when it comes to selecting the right DMS.
Start from those systems which have demos, trials, and free versions. Such an approach makes it available to try all the candidates simultaneously. Without a need for payments, you can test many different software systems all at once, which saves time and costs you nothing (except the time to evaluate and compare, of course).
Search for specialized DMS systems focused on your industry. It may not have the most attractive price at first, but will almost certainly fit your business the best — which can easily justify price.
Analyze the possible features and form a list of required ones. Then, use the Features filter at Capterra to find the most matches. This will help you exclude the entries that have a lot of unnecessary bells and whistles with respect to your business needs. Maybe they would be helpful — but likely they are not. Moreover, the more unnecessary functionality your software has, the more confusing it could be for your staff.
Consider those software systems which have the easiest scaling possibilities. For example, where you can buy some additional resources without needing to change the pricing plan.
And vice versa: identify and try to avoid those document management systems where the pricing plans are intentionally unbalanced. For example, if the plan includes up to 5 users and unlimited access to all the features — but only 10 documents per month can be processed. You'll be forced to upgrade to the higher-priced plan just to get documents out the door, with all the rest of the resources underused.
Always read user reviews on the software you're planning to buy.
Document management systems are a highly-competitive, in-demand market segment.
There are hundreds, perhaps thousands, of different DMS software options out there, with each one having its own focus (often wide), set of features, and pricing policy.
Currently, the number of SaaS options considered by Capterra.com as document management systems equals 1,242.
This number is surely complicating the choice for the most appropriate one for your case. We hope our review and tips have helped you narrow down the decision-making!
That said, document management is only part of the story.
Most businesses need not only document management but also processing of their sales activities and management of their proposals.
With a bunch of sales document templates, PandaDoc is the right choice for your sales document management activities.
A built-in eSignature feature makes proposal and contract management activities encapsulated within a single ecosystem, keeping them more efficient and highly secure.
If you're ready to test, PandaDoc offers a 14-day free trial, so it's a great starting point for your consideration. Good luck!
Disclaimer
PandDoc is not a law firm, or a substitute for an attorney or law firm. This page is not intended to and does not provide legal advice. Should you have legal questions on the validity of e-signatures or digital signatures and the enforceability thereof, please consult with an attorney or law firm. Use of PandaDocs services are governed by our Terms of Use and Privacy Policy.