Document management is a critical aspect of any modern business.
It involves creating, storing, and retrieving electronic and physical documents in a secure and organized manner.
This article will examine the benefits of implementing a robust document management system, the challenges companies face when managing documents, and how the right document management software can help overcome these challenges.
Key takeaways
Electronic document management systems are a paperless solution that helps companies to streamline their workflow while improving document control.
A good document management system should have key features like document storage and retrieval, security, collaboration, tracking and reporting, integration with other systems, scalability, and a user-friendly interface.
Choosing a system with these key features can help businesses improve their document management processes, increase efficiency, and reduce costs.
How companies manage their documents
Regarding document management solutions, there are two systems mainly used by companies: the traditional way that involves the use and storage of docs in paper format and the other one based on the digitization of all business documentation — corporate, legal, marketing, sales, HR, etc.
Traditional paper-based systems
Traditional paper-based systems refer to the process of managing documents in a physical format.
These systems involve the use of paper documents, folders, filing cabinets, and dedicated floor space or separate storerooms to store, organize and manage important records.
In this system, documents are created, printed, and manually filed in a specific location, where authorized personnel can access them later.
Yet paper-based systems have several inherent limitations.
First, physical documents are susceptible to damage, loss, or theft.
Second, paper-based systems require considerable storage space.
Third, employees must spend substantial amounts of time searching for and retrieving documents.
These drawbacks of paper-based systems waste valuable company time, cost money in storage space, and are prone to human error (incorrect file classification).
And, even worse, going this route has an ongoing negative impact on the environment.
Case in point: PandaDoc once worked with One Tree Planted, a global nonprofit organization that promotes reforestation.
Previously, the company was making agreements the old-fashioned way: print, scan, sign, repeat.
This required printers, ink, and lots of paper, which was a waste of resources that was against the company's environmental message. In addition, tracking documents was often difficult.
Since the switch to using PandaDoc formats and the DocX converter, One Tree Planted has the option to make and send non-disclosure agreements and partner contracts with just a few clicks.
Partners can now make suggestions and leave comments in real-time while finalizing the agreements, which greatly eases the process and saves time.
"It makes my job easier! It's easy to use, super simple, pretty intuitive, consistent, and supports our normal rhythm."

Chloe Ketteling, Operations Team Exec Assistant
By partnering with us, One Tree Planted was able to decrease both time and money spent on paperwork while leveling up consistency across all docs within their organization. Every stakeholder wins (including trees!).
Electronic document management systems
EDMS are digital solutions that help organizations to manage their documents and records electronically.
These systems involve the use of software and hardware tools to create, store, and manage electronic documents in various formats.
EDMS offers many benefits over traditional, paper-based systems, including improved efficiency, enhanced security, and reduced costs.
With EDMS, documents can be scanned, converted to electronic formats, and stored in a central repository, making them easily accessible to authorized personnel anywhere.
Electronic documents are indexed in the EDMS, making them easy to find.
Electronic documents are also encrypted, password protected and stored in the EDMS.
Take a look at one example of an EDMS, what we offer at PandaDoc. You can easily set up a unique passcode or SMS code for each document recipient.
There is no need for additional physical space for storage since all documents are available in digital format, reducing overall cost.
In addition, implementing an EDMS can help organizations comply with regulatory requirements by ensuring that documents are stored in a secure and organized manner.
Pros
Cons
Traditional paper-based systems
Tangibility
Accessibility
Familiarity
Reliability
Compatibility
Permanence
Simplicity
Space
Time-consuming
Vulnerability to damage
Inflexibility
Limited collaboration
Limited access
Inaccuracy
Limited mobility
Difficult to backup
Environmental impact
Electronic document management systems
Space-saving
Time-saving
Improved collaboration
Accessibility
Backup and recovery
Customization
Improved security
Scalability
Integration
Reduced environmental impact
Dependence on technology
Learning curve
Compatibility issues
Cyberattack risks
Legal compliance
Some sectors use both systems since, for legal reasons, certain documents must remain in paper format.
Here are the main industries that employ a dual model of using both a traditional system and an EDMS:
Healthcare
Financial Services
Legal
Education
Government
The different types of EDMS
Electronic document management systems come in several different forms, each with unique advantages and disadvantages. Here are the most common types of EDMS: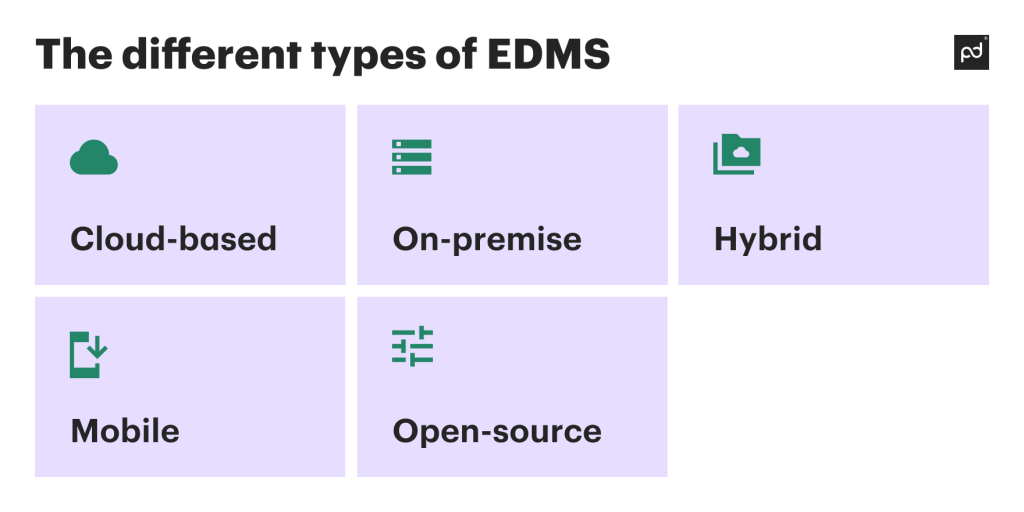 Cloud-based EDMS
A cloud-based document management system stores documents on remote servers and can be accessed from anywhere with an internet connection.
Companies that need to access documents from multiple locations typically use this system, as it eliminates the need for local storage and backups.
For example, the document management platforms PandaDoc and Contractlogix are both cloud-based.
On-premise EDMS
On-premise EDMS is installed and run on a company's own servers.
It is often used by businesses that have strict security requirements, as it allows them to control the location and access of their documents.
You can use EDMS software such as Docsvault that will only run on your enterprise server with easy access from your desktop or mobile device.
Hybrid EDMS
Hybrid EDMS combines the best of both cloud-based and on-premise systems.
Businesses can utilize the remote access and scalability of cloud-based systems while storing important documents on their own servers with this kind of system.
Platforms like LogicalDOC offer a hybrid system that combines cloud and on-premises storage.
Mobile EDMS
Mobile EDMS allows users to access and manage documents from their mobile devices.
It is especially useful for businesses that need to access documents while on the go, as it provides easy and convenient access to critical information.
This feature is becoming more and more common, and many EMDS software like PandaDoc, Docsvault, or LogicalDOc offer this option to allow users to access documents from their smartphones and tablets.
Open-source EDMS
Open-source EDMS is a free and customizable system developed and maintained by a community of developers.
Businesses that need to integrate their EDMS with other systems favor this type of EDMS, allowing them to tailor the system to meet their specific needs.
For example, software such as OpenDocMan or Kimios are open-source document management systems.
How can EDMS boost your workflow?
Electronic document management systems offer a range of benefits over traditional, paper-based systems that can greatly improve the efficiency and effectiveness of document management processes in businesses of all sizes.
Here are some of the key ways in which EDMS can improve upon traditional systems:
Increased efficiency
EDMS automates many of the manual processes involved in document management, such as filing, retrieval, and distribution.
This not only saves time but also reduces the risk of human error.
Improved accessibility
With EDMS, documents can be stored and retrieved electronically, making them easily accessible from anywhere at any time.
This is especially important for businesses with remote employees, as it allows them to work together more effectively, regardless of their location.
Better security
Electronic DMS stores documents on secure servers and uses encryption to protect sensitive information.
They also provide automatic backup and recovery options to ensure that documents are always available, even in the event of an on-premises disaster.
Enhanced collaboration
EDMS allows multiple users to access and edit documents from anywhere, at any time.
This greatly improves communication and collaboration among team members and helps ensure that everyone is working from the same information set.
Streamlined workflow
Using an EDMS can automate many document-related processes, such as classifying and storing documents, updating and distributing documents, and tracking changes.
This helps to streamline the workflow and ensures that all stakeholders have access to the latest information.
Increased compliance
By providing secure storage and tracking of sensitive information, EDMS can assist businesses in meeting regulatory compliance requirements.
They also provide an auditable trail of all document-related activities, which is a must in the event of an audit.
What features should be included in a good document management system?
Any competent DMS should have the following key features:
Document storage and retrieval
A good system should allow organizations to store and retrieve docs quickly and easily, regardless of their format.
PandaDoc includes document search functions, categorization, and version control features to achieve this.
With the PandaDoc's document repository, you have access to a centralized storage solution that your team can easily consult for all your digital files.
Security and access control
Having a system with strong security features to protect sensitive docs from unauthorized access is essential. That's why PandaDoc offers user authentication and authorization features to grant permissions.
In addition, the PandaDoc e-signature feature ensures that all your electronic documents are legally binding with your partners.
Also, you will be able to create documents that comply with the GDPR, HIPAA, and FERPA guidelines by providing ESIGN and UETA-certified electronic signatures.
Collaboration tool
PandaDoc makes it possible for multiple parties to work together on a single document or data room.
Within the same location, you can tag team members in particular lines, collect feedback, and leave comments in real-time.
Keep all fundamental partners informed with report cooperation capacities that improve cross-group and outer-client correspondence.
Document tracking and reporting
It is important that your DMS has detailed tracking and reporting capabilities to help organizations monitor document usage, identify trends and make data-driven decisions.
To give you a better idea of how powerful streamlining docs with an EDMS can be, here is how InSync Healthcare Solutions, a company that provides cutting-edge technology in the medical field, used PandaDoc to track documents.
Previously, sales representatives started in Excel to draft proposals, contracts, or quotes.
After that, a representative had to copy and paste client information from their CRM, resulting in several mistakes and more editing time.
Reps were forced to spend time away from selling activities when the Excel sheet was converted to a PDF file.
In addition to emailing the PDF as an attachment, a rep also had to include video links and ROI analysis in the email body.
The company reached out to PandaDoc; with our EDMS, they successfully transformed the way they carry out business operations.
"PandaDoc provides my sales team with the ability to stand out helping us win more business and ensuring our customers receive a top-notch product and service."

Alex Sandkuhl, Director of Sales
InSync began using PandaDoc's library of content templates so that representatives could quickly create and edit documents.
Now the company can simply drag and drop their video links and ROI analysis into a proposal, quote, or contract instead of attaching them to an email.
Integration with other systems
In addition to its DMS qualities, it should integrate easily with other systems, such as Microsoft, Dropbox, Salesforce, Paypal, etc.
Thus, your company will be able to streamline these workflows, eliminate duplication of data and reduce manual data entry.
User-friendly interface
Another feature that any electronic DMS must have is a user-friendly interface that is easy to navigate, even for non-technical people.
Such as drag-and-drop document creation, intuitive navigation, and customizable dashboards. Plus, you can save your documents to any device (desktop or mobile app).
Conclusion
The future of document management is expected to be driven by advancements in technology and automation.
With the increasing need for secure, efficient, and flexible document storage, cloud-based solutions are likely to become more prevalent.
With PandaDoc, you have a cloud-based solution with many templates available to manage all your file types effectively.
Disclaimer
PandDoc is not a law firm, or a substitute for an attorney or law firm. This page is not intended to and does not provide legal advice. Should you have legal questions on the validity of e-signatures or digital signatures and the enforceability thereof, please consult with an attorney or law firm. Use of PandaDocs services are governed by our Terms of Use and Privacy Policy.