When you run a business, you're always on the lookout for ways to cut costs, increase efficiency, and save time and resources.
It's always important for business owners to know how to stay on top of costs to ensure that their business is as profitable as possible.
It's now common for business practices to be conducted virtually, and it feels like the way we do business has changed forever.
But how does going paperless fit into this narrative?
Going paperless helps businesses save resources in every way possible.
When you think about it, the one thing that seems to impact productivity continuously is paper.
Using paper for numerous tasks has several drawbacks. Think of all the time employees spend printing, scanning, signing, and mailing paper documents.
These activities drastically slow down processes, create bottlenecks, and aren't very environmentally friendly.
Daunting statistics
According to The World Counts, companies that rely on paper use 12.1 trillion sheets every year, which contributes to the 26% of landfill waste that's entirely composed of paper.
The same website also states that half of a company's waste is paper, and, surprisingly, despite our reliance on technology for a wide variety of tasks both at home and work, it's predicted that the demand for paper will double by 2030.
Unless we only use recycled paper, this will result in more deforestation to create paper to meet our increasing demands.
According to the UN, along with agriculture and other land use changes, deforestation contributes to around one quarter of global greenhouse gas emissions.
One simple way we can help combat this problem and save the forests is to reduce our paper usage.
Fortunately, thanks to digital transformation initiatives, such as using software for transitioning to a paperless office, businesses can create better experiences for customers while creating new opportunities and efficiencies.
Why companies are going paperless
Companies are choosing to go paperless for a variety of reasons.
The main influencer in this is efficiency. The reasons for going paperless can be broken down into four main categories:
Easy sharing
When you digitize your systems, folders, and documents, you have the option of putting them into a centralized location, such as the cloud, or on collaborative platforms.
These platforms can usually be accessed by you and your colleagues from anywhere in the world, provided you have an internet connection and login details.
Digitizing your files also makes it easy to email documents to people or use solutions like PandaDoc to send links to contracts with ease.
Less space
Digital files take up less physical space than paper files.
Instead of having to dedicate an entire room or floor to a filing system the size of a library, you can use up some megabyte space on your computer or cloud solution, instead.
When you go fully remote, you can also forego the big expensive printer—or multiple printers—that takes up office space.
Without the need for paper and everything that goes with it, your need for an office diminishes greatly.
Instead, you'll be able to opt for shared, rentable office space for specific occasions, if you're ever in need of that.
Reduce costs
The cost of printing is surprisingly high when you think about the cost of printers, ink, paper, and rent for storage space.
That's not even taking into account the amount of billable hours a person can spend every month just searching for the correct physical file.
And if a natural disaster, such as a flood or fire, occurs that damages your files, you can end up losing a lot of business.
Going digital safeguards you from all of these issues, and at a fraction of the cost of a paper culture office.
Easy access
Finally, when you go digital and upload your documents to a central location, this opens the doors to easy access for your colleagues from anywhere in the world.
Challenges for companies of going paperless
Going paperless isn't always easy, especially if you have a well-established, long-standing company with employees who have been in their roles for decades.
It can be a challenge to get people to change how things are run. The process of going paperless can also present the following challenges.
Possibility of human error
Just like with paper files, there's always the possibility that files will get lost, accidentally deleted, or saved in the wrong place.
This can make it tricky to find the correct file. Search functions make this easier, but it's still something to be aware of.
Digitizing old files
The task of going through every single old file in your library of folders, scanning them, naming them, categorizing them, and saving them isn't a quick process even if you own the correct tools and decide to digitize your files yourself.
Usually, the process is pretty straightforward, but it can be a time-consuming task if you have a lot of documents.
Equipment failure
Sometimes, there's a power outage, and you just can't get online and work that morning.
Other times, perhaps you spill a drink on your laptop and cause the hardware to blow.
Sometimes, there's just a problem in the code and something gets deleted.
Digital solutions aren't perfect. They're no silver bullet for all of your business woes.
Things go wrong sometimes, and when they do, you're really grateful for that external hard drive or the fact that you automatically upload your documents to the cloud.
Security breach
Finally, it's possible to find weaknesses or vulnerabilities in any system, and a determined-enough hacker can probably find some way to access sensitive documents.
There are lots of things you can do to minimize this risk, but it's a risk nonetheless.
Going paperless: How to do it effortlessly
The process of transitioning to paperless office solutions can be pretty complicated and take a while to implement.
However, with the paperless office apps that are taking the digital industry by storm, things can be much easier.
The apps listed below will allow you to tackle some of the areas of your business where you still use paper and digitalize quicker than you ever thought possible!
What are the best apps for going paperless?
If you're wondering how to go paperless, there's no shortage of tools to help you move away from using paper at the moment.
We're getting to the point where paper is becoming a choice rather than a necessity for many people.
It's also an expensive choice when you consider the cost of printers, ink, electricity, and the paper itself.
So, here are some examples of cool alternatives to your paper systems:
ESignature tools
Up until recently, if you wanted to sign any sort of contract, you'd have to either go and do it in person or use the postal service to send stacks of documents back and forth manually.
Now, we have a number of handy eSignature tools and solutions with eSigning features, such as
PandaDoc, which eliminate most of the time and effort you'd otherwise have to spend posting wads of paper to the relevant people.
They allow users to create legally-binding signatures, often with identity verification functionality, to make sure that the signature is authentic.
Cloud storage and sharing services
If you watch any movie or TV show that's set in the '80s or '90s featuring a law office (does anyone remember Ally McBeal?), you'll see the massive filing systems people had to use for most of the last century.
Now, those filing systems can be kept in the cloud and on sharing platforms, which means no more misplaced documents, easy access from multiple locations and devices, and simple permission allocation.
Note-taking apps
Apps for taking notes have replaced the old pen and paper, which means you can access those notes wherever you are, from your phone or laptop, without worrying about someone reading them without your permission.
You also don't need to type handwritten notes from your meeting because they're already in digital format.
You can easily delete your notes when you're finished with them without having to throw away a notebook and buy another one.
Scanning apps
Scanning apps can help you easily move your documents from physical to digital format.
Many will enhance the contrast to make scanned documents easier to read, and you can assign document names to them for easier identification as you store them.
Scanning can turbo charge your move to a paperless system.
To-do list apps
To-do lists might sound simple enough, so why build an app for that?
Well, because that way you can always have your list on the go, and you can add to it and delete items from it without it getting messy or having to fish out new pieces of paper.
Paper lists get stuck in the pocket of your jeans and end up in the washing machine. Mobile phones (hopefully) don't!
You can also make your to-do list shareable so that you can collaborate with your colleagues over projects.
The methodology used to source the app data
With the aim of delivering as objective an overview as possible, we tried out 30 different paperless apps to find the best, most reliable ones.
All testing was carried out on both Android and iOS devices.
The goal of this testing was to understand:
The scope of the app data
How it connects to the participants in real-time
Its benefits to the overall business workflow
We sourced information on these paperless apps by reviewinging their websites, reading user reviews, and trying out free trials of each app.
Upon grouping all this information, we selected the nine options that, from our point of view, make the best apps for paperless businesses.
01. PandaDoc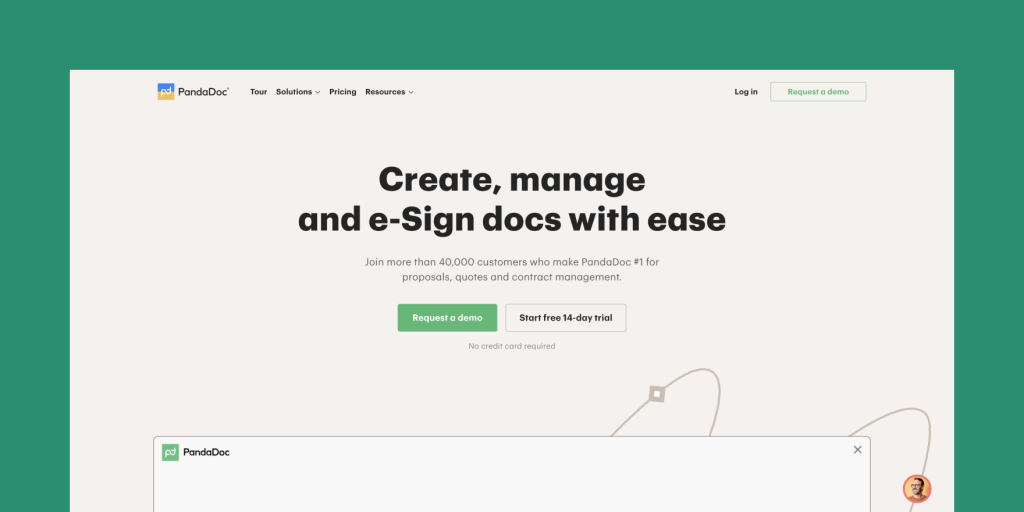 Capterra rating: 4.5/5
Ease of use: 4.3/5
Value for money: 4.5
Support options: Phone, web form, live chat, email, help desk, forum/community, FAQ/knowledge base, social media, 24/7 live rep, and video tutorials/webinars.
Mobile application: Apple iOS and Android
Free trial: Yes. 14 days + Freemium version
User pain point: Sales and marketing teams spend too much time creating numerous proposals/contracts/etc, every day, keeping clients waiting, prolonging the process of closure, and losing money in the process.
App solution: PandaDoc helps automate this process via its cloud-based document management software.
It helps teams create proposals, quotes, human resources documents, contracts, etc., precisely and efficiently, making the closing process much faster and easier while saving you money.
On top of that, thanks to its e-Signature solution, all documents can be signed within seconds of being received, making the whole process almost effortless.
At the same time, you can collect payments from clients, cultivating a more organized and automated workflow.
Software specifics
PandaDoc is document automation software that makes the transition to a paperless organization painless and error-free.
The software offers a comprehensive document solution that lets you create, send, eSign, store, and manage limitless docs easily, all for an affordable price.
This is a phenomenal option for anyone looking to get secure e-Signatures on new proposals and other documentation.
Having reliable e-Signature software that can be used to sign paperless documentation eliminates the lengthy process of asking your customers to print and, scan documents and then return those documents to you.
PandaDoc is an excellent tool for businesses that frequently send turnkey proposals.
To enable quick personalization, you can automatically import data from your CRM, potentially saving you a lot of time and reducing common errors, such as forgetting to update clients' details on an important proposal.
PandaDoc notifies you when the person opens the document and tracks their time on it, informing you which parts people are paying attention to.
You can edit the document if needed and revisit old bids as well.
Key limitation: Perfect for startups and small businesses, but may lack the features some mature businesses require, formatting can be lost when importing documents from Word, and it's limited in terms of integrations with enterprise software.
02. Miro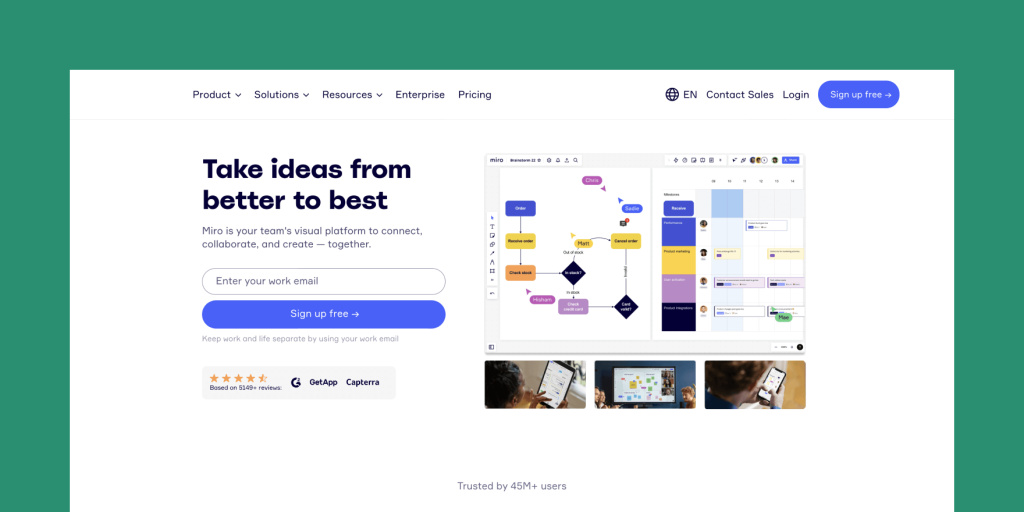 Capterra rating: 4.7
Ease of use: 4.5
Customer service: 4.3
Support options: Online help center, Miro academy, and Miro academy available to users on all plans. Starter, Business, Consultant, and Enterprise plan users can contact Miro support via a form built-in to the platform.
Mobile application: Yes. Mobile and tablet apps available for download on both iOS and Android.
Free trial: No trial, but there is a free plan with a restricted selection of features available.
User pain point: The modern workplace is drastically different from that of even ten years ago. In fact, for many businesses, there is no one, set workplace or office any more.
Remote and hybrid working deliver many benefits to employees and businesses alike.
However, there are also challenges, most notably when it comes to communication and collaboration within a remote or hybrid workforce.
App solution: Miro is a visual collaboration platform which aims to empower dispersed workforces to communicate and collaborate as well as—or better than—in-office teams.
The platform includes a range of features and functions designed to help teams collaborate across disparate locations, time zones, channels, tools, and formats.
Whatever it takes to get a remote or hybrid team collaborating seamlessly and effectively.
Software specifics
Miro is a visual collaboration platform with a range of features and functions to help teams co-create and collaborate remotely.
The platform is probably best known for its collaborative whiteboard functionality.
Designed to provide a collaborative think space for dispersed teams, Miro whiteboards boast a wide range of features and capabilities:
A variety of options for expressing ideas visually, including sticky notes, emojis, images, text, handwritten notations, and more.
Tools for including all team members, such as icebreakers, live reactions, and anonymous voting.
Thousands of pre-made templates to get users started with their own whiteboards.
Ability to work on whiteboards across any desktop or mobile device.
Alongside the main whiteboard functionality, Miro also connects seamlessly with over 100 other business apps and tools by way of native integrations.
If you have other tools you wish to link, too, there's the Miro Developer platform with APIs that can help.
Key limitation: The free plan is quite limited in scope. While the number of team members is not limited, you can only get three editable boards.
That may be enough for some small businesses, but many organizations will quickly need to upgrade.
03. Evernote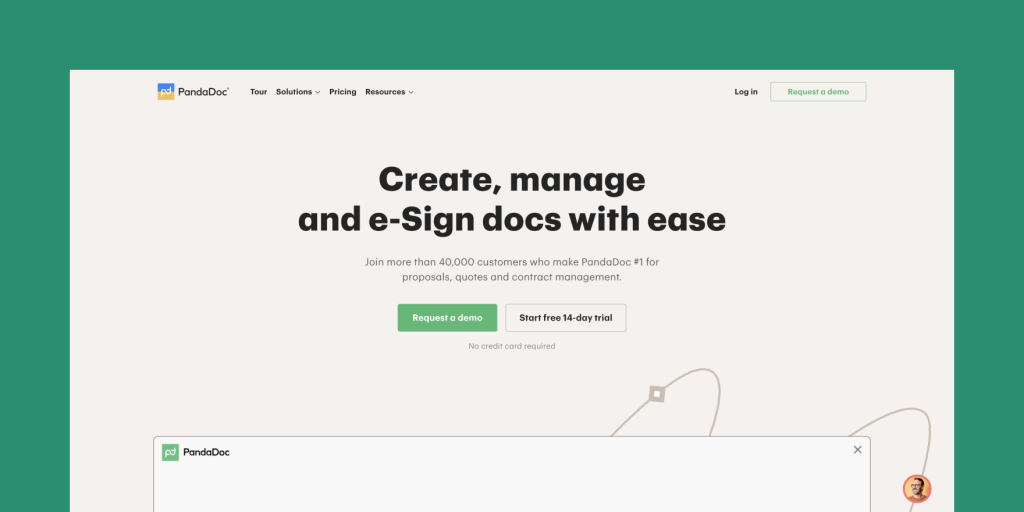 TrustRadius rating: 8.3/10
Usability: 7.6/10
Support: 8.8/10
Support options: Help & learning section, discussion forums, troubleshooting section, web form, and contact sheet support upon login.
Mobile application: Yes. Works on the majority of operating system platforms
Free trial: Freemium version available
User pain point: The 21st century dictates an almost impossible schedule to stick to—both personally and business-wise. It's getting harder and harder to keep tabs on everything that needs to be done in a day/week/month, especially for businesses that are trying to establish themselves.
App solution: Evernote is accessible from anywhere, and it helps organize every aspect of a person's life—whether that's regarding work, hobbies, recreation, personal improvement, travel, exercise and so on.
Among many other things, it can help you:
Quickly store anything of interest that you come across
Make a productive week plan
Write down new ideas that you'd like to implement in your business
Make notes of important statements that you come across while reading business proposals
Create a timetable
Write code snippets to share with your colleagues.
You can also sync all your data with your other devices.
Due to the wide variety of features that Evernote offers an organization, including folders, tags, and sharing functions, it will help you get organized in the best way possible.
Software specifics
Evernote is designed for note-taking and archiving.
It lets you create a personal space, and "notes" can include everything from a piece of formatted text and photographs to an entire web page or web page excerpt, a voice memo, or a handwritten "ink" note.
It integrates with various apps, including Google Drive, Gmail, Outlook, Slack, MS Teams, and Zapier.
One of Evernote's great features is that it offers both online and offline synchronization and backup services.
Your stored notes can have file attachments and be sorted into folders, which can then be tagged, annotated, edited, searched, and exported as part of a notebook.
The folders can also have comments added to them.
Evernote is compatible with many operating systems, including iOS, Android, Microsoft Windows, and Mac.
Going paperless with Evernote is easy for people in a variety of countries thanks to the fact that it's used in over 25 languages daily.
Key limitation: The premium plan is expensive, notes can't be accessed offline, and the tags are cumbersome.
04. Invoicely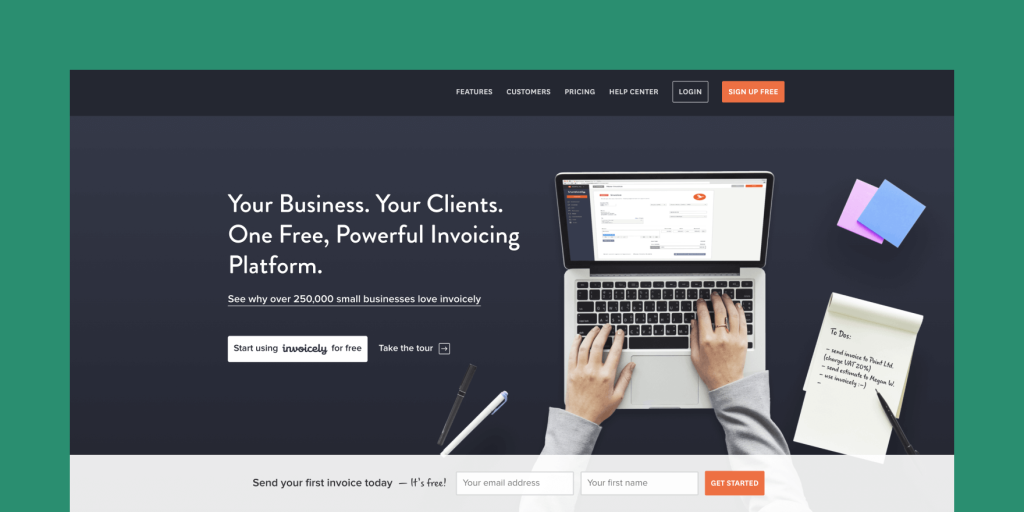 Capterra rating: 4.7/5
Ease of use: 4.6/5
Customer service: 4.4/5
Support options: Contact sheet support, email, chat, FAQs, forum, and a, knowledge base.
Mobile application: Yes, Apple and Android
Free trial: Freemium version available
User pain point: Keeping track of invoices, can be a strain on any type of business as they have to check whether they've been sent on time, paid, properly filed, proofread, etc. This is especially true for small businesses.
App solution: Invoicely helps (small) businesses get paid faster than they would if they were using standard invoices. It's effortless to check when a customer pays.
And if they haven't paid, Invoicely can send reminders to them to sort things out. The software keeps track of the invoices that have been sent to people, so that you don't have to.
Software specifics
Invoicely (formerly Invoiceable) is a SaaS-based software system that lets you send and accept invoices from clients while managing and tracking earnings, expenses, and activity logs when you're using its free plan.
The tool's intuitive design makes it simple to understand what's going on with your business's finances.
To help users track their business finances, Invoicely creates dynamically generated expense reports, and income, and expenditure summaries, as well as monthly and yearly statements.
An activity log is generated, too, so that users can view invoicing, billing, and payment events. Invoicely also allows users to track time and expenses that are associated with tasks (e.g., mileage and, hotel costs).
A paid plan enables users to send out branded invoices, adjusting every segment of the control panel, log-in screens, and statements to help you meet any business standard.
Invoicely accepts all currencies for payment, as well as online transactions. Payment gateway integrations include PayPal, Authorize.net, Stripe, and Mollie.
Another excellent, hassle-free invoicing solution comes from PandaDoc. PandaDoc's online payment processing is designed for all types of organizations—from online businesses and eCommerce retailers to multinational corporations.
It's a convenient solution that allows instant credit card payments and ensures that you get deals signed and paid for on the same day.
With PandaDoc, the average payment time is reduced to two days.
Key limitation: There's no autosave feature, the settings sections are difficult to navigate, and the mobile app syncs slowly.
05. Adobe Scan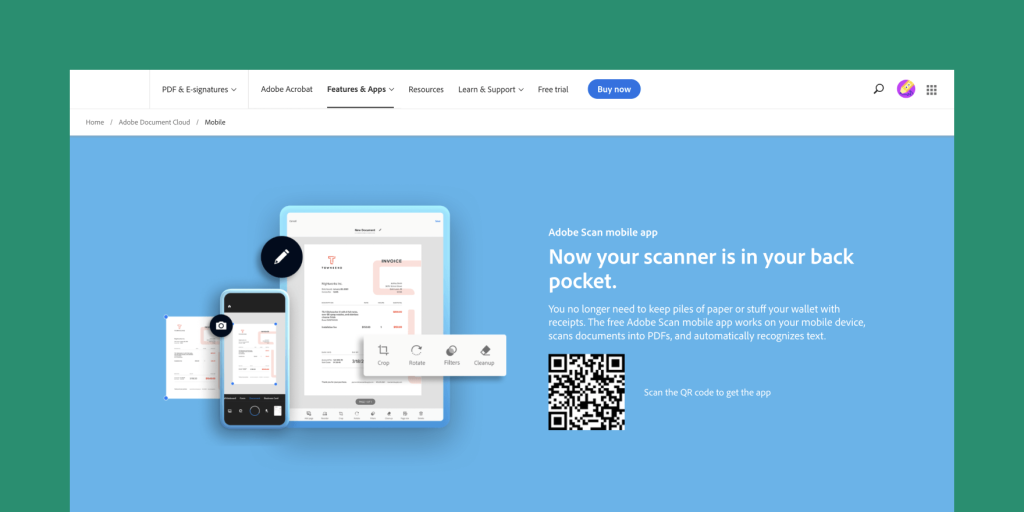 Google Play Store rating: 4.8/5
Support options: Comprehensive help & support center, community forum, web form and learning resources.
Mobile application: Yes. Apple and Android
Free trial: Yes
User pain point: Smudgy and imprecise scans of photos, documents, business cards, whiteboards, and other material? Too much paper wasted, chaotic schedules, and way too many steps to complete for a simple transfer? We've all been there.
App solution: Adobe Scan is a powerful portable scanner that lets you snap several printed documents in multiple modes, including Auto Color, Original Photo, Grayscale, and Whiteboard.
It recognizes text automatically (OCR) and gives you the option to reorder your scans, rename them, crop them, and rotate them. You can turn any scan you make into a PDF.
Software specifics
Adobe Scan is an excellent app with high-level functionality. It's excellent at capturing documents like rebate forms, tax documents, and the occasional business card.
It's a lighter scanning option than some other powerful apps, and it can export PDFs. But, due to its simplicity, it's effortless to use, and its scans look impeccable.
Adobe's powerful OCR is pretty impressive; it recognizes text quickly and accurately and converts it into a digital document within seconds.
Every scan you make is automatically stored on Adobe Document Cloud. So everything you scan is accessible from any mobile device, tablet, or computer at any given moment.
The tool's dedicated scanning modes allow you to fill out forms directly from your device and add new contacts from business cards.
The biggest drawback is that you can't unleash its full potential unless you sign up. Also, you can't edit documents without an Acrobat Pro subscription.
Key limitation: Adobe Scan is a straightforward scanner app. It does not have the broader applications of a number of other entries on this list.
06. Expensify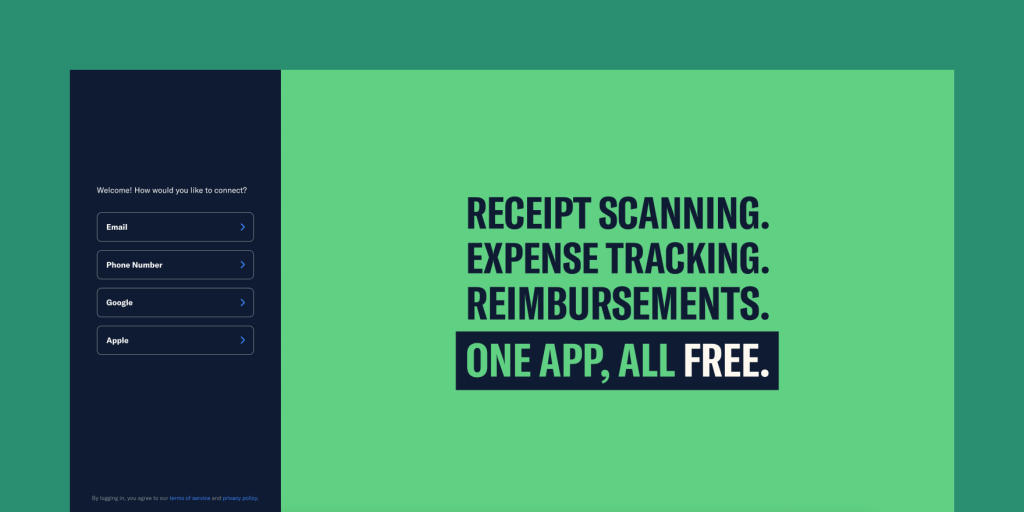 TrustRadius rating: 8.2/10
Usability: 7/10
Support: 8.5/10
Support options: Phone, live chat, forum/community, FAQ/knowledge base and, video tutorials/webinar
Mobile application: Yes. Apple iOS, Android, Mobile Web
Free trial: Yes. A free trial + Freemium version
User pain point: Tracking everyone's multiple-purpose expenses within a company along with the time spent at the worksite, is a nerve-wracking job.
Calculating and comparing expense claims daily and then taking the time to process and send them is a time-consuming task that often results in jobs dragging on for longer than necessary.
App solution: After a job visit, Expensify enables you to send expense claims and get reimbursed as soon as possible.
It saves you time by accurately entering your expenses and reviewing your direct report's expenses reports.
By collecting receipts quickly, the system saves you plenty of time that can instead be invested in new project planning, or similar tasks.
Expensify turns creating an expense report from a 30 min-hour job into a task that takes less than a minute.
Software specifics
Expensify is an expense tracking app that helps businesses improve their back -office by simplifying their pre-accounting.
From unlimited receipt scanning and profit tracking to next-day reimbursement, Expensify positions itself as a paperless app that fully automates your pre-accounting system in a few steps.
This cloud accounting software automatically records your spending, making sure you don't miss any receipts.
It tracks all of your receipts and manages expenses on the go, which means you can get reimbursed faster.
Expensify enables users to manage expenses, send invoices, pay bills, and book travel. It supports:
Unlimited receipt scanning: Take a photo of any receipt, and you'll have all the details captured thanks to Expensify's SmartScan technology. Likewise, the Expensify Card can be used to replace receipts.
The Expensify Card: To automate expenses, just swipe the Expensify cCard.
Expense management: Expensify codes and submits business-related expenditures for approval, next-day reimbursement, and automatic sync with accounting software.
Bill payment: Expensify summarizes details from vendor bills for automatic approval and payment.
Invoicing: Expensify allows you to create and send invoices while collecting payments and automatically syncing to accounting software.
Travel booking: Concierge books flights, hotels, and cars for the user via Expensify chat.
Take a picture of any receipt, and the app will categorize and code it. As a bonus, there's a profit and GPS tracking tool, too.
Key limitation: Smart scan often fails or freezes on mobiles, inability to delete old or incorrect reports yourself, and buttons are hard to see.
07. Dropbox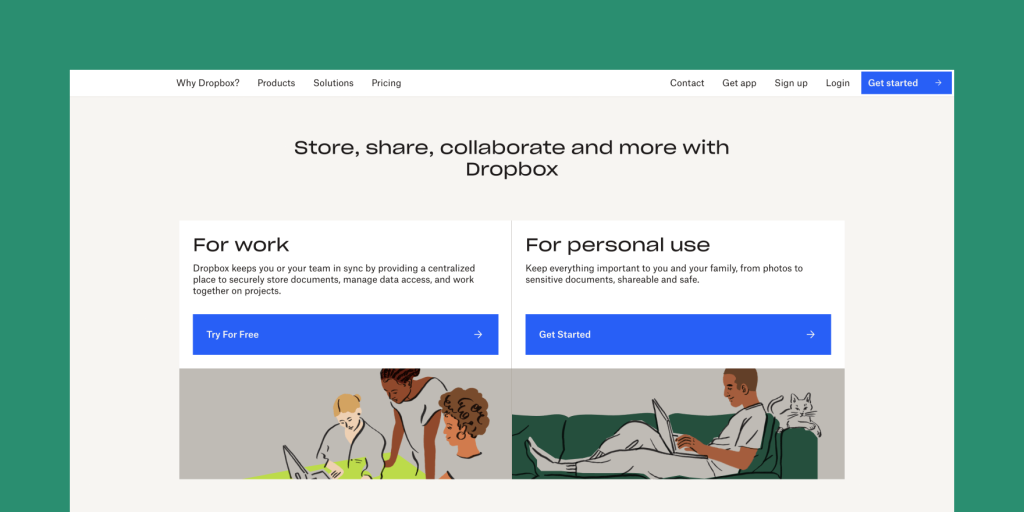 TrustRadius rating: 8.1/10
Performance: 7.7/10
Reliability: 7.8/10
Support options: Email, live chat, chatbot, help center, community forums, and phone support
Mobile application: Yes
Free trial: Yes, for every plan
User pain point: Overloaded physical document storage systems are a common problem these days, especially for those running a business.
Filing, editing, and re-editing documents is a time-consuming process, especially for large teams. Making multiple copies when you want documents shared among coworkers wastes paper, time, and money. Plus, they can't be shared with colleagues if there's no one at the office.
Also, the problem with physical documents is that they can get easily lost among disorganized piles of similar files. Keeping physical files in offices isn't secure enough.
App solution: Dropbox enables quick and easy file storage and transfers among as many people as needed. Its instant uploads from any device remain on the cloud forever, enabling URL document share at any time.
In case a document is lost, tracking a URL is enough for a re-download.
Dropbox is a secure way of storing system and project backups. It also allows file locking, always keeping you on the safe side of things.
Everything is editable in real time, saving you precious time and money on countless paper/printed edits.
Software specifics
Dropbox is an incredibly helpful app, which is a true delight for paperless work. It's basically a digital filing cabinet solution that, stores, manages, and shares all of your important documents in one cloud storage space.
Its availability across devices means you'll always have access to the documents you store there.
The service is free for up to a generous 2GB of files. If you want additional space, it's available for purchase. As a cloud-based repository, Dropbox allows storage for all ongoing projects and enables multiple users to collaborate.
It allows easy sharing of large files with people within and outside an organization, making it an excellent tool for small and big businesses, contractors, and freelancers alike.
In addition, Dropbox perfectly integrates with PandaDoc, giving it a more significant advantage on the market.
Syncing your PandaDoc data across your Dropbox account will enable you to:
Easily connect PandaDoc and Dropbox to access each company's documents and send them out for eSignatures within minutes.
Manage and reuse PandaDoc documents on Dropbox by turning Dropbox documents into reusable templates that your entire team can use.
Send and collect eSignatures in your Dropbox account, with PandaDoc allowing relevant collateral, appendixes, and product specs to be pulled from Dropbox and used whenever they're required.
As a user, this integration gives you a superior approach to managing proposals, client deliverables, and legally binding eSignatures on documents.
Key limitation: Poor customer support, unsatisfactory download and upload speeds, takes up a lot of space on your computer, and it's not very versatile.
08. CamCard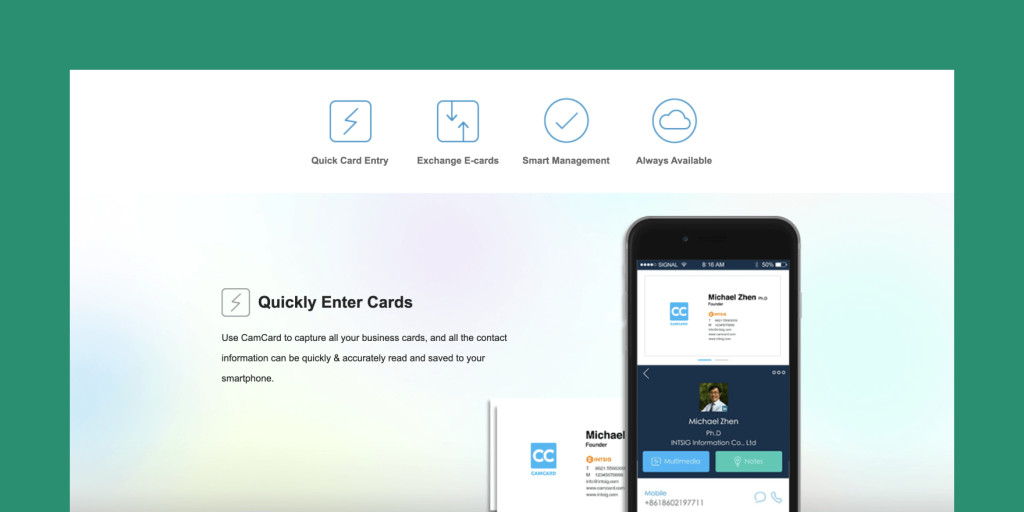 Capterra rating: 4.3/5
Value for money: 4.4/5
Ease of use: 4.6/5
Support options: FAQ and email
Mobile application: Yes. Apple iOS and Android
Free trial: Available upon registration
User pain point: Spending money and other resources on designing, printing, and distributing business cards. Never being able to find a business card when you need it most. Risking your business cards ending up in the trash because people no longer keep business cards, despite wanting to stay in touch with you.
App solution: CamCard lets you exchange contact information with your prospective clients within seconds without cluttering their wallets.
Plus, with CamCard, you can easily type in additional information with your virtual business card—no physical pen (which nobody carries around anymore) is required. A CamCard is always within your client's immediate reach—in their phone.
Software specifics
The days of sharing business cards on paper are over; with apps like CamCard, we're looking at an entirely new way of exchanging business contact information and the easiest way to go paperless in at least one segment of your business.
CamCard is a virtual Rolodex for as many business cards as you'd like to store using an iOS or Android app.
It's effortless to use, as all you've got to do is take a photo of a business card, and it extracts information like the company name, email address, job title, and phone number and adds it to your contact list.
CamCard allows you to add notes next to the scanned business cards, set reminders, do quick searches, tag, share cards, scan multiple cards that then get automatically sorted and stored, and so much more.
Everything is easily editable, in a few taps with the zoom-in effect animating very smoothly.
All your contacts are stored in the cloud and on your phone, synced across smartphones, tablets, and the web app in real-time, making them available 24/7.
If you want to skip paper cards altogether, you can create your own e-card and exchange it with other CamCard users.
Using the free version of CamCard, you can scan up to 500 cards. On the other hand, the premium account gets you an unlimited number of scans.
It also enables you to export contact information from the scanned cards to Google Contacts, Salesforce, and Outlook. It also removes ads.
CamCard is the perfect fit for modern people on the go, including entrepreneurs, business developers, marketing experts, and salespeople.
Key limitation: Integrations with other software could be improved, the text recognition needs to be adjusted on several cards, and it doesn't scan documents or foreign characters.
09. BetterProposals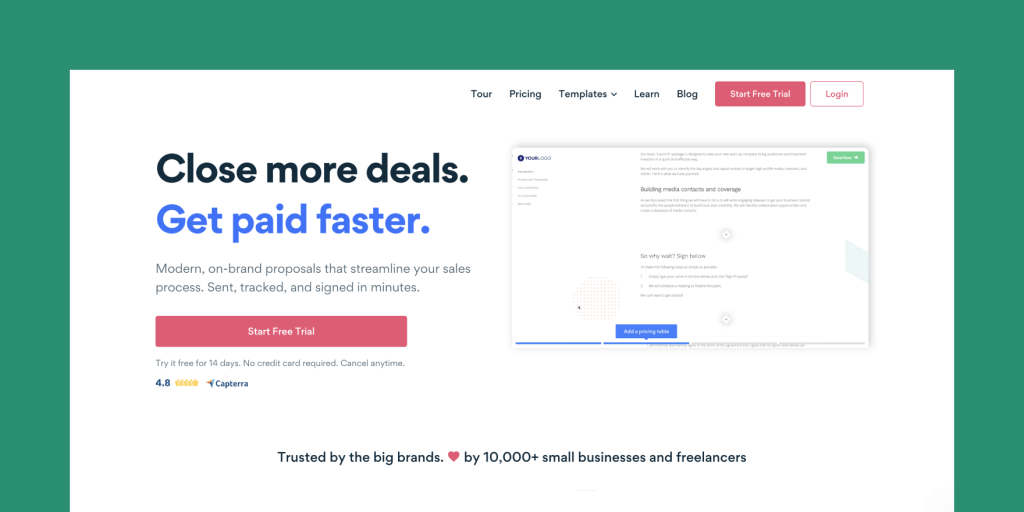 Capterra rating: 4.8/5
Ease of use: 4.7/5
Customer service: 4.8/5
Support options: Live chat, contact sheet, and info section
Mobile application: No
Free trial: Yes
User pain point: Taking clients from proposal to signing the contract often feels like too many steps that waste both time and money. This is usually, too tiring for the client.
Proposals that have already been sent can't be retracted for edits if needed, which wastes additional resources.
App solution: BetterProposals makes creating top-notch proposals easy, accurate, and fast while tracking the customer interaction with your proposal.
All proposals can be edited on the fly and sent via a link. BetterProposal templates allow you to easily provide lots of detailed information.
Software specifics
BetterProposals gives you all the tools you need to easily create a professional-looking proposal and win work as quickly as possible.
It features all the core elements of robust proposal creation software, including good automation, team collaboration, sleek templates, interaction tracking, and numerous integrations.
As BetterProposals comes with a built-in tracking system, you know exactly when your proposals are opened, forwarded, and downloaded, which helps you follow up in an appropriate time frame.
Clients can sign your proposals online with the eSsign option, significantly improving business interactions and closing deals.
Better Proposals features the option of customized templates, allowing organizations to design a proposal with their own branding, including company colors, logo, specific fonts, domain, and more. They can remove and add any content as needed, as well.
Proposals created with this tool allow image inserting at full width, neatly wrapped around text, or embedded within text.
It also allows you to embed videos from YouTube, Vimeo, or Wistia to help bring more attention to proposals.
Additional functionality of Better Proposals includes an HTML code editor for further proposal customization, a content library, auto-save, and a "merge tags" feature to pull in client-specific information and reduce the chance of mistakes.
Although it can be used by clients who prefer a web proposal with a "pages" layout, Better Proposals is best for small businesses and freelancers with infrequent proposal needs.
Being one of the most popular software solutions for document, proposal, and workflow management, PandaDoc enjoys the trust of its users, but it's often compared with BetterProposals in terms of its feature diversity and functionality.
According to G2, when assessing the two solutions, reviewers found PandaDoc easier to use, set up, and administer.
Reviewers also loved how efficient PandaDoc is at capturing information, and sharing proposals. They also, preferred doing business with PandaDoc overall.
Key limitation: The set-up process can be confusing, changing the values in the pricing table can be tedious, the CRM doesn't have a tab to source contacts, and integrations can be difficult to set up.
Embrace the joy of paperless
As remote and hybrid work appear to be here to stay it's never been more important to have effective and easy-to-use solutions that allow workers to ditch paper and digitalize as many work tasks as possible.
Your primary goal should be to ensure an instant and seamless workflow for your employees and contractors.
And, guess what? With apps like the ones we've listed above, you'll have no trouble going paperless soon!
Whether you like the digital, paperless era or not, one thing is for sure—a paperless office will benefit the environment, as well as, help you streamline operations and reduce expenses.
Originally published October 28, 2021, updated March 1, 2023
Disclaimer
Parties other than PandaDoc may provide products, services, recommendations, or views on PandaDoc's site ("Third Party Materials"). PandaDoc is not responsible for examining or evaluating such Third Party Materials, and does not provide any warranties relating to the Third Party Materials. Links to such Third Party Materials are for your convenience and does not constitute an endorsement of such Third Party Materials.