Looking for an alternative to Better Proposals?
PandaDoc is better at managing large teams and gives you more freedom to design your documents than Better Proposals.
Better software
PandaDoc is better suited for bigger sales teams, Better Proposals even admits that on their website. Invite new team members, create separate workspaces and manage them from the PandaDoc admin panel. You can control what employees can edit and view, and track their activity. Each team member is assigned a preset role or you can customize their role.
Drag and drop editor
Personalize proposals with text, pricing tables, headings, footers, checkboxes, image and video fields. Unlike Better Proposals, PandaDoc offers a robust drag and drop editor to make document customization fast and easy.
Upload docs and PDFs
PandaDoc allows you to create a proposal from public templates, custom templates, or a Word/PDF file uploaded from your computer or cloud storage application. Better Proposals limits your options to only allowing you to create docs from scratch, they do not allow you to upload an existing document.
What PandaDoc has that Better Proposals does not
Multiple electronic signatures
With Better Proposals you can add only one signing block to each proposal. PandaDoc allows you to add as many signature fields as you wish. Draw, type, or upload your electronic signature to your docs. Every eSignature with PandaDoc is secure and legally-binding. Unfortunately, Better Proposals is not the best choice for proposals with multiple signers. PandaDoc also offers a signing order feature which is best suited for 2+ signers. All you need to do is specify the order in which each signee should sign.
Multiple pricing tables
Better Proposals only allows one pricing table per proposal. At PandaDoc you can add as many pricing tables as you need which makes your pricing strategy more flexible. You cannot customize pricing tables in Better Proposals, while in PandaDoc there are basic and advanced options with CSS customization to make your tables look the way you want. Save time by merging your products directly into a pricing table via a CRM integration or select them from your custom catalog. Add discounts or taxes if needed and let us do the math. You can also allow your customers to choose quantify and specify which products they want.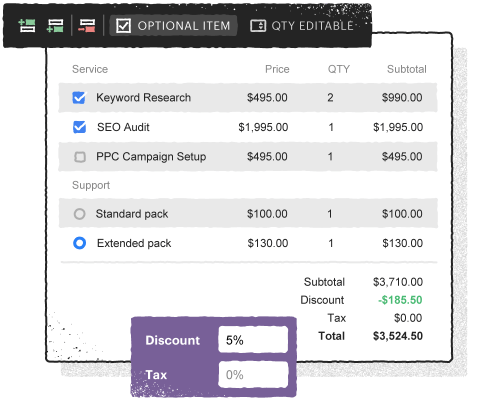 Custom product catalog
PandaDoc allows you to easily create a detailed catalog, organize items into folders and manage them. You can either add items in the app or upload a .csv file with your products. Each product has its own SKU, name, price, and currency. Also add a customized description, upload an image or grab one from the image library, and add custom fields. All items can be exported to a .csv file. Better Proposals isn't as flexible in customizations. You cannot import or export your catalog, create folders, add photos or extra fields for description.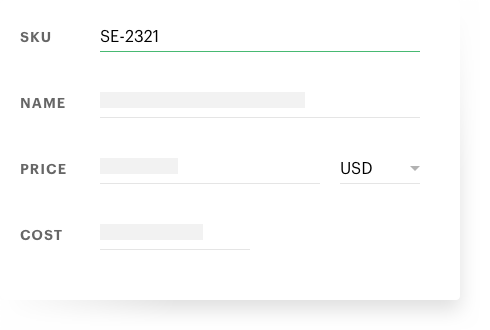 Stay in the know
Boost sales with smart analytics tools. PandaDoc gives you insights into how clients are interacting with your proposals to improve their performance. We'll detail: how much time they spent on each page, how many times each page was viewed, when the document was opened, etc. We're tracking the entire document lifecycle from creation, to sending, to completion. Better Proposals does not provide any detail into what happens with your documents after they are sent.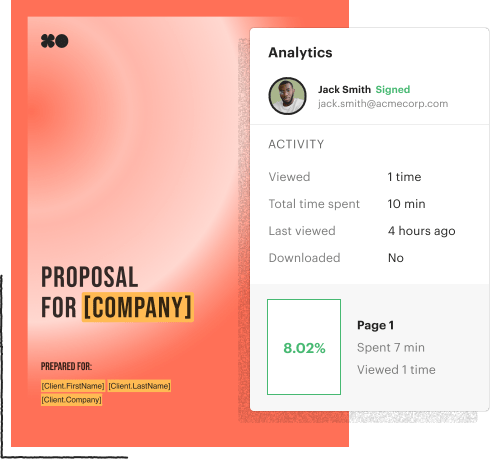 CRM Integration
Integration with a CRM saves time and minimizes errors. Connecting PandaDoc to your CRM is super easy and only takes a few steps. Better Proposals only integrates with 11 CRMs while PandaDoc also offers integrations with payment and storage applications in addition to CRM integrations.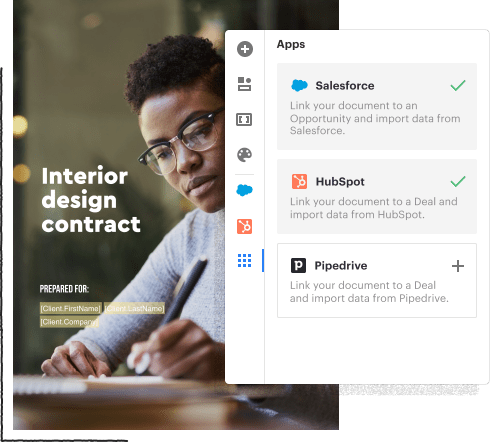 Convenient support
If you get stuck, the PandaDoc support team is here to resolve any issues. No matter what plan you choose, our support is one of the best in the industry and ready to help. We also offer a vigorous online knowledge database that offers detailed guides on installing our integrations and details step-by-step instructions for every PandaDoc feature.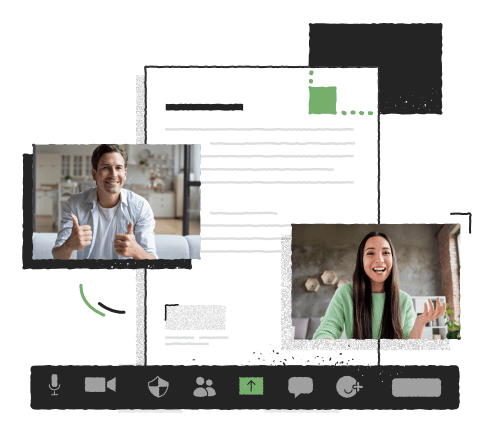 Find the perfect PandaDoc solution for your business