Writing a good proposal isn't easy.
Proposals need to be transparent, well-written, and neatly designed in order to represent your company in the best possible way.
At the same time, your sales and marketing teams can't spend all day creating proposals while still fulfilling their sales roles.
Teams need fast and reliable ways to create proposals quickly without sacrificing quality.
That's where proposal tools come in.
With features that facilitate proposal creation, these software solutions can empower your marketing and sales teams to write proposals, send them to clients, and collect eSignatures in record time.
In this article, we will cover our top choices for the best business proposal software available right now.
1. PandaDoc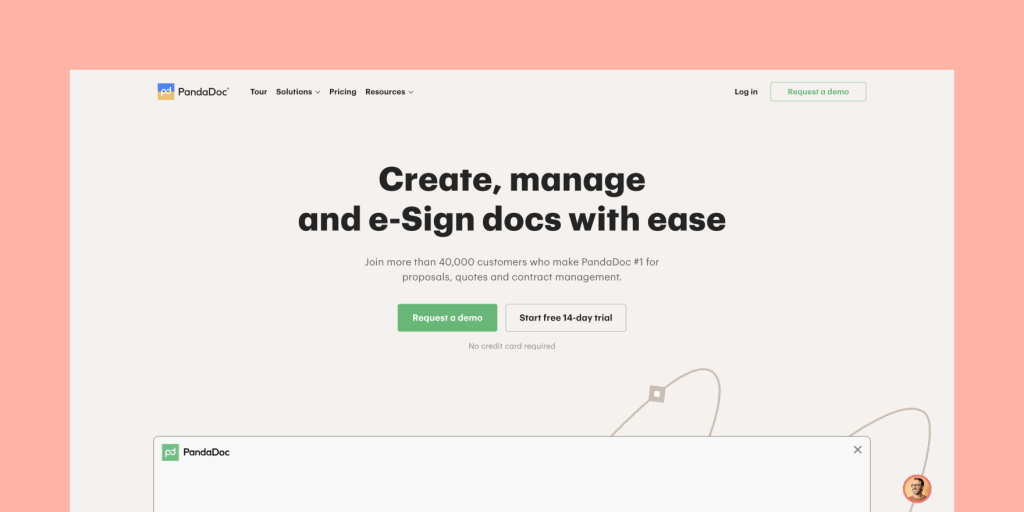 Powerful and user-friendly, PandaDoc is a proposal software platform designed to streamline the creation, sending, tracking, and management of professional proposals, contracts, and other business documents.
The software is equipped with a huge selection of features to help businesses automate document workflows, collaborate with internal and external partners, and close deals fast.
Features include a drag-and-drop document editor, a robust template library, content management capabilities, and electronic signing tools.
The platform also offers document analytics so that activity can be tracked and success can be more easily replicated.
On top of that, PandaDoc offers a selection of integrations, including connections to Stripe, Salesforce, Hubspot, Pipedrive, and many others.
The combination of features allows for full-scope, end-to-end document creation and management.
Build comprehensive proposals inside PandaDoc from scratch using powerful text and formatting tools. Send your documents to approvers for final signoff.
Have customers sign using electronic signature tools.
And, once all the heavy lifting is done, store your documents on the platform using onboard document management tools.
By leveraging PandaDoc, businesses can save time, reduce errors, and improve the quality of documents and proposals.
It's a game-changer for businesses looking to streamline their document workflow and boost their sales success.
Platform highlights
Document editor. The onboard, from-scratch document editor enables users to build proposals, contracts, and other documents using drag-and-drop tools. Text can be combined with electronic signing tools and multimedia in a user-friendly way to create stunning documentation.
Content library. The PandaDoc content library allows users to save formats, layouts, text blocks, and multimedia snippets for reuse across multiple separate documents.
Important details
Great for: Businesses of all sizes who want to centralize document creation and management into a single platform.
Price: From $19 per month.
Ease of use: 9.1/10.
Free Trial: 14 days.
2. RFPIO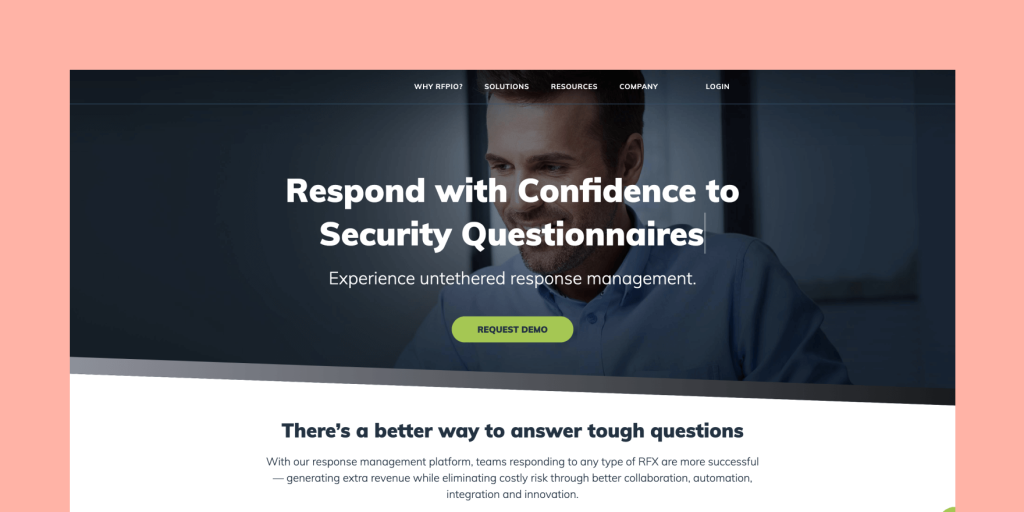 While traditional proposals are typically built after a conversation or customer request, proposals generated from RFPs require an entirely different set of tools.
RFPIO won't be a great fit for teams looking to build and send traditional proposals, but it's a powerful platform for sales teams responding to RFPs, RFIs, and security questionnaires.
The platform specializes in helping teams build proposals against RFP requests by using processes that connect subject matter experts with answer-anytime response requests.
This allows subject matter experts on the team to quickly lend their knowledge while building documentation, resulting in faster submission times and lower overall costs per bid.
RFPIO also relies on AI technology to accelerate the online proposal process.
The system is designed to help users evaluate whether or not the organization is likely to win an RFP, so that less time is wasted working up bids that won't even matter.
As a bid proposal software, RFPIO is a powerful option for RFP teams specifically because it streamlines information-gathering and knowledge accumulation.
The respond-anywhere approach that RFPIO (and similar RFP response tools) takes gives SMEs the ability to quickly reply with deep, technical knowledge that sales teams can use to submit proposals and win contracts.
And that matters when wasting time on unwinnable RFPs can cost organizations considerable time and money
Platform highlights
AI-recommendation engine. RFPIO's onboard AI enables faster online proposal creation by searching through existing company content to help users provide accurate responses more quickly.
Metric-based decisions. Because RFPs take time, RFPIO helps you evaluate incoming RFPs to determine if you should take the time to respond. These advanced decision making tools can save thousands by helping you avoid bad opportunities before you invest time and effort into them.
Important details
Great for: Sales teams who want to streamline the RFP-response process using automation and AI.
Price: Cost only available via custom quote.
Ease of use: 8.9/10
Free Trial: None. Demo available.
3. RELAYTO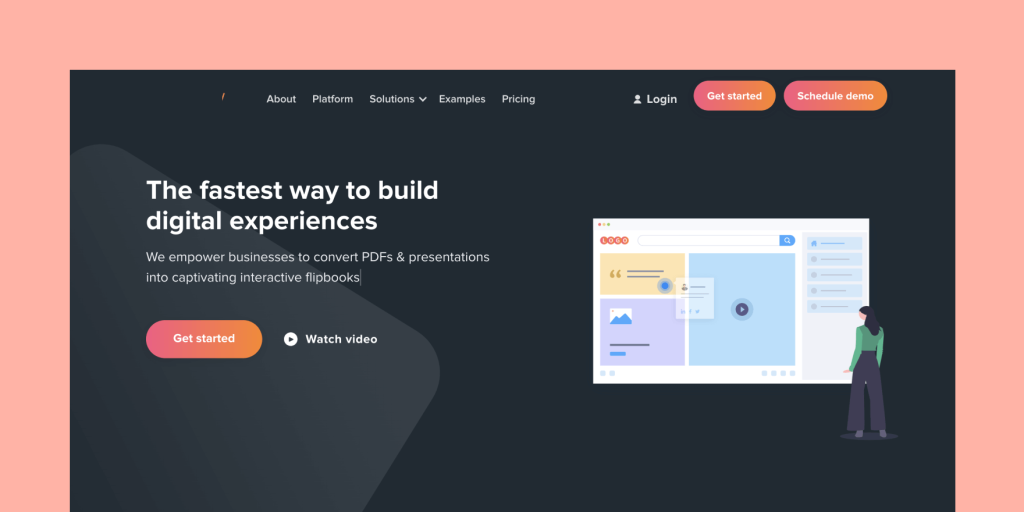 It's often said in business that your website is your digital, 24/7 storefront.
Anyone can show up at any time, and their digital experience will often determine whether or not they do business with you.
That's why businesses use strong visuals and compelling messaging when building customer-facing websites — and RELAYTO aims to bring that same mindset to the proposal process.
Rather than building traditional proposals, RELAYTO is an interactive document and presentation platform that aims to transform static content into an interactive, engaging experience.
But, while RELAYTO places a heavy emphasis on the idea of a "digital experience," it's also worth pointing out that everything used to build these experiences is user-friendly and easy to manage.
Using RELAYTO, it's possible to generate multimedia microsites that double as presentations, product introductions, and even entire sales proposals.
The platform offers a drag-and-drop, no-code interface, alongside AI generation tools, for fast and easy content creation that looks good and feels great to use.
The platform also offers deep, real-time analytics tools that users can evaluate to see which content performs well.
These factors can play a role in helping teams build even better proposals using modules that receive high levels of engagement and interaction.
Platform highlights
Digital microsites. RELAYTO uses a drag-and-drop editor and onboard AI tools to help users quickly build digital microsites. These sites are the core product that the platform generates, and they open up a huge level of opportunity for proposal presentation.
Formats and selections. At the first paid tier, RELAYTO offers 500+ media and web formats for even more comprehensive display and layout options. This flexibility can be a game changer in how you present content to users.
Important details
Great for: Businesses with robust content libraries who want to create a powerful digital content experience.
Price: From $80 per month.
Ease of use: 9.5/10
Free Trial: Free plan available.
4. Proposify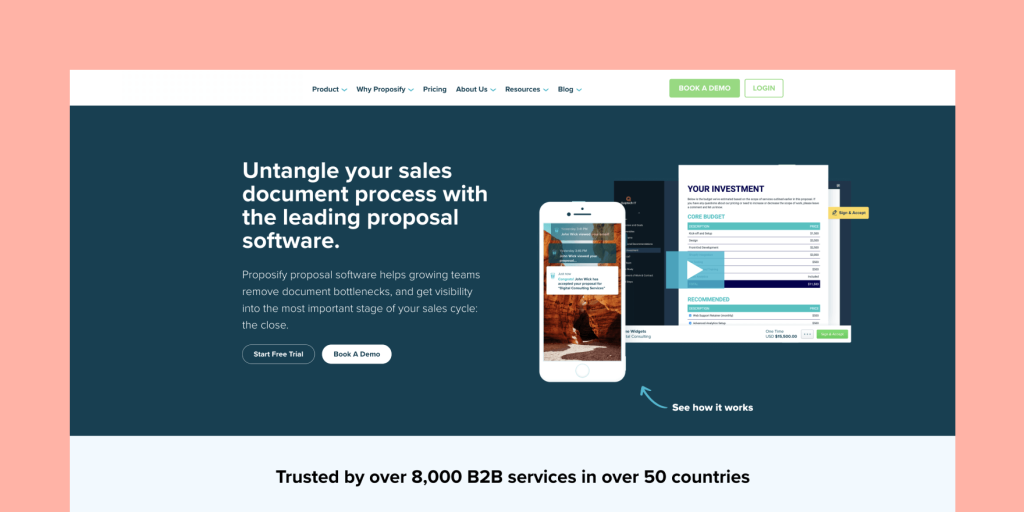 In many ways, Proposify is similar to PandaDoc.
This platform is an online proposal software built around simplifying and enhancing the creation of proposals, contracts, quotes, and other sales documentation.
The platform sports a user-friendly document editor that enables hands-on document creation without relying on tools like Microsoft Word or Google Docs.
And the results can be visually stunning.
Aside from intuitive document design, Proposify also offers collaboration features that allow teams to work together while building proposals.
Users can track changes, leave comments, manage event versions, and more to ensure a streamlined proposal process.
Analytics and metrics are also a key component of this software, allowing you to gather insights into document performance that you can use to better understand your sales process.
That data can come in handy later on as you optimize your sales documents around formats and layouts that have been effective in the past.
(Quick sidenote: PandaDoc can do all of the above as well. Check out our comparison article.)
On top of all that, Proposify even offers professional, custom template design and training to help teams better understand the software.
If you're looking for hands-on help and training courses so that you can maximize the visual prowess of your sales documents, Proposify may be a good fit.
Platform highlights
User-friendly document editor. Proposify makes it easy to create visually stunning documents without the need for a design background or an art degree.
Expert-level customization. Want to have an expert create an eye-catching design so that your team only needs to fill in the blanks? Proposify offers design and training services with a high level of customization and support.
Important details
Great for: Small businesses who want to build out high-quality proposals using a robust suite of design tools.
Price: From $49 per month.
Ease of use: 8.6/10
Free Trial: Free plan available.
5. Loopio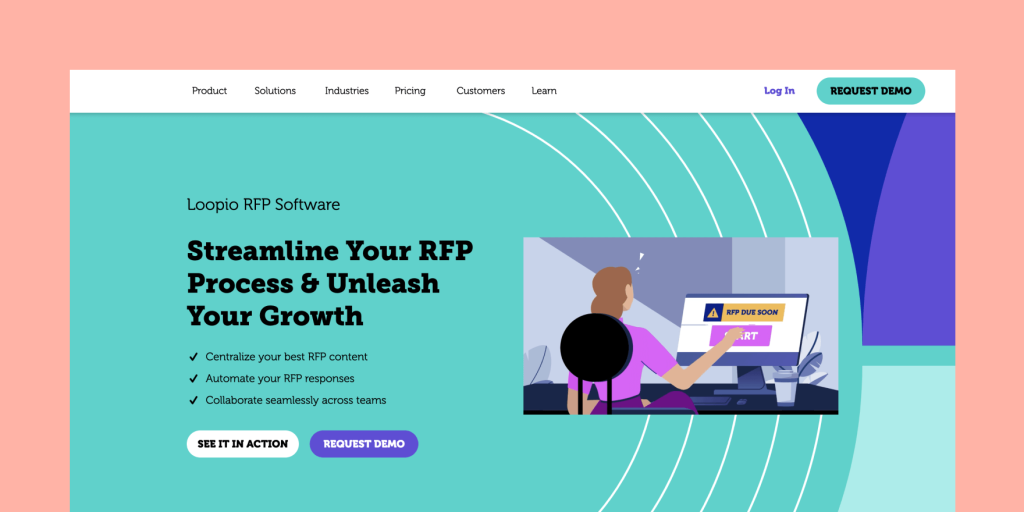 One of the highest-rated RFP-response softwares on the market, Loopio leverages AI tools to automate the RFP response process.
These tools prevent users from needing to copy/paste stock and boilerplate responses when working through the proposal process.
The most important thing to remember with Loopio is that the heart of content management comes from managing your content library rather than individual documents.
If your library is in order, documents can be created at lightning speed.
That's important, because Loopio offers the ability to create sales proposals for potential clients using onboard RFP tools.
This allows Loopio users to reach out preemptively to customers before an RFP request is ever sent.
This can be a differentiating factor in the sales process, because most RFP business models are entirely reactive.
Companies relying on RFPs are often waiting for requests to come in before they bid on a project.
The onboard proposal automation tools Loopio offers allows organizations to flip the script when they find customer opportunities and want to try and secure a sole source contract without going through an RFP process.
Of course, Loopio and similar platforms won't be a good fit for businesses that follow traditional sales processes.
However, the inclusion of proposal templates and outreach capabilities as part of an RFP suite make this software worth a mention for teams following that business model.
Platform highlights
Content library. Loopio's content library allows for a high amount of structure and organization. While ensuring that everything is current and up to date will require some project management, having solid content makes proposal writing and follow-ups a breeze.
Automagic automation. With built-in, one-click automation, the Loopio engine will automatically fill in common RFP questions using library answers. This allows reps and SMEs to spend more time on unique questions rather than filling out the same information across multiple RFPs.
Important details
Great for: RFP-response sales teams who also want to take advantage of proactive outreach opportunities.
Price: Cost only available via custom quote.
Ease of use: 9.3/10
Free Trial: None. Demo available.
6. Ignition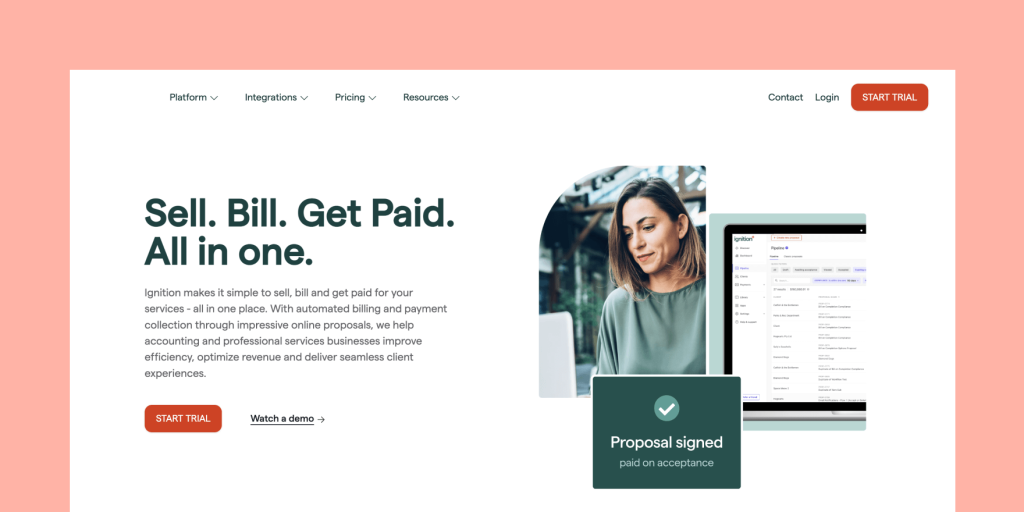 As a proposal software tool, Ignition is designed to help you get comprehensive sales proposals out the door quickly and with little guesswork.
Although template customization is possible on higher levels, the meat of this platform is in document generation, meaning that companies input information and the proposal builder returns a pre-formatted proposal that is ready to send.
At higher tiers, the standard proposal layout can be customized somewhat.
However, any document generation tool (not just Ignition) will make a clear distinction between the design process and the input process.
By divorcing the two from one another, the platform creates a scenario where teams only need to focus on the quality of the input while the look and feel of the final product is predetermined.
This approach might seem reductive if you're used to having total control over the look and feel of the proposal (something that we wholeheartedly endorse at PandaDoc), but it does have some merits.
Similar to the way that PandaDoc allows for content locking and the use of pre-assigned templates to create a consistent look and feel across a brand, Ignition creates a workflow that is approachable and easy for reps to use.
The result? Great-looking proposals with a high degree of consistency and accuracy.
This approach also doesn't exclude Ignition from offering useful customizations.
Modules like pricing tables still allow for upselling opportunities. Multimedia embeds still have a place.
While the approach is more controlled, Ignition still offers end-to-end document processes — all the way from document creation to e-signing and payment collection.
Platform highlights
Document generation. Ignition uses document generation workflows (rather than from-scratch document creation) to build its documents. This limits the amount of customization available to a rep but greatly improves output consistency.
Engagement letters. A unique feature, Ignition's automated engagement letters sum up your services, pricing, billing frequency, and more in one place so that potential clients have a summary of terms and an easy way to sign up.
Important details
Great for: Sales teams who prefer set-it-and-forget-it proposal layouts and streamlined proposal workflows.
Price: From $69 per month.
Ease of use: 9.3/10
Free Trial: 14 days.
7. Qwilr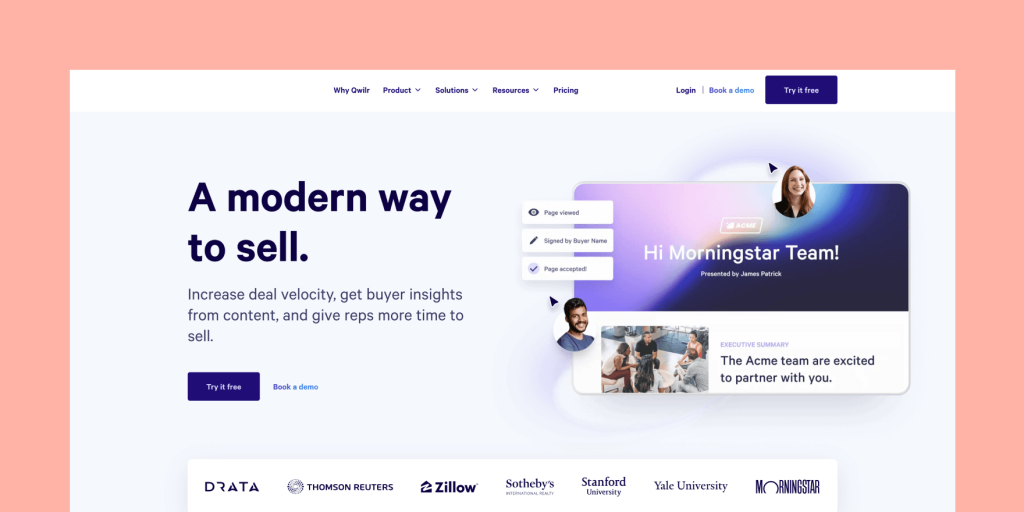 Most businesses operate in online environments all the time.
Sales and CPQ platforms are web-based. Data is stored in the cloud. Information is available with a click and a search.
So, why should you treat your sales proposals any other way?
Qwilr is designed to modernize your sales and proposal process by creating online proposal web pages that are interactive, expressive, and on-brand.
You can use multimedia, interactive pricing tables, set brand colors, add custom fonts, and more to build a proposal that has the look and feel that you want.
Each proposal with Qwilr is one interactive page.
You won't see dense, multi-page legalese here. Instead, these layouts are designed to look flashy and feel great.
In some ways, this approach can be a drawback for Qwilr and similar web-based competitors.
While it's possible to add a bunch of text to the page, the digital experience is designed to emulate the look and feel of a standard web page.
Blocky text and spreadsheets probably won't scare off engaged clients, but it feels antithetical to such a slick platform.
On top of that, many of the customization options are only available at the Enterprise level, meaning that freelancers and smaller businesses on the Business plan won't have the freedom to truly make Qwilr their own at the lower-end tier.
Last but not least, the platform offers a variety of both productivity and CRM integrations.
This includes Slack and Zapier on all plans, but Salesforce is reserved for Enterprise-level plans only.
Platform highlights
Plug-and-play design. Qwilr's editor is a cross between a web-design tool and a word processor. If you're looking for a no-code design tool with plenty of power under the hood, this editor is one to note.
One-click automation. Similar to PandaDoc templates, Qwilr allows for streamlined proposal generation using templates. This allows reps to speed up sales processes and get deals out the door without needing to hand-craft personalized sales documents.
Important details
Great for: Teams who want non-traditional proposals that offer a sleek look and unique feel.
Price: From $35 per month.
Ease of use: 8.7/10
Free Trial: 14 days.
8. Clientary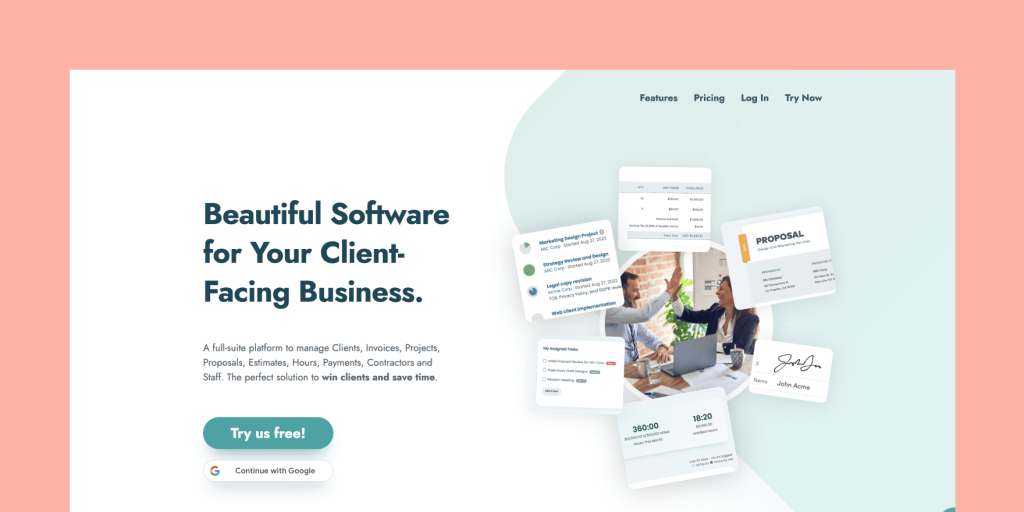 Often, the needs of a sales process go beyond document generation.
Sometimes, sales teams need better tools and workflows to build a more streamlined process.
If that's the case, Clientary is a solution worth considering.
At first glance, this platform seems like one geared heavily toward freelancers and consultants.
While they have a lot to offer smaller organizations, the Clientary process can easily scale up to support larger brands with relative ease.
Clientary handles everything from online invoicing to estimates, contractor management, time tracking, and quite a bit more.
You'll even find payment integrations via Stripe for fast and easy payment processing.
For sales documentation, you'll have the ability to create branded proposals with ease. The platform provides a WYSIWYG editor alongside customizable templates.
That, combined with integrations to Zapier and easy CSV exports means that your data is always accessible and integratable — whether you're exporting to Excel or connecting to a third-party API.
As we mentioned earlier, it's worth pointing out that Clientary is a SaaS platform designed to do far more than simple proposals.
If you're just looking for a proposal and document management tool, features like time and expense tracking may not matter all that much to you.
On the other hand, if your organization is in need of a system that provides a more comprehensive workflow, Clientary's ability to manage projects and all related paperwork makes it unique in the proposal landscape.
Platform highlights
All-in-one workflow. Clientary stands out because of its streamlined, end-to-end processes. Especially for freelancers and small businesses that need additional structure around their proposal process, Clientary brings a lot to the table.
Customizable proposals. Built as an easy-to-use proposal tool and invoicing tool, Clientary's proposal software is one of the simplest options on our list. You won't have as many design options here compared to a tool like Proposify or PandaDoc, but proposals will still look great.
Important details
Great for: Teams who want non-traditional proposals that offer a sleek look and unique feel.
Price: From $19 per month.
Ease of use: 9.8/10
Free Trial: 14 days.
9. Quotient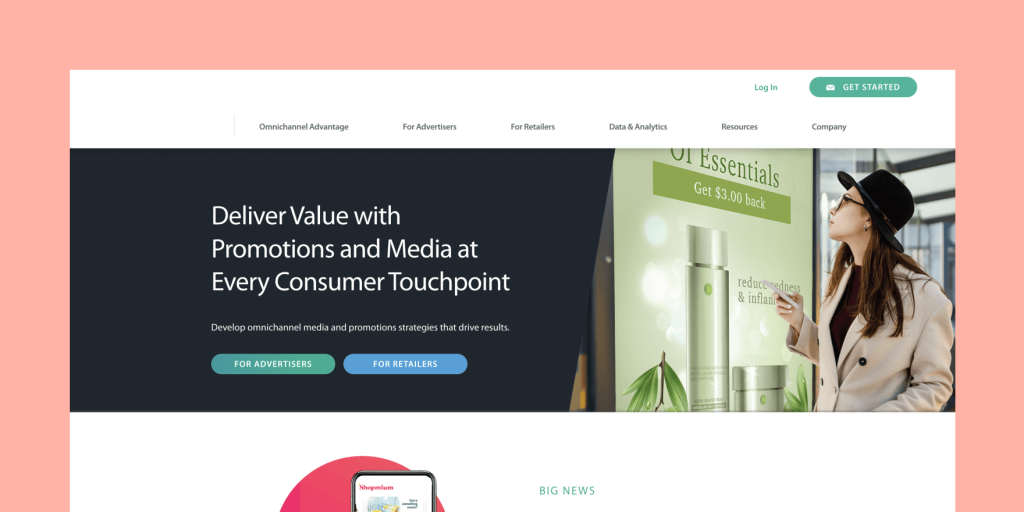 Unlike many of the proposal tools on our list, Quotient seems primarily geared toward businesses in the small- to mid-market category.
This platform lacks some of the more robust design options that you might see in more complex software, but the tradeoff comes from the ease of use and the consistency of output.
In many ways, Quotient is an example of a software tool that does one thing well. In terms of output, all quotes and proposals follow roughly the same format.
While you'll still have some customization options around branding and content, the overall structure will be the same when using this tool.
The core of a Quotient proposal comes down to the pricing table centered in the heart of the layout.
You'll be able to list multiple different sales options and allow customers to select the best fit for them.
On top of that, customers can ask questions and leave comments directly on the quote.
That correspondence is something that is publicly visible, so any other reviewers with a similar question will be able to see what was asked and what changes were made.
Overall, while Quotient isn't as flashy as some of the other software tools, it's still a solid option for producing excellent quotes.
Particularly on the business plan, which includes between two and five team members, it's also one of the most affordable multi-user quoting options that we've encountered.
Platform highlights
Simple, logical quote design. Quotient sales proposals and quotes are built primarily around a pricing table and a few simple content modules. The design is simple compared to other quoting tools, but the output will be serviceable for many small- to mid-sized businesses.
Low-cost, multi-user plans. If you're looking for a budget option, Quotient is one of the only platforms we've seen that offers a multi-user plan without stepping into enterprise-level pricing. The Business Time plan costs $45/month and automatically includes between two and five users.
Important details
Great for: Smaller organizations who need to achieve consistency quickly.
Price: From $25 per month.
Ease of use: 9.7/10
Free Trial: 14 days.
10. GetAccept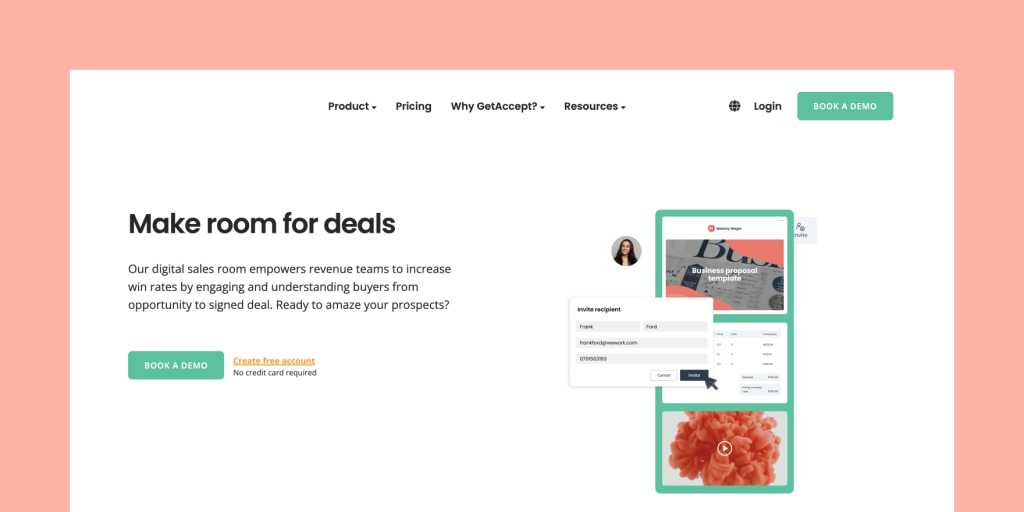 The GetAccept platform offers tools and features that go beyond sales proposals.
On top of helping you create any sales documentation you might need, GetAccept offers deal rooms (just like PandaDoc) and engagement tools to facilitate a smooth, interactive selling process between customers and reps.
At the same time, GetAccept aims to prevent any one team member from being a champion by providing collaboration tools that bring all stakeholders together in a deal.
This allows multiple team members to stay on top of negotiations and client interaction within a controlled environment.
The result? Collaborative, group-based selling that allows everyone to work together to push a deal forward.
GetAccept also comes with an in-house document editor that you can use to create from-scratch documents (something that puts is a head and shoulders above simple e-signing platforms like DocuSign).
You can also upload your own templates and prebuilt files. While this editor isn't as robust as some of the others on our list, it's more than enough to build customizable quotes and get them out the door.
From the perspective of automation, GetAccept is chock-full of integrations, templates, and similar tools to expedite your sales process.
You'll also have access to document insights and analytics to better track client interactions so that you can optimize future deal templates.
Platform highlights
Group-focused selling tools. GetAccept offers a huge number of group-focused tools. This includes deal rooms, group chat functionality, collaborative in-app editing, and more. The entire goal of the platform is to humanize sales and turn the selling process into a team effort.
Robust engagement tools. By leveraging deal rooms and other collaborative tools, it's clear that GetAccept wants to be more involved in your sales process than a traditional proposal tool. If you're looking for a sales platform that offers a variety of engagement options, GetAccept is a top choice.
Important details
Great for: Sales-focused organizations looking for collaborative sales flows.
Price: From $15 per month.
Ease of use: 8.9/10
Free Trial: Free plan available.
Other options
During our search for the best proposal writing software tools and platforms, we reviewed several options that didn't feel like the best fit for most users.
However, for some organizations, the tools we've listed below might be the perfect fit.
If you're still looking for a proposal platform, take a closer look at each of these options.
Nusii
Positioned as a globally friendly proposal tool, Nusii offers language support for 35 languages, offers an in-document editor, and provides a ton of customization options for your proposals.
You'll even have API access on the lowest-tier plan.
Proposable
Offering a drag-and-drop proposal builder with e-signature and payment collection tools, Proposable ticks all the standard boxes that you might expect for a traditional proposal software.
While the lower-tier plan is limited to five deliveries per month, the mid-tier plan offers a variety of tools to accelerate your sales process.
Bidsketch
One of the only platforms to offer custom domains on the lowest-tier plan, Bidsketch offers fast and easy ways to build proposals and collect client signatures or payments.
The builder is primarily based in HTML/CSS (with the intention to publish to a web page), but it lacks the design tools you'll see on platforms like Proposify or Qwilr.
You'll also find PDF export options available.
Quotewerks
Built for organizations with a larger number of SKUs or product libraries, Quotewerks has a steeper learning curve and quite a bit more backend functionality than many of the sales proposal tools on our list.
The pricing is a little convoluted but, once you have the details worked out, this platform is among the most versatile and flexible tools available.
Which tool is best?
We realize that every business is different and that the needs of a particular organization will vary with the size, scope, and intended market.
After all, that's why there are so many sales proposal tools to choose from!
In this section, you'll find our top recommendations for most use cases.
Keep in mind that companies with a specialized niche or specific needs may find better solutions with some of the other software tools on our list.
Freelancers & SMBs
For freelancers and smaller organizations, the struggle is often a lack of manpower and a need to scale.
There simply aren't enough hands to do much and, to keep overhead low, the interest is primarily in optimizing as much as possible with the right tools and workflows.
With those thoughts in mind, we'd recommend any of the following tools from the above list for this category:
Quotient
Clientary
Proposify
PandaDoc
Some of the tools on offer in this category will lack robust integration features.
It's also possible that scalability will become an issue down the road.
If you foresee large growth ahead and want to stay with a tool that can scale, a platform like PandaDoc that offers multi-tiered plans may be the best fit.
Mid-market & Enterprise
At the mid-market and enterprise level, needs often shift away from a one-to-many position and more toward collaborative and team selling options.
Organizations in this category may have multiple sales teams and dozens (or hundreds) of reps. There is a need here for consistency and control, as well as some level of oversight.
With those needs in mind, we'd recommend the following tools:
Ignition.
PandaDoc.
RFPIO or Loopio.
RELAYTO.
GetAccept.
Qwilr.
The platforms here offer enterprise-level controls to help teams stay consistent.
You'll also find integrations with productivity tools and CRMs like Salesforce, so it's easier to create a unified tech stack.
Keep in mind that, at this level, some tools become more specialized and unique.
For example, if you aren't handling RFP response, tools like RFPIO or Loopio probably won't be a great fit.
The same is true for Qwilr and RELAYTO if you aren't interested in creating proposals that resemble landing pages and digital documents.
You'll find a huge variety of features in this category, and the increase in price often reflects this uniqueness and scalability.
Ultimate recommendation: PandaDoc!
If you're asking for a single recommendation that covers businesses of all shapes and sizes, it's got to be PandaDoc.
(We know, we're a little biased, but hear us out.)
PandaDoc is one of the only sales platforms that offer a comprehensive feature set — including payment collection, a mobile app, in-app document editing, and more — inside a platform that can scale and grow with your business.
If you're looking for an all-in-one solution that can help you create and manage your sales proposals, quotes, contracts, and invoices, PandaDoc is one of the best platforms on the market.
You don't even have to take our word for it. Sign up for a free demo, or test drive everything yourself with a free 14-day trial.
We know you'll love it.
How did we select these tools?
To adequately compare these tools, we chose a handful of criteria that we believe are important for most daily business operations.
1. Pricing and total cost
While we can make a case that good proposal management software is invaluable, there comes a point when spending too much on automation tools can put a strain on your budget.
You want to get the best mix of value and cost-effectiveness.
Features and functionality
While most of the software solutions on our list enable you to send professional proposals, some of them go the extra mile.
You might be interested in features like e-signing, payment capture, custom document formatting, or an onboard CRM can make your life easier and your proposals more interesting.
Scope
Some proposal software tools are designed to help you create documents and send them to prospective clients.
Others offer end-to-end solutions for document management, payment processing, and more.
The right set of features can turn your sales proposal software into an all-in-one solution that fills several gaps in your document process.
UX and UI
User experience matters, especially when your team will be using the software every day.
The user interface needs to be streamlined and straightforward, so that individuals who aren't as tech-savvy can pick it up quickly and get work done.
Automation and scalability
Particularly for larger businesses, the ability for a software platform to streamline workflows and improve productivity is a major factor.
Onboard features like proposal templates, flexible content libraries, workflow automation, integrations, and API control can play a factor here.
We weighed this functionality carefully while evaluating our options.
Keep in mind that, while we feel that each of these factors can play a major role in the proposal process, they don't guarantee that any one tool will be the best fit when designing your sales documents.
While we have tried to offer something that fits most use cases, team members that are part of small business and enterprise teams may have niche use cases that require a specific solution.
Fortunately, many of the tools on our list offer a free trial, so you can see if the tools work well for your sales process before you invest heavily.
With that out of the way, here's a closer look at the best proposal software tools on the market today.
Frequently asked questions
Disclaimer
PandDoc is not a law firm, or a substitute for an attorney or law firm. This page is not intended to and does not provide legal advice. Should you have legal questions on the validity of e-signatures or digital signatures and the enforceability thereof, please consult with an attorney or law firm. Use of PandaDocs services are governed by our Terms of Use and Privacy Policy.
Originally published October 4, 2019, updated April 4, 2023