Got a proposal request, but not enough time to fill it? Or maybe you want to write several proposals at once but don't have enough manpower to keep up.
In any case, it's time for a new tool, but if you don't have enough time to get through those proposals, we doubt you have any to spare for looking up software.
Don't worry; we're here to help.
We put three popular proposal management solutions to the test: Bidsketch, Proposify, and our own, PandaDoc Forms, to see who comes out on top.
What to look for in a proposal management software
The best proposal management software goes beyond aiding in the organization, development, presentation and approval of proposal requests.
Since responding to proposal requests is often stressful and time-consuming, businesses become buried in that workload.
For most businesses, developing a good service proposal is key to increasing revenue and earning new business.
If you don't have unlimited manpower and resources to dedicate to pumping out proposals day in and day out, you'll need a proposal management solution that:
Has a clean and attractive user interface.
Is easy to learn and master.
Offers features like database uploads, data reporting, database uploads, and templates.
Integrates with other tools seamlessly.
Proposal management software should excel on desktop and be usable with cloud-based software solutions as well. This way, you can quickly transfer proposals back and forth securely.
Let's take a look at how the Bidsketch vs. Proposify battle plays out. In the end, we'll discuss the best option for your business.
01. Bidsketch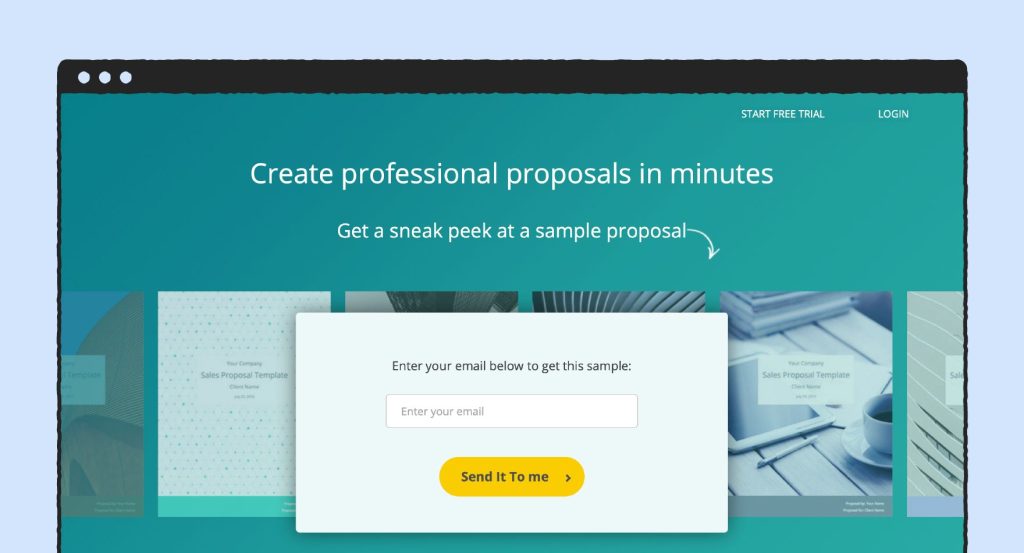 Bidsketch is one part web-based proposal creation tool and two parts an electronic signature and template-based platform.
Bidsketch is best known for its proposal management solution that assists businesses of all sizes with signature capture, template creation, and workflow approval:
Unlimited proposal creation and a straightforward setup process show Bidsketch can contend with the big leagues. You'll gain access to hundreds of tools.
Its fee table makes Bidsketch stand out. This proposal software goes well out of its way to ensure fees are set up within the proposal, so users never miss a payment.
Bidsketch step-by-step experience makes sure no one gets lost or confused.
Bidsketch comes with some promising reviews:
G2: 4/5 stars (10 reviews)
"…allows me and my team to prepare, organize and send out proposals fast to clients."
Capterra: 4.2/5 (22 reviews)
Capterra user reviews state that "Bidsketch is awesome" and allows their team to "prepare, organize and send out proposals fast to clients."
Shaun Nestor, a strategic advisor and coach, sings its praise:
"To date, I am extremely happy with Bidsketch. We have seen a 100% close rate with proposals prepared with the program."
However, users also complain of Bidsketch's limits: "The width of the proposal is limited (around 900 pixels), and it does not occupy the entire screen. I and most of our clients use big-sized screens (if they don't see proposals on mobiles)."
Due to the steep price point and lack of features (when compared with Prosify and PandaDoc), Bidsketch likely caters to smaller businesses that don't need substantial integration.
Ease of use
Bidsketch highlights:
Simple but effective client viewing experience
Offers in-depth premade pricing structures and templates
User-friendly interface that offers free-form customization
Secure eSignature system streamlines signing
Bidsketch was clearly made with freelancers in mind.
The ease of use means you'll hardly need tutorials or a help desk. In five steps, you'll have a complete proposal that's ready for signing.
While the pre-built integration does limit the number of apps you can use with Bidsketch, there is a high degree of customization available within its templates.
Bidsketch still provides integration for popular apps like FreshBooks, Salesforce, Basecamp, and Zapier.
Templates
Bidsketch comes with 25,000+ pre-made templates you can use to engage potential clients through landing pages and project proposals. Bidsketch's templates are fully customizable and interactive.
Since it's all-too-common for businesses to make landing page design mistakes that kill sales, it's fantastic that Bidsketch does its due diligence by structuring its templates effectively.
You can even use different templates to make a sort of "Frankenstein" document.
After creating your template, you can choose from your client list and send it electronically through the software itself or by email. The eSignature feature can work within Bidsketch or as a PDF.
Analytics
Like other online proposal software, Bidsketch provides analytics by tracking the number of proposals you've won, lost, or are in the process of delivering.
You can choose to track analytics based on the length of time of your choice. All of Bidsketch's pricing tiers offer this integration.
Bidsketch also uses analytics to keep an eye on proposal analytics
Unfortunately, Bidsketch is severely limited compared to its competitors. You can't produce reports to gain a deeper insight into exactly how your proposals are performing, which could lead to confusion.
Pricing
Bidsketch offers three business plans, billed monthly or yearly, including a 14-day trial, but there is no free plan. You can save 40% on their plans if you opt for yearly billing.
Business Plan: $149/mo or $119/mo for a year (up to 8 users)
Team Plan: $79 per user/mo or $47/mo for a year (up to 3 user)
Solo Plan: $29/mo or $23/mo for a year (up to 1 user)
Solo Plans offer all of the following essentials:
Unlimited proposals
Unlimited clients
Electronic signatures
Proposal analytics
Your own domain
The Team plan adds a bit more:
Team management
Real-time collaboration
The Business Plan offers everything from the previous tiers but additionally allows access to up to eight users. As far as proposal software goes, Bidsketch is pretty limited for the price.
They also offer a Starter Plan for $15 a month (1 user, 25 clients, no custom domain or electronic signatures), but you'd hardly notice it's there because the font they use blends into the background.
Many people, including the writer, likely wouldn't be able to see that option.
02. Proposify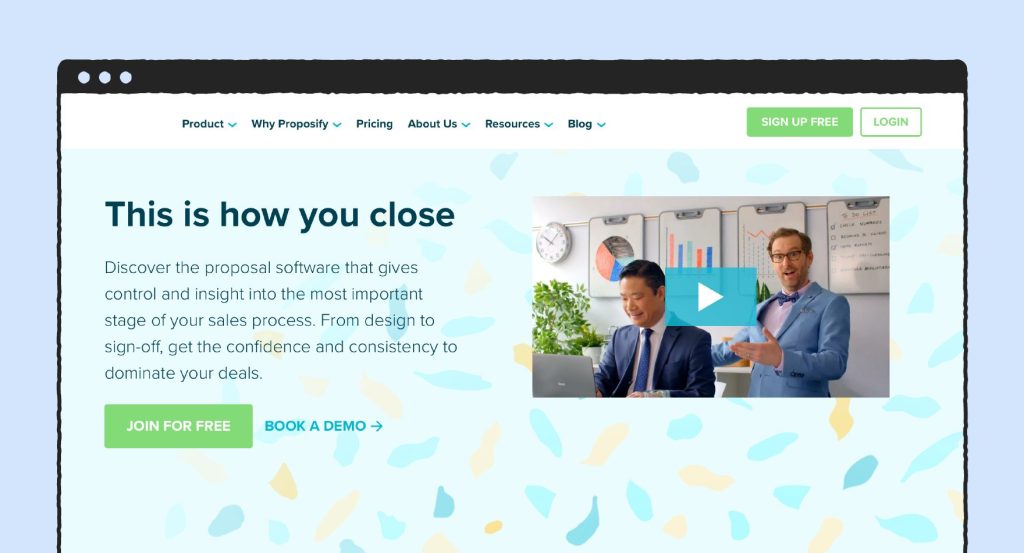 Proposify has so many features it'll make your head spin. From audit trails to workflow management, this online proposal software has tools to help you through the most important stages of the sales process.
With Proposify, you'll be able to deliver a seamless sign-off experience:
With Proposify's document editor, creating and editing templates is easy. Its drag and drop feature saves you time when drafting your templates.
Since you'll always know when each client opens your proposals, you'll have an easier time approaching clients for follow-ups.
Proposify's project management interface is easy to use.
G2: 4.8/5 stars (780 reviews)
"…able to provide polished and clean proposals that help us deliver our company message."
Capterra: 4.5/5 (256 reviews)
Capterra user reviews state that "Proposify is incredible" and allows their team to create "beautiful looking proposals, (and) easy to use templates." for their clients.
Still, this incredible software does come with a few shortfalls, according to its users: "Unable to search for contacts as it comes with a fault in the software. Unable to add duplicate contact emails," and "…some functionality can be a bit unstable or slower to respond."
Although Proposify has a few kinks to sort out, Stephan Schulz, a collaborator with Don't Do It Yourself, is impressed with its features:
"Seeing whether someone opened up an email or viewed specific portions of your proposal… has been a game-changer for us."
Proposify has so many features it'll make your head spin. From audit trails to workflow management, this online proposal software will help you through the most important stages of the sales process.
With Proposify, you'll be able to deliver a seamless sign-off experience.
With Proposify's document editor, creating and editing templates is incredibly easy. Its drag and drop feature saves you time when drafting your templates.
Since you'll always know when each client opens your proposals, you'll have an easier time approaching clients for follow-ups.
Proposify's project management interface is easy to use, thanks to its use of tabs.
Although $50 for its cheapest plan seems steep, Proposify's large number of features are perfect for growing sales teams who are looking to build an incredible closing process.
Ease of use
Proposify highlights:
Savvy user interface full of slick design tools
Pre-built templates, including specialty contracts, are customizable
Connects to over 4000 apps, including Google Drive, Asana, and Slack
Several options for training, including webinars and videos
Proposify hits the ball right out of the park when it comes to its sheer amount of app integration. With over 4000 apps, the proposal management software can take anything you throw at it.
Their clean interface is exceptionally user-friendly due to their tab system.
While their analytic software isn't the most dynamic compared to the rest of the list, you can still see who opened your email or viewed parts of your proposal.
Proposify's customizable templates aren't hard to work with, but if you're having trouble, there are webinars you can follow.
Templates
Proposify really shines when it comes to their proposals because they aren't just cut and paste text documents. Although they don't have as many options as Bidsketch or PandaDoc, those they do have are incredible.
These templates make you feel like you have a whole graphics department by your side, as several of their offerings are made in full color.
There's only one problem: the text has issues lining up. Still, if you can spend some time tweaking your documents, you'll be good to go.
Editing and creating templates is still pretty easy with its drag and drop feature and its multi-step process that streamlines its creation.
With eSignature integration, just send your document through their Proposify's private channel to complete the sale.
Analytics
Proposify has a dedicated analytics section that's pretty comprehensive.
Their Metrics page is separated into several drop-down menus, making it easy to check what documents were viewed and how many proposals were won and lost. You can track these metrics by day, week, or month.
Proposify uses analytics to keep an eye on:
Proposal analytics (viewed, won, lost)
Portions of your proposal (pages)
Compared to Bidsketch, Proposify has a more in-depth analytics software.
It's also able to integrate with several other apps that help with automation and analytics, like Salesforce, Close, and Zendesk.
Pricing
Proposify offers 3 business plans, including a free plan, billed annually or quarterly.
Free Plan: Free
Team Plan: $49 per user/month
Business Plan: custom pricing, starts at $590/month
The Free Plan offers some essentials like:
1 User
5 active documents
Notifications
Interactive quoting
Content library
Electronic signatures
Proposal analytics
Stripe payments
The Team Plan offers everything the Free Plan does and more, including:
Team connectivity
Unlimited documents
Standard integrations
Client input forms
Custom fields & variables
PDF downloads
Chat support
White labelling
Finally, their Business Plan steps things up with:
10 users included
Approval workflow
Salesforce integration
User roles & permissions
Onboarding services
Premium support
Unassigned signatures
For the Business Plan, Proposify asks its users for an additional onboarding fee to be charged in the first year of signup.
That may increase your bill significantly, so be prepared for a bit of a price hike.
03. PandaDoc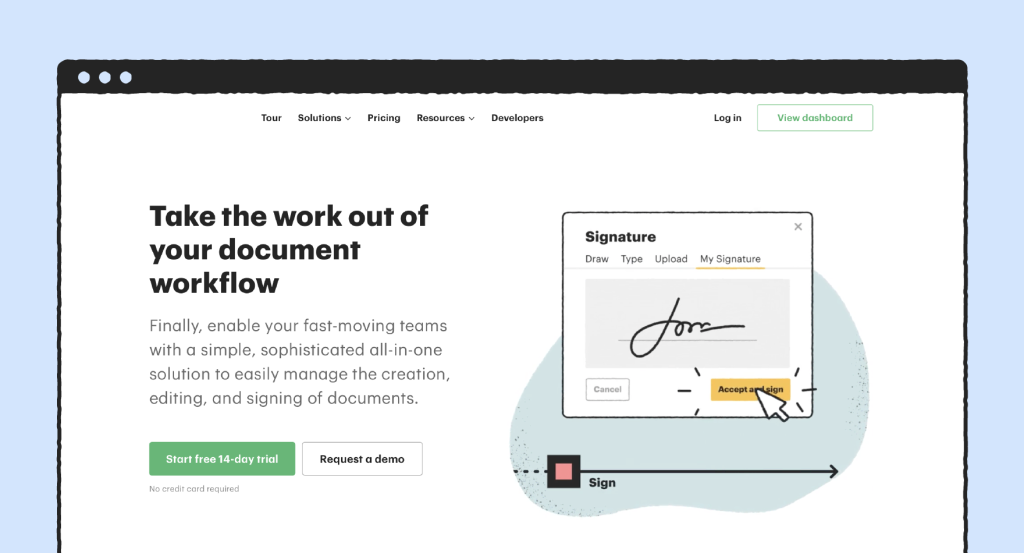 PandaDoc proposal software is our online tool that helps customers create personalized, stunning proposals in a matter of minutes, thanks to our drag and drop library.
With a 4.5/5 review on Capterra and a 4.7/5 on G2, we're happy to see our customers are impressed with our three-minute setup, send and sign process.
With PandaDoc, you'll be able to draft proposals that look incredible, and your clients are likely to agree.
Available with all our plans (even our 14-day free trial), our unlimited legally binding eSignatures and document uploads will help you increase your close rate by 18%.
We pay special attention to:
Accurately configuring products, quantity discounts, and applied pricing with CPQ.
Integrating with trusted CRM payment gateways.
Securing your eSignatures and proposals.
Our main goal is to create a workflow that works for you. With our brand-approved templates, every proposal you send will highlight the best aspects of your personality.
Ease of use
PandaDoc highlights:
Automated messages and workflow
Bulk-send your proposals to known or unknown recipients
Integration with a wide variety of tools, including Salesforce, Zoom, and Pipedrive
Hands-on 24/7 email and chat support team
PandaDoc makes it easy to work faster and smarter. Its intuitive UI and clean dashboard are super easy to navigate and use from the get-go.
Our free plan provides many of PandaDoc's premium features right off the bat, including our drag-and-drop creation process.
With hundreds of ready-to-use templates, PandaDoc can create proposals quickly and easily. Our useful eSignature function can be placed on any proposal.
What's more, with great tracking and analytic features, you'll have no problem optimizing your workflow and winning clients.
Templates
With 750+ templates, PandaDoc offers everything from dental consent forms to TV show pitch templates.
We have scores of proposal templates to choose from, including a request for proposal, which is perfect for businesses who want more information about a person's product or services.
You can customize, edit and create your own templates after publishing.
Our templates are easy to use, featuring several drag-and-drop elements that make drafting your proposal as easy as pie!
To share your proposal to an email, send the link directly or download a PDF version with our program.
Check out PandaDoc form examples here.
Analytics
PandaDoc offers even richer information than the competition:
Last time the document was accessed
Number of times viewed
Last view/last person to view
Total time spent
PDF download amount
Log of whether links were checked
Percentage of time spent on a page in comparison to others
Time viewed on one page
Time spent on one page
Last view/last person to view page
Analytics are broken down by each recipient. When you click on a recipient or page, you'll gain access to even more analytics, all of which help you understand who's viewing what.
PandaDoc also allows for seamless integration with dozens of platforms that can also generate in-depth reports.
Due to our high-security standards, we only accept platforms that allow you to collect HIPAA-authorized medical information safely. We're also able to meet the strict compliance standards of FERPA, SOC 2 Type II, and GDPR.
Pricing
There are three paid PandaDoc plans: Essentials, Business, and Enterprise.
All new subscribers can try us out with our free 14-day trial.
Essentials Plan: $35 per user/mo or $19/mo for a year
Business Plan: $65 per user/mo or $49/mo for a year
Enterprise Plan: Custom pricing, let's talk!
The Essentials plan offers:
Unlimited document uploads
Unlimited legally binding eSignatures
Mobile app
Payments
Templates
Pricing tables
Document analytics
Rich media drag and drop document editor
24/7 email and chat support
The Business plan offers a bit more:
CRM and Zapier integrations
Custom branding
Content library
Approval workflows
Bulk send
Forms
And Enterprise goes even further with:
API
User performance and content reporting
Salesforce integration
Unlimited number of team workspaces
SSO support and custom user roles
With everything PandaDoc offers, you'll never need another proposal management software again!
The strongest contender: PandaDoc
While Bidsketch and Proposify excel in the realm of proposals in many ways, so does PandaDoc – and it's also an all-in-one solution for fast-moving teams with a large workflow.
The best proposal management software should be easy to navigate and useful. It should reduce your overall workload, not add on to it.
Selecting the right software is an important step for your business. You don't just want tools that create and send proposals; you need additional solutions that help your business scale.
See how our software can work for you – start your free 14-day trial today.
Originally published May 8, 2020, updated January 4, 2022