Looking for a go-to alternative to Bidsketch?
Swapping from Bidsketch to PandaDoc will give you built-in electronic signatures, better editing tools, and fantastic support.
Better eSignatures
All Bidsketch can offer is inflexible and somewhat elementary electronic signatures, PandaDoc is a full-blown electronic signature software featuring a signing order and multiple signing recipients features. It's up to you to decide who signs first and where specifically in the document the signature fields will appear.
Better document builder
The most significant public gripe about Bidsketch is its editing tools: sure enough, Bidsketch proposals are a hassle in the making. With the PandaDoc proposal software, you can create professional looking sales proposals and quotes in minutes. Just add, customize, rearrange, and delete different blocks, fields, and tokens in real time and with minimum effort.
Better Support
Bidsketch only provides email support and knowledge base access to help users out of trouble. PandaDoc offers all of this plus a team of support pandas always there to lend a hand. Business plan users, while the enterprise plan includes premium support and engagement of a dedicated account manager.
More integrations
Bidsketch integrates with a handful of systems, which are only a fraction of what PandaDoc offers. PandaDoc integrations cover 15+ CRMs (including Salesforce, HubSpot, and Microsoft Dynamics) alone, not to mention solutions for sales enablement, payments, or storage.
Here is what you get when you switch
Reusable content and templates
In Bidsketch's lingo, a template is just a reusable organized collection of contract sections. Unlike Bidsketch, our proposal templates put roles, approval workflows, and auto expirations to work. Choose a ready-to-go template from our extensive library, craft one from scratch, or just upload and convert a .docx file into a native online template.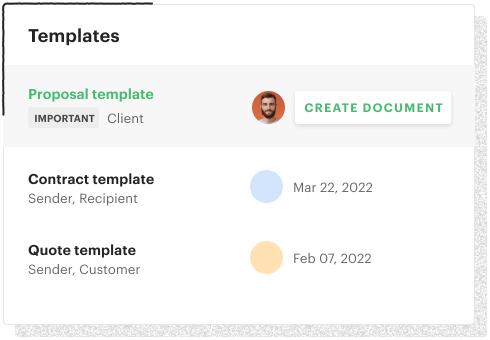 Online collaboration
We make collaboration between document contributors a piece of cake. Private and public commenting allows you to keep sensitive information safe while also communicating with clients and prospects right on the proposal page. Compare to Bidsketch's collaboration functionality, which is still a nuisance, and see how many valuable features you may be missing while still using Bidsketch.com.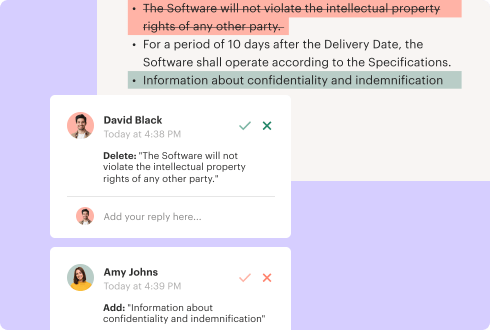 Advanced analytics
Bidsketch stakes high on analytics when marketing their product, but is their analytics functionality the best on the market? PandaDoc analytics give you the information you need to get things done. The central dashboard allows you to see which stage of the pipeline a proposal is in, and every document includes its own analytics detailing when and how long each page is viewed by every recipient.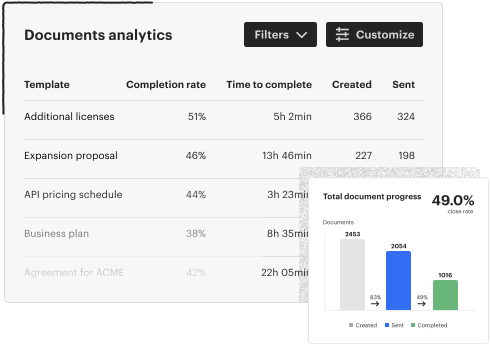 Custom workflows
Custom workflows is another feature helping our proposal automation stand out against competitors like Bidsketch. You'll have the ability to define mandatory and optional approvals and create custom signing orders, making it faster and easier than ever to get contracts reviewed, approved, and signed.
Document builder
You don't need to know CSS or HTML to style professional proposals in PandaDoc (albeit, there's an option to customize CSS code if you wish to). Our drag-and-drop document builder makes it easy to create stunning, media-rich proposals in a fraction of the time.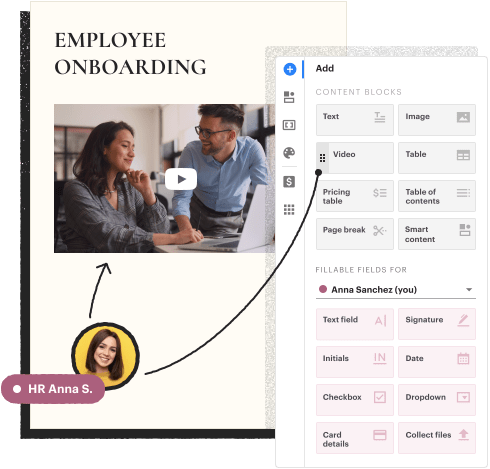 Data sync from CRM
Automatic extraction of contact, company, and product information from your CRM and adding it to the contracts and proposals you create makes personalization effortless while also saving you time.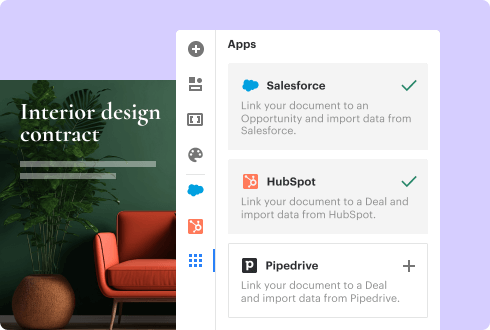 Find the perfect PandaDoc solution for your business