In a fast-paced sales environment, a successful business can close multiple deals each day, especially with the best quoting software on its side.
For savvy reps working all the angles to maximize profit, such quoting software solutions often come in handy.
Sales quoting software tools allow you to design sales documentation like quotes and proposals and send them to clients quickly and easily.
Most also offer optimization capability by allowing you to create templates, establish workflows, and integrate with CRMs to centralize your entire sales process.
So, what is the best quoting software right now?
Let's go over some of our favorite solutions in 2022!
Where we got our data for this article
We sourced the information you're about to read from 1.34 million page views of data, as of September 2022.
The data sources were sorted into four cohorts:
>1.000.000 views
500.000 – 1.000.000 views
100.000 – 500.000 views
<100.000 views
So that we're not relying wholly on our own experiences and opinions we also investigated specialized software review websites, user review platforms, and the websites of the tools covered in the article.
When it comes to user sentiment, we carefully researched real-life reviews posted on trusted websites such as Capterra, TrustRadius, and G2.
Where available and relevant we've also linked to relevant statistics and research in the article.
What is quotation software?
Quotation software is configure-price-quote (CPQ) software that allows you to quickly generate quotes and proposals for review by potential customers.
Generally, there are two types of quoting tools: quote building software and compilers.
Builders are equipped with a suite of tools that allow you to design and create proposals using blocks, layouts, and tables.
They may also incorporate images, video, and other forms of multimedia that you can use in order to make your documentation more appealing to customers.
These quotations tools provide a greater level of customization but are also more hands-on.
By contrast, a compiler quote program allows you to select the products that you want to include in your quote or proposal before generating a predesigned quote based on your selection.
Design options for the resulting proposal (the compiler output) are often more limited, but quotes are able to be generated more quickly.
You can also find quoting services that offer a middle ground.
For example, admins can use the PandaDoc document builder to create predesigned proposal templates that match the look and feel of the company and then lock those formats.
When reps use them to generate quotes, all they need to do is add the products to the pricing table to create the final quote.
Your quoting tool might also double as quote management software by allowing you to store documents on the platform, but this will vary based on the service you use.
1. Salesforce CPQ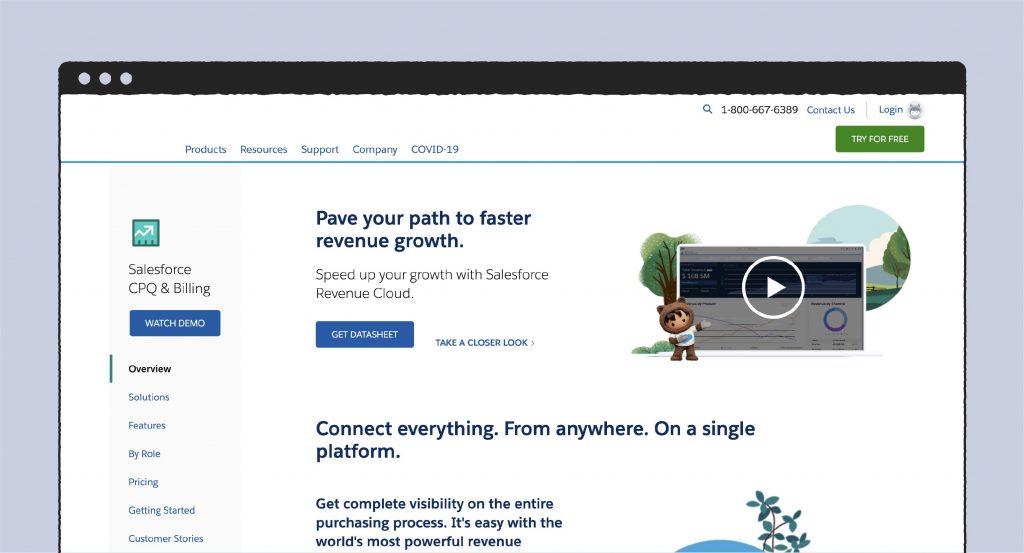 Our rating: 4.7/5
Capterra rating: 4.2/5
Standout features: Guided selling, pricing engine, automated renewals, pricing analytics
Pricing: CPQ ($75/user/month), CPQ Plus ($150/user/month), CPQ & Billing growth (custom price), CPQ & Billing Plus
G2 review: "[Salesforce] CPQ reduces wasted time and helps us work more efficiently. It simplifies
Capterra review: "My experience has been great — I am a frequent user of quotes and this system makes it easy and efficient for creating professional quotes." Dain B., Sales Development Representative
Summary:
We all know about Salesforce: It's one of the biggest players in the enterprise software industry.
In fact, when it comes to the CRM field, Salesforce has a larger market share than its most fierce competitors — Microsoft, Oracle, SAP, and Adobe — combined.
With its extensive experience in CRM and a lot of automation knowledge, Salesforce has managed to create a great CPQ platform with some incredibly useful functionality.
With this tool, you can create quotes with just a few clicks but you can also help your reps select the right products and services with an intuitive configuration wizard.
They can also model different deal scenarios for complex quotes and use a single unified pricing engine. This can help them prevent price discrepancies between invoices, orders, and quotes.
Another interesting feature is the Automated Renewals that allow your salespeople to proactively generate renewal quotes and send them to customers at just the right time.
All of these workflows and features come with a hefty price tag. Even the most cost-effective plan will cost you $75 per person every month. As a result, Salesforce CPQ is generally not suitable quoting software for small business use.
Quick sidenote: Salesforce is most known for its CRM, which is baked into to much of its product offering. If you love Salesforce but aren't a fan of Salesforce CPQ, keep in mind that PandaDoc integrates perfectly with Salesforce. It's never been easier to combine your tech stack and work with the tools you love.
2. PandaDoc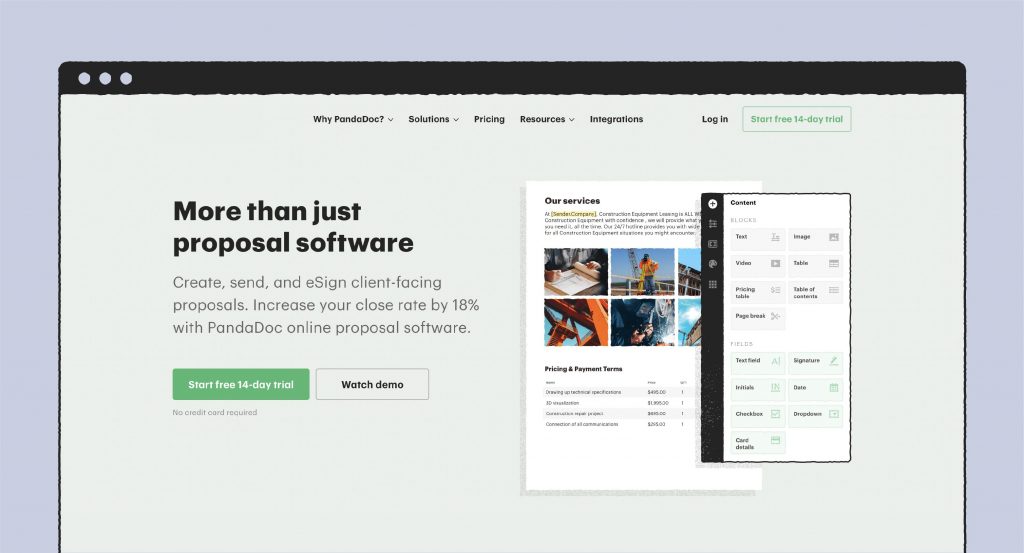 Our rating: 4.9/5
G2 rating: 4.7/5
Standout features: Template and content libraries, interactive quotes, advanced document analytics, team collaboration.
Pricing: Free eSign (free for as many documents as you like), Essentials ($19 month/user), Business ($49 month/user), Enterprise (custom price).
G2 review: "PandaDoc is affordable and easy to use. Even our least internet-savvy customers have had no problem signing documents and making payments through PandaDoc. It is easy to import documents and set up a wide variety of fields for the customer to complete including text fields, signature, and date. We are easily able to track customer progress and search historical documents. Best of all, all of the features we need the most in our small RV inspection business are included in the free version of the software."
Summary:
We might be biased here but, after years of perfecting our software, we feel like we can add PandaDoc to this list of the best quote management software — and for good reason!
PandaDoc allows you to streamline your sales process more easily and make the entire experience of creating sales quotes and proposals fun.
Regardless of their level of familiarity with tech software, your sales reps will find it easy to adapt to our intuitive, user-friendly interface. Using a simple drag-and-drop mechanism, you can create, send and eSign your online quotes with ease.
PandaDoc's quoting tools also give your customers the power of choice.
With the help of our interactive pricing table, your customers will be able to change quantities, select from different options, and even chat with you if they have any questions.
And, once the quotes are sent, you can track them with our advanced analytics. Receive notifications when your prospective customers view, open, or sign your document!
3. Qwilr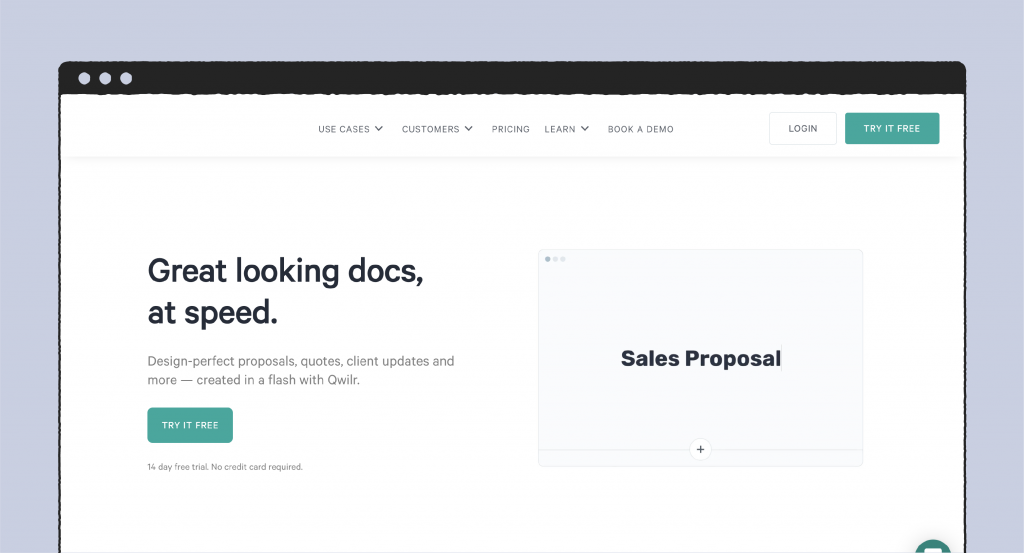 Our rating: 4.5/5
TrustRadius rating: 8.6/10
Standout features: Interactive landing pages, templates, and modular blocks
Pricing: Business ($35/month) and Enterprise($59/month for a minimum of 10 users)
TrustRadius review: "Qwilr is being used by our sales planning department and it is a great solution to help us untangle media proposals on [sic] a fast and creative way. Before Qwilr we had to depend on our design team in order to create beautiful presentations for our clients, ever since we started using it our delivery time became 50% faster and our clients have given us only positive feedback."
Summary:
Appearances play a major role when sending sales proposals. Potential clients love to see you making an effort and going the extra mile to provide them with a well-designed proposal.
Qwilr is a proposal software solution that's all about appearances and ease of use.
Unlike other sales quoting software, instead of providing you with a PDF or Word document, Qwilr gives you an interactive, mobile responsive web page.
That's right!
When your client receives a proposal using the Qwilr online quoting software, they get a dynamic web page, not a regular old document.
On this web page, you can embed all kinds of content, including Google Maps, videos, calendars, etc.
As with PandaDoc, your documents are interactive, where users can be active participants in the quoting process. They can choose from various options, accept, and give you their electronic signature, all in a few moments.
One issue with Qwilr is the fact that a lot of clients still prefer regular PDF documents, but the platform has built-in functionality to allow your clients to download a PDF version of your proposal or quote (though sharing via web is highly recommended).
4. Quotient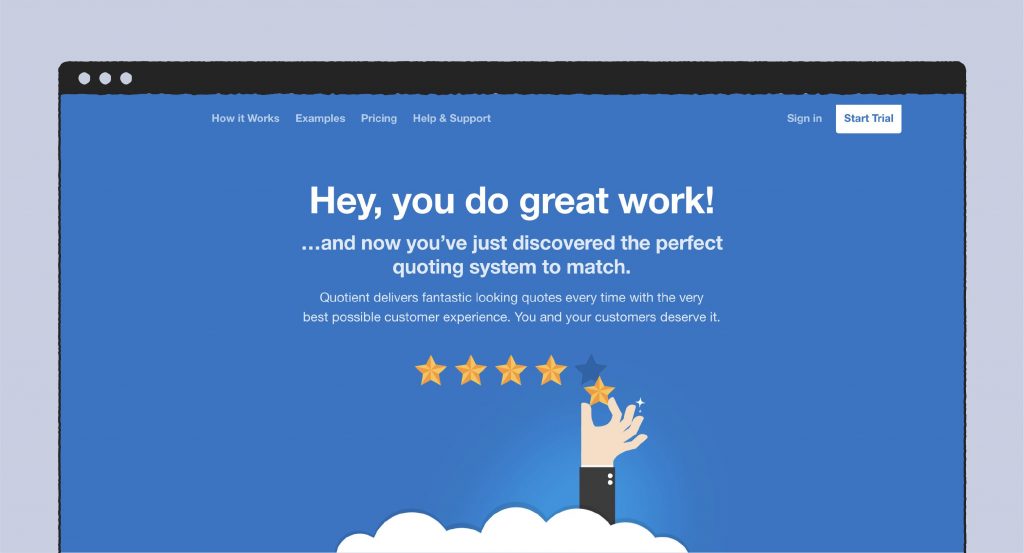 Our rating: 4.3/5
G2 rating: 4.1/5
Standout features: One-click quote acceptance, dashboard, user chat
Pricing: One-man band ($25/month, 1 user only), Business time ($45/month, 2-5 users)
G2 review: "Easy to use, but it's not for everyone. Quotient gave us a simple interface that perfectly fits with our business model. It's simplified, easy to work with, and is extremely convenient."
Summary:
Unlike some other entries on this list, Quotient isn't a proposal automation or document management system. This software solution focuses solely on creating and sending simple, streamlined proposals to clients in just a few clicks.
Quotient makes creating quotes fairly easy: All you need to do is choose your items, add images, files, and links, and you're ready to send.
Simply start typing your prospect's name/email, and the app will autocomplete the field if you have them in your contact list.
Once the customer receives the quote, they can engage in a conversation and discuss the terms of the proposal with you. They can then accept the quote with one click of a button after which the quote becomes legally binding.
An obvious downside to Quotient is the fact that you can't use elaborate proposal templates or content libraries.
You also can't create other types of documents which may be a dealbreaker for companies that are looking for an all-in-one solution for all of their sales documents, rather than simple sales quote software.
5. Quotewerks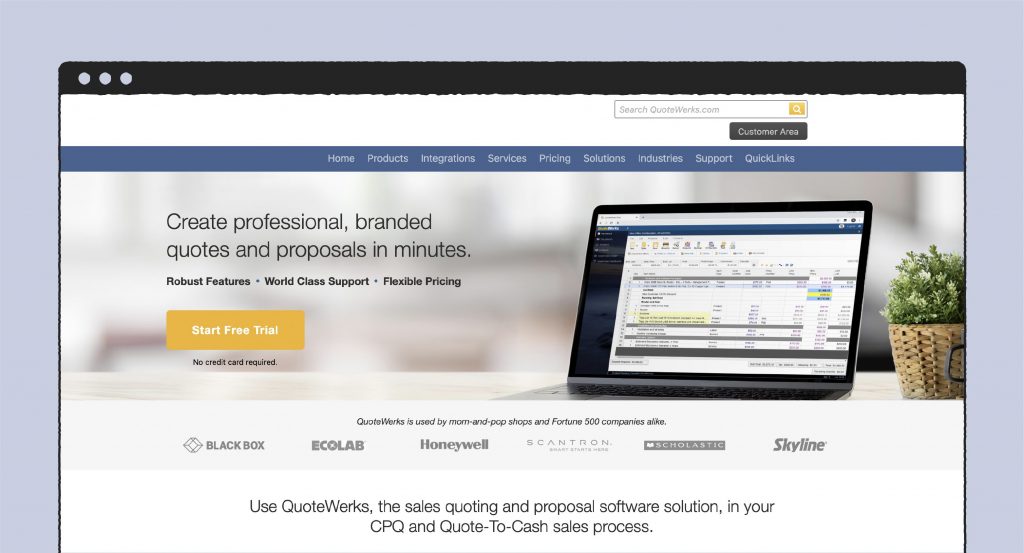 Our rating: 4.3/5
TrustRadius rating: 8.7/10
Standout features: auto-populate, grouping items that are frequently sold together
Pricing: Standard ($15/user/month), Professional ($21/user/month), Corporate ($30/user/month)
TrustRadius review: "QuoteWerks is, in theory, the best quoting tool on the market today. Quotes can be used from many customizable templates that QuoteWerks provides us with according to our requirements. It has an amazing integration feature with excellent third-party software (e.g., ConnectWise, which saves us a lot of time and money). QuoteWerks is the best ally for us to have everything in order and be able to send all our already quoted documents smoothly and make our clients feel satisfied."
Summary:
QuoteWerks takes a simple approach to creating professional quotes. The app runs locally on your PC and it features the familiar Windows interface.
Essentially, Quotewerks works the same as most other RFP and quoting software — it allows you to integrate with your CRM to get user details, create a proposal using their builder, customize the template to fit your brand, and send it to the client with interactive quotes.
What separates Quotewerks from all tools on this list is the simplistic interface.
Working in QuoteWerks feels like you're working on a Windows-default platform: lots of data, tables, columns, and tabs.
While some users might feel at home with this interface, here at PandaDoc we're all about usability and the latest UX trends.
That's why we feel this app isn't as intuitive and modern as the very best quotation software we've reviewed.
Not to mention that you don't have a content library or any other way to make your documents truly stand out.
6. Nusii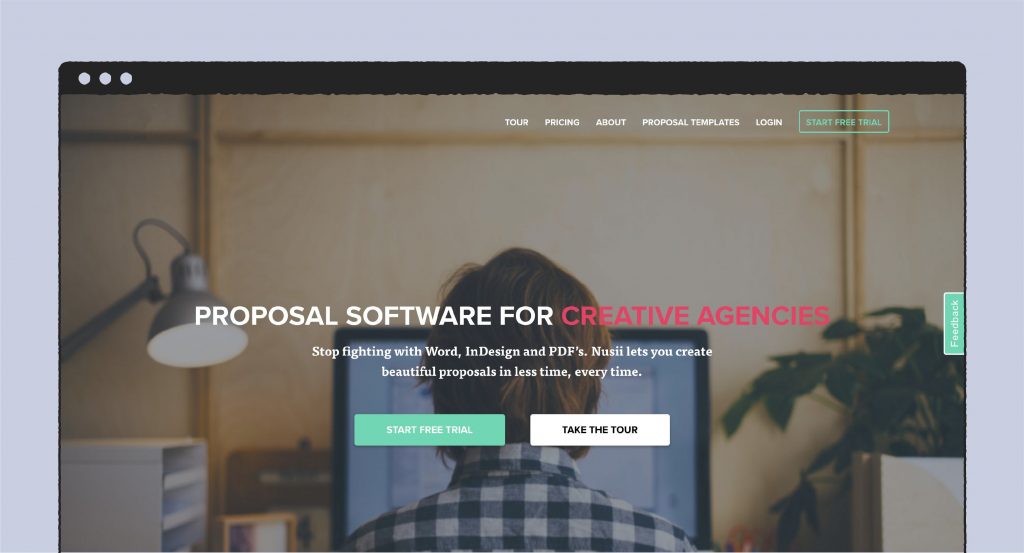 Our rating: 4.3/5
Capterra rating: 4.8/5
Standout features: Variables, interactive pricing
Pricing: Freelancer ($29/month for a single user), Professional ($49/month), Business ($129/month)
Capterra review: "Pros: 1) Can save templates and sections 2) Ingrates with stripe payment gateway that helps to collect partial one-off prepayment 3) Lately, they have increased the speed of integration; loving that — very useful to improve the workflow. Cons: I have been using it for more than 2 years… Sometimes the speed of new features might be slow as it is a one-man company. But it doesn't affect as such as mainly because everything that is promised, just simply works"
Summary:
Nusii is a simple quoting solution with powerful templates that can make your proposals look about as professional as you can get.
You can use these templates to insert various engaging elements like videos, pictures, and interactive pricing tables.
You can save any element you create and use it later on, for the same or different client. The templates are also immersive and well-designed.
Nusii also offers variables to make sending quotes quicker and safer. In other words, you can create a perfect quoting document and simply edit variables such as client name, address, company name, etc. to avoid making any mistakes and sending a document with the wrong information.
If you care deeply about the environment, you'll also be happy to know that, as a part of their partnership with Stripe, Nusii donates 1% of all revenue to carbon removal technologies.
A lot of reviewers, however, highlight the lack of editing capabilities as a big downside.
7. Scoro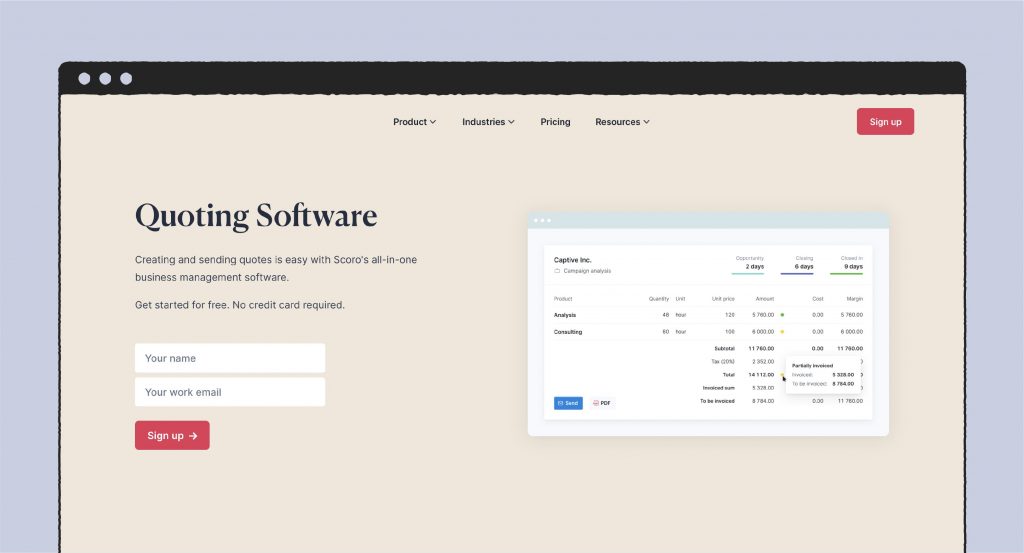 Our rating: 4.2/5
Capterra: 4.6/5
Standout features: Billing automation, dashboard, work management
Pricing: Essential ($26/user/month), Standard ($37/user/month), Pro ($63/user/month), Ultimate (custom price)
Capterra review: "The software has completely changed our efficiency and allowed us to turn around quotes much faster. We know at just about any given time where our projects are from a cost perspective and where are [sic] margin will end up. It has been a very positive change and we could not do business without Scoro at this point."
Summary:
Scoro is much more than quoting software. It's a complex solution that lets you automate quoting, billing, projects, clients, and invoicing.
The platform even has project management capabilities like time tracking, placing it amongst the best quoting and invoicing software on the market.
You can plan and prioritize your work as well as manage time with calendars and a built-in time monitor to stay on top of your sales team and get a better overview of billable and non-billable hours.
You can also see everyone's individual capacity in real-time and ensure that everyone is properly utilized.
On the sales side, Scoro provides solid CRM functions and allows you to get a 360-view of all customers.
With Scoro, you can simplify quoting using client profiles, predefined services, standard quotes, and other features that help streamline the sales cycle.
Once a quote is accepted, you can create customizable invoices based on these quotes.
Unfortunately, Scoro is limited when it comes to templates and innovative content.
Because the app tries to do so much, it's hardly a focused quote and invoice software solution. It almost tries to compete with solutions like PandaDoc and Salesforce CRM at the same time while not quite besting either.
8. RFPIO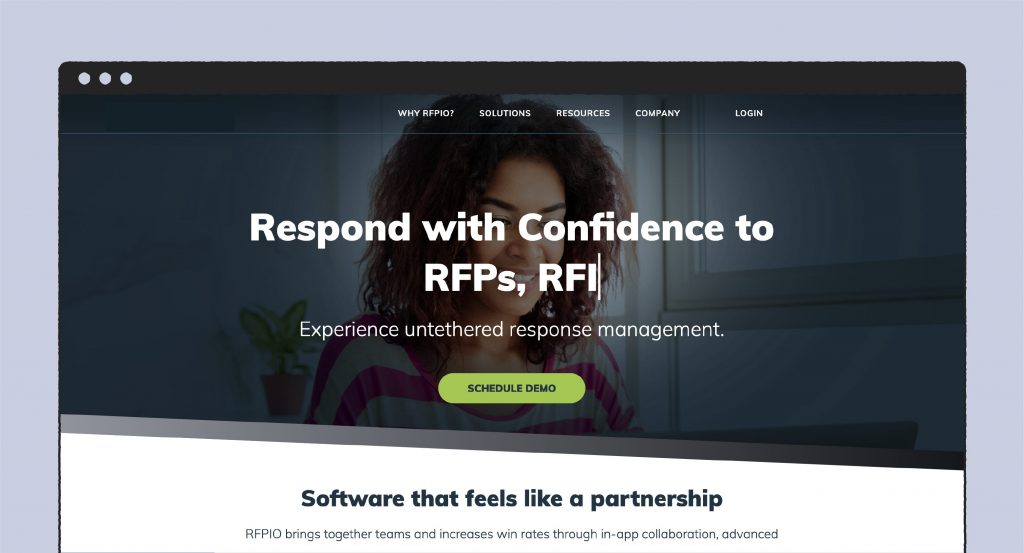 Our rating: 4.2/5
G2 rating: 4.7/5
Standout features: AI recommendation engine, ROI insight, Q&A
Pricing: No pricing information on their website
G2 review: "It has been immensely useful to have one place where workers can obtain the most up-to-date and reliable information. The tool includes a moderated library of Q&A pairs, allowing your subject matter experts to quickly submit the best response for their segment. […] When using RFPIO, it can be difficult to bring new users into the application, as well as to get more than one program manager."
Summary:
RFPIO is an RFP response and proposal creation tool that allows your sales team to quickly and easily deal with even the most complicated proposal.
All you need to do is import the document — Word, PDF, or Excel — work on it, and then export content back into the original document.
One of the most often mentioned features on review websites is the Answers library, the hub for Q&A pairs and communication that enables your team to get the most relevant information in record time.
RFPIO's Unique Selling Proposition is the AI-powered recommendation engine that can help you quickly answer questions and add the right contributors.
The app also provides integrations with a lot of the most popular platforms, including Slack, Salesforce, Google Chrome, Microsoft Azure, and others.
And, if you don't find the integrations you're looking for, you can contact the developers to build your own integrations using their open API.
However, RFPIO falls short when it comes to document creation, particularly where templates are concerned.
The software is mostly designed for companies who are responding to RFPs rather than companies sending those out.
If you're sending customized proposals to customers or generating RFPs for your own work, RFPIO probably isn't the quote tool you're looking for.
9. Bidsketch
Our rating: 4.1/5
Capterra rating: 4.2/5
Standout features: Landing pages, next steps
Pricing: Solo ($29/month for a single user), Team ($79/month for up to 3 users), Business ($149/month for up to 8 users)
Capterra review:"It's been a pleasure to work with Bidsketch so far. Sending and getting proposals signed has been smooth sailing from the moment I started using it. My customers have not had any issues signing or filling out the proposals either. It's a win-win."
Summary:
Bidsketch is a proposal software solution that targets small businesses. It offers solid templates, an intuitive interface, and allows you to embed any content you want (or add a link to any content already online somewhere else).
The quoting software for a small business also enables you to give a new dimension to your proposals and quotes.
You don't have to send your clients the same old boring PDFs and Word documents: Bidsketch has a Landing Pages feature.
With this feature, you can send your clients interactive landing pages that they can comment on and approve instead of going back and forth via email.
With Bidsketch, your clients can also have an overview of their next steps as soon as they sign the document.
They can instantly know what they need to do next and how the rest of the process should look.
Integrations and an outdated UI are areas where Bidsketch could improve, as demonstrated by many user reviews.
10. Bitrix24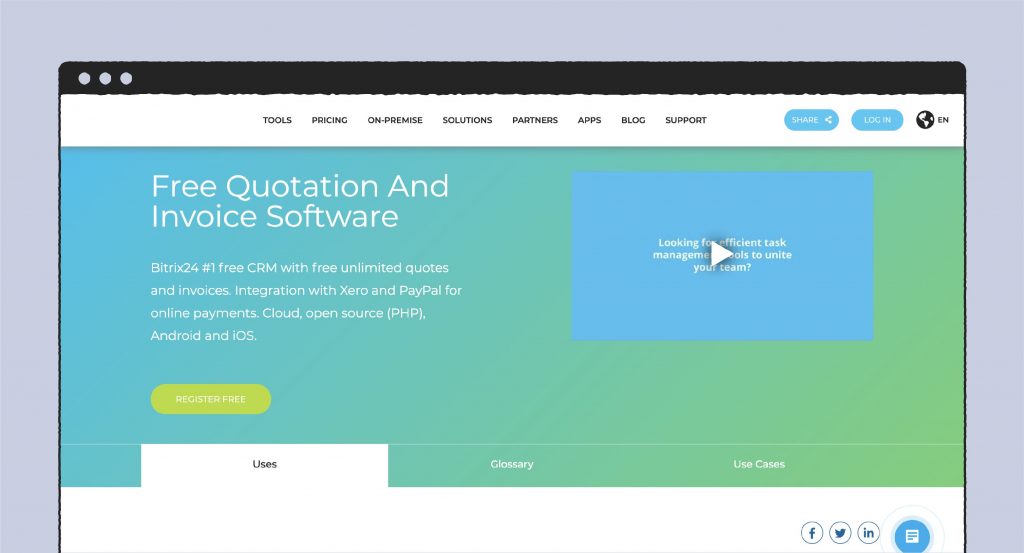 Our rating: 4.0/5
G2 rating: 4.1/5
Standout features: Integrations, CRM
Pricing: Free, Basic ($43/month), Standard ($87/month), Professional ($175/month), Enterprise ($350/month)
G2 review: "Bitrix24 is the inexpensive CRM control option we are all trying to search. It's not enough to be a complete elitist who knows very much, but a boss to get everything you need without making as much noise as the rest. Bitrix24 has been reported to be a stable and scalable CRM device. […] If the interface were updated to help understand the software, we would feel better. The software is not difficult, but it does not have its full capacity on the interface for us."
Summary:
Bitrix24 is much more than a quoting software solution. It's a complex CRM, internal communications, and project management tool that allows you to manage multiple aspects of your business at once.
For starters, you'll notice that they offer several plans at various price points. Depending on your individual needs, you can pick the quote tracking software plan that best suits you
Within their CRM solution, you'll find a lot of options like invoicing, sales pipelines, and quoting tools!
However, the quoting aspect of their CRM solution could use some work and so could the entire proposal management process.
Creating documents, sending them to clients, and tracking analytics isn't nearly as streamlined and intuitive as with some of the other solutions on this list.
The interface is nothing to be impressed with and the end product — the proposal document — pales in comparison to some other options we covered in this article.
Things to consider when choosing the best quote software
Choosing between all your quote builder software options can be challenging, especially when so many have the same features.
However, there are several elements to consider as you make your decision, and luckily, these can make it easier to choose your overall top pick:
Customizable formats
Many of the options you'll consider will offer plenty of quote templates. But when you look closer, you'll see you can't make adjustments or change the template in any way.
Some software providers will even charge extra to make changes to templates.
Ensure when you choose quoting software that it allows you to customize formats so you can create a quote with the exact information you need at no extra cost.
Customizable formats will give you ultimate control over your quotes so you can tailor each one to the specific client.
Easy to integrate
Your quoting software should make your life easier, not harder. Double-check that any quoting software you choose can integrate seamlessly with applications you already use, like your CRM system or your accounting software.
When your quoting software can connect with the applications you use every day, you'll save lots of time creating quotes.
For example, integrations with CRM systems will automatically pull customer information into quotes and update CRM information accordingly.
You can eliminate a lot of routine work, freeing up your team for more important matters.
Get feedback from your team
Teamwork makes the dream work, or so they say.
When choosing between quote software options, look for a program that allows team members to gather feedback from their peers before they send it out to clients.
Peer review can help reduce errors and allow for fine-tuning, resulting in only the best quotes being sent out to clients.
Some solutions let you set approval controls for your team so multiple sets of eyes can review a quote before it's sent out.
If this sounds good to you, make sure it's a feature of the choices on your shortlist.
Better security
Security is a top concern for anyone purchasing any kind of program, and quoting software is no different.
Look for an option with robust security features like monitoring, customizable alerts, and encryption.
To ensure the best in security, ask trusted sources for reviews about quoting software they may have purchased.
You can also check software review sites or ask for details of security measures and practices from sales representatives at the quoting software companies you're considering.
Additionally, ensure your top choices offer reliable, round-the-clock support. That way, if you do have a security incident, you know you can get immediate help to resolve the situation with little delay.
If you're having trouble connecting with the team behind a quoting software solution at the beginning of your search, they may not be your best option.
Budget and requirements
You probably already know from purchasing other software solutions that software pricing structures can be a complicated minefield to navigate. Some platforms list their pricing as
monthly and then only allow you to pay the yearly fee. Others charge per user or charge expensive initial setup fees.
Know your budget before you investigate pricing, and then really dig into the ins and outs of the pricing requirements for all of the quoting software you're considering.
Think about what fee structures you're comfortable with and if you want to pay for initial setup charges.
Check the fine print to make sure you're satisfied with payment terms, so you don't get locked into a five-year contract you didn't even realize you were signing up for.
Cloud and web-based software
There are many advantages to choosing online cloud-based software. It enables you to work from anywhere, as all your documents and data are stored in the cloud and accessible from any device with an internet connection.
The software usually integrates with other online storage systems, too.
Because you're leasing the software from a vendor, they have total responsibility for installation and maintenance — while updates and upgrades are rolled out automatically.
They also take care of security (for example, PandaDoc uses AES-128 encryption for your document data and employs encrypted automated backups).
Taking advantage of free trials
Most software vendors offer a free trial, and it's well worth taking advantage of this option. Although you may not get to try the full spectrum of features for free, you can certainly get a good feel for the product.
Following on from the earlier point on team feedback, you should let your employees play around with the software and see if it's going to be a good fit.
If you have any questions about how the features work, compile a list and go through it with the vendor. Of course, if you realize that the product isn't right for your business, there's no obligation to sign up.
24/7 vendor support
Although the majority of modern software is easy to install and use, it's crucial that your vendor offers robust support if you need it.
This includes help with onboarding and training, and quick action if you experience problems with features, updates, or security.
Again, it's helpful to look at reviews from current users to see which vendors offer the best customer service.
You might be looking out for phone support, but at PandaDoc we've found that digital support works better — we can view your details more easily, keep records in one place, and offer live troubleshooting with screen share if necessary
Frequently asked questions about quoting software
A quoting system usually combines your inventory management, sales team, a CRM platform, and other departments of your business. Good quoting software can integrate with these solutions and provide a customizable quoting process that empowers you to quickly and accurately configure precise price quotes for all clients.

The exact details of your quote can vary depending on your client and the nature of your business. However, it's generally accepted that a quote or proposal should contain the following:

Business details such as company name, location, and brief history

A detailed breakdown of costs and deliverables

Deadlines or schedule of work

Legal terms and conditions

Preferred payment methods

eSignature

Some of the tools we mentioned above allow you to create quotes that are hosted online and open to client interaction. These include Qwilr and Nusii which both generate landing pages that the client can comment on or sign.

In our opinion, you can't get any better than PandaDoc.

It's an all-in-one solution that takes care of the entire process, from quote creation with impressive templates to tracking analytics. It's also the only solution with which you can send unlimited documents completely free of charge.
Final word
Depending on your needs and what you're willing to pay for quoting software, you'll likely find some of these options more appealing than others.
In our opinion, nothing will give you more bang for your buck than PandaDoc.
With hundreds of templates to choose from, eSign capabilities, and document analytics, PandaDoc does a lot at a very affordable price.
In fact, even our free plan will equip you with enough tools to make the quote creation process much faster and more fun.
Sign up for a free trial and take your quote management to the next level!