"How you sell is more important than what you sell."

– Andy Paul
A sales proposal is a formal document sent to potential clients.
Its role is to outline the products and services a company is selling and give the prospect more detailed information about the deliverables, benefits, fees, and cost of all services and products promoted.
Since a proposal is often one of the last steps in the sales process, a lot of businesses consider it almost a formality: you simply send your prospect the final details and close the sale.
However, a great sales proposal can be the final straw that converts a prospect into a customer.
To help you with closing deals, a proposal needs to be well-structured, engaging, transparent, and give the prospect all the details they need to inform their decision.
Keep reading and learn all there is to know about writing a winning sales proposal!
What is a sales proposal?
A sales proposal is a document sent by an individual or a company to their prospective clients.
In this document, we usually describe our business/products/services, give our pricing information, and other important details about what we offer.
Since a sales proposal is typically sent near the end of the sales process, the goal of this document is to close the sale by further convincing the client that our solution is the perfect choice for them.
That's why a sales proposal should be transparent, informative, and engaging.
Sales proposal definition
There are lots of sales proposal definitions online so you can interpret this term in a lot of ways.
Generally, it's accepted that a sales proposal is an official, often legally binding document that individuals or businesses use to pitch their products or services to prospective clients.
How to format a winning sales proposal
The way you format your proposal can have a big impact on the end result.
While we'll go more in-depth about the writing process and structure a bit further in the article, let's get a quick view of what a winning sales proposal format should look like.
The five key components are:
Cover letter
Introduction
Issue
Solution
Expertise
Conclusion
Your cover letter is the most important part because, if it sucks, no one will even bother to read the rest of the proposal. Learning how to write a cover letter for a sales proposal is easy.
Write a catchy header, include some power words, but don't make it too salesy.
In the introduction, you should give a brief rundown of the problem in question, your solution, costs, and benefits. However, don't make the introduction too long nor go too much in-depth about all these.
The main purpose of introductions is to give your clients a short glimpse into what's to come.
When you're describing the issue, define it in a concise and understandable manner.
Explain who will be affected by the proposal and in what manner. Always give arguments to back up your claims.
Once you get to the solution part, make sure to highlight its importance and give feasible arguments as to why your solution is the best.
Don't be afraid to go in-depth and give step-by-step explanations of how you plan to tackle the issue at hand. Talk about the cost and how exactly you plan to use the money you will potentially receive.
In the qualifications section, talk about what kind of experts and personnel you'll need to complete the project successfully.
Lastly, in the conclusion, you should reiterate your main point but in a more concise way.
Compare the costs and benefits and make sure to explain how your client's investment will be worth their while.
At the very bottom, always include contact information and thank the reader for their time.
Sales proposal examples
There are two main types of sales proposals processes, each of which should be tackled in a slightly different manner:
Solicited sales proposal – the proposal you sent after being explicitly requested to do so. This usually happens after getting in touch with your client and agreeing that they're interested in your services.
Unsolicited sales proposal – this is like sending cold emails – you're trying to score a client by offering a solution for the problem they have, but you didn't have any prior contact with them.
Sending solicited proposals has a bigger success rate since your client is already considering you.
However, when it comes to unsolicited proposals, things are a bit trickier since the client might not be even familiar with your company. That's why it's important to make your proposal stand out.
Different industries and countries require a different approach, but you don't have to worry about all that because PandaDoc has a bunch of templates, all of which are customized to fit a specific purpose.
For example, you can use our UK Sales Proposal Template for your UK clients.
Or, you might want to impress a client who works in IT – try our IT Sales Proposal Template.
Here are some other templates you can find in our massive gallery:
How can PandaDoc help you draft the perfect proposal?
At PandaDoc, we aim to help you personalize each proposal 100% to the needs of each client.
No two proposals should ever be the same. The entire process is transparent and streamlined so you can have a well-designed proposal on your hands in a matter of minutes.
To make sure this is possible, we enable you to use:
Lots of customizable templates that you can edit, save, and personalize to your pleasing. That way, you ensure that every client gets a different voice and style.
A Salesforce integration that lets you tap into your CRM and access valuable customer data. Using this integration, you can provide each client with highly relevant information and completely tailored offers.
We asked our Senior Account Executive Artyom Voronetskiy to help us explain how focused we are on providing each client with a personalized experience: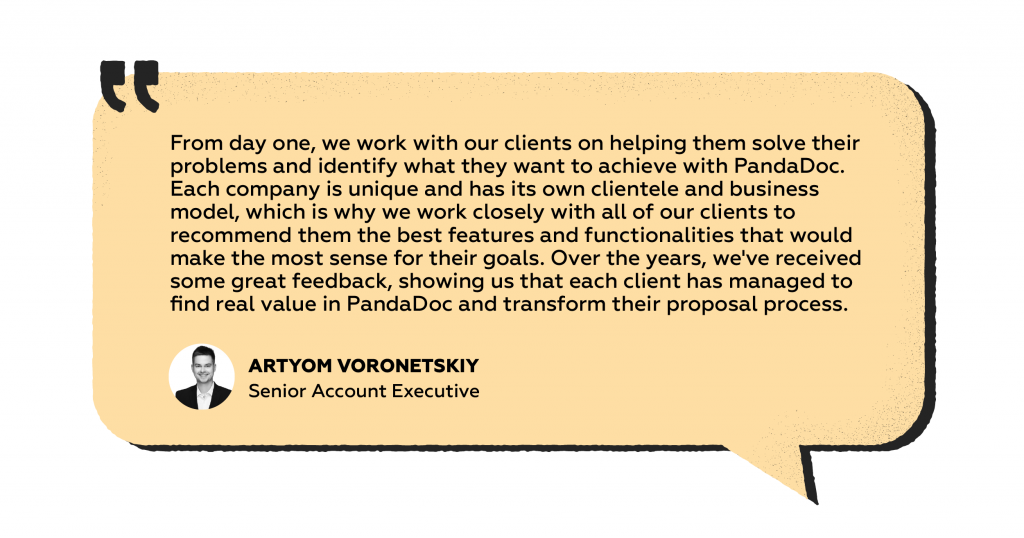 1. Write an outline
As with almost any written content, creating an outline should be your first step when writing a sales or business proposal.
Think about all the sections that should be included in your proposal and write them down briefly.
A few sentences about each section should be enough — the outline should serve almost as a reminder as to what you're going to write once you start filling things up with content.
Here are some sections your sales proposal outline needs to have:
Title page: A neat, engaging title page with basic information about your company and the prospect you're reaching out to.
Summary: What is your business all about and what are the main benefits of your products/services. Get into your customer's problems and set the scene for how your product/service can solve them.
Market research: Make sure that your product or service actually solves the problem, based on market, competition, and user research. This doesn't always need to be an independent section but it definitely needs to find its way into the proposal.
Deliverables: In this section, you need to go into detail about your objectives and timeline. What are you planning to do and how?
Value: Demonstrate exactly how your product or service provides value to its users. Be engaging and truly show them that this is something they need. This is the section in which you can start being a little more salesy.
Cost: Of course, any proposal needs to include pricing. Be flexible and highlight that your prices are susceptible to change, depending on the specific agreement and your prospect's needs.
2. Define your prospect's problem
Each new client is different, and each of them has specific needs.
It's on you and your sales team to identify those needs and tailor each proposal to tailor to them.
Sales professionals have been doing this for years and, with the rise of data-based marketing, this has become even easier.
Here are some ways to identify needs and problems using data. Use your CRM to inspect previous conversations and identify specific problems that the prospect has already expressed.
Use your social media to identify needs and problems that keep recurring in your community.
Use Google Analytics to see which pages, services, and articles people are most interested in.
Use heat mapping tools to learn more about visitor behavior and interests.
This knowledge, combined with your salespeople's experience and assessment can give you a good estimate of what each prospective client needs and how their proposal should be tailored.
3. Write an executive summary
Talk to any charity or other nonprofit organization that's ever answered an RFP (Request For Proposal) and they'll tell you that the executive summary is one of the most important parts of the proposal that decision-makers often focus on.
The role of an executive summary is to draw the reader in and get their attention early on so that they would continue reading the entire proposal with great interest.
Use the summary to give the potential customer a good idea of who you are and how you'll be able to help them.
Here is an example of a very brief executive summary:
"The Superstar automation platform has been providing marketing automation services in the SaaS industry since 2010. During the past 10 years, we've helped more than 1.000 SaaS companies reach their customers with smart, personalized sequences—in record time.
In this proposal, we will outline our plan of collaboration with [client name] in the next [period]. Upon analyzing your business and online presence, our strategy & planning team was able to estimate that we will [improve a specific metric by X].
On the following pages, we will demonstrate exactly how we're planning to make this a reality."
4. Do market research
Market research isn't something your potential customer will spend a lot of time reading but it serves an important purpose: it shows them you've gone the extra mile and you're well-versed in the industry specifics.
Often, market research won't require an entire section but it should definitely be sprinkled throughout your proposal.
Demonstrate your experience in the industry and show you're familiar with the data to the point that you can provide unmatched service.
Here are some questions to help you conduct market research:
Who are your prospect's competitors and what are their activities?
What is their target audience and what are their needs?
What are the best-performing channels in the industry?
Who are the most popular companies in the industry and what are they doing right?
What market share does your prospect have?
Which solutions has your prospect been using so far?
Answers to these and many other questions will help you create a successful sales proposal and impress your prospect.
5. Offer the solution
In the eyes of your prospect, this section (and the next one) would be the meat of your entire sales pitch. What are you offering as a solution to their problem and why?
Pay special attention to this section and make sure that the solution(s) outlined here perfectly fits the problems and market research you outlined in the earlier sections.
Here is an example of a solution section.
For the first six months of our collaboration, we propose the following solutions:
Managing [client company name] social media pages, including comment moderation, posting and scheduling content, updating profile/cover images, answering messages.
Promoting social media posts to an agreed target audience, on an agreed budget.
Generating bi-weekly and monthly social media reports to document our progress and campaigns.
6. Identify the deliverables
Here, we get into details when it comes to specific steps you'll take and the materials you'll provide to your potential new customers.
Think of it this way: the Solution and Deliverables sections work together to give your prospect a holistic view of your activities during the collaboration.
While the Solution section serves to give them a poignant, short overview, the Deliverables section takes a more detailed approach.
So, leave nothing to their imagination. This is the place to outline the quantity, frequency, and other aspects of your products or services.
If you're writing a social media proposal, here is a good example of deliverables.
List of deliverables:
15 Instagram posts delivered on the 25th of the current month for each following month at the latest.
12 Facebook posts delivered on the 25th of the current month for each following month at the latest.
Weekly social media report delivered by Monday of the following week, covering the past 7 days.
Monthly social Media report delivered on the 5th of the current month, covering the past month.
Four daily inbox and comment checks, answering comments and messages (weekends not included).
If you want, you can go a little deeper into each point and expand on it even further.
7. Know your audience
When writing sales proposals, pay close attention to who you're pitching to.
What do we mean by this?
First, you'll want to explore their company. Check out their social media (particularly LinkedIn), read the "About Us" section on their website, and get familiar with their mission statement.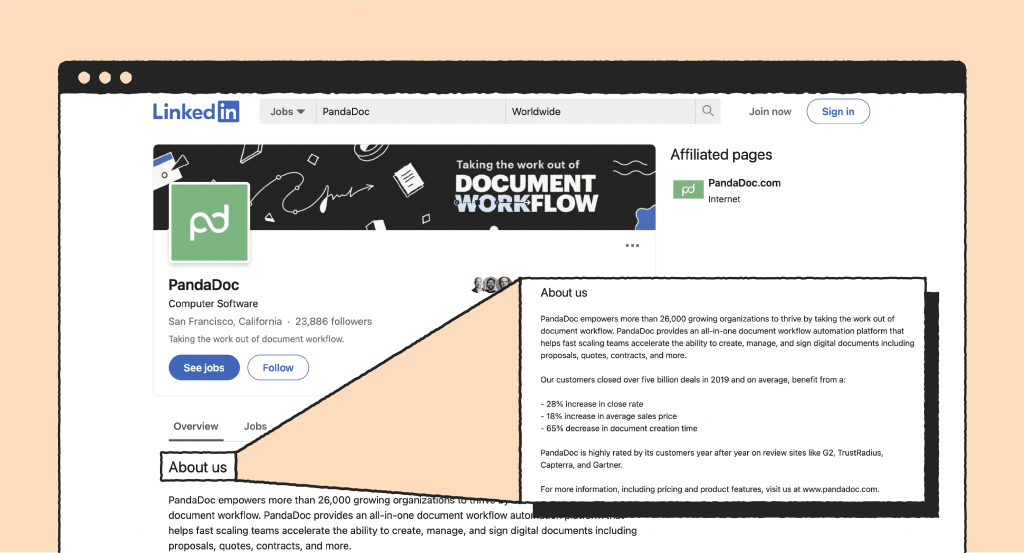 That way, you'll know their values and you'll start understanding their tone of voice. This will help you adapt your proposal to match their expectations.
Second, don't be afraid to do some research on the person you're pitching to.
A young HR specialist won't be familiar with the same terminology as an older social media director. Similarly, big enterprises will expect a different style of communication compared to small business owners.
8. Be detailed and transparent with pricing
Once you've addressed the prospect's pain points, suggested a solution, and outlined all the deliverables, it's time to talk about how much all of this is going to cost them.
Be transparent and direct—this is the list of your services and this is exactly how much they cost.
On the other hand, the client should understand that the pricing is flexible and can be discussed.
This is usually stated in the email or somewhere on the pricing page.
Some businesses choose to present their pricing as a bulleted list but it's generally accepted that a table works best.
Here is how that might look.
| | | | |
| --- | --- | --- | --- |
| Service | Qty | Item price | Subtotal |
| Blog posts | 10 | $80 | $800 |
| Facebook posts | 12 | $20 | $240 |
| Instagram posts | 15 | $20 | $300 |
| Community management | 1 | $200 | $200 |
| Analytics and reporting | 1 | $100 | $100 |
| Total | | | $1,640 |
9. Don't forget the CTA
Adding a CTA (Call to Action) in their proposal is something that a lot of businesses forget to do.
But including a smart CTA in your sales proposal methodology could be a valuable factor that will impact your conversions!
We all know that, in every step of your sales cycle, you should always look to bring the prospect closer to closing the sale.
A good CTA will help you do just that — tell your client what their next step should be and get them a step closer to making a decision.
In a lot of cases, scheduling a meeting or a call can be a good next step after viewing a proposal.
Here are some general tips when it comes to creating the best CTA:
Keep it short: The CTA should be a short, streamlined sentence with a clear goal at the end. No need to turn it into a whole paragraph.
Think about placement: When people read a block of text or view a page, they seem to focus on certain areas of the page. The Z reading pattern and the F reading pattern are generally accepted as good interpretations of user behavior. Place your CTA somewhere on these lines.
Use commanding words: Since we're talking about a call to action, it needs to contain a strong word that motivates the user to do something: schedule, reserve, claim, redeem, etc.
Make it visual: It's a good idea for your CTA to visually stand out from the rest of the page, be it by color, font size, or anything else.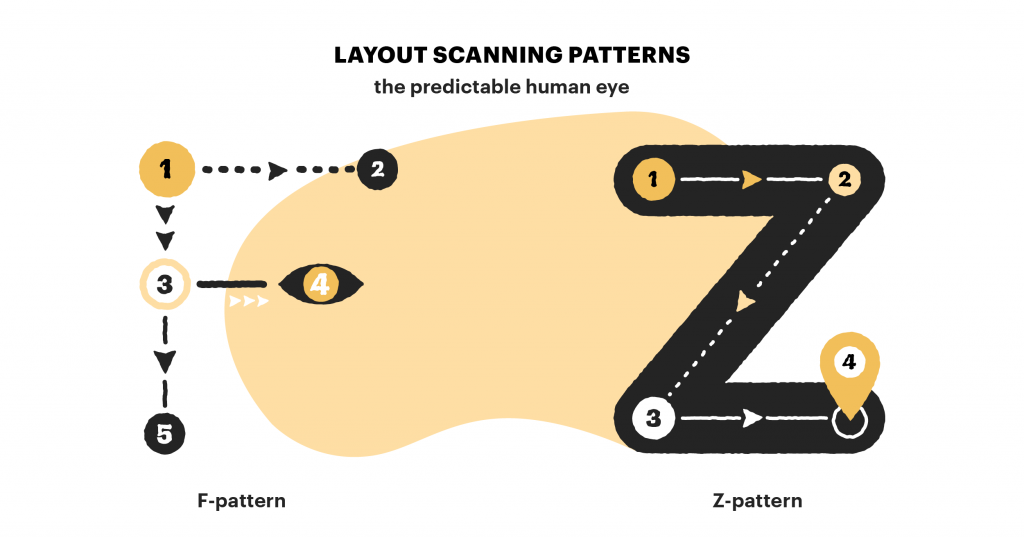 10. Provide social proof through testimonials
A great way to demonstrate to your clients that you have a lot of experience in solving similar problems is to add some social proof to your proposal.
People use social proof to inform their decisions all the time — 82% of Americans claim they consult their friends and family and ask for recommendations before purchasing a product.
You can only imagine how important word-of-mouth is in the B2B industry, where decision-makers ask each other for recommendations all the time.
Customer testimonials, links to case studies, reviews from relevant sources — all of these can be good ways to promote trust.
11. Use templates
Making the best sales proposal is much easier if you have a framework, a template to guide you through the process.
At PandaDoc, we set out to create the best proposal software to help you create visually stunning proposals that will delight your clients and get you a new business in no time.
Here are a few templates you might want to consider:
Using these templates will save you a lot of time and show your clients how seriously you take your job!
12. Follow up
Finally, you don't want to send the proposal and simply wait for the prospect to get back to you.
Follow up via email or phone call — they'll appreciate you taking the time to contact them and they might even have some questions they were hesitating to ask you.
Wait a day or two and reach out to the prospect to see if you can help them in any way.
A lot of salespeople hesitate to follow up, which is a mistake since prospects tend to say "no" several times before they finally say "yes!"
The final word
We hope that our guide has successfully taught you how to write a sales representative proposal.
Focus on your prospect's specific needs, do your research, and you're halfway there!
And, if you need any help crafting the perfect proposal, don't hesitate to reach out to us at PandaDoc. We have plenty of experience in the field and our software makes proposal writing a breeze!
Sign up for your 14-day free trial and try out PandaDoc!
Originally published May 12, 2014, updated July 19, 2021