Remote work has been a game-changer for many businesses over the past year.
Employees and clients have had to adapt quickly to the "new normal" through the adoption of software and productivity tools, like video conferencing and electronic signature capture.
Fortunately, what you need to actually conduct business is still the same.
In this article, we've put together 5 remote work plan templates that your team members can use when working from home.
01. The sales proposal template
This sales proposal template is designed to help you deliver a professional-looking proposal to your prospects.
Clearly displaying your business identity, value proposition, pricing, and terms of service, it's a great starting point when you're adding templates to your work from home checklist.
When to use it
While working remotely, communication with your team might be limited.
A predefined proposal template allows you to control the look and feel of your documents, no matter which team member creates them or where they send them from.
Using a standardized, pre-approved template means that remote workers only need to fill in the details. They don't need to meet with a proposal designer or collect signoffs from the management team to ensure that the proposal fits your brand. Everything is pre-packaged and ready to go.
Proposal templates allow you to stay in control of the look and feel of your documents, no matter who on your team sends them or from where when you utilize the custom content locking feature within it.
How to get started
Use this template as a framework to create stunning, personalized proposals in a matter of minutes.
Professional, error-free documents are easier than ever to generate when you combine the power of pre-built templates with a drag & drop library of content and data from your CRM. Plus, document standardization ensures that every proposal you send will always be accurate and on-brand.
You'll cut your proposal creation time down significantly and make the perfect first impression with your clients, despite never meeting in person.
02. The sales quote template
This sales quote template enables your sales reps to quickly provide pricing details from the comfort of their home office and without needing to complete complex calculations.
While working remotely, it's critical to the buyer/seller relationship that you provide accurate and transparent pricing.
Using this template, you can drastically reduce confusion and empower potential buyers to fully understand your offer.
When to use it
It can be difficult to build trust with a prospect if you never have the opportunity to meet in person.
The template's interactive pricing table allows recipients to select from multiple options, change quantities, or remotely chat with the sales rep directly.
Once they are ready to commit, they can sign your quote digitally from anywhere, on any device.
When used with PandaDoc, this template also offers engagement and usage details that are tracked in real-time and will send a notification the instant your prospect opens, views, or eSigns your quote, enabling you to reach out at the most opportune times and keep the deal moving forward.
How to get started
Error-free quotes that once took hours to draft are now possible to create in minutes.
Minimize manual data entry tasks by connecting your CRM with the template to automatically pull in customer data using existing systems. This helps to keep your workflow consistent and minimizes duplication errors that arise from manual reentry.
The template allows you to enter and store your most commonly used product information into a product catalog that you can use at any time, in any quote.
By automating these processes, sales reps will be able to create powerful quotes regardless of their work environment.
See also
03. The business contract template
This standard business contract template provides you with a simple way to display your terms of the agreement and legally seal the deal.
The pre-built content attached to this template is filled with pre-approved legal clause choices that enable you to build, customize, and populate error-free contracts faster than ever before.
As with the quote template, you have the ability to task your CRM integration with the heavy lifting and pull customer data directly into your contract.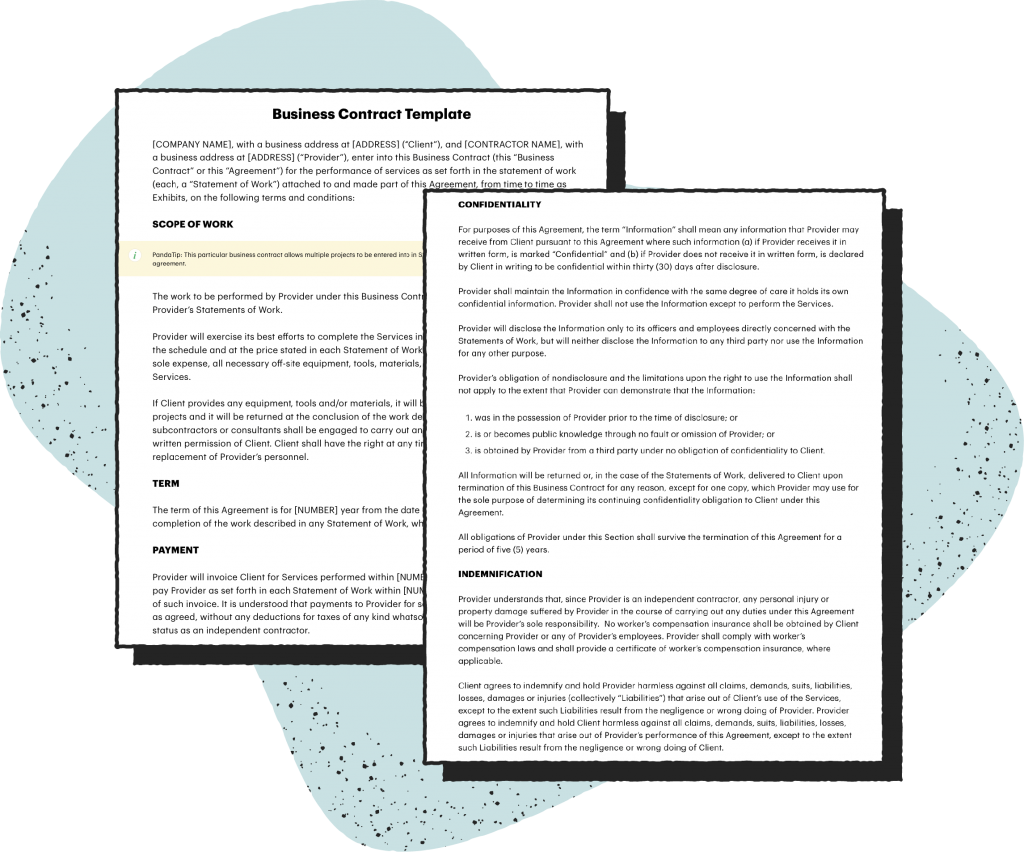 When to use it
To make the most of this contract template, pair it with contract management software.
This will remove any and all obstacles from your sales cycle by combining creation, negotiation, and management into a single workflow that helps you close more deals while working remotely.
Streamline your sales operations even further by using contract management software to establish an internal approval process, recipient signing order, and user permissions to keep your team organized and automate formerly burdensome tasks.
How to get started
During this time of social distancing, open communication with your clients is more important than ever.
This template also allows all parties to comment directly within the contract to ensure that everyone receives the same messages and is able to stay on the same page.
With PandaDoc, you'll also have the ability to customize this template to better align with your company policies, communication tools, and shifting work arrangements.
04. The non-disclosure agreement
In remote working and flexible work situations, NDAs are most useful for hiring managers and human resource teams.
Simply put, these agreements contain boilerplate language stating that any and all work related to the business (including conversations with co-workers) or a project is confidential.
That means anything discussed in virtual meetings, emails, phone calls, and other forms of communication with your remote team is protected and shouldn't be discussed with unaffiliated parties.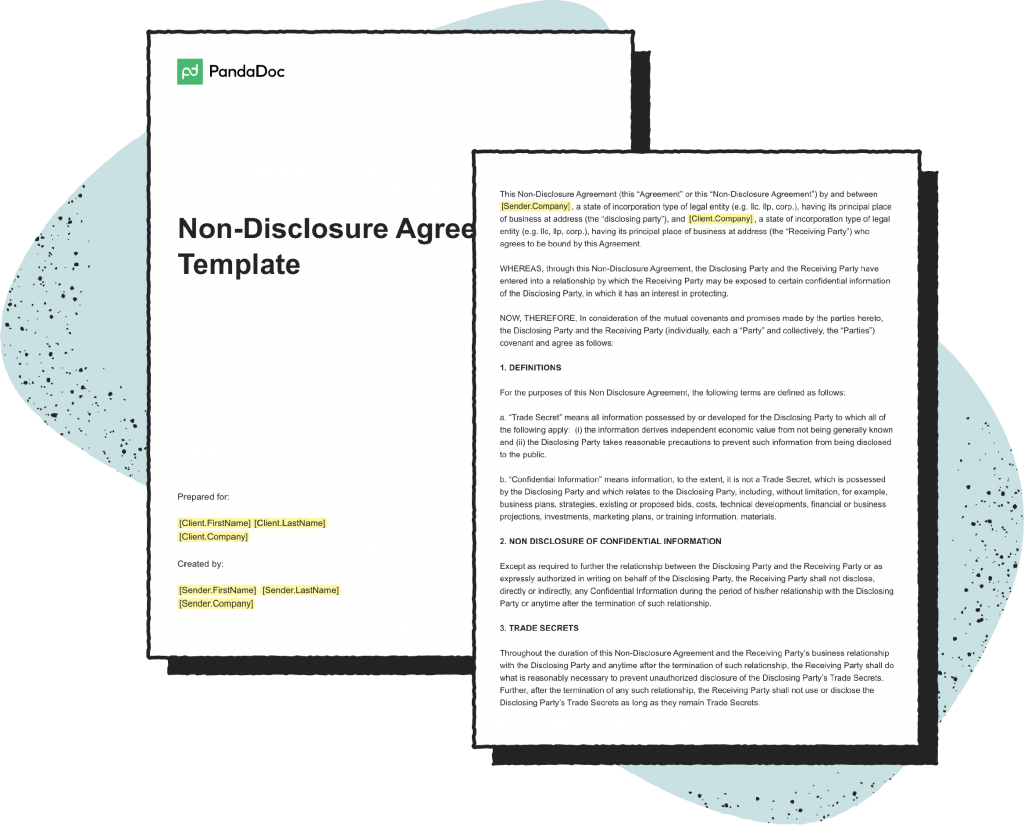 When to use it
Most of the time, NDAs are used during the hiring process alongside remote work policy documentation specifying work hours, rates of pay, and working space arrangements.
This boilerplate document is easy to include if you need to build a remote work agreement template and provide a layer of protection for your organization that keeps internal conversations protected.
How to get started
To use this template, all you'll need to do is add it to your existing hiring documentation.
If you want to customize the details to better fit your organization, check in with your legal team to make sure the language and messaging are a good fit prior to distribution.
For a remote workforce, it's important that your NDA doesn't cross the line regarding work-life balance.
If, for example, your remote employees conduct video calls on their home computer, your NDA wouldn't be able to cover everything that the employee ever does on that computer or through that internet connection.
Larger organizations often sidestep this problem by providing laptops and computers for at-home users to utilize during their workday. Others require that an employee to connect via a VPN before beginning work so that anything transmitted through an internet connection during that time is automatically secure.
05. The invoice template
When working outside of a traditional office setting, workers may have direct access to pre-approved resources that can help move a deal forward.
Sometimes, that document is a simple invoice.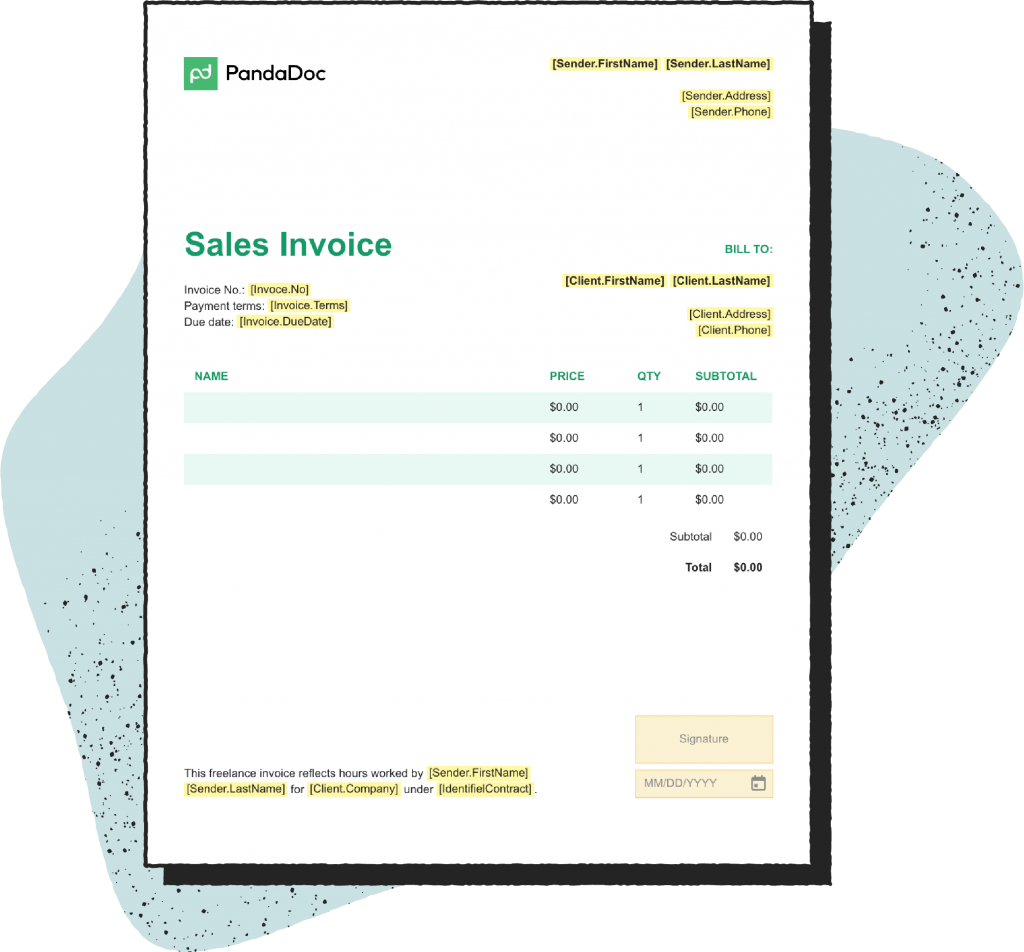 When to use it
Invoicing depends on when and how your organization collects payment. Some organizations require a downpayment while others bill after the work is complete.
Regardless of whether you bill on a cycle or split payments when completing work, this template gives sales reps and finance teams everything they need to invoice accounts for work and collect payments with minimal effort.
How to get started
Because this template is designed as a one-page invoice, all your reps need to do is fill out the appropriate information using the custom variables embedded in the doc and add pricing information.
However, you can take this a step further by customizing the layout. You might want to add direct payment information if you aren't using one of our payment gateway options.
You could also add a quick FAQ at the bottom of the document, post business hours, social media links, or anything else that you feel might be relevant.
BONUS: The business infographic template
These bonus templates don't directly affect the traditional sales cycle, but it does serve as excellent supplemental material.
This one happens to be structured into a "10 Myths" format, where businesses can address the 10 most common misconceptions about their product or service and set the record straight.
When to use it
These templates provide an easy, streamlined way for anyone to create dynamic, professional-looking documents that give every deal the opportunity to get noticed and build trust with clients who aren't available to meet face-to-face.
How to get started
Anyone on your team can access this template to create collateral, so it is the perfect creative outlet for your sales team to better understand their target market.
By encouraging your reps to get in the mindset of their prospects they will be better equipped to answer any tough questions that come up during the deal.
Embracing the future of remote work with PandaDoc
As things start to get back to normal, businesses will need to make some decisions about work from home policies, remote eligibility, and bringing employees back to the office.
That may be harder than simply flipping a switch. A recent PwC survey found that most executives believe employees need to be in the office several times a week to keep culture strong. But that same survey found that over half of employees want to work from home three days a week or more.
There are a ton of communication tools and project management platforms out there designed to boost teamwork, expedite team meetings, and assist with the telecommuting process.
However your company chooses to handle remote working arrangements in a post-pandemic world, PandaDoc is here to help! Our tools make it easier than ever to collaborate on shared documents, evaluate problems as a group, and share in team success — no matter where your team members are located.
Every template above, as well as the 450+ templates in our template library, is fully editable inside the PandaDoc document editor.
Take control of your digital workspace and give remote employees the tools they need to get the job done.
Sign up for a free 14-day trial with PandaDoc to get started.
Originally published June 10, 2020, updated May 13, 2021
Frequently asked questions
Managers are now often expected to have skills that will allow them to manage remote employees. These skills include the ability to organize a team for long-term work at a distance, as well as learning how best to communicate with these employees. Though conversations on this topic aren't new ones, more and more companies are opting for less traditional office spaces where workers can telecommute. We have compiled a list of tips on how to effectively organize remote work:

Set up communication channels and rules

Consider project management tools

Set clear expectations and KPIs

Cover the legal side with eSignatures and data privacy set of documents

Make clear instructions on how to keep the digital work environment secure

Remote work has become a standard in recent years – most companies offer this type of work, especially during the pandemic. However, remote work does come with its own set of challenges, which is why companies and employees should work together to optimize the process. Here are some quick tips on how your can implement and optimize remote work in your organization:

Allow flexible working hours

Always be in touch with your employees

Use a comprehensive online collaboration tool to create a unified workflow for all your employees

Provide your employees with the necessary work equipment

Conduct regular check-ins

Host virtual meetings

Promote a healthy work-life balance

Provide emotional and social support

The most important thing about making remote work successful is a good organization. Remote working can be challenging, especially for individuals who have children or have to take care of someone in their household.

Because this is a rather new model that was forced upon many companies because of the pandemic, it's important to be flexible and work with your employees to create the optimal work process that will benefit both the company and its employees.

We recommend using comprehensive productivity, collaboration, and project management tools to ensure that everyone is on track. Make sure to maintain regular communication between team members and offer emotional and social support to promote workplace happiness and satisfaction.

Yes, it is legal to work remotely. While rules and regulations may vary depending on your location, most places do allow remote work, especially now during the pandemic. However, if you're self-employed and working remotely, you have to pay taxes even for remote work. Doing any type of work and earning money without paying taxes is illegal – you could either end up in jail or be forced to pay severe monetary fines.