Without a doubt, electronic signatures are faster and more secure than traditional, handwritten signatures.
While digital signatures may be faster and more secure, they often lack the personal touch that you experience when signing a piece of paper.
Fortunately, there are a number of great services out there that allow you to create a handwritten signature for online use in just a few seconds.
Here is our list of online signature tools that you can use to generate your own signature in seconds.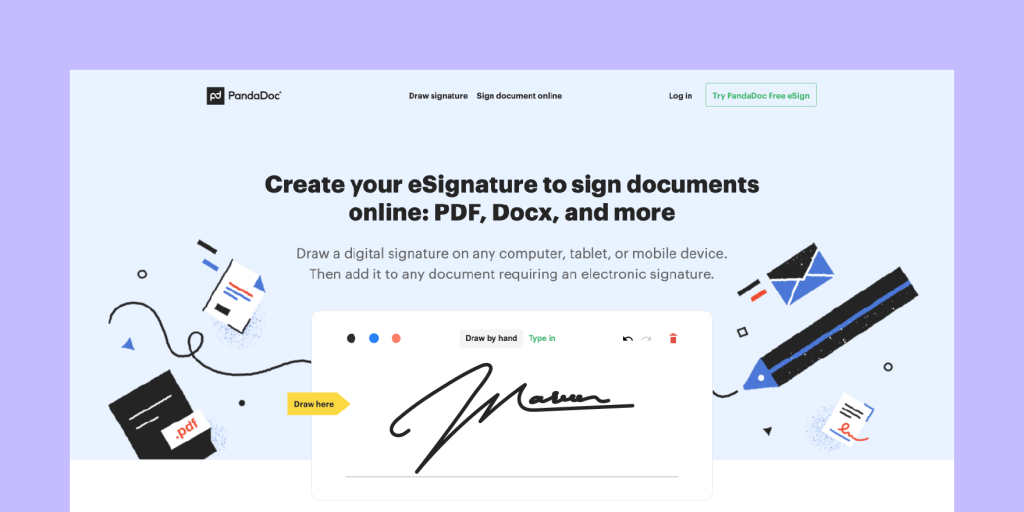 Pricing: Free.
Ideal company size: Small- to medium-size businesses.
Time to create one signature: Less than a minute.
Operating system: Mac, Windows, Linux, mobile.
Ease-of-use: 5/5
Functionality: 3/5
Is my signature legally binding? No.
We've talked about CreateMySignature before on our blog.
This is an easy-to-use tool that works on your mobile devices as well as your desktop and laptop. Because it's a cloud-based system, you'll never need to download or install anything.
To get a new, personal signature, here's what you need to do:
Head over to CreateMySignature;
Select "Draw Signature";
Use your touchscreen or mouse to draw a new signature;
Select "Save" to save your signature;
Select "Download" to download your signature image.
CreateMySignature will deliver your signature in a PNG format, which is perfect for document placement. You can upload this signature file to documents when prompted or drag-and-drop it into files for easy placement.
It's fast, free, and easy to use.
CreateMySignature doesn't keep your signature on file, so you don't need to worry about someone capturing and reusing your personal signature.
Cool feature: PDF signing
CreateMySignature also allows you to electronically sign PDF documents.
Simply upload the document, follow the onscreen instructions, and drag your handwritten signature anywhere inside the document.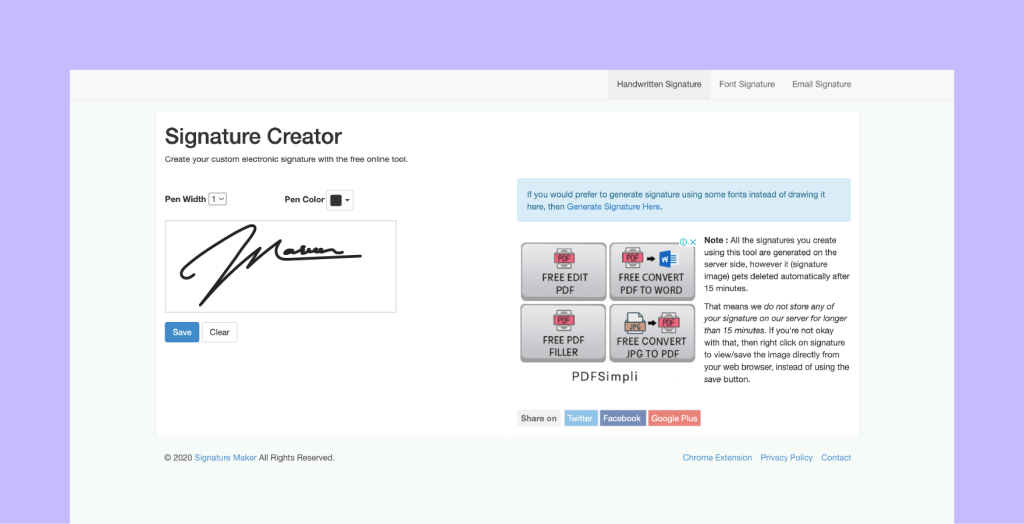 Pricing: Free.
Ideal company size: Small to medium-size businesses.
Time to create one signature: Less than a minute.
Operating system: Mac, Windows, Linux, mobile.
Ease-of-use: 4/5
Functionality: 3/5
Is my signature legally binding? No.
Another fast and easy-to-use tool, Signature Maker allows you to create a handwritten signature directly from any modern web browser, like Mozilla Firefox or Google Chrome.
No downloads, installations, or signups are required.
In order to capture a signature with Signature Maker, you'll need to do the following:
Go to the Signature Maker website.
Click on Create My Signature.
Select your pen width and your pen color.
Draw your signature in the signature window.
Click on Save.
Click on Download Signature.
As with CreateMySignature, signatures created with Signature Maker download in a PNG file format.
You can upload the image file to a PDF, use it in email clients, and more.
Cool Feature: Email signatures
Have you ever wanted a signature for your email client (Outlook, Gmail, HubSpot, etc.) that already includes all of your contact information? Signature Maker can help you with that.
Using their HTML email signature tool, you can generate a personalized signature to place at the bottom of your outbound emails.
You can even upload a photo through Dropbox or Google Drive so that it's included in your new signature.
Follow the instructions on the website to upload your new email signature to your email client.
Pricing: Free.
Ideal company size: All business sizes.
Time to create one signature: Less than five minutes.
Operating system: Desktop only.
Ease-of-use: 3/5
Functionality: 3/5
Is my signature legally binding? Depends.
Google Workspace comes equipped with a word processor, a spreadsheet tool, and a presentation software — everything you might need to build great documents.
As you might expect, they also have a few days to create handwritten signatures only.
Depending on how this is done, the signatures captured and applied through Google Workspace may also be legally binding.
In order to create a signature with Google Workspace, follow these steps from your desktop computer:
1. Open a Google Doc.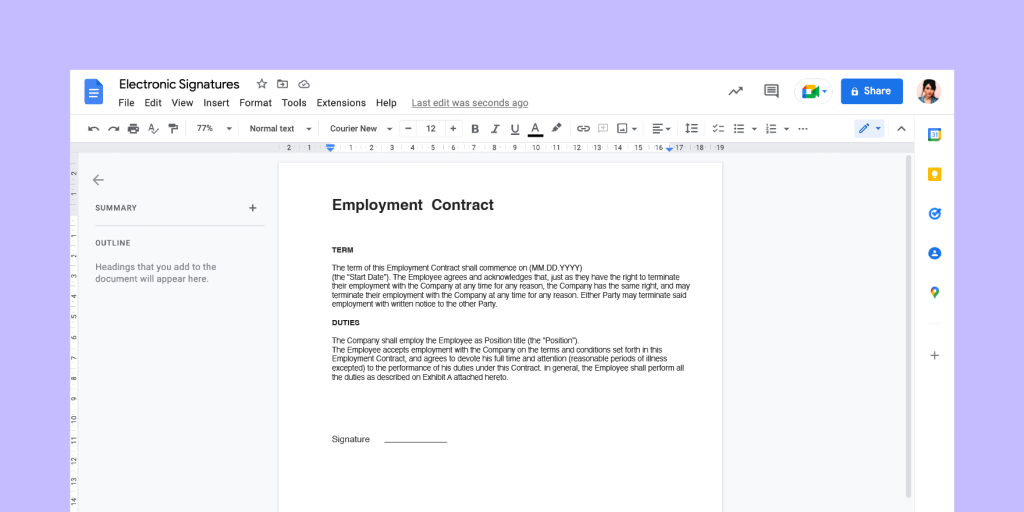 2. Click where the signature should appear.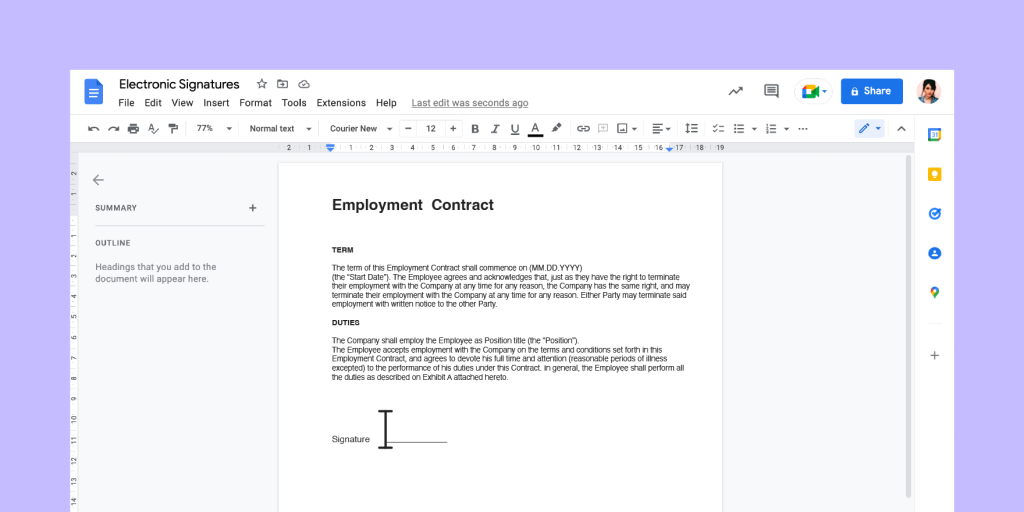 3. From the toolbar, select Insert > Drawing > +New.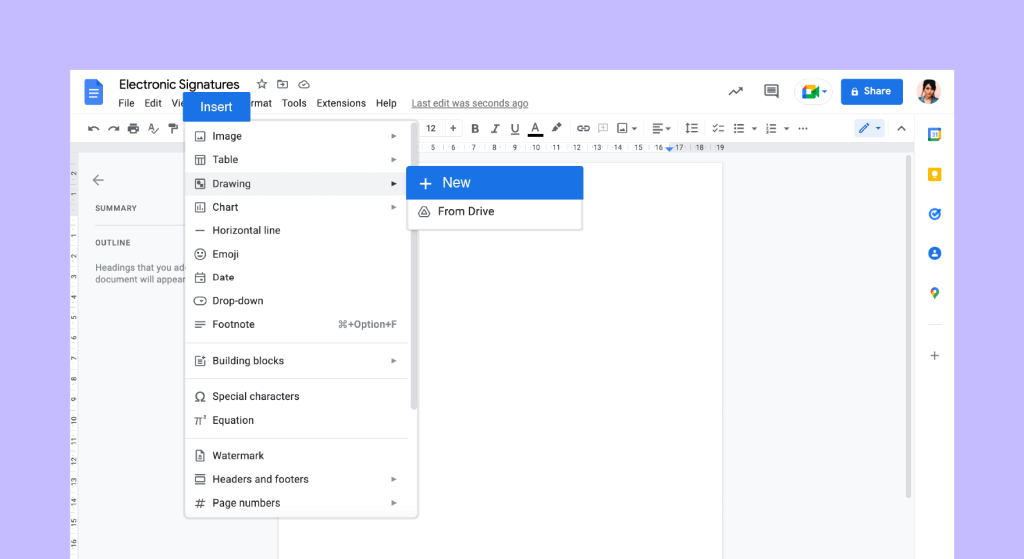 4. A new Drawing window will appear.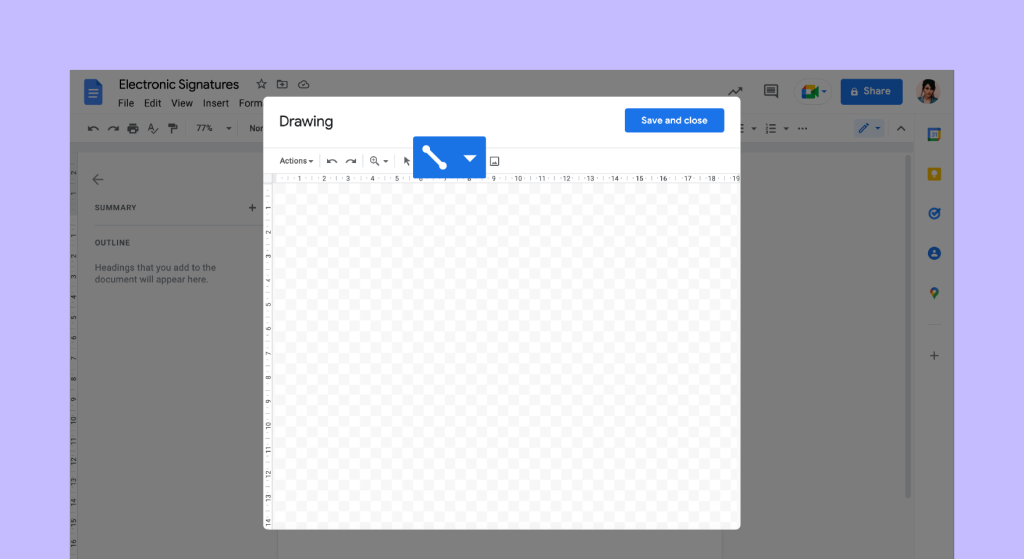 5. Select the Line tool from the toolbar, then Scribble.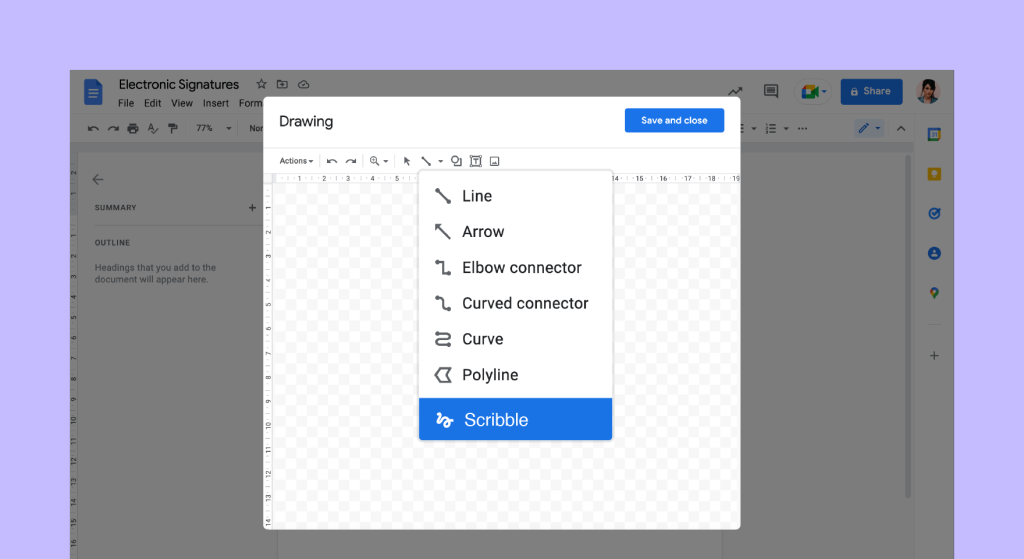 6. Draw your signature using a mouse or trackpad.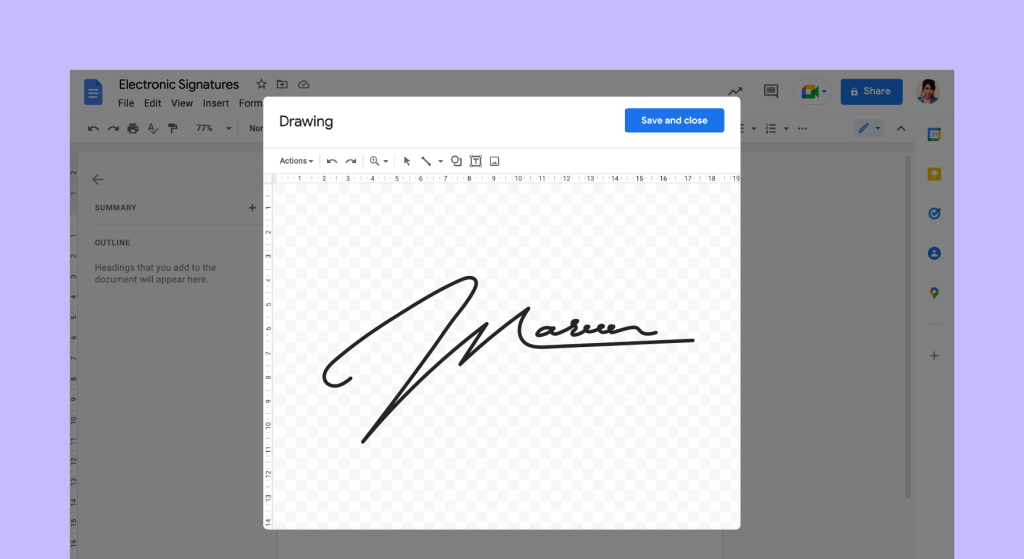 7. Click on Save and Close in the upper right corner.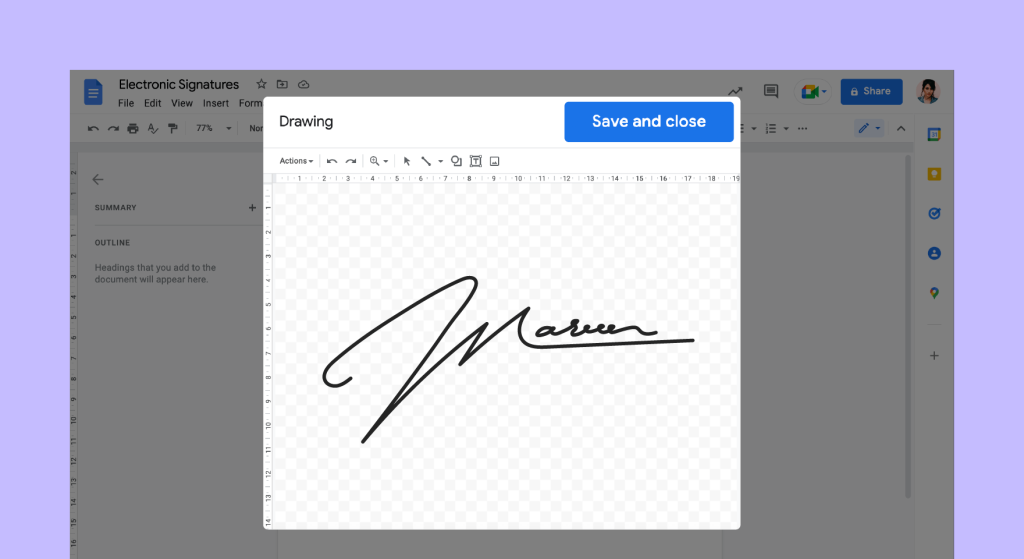 8. Your signature will be added into your Doc as an image.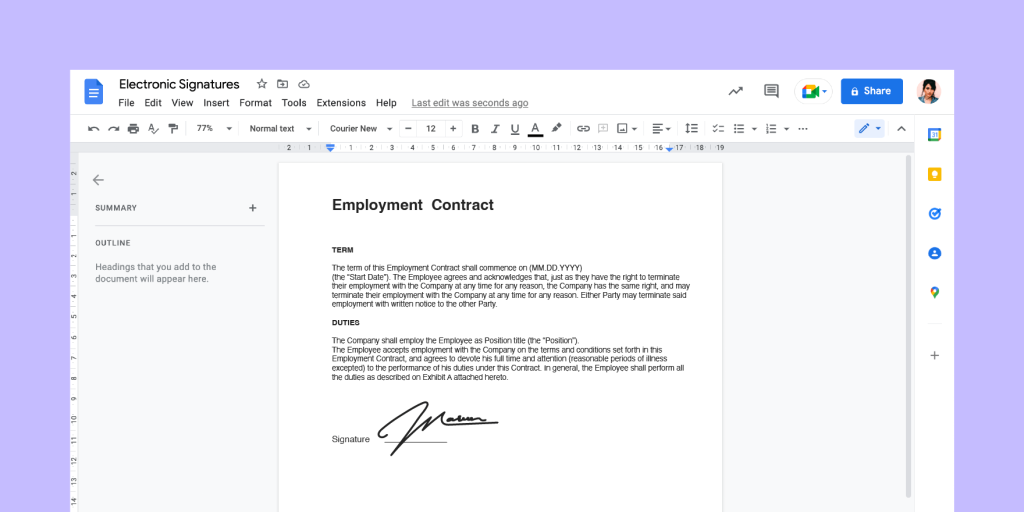 Once your signature image has been added to Google Docs, you can resize it or move it around as needed.
Remember that your signature will be treated like a regular image when using this method.
You can use the All image options features inside the image menu to adjust the size, placement, rotation, and formatting of your signature.
If you need to change or update your signature, use the Edit button in the image submenu.
Clicking on it will cause the Drawing window to reappear and allow you to make changes.
Want to save your signature image and use it later?
Right click and select Save to Keep, then open Google Keep and download the image to your computer.
Coolest feature: App integrations.
We mentioned in our description that signatures captured through Google may be legally binding, but the instructions listed above will only help you to capture an image of your signature.
To get a legally binding digital signature, you'll need an app integration like PandaDoc for Google Docs or a similar connection to an e-signing tool.
Using these tools, you can add legally binding e-signatures to your Google Docs without ever breaking a sweat.
Pricing: Free.
Ideal company size: All business sizes.
Time to create one signature: Less than two minutes.
Operating system: Mac, Windows, Linux, mobile.
Ease-of-use: 5
Functionality: 5
Is my signature legally binding? Yes.
Naturally, we've saved the best for last!
If you're just looking for a simple image file of your handwritten signature, signing up for the Free eSign plan with PandaDoc is probably overkill — but hear us out.
Using PandaDoc, you can create an online signature quickly and keep that signature loaded into your PandaDoc profile for quick and easy access.
This can be a great way to expedite your signing workflow if you're signing documents on a regular basis.
Here's what you need to do to create a signature using PandaDoc:
1. Head over to the PandaDoc website.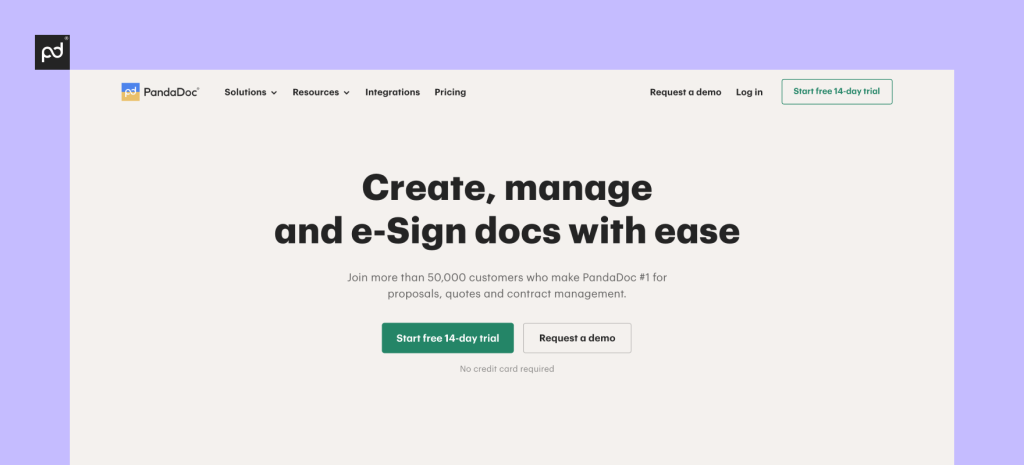 2. Select Start a free 14-day trial in the top right corner.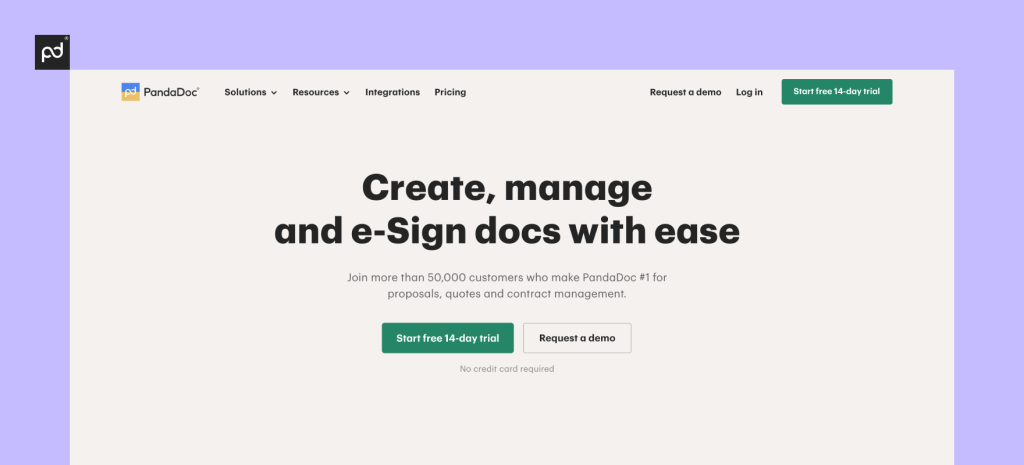 3. Sign up for a PandaDoc account.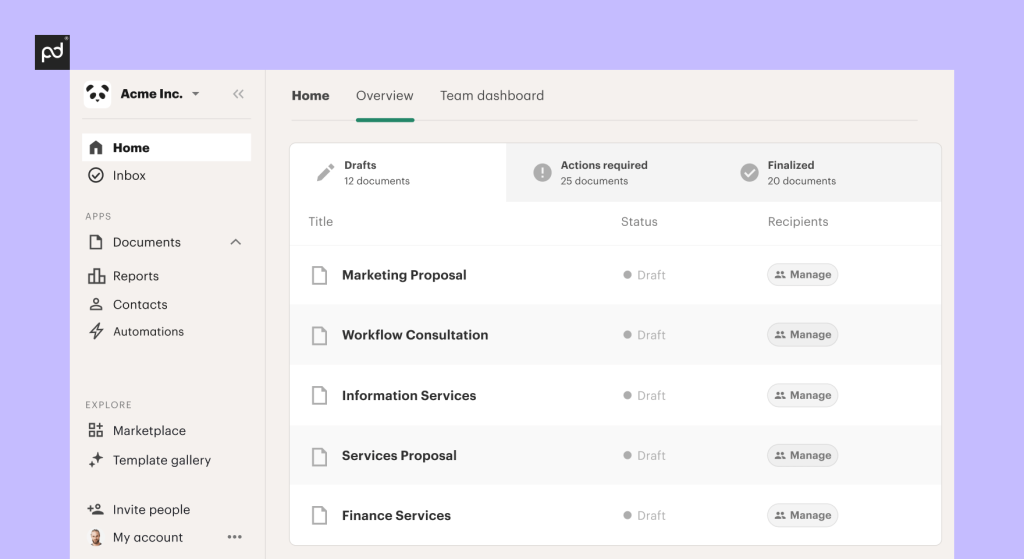 4. Select the gear at the bottom of the PandaDoc dashboard.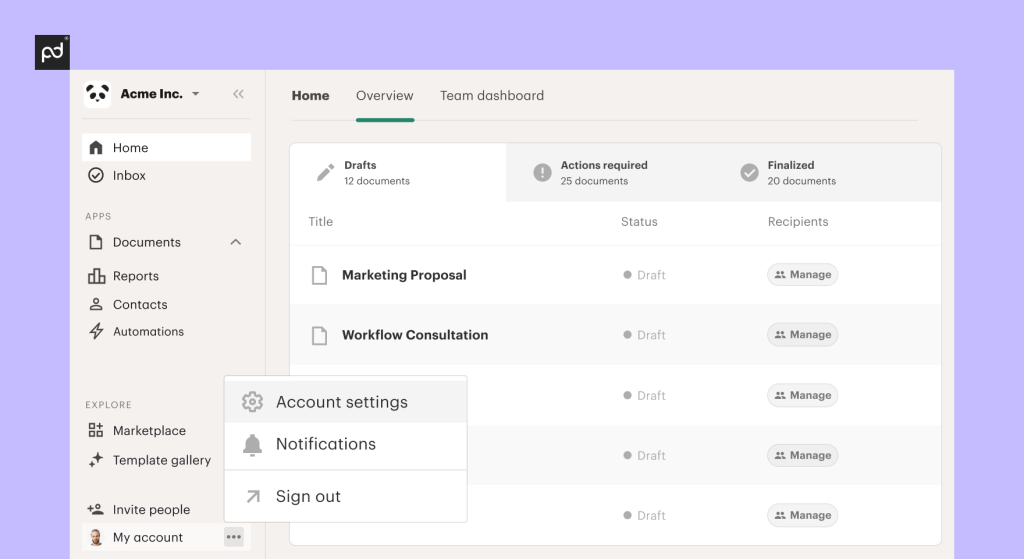 5. Locate the Signature section under your user profile.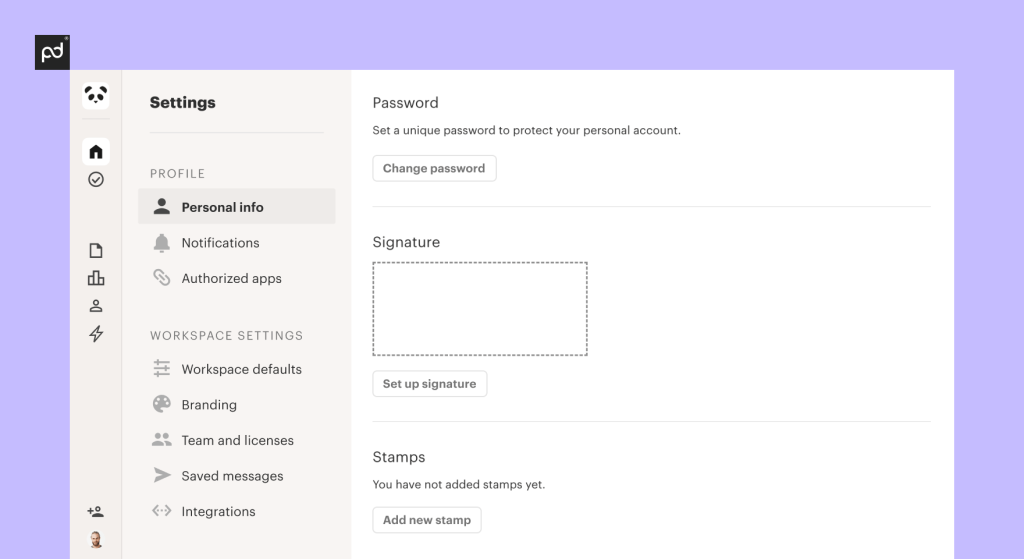 6. Click on Setup signature.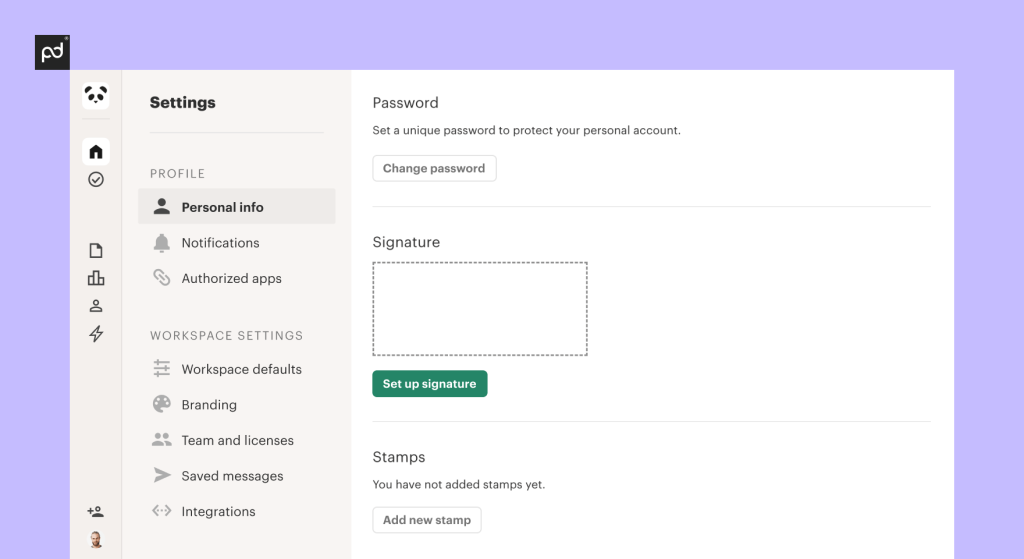 7. Select Draw from the menu at the top of the popup window.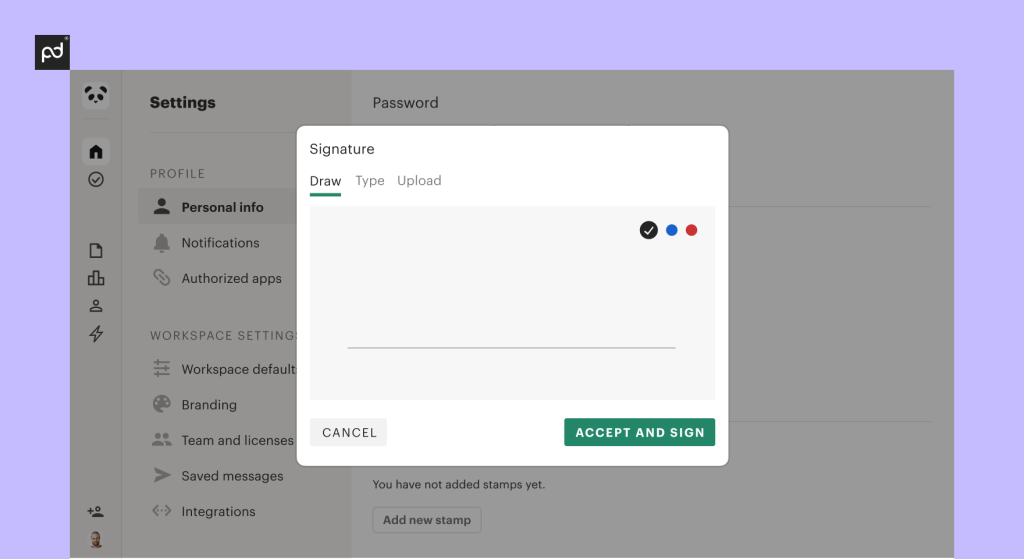 8. Draw and save your signature.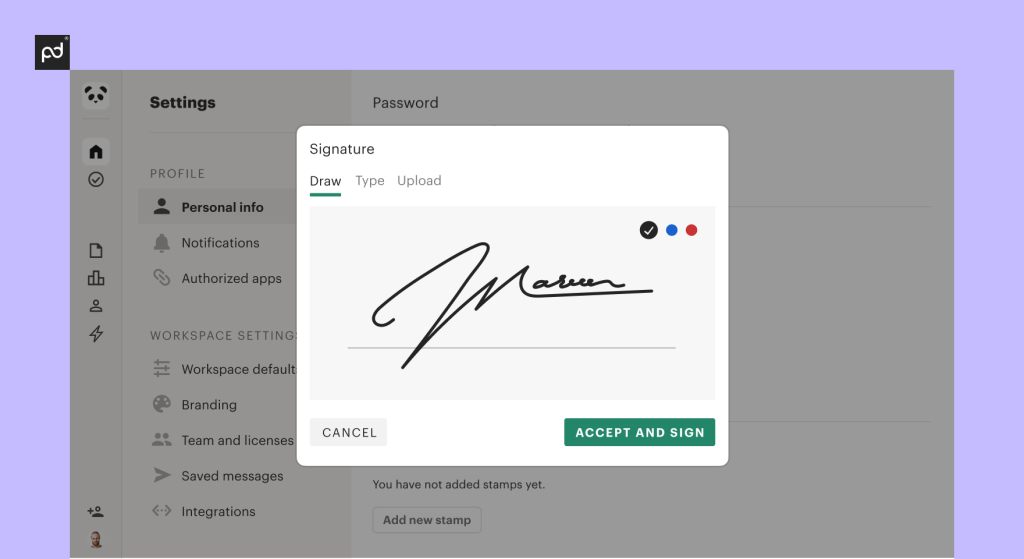 After you've set up your signature, upload a PDF or create a document using the PandaDoc document editor and begin the signing process.
Unlike CreateMySignature and Signature Maker, PandaDoc is a long-term solution for signers who are looking for more than a signature image.
If you need a secure and legally binding electronic signature, PandaDoc is the best solution on our list and — in our opinion — one of the best ways to create a handwritten signature online!
Cool feature: Payment gateway
Need to collect payments when you send a document for eSignatures? You can do that with the PandaDoc Free eSign plan.
All you'll need to do is attach your payment gateway to your PandaDoc account, add a payment field to your document after you upload it, and send the document to signers.
They can submit a payment along with their signature and you can get to work.
This is a great option for freelancers, landlords, and small business owners.
Remember: A signature image isn't a digital signature
Adding a personal signature to your online document is a great idea if you're just looking for that extra, personal touch.
However, relying on a signature image like those that CreateMySignature and Signature Maker create comes with a certain amount of risk if used incorrectly.
In short:
Signature images — even if they look like your personal signature — are not legally binding digital signatures.
Digital documents around the world are signed using secure encryption methods to ensure legality.
While handwritten signatures may look authentic on the page, true digital signatures do not require a handwritten signature.
Add a personal touch with a handwritten signature
Even though digital signatures may not require your personal, pen-and-paper signature, it's still a nice touch for your documents and emails.
Consider how you want to sign your documents and whether your use is cosmetic or business-related.
If you find that you want to do more with your digital signature, PandaDoc can help.
Request a demo to see the product in action or give it a test drive with a free 14-day trial.
FAQ
Some countries consider handwritten signatures and electronic signatures equally binding and of the same legal importance; others prefer handwritten signatures over electronic ones; and, lastly, there are those that only allow handwritten signatures. Here is the list of countries that allow electronic signatures.

You can use softwares like PandaDoc, Signature Maker, or CreateMySignature to draw your handwritten signature for free. Read more about the functionalities of these softwares here.

A written signature is a hand drawn signature. You need a written signature or an electronic signature to sign contracts, agreements, and other important documents.
Originally was published June 2020 and has been updated for comprehensiveness in February 2023
Disclaimer
Parties other than PandaDoc may provide products, services, recommendations, or views on PandaDoc's site ("Third Party Materials"). PandaDoc is not responsible for examining or evaluating such Third Party Materials, and does not provide any warranties relating to the Third Party Materials. Links to such Third Party Materials are for your convenience and does not constitute an endorsement of such Third Party Materials.