When you're sending electronic documents, capturing an electronic signature is a vital component that you shouldn't overlook.
Signers need (and expect) a quick and easy way to return documents with an appropriate e-Signature so that they can move the deal forward as quickly as possible.
If you were to search online for "How to sign documents online," you'd see results for numerous eSignature tools that could help streamline your document-signing process.
But although it's great that there are many electronic signature solutions for small business owners to choose from, it can be difficult to figure out which one is the best for your business.
So, to help you narrow down your choices, we're going to compare two of them—SignNow vs. DocuSign.
Ready? Let's hop right in.
What are SignNow or DocuSign typically used for?
eSignature software options like these have day-to-day business uses that can save you time and money. These common use cases show how a good software solution can empower your employees and boost your customer experience.
Sales contracts
If you work in B2B sales, you're intimately familiar with sales contracts.
In this and other key industries like real estate, sales contracts need to be produced multiple times a day. When contract signing is delayed, it can negatively impact your cash flow.
That's why many of these businesses use signature software as part of their tech stack.
With features like contract templates, electronic signature uploads, and POS signing on tablets, this type of software makes signing sales contracts faster and more secure.
New customer forms
Going paperless is a top priority for modern businesses.
You can take advantage of eSignatures to achieve paperless onboarding of new customers.
This removes friction from the signup process, which can boost your conversion rates.
Letting your new customers use eSignatures takes the hassle out of signups for them and your staff.
Depending on your business type, you can send and receive signed forms electronically or use sign-on-device functions for in-person business.
Client approvals
Manufacturers dealing with custom orders use eSignature software to optimize client approvals.
The ease of sending and receiving signed documents digitally makes approving large orders faster and more reliable.
Planning orders in terms of the machining and assembly line time required is an exact science for manufacturers.
Any delay in orders being approved can mean a direct cost to the business. eSignatures and secure document transfers reduce this risk.
Employee onboarding
Human resources teams across many industries use electronic signatures to speed up recruitment and onboarding.
It's a lot easier than printing lengthy contract documents.
It's also handy for compliance, as electronic documents can be stored securely and easily referenced.
Link this with your training and development material, and you can create a paperless onboarding system for new hires.
Other legal documents
As long as the software you're using complies with your local legislation, a contract with an eSignature is as legally-binding as any other.
Businesses that need to produce custom agreements on the fly find eSignature software especially useful.
Whether it's NDAs, distributor agreements, or IP licensing deals, eSignature software makes creating them quick and easy.
If you need multiple contracts with similar wording but varying details, electronic signature software is your best option.
How we conduct comparison reviews
Businesses that pick the right digital signature apps save hours of employee time and waste a lot fewer resources.
At PandaDoc, we understand how important it is for companies of all shapes and sizes, from freelance businesses run by individuals to multinational enterprises, to have access to the required functionality and features when it comes to managing documents and using digital signature software.
We aim to provide you with all the information you need to make the best possible decision when it comes to selecting digital signature and document management software.
As such, our comparison review process has several distinct phases:
Personal testing and analysis of platforms being compared, particularly through the lens of the pain points and challenges that we've learned about from our clients.
Analysis and comparison of feature sets, pricing, and support packages.
A thorough overview of existing customer reviews on sites like Gartner, G2, Capterra, and Trustpilot.
Ongoing updates to comparison articles (after publication) based on research about feature releases, price changes, updates, and so on.
Many businesses make the mistake of picking digital signature software that i's unsuitable for their needs.
A single freelancer, for example, will likely be overwhelmed by an extensive software suite that's aimed at enterprises.
And large companies will find apps that are designed for individuals and small and medium businesses (SMBs) severely lacking.
This review will help you ensure that you choose the best tool for your business needs.
Product overview
SignNow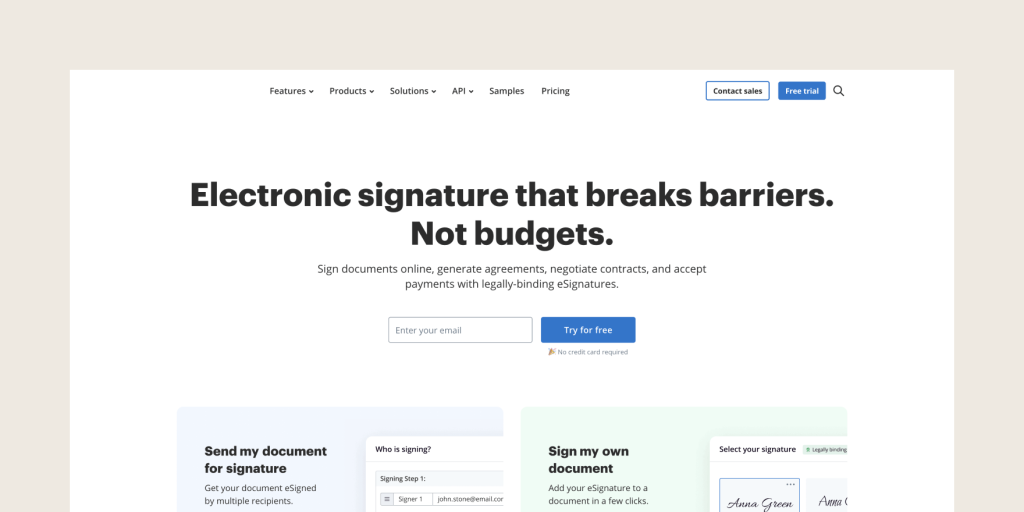 Cost: $8 per user/month for the Business plan, $15 per user/month for the Business Premium plan, $30 per user/month for the Enterprise plan, or $50 per user/month for the Business Cloud plan when billed annually.
Gartner rating: 4.4/5
Product capabilities: 4.5/5
Integration and deployment: 4.5/5
Support options: Live chat, ticketing, webinars, help center, FAQ, web form, and knowledge base.
Platform availability: Online, iOS, and Android.
Free trial: Yes. 7 days.
SignNow has been pushing the threshold for electronic signatures since it was established in 2011.
Today, the company offers a wide variety of features, including a HIPAA- compliant digital signature solution, advanced conditional fields, and the ability to create document templates.
All of SignNow's functionality is wrapped up in a slick, simple-to-follow interface.
And SignNow reviews demonstrate just how popular the platform is with its users.
It has earned thousands of five-star user reviews, placing it among the top eSignature platforms for businesses today.
While it might sound like SignNow is up against the proverbial juggernaut in the room, SignNow is a robust platform that you can use to sign documents, manage customers, and optimize your digital signature workflow.
DocuSign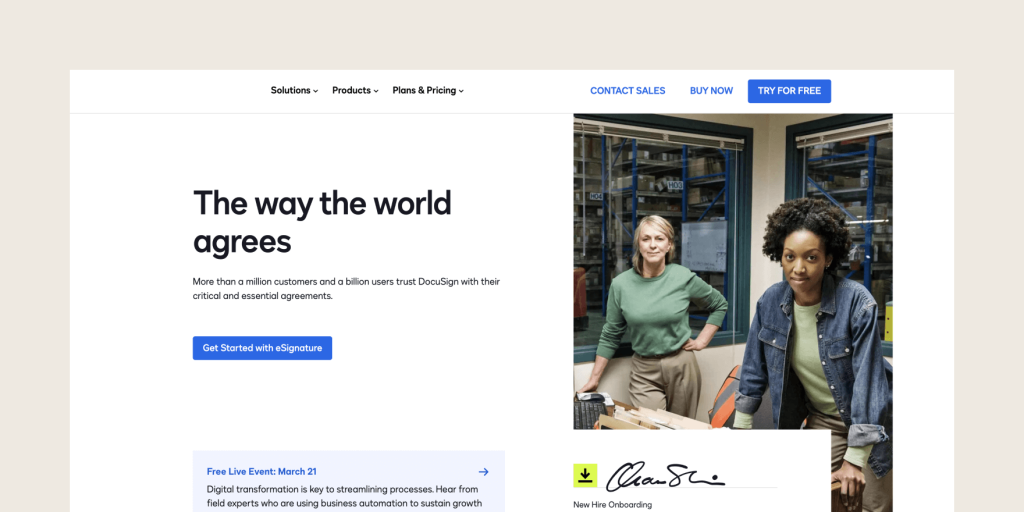 Cost: $10 per month for the Personal Plan. $25 per user/month for the Standard Plan and $40 per user/month for the Business Pro plan. If you require a more advanced plan, schedule a call to get a quote.
Gartner rating: 4.4/5
Integration and deployment: 4.5
Service and support: 4.5
Support options: Community forum, live support by phone, email, and online custom training
Platform availability: Online, iOS, and Android
Free trial: Yes. 30 days.
DocuSign has worked hard to establish itself as a winning product in the electronic signature field. But the company isn't resting on its laurels just because it's near the top of the pile.
The company offers a simple and straightforward electronic signature solution along with custom branding, audit trails, and great integrations.
All of these features are available at a low cost from a company that's trusted by millions of users.
We're not saying that you should ignore other e-Signature solutions and go straight for DocuSign, but this signature platform knows what it's doing and is more than capable of delivering a great customer experience.
Comparison
DocuSign and SignNow are both focused on building an electronic signature solution that you can use to grow your business.
Let's take a closer look at the services they provide and see how they stack up against one another.
Key features
Both DocuSign and SignNow offer similar basic features.
Where they differ is in the higher subscription tiers, where DocuSign boasts advanced analytics and integrations.
DocuSign is more enterprise-focused.
It offers more flexibility and advanced business functions, like payment collection through the software. After-sales support, like employee training, is also available.
On the other hand, SignNow's cost-effective basic tiers make them a good choice for new businesses.
Let's take a more in-depth look at how these features work to help you decide which option best suits your needs.
Document preparation
When preparing documents, both DocuSign and SignNow follow a similar workflow, with a few key differences.
With DocuSign, you'll be prompted to upload your document as soon as you log in.
It's literally the first screen you'll see.
From there, users can upload documents and simply follow the instructions on the screen.
DocuSign will ask users to add recipients and then ask them to place fields on top of their PDF document. From there, it's as simple as composing a quick message and clicking "send."
SignNow offers a slightly different experience because the first thing you'll see when logging in is your customer dashboard—not a prompt to upload your PDF document.
Once you upload a document, it will appear in your client dashboard. After you select it, you can edit signers and place drag-and-drop fields from within the user interface.
When you're done, you can send your document via a link, and when sending it in an email, you can customize the introductory message and subject line.
When a document needs to be signed, signers follow the link, sign in the designated spaces, and then close the document. It's user-friendly, simple, and efficient.
Winner: SignNow
While this process is fundamentally the same on both platforms, DocuSign is more streamlined in how it pushes users through the signing process. That's great when you're a first-time user trying to figure out the system.
Once you've got the basics down, the simplicity that DocuSign brings to the table actually becomes a hindrance because you'll need to navigate to other menus to manage documents, review signatures, and take advantage of templates.
While SignNow's user experience isn't as intuitive, users can navigate the platform more easily once they get used to it.
This means that SignNow users will be able to create and manage documents more easily in the long run.
Set up and integration
For both signature platforms, the initial setup process is simple.
When using either of these tools, it's easy for users to update profiles, add images and signatures, and set up branding all with just a few clicks.
The same is true for integrations, but the availability here may vary.
While SignNow and DocuSign offer integrations with many of the major software solutions that are available on the market today, DocuSign offers a more robust set of integration options at a lower pricing tier when compared with SignNow integrations.
With SignNow, users may have access to basic integrations like Dropbox, Google Drive, and OneDrive when they need to import and export documents.
But for personal integration support, you may need the airSlate Business Cloud subscription for $50/month.
That support may be necessary for integrations with key software solutions that your business may use, like Salesforce, Microsoft Dynamics 365, and NetSuite.
DocuSign users enjoy more flexibility regarding integrations both in terms of variety and pricing.
DocuSign is designed to be used as part of a business software suite, meaning that its integrations range from key everyday software solutions to complete customization.
However, even using DocuSign, users will still need to select the Advanced Solutions business plan to get to advanced integrations, API integrations, and more. Enterprises with internal DevOps will get the most out of DocuSign's advanced integrations.
Winner: DocuSign
While both DocuSign and SignNow make it easy to complete the initial setup process, DocuSign offers a wider variety of integrations at more accessible price tiers.
Branding and customization
Both DocuSign and SignNow offer custom branding solutions for your documents so that your business can easily customize any documents that you send out to ensure consistency in terms of branding.
In both signature platforms, the branding process is wholly separate from document creation.
This is great news because it means that you can create unlimited templates without ever needing to worry if your branding changes.
However, the scope of branding is vastly different between these two companies.
With SignNow, users have the ability to add branding to both their signature invitation email and their PDF documents.
All you'll need to do is upload the document through the SignNow interface and wait for the approval process to complete.
Once finished, the logo will appear in emails and PDFs, regardless of whether your documents are accessed through desktop computers or mobile devices like iPhone, iPads, or Android-based machines.
DocuSign takes this much farther by allowing users to change the logo and custom colors assigned to sent documents.
This includes changing the color of the background, body text, buttons, and button text.
While these advanced features may seem minor, they give you the chance to put a unique, branded stamp on any of your documents.
This is vital for established businesses looking to reinforce their brand throughout the signing process.
Winner: DocuSign
While customization processes on both platforms are simple, DocuSign brings more to the table here. If you want to add personal branding to your documents, it's got to be DocuSign all the way.
Use cases
DocuSign and SignNow can both do more than simply sign documents online. DocuSign has a little more history as it's one of the first eSignature tools, but both have had their success stories.
One of SignNow's most interesting use cases is for collecting signed affidavits when quick permission is required for use of a large number of peoples' images.
Obviously, collecting signed paper forms is impractical for this. Instead, photos and signed forms can be collected and stored via SignNow's cloud services.
DocuSign, meanwhile, has use cases ranging across diverse sectors like communication, ecommerce, and HR.
With electronic signatures for contract signing and simple file sharing, the solution helps with getting parties on the same page, new product deals struck, and new-hire contracts signed much more quickly.
Winner: DocuSign
Both platforms have a range of use cases, but DocuSign's are just that bit more impressive.
Security
Both tools take security and privacy seriously.
DocuSign and SignNow are both compliant with the ESIGN Act and UETA. They also offer specific industry-standard compliance, like with HIPAA, as an extra service.
PandaDoc, meanwhile, is fully HIPAA compliant, as well as also adhering to GDPR and FERPA legislation.
DocuSign also offers a Docusign Identify feature to help users add an extra layer of verification and security to their most important agreements and documents when using the service.
SignNow, meanwhile, also offers privacy and authentication features like document ID, passwords, and dual-factor authentication.
Winner: Dead heat.
All eSignature and other software worth its salt takes cybersecurity, privacy, and other related aspects seriously.
Plans
SignNow pricing plans are divided into four tiers.
They start at $8 per user, per month, which only offers the basic features. These features include unlimited templates, document signing, and an accompanying mobile app.
The Business Premium plan is $15 per user, per month. Users get the ability to set reminders and notifications, send in bulk, and add custom logos.
The $30 per user, per month Enterprise plan includes features for larger organizations. This plan includes advanced threat protection, signer attachments, and smart fillable fields.
The fourth tier of SignNow's pricing plan is suitable for large-scale, specialized businesses. It starts at $50 per user, per month for a minimum of five users.
This gives you access to CRM/ERP integration, personal integration support, and HIPAA compliance.
Docusign pricing follows a similar model of four subscription tiers. Individual plans start at $10 a month with five signed documents a month and integration with Dropbox, Google Drive, and more.
You also get access to audit trails and reusable templates.
The Standard plan starts at $25 per user, per month and can be used by up to 50 people. You'll gain access to more advanced features like in-person signing, document sharing, team reports, and personalized branding.
DocuSign's Business Pro plan starts at $40 per user, per month. It has all the features of the Standard plan plus signer attachments, SMS authentication, the ability to collect payments, and more.
The final tier of DocuSign's pricing model doesn't have a standard price. Instead, they offer customized solutions that are tailored to the needs of your business.
This means that, despite being more expensive, this plan offers more flexibility for large companies.
Winner: DocuSign
There's just that bit more on offer from DocuSign's plans than their SignNow counterparts. In short, with DocuSign, it feels like you get a little more bang for yout buck.
User reviews
When you compare SignNow vs. DocuSign reviews, there's not much separating these two eSignature solutions.
Most customers are satisfied, with SignNow reviews resulting in it getting an average score of 4.6 out of 5. One SignNow user said it's an "Easy to use tool that helps sales teams be more efficient."
In contrast, DocuSign reviews see this software getting an average score of 4.5 out of 5.
DocuSign has been praised for being "Always accessible, even on a smartphone." Both platforms have been described as time-savers and applauded for enabling paperless workflows.
Winner: SignNow
Both platforms are well reviewed, but SignNow sneaks the score by a mere 0.1.
Support and ease of use
Ease of use and support options can be major factors when determining what signing solutions make sense for your brand.
The support options of DocuSign and SignNow vary at both the small business and the enterprise level.
From a small business perspective, SignNow goes above and beyond what DocuSign has to offer simply because the company offers a live-chat agent who can guide you to resources, raise tickets, and assist with support.
You don't need to call phone support or send a message via email support. You just open the chat window and start typing.
With DocuSign, it's a little different.
The standard support plan offers online case submission and management and provides access to the community forum and knowledge base.
If you're looking for more personalized help as a standard solution, you won't find much here.
However, DocuSign does offer advanced customer support plans—and this is where the service can shine for larger enterprises.
While this does incur an additional cost, DocuSign offers support plans that commit to giving you 24/7 live phone support and case submission response times within a few hours.
While you'll pay extra for this service, it may be worth it if you value the added support package.
Winner: SignNow
This one is a tough decision because many of the advantages that DocuSign has in this category aren't free.
These are product upgrades from the standard support option, and they're definitely a great fit for larger organizations.
But we have to go with SignNow for this one. Offering a 24/7 live rep to help customers resolve outstanding issues is just that important.
That's why we always have a PandaDoc customer support agent standing by to assist customers with their problems and help them navigate our extensive support database!
Our recommendation: DocuSign
So, after taking all of this information into account, which tool is better? SignNow or DocuSign? Well, there's a lot of love for SignNow.
The company is great value for money and offers some interesting, advanced features and customization options at each tier. The interface is simple, and navigation is easy.
In the end, though, DocuSign wins out for both small and large businesses simply due to the number of features it has to offer.
DocuSign pricing is competitive and appealing, and the company offers great integrations with a wide variety of tools from Dropbox to Google Drive.
DocuSign also enables you to put the finishing touches on your document with unique branding options that look great on desktop and mobile apps.
Still looking for a powerful electronic signature solution?
That DocuSign could be a great fit might be exactly what you want to hear if you're looking around for a digital signature solution, but it can be a letdown if you've already tried DocuSign and didn't love it.
So, if you're still looking for DocuSign and SignNow alternatives, why not give PandaDoc a try?
We offer a powerful document editor for in-app document modification, comprehensive and easy-to-use signature fields and, of course, legally -binding electronic signatures.
Plus, with our Free eSign plan, you can get your documents signed for free and collect payments in the process.
Why pay to capture electronic signatures when we can help you do it at no cost? Come check out everything PandaDoc has to offer!
Originally published April 8, 2020, updated March 1, 2023
Disclaimer
Parties other than PandaDoc may provide products, services, recommendations, or views on PandaDoc's site ("Third Party Materials"). PandaDoc is not responsible for examining or evaluating such Third Party Materials, and does not provide any warranties relating to the Third Party Materials. Links to such Third Party Materials are for your convenience and does not constitute an endorsement of such Third Party Materials.