Finding the best electronic software tool for your business can be tricky.
For small businesses, free or inexpensive e-signature software platforms may be enough to get the job done.
On the other hand, enterprise companies need more robust tools to handle complex documents and large files.
In both cases, digital and electronic signatures play a critical role in saving time and boosting productivity.
They also massively improve ROI.
According to one report, 81% of existing digital signature users have seen a payback within one 12-month budget cycle, while 25% saw ROI in three months or less.
In this article, we're covering the best electronic signature platforms on the market in 2023.
You'll find out where they shine, where they don't, and which ones are a great fit for your business.
Let's get started.
01. PandaDoc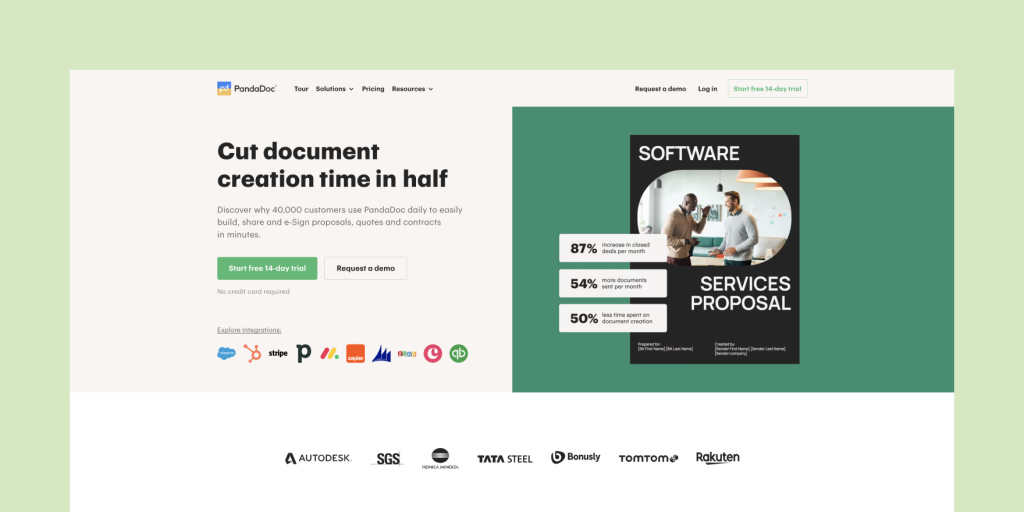 Pricing: Starts at $19 per month/user; free plan & trial available.
Great for: Teams of any type looking to combine document creation, management, and digital signing
Where it's hot
PandaDoc is a great fit for any team looking for a faster way to get sales documents out the door.
The platform allows users to combine from-scratch document creation with digital signing and integration tools to create, send, and sign all business documentation from a single platform.
This consolidation is one of the reasons that PandaDoc is a top-ranked e-signing company.
Clients regularly report a 36% increase in close rates and a 50% decrease in document creation time when using this document signing tool.
One of the main advantages of PandaDoc over its competitors is its document editor.
Your team can create new documents using the drag-and-drop editor and easily turn them into reusable, cloud-based templates for quick and easy repurposing.
Although PandaDoc has a free plan ideal for small businesses and startups seeking fast, efficient e-signature capabilities, the $49/month business plan allows companies access to more extensive benefits that PandaDoc offers.
For example, the Business tier comes with advanced features like Zapier integrations, custom branding, and a content library, all designed to help you customize the look and feel of your documents.
At the Enterprise level, approval workflows, specialized signing orders, and CRM integrations make document creation even faster.
For teams handling a large number of documents, the ability to respond to client feedback in real-time means less time revising and uploading different versions of the same document.
With PandaDoc, every stage of the contract management lifecycle happens all in one place.
Where it's not
Honestly, it's difficult for us to find anything "not hot" about PandaDoc — especially since we think the platform is pure fire!
And we work each day to increase its usefulness, adding more to our feature set while always maintaining a lean, hungry-to-improve approach.
Of course, that doesn't mean it's a perfect fit for everyone (at least not yet), and we support all those working hard to build better tools that streamline productivity and project management.
With that in mind, let's review some of the other service offerings that made it into our "best of" collection of e-signature software.
(And if you'd like to review a detailed assessment of how we stack up compared to alternatives, we've got a dedicated page for that as well.)
02. DocuSign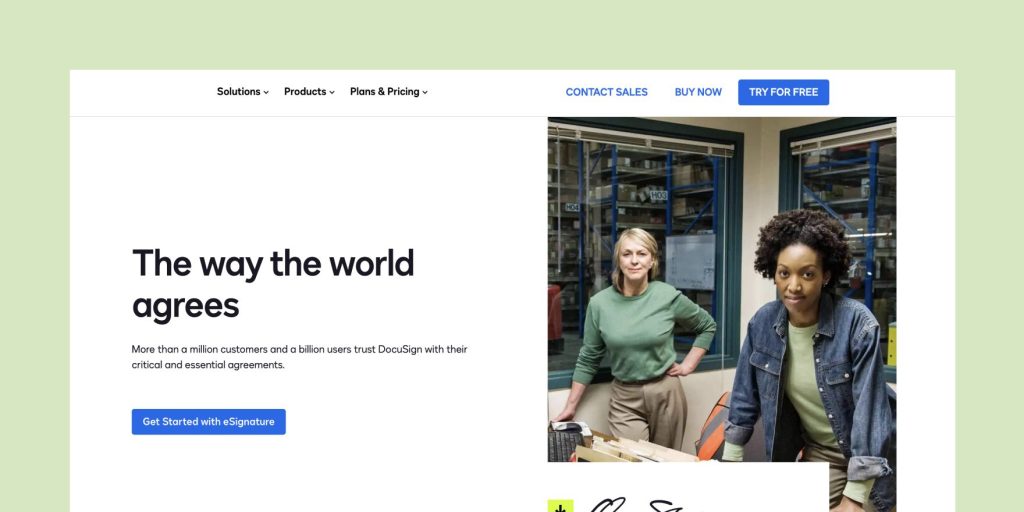 Pricing: Starting at $10 per month/user; free trial and plan available.
Great for: Teams at any scale who just want to get their document signed.
Where it's hot
In many ways, DocuSign is the go-to platform for straightforward e-signature solutions. Its ubiquity and ease of use are two of the main reasons the company has maintained its position as a market leader.
With DocuSign, you simply upload your documents, attach a signature field, and send the document to recipients for easy signing.
This formula makes it easy for teams to maintain momentum when sending and receiving important documents.
As a digital signature software tool, DocuSign is hard to beat because of how simple it is to follow the basic workflows.
Its authentication tools make it easy for signers to sign documents, attach additional paperwork, leave comments, and more.
Plus, of all the digital signature tools on our list, you can bet that DocuSign will be one of the easiest to integrate with other software options in your tech stack.
The platform offers hundreds of solutions as part of its partner showcase and allows API access and webhooks for a customized connection.
If you're looking for a fast and easy paperless signing process, it's hard to go wrong with DocuSign.
Where it's not
In many ways, DocuSign is a victim of its own success. Because this platform is so big, you may be able to find an alternative solution that offers many of the same functions at little to no cost.
Other platforms, like signNow, offer signing with a similar feature set at a lower or equivalent price.
Plus, because DocuSign is focused on helping customers create signed documents and streamline document workflows, some of the high-dollar features can feel basic compared to what you may get from another provider.
GetAccept, another competitor in the space, offers eSignatures, document editing, tracking and analytics, and more in addition to the features that you'd pay $40/month for with DocuSign.
GetAccept's price for most of that? Around $15/month.
On top of all that, DocuSign also limits the number of documents you can send — even on paid plans, through a system called "envelopes."
Envelopes are containers for your documents, like emails, when you send an attachment.
With DocuSign, you can send multiple contracts inside an envelope, but you're limited on how many envelopes you can send before you incur extra charges.
Many other companies allow you to send unlimited documents without penalty, but DocuSign negotiates enterprise plans based on envelope usage.
This can be a major factor if you need to send digital documents to multiple users in a way that will burn through your envelope allocation quickly.
Docusign drawbacks that PandaDoc solves
DocuSign's standard $10/month plan features are almost the same as PandaDoc's free plan.
This makes PandaDoc a more attractive option for small businesses that may not have the budget to use DocuSign to manage their contract signatures.
Another important point is the creation and customization of documents.
PandaDoc offers a powerful editor with integrated templates that are easily customizable, thanks to the drag-and-drop function. DocuSign, on the other hand, offers templates that can be modified in external editors like Word.
Lastly, PandaDoc aims to bring value to all stages of the contract lifecycle, not just the signing phase.
03. signNow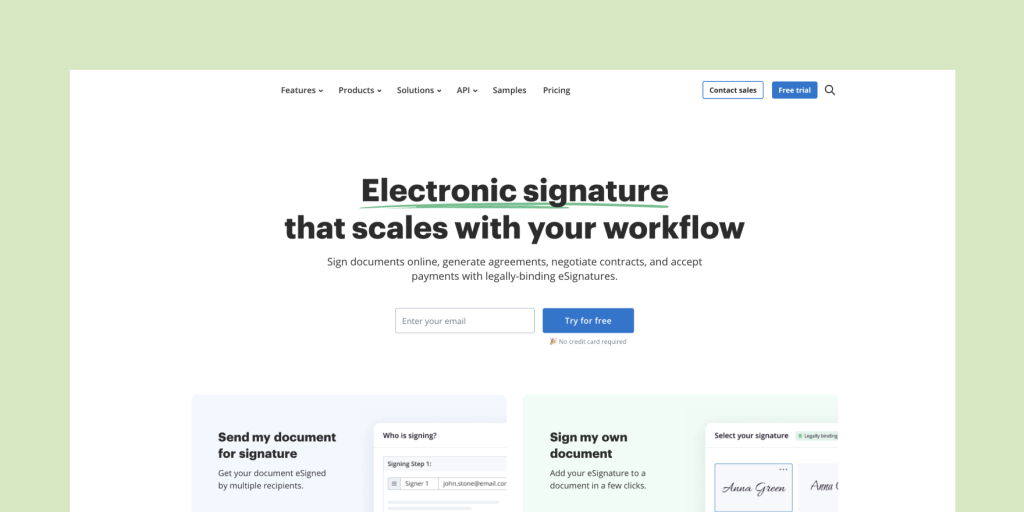 Pricing: Starts at $8 per month/user; free trial available.
Great for: Teams searching for an affordable signing solution that works well on mobile devices.
Where it's hot
As the digital signature arm of the airSlate Business Cloud, signNow has to balance itself between a standalone service and part of an expansive software suite.
As a standalone platform, signNow provides all the electronic signature options that you'd need to get the job done.
This includes creating unlimited templates, personalized branding options, signing link invites, and more at prices that will feel comfortable and competitive for smaller teams.
As with other tools on our list, signNow offers a no-code solution to e-signing. Like DocuSign, the e-signing setup tool is a mix of a setup wizard and a drag-and-drop interface that makes it easy to set up documents for signing.
One unique feature of signNow is data validation.
Unlike many of its competitors, this platform allows you to designate what type of data can be assigned to a specific field and will validate inputs for that data before the signed form is complete.
If you're looking for a straightforward electronic signature solution that works well with any team, signNow is a great jumping-off point.
Where it's not
One of the biggest problems that signNow has to deal with is how it positions itself in relation to the larger software suite that it's a part of.
The signNow website spends half its real estate talking to you about the airSlate Business Cloud and all of the features that you can enjoy by getting onto the airSlate platform.
Because signNow is part of that platform, its value as an electronic signature tool can't overlap with other software features inside the airSlate suite.
For users, this means that signNow, while affordable, may not offer many of the perks and features that competitors would provide, especially around contract lifecycle management and automation.
These tools exist, and you can get them through other competitors or the airSlate Business Cloud, just not through signNow by itself.
Does PandaDoc have this feature?
While signNow is an excellent solution for companies that need to get contracts and similar business documents signed on a regular basis, PandaDoc shines in a business environment where the company primarily sends sales documents to customers to close deals.
In this area, PandaDoc has additional tools, such as advanced document analytics, to see how customers interact with contracts or documents sent that are not available in signNow.
Although signNow offers a paid plan half the price of PandaDoc, PandaDoc has a completely free version with limited options and functionality.
Thus, users can test the service at their leisure to see if the platform is worth paying for.
For healthcare providers, PandaDoc is a better choice, as HIPAA compliance is available in the Essential plan at $19/month.
By comparison, signNow only offers HIPAA compliance in their Business Cloud plan, which costs $50/month.
In general, if your company needs to comply with other standards such as GDPR, SOC 2 Type II, eIDAS, etc., they are all available in PandaDoc Essential.
04. SignEasy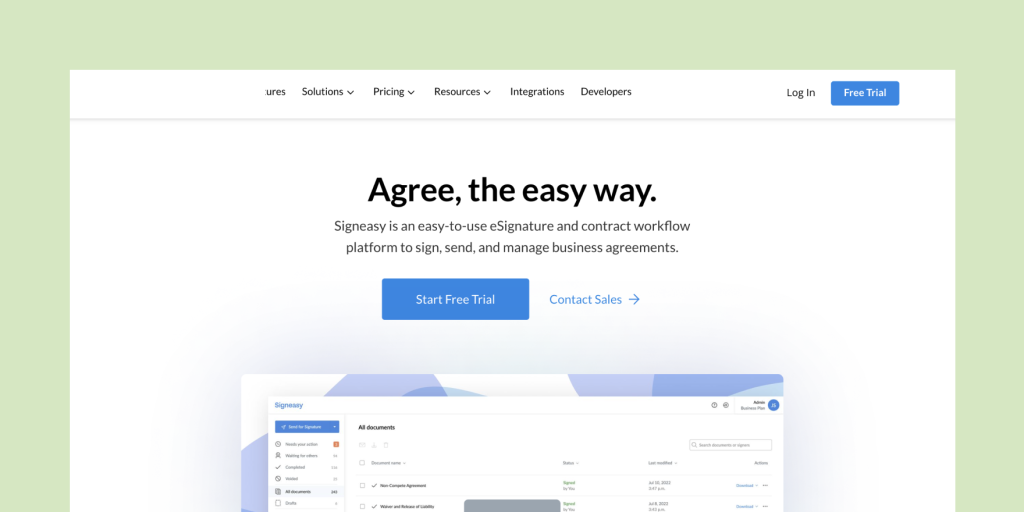 Pricing: Starts at $8 per month for a single user; free trial available.
Great for: Small teams or small businesses needing a document solution with a relaxed usage limit.
Where it's hot
At around $15/month, the SignEasy Pro plan is one of the best electronic signature software tools for small businesses.
While it only supports a single user, a small business team with a dedicated user to handle contracts can easily manage the majority of inbound/outbound sends for a single organization.
SignEasy offers everything from unlimited* (see below) signature requests to cross-platform availability and access between Windows, Mac, Android, and iOS.
They also integrate with Google Workspace, Office 365, Zapier, and others to make signing documents across multiple devices easy regardless of your workspace or tech stack.
One of the most compelling features when using this platform is the complete integration with Google Workspace.
In the same way that PandaDoc offers a document editor built into its product, SignEasy integrates with Google Workspace to add e-signatures to your Docs and Sheets, that way you can keep using the tools you love and transform your working documents into contracts that seal the deal.
Where it's not
In much of their documentation, especially when comparing themselves to competitors, SignEasy points out that it's the only plan that doesn't restrict usage.
However, while the company doesn't follow DocuSign's envelope policy when it comes to usage restrictions, it clearly puts a cap on sending more than 100 documents per month as part of its "fair usage" policy.
In fact, depending on how you send documents through DocuSign, you may actually be able to send more documents using the envelope system than the one-for-one policy that SignEasy has set up.
Despite the marketing language, the usage terms are clear. If you're looking for a platform that offers a way to send a truly unlimited number of documents based on your upfront costs, SignEasy isn't it.
SignEasy drawbacks that PandaDoc solves
Although SignEasy offers solid functionality for signing documents online, the $15/month offer is quite limited compared to PandaDoc.
With SignEasy, you are limited to sending 200 documents per month. However, PandaDoc allows unlimited sending of documents for electronic signature, even with the free version.
Also, the Essential plan of PandaDoc offers more than 750 different customizable templates, while SignEasy only offers five in its cheapest version.
For almost the same price, you get a lot more options in terms of document creation and sending electronic signatures.
05. Adobe Sign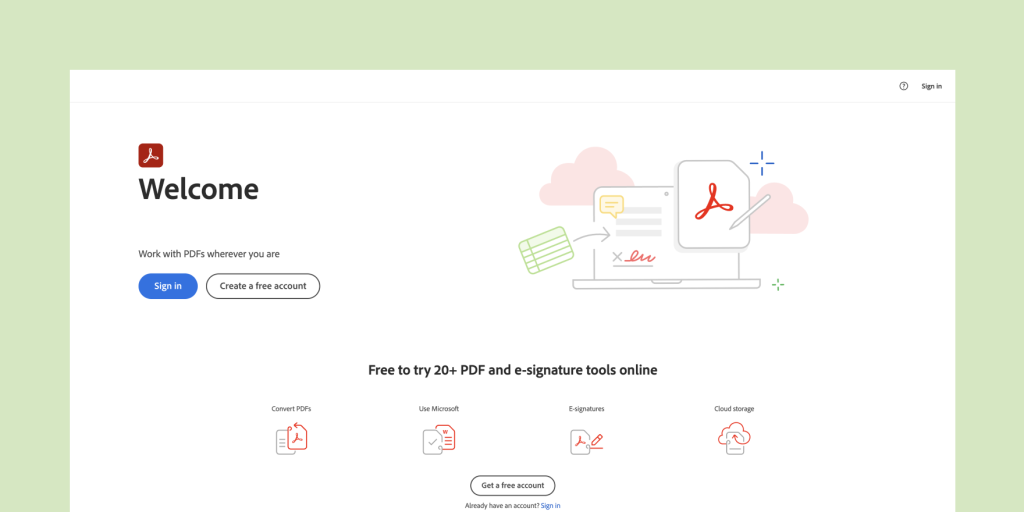 Pricing: Starting at $13 per user/month; free trial available.
Great for: Teams working with PDFs who want to modify texts and images with ease.
Where it's hot
While most e-signing tools are designed to help you gather an electronic signature for your PDF documents, Adobe Sign takes this one step further by offering a powerful PDF editing platform as part of their e-signature tool.
Teams that need the power to edit and modify their PDFs will benefit from the Acrobat Pro DC with e-sign plan and higher-tier options.
At that level, you'll have all the tools you need to create, edit, modify, and export PDF documents to the tool of your choice — from Microsoft Word to Google Drive and beyond.
On the higher-level plans, you can collect payments, redact or remove sensitive information, prevent PDF copying/editing, and more.
Adobe excels in this area, especially when compared to the methodology and approach taken by most of its competitors.
Most platforms consider PDFs the final stage of contract preparation.
Typically, you'll generate documents in Word or Google Docs, finalize and export them as a PDF, then use an e-signing tool to gather the signature.
With Adobe, the modifications don't have to stop when a document is saved as a PDF.
That, combined with tools like document tracking and signing via the mobile app, makes this one of the best-rated electronic signature software tools on the market today.
Where it's not
While Adobe Sign allows users to edit PDFs, those abilities come at a price that puts the platform in a more expensive tier than some of its competitors.
Additionally, while the platform comes with several self-service onboarding documents, the restrictions around the tools themselves can be a little tricky to figure out.
For example, even though you can edit PDFs with Adobe, once you send a document out for signature, that document can no longer be edited.
There is a proverbial point of no return when you'll essentially need to create a new document for e-signature based on modifications and requests during negotiation.
This means that, while you can edit PDFs, it may not be the time-saver you're hoping for if you were looking to skip past creating a brand new document to satisfy customer requests (which you could feasibly do using platforms like PandaDoc or SignEasy).
Adobe Sign drawbacks that PandaDoc solves
Adobe Sign and PandaDoc share many common points regarding creating documents and electronic signature options, but PandaDoc differs in integrating third-party applications.
For example, on CRM integrations, Adobe Sign offers a more limited choice than PandaDoc.
Popular CRMs like Zoho, HubSpot, or monday.com are unavailable on Adobe Sign, unlike PandaDoc.
Also, Adobe allows you to request an online payment when sending a document for electronic signature.
Still, it only has Braintree as a payment gateway, unlike PandaDoc, which has more options (Stripe, PayPal, Authorize.net, etc.).
06. Dropbox Sign (formerly HelloSign)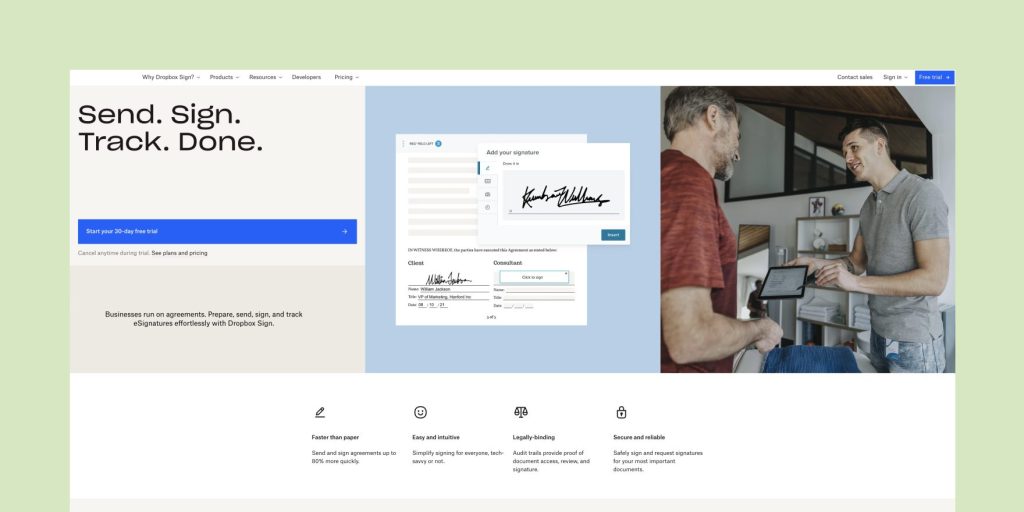 Pricing: Starting at $180/year; free trial available.
Great for: Companies who prefer long-term commitments, unlimited signing potential, and slick integration options.
Where it's hot
Dropbox Sign, previously HelloSign, is an e-signing tool that feels deceptively simple despite its robust library of features and integration.
While this electronic signature solution is part of Dropbox, it has native connections to the entire Google Workspace platform, as well as various storage and CRM solutions.
Unlike many competitors, Dropbox Sign is one of the few platforms to offer unlimited e-signatures without gimmicks like envelopes or signing limits hidden within their terms and conditions.
Note that API calls are limited to 100 requests per minute when signing up for the API-exclusive plan.
Other than that, Dropbox Sign offers a wide variety of plans and solutions that make it among the best electronic signature software options for small businesses.
From freelancers looking for a simple plan to SaaS companies looking to sign contracts exclusively through an online platform, Dropbox Sign offers plans for every team and every size.
The platform also features a high level of compliance with various digital privacy laws and regulations, including eIDAS, GDPR, HIPAA, UETA, ESIGN Act, and others, so you can rest assured that your signature is legally binding and above board.
Where it's not
Even though Dropbox Sign is a slick product, it comes with a few drawbacks that may make it less appealing to some companies.
The most obvious downside is the lack of anything other than an annual commitment for any paid plan.
Rather than offering a month-to-month option, Dropbox Sign skips straight to a full-price, up-front charge for anything past the free trial period.
For companies who feel that Dropbox Sign is the best solution for them, the Essential plan ($180/year) averages out to around $15/month and provides most of the basic tools.
But moving up to the Standard plan ($600/year) is a dramatic price increase and requires a minimum of two users.
For small businesses looking for the features offered in the Standard plan, the overall cost may be too expensive compared to other options on the market.
Pricing aside, while Dropbox Sign is graceful in how it integrates with other online tools, it lacks some of the perks and flexibility that you'd see with competitors.
For example, Adobe Sign allows users to edit PDFs as part of their signing solution. PandaDoc users can create documents entirely from scratch.
And these solutions are available at roughly the same cost (or less!) than what Dropbox Sign has to offer.
Dropbox Sign drawbacks that PandaDoc solves
Small companies will be more interested in PandaDoc's offer because of the price. Indeed, Dropbox Sign does not provide a free plan, and its Essentials plan at $180 per year is not so flexible if the user wants to change their mind.
Small businesses can take advantage of PandaDoc's free plan and have the basic functionalities that make it easy to manage the signing of important documents. Additionally, they can benefit from many pre-built templates, something only available through paid tiers with Dropbox Sign.
07. eversign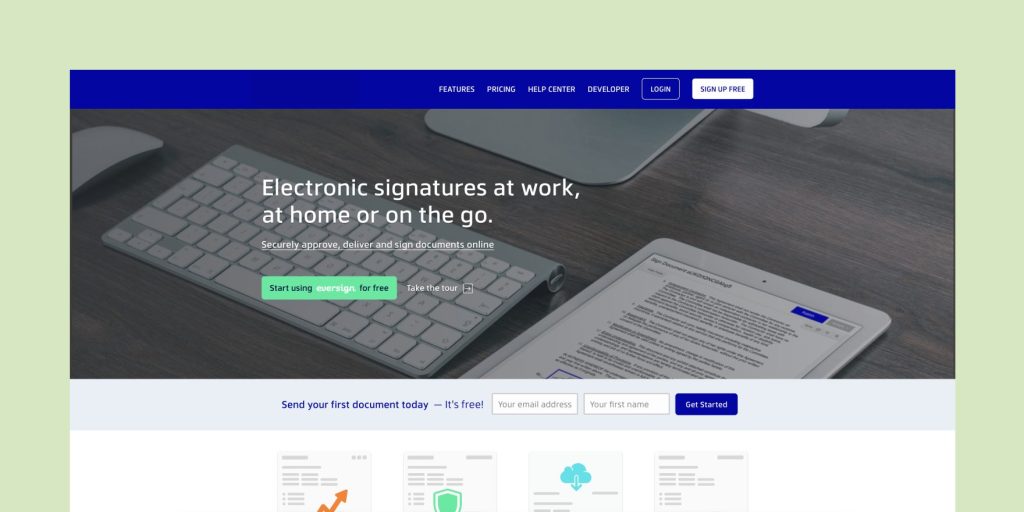 Pricing: Starting at $10/month; free plan available.
Great for: Users looking for no-frills solutions and simple signing options.
Where it's hot
A wildly popular signing platform, eversign is a great solution for users who need legally binding e-signatures but aren't looking to break the bank with hefty subscription fees.
From a small business perspective, the $10/month Basic plan is one of the most cost-effective options on the market, allowing users to send unlimited documents per month without additional fees.
The platform even allows users to automate up to 10 documents per month using API tools, something that most other platforms only offer with separate API plans.
Even on the professional plan, which mandates a minimum of five team members, you'll only end up paying around $40/month (total, not per user), which makes this one of the most cost-effective multi-user signing platforms on the market today.
Overall, eversign isn't trying to upsell with extra add-ons or hidden charges.
All the basics, such as audit trails, contract management, and basic app integrations, are included.
For businesses looking to onboard more users or seeking additional perks — like in-person signing or custom branding — those options exist without the hefty price tag.
And, of course, if nothing on offer fits your unique needs, the eversign team will be happy to build a custom solution specifically suited to your organization.
Where it's not
The appeal for eversign begins to fall off when you consider its limitations around integration and customization.
Regarding integrations, eversign only offers native connections to storage solutions like Dropbox, Evernote, and Google Drive.
For companies looking to integrate their entire tech stack with simple plug-and-play solutions, eversign may fall short.
However, the system isn't entirely unapproachable.
API solutions are still an option if you want to build a custom integration. The platform also connects to Zapier, so third-party integration options may be able to bridge that gap.
Document customization is another area where eversign might be lacking for organizations that want to do more with creation and automation.
With eversign, you'll be able to create a set number of templates for faster document generation.
The number varies based on your chosen plan.
The template tools allow you to add prefilled custom text, dropdown menus, and more to your documents so that you can quickly create and send the appropriate documents.
However, compared to other solutions on the market, where you can create entire documents from scratch, providing limited template options and further limiting the number of templates available makes this feature feel scarce.
Does PandaDoc have this feature?
PandaDoc definitely offers more possibilities regarding the creation of your commercial documents.
First of all, the free offer by Eversign is limited to sending five documents with electronic signatures per month, which is not the case with PandaDoc.
Secondly, PandaDoc has its own document creation platform with many templates available.
Thus, companies save a considerable amount of time in the elaboration of quotes, commercial offers, and any other document compared to Eversign.
08. SignRequest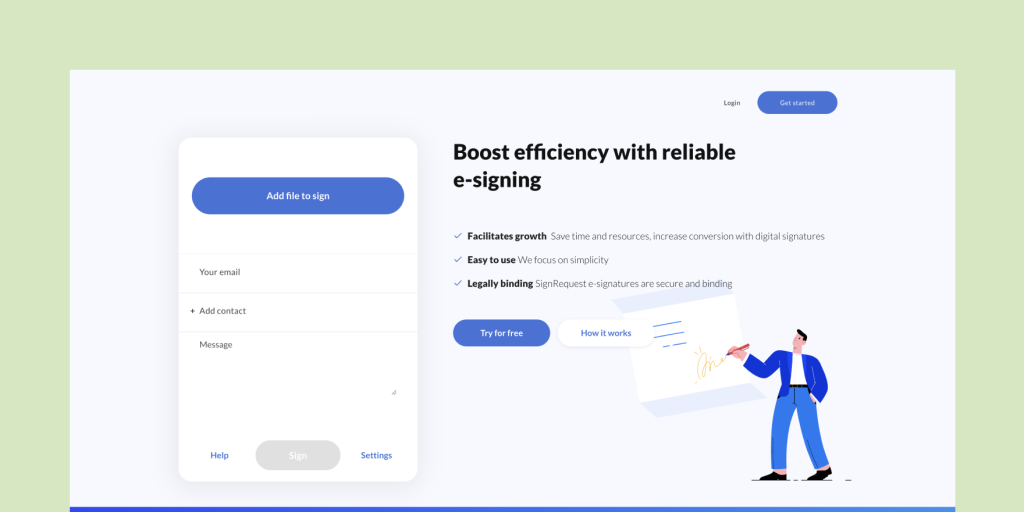 Pricing: Starting at €9/$11 per month; free plan available.
Great for: Small businesses and single users who want a wide variety of customization options for a low cost.
Where it's hot
On the surface, SignRequest offers a wide variety of features and customization, especially for senders who need to send an average number of documents* (see below) each month.
The Professional plan offers service in 15 languages, includes custom branding options, a post-signature landing page, and even allows you to set the document signing order when creating documents for multiple signers.
For small business owners who aren't sending a ton of documents each month, this platform has everything you need to send documents while customizing the customer experience for maximum impact.
As with most other signing solutions, SignRequest doesn't help you create documents from scratch.
However, it does make it easy to send documents for a requested signature and ensures that all parties are notified along the way.
As you send more items, you'll also be able to take advantage of the document management tools embedded in SignRequest to see which documents are outstanding and which have been completed.
With the ability to create templates, collect signer attachments, and even choose the authentication method that your signers can use to verify themselves, SignRequest is a powerful all-around tool for anyone looking for a fast and easy way to sign.
Where it's not
While we like SignRequest for its simplicity, there are several unexpected obstacles you might encounter if you choose to use the platform in a way that falls outside of the average user.
SignRequest relies on a Fair Use Policy to regulate the number of signature requests that a single user can send.
The pricing page defines this policy as "more than twice the average volume of all SignRequest customers."
The problem is that SignRequest doesn't tell you exactly how many documents that might be and provides no additional information regarding Fair Use or hidden charges.
Users may not know when they're violating the terms of use simply because there is no defined number.
If the policy is truly based on the law of averages, then the number of sends allowed each month may also fluctuate based on the SignRequest user base.
There are other concealed usage charges, as well.
In addition to being limited to Zapier and Slack for integration options, there is an extra charge when using Zapier if you're sending more than 30 documents per month.
This is, again, limited by the Fair Use Policy. Beyond 30 documents, you'll need an upgraded plan with an API token and the appropriate subscription.
The point of the Fair Use policy seems to be to drive users more toward the Business plan with the bulk send functionality, but considering the (very) low number of documents required to reach that plan, it almost forces all but the smallest businesses to consider the more expensive plans from the start.
Does PandaDoc have this feature?
As we've said before, the Fair Use Policy to regulate the number of signature requests a single user can send can quickly become a handicap.
With PandaDoc, there are no hidden costs when you choose your plan. All integration options and document creation, signing, and tracking functionality are provided upfront to avoid this kind of hassle.
09. Foxit eSign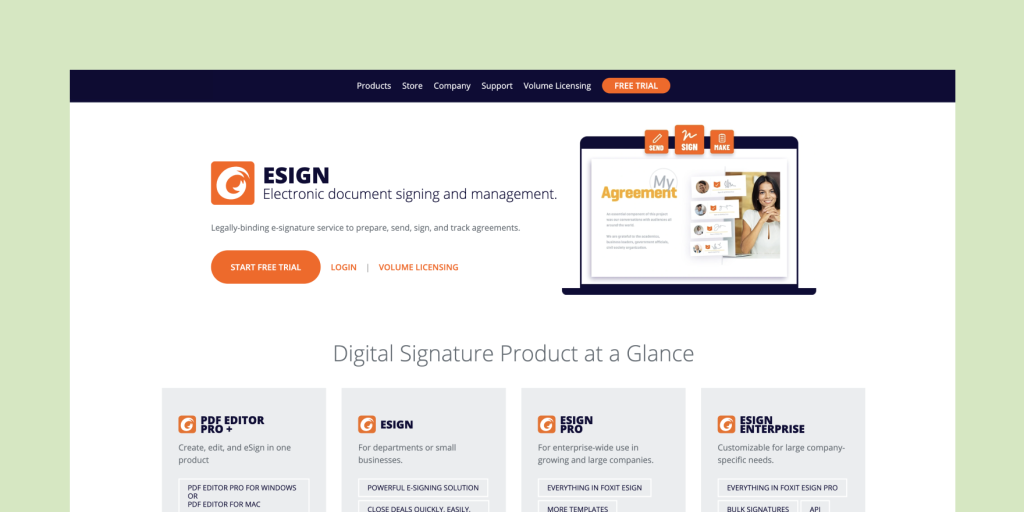 Pricing: Starting at $8/month; free trial available.
Great for: Infrequent users, small businesses, and enterprise groups across multiple industries.
Where it's hot
It's easy to be fooled into thinking that Foxit eSign, previously known as eSign Genie, is nothing more than a budget-friendly digital signature tool, but this assumption couldn't be farther from the truth.
Despite its low cost, Foxit eSign is packed with features to help streamline the e-signing process and ensure that both signers and companies have everything they need to get documents signed.
With Foxit eSign, you'll have access to basic integrations, form signing tools, user authentication, and more.
While the tool lacks some of the more robust features included in platforms like PandaDoc or GetAccept, which are focused on from-scratch document creation, Foxit eSign can help you acquire electronic signatures at a lower cost.
Although the number of documents is limited to the number of users per year (250 for the Small Business offer at $8/month), the software still offers basic Google and Dropbox integration with electronic signature, Excel report creation, and notification functions, which is fairly useful for small businesses.
The Professional plan offers considerably more features, including the ability to perform in-person signing and delegate signers — two features that many e-signature software providers withhold for higher-paid pricing tiers.
Where it's not
While Foxit eSign is great in price, you'll see the limits of its capabilities quickly when it comes to document customization, integration, and legal compliance.
For e-signing only, it's competent, but if you need to actually edit or customize a document beyond what can be done with basic form fields like adding a signature or a date block, you won't find much help with Foxit eSign.
Instead, you'll have to make those changes through a different tool, like Microsoft Word or Google Docs.
This is a major drawback compared to signing tools like PandaDoc or Adobe Sign, where you can edit your documents directly in the document editor and further expedite your signing process.
To be fair, Foxit eSign isn't the only platform to handle e-signatures in this way.
DocuSign, SignEasy, eversign, and many of the other platforms on our list also handle the signing process in much the same way.
For integrations, Foxit eSign offers native options with most storage platforms, like Google Drive or Dropbox, but CRM integrations are limited.
The company offers a Salesforce integration at the Enterprise level, but options to connect with other CRMs are fully reliant on Zapier or through custom solutions.
While Foxit eSign does offer some compliance options for HIPAA, it's also locked behind Business-grade solutions.
Why is this discouraging? Because Foxit eSign requires a one-year minimum commitment in order to gain access to these premium features.
For companies who are still in the exploratory phase, that can be a big ask, especially in such a competitive market.
Lastly, while we agree that Foxit eSign offers great pricing, free signing options exist that may be able to get the job done without the need for business users to pay anything at all.
Does PandaDoc have this feature?
The strength of PandaDoc is that it provides a free plan with the same options as the paid plan of Foxit eSign.
Thus, small businesses will benefit from electronic signatures and unlimited document sending while benefiting from certain electronic standards (GDPR, eIDAS, UETA, ESIGN ACT), which is not the case for Foxit eSign.
10. RightSignature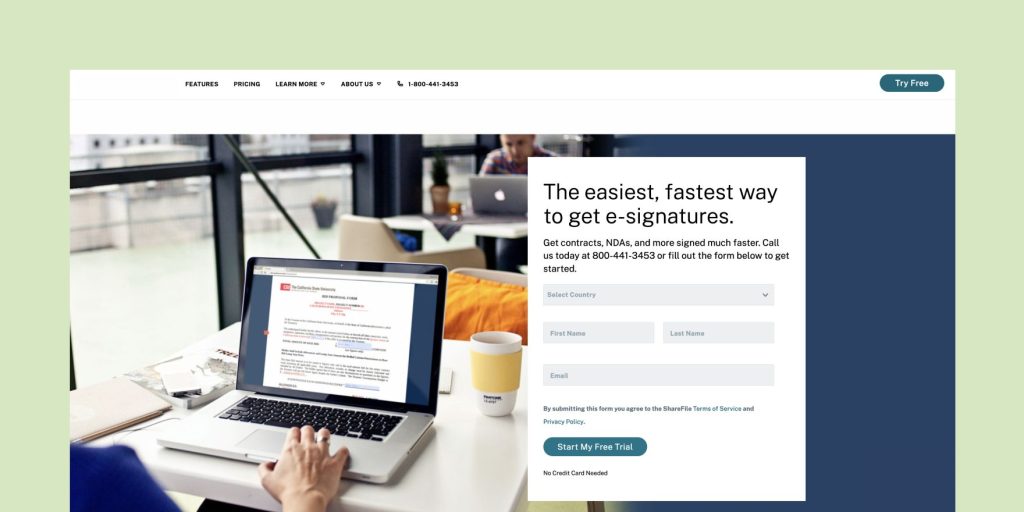 Pricing: Starting at $75/month per 3 users; free trial available.
Great for: Companies looking for a no-frills, straightforward signing process that works.
Where it's hot
Citrix is known for creating products and solutions targeting medium and enterprise-level businesses, and RightSignature is no exception to the product family.
Compared to standalone product solutions like PandaDoc or Qwilr, RightSignature might appear to lack some features and functionality.
By comparison, this is true, but only because RightSignature is focused entirely on doing one thing well while leaving other products in the Citrix family to handle the rest.
With that in mind, RightSignature makes e-signing fast, simple, and easy.
It's one of the best electronic signature software options for mobile devices, requiring no app downloads or installations.
Like other document signing solutions, RightSignature allows you to add form fields to your PDFs via drag-and-drop functionality.
In addition to offering the ability to send multiple documents at once, the platform also gives users the ability to create and share templates, send documents to multiple parties, and have signers sign in a specific order.
The higher-level plan also offers custom branding, team statistics, and the ability to request signer attachments.
Where it's not
RightSignature really shines for its simplicity, but it's almost impossible to ignore the fact that the product offering pales compared to market competitors.
Nearly every software option on our list offers a more robust feature set, especially for the price.
The custom branding and shared template options are nice, but for less than $75/month — the cost of the RightSignature Advanced Plan — you could join up with any other platform on this list, get more features, and still save money.
The integrations and partner options that RightSignature offers are appealing (especially the connection with Podio, Basecamp, and Stripe), but this tool falls short when offering connections to a more diverse tech stack.
Without Zapier, there is no turnkey solution for non-developers, and API solutions are charged separately.
While we love the ease of use when it comes to RightSignature, it's a hard sell on price alone. We think it's a great fit if you're using the Citrix family of products or if you want something that just works and offers a comfortable interface.
Otherwise, you can probably find more feature-ready, robust solutions with some of the other options on our list.
Does PandaDoc have this feature?
If you need to integrate your electronic signature solution with your enterprise CRM, you may be limited with RightSignature.
The software can only be integrated with Salesforce and requires the use of APIs (with additional costs) for other CRMs.
PandaDoc offers more possibilities since it is possible to integrate the software with other CRM like HubSpot, Zoho, or Microsoft Dynamic.
11. DocSend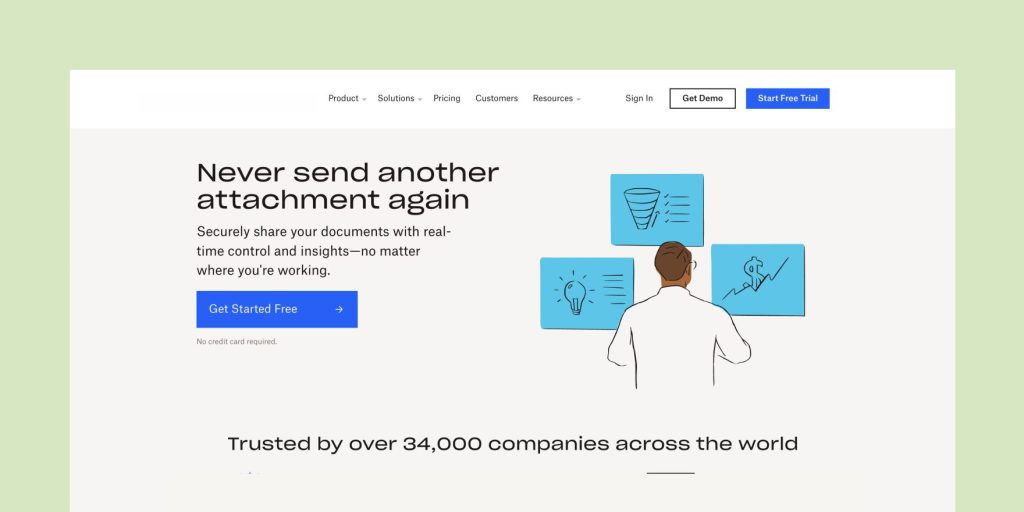 Pricing: Start at $10/month. Free trial available.
Great for: Startup founders who want to securely share important documents while getting real-time feedback.
Where it's hot
In addition to basic document creation, document sending, and electronic signature functions, DocSend offers a data-driven solution for tracking campaign engagement.
This allows companies to track who is opening your document and how much time they spend per page.
The individual page engagement experience makes DocSend a much better product than Adobe.
DocSend also offers Spaces, a virtual data room, which allows you to share multiple documents with a single link and protect your documents with security features such as whitelisting and email address verification.
Besides DocSend, there are only some players like PandaDoc that offer data room functionality to users.
The other strong point of DocSend is its mobile application — it is very user-friendly compared to other competitors.
This option allows users to access and manage documents from any mobile device or tablet at any time.
Also, DocSend makes it easier and faster to search, track and update documents, share documents, and send presentations by storing all content in a single location.
A centralized content library provides user alignment to sales messages, campaigns, and key documents.
Lastly, DocSend also offers numerous integrations, including Salesforce, Outlook, IFTTT, Gmail, and Zapier, which allows companies to connect their software to CRMs easily.
Where it's not
Although the application allows better tracking of documents and their use (number of visits, real-time engagement, etc.), DocSend lacks some features found in competitors such as signNow, including the collection of payments.
Also, the basic offer limits the number of signature requests to 4 per month, which is really very few when compared to software like Dropbox Sign or DocuSign.
Finally, even if users consider DocSend relatively easy to use, support and tutorials are not available in the Basic version at $10/month.
You have to buy the Standard plan, which is $45/month. This means that companies are left to their own devices in case of problems and have to spend additional costs to solve them.
Does PandaDoc have this feature?
PandaDoc has the same options as DocSend and allows you to follow the activity of the documents you send for $19/month, unlike DocSend, where these options are available from $45/month.
Furthermore, creating business proposals is easier with PandaDoc, with its comprehensive editing platform and drag-and-drop system.
Also, even if it is possible to send NDAs with DocSend, this option is only available with the Advanced plan at $150/month, while PandaDoc provides the same capability for free.
12. GetAccept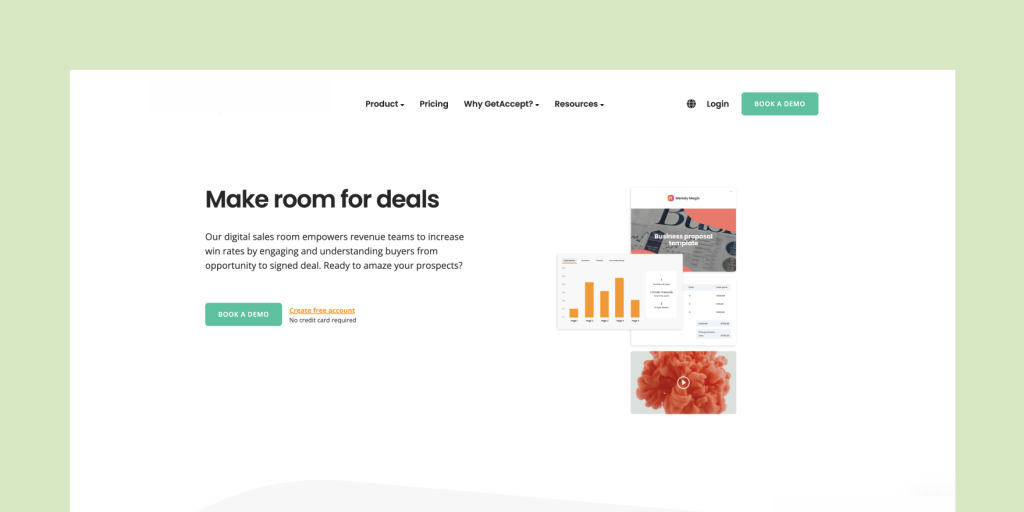 Pricing: Starts at $15/month with a free plan available.
Great for: The electronic signature software offers different plans that are suitable for large, medium, and small companies.
Where it's hot
The advantage of GetAccept compared to other software is that it offers a document creation that can be easily customized by drag and drop.
The interface is easy to use and allows the user to be always aware when a prospect opens a document by sending notifications.
GetAccept allows you to easily obtain documents and signatures remotely while managing sales and workflows efficiently.
The software automates many tasks, which allows for efficiently streamlining the sales process, from prospect research to the final signature of the commercial agreement.
Indeed, the strength of GetAccept is that it considerably reduces the manual work that companies face, such as sending traditional PDFs by email and then sending a quote via a supplier.
With GetAccept, companies have become more efficient in managing their documents and sales process.
The software's various options (like document tracking and logo customization) also allow businesses to better promote their brands.
Lastly, it is important to note that GetAccept has many integrations with different CRM software (Salesforce, HubSpot, Pipedrive) and payment software (Chargebee, Stripe).
Where it's not
Even though GetAccept has a free plan, the functionality is minimal, which will require users to switch to the paid version.
The price seems quite high compared to other alternatives, especially if you compare it in the long term (for a short period of time, it will not be as costly).
Another area for improvement for the software is its lack of practicality. Indeed, it could have better direct and simple ways to download documents.
Even if the process is simple, it should be easier if it doesn't involve syncing from Google Drive after uploading all the documents you need to the GetAccept platform.
As a result, the user has to download the documents individually rather than directly downloading the folder.
Does PandaDoc have this feature?
In general, PandaDoc Business and GetAccept Professional offer the same functionality.
The difference is in the choice of available integrations that do not require additional costs with PandaDoc (with the exception of Salesforce).
Indeed, the software allows you to integrate your electronic signature tool into your favorite tech stacks, such as Zapier, Zoho, and Pipedrive, while GetAccept requires additional fees.
Also, companies working in the healthcare industry will have more difficulty with GetAccept since the software is not HIPAA compliant.
13. Proposify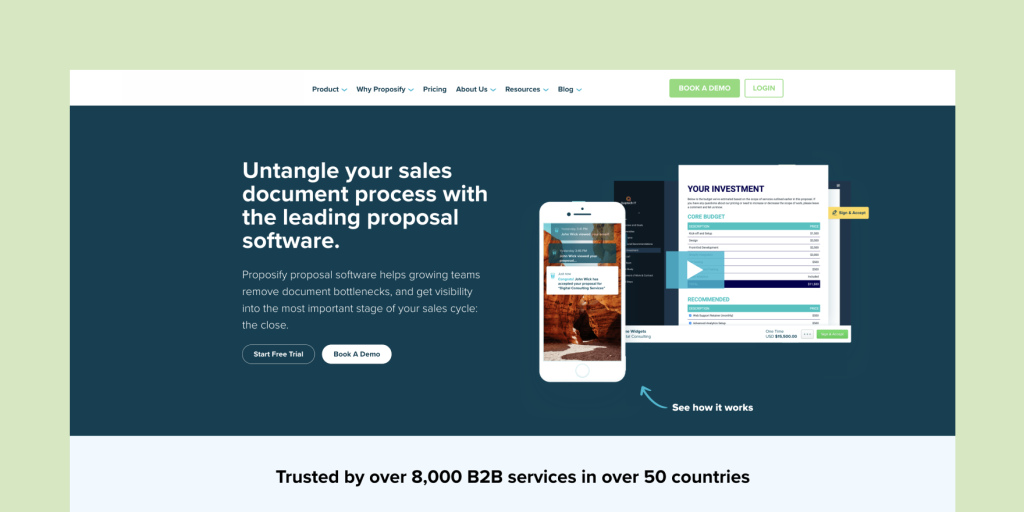 Pricing: $49/user per month. Free trial available
Great for: The software offers electronic signature and document management features that are perfect for small or growing sales teams.
Where it's hot
Proposify sets itself apart from the competition by offering SMBs control and insight into the core phase of their business cycle.
Compared to other players, like signNow or Adobe, Proposify offers options to manage and close all quotes, contracts, and proposals from agreement design to e-signatures.
The tool produces impressive, error-free, and consistent sales documents.
The extensive functionality provides the necessary information to make accurate forecasts, tailor your process, and complete assignments on time.
Proposify allows companies to create branded templates. Since salespeople can reuse these templates repeatedly, they only need to change the details for their next big pitch.
Your sales reps can spend less time doing manual work and more time doing what they do best: selling.
You can easily integrate Proposify with your preferred tech stack, including Salesforce, allowing your agents to create agreements, contracts, and proposals directly in the CRM and synchronize their data.
The software's legally binding electronic signature tool and order forms allow you to get a signature faster and make buying easier for prospects.
Lastly, the document tracking features allow you to track how prospects interact with proposals, including which sections they viewed and how long they spent on them (an option not always present in other software).
Where it's not
Although the software allows you to create quotes and commercial proposals, template customization is quite limited.
Also, it is sometimes difficult for several users to access the platform at the same time, and this causes the software to crash.
Furthermore, the efficiency of using other tools in collaboration with Proposify could be better in terms of handling and improving documents.
In other words, the integration of third-party applications is not so optimized, which often causes conflicts with Proposify.
In terms of price, Proposify is also relatively expensive compared to other competitors on this list.
Its Business plan offers all available options, although you have to spend $590/month, which is a substantial chunk of the budget for small businesses.
Does PandaDoc have this feature?
In terms of medical data security, Proposify has robust protocols to protect medical data and documents.
In fact, the software is SOC2 Type 1 certified and GDPR compliant. However, Proposify does not offer HIPAA compliance, unlike PandaDoc, which does.
This certification is necessary to give patients more control over their health information and set limits on the use and disclosure of medical records.
Another difference is the management of payment portals. Proposify has only Stripe to manage payments, while PandaDoc offers more possibilities with Authorize.net, PayPal, Stripe, etc.
14. Lightico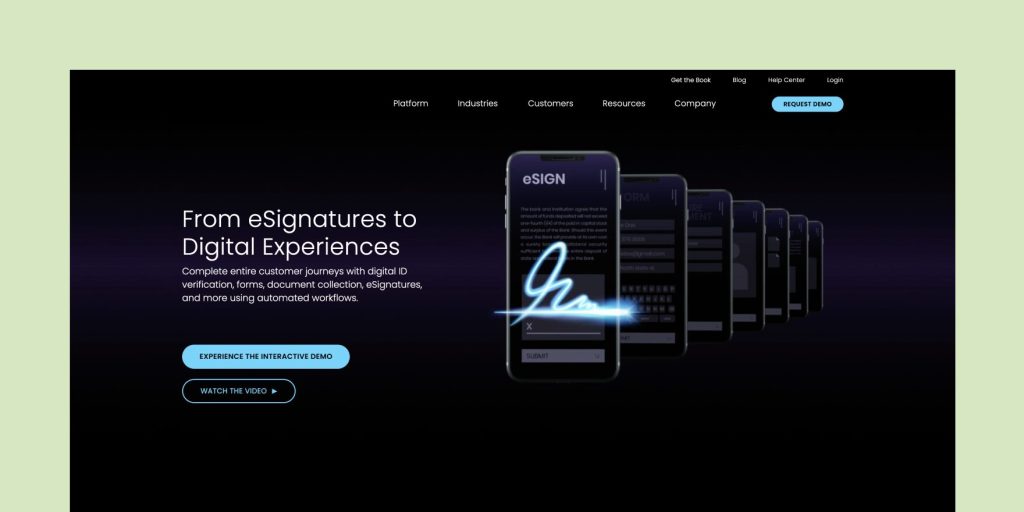 Pricing: Volume-based pricing and free trial available.
Great for: The software is optimized for financial, medical, and legal companies.
Where it's hot
Lightico is an in-call e-signature and document-sharing solution for sales, service, and regulatory compliance.
With secure e-signature and payment processing technology, sales reps can visually engage customers with product photos, sign orders, and collect payments.
For example, customers using the mobile version of Lightico can fill out online forms and use photos and videos to explain their service issues, helping agents address problems immediately.
With e-signature tools, Lightico customers can sign any document on the spot and validate transactions by uploading relevant documents such as photo IDs.
Also, secure payment processing technology allows users to collect payments.
Lightico is PCI-DSS compliant, meaning customer card details are secure without any exposure to agents or the business.
The software also easily integrates with enterprise CRM systems such as Salesforce or Microsoft Dynamic.
Finally, Lightico is a cloud-based tool that allows users to keep long-term records to comply with regulations.
Where it's not
Although Lightico offers a relatively effective mobile version, the application has some things that could be improved, including website links that do not work in landscape mode on a tablet, which sometimes require the customer to put the device in portrait mode.
More technical problems persist where customers cannot verify the information to access their portal. Other times they think they have uploaded images, but the images are never sent.
Additional problems are also reported by users when sending documents to multiple people. Sometimes the main applicant can sign their part, whereas the co-applicant(s) cannot.
Does PandaDoc have this feature?
While Lightico has solid options for electronic signature and document automation, document creation still needs to be improved. Indeed, the application only offers online forms to be filled in by customers with little customization.
So, if your company needs other options, such as creating commercial offers, NDAs agreements, quotes, or invoices, it is more advantageous to choose PandaDoc, which offers more capabilities.
15. Formstack Sign
Pricing: Starts at $18/month with a free trial available.
Great for: An ideal tool for SMBs to manage their digital signature and legal documentation.
Where it's hot
Formstack Sign, like most other software, offers powerful options to simplify document flows, perform digital signatures, and streamline daily business processes, making teams more efficient and productive.
Similar to eversign software, Formstack Sign also offers an audit trail feature that allows you to record the history of each document (document actions are time-stamped).
Moreover, it is interesting to note that the recording is done automatically; no configuration is required, which allows a review of the document trail from the beginning to the end at any stage of the process.‍
Advanced customization‍ options for documents are also available.
Formstack thus offers functions similar to GetAccept, such as adding your company's logo to the documents you send to sign to customers.
If you find yourself downloading the same document over and over again, Formstack also allows for the reuse of forms, just like Proposify and PandaDoc.
The advantage is that when you turn your document into a reusable form, it generates a link to send to the signer, which can then be used repeatedly. So no need to reload the document and place the fields again.
Formstack Sign is also HIPAA compliant regarding compliance and document security, just like PandaDoc. This compliance ensures that patient data is protected and remains confidential from unauthorized access.
Where it's not
For $18/month, the FormStack Sign Starter plan offers basic features compared to its competitors and simply provides a dedicated solution for electronic signatures.
Indeed, there is no integration available in this offer. So if you want to integrate your CRM or any other enterprise software, you must subscribe to the FormStack Platform plan, which starts at $113/month, paid annually.
In general, FormStack has some great options, but their pricing is confusing. Document management, electronic signatures, form creation, and Salesforce-based form creation all have different prices.
So companies can quickly find themselves in a situation where they have to pay extra because an option was not available in the package they chose.
Even though Formstack offers a bundle with its Platform plan, it is still relatively expensive compared to other electronic signatures software like PandaDoc or Dropbox Sign.
Does PandaDoc have this feature?
Unlike FormStack, PandaDoc allows document creation and integration with enterprise CRM for $49/month, which is less than half the price.
With the PandaDoc Business plan, you can easily create all your documents, track them and sign them electronically.
The content library allows you to choose from more than 750 templates to easily create contracts, commercial offers, invoices, quotes, legal documents, and more.
PandaDoc is also easily integrated with popular enterprise CRMs such as Zapier, Salesforce, and Microsoft Dynamic.
Moreover, you can also connect to payment portals such as PayPal and Stripe to collect payments from your customers.
16. OneSpan Sign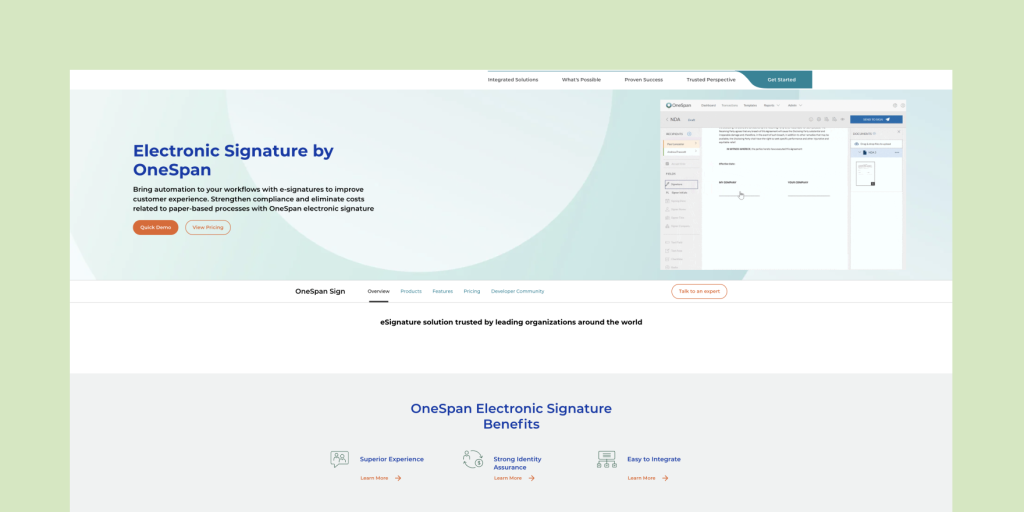 Pricing: From $22/month, with a free trial available.
Great for: Mainly banks, insurance companies, and government agencies use OneSpan Sign.
Where it's hot
OneSpan Sign differentiates itself from its competitors by offering high levels of security and compliance for electronic signatures while providing a powerful and flexible platform that can be leveraged across an organization.
OneSpan Sign's audit trail feature makes accessing transaction details to prove compliance much easier. Note that this feature is not available in all other software.
Another rare feature is OneSpan's white labeling.
This allows users to white-label the electronic signature process to keep the focus on their brand from start to finish and achieve high completion rates.
The benefits of OneSpan don't stop there. The software also offers flexible deployment options, whether in a public cloud, a private cloud, or on-premises, which is quite rare.
Also, the electronic signature tool is relatively easy to use whether you are a sender or a signer.
The intuitive user interface and responsive design have been developed with all types of devices in mind, allowing the software to be used on a desktop, laptop, tablet, or smartphone.
Finally, like most other electronic signature platforms, OneSpan can be integrated with different business tools.
The API and SDK are fully supported for Java, .NET, APEX, iOS, and Android.
Companies can integrate the electronic signature capability into most web applications, mainframe systems, and mobile applications.
In addition, OneSpan also integrates seamlessly with third-party applications such as Salesforce and SharePoint without any coding required.
Where it's not
It's hard to find anything wrong with OneSpan, given the many features available for the price.
However, even if the price is relatively affordable, the payment is made annually, which can constrain startups and small businesses.
Also, the number of integration available on the OneSpan platform is limited compared to competitors like PandaDoc.
Does PandaDoc have this feature?
PandaDoc is an electronic signature software that covers more use cases than any other tool. As a result, you can control every step, from creating the document to sending it and signing it.
To add an electronic signature to your important documents, as with OneSpan, you must first create and edit them in another piece of software before uploading them to OneSpan.
Also, PandaDoc is compatible with a variety of CRMs, accounting and billing software, payment gateways, and more, including Pipedrive, HubSpot, and Salesforce.
OpenSpan just offers half of these integrations, which makes it more work for designers and slows productivity.
How we chose the best electronic signature solutions
There are dozens of e-signature solutions out there, and the market continues to grow. In 2022, the global digital signature market will reach 5.5 billion and is expected to grow to $25.2 billion by 2027.
Some companies only handle e-signing. Others offer improved functionality by combining e-signatures with document management, contract creation, template generation, and more.
As an e-signature provider, we leaned heavily on our own expertise when evaluating other software providers.
While many of the features digital signing companies offer are similar, there are major differences in how they arrive at the final solution offered to each customer. During our evaluation, we examined these differences closely.
Here's how we selected the best electronic signature tools for our list:
Here's how we selected the best electronic signature tools for our list:
A thorough evaluation of the features that each solution offers as part of its plans and packages.
A viability assessment based on ideal customer size.
An overview of existing customer feedback and reviews on sites like G2, Capterra, and TrustPilot.
Consultation and data collection from the PandaDoc user base where appropriate.
At PandaDoc, we have years of experience building e-signing solutions.
We understand that digital signature customers are looking for user-friendly signing options and secure ways to send and receive sensitive documents.
Rather than focusing on a niche offering, such as the best electronic signature software for accounting or legal teams, we took a more holistic approach because so many e-signing platforms are equipped to serve a broad range of unique needs.
Our results are based on customer usability, feedback, and an evaluation of the core offering that each company tries to provide.
Supercharge your document workflow with PandaDoc
While there are some great e-signature platforms out there, PandaDoc is still our top choice when it comes to creating legally binding electronic signatures.
From the in-house document editor to the integrations with CRM platforms like Salesforce, HubSpot, and Zoho, PandaDoc has everything you need to stay on top of your game and get your documents signed with ease.
Ready to give us a try? Sign up for a free 14-day trial and see for yourself how PandaDoc can change the way you do business.
Disclaimer
PandDoc is not a law firm, or a substitute for an attorney or law firm. This page is not intended to and does not provide legal advice. Should you have legal questions on the validity of e-signatures or digital signatures and the enforceability thereof, please consult with an attorney or law firm. Use of PandaDocs services are governed by our Terms of Use and Privacy Policy.
Originally published February 21, 2021, updated March 31, 2023