Finding the best electronic software tool for your business can be tricky.
For small businesses, free or inexpensive e-signature software platforms may be enough to get the job done. On the other hand, enterprise companies need more robust tools to handle complex documents and large files.
In both cases, digital and electronic signatures play a critical role in saving time and boosting productivity.
They also massively improve ROI.
According to one report, 81% of existing digital signature users have seen a payback within one 12-month budget cycle while 25% saw ROI in three months or less.
In this article, we're covering the best electronic signature platforms on the market in 2021. You'll find out where they shine, where they don't, and which ones are a great fit for your business.
Let's get started.
How we chose the best electronic signature solutions
There are dozens of e-signature solutions out there, and the market is continuing to grow. In 2020, the global digital signature market size reached 2.8 billion and is expected to grow to $14.1 billion by 2026.
Some companies only handle e-signing. Others offer improved functionality by combining e-signatures with document management, contract creation, template generation, and more.
As an e-signature provider, we lean heavily on our own expertise when evaluating other software providers.
While many of the features that digital signing companies offer are similar, there are major differences in how they arrive at the final solution offered to each customer. During our evaluation, we examined these differences closely.
Here's how we selected the best electronic signature tools for our list:
A thorough evaluation of the features that each solution offers as part of its plans and packages.
A viability assessment based on ideal customer size.
An overview of existing customer feedback and reviews on sites like G2, Capterra, and TrustPilot.
Consultation and data collection from the PandaDoc userbase where appropriate.
At PandaDoc, we have years of experience building e-signing solutions. We understand that digital signature customers are looking for user-friendly signing options and secure ways to send and receive sensitive documents.
Rather than focusing on a niche offering, such as the best electronic signature software for accounting or legal teams, we took a more holistic approach because so many e-signing platforms are equipped to serve a broad range of unique needs.
Our results are based on customer usability, feedback, and an evaluation of the core offering that each company tries to provide.
01. PandaDoc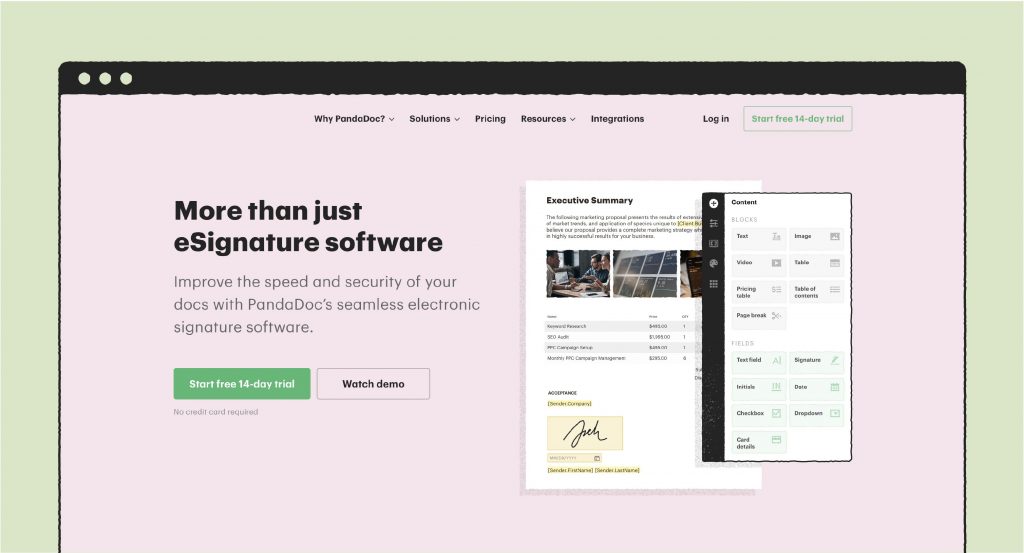 Pricing: Starts at $19 per month/user; free plan & trial available.
Great for: Teams of any type looking to combine document creation, management, and digital signing
Where it's hot
PandaDoc is a great fit for any team looking for a faster way to get sales documents out the door.
The platform allows users to combine from-scratch document creation with digital signing and integration tools so that all business documentation can be created, sent, and signed from a single platform.
This consolidation is one of the reasons that PandaDoc is a top-ranked e-signing company. Clients regularly report a 36% increase in close rates and a 50% decrease in document creation time when using this document signing tool.
The company also has one of the best free electronic signature software solutions on the market today. In many cases, the PandaDoc Free eSign plan is equivalent to the bottom-tier paid plans from other companies.
Because documents on PandaDoc are created using the PandaDoc editor, your work can easily be transformed into reusable templates for fast and easy replication.
When using more expensive plans, advanced features — like the content library and custom branding — allow you to further customize the look and feel of your document.
At the enterprise level, approval workflows, specialized signing orders, and CRM integrations make document creation even faster.
For teams handling a large number of documents, the ability to respond to client feedback with real-time edits means less time revising and uploading different versions of the same document.
With PandaDoc, every stage of the contract management lifecycle happens all in one place.
Where it's not
While PandaDoc is a bright star in the world of electronic signature solutions, it's not for everyone.
At its core, the company tries to offer a solution that fits most business models. In doing so, it misses out on some of the features that you might see in software tools that are more directly targeted to your organization.
For example, freelancers looking for a digital signature platform might be better off with a tool like Bonsai, which provides time tracking, billing, and proposal tools for a fraction of the cost.
An office specializing in real estate might prefer a dedicated platform like dotloop to handle their real estate contracting and transactions.
While businesses in specialized trades and specific industries can still thrive on the PandaDoc platform, the generic solution that the company provides may not be the best fit for niche customers with hyper-specific needs.
The drag and drop functionality of the document editor may also lack appeal for business owners who have a preset library of contracts and no intent to change them.
In the case where you only need a simple signing solution, the PandaDoc Free eSign plan will work — but you'd never need more than the basic functionality to get the job done.
02. DocuSign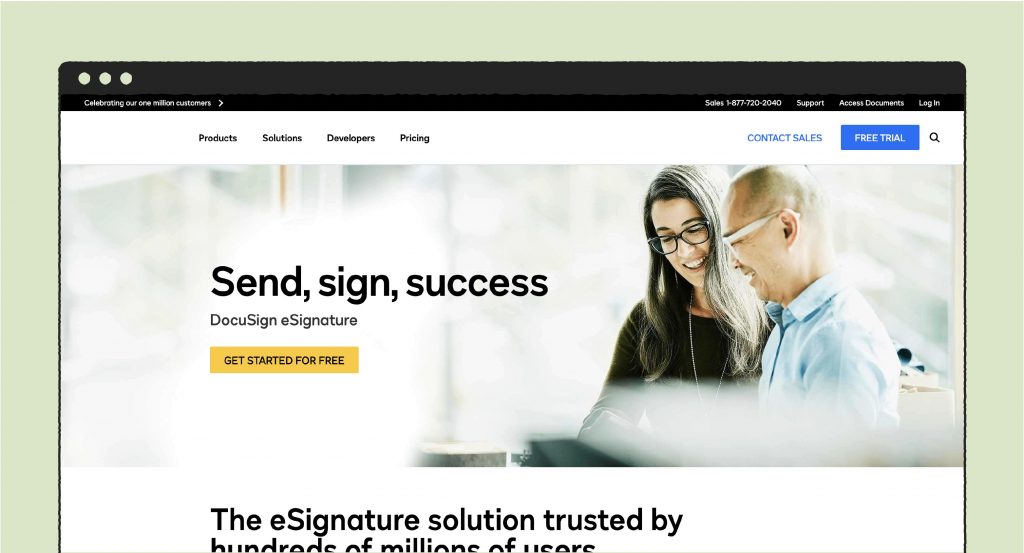 Pricing: Starting at $10 per month/user; free trial and plan available.
Great for: Teams at any scale who just want to get their document signed.
Where it's hot
In many ways, DocuSign is the go-to platform for straightforward e-signature solutions. Its ubiquity and ease of use are two of the main reasons that the company has managed to maintain its position as a market share leader.
With DocuSign, you simply upload your documents, attach a signature field, and send the document to recipients for easy signing.
This formula makes it easy for teams to maintain momentum when sending and receiving important documents.
As a digital signature software tool, DocuSign is hard to beat because of how simple it is to follow the basic workflows.
Its authentication tools make it easy for signers to sign documents, attach additional paperwork, leave comments, and more.
Plus, of all the digital signature tools on our list, you can bet that DocuSign will be one of the easiest to integrate with other software options in your tech stack.
The platform offers hundreds of solutions as part of their partner showcase and allows API access and webhooks for a customized connection.
If you're looking for a fast and easy paperless signing process, it's hard to go wrong with DocuSign.
Where it's not
In many ways, DocuSign is a victim of its own success. Because this platform is so big, you may be able to find an alternative solution that offers many of the same functions at little to no cost.
For example, the PandaDoc Free eSign Plan offers roughly the equivalent to the DocuSign personal plan ($10/month) at no charge whatsoever.
And PandaDoc isn't the only one offering a competitive plan. Other platforms, like signNow, offer signing with a similar feature set at a lower or equivalent price.
Plus, because DocuSign is focused on helping customers create signed documents and streamline document workflows, some of the high-dollar features can feel basic when compared with what you may get from another provider.
GetAccept, another competitor in the space, offers eSignatures, document editing, tracking and analytics, and more in addition to the features that you'd pay $40/month for with DocuSign.
GetAccept's price for most of that? Around $15/month.
On top of all that, DocuSign also limits the number of documents that you can send — even on paid plans — through a system called "envelopes."
Envelopes are containers for your documents, like emails when you send an attachment.
With DocuSign, you can send multiple contracts inside an envelope, but you're limited on how many envelopes you can send before you incur extra charges.
Many other companies allow you to send unlimited documents with no penalty, but DocuSign negotiates enterprise plans based on envelope usage.
This can be a major factor if you need to send digital documents to multiple users in a way that will burn through your envelope allocation quickly.
03. signNow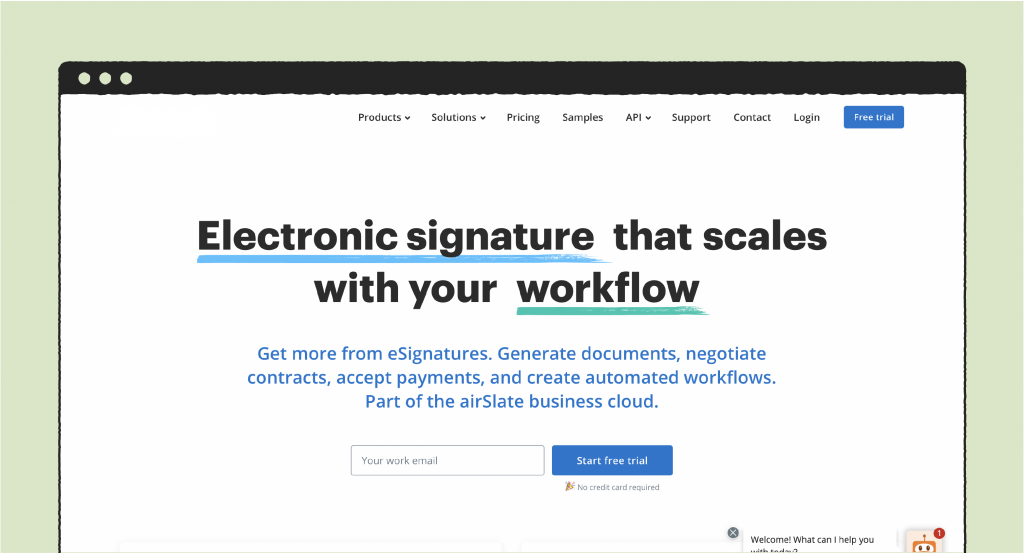 Pricing: Starts at $8 per month/user; free trial available.
Great for: Teams in search of an affordable signing solution that works well on mobile devices.
Where it's hot
As the digital signature arm of the airSlate Business Cloud, signNow has to balance itself between a standalone service and part of an expansive software suite.
As a standalone platform, signNow provides all the electronic signature options that you'd need to get the job done.
This includes creating unlimited templates, personalized branding options, signing link invites, and more at prices that will feel comfortable and competitive for smaller teams.
As with other tools on our list, signNow offers a no-code solution to e-signing. Like DocuSign, the e-signing setup tool is a mix of a setup wizard and a drag-and-drop interface that makes it easy to set up documents for signing.
One unique feature with signNow is data validation.
Unlike many of its competitors, this platform allows you to designate what type of data can be assigned to a specific field and will validate inputs for that data before the signed form is complete.
If you're looking for a straightforward electronic signature solution that works well with any team, signNow is a great jumping-on point.
Where it's not
One of the biggest problems that signNow has to deal with is how it positions itself in relationship to the larger software suite that it's a part of.
The signNow website spends half its real estate talking to you about the airSlate Business Cloud and all of the features that you can enjoy by getting onto the airSlate platform.
Because signNow is part of that platform, the value that it can offer as an electronic signature tool can't overlap with other software features inside the airSlae suite.
For users, this means that signNow, while affordable, may not offer many of the perks and features that competitors would provide, especially around contract lifecycle management and automation.
These tools exist, and you can get them through other competitors or the airSlate Business Cloud, just not through signNow by itself.
04. SignEasy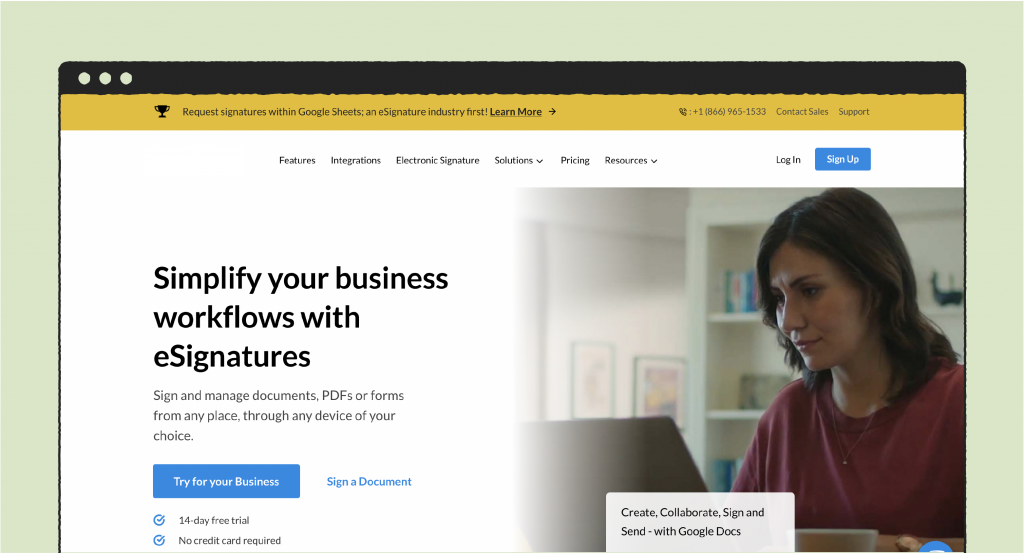 Pricing: Starts at $8 per month for a single user; free trial available.
Great for: Small teams or small businesses in need of a document with a more relaxed usage limit.
Where it's hot
At around $15/month, the SignEasy Pro plan is one of the best electronic signature software tools for small businesses.
While it only supports a single user, a small business team with a dedicated user to handle contracts can easily manage the majority of inbound/outbound sends for a single organization.
SignEasy offers everything from unlimited* (see below) signature requests to cross-platform availability and access between Windows, Mac, Android, and iOS.
They also integrate with Google Workspace, Office 365, Zapier, and others to make signing documents across multiple devices easy regardless of your workspace or tech stack.
One of the most compelling features when using this platform is the complete integration with Google Workspace.
In the same way that PandaDoc offers a document editor built into its product, SignEasy integrates with Google Workspace to add e-signatures to your Docs and Sheets, that way you can keep using the tools you love and transform your working documents into contracts that seal the deal.
Where it's not
In much of their documentation, especially when comparing themselves to competitors, SignEasy points out that it's the only plan that doesn't restrict usage.
However, while the company doesn't follow DocuSign's envelope policy when it comes to usage restrictions, it clearly puts a cap on sending more than 100 documents per month as part of its "fair usage" policy.
In fact, depending on how you send documents through DocuSign, you may actually be able to send more documents using the envelope system than the one-for-one policy that SignEasy has set up.
Despite the marketing language, the usage terms are clear. If you're looking for a platform that offers a way to send a truly unlimited number of documents based on your upfront costs, SignEasy isn't it.
05. Adobe Sign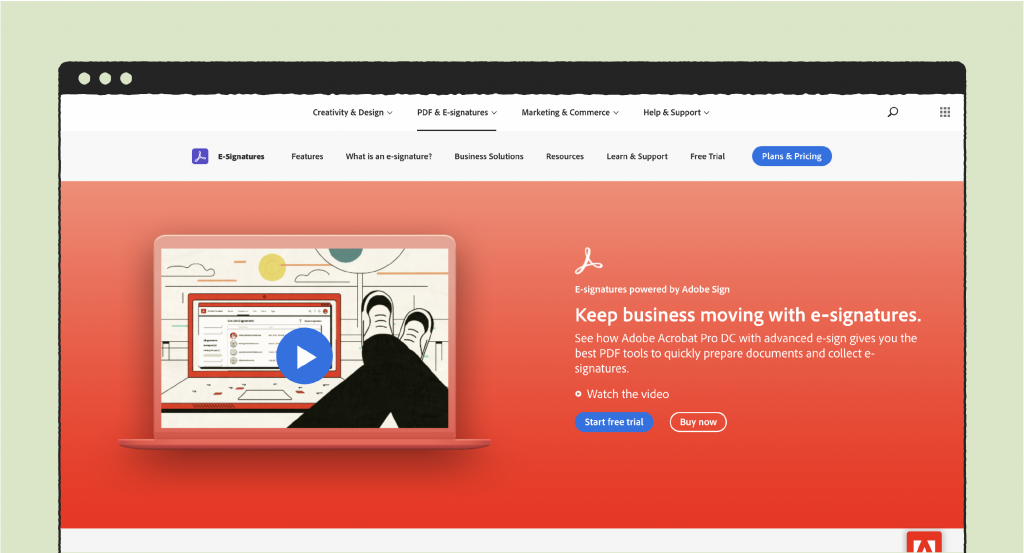 Pricing: Starting at $10 per user/month; free trial available.
Great for: Teams working with PDFs who want to modify texts and images with ease.
Where it's hot
While most e-signing tools are designed to help you gather an electronic signature for your PDF documents, Adobe Sign takes this one step further by offering a powerful PDF editing platform as part of their e-signature tool.
Teams that need the power to edit and modify their PDFs will benefit from the Acrobat Pro DC with e-sign plan and higher-tier options.
At that level, you'll have all the tools you need to create, edit, modify, and export PDF documents to the tool of your choice — from Microsoft Word to Google Drive and beyond.
On the higher-level plans, you can collect payments, redact or remove sensitive information, prevent PDF copying/editing, and more.
Adobe excels in this area, especially when compared to the methodology and approach taken by most of its competitors.
Most platforms consider PDFs the final stage of contract preparation. Typically, you'll generate documents in Word or Google Docs, finalize them and export them as a PDF, then use an e-signing tool to gather the signature.
With Adobe, the modifications don't have to stop when a document is saved as a PDF.
That, combined with tools like document tracking and signing via the mobile app, makes this one of the best-rated electronic signature software tools on the market today.
Where it's not
While Adobe Sign does give users the ability to edit PDFs, those abilities come at a price that puts the platform in a more expensive tier than some of its competitors.
Additionally, while the platform comes with several self-service onboarding documents, the restrictions around the tools themselves can be a little tricky to figure out.
For example, even though you can edit PDFs with Adobe, once you send a document out for signature, that document can no longer be edited.
There is a proverbial point of no return when you'll essentially need to create a new document for e-signature based on modifications and requests during negotiation.
This means that, while you can edit PDFs, it may not be the time-saver that you're hoping for if you were looking to skip past creating a brand new document to satisfy customer requests (which you could feasibly do using platforms like PandaDoc or SignEasy).
06. HelloSign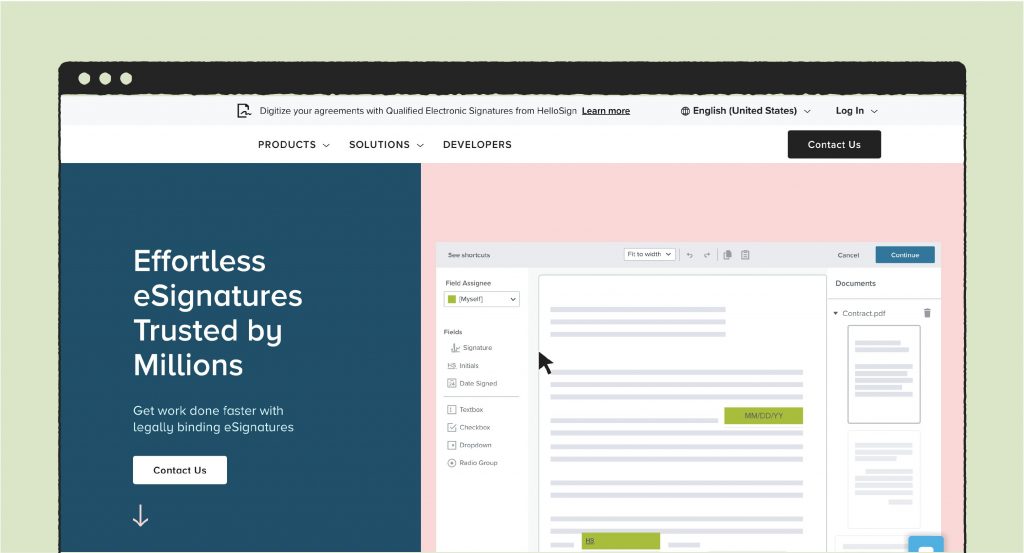 Pricing: Starting at $180/year; free plan available.
Great for: Companies who prefer long-term commitments, unlimited signing potential, and slick integration options.
Where it's hot
HelloSign is an e-signing tool that feels deceptively simple despite its robust library of features and integration.
While this electronic signature solution is part of the Dropbox family of apps, it has native connections to the entire Google Workspace platform, as well as various storage and CRM solutions.
Compared with many of its competitors, HelloSign is one of the few platforms to offer truly unlimited e-signatures without any gotchas like envelopes or signing limits hidden within their terms and conditions.
Note that API calls are limited to 100 requests per minute when signing up for the API-exclusive plan.
Other than that, HelloSign offers a wide variety of plans and solutions that make it among the best electronic signature software options for small businesses.
From freelancers looking for a simple plan to SaaS companies looking to sign contracts exclusively through an online platform, HelloSign offers plans for every team and every size.
The platform also features a high level of compliance with various digital privacy laws and regulations, including eIDAS, GDPR, HIPAA, the U.S. ESIGN Act, and others, so you can rest assured that your signature is legally binding and above board.
Where it's not
Even though HelloSign is a slick product, it comes with a few drawbacks that may make it less appealing to some companies.
The most obvious downside is the lack of anything other than an annual commitment for any paid plan.
Rather than offering a month-to-month option, HelloSign skips straight to a full-price, up-front charge for anything past the free trial period.
For companies who feel that HelloSign is the best solution for them, the Essential plan ($180/year) averages out to around $15/month and provides most of the basic tools.
But moving up to the Standard plan ($600/year) is a dramatic price increase and requires a minimum of two users.
For small businesses looking for the features offered in the Standard plan, the overall cost may simply be too expensive compared to other options on the market.
Pricing aside, while HelloSign is graceful in how it integrates with other online tools, it lacks some of the perks and flexibility that you'd see with competitors.
For example, Adobe Sign allows users to edit PDFs as part of their signing solution. PandaDoc users can create documents entirely from scratch.
And these solutions are available at roughly the same cost (or less!) than what HelloSign has to offer.
07. eversign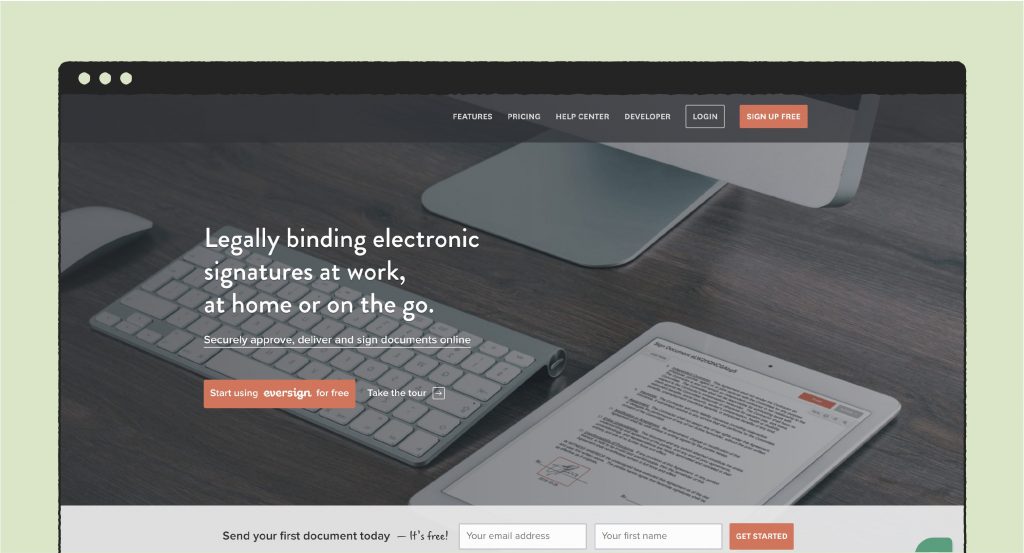 Pricing: Starting at $10/month; free plan available.
Great for: Users looking for no-frills solutions and simple signing options.
Where it's hot
A wildly popular signing platform, eversign is a great solution for users who need legally binding e-signatures but aren't looking to break the bank with hefty subscription fees.
From a small business perspective, the $10/month Basic plan is one of the most cost-effective options on the market, offering users the ability to send unlimited documents per month without additional fees.
The platform even allows users to automate up to 10 documents per month using API tools, something that most other platforms only offer with separate API plans.
Even on the professional plan, which mandates a minimum of five team members, you'll only end up paying around $40/month (total, not per-user), which makes this one of the most cost-effective multi-user signing platforms on the market today.
Overall, eversign isn't trying to upsell with extra add-ons or hidden charges.
All the basics are including, including audit trails, contract management, and basic app integrations.
For businesses looking to onboard more users or seeking additional perks — like in-person signing or custom branding — those options exist without the hefty price tag.
And, of course, if nothing on offer fits your unique needs, the eversign team will be happy to build a custom solution specifically suited to your organization.
Where it's not
The appeal for eversign begins to fall off when you consider its limitations around integration and customization.
When it comes to integrations, eversign only offers native connections to storage solutions like Dropbox, Evernote, and Google Drive.
For companies looking to integrate their entire tech stack with simple plug-and-play solutions, eversign may fall short.
However, the system isn't entirely unapproachable.
API solutions are still an option if you want to build a custom integration. The platform also connects to Zapier, so third-party integration options may be able to bridge that gap.
Document customization is another area where eversign might be lacking for organizations that want to do more with creation and automation.
With eversign, you'll be able to create a set number of templates for faster document generation. The number varies based on your chosen plan.
The template tools allow you to add prefilled custom text, dropdown menus, and more to your documents so that you can quickly create and send the appropriate documents.
However, compared to other solutions on the market, where you can create entire documents from scratch, providing limited template options and further limiting the number of templates available makes this feature feel scarce.
08. SignRequest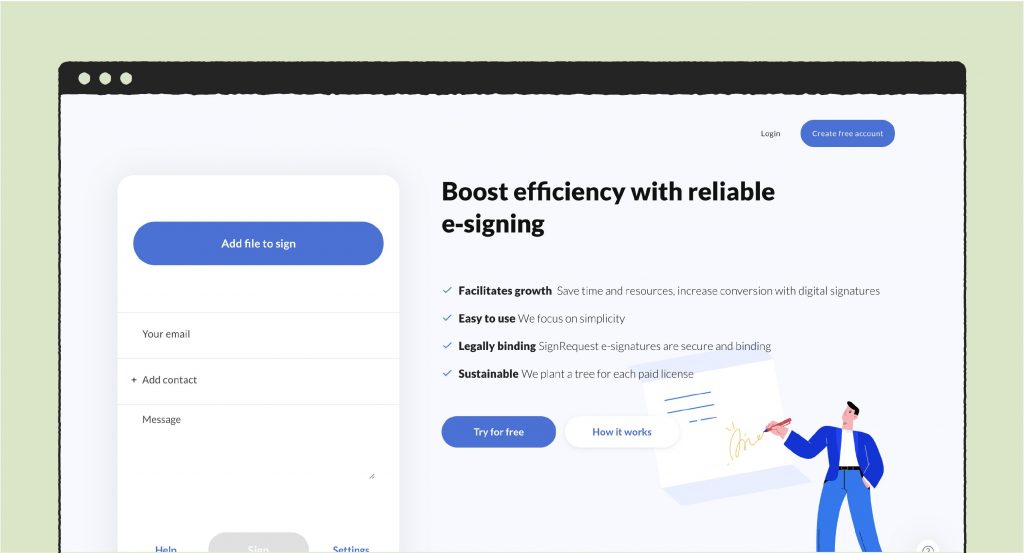 Pricing: Starting at €9/$11 per month; free plan available.
Great for: Small businesses and single users who want a wide variety of customization options for a low cost.
Where it's hot
On the surface, SignRequest offers a wide variety of features and customization, especially for senders who need to send an average number of documents* (see below) each month.
The Professional plan offers service in 15 languages, includes custom branding options, post-signature landing page, and even allows you to set the document signing order when creating documents for multiple signers.
For small businesses owners who aren't sending a ton of documents each month, this platform has everything you need to send documents while customizing the customer experience for maximum impact.
As with most other signing solutions, SignRequest doesn't help you create documents from scratch. However, it does make it easy to send documents for a requested signature and ensures that all parties are notified along the way.
As you send more items, you'll also be able to take advantage of the document management tools embedded in SignRequest to see which documents are outstanding and which have been completed.
With the ability to create templates, collect signer attachments, and even choose the authentication method that your signs can use to verify themselves, SignRequest is an all-around powerful tool for anyone looking for a fast and easy way to sign.
Where it's not
While we like SignRequest for its simplicity, there are several unexpected obstacles you might encounter if you choose to use the platform in a way that falls outside of the average user.
SignRequest relies on a Fair Use Policy to regulate the number of signature requests that a single user can send. On the pricing page, this policy is defined as, "more than twice the average volume of all SignRequest customers."
The problem is that SignRequest doesn't tell you exactly how many documents that might be and provides no additional information regarding Fair Use or hidden charges.
Users may not know when they're violating the terms of use simply because there is no defined number. If the policy is truly based on the law of averages, then the number of sends allowed each month may also fluctuate based on the SignRequest userbase.
There are other concealed usage charges, as well. In addition to being limited to Zapier and Slack for integration options, there is an extra charge when using Zapier if you're sending more than 30 documents per month.
This is, again, limited by the Fair Use Policy. Beyond 30 documents, you'll need an upgraded plan with an API token and the appropriate subscription.
The point of the Fair Use policy seems to be to drive users more toward the Business plan with the bulk send functionality, but considering the (very) low number of documents required to reach that plan, it almost forces all but the smallest businesses to consider the more expensive plans from the start.
09. eSign Genie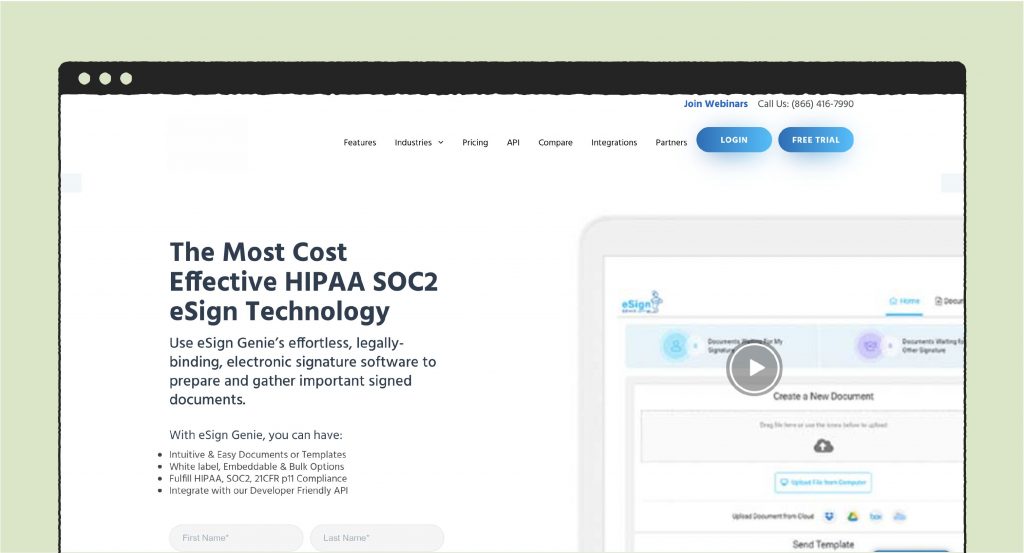 Pricing: Starting at $2/document or $10/month; free trial available.
Great for: Infrequent users, small business, and enterprise groups across multiple industries.
Where it's hot
It's easy to be fooled into thinking that eSign Genie is nothing more than a budget-friendly digital signature tool, but this assumption couldn't be farther from the truth.
Despite its low cost, eSign Genie is packed with features to help streamline the e-signing process and ensure that both signers and companies have everything they need to get documents signed.
With eSign Genie, you'll have access to basic integrations, form signing tools, user authentication, and more.
While the tool lacks some of the more robust features included in platforms like PandaDoc or GetAccept — which are focused on from-scratch document creation — eSign Genie can help you acquire electronic signatures at a fraction of the cost.
One of the most interesting features that the software offers is a pay-as-you-go solution for infrequent users.
You'll be charged at a rate of $2 per document (a minimum of $10 is required to start), but you'll never be charged a monthly fee for service. If you only need to have documents signed occasionally, this is a unique plan that may have some appeal.
Keep in mind, however, that features on the plan are limited to the basics.
The Professional plan offers considerably more features, including the ability to perform in-person signing and delegate signers — two features that many e-signature software providers withhold for higher-paid pricing tiers.
Where it's not
While eSign Genie is great on price, you'll see the limits of its capabilities quickly when it comes to document customization, integration, and legal compliance.
For e-signing only, it's great, but if you need to actually edit or customize a document beyond what can be done with basic form fields like adding a signature or a date block, you won't find much help with eSign Genie.
Instead, you'll have to make those changes through a different tool, like Microsoft Word or Google Docs. This is a major drawback compared to signing tools like PandaDoc or Adobe Sign, where you can edit your documents directly in the document editor and further expedite your signing process.
To be fair, eSign Genie isn't the only platform to handle e-signatures in this way.
DocuSign, SignEasy, and eversign, and many of the other platforms on our list also handle the signing process in much the same way.
For integrations, eSign Genie offers native options with most storage platforms, like Google Drive or Dropbox, but CRM integrations are limited.
The company offers a Salesforce integration at the Enterprise level, but options to connect with other CRMs are fully reliant on Zapier or through custom solutions.
While eSign Genie does offer some compliance options for HIPAA, it's also locked behind Enterprise solutions.
Why is this discouraging?
Because eSign Genie requires a multiple-year, minimum commitment in order to gain access to these premium features. For companies who are still in the exploratory phase, that can be a big ask, especially in such a competitive market.
Lastly, while we agree that eSign Genie offers great pricing, free signing options exist that may be able to get the job done without the need for business users to pay anything at all.
10. RightSignature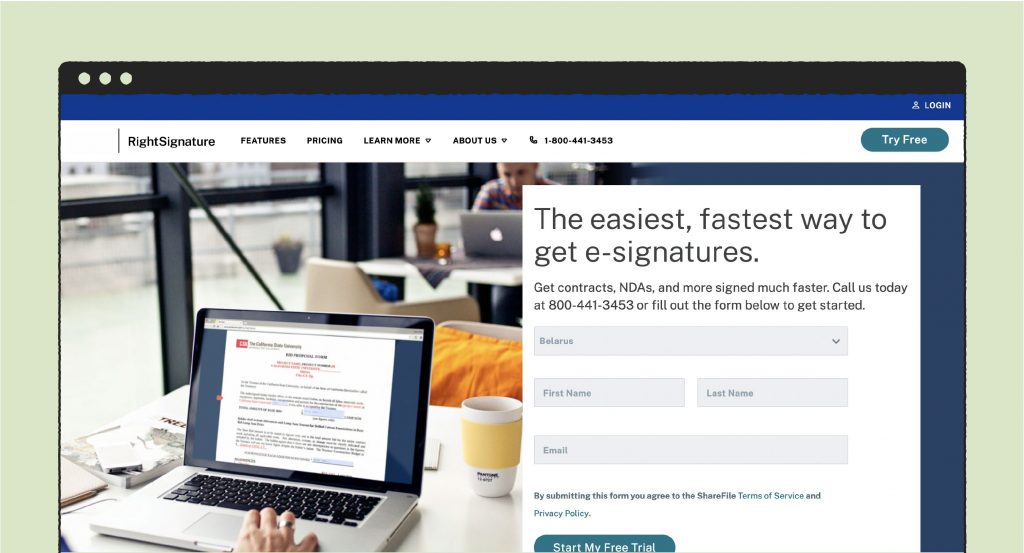 Pricing: Starting at $15/month; free trial available.
Great for: Companies looking for a no-frills, straightforward signing process that works.
Where it's hot
Citrix is known for creating products and solutions targeting medium and enterprise-level businesses, and RightSignature is no exception to the product family.
Compared to standalone product solutions like PandaDoc or Qwilr, RightSignature might appear to lack some features and functionality.
By comparison, this is true, but only because RightSignature is focused entirely on doing one thing well while leaving other products in the Citrix family to handle the rest.
With that in mind, RightSignature makes e-signing fast, simple, and easy. It's one of the best electronic signature software options for mobile devices, requiring no app downloads or installations.
Like other document signing solutions, RightSignature allows you to add form fields to your PDFs via drag and drop functionality.
In addition to offering the ability to send multiple documents at once, the platform also gives users the ability to create and share templates, send documents to multiple parties, and have signers sign in a specific order.
The higher-level plan also offers custom branding, team statistics, and the ability to request signer attachments.
Where it's not
RightSignature really shines for its simplicity, but it's almost impossible to ignore the fact that the product offering pales in comparison to market competitors.
Nearly every software option on our list offers a more robust feature set, especially for the price.
The custom branding and shared template options are nice, but for less than $75/month — the cost of the RightSignature Advanced Plan — you could join up with any other platform on this list, get more features, and still save money.
The integrations and partner options that RightSignature offers are appealing (especially the connection with Podio, Basecamp, and Stripe), but this tool falls short when offering connections to a more diverse tech stack.
Lack Zapier, there is no turnkey solution for non-developers, and API solutions are charged separately.
While we love the ease of use when it comes to RightSignature, it's a hard sell on price alone. We think it's a great fit if you're using the Citrix family of products or if you want something that just works and offers a comfortable interface.
Otherwise, you can probably find more feature-ready, robust solutions with some of the other options on our list.
Other great options
So far, we've reviewed some of the best electronic signature tools on the market today — but there are other options to choose from.
If nothing from our top list catches your eye, be sure to check some of the other great options out there on the market today.
GetAccept. Similar to PandaDoc, GetAccept offers a content library, a document editor, and places a heavy emphasis on video and multimedia content to help you close deals.
dotloop. An e-signature platform focused exclusively on real estate and commercial property, dotloop is a go-to choice for agents and brokers who want to expedite the contracting and closing process by keeping all parties in the loop.
Formstack Sign. Formerly known as InsureSign, Formstack Sign is part of the Formstack family of products, which includes separate tools for form creation, automated document generation, and electronic signature.
Qwilr. Specializing in interactive, web-based sales proposals, Qwiler provides a set of drag and drop design tools to help companies streamline the document creation process. E-signatures are included as part of the customer agreement process.
OneSpan Sign. Previously eSignLive, OneSpan Sign is an electronic signing platform that is closely integrated with the OneSpan family of fraud prevention apps. Focused on a seamless customer experience and top-of-the-line fraud prevention, OneSpan Sign is a great choice for mortgage companies, retail bankers, and businesses that need to focus heavily on preventing potential fraud.
Supercharge your document workflow with PandaDoc
While there are some great e-signature platforms out there, PandaDoc is still our top choice when it comes to creating legally binding electronic signatures.
From the in-house document editor to the integrations with CRM platforms like Salesforce, HubSpot, and Zoho, PandaDoc has everything you need to stay on top of your game and get your documents signed with ease.
Want to give us a try?
Sign up for a free 14-day trial and see for yourself how PandaDoc can change the way you do business.
Originally published February 21, 2021, updated June 25, 2021