In the sea of eSignature solutions available today, RightSignature is one of the more popular options.
A web-based signing solution created by Citrix, RightSignature is known for its simplicity and reliability. The service allows you to quickly acquire electronic signatures for your contracts, NDAs, proposals, and other documents.
Its easy onboarding process and simple pricing plan make it ideal for both large enterprises as well as solopreneurs and freelancers.
Like many e-signing and digital signature solutions, RightSignature offers a professional approach to document execution that allows users to increase efficiency and save time.
However, what this app has to offer might not be the perfect combination of features, integrations, and cost-effectiveness that your company needs.
Read on to discover some of our favorite RightSignature alternatives.
How we sourced our data
To achieve the highest level of objectivity and get the best available data, we went over 20 different websites to find unbiased data from various sources.
SaaS websites, user-review websites, and other publications that cover technology and business were all consulted in our research.
The websites were then sorted into four cohorts, based on the number of visits they received as of September 2021.
>250.000 visits;
100.000 – 250.000 visits;
50.000 – 100.000 visits;
<50.000 visits
This was done in order to establish which websites can be prioritized in the content analysis and which ones should be double-checked and vetted additionally.
Some examples of those relevant sources include:
Finally, the websites of the covered tools were also included as sources throughout the article. This was done strictly to confirm factual data and get the most accurate information on the respective tools' features, pricing plans, integrations, etc.
Now, let's get to our reviews!
01. DocuSign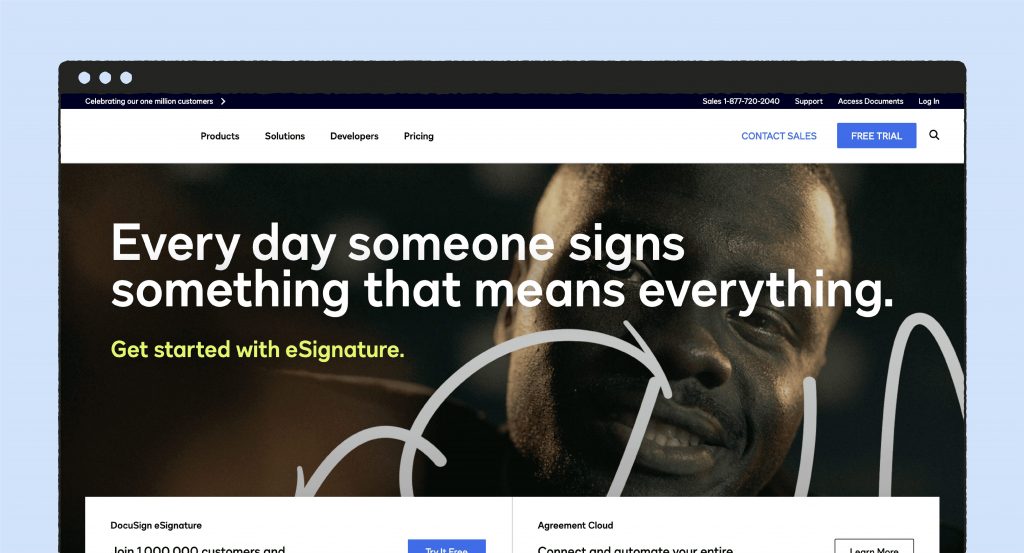 Cost: $10/month for individual users; $25/month for Standard Plan; $40/month for Business Pro; Enterprise pricing available
Overall rating: 4.8/5
Ease of use: 4.7/5
Functionality: 4.4/5
Support: Phone, ticket, chat.
Free trial: Yes. 30 days.
DocuSign is one of the market leaders in the e-signature industry. It offers comprehensive capabilities to sign and administer documents digitally.
The intuitive workflow makes it simple for all kinds of businesses to request and execute digital signatures from prospects and clients.
It all revolves around document setup. DocuSign simplifies this process and offers options that can be used in many situations, including emailing documents or in-person signing.
Upload your form to begin document setup and simply mark the areas that your recipients need to interact with. DocuSign's toolset also allows you to drag-and-drop elements from the toolbar to the document, to quickly identify where signatures or other pertinent information are needed.
What makes it better than RightSignature?
One thing that you'll definitely find lacking in RightSignature is the document analytics dashboard. Although DocuSign doesn't exactly offer elaborate analytics, you'll still be able to have insight into document status, turnaround times, etc.
DocuSign's most expensive plan is also a little cheaper than RightSignature's ($40 vs $60).
02. PandaDoc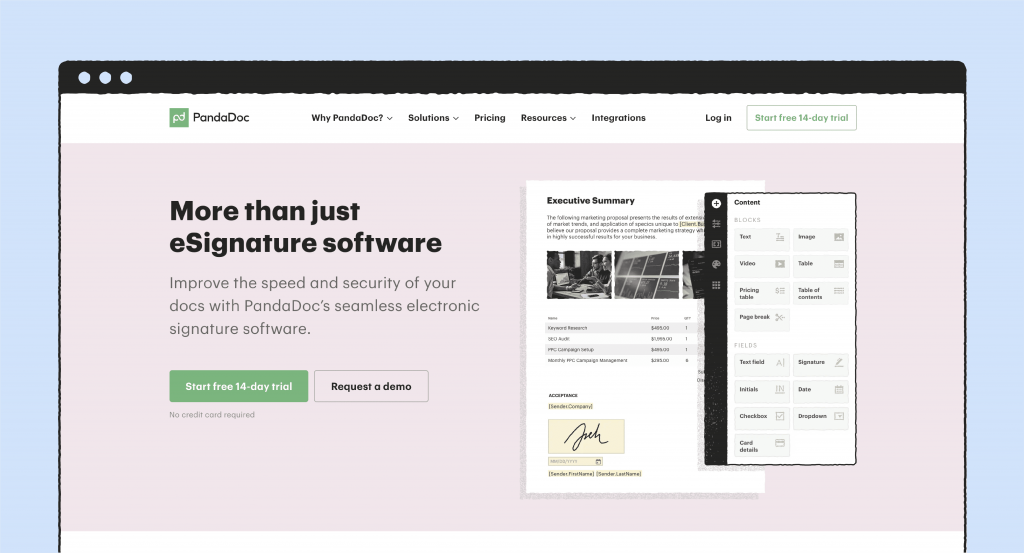 Cost: $19/month for Essentials; $49/month for Business; Enterprise options available
Overall rating: 4.8/5
Ease of use: 4.8/5
Functionality: 4.5/5
Support: 24/7
Free trial: Yes; 14 days (start here); free plan also available (start here)
Admittedly, we're talking about our own tool, so it might be hard to stay 100% objective. Even so, we believe PandaDoc is one of the best RightSignature alternatives on the market.
PandaDoc is a digital signature platform you can use for document administration, document creation, and getting eSignatures. It's affordable and scales with your company.
PandaDoc offers powerful custom branding and eSignature solutions. It has a highly intuitive document editor that helps you to create business documents from scratch and save them as custom templates.
The library has more than 700 templates that are all professionally designed and created to impress your clients regardless of your industry.
PandaDoc also provides 24/7 live chat support to answer any questions you might have.
What makes it better than RightSignature?
For starters, PandaDoc's free plan offers impressive features that many businesses will find useful. You get unlimited eSignatures, unlimited document uploads, and payment collection – completely free of charge.
Secondly, PandaDoc is a much broader, all-in-one solution, helping you streamline the signing process but and create impressive documents for a slew of business needs.
Proposals, quotes, contracts – any kinds of documents you can think of can be created using PandaDoc's powerful editor.
You'll also have complete insight into document analytics, something that's not available with RightSignature.
03. HelloSign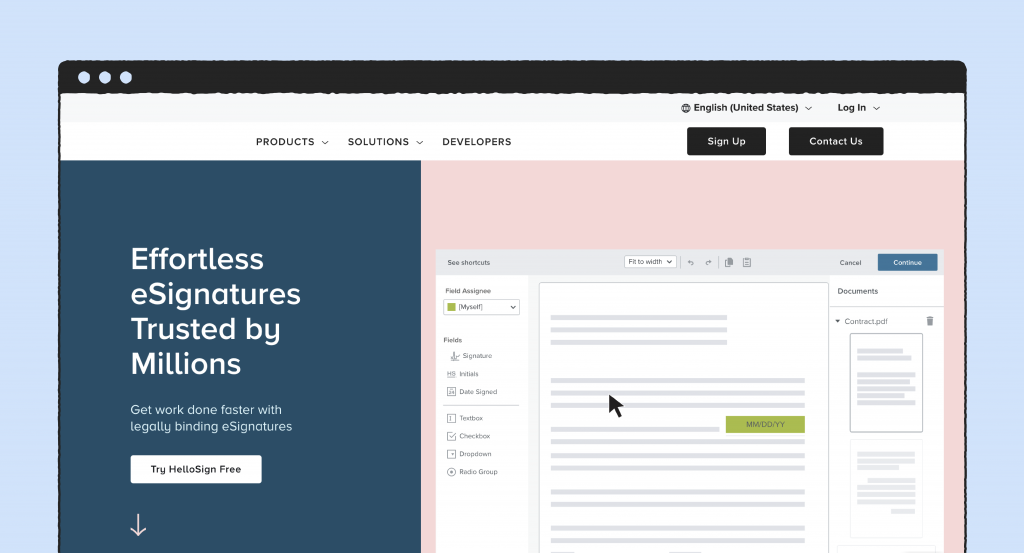 Cost: $15/month for Essentials; $24.99/month for Dropbox Professional + eSign; $25/user/month for Standard; Premium (Enterprise) pricing also available
Overall rating: 4.8/5
Ease of use: 4.8/5
Functionality: 4.5/5
Support: Email, chat
Free trial: Yes. 30 days.
Owned by the document management company Dropbox, HelloSign is another popular e-signature software solution used by many small businesses.
It's a simple, easy-to-use platform that works by simply uploading your document, using the drag-and-drop editor to add the fields that require a signature, and sending the file to clients via email.
Once the document is signed, you get an email confirmation.
You can also view the status of all sent documents and get notifications about your signers' actions.
The tool also integrates with the most popular solutions like Google Drive, Microsoft Word, and a few CRM solutions.
What makes it better than RightSignature?
RightSignature and HelloSign are actually quite similar – both are streamlined apps dedicated to document signing.
However, HelloSign offers some advanced features like basic document analytics and a Salesforce integration (in more expensive plans). HelloSign also has an unlimited free plan, unlike RightSignature.
04. Adobe Sign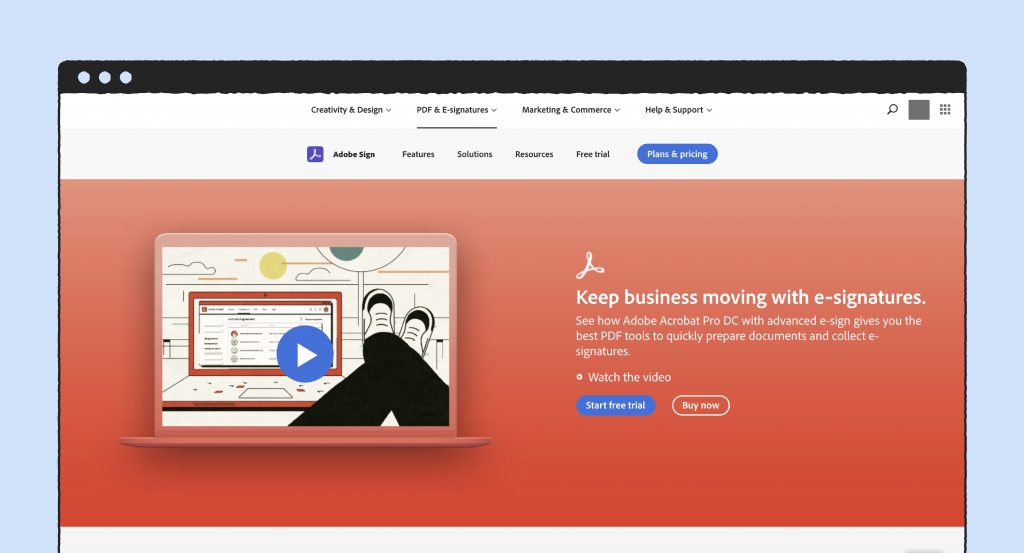 Cost
Single user plans: $9.99/month Acrobat PDF Pack with e-sign; $14.99/month for Acrobat Pro DC with e-sign; $27.99/month for Acrobat Pro DC with advanced e-sign
Multi-user plans: $16.99/month/license for Acrobat Pro DC with e-sign for teams; $29.99/month/license for Acrobat Pro DC with advanced e-sign for teams
Adobe Sign (not Acrobat Pro): Only available for business and enterprise; pricing not available
*Annual commitment required for all plans.
Overall rating: 4.7/5
Ease of use: 4.6/5
Functionality: 4.5/5
Support: Email, phone, ticket, chat.
Free trial: 7 days for Acrobat Pro DC; 30 days for Adobe Sign (signup required)
Adobe Sign (formerly known as EchoSign) offers extensive features for collecting digital signatures and integrates with most of the popular software solutions in sales and marketing.
This feature-rich tool has gone through a bit of an evolution in previous years as Adobe refines what services it provides and consolidates it into its product lineup.
Currently (and we say this because the offering seems to change on a semi-regular basis) Adobe offers Acrobat Pro DC, its PDF editing and signing tool, on an annual subscription for individuals and small teams.
This tool includes the ability to send, e-sign, and share PDFs, provides desktop software support, and many of the other tools you'd see from e-signing competitors.
Meanwhile, Adobe Sign seems to be geared as an enterprise software platform. This tool includes everything from Acrobat Pro DC, as well as the ability to integrate with tools like Salesforce, Workday, and Service Now.
Most of the automation and workflow tools, as well as the ability to manage groups and bulk send documents, are only available through this enterprise plan.
What makes it better than RightSignature?
Both Adobe Acrobat and Adobe Sign are robust electronic signature solutions with a more complex product offering than RightSignature brings to the table.
You can edit text and images on PDFs, password protect your documents, create and use templates, collect payments, add branding, and much more.
05. SignNow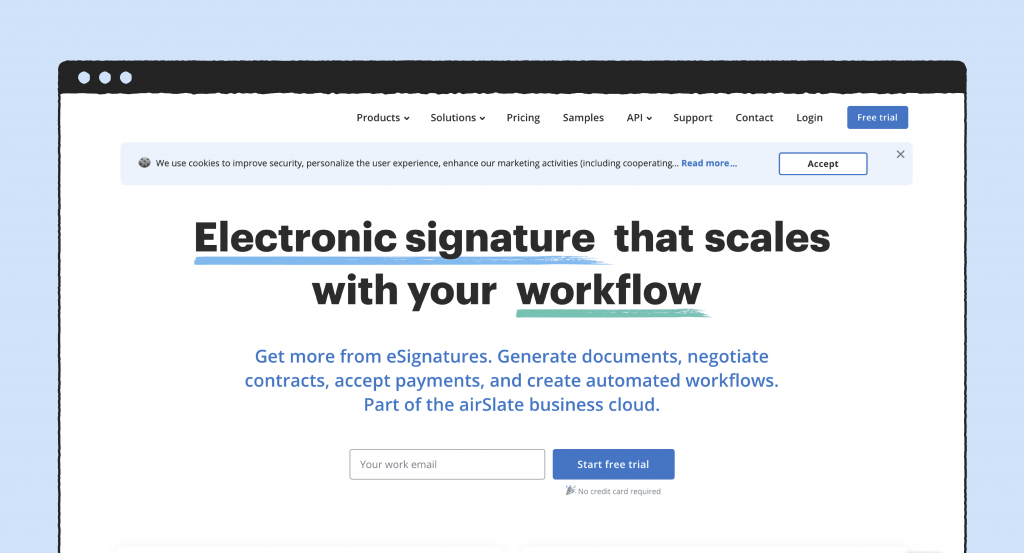 Cost: $8 per user/month for Business; $15 per user/month for Business Premium; $30 per user/month for Enterprise; $50 per user/month* for airSlate Business Cloud
*5 user minimum
Overall rating: 4.6/5
Ease of use: 4.6/5
Functionality: 4.3/5
Support: Chat, email, phone (only in Business Cloud)
Free trial: Yes; 7 days
SignNow allows users to send documents and get legally binding signatures using the help of automation workflows.
Much like with RightSignature, all you need to do is upload any document and add different fields that may or may not require action.
It works with almost any type of document: .docx, PDFs, invoices, proposals, contracts, etc. Simply drag and drop any element and add it to the document.
The tool is a part of airSlate's Business Cloud and, as such, it can become a powerful addition to your sales software pool. However, certain features might be available only in the Business Cloud.
The most significant ones are payment collection and document generation – neither of these can be found in the Business or Business Premium plans.
What makes it better than RightSignature?
Even the cheapest plan, the Business plan, allows you to buy up to 10 users (RightSignature only allows one). SignNow also offers unlimited templates starting from the Business plan.
If you're willing to pay more, you can unlock features like reminders and notifications, conditional documents, calculated fields, and more. All of these are far more advanced than what RightSignature offers.
06. OneSpan Sign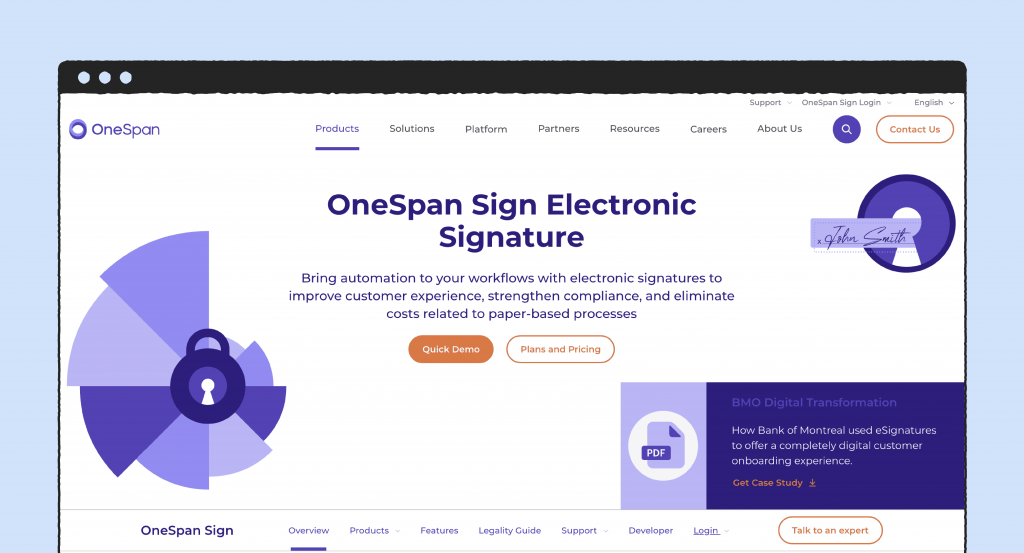 Cost: $240 per user/year; Enterprise plans available
Overall rating: 4.5/5
Ease of use: 4.6/5
Functionality: 4.2/5
Support: Email, phone, support center
Free trial: Discretionary; available upon consultation
OneSpan Sign is a software solution that offers contract management and e-signature features for small and large businesses.
The tool puts a strong emphasis on integration – they're called "connectors" and there are many of the most popular apps to choose from here.
Salesforce (including Salesforce CPQ), Microsoft Dynamics, SharePoint, and many other tools are available for easy and quick integrations.
For example, with the Salesforce integration, you can update Salesforce records with data obtained during signing as well as auto-populate documents with Salesforce data.
You can also get reports and notifications on who has signed documents and see if some of them are past due.
What makes it better than RightSignature?
Because of its strong focus on safety, integrations, and complex features, OneSpan is a better choice for large companies that are looking for premium service.
That's one of the main reasons why their current list of satisfied clients includes giants like IBM, BMW, Wells Fargo, Deutsche Bank, and others.
07. Eversign
Cost: $9.99/month for Basic; $39.99/month for Professional; $79.99 for Professional Plus; Enterprise plans available
Overall rating: 4.4/5
Ease of use: 4.7/5
Functionality: 4.1/5
Support: Chat, help center, personalized support in paid plans
Free trial: Free plan available
Eversign is an electronic signature software solution that cuts down on the clutter and helps you automate the process of document management.
Much like RightSignature, Eversign isn't teeming with features; you can only really upload files like PDF documents, add elements using a sidebar, and send those documents for signing.
Once signed, those documents will be stored on your account for easy access.
However, this simplicity works in Eversign's favor. Even employees who aren't particularly tech-savvy will find it easy to navigate through the app and use it to send documents and close deals.
The user interface also features a modern design that's highly intuitive.
What makes it better than RightSignature?
Although the two apps are fairly similar, Eversign features a sleeker design and a handy dashboard that shows a lot of important information.
On a single screen, you can see the documents you've sent in a single month, document status, recent activity, and more.
08. Legalesign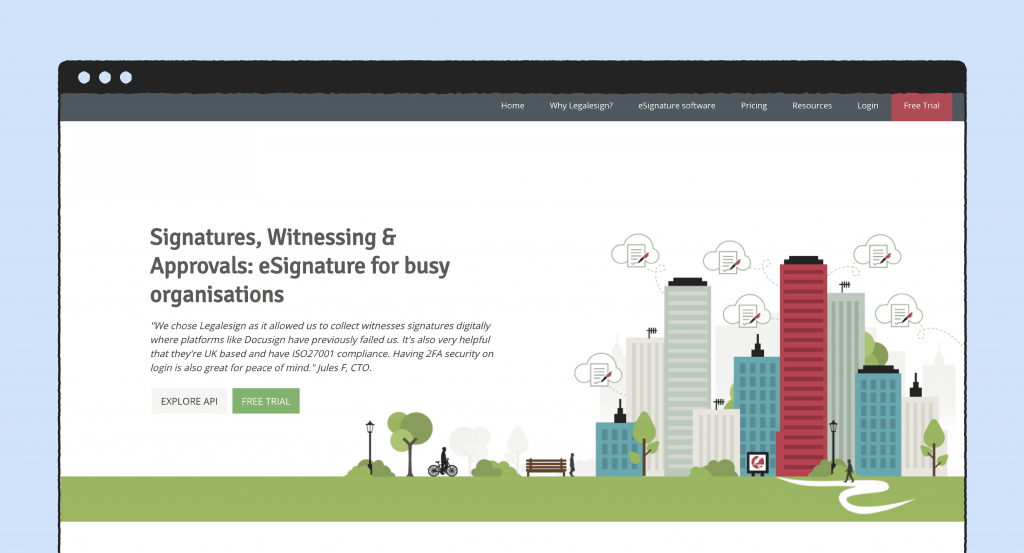 Cost: £6+VAT/user/month for Spring, £15+VAT/user/month for Rapids, £35+VAT/user/month for Surge, £49+VAT/user/month for Waterfall; Custom price for Tide/Enterprise pricing
Overall rating: 4.2/5
Ease of use: 4.5/5
Functionality: 4.1/5
Support: Online docs, email starts with the Surge plan, phone with the Waterfall plan
Free trial: Available
Legalesign is a business-oriented electronic signature platform. It offers methods to submit, monitor, and have your company contracts signed online by combining contract administration with signing processes to create a single workflow.
The company headquarters are in the UK, where the tool is the no.1 most used eSignature solution nationwide.
Legalesign offers lots of features and many different pricing plans to choose from.
You can start small with features like document management and real-time tracking but you can scale up pretty easily and unlock functionalities like API integrations and bulk sending.
What makes it better than RightSignature?
The abundance of features makes Legalesign a more appealing option for all users looking to take their business processes to the next level.
The app offers integrations, two-factor authentication, and many complex features that boost teamwork and time management.
It's also much more scalable because there are so many plans to choose from.
09. Foxit (formerly eSign Genie)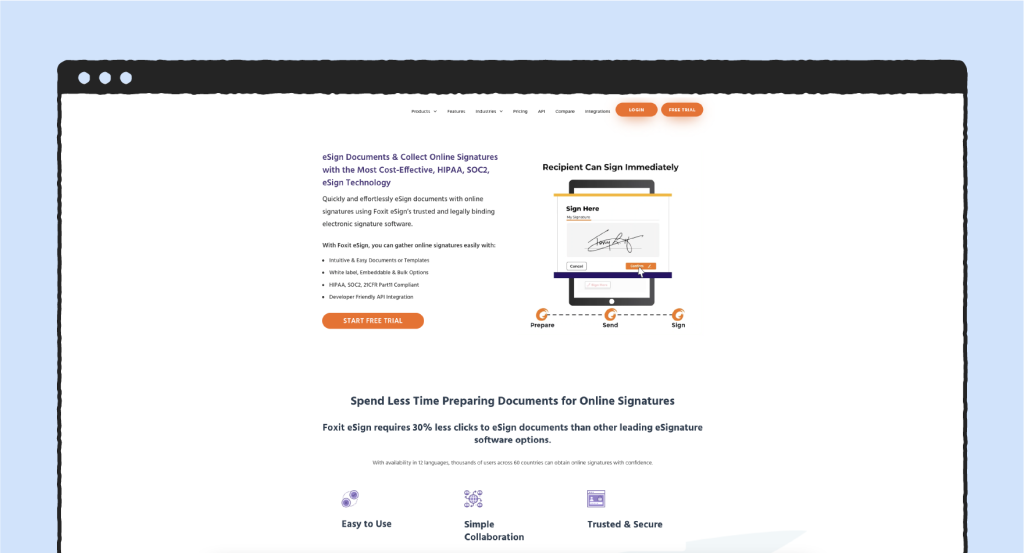 Cost: $96/year for eSign; $300/year for Foxit eSign Pro; Enterprise pricing available
*One-time purchase options also available
Overall rating: 4.6/5
Ease of use: 4.5/5
Functionality: 4.7/5
Support: Knowledgebase, ticket submission
Free trial: Yes; 14 days
Foxit, formerly eSign Genie, offers a suite of electronic signature and PDF editing tools that are powerful and simple to use.
It's also one of the few tools out there that offer desktop-deployable software products in addition to online-only tools.
That level of flexibility can be a game-changer for companies who aren't always connected to the internet and who need to work in some kind of offline capacity while processing documents.
Whether you need to simply sign PDFs, delegate signers, or make edits to PDF documents you receive, Foxit has tools to let you do that online, offline, through your mobile devices (iOS and Android app available!), and much more.
What makes it better than RightSignature?
Focusing purely on their subscription plan (because it's the closest comparison to RightSignature), Foxit eSign offers audit trails, real-time document sending, custom branding, and quite a bit more.
Like RightSignature, Foxit only offers its service in conjunction with a hard envelope limit. Users can send either 100 or 150 documents per month (depending on your plan).
This is similar to RightSignature, which caps accounts at 100 documents per month, per user.
10. SignRequest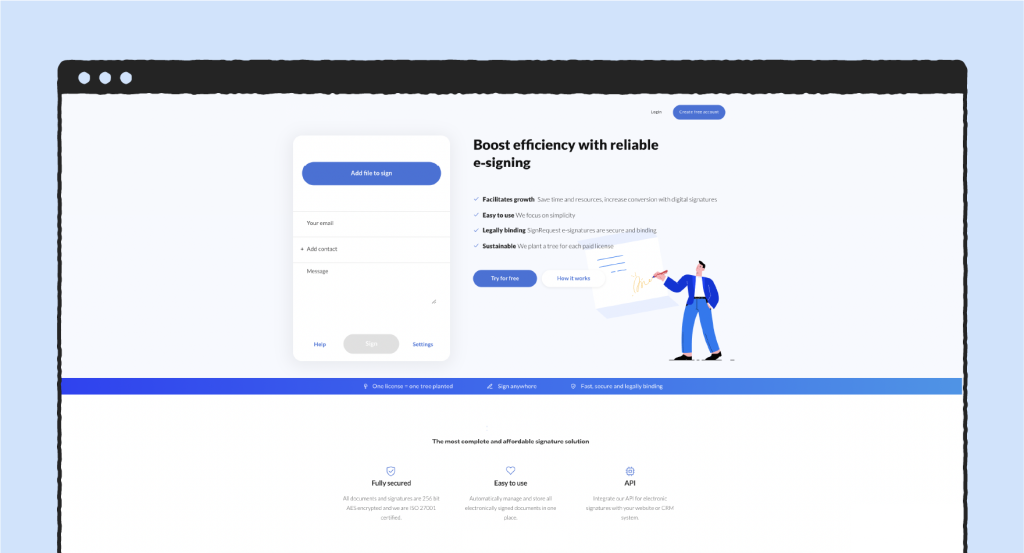 Cost: £7/month for Professional; $12/month for Business
Overall rating: 4.6/5
Ease of use: 4.5/5
Functionality: 4.5/5
Support: Email; phone; knowledgebase; ticket submission
Free trial: Yes; 14 days
SignRequest is an awesome tool for individual users and small businesses who want to keep overhead low while still maintaining strong e-signature security.
With SignRequest, businesses who negotiate and sign contracts through one person can probably get by with the Professional plan, which offers space for one team, five templates, and unlimited document creation.
For larger organizations, where multiple team members need to work together when signing documents, the Business Plan is probably a better fit.
This plan offers premium integrations that go beyond Google Docs and Zapier to more specific tools like M-Files and TOPdesk.
What makes it better than RightSignature?
If you're shopping on cost, SignRequest is one of the best alternatives to RightSignature.
Even if you created a small team of three using the Business Plan, you'd have access to more features at a lower cost than buying into the RightSignature Advanced plan at $60/month.
Though SignRequest doesn't restrict the number of documents they send, they do say in some of their content that unlimited send is based on their "fair use policy," but the details on these limits are vague.
11. Formstack Sign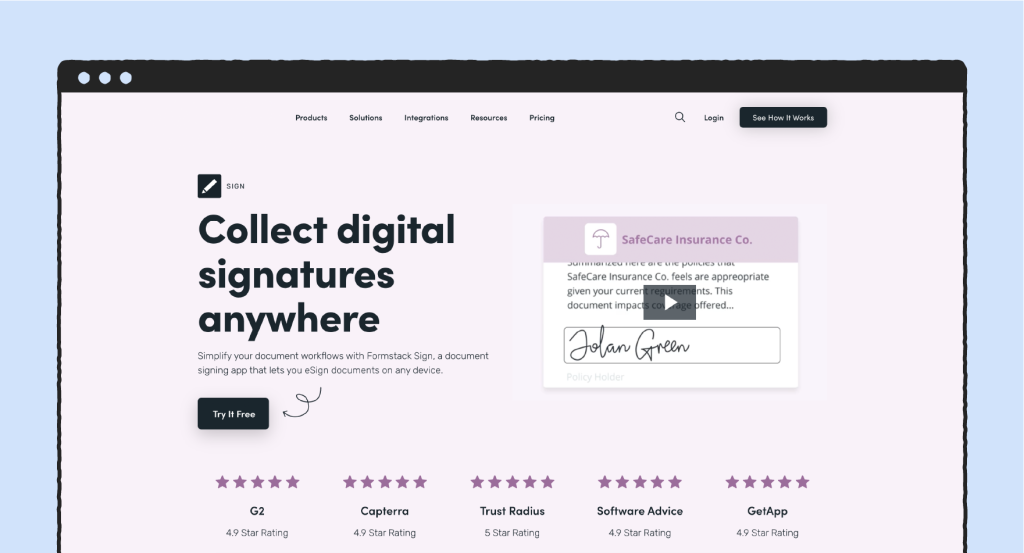 Cost: $16 per user/month for Starter; $26 per user/month for Pro; Enterprise pricing available
Overall rating: 4.9/5
Ease of Use: 4.4/5
Functionality: 4.8/5
Support: Email, phone, knowledge base, ticket submission
Free Trial: Yes; 14 days
Formstack Sign is the e-signature arm of the Formstack platform, which also offers solutions for automated document creations and form building.
Formstack Sign isn't really geared toward creating new documents, but it can help you prepare existing documents and send them off for e-signature.
Like PandaDoc, this platform offers unlimited sent documents, unlimited signature capture, and unlimited template creation, as well as branding support and file backups.
Keep in mind that, because Formstack Sign is part of a product suite, you may constantly run into features that are purposefully gated to nudge you toward adopting the entire Formstack Platform rather than using it in a piecemeal fashion with the rest of your tech stack.
What makes it better than RightSignature?
Compared to RightSignature, Formstack Sign offers a broader collection of signing and branding tools, and it doesn't have the cap on template and signing creation that you see in the Standard plan from RightSignature.
RightSignature's all-or-nothing approach to its plan structure (One user for standard or three users for Advanced) can also feel extremely limiting when compare to Formstack and other platforms that simply allow you to add the number of seats you need and get what you need out of the software.
12. Signeasy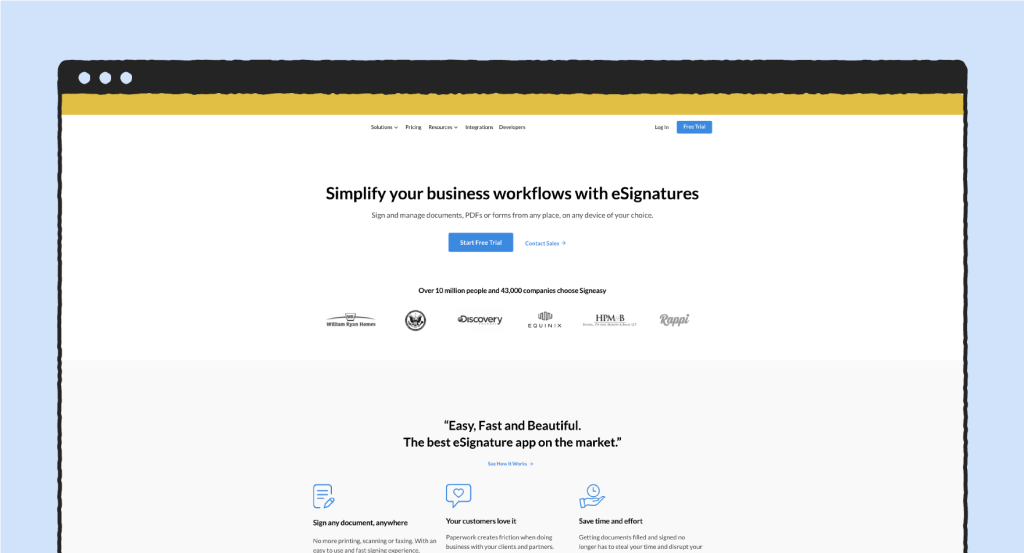 Cost
Single user plans: $8/month for Essential; $15/month for Pro
Team plans: $25/month for Business (minimum 3 users); Enterprise plans available
Overall rating: 4.7/5
Ease of use: 4.7/5
Functionality: 4.4/5
Support: Email, phone, knowledge base
Free trial: Yes; 14 days
Signeasy offers a variety of purchase and support options, including the ability to create templates, generate signing links, integrate with Salesforce, and much more.
It also offers a mobile app for iPhone and Android smartphones so that it's easy to deploy e-signing capabilities from anywhere.
In and of itself, the app doesn't offer any revolutionary features that make it stand out dramatically from other competitors, but it does offer a different interface and a lower cost for users who are just looking for a refreshing change of pace.
What makes it better than RightSignature?
This app is more similar to RightSignature than most others on our list, and whether that's a good or bad thing is up for debate.
Signeasy offers a toolkit that is similar to RightSignature — especially compared to the Standard Plan — but it does so at a lower cost.
For RightSignature Advanced users, Signeasy offers a similar three-seat plan with unlimited templates, personalized branding, and unlimited templating options, however, the platform doesn't have a hard cap on the number of documents that you can send.
13. DocSend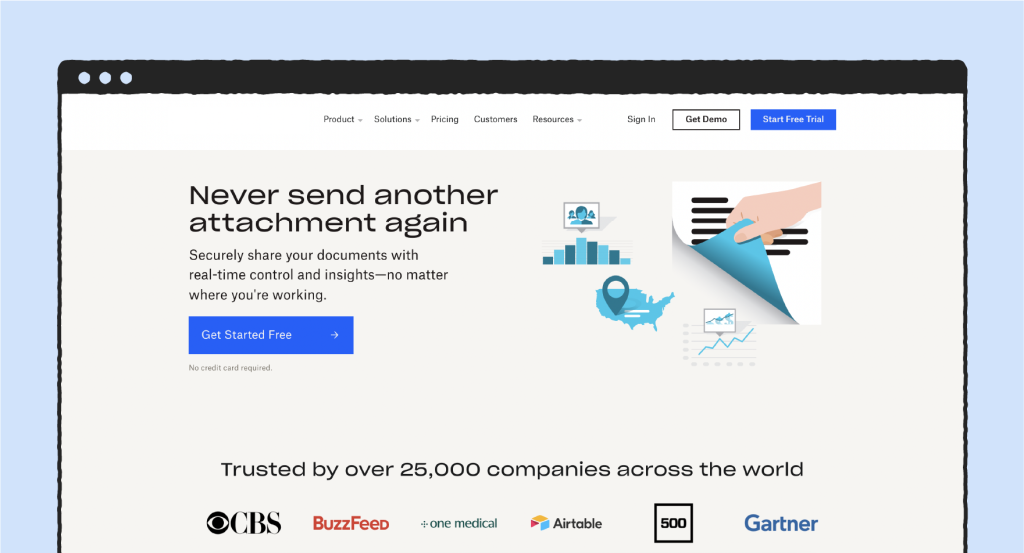 Cost: $10 per user/month for Personal; $45 per user/month for Standard; $150 per user/month for Advanced (minimum 3 users); Enterprise plans available
Overall rating: 4.6/5
Ease of use: 4.5/5
Functionality: 4.3/5
Support: Chat, email, phone, knowledge base
Free trial: Yes; 14 days
While DocSend does offer an e-signing solution, including custom fields and real-time signature notifications, the platform derives most of its value from its data-based approach to document tracking and analytics (something that PandaDoc also offers, so we definitely support this approach).
Using DocSend, you'll be able to see engagement around real-time metrics, collaborate with project stakeholders, create deal rooms, and much more.
All of this is designed to help you leverage data to understand how customers interact with your documents, then use that knowledge to close deals and get documents signed.
What makes it better than RightSignature?
Because of the data-based approach that DocSend prefers to take, it varies strongly from RightSignature.
A three-seat plan runs around $150 per month for three users, and you can add additional seats for $60/month.
This is far more expensive than RightSignature's $60/month plan, but you also get quite a bit more for the cost, including better cloud storage, dashboard analytics, improved document management, and administrative tools to monitor and manage other users and teams.
Final word: the best RightSignature alternative
As you can see, there are many RightSignature competitors that are worth considering.
The option you go for will largely depend on your business and specific goals but, in our opinion, you'll hardly find a better option than PandaDoc on today's market.
We might be subjective but PandaDoc does much more than enable you to send and sign documents. You can create proposals, quotes, and pretty much all other company documents that need to be sent to the client for review and signing.
The best part is – our Free plan already comes with impressive features that many small businesses will find more than enough to get started!
Start your 14-day free trial today and find out what makes PandaDoc special!
Originally published September 30, 2021, updated February 14, 2022
Frequently asked questions
It's possible to collect e-signatures using the built-in tools that you'd see in Microsoft Word, but we don't recommend it. The problem that you'll encounter has to do more with document management and signing order than with certified signing solutions.

Inside Word, you can create an encrypted signature, but if you have to send that document to more than one person, you'll end up needing to send it by email to one individual at a time. Once an individual sends it back, you can send the updated document (with the newest signature) to the next person and repeat the process.

As you can imagine, this gets tedious quickly.

But there is a workaround if you like using Word or Docs to write contracts and proposals: Add-ons like PandaDoc for Word and PandaDoc for Google Workspace allow you to create content using your preferred tools and then use specialized e-signing platforms like PandaDoc to acquire your signatures, so you can get the best of both worlds.

DocuSign is the major player in the e-signature market, and it's safe to say that the company is everyone's main competitor due simply to the amount of market share that it controls. However, it's important to note that just because DocuSign controls a significant share of the e-signing market doesn't mean that it's the best at what it does.

In fact, many of the services that DocuSign charges for, you can find for free by joining up with RightSignature and DocuSign alternatives. For example, the PandaDoc Free eSign plan allows you to collect as many e-signatures as you need at no charge. You can even set up a payment gateway and collect funds alongside your signatures as needed.

A document or envelope limit is a tactic that many e-signing solutions use to limit the number of times you can use their service over a set period of time.

DocuSign is the most famous example. The company caps the number of times you can send content from their platform at around 100 envelopes per user/year. If you need to send more, you'll have to talk to the sales team, who can raise your limit for a fee.

There is an important distinction here, as well. Envelopes are usually considered as something that you put documents in rather than the documents themselves, and that works out to a different calculation based on how you send your content.

For example, RightSignature limits the number of documents you can send to 100 documents per month/user.  So you can send 100 separate documents each month.

DocuSign limits you to 100 envelopes per user/year, but if you needed to send five documents to the same person at the same time, you could package them all in a single envelope and send that out.  Those five documents (if sent in this way) would only use one envelope.

Depending on how you send your documents, and how many you need to send, keeping track of envelopes and document limits can be a huge pain. That's why PandaDoc allows users to send unlimited documents on every plan. No limits, no restrictions. It's all included with PandaDoc.