Adobe Sign. AKA, the original inventor of PDFs. AKA, one of the largest companies in the tech space. AKA, one of the most positively-reviewed solutions on the market.
Obviously, there are a lot of responsibilities riding on Adobe with whichever product it develops, and this product is no different (granted, Adobe Sign was established about a decade back, but we never did a review on it).
The point is: Adobe is a large company with an even larger "expectations" target on its back.
Every product it brings to fruition should be perfect (especially PDF-relating projects, because, as we mentioned, it's the inventor of PDFs, isn't it?).
So, the question of the hour remains — does Adobe Sign live up to all these large expectations? Let's find out now.
Review summary
Adobe Sign makes document generation and getting signatures a breeze.
Brownie points for being one of the few solutions on the market that can produce digital signatures.
However, if you stumble across any problems with the platform, the customer support team can be a little tricky to get in touch with.
Our rating
Overall: 4.1/5
Features: 4/5
Pricing: 4.5/5
Customer support: 4/5
Ease of use: 4/5
Value for money: 4/5
| Pros | Cons |
| --- | --- |
| Extremely intuitive and easy to use. | Customers wished that Adobe Sign provided more extensive features (although it does have a generous list), such as detailed analytics or signature fonts. |
| One of the few solutions that can create legally valid digital signatures (emphasis on digital signatures, not e-signatures). | The pricing Adobe provides definitely has some negative reviews, with some users finding the solution on the pricier side. |
| Lets you automate the process of getting signatures. | Not suitable for small teams when comparing features and pricing. |
Review methodology
Here's a list of all the places we visited to create an accurate and fact-based review:
Peer-to-peer review sites that had customer reviews of Adobe Sign and its top competitors.
Profiles of Adobe Sign on platforms like Crunchbase.
Social media channels that had mentions of Adobe Sign.
Company website of Adobe Sign.
Editorial reviews from independent publications like Techradar.
More than 20 websites were analyzed, and we made sure to rate all the information we received against the authority of the website and the author.
General overview of Adobe Sign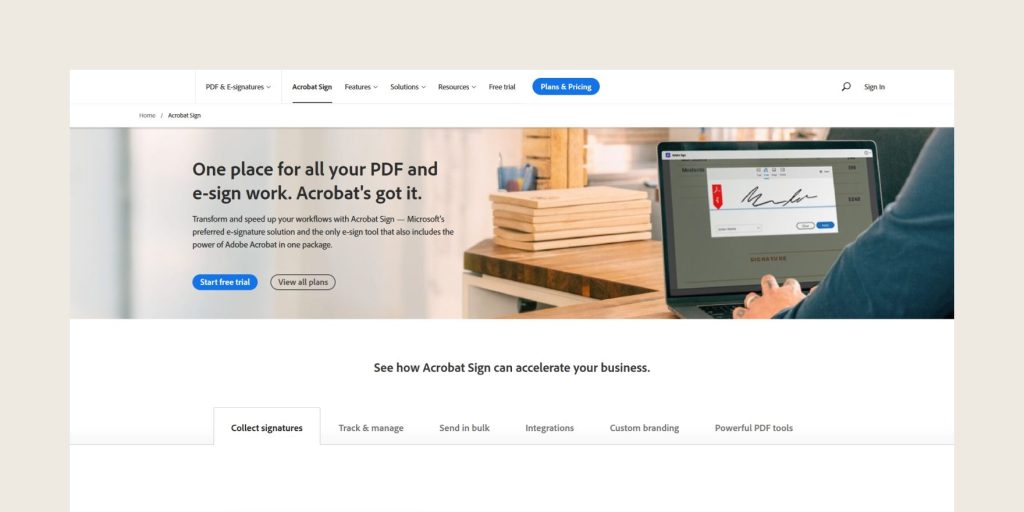 Once upon a time, there existed a solution called EchoSign which was released in 2006.
Fast forward a few years later (2011, to be specific), Adobe Systems acquired the company and renamed it Adobe Sign.
So, basically, this is a lot similar to what happened with the HelloSign acquisition — Dropbox bought it and changed it to Dropbox Sign.
Presently, Adobe Sign allows users to edit, sign, and brand PDF documents. We'll learn about all its key features a little later down the line.
Product pricing
The company divides its pricing plan based on the kind of users they're doing business with.
If you're an individual user, you can opt for one of the following plans: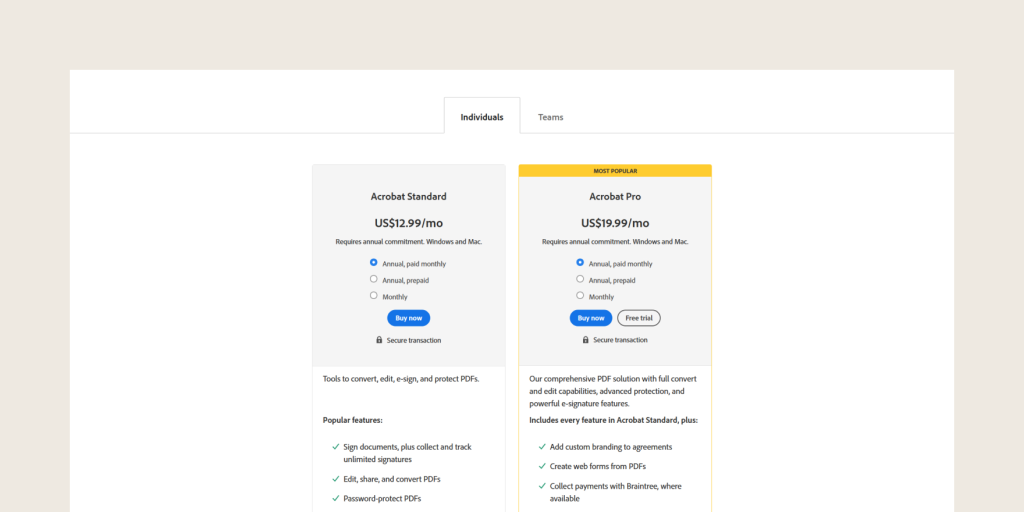 Acrobat Standard: $12.99/month (this plan allows you to edit, convert, share, protect, and sign PDFs).
Acrobat Pro: $19.99/month (this plan allows you to add custom branding, create forms, compare PDFs, convert documents, redact information, etc.).
So, bottom line: while Acrobat Standard has a limited feature set, Acrobat Pro has more capabilities (and is hence more popular) by comparison.
However, if you operate a team, then here are all the plans available to you: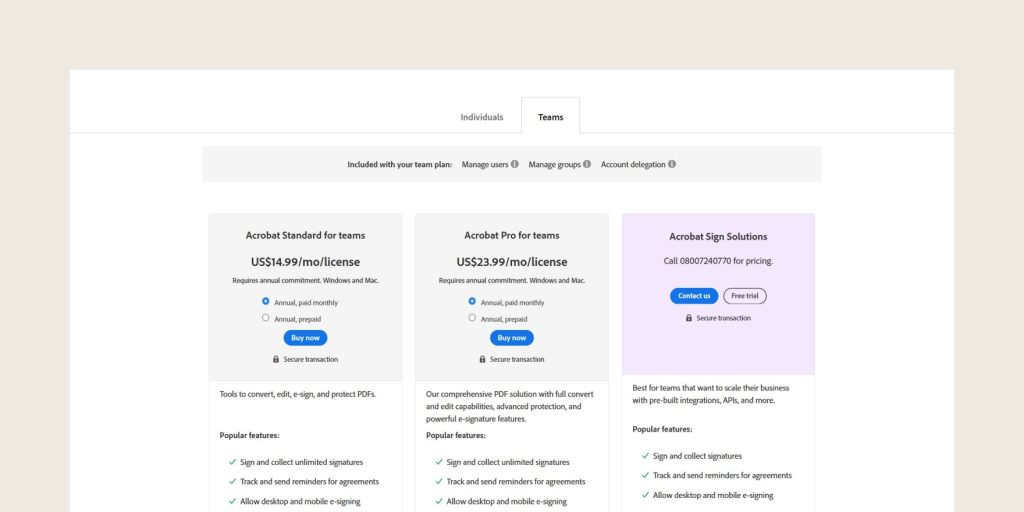 Acrobat Standard: $14.99/month/license (this plan allows you to integrate with Microsoft 365, create signatures from any device, collect unlimited e-signatures, edit PDFs, and track documents).
Acrobat Pro: $23.99/month/license (aside from all Acrobat Standard features, this plan allows you to send PDFs in bulk, add custom branding, compare PDFs, and create editable documents).
Acrobat Sign Solutions: Requires a custom quote (with this plan, you not only get all of Acrobat Pro's features but you can also get API access, higher-grade authentication, industry-relevant compliance, and built-in integrations).
Key features
1. Request and track every signature
With Adobe Sign, you can edit documents on any device and request e-signatures in an instant.
Once these documents have been sent, you can get:
Reports for audit trails;
Real-time updates to decipher the status of the document.
You can also set automatic reminders through emails, add additional layers of security to the documents you send, and filter searches with indexing.
You and your clients get the option to digitally or electronically sign, too.
Additionally, your recipients can easily sign the documents you send them (and send payments too) without signing up for Adobe.
2. Plenty of integrations
To ensure you create seamless workflows, Adobe Sign provides multiple integrations that are suited for various departments.
For example, if you belong to the HR department, you can use integrations like Workday, SAP SuccessFactors, and Service Now.
Similarly, if you belong to the legal department, you can use tools like Box, Notarize, Veeva, and more.
Or, if you're a part of the sales team, you can benefit from integrations like Salesforce, Oracle, Zoho CRM, and Oracle NetSuite.
Explore Adobe Sign's integration list here.
3. Customize experiences
Customizing experiences with Adobe Sign is simply a breeze, because the software allows you to:
Add company branding and business stamps to your documents.
Customize documents in more than 24 languages.
Create templates of documents you use most often.
Add integrations to automate workflows.
Personalize confirmation pages and messages.
Send bulk signing requests to separate users.
These features combined together can customize experiences not only for your clients, but also for your employees that use the product on a day-to-day basis.
4. Highly secure
Current or potential users of Adobe Sign would be happy to know that it's one of the most secure solutions in the industry.
To begin with, Adobe is a registered member of the Trusted Information Security Assessment Exchange (TISAX).
And it's regularly reviewed by TruSight to ensure that it keeps up with regulatory standards.
Aside from these security standards, it's also compliant with:
ISO requirements
SOC 2 Type 2 and SOC 3 requirements
If you need industry-specific security measures, Adobe is compliant with HIPAA, FERPA, GLBA, and FDA 11 CFR Part 11, too.
Last but not least, the solution is also a Qualified Trust Service Provider (QTSP), which makes it a trusted party for digital signatures.
Support and ease of use
Adobe Sign's customer support can be contacted directly from your admin dashboard if you have a group account.
If you have an individual account, you can refer to the guides and community pages available on their website.
There's also a handy-dandy chatbot available on the website that helps you solve your queries. Aside from this, there's no other support option, which makes getting a definitive answer to your questions a little tricky.
Additionally, when you account for time zone differences (as well as the customer support team only knowing one language), there is no doubt there are some roadblocks in accessing support.
To their credit, though, the customer support team is excellent and highly knowledgeable (and many users stated that the product is so easy to use, you don't really need to get in touch with the customer support team most days).
A majority of the customers also noted that the user interface (UI) is highly intuitive, which makes the whole process of signing documents straightforward and easy.
Some, however, said that the admin dashboard could be improved a little, as it's not as friendly as the end-user dashboard.
How does PandaDoc compare?
The places where Adobe Sign's brightness dims are where PandaDoc shines.
For example, while Adobe Sign customers wish they could receive font options, PandaDoc provides plenty.
Similarly, users wished they could get more extensive analytics with Adobe Sign.
PandaDoc ensures that our users can see all the ways the documents were interacted with, so we provide answers to questions like:
How many times was the document opened?
How much time was spent reviewing the document?
When was the last time it was viewed?
How many times was it downloaded?
Which links were clicked?
And these are only a few analytics (we provide page-based analytics too).
Another con of Adobe Sign that came up was that it's not suited for small teams (either because of the pricing or the use cases).
Adobe Sign can only be used for signatures, whereas PandaDoc can be used for multiple use cases, including (but not limited to):
Invoicing
Contract management
Customer relationship management
Workflow automation
E-signatures
Email tracking
PDF Editing
All these use cases, hence, make us an extremely reliable choice for small teams or small businesses.
If you wish to learn more about what PandaDoc can offer, schedule a free demo with us to see how it can eliminate your bottlenecks.
Is Adobe Sign past its prime?
Adobe Sign, or rather Adobe Acrobat as a whole, is still very much full of life, mainly due to its:
Ease of use
Fan following
Years of industry experience
But that's not to say there aren't better solutions on the market, or that Adobe Sign cannot be overtaken.
So, should you be open to choosing other solutions over Adobe? YES! Especially if you're a small business.
One very capable solution you can look toward is PandaDoc. To see how Adobe Sign ranks against PandaDoc, learn more about it here: Adobe Sign vs. PandaDoc — Comparing Feature List.
Frequently asked questions
Prices of Adobe Sign for individual users are between $12.99/month to $19.99/month. The starting price for teams is $14.99/month/license, and the highest plan requires a custom quote.

Each solution shines in its own way, but since PandaDoc has better usability and more features, we'll have to go with PandaDoc.

Adobe Sign allows you to customize experiences for users, has multiple integrations, and has a great feature set.
Disclaimer
PandDoc is not a law firm, or a substitute for an attorney or law firm. This page is not intended to and does not provide legal advice. Should you have legal questions on the validity of e-signatures or digital signatures and the enforceability thereof, please consult with an attorney or law firm. Use of PandaDocs services are governed by our Terms of Use and Privacy Policy.