In the 2000s, electronic signatures became legal in most of the world. Since then, many digital signature solutions have emerged to fill the niche.
These days, there are plenty of available options in all configurations possible, including the solutions we offer at PandaDoc.
As DocuSign, Adobe Sign, and HelloSign have long been competing against each other to become the number one choice for users, we'll focus on comparing and contrasting these three companies only.
So how do user preferences shape up for 2022? Which of these three solution providers will top our list?
This article will attempt to provide an unbiased opinion based on client reviews and other publicly available information.
Meet our challengers
Let's first get a closer look at our challengers in no specific order.
01. DocuSign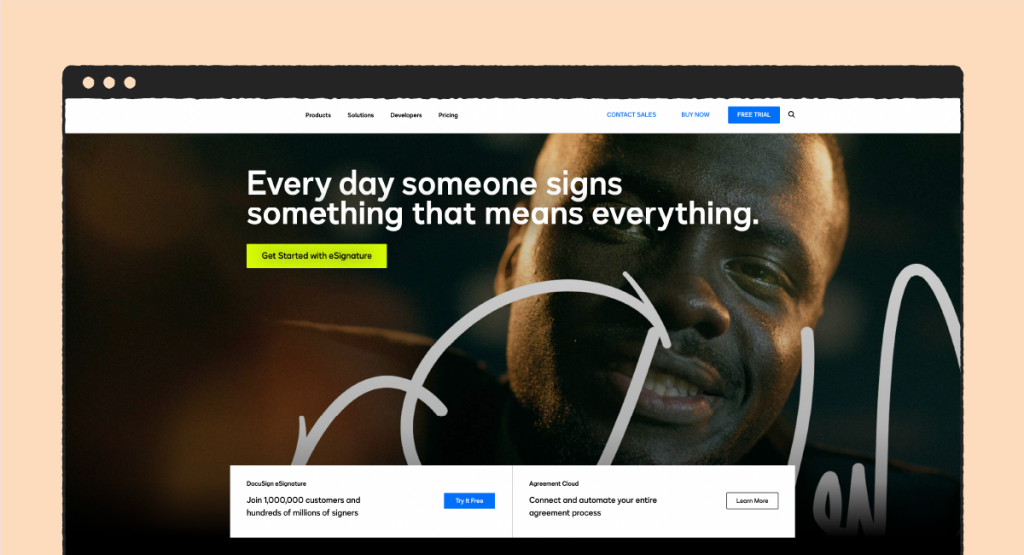 DocuSign has been around since 2003 and is considered a pioneer among those that developed eSignature technology.
The platform provides the ability to create templates, view analytics, and track progress. Also, users can upload documents to DocuSign using third-party applications like Google Drive, Dropbox, or Salesforce.
However, many other electronic signature solutions share the same features, so let's continue with what makes DocuSign stand out.
DocuSign provides enterprise-grade security features: the online signatures can be placed once verified by geolocation.
That makes it handy to use DocuSign on the go, so it shouldn't surprise that the app is available on various devices.
Additional highlights. DocuSign allows setting up reminders and sending push notifications with just a few clicks. Additionally, there is a possibility to create predefined input fields for signatures, another helpful convenience.
You might also want to check out one of our articles to see how DocuSign stacks up against PandaDoc's digital signature functionality.
02. Adobe Sign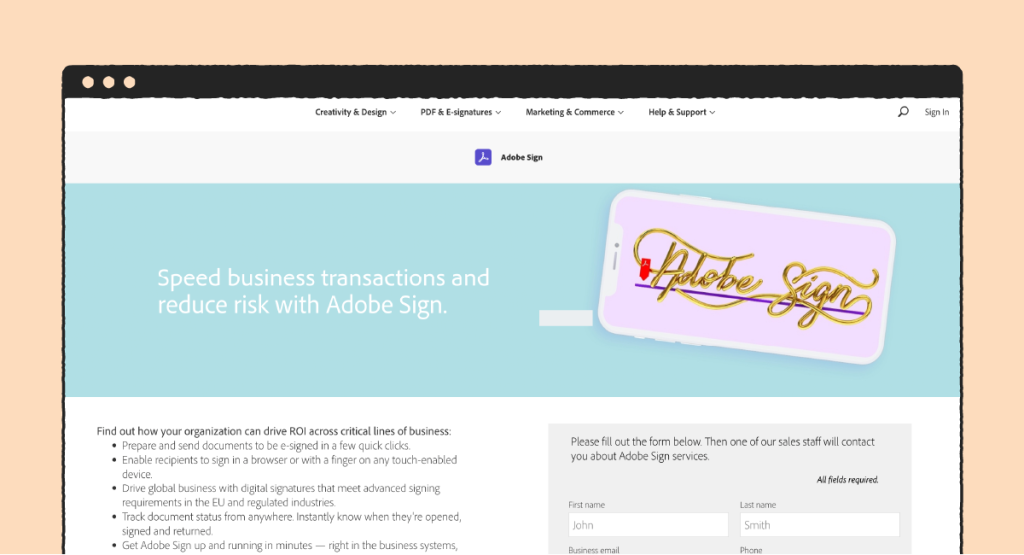 The initial release of Adobe Sign took place in 2006. Before that, Adobe Sign was known as EchoSign: it's a common practice for Adobe to take over startups that indicate potential.
The very fact that this application is a part of the Adobe ecosystem implies a comprehensive approach to document management.
Consequently, Adobe Sign seamlessly integrates into the standard document workflow and delivers an end-to-end user experience.
Adobe Sign integrates with third-party systems (Salesforce, Dynamics, Microsoft Office 365, etc.), just like DocuSign.
Additional highlights. Interestingly enough, though, some documents needing approval don't necessarily require a signature — something that Adobe Sign can provide as well.
You can read our article to see a more detailed breakdown of Adobe Sign's available features, and our view of what's missing.
03. HelloSign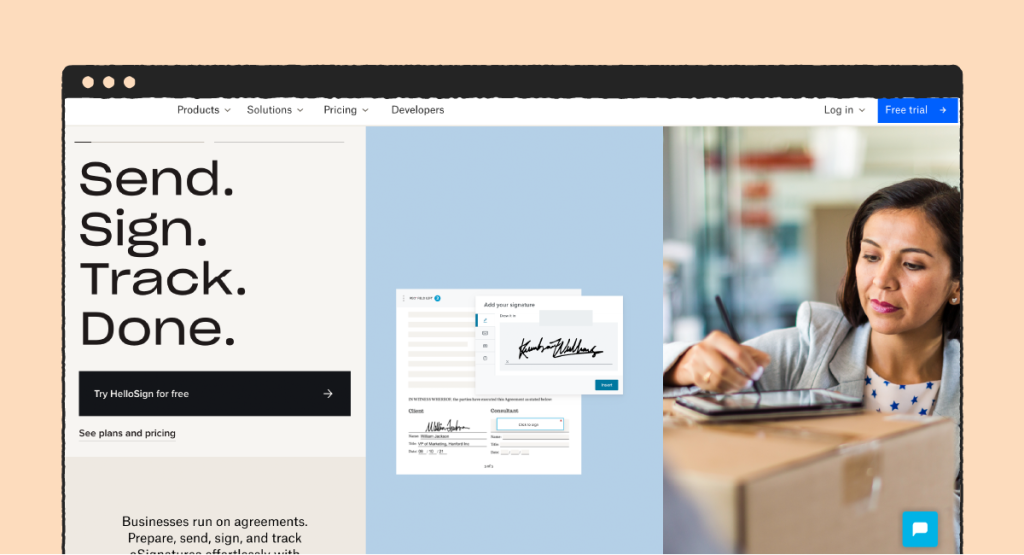 HelloSign is a relative latecomer, making a debut in 2010.
One of the most distinguishing features of HelloSign is an intuitive drag-n-drop interface, which makes the signing process straightforward.
Once signed, HelloSign documents are stored in a separate folder, making the navigation process simple.
Also, HelloSign is accessible via various devices and integrates with different third-party platforms, similar to DocuSign and Adobe Sign.
Additional highlights. The free version of HelloSign is suitable for most personal needs: one can sign documents and send them out via email. Who doesn't like free stuff, right?
Now, if you fancy a quick review of HelloSign's existing features, you can check a comparison graph we came up with in this article.
And if you want to do a more granular comparison of all these three products — DocuSign, Adobe Sign and HelloSign — against each other, read on!
Which one do users like more?
To answer this question, we'll reserve opinions that are based on publicly available information on G2, Capterra, GetApp, etc.
1. Pricing and free trials
Starting with pricing, all three use a standard monthly subscription model. The only difference is that DocuSign and Adobe Sign charge users per set, while HelloSign charges per feature.
The pricing works in the following way: DocuSign would charge you $14.99 for a basic package; Adobe Sign, $10; and HelloSign, $15, respectively.
All these apps have free trials; however, only DocuSign and HelloSign provide free versions of their products that you can use indefinitely.
2. Target audience
DocuSign, Adobe Sign, and HelloSign target individuals and organizations of all sizes. However, Adobe Sign doesn't have a free version of their product — something that many individuals typically find very useful.
Although all three target the same audience in terms of business size, HelloSign's pricing model seemingly makes it seemingly more accessible for small companies and individuals.
3. Features
Altogether, all three have pretty similar functionality, so let's dig in and see what's different about them after all.
Activity logs and audit trails
Activity logs can be used to monitor both the account activities and actions performed while using the eSignature service. In the latter's case, these activities are better known as audit trails.
DocuSign is the only platform that has both activity logs and audit trails. Naturally, their account activity logs contain changes in user and account settings, billing information, branding, and custom fields. That gives administrators the ability to track down every tiny change.
DocuSign's audit trails include the main data points for digital transactions, such as recipient email, IP address, and date.
Adobe Sign keeps track of all changes made to the document after signing as well as date, email, IP address, and authentication ID.
And finally, HelloSign. This one arguably provides the most comprehensive audit trails of all three, including tracking events like document sending and signing, attachment uploading, signature disclosure accepting, signer access code authentication, in-person signing, and more.
Secure authentication
DocuSign, Adobe Sign, and HelloSign employ standard security methods as verification by email and two-factor authentication — no surprise here at all.
But when it comes to more advanced security features, that's when things begin to change.
First of all, a standard electronic signature (SES) is proof that one segment of data (the signatory's credentials) is linked to other requisite data (e.g., a document).
Usually, PIN codes, passwords, and scanned signatures are considered as a part of SES, which is supported by all three platforms.
Secondly, an advanced electronic signature (AES) is linked to a signatory uniquely, thus making any subsequent changes in the document easily detectable, according to eIDAS. Only DocuSign and Adobe Sign provide AES.
Lastly, a qualified electronic signature (QES) is the most advanced type of signature that involves a face-to-face video call and a unique digital certificate released by a trusted service provider.
A QES is provided by DocuSign, Adobe Sign, and HelloSign.
Template creation and customization
Templates work much in the same way across all three platforms: users can create reusable templates, share them with the other users within the same organization, or send them out for signing.
The noticeable difference is that HelloSign has predefined templates for the most common document types, such as non-disclosure agreements or W2 and 1099s tax forms, which speeds up the document creation process.
Comprehensive analytics
DocuSign, Adobe Sign, and HelloSign have basic document tracking features, allowing users to see the progress of each signature request.
But DocuSign and HelloSign have more to offer here, so Adobe Sign slightly falls short.
DocuSign has an AI-based contract analyzer that provides risk assessment at the early stages of the contract negotiation. Pretty neat, eh?
HelloSign's mobile app conveniently organizes all signature requests in three major categories according to the progress made. You can get a general idea of what's going on at a glance.
Mobile apps
All three platforms have their mobile apps available for iOS and Android devices. Therefore, there are no significant differences here: all three apps do the same thing, allowing users to sign or request signatures.
The only distinguishable feature is that the Adobe Sign app allows taking an image of a handwritten signature and uploading it to an app, which is a time saver.
Collaboration between different parties
DocuSign collaborative fields are special areas where document senders and recipients can propose changes. In addition, Docusign also has a document markup feature (think suggesting mode in Google Docs) that allows offering changes by laying them over the existing text.
At the same time, collaborators can use DocuSign Comments to enable a real-time conversation between the parties.
Although some workarounds allow you to edit documents with Adobe Sign, there are now specific features designed for that purpose. However, since Adobe Sign is a part of the Adobe family, you can get access to a larger set of tools that can extend your collaboration capabilities.
HelloSign doesn't have any distinctive collaboration features, unfortunately. So DocuSign is clearly ahead of the game here.
Reminders
Reminders work similarly across all three platforms. The only feature that stands out is the ability to send SMS notifications via DocuSign.
4. Customer support
No matter how impressive an app is, specific issues might appear along the way, so excellent customer support is imperative.
As such, all three providers offer support by email and chat. Additionally, Adobe Sign and HelloSign will allow its clients to contact the support team via phone. They both also have a large base of video tutorials.
5. Deployment
All three platforms are available via web and mobile apps, but this is where similarities end.
DocuSign offers a desktop app for Mac and Windows, while Adobe Sign also supplements an on-premise app.
6. User ratings
According to Capterra, DocuSign tops the list with 4.8/5 stars.
In general, users tend to praise DocuSign: most reviews note the overall efficiency of this tool. Also, many users state "popularity" as the primary reason for choosing DocuSign.
There were some minor complaints about pricing not being flexible enough for smaller organizations.
The second place in user ratings is HelloSign, with 4.6/5 stars.
Most users highlight a user-friendly interface and practicality.
Some users repeatedly stated that pricing was the primary reason for switching to HelloSign from other providers: the free version was often enough to cover their needs. However, there were also some complaints: most of them were related to customer support.
And last but not least comes Adobe Sign, with 4.5/5 stars.
Overall, users tend to like Adobe Sign, particularly those with Adobe Creative Suite. Signing PDFs can be extremely easy with Adobe Sign.
Although, certain users complained about difficulties getting non-PDF documents signed. Adobe recently removed Adobe Sign as a free add-on — something that users were not particularly happy about.
At PandaDoc, we know how much user ratings matter. We have been awarded with "Leader" and "Top results" badges by G2Crowd!
To sum up
Having compared DocuSign, Adobe Sign, and HelloSign, it's fair to suggest that all of these platforms are very competitive options.
Each one has some minor drawbacks, but each product also makes up for it with something else, which we find extremely smart.
DocuSign doesn't have phone support, but they offer more deployment options while being on the same pricing level as HelloSign.
Adobe Sign doesn't offer a free version of their app, but they have the lowest entry price point.
HelloSign has phone support, a free version of their app, and is generally rated as the most user-friendly app of all three. But they have limited deployment options.
DocuSign
Adobe Sign
HelloSign
Pricing (starting from)
$14.99
$10
$15
Free trial
Yes
Yes
Yes
Free version
Yes
No
Yes
Deployment
– Web
– Desktop
– Mobile
– Web
– On-premise
– Mobile
– Web
– Mobile
Features
– Activity logs
– Authentication
– Templates
– Analytics
– Mobile app
– Collaboration
– Reminders

– Activity logs
– Authentication
– Templates
– Mobile app
– Collaboration
– Reminders
– Activity logs
– Authentication
– Templates
– Analytics
– Mobile app
– Collaboration
– Reminders
Customer support
Support by phone is not available
Support by phone is available
Support by phone is available
User ratings
4.8/5
4.5/5
4.6/5
It's hard to pick a definite winner here with all three platforms being so similar. If you'd like to check out what PandaDoc has to offer, here is your 14-day trial. No credit card required!