Finding the right eSignature solution isn't easy.
Searching "digital signature software" on sites like Capterra will populate almost 300 results, and no one has the time to look through them all.
That's why, at PandaDoc, we put each eSignature solution to the test to see which tool is the best for your needs.
Today's contenders? Docusign vs Foxit eSign.
Both are strong electronic signature solutions with a lot of fans, but which tool will swipe the crown? Let's take a look.
How PandaDoc conducts comparison reviews
With over 250 eSignature tools available on the Internet, we understand that there's no feasible way a single freelancer or business owner could spare enough time to find the best option.
Choosing the wrong software has its consequences. From lost productivity to time wasted on training, an unsuited eSignature tool will do more harm than good.
At PandaDoc, we do our best to equip you with what you need to make a choice. We'll make sure the document management systems or solo tools discussed in this article are thoroughly researched and backed by facts, so you can make an informed decision.
How we found our data
To ensure our research is spot on, we follow these steps to a T:
Analysis and personal testing of both platforms.
Comparison and analysis of support packages, prices, and features.
An in-depth overview of customer reviews.
Continuous updates to our comparison articles (once posted).
To accurately access the tools covered in this article, we visited over 25 websites to calculate the aggregated value of both DocuSign and Foxit eSign.
We include user-review websites, SaaS tool websites, and software review websites within our dataset.
Then, we grouped our findings into five cohorts based on monthly visitors:
>1.000,000 visitors;
500,000 – 1,000,000 visitors;
250,000 – 500,000 visitors;
50,000 – 250,000 visitors;
<50,000 visitors
Websites that contained monthly visitors in the top 2 cohorts were ranked as "high priority" in our content analysis.
Websites that took sponsorships from Foxit eSign or DocuSign were either vetted thoroughly for the accuracy or weren't used at all.
Here are a few examples of sources we used in this article:
We included the websites of the respected tools in our research, but they were only used to obtain factual data such as features, free trials, or pricing.
To keep our research objective, we didn't include the companies' perceptions of their own tools in any way.
Product overview
01. DocuSign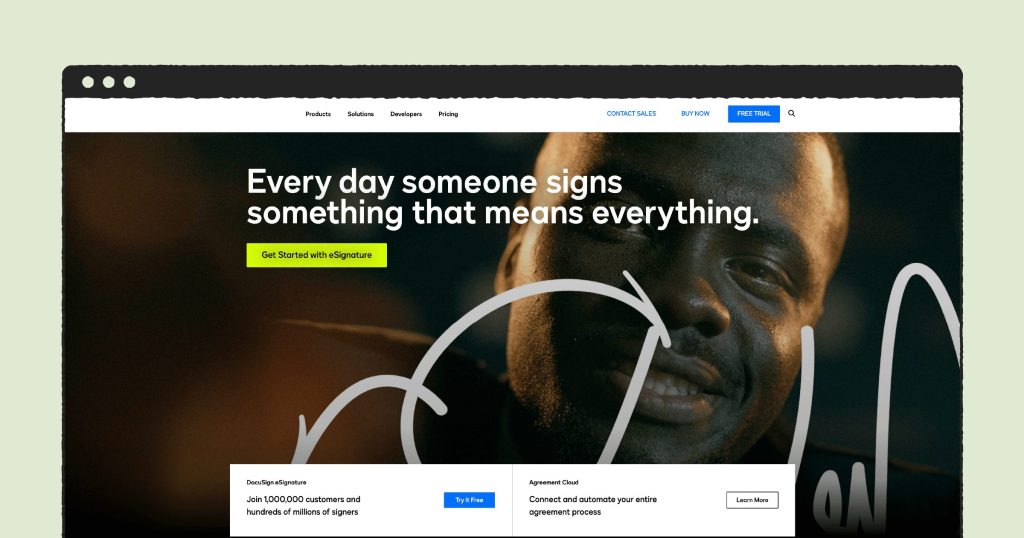 Cost: DocuSign has five plan tiers: Free, Personal, Standard, Business, and Advance:
Personal Plan: $15 per/mo or $10/mo for a year
Standard Plan: $45 per user/mo or $25/mo for a year
Business Pro: $65 per user/mo or $40/mo for a year
Advance Solution: Call for information.
G2 rating: 4.5/5
Functionality: 4.3/5
Ease of use: 4.5/5
Free trial: Yes. 30 days.
Support options: Knowledge base, email/help desk, 24/7 (live rep), FAQs/forum, chat, training.
Platform availability: Windows, Mac, iPad, iPhone, Android.
DocuSign is a known leader in the eSignature space, offering some of the most comprehensive capabilities to administer and sign digital documents from just about anywhere.
Its impressive workflow streamlines your signing process, making it simple for any business to request secure, legally-binding eSignatures.
Unlike some other DocuSign alternatives, this software makes it possible to complete most of your agreements within a day.
What's more, this eSign tool allows you to integrate with your existing business system, so you can continue to create templates on another platform.
As an unstoppable workflow management system, DocuSign has API and over 350+ platform integrations.
With an easy-to-navigate platform and 24/7 customer support, it's no wonder DocuSign is trusted by 500k+ customers from all over the world.
02. Foxit eSign (formerly eSign Genie)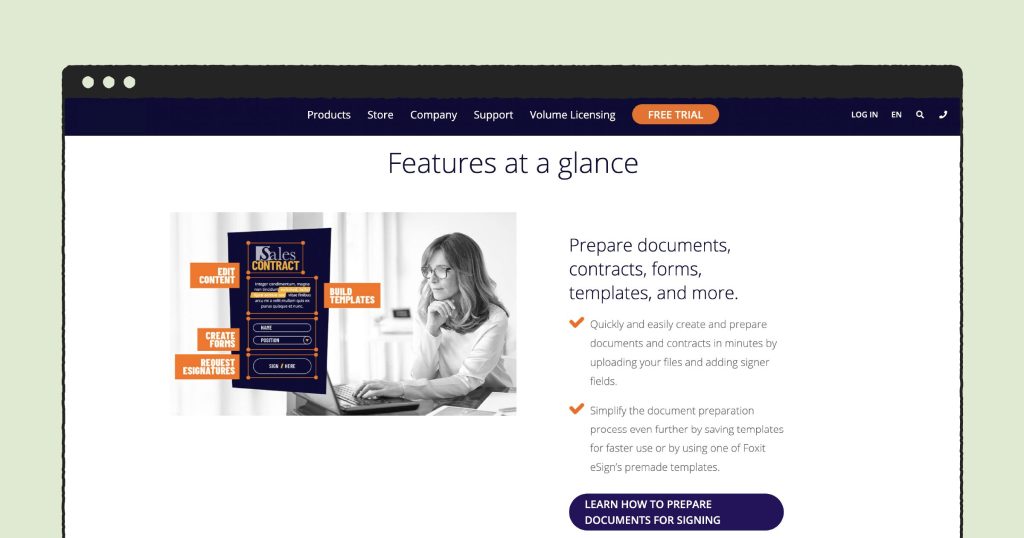 Cost: Foxit eSign has four price tiers: Free, eSign, eSign Pro, and eSign Enterprise. Foxit eSign doesn't offer a monthly plan (even with eSign Enterprise), but if you can afford the yearly cost upfront, you'll pay the equivalent of $8-$25 a month, which is pretty inexpensive.
eSign Plan: $96.00 a year (the equivalent of $8 a month)
eSign Pro Plan: $300 a year (the equivalent of $25 a month)
eSign Enterprise Plan: Volume-based pricing.
G2 rating: 4.8/5
Functionality: 4.8/5
Ease of use: 4.7/5
Free Trial: Yes. 14 days.
Support options: Knowledge base, phone, email/help desk, 24/7 (live rep), FAQs/forum, chat, training.
Platform availability: Windows, Mac, Linux, iPad, iPhone, Android.
Foxit eSign (formerly eSign Genie) is a leading and top-rated eSignature software used by independent contractors and companies worldwide.
Foxit eSign aims to provide customers with versatile, adaptable, and intuitive solutions that meet their eSign needs.
Foxit eSign includes a fair share of helpful features, including reusable templates, audit trails, and signing in 11 languages.
One of its more impressive features is REST APIs, which can integrate seamlessly with your website or application on its Enterprise Plan.
You can increase your productivity by using one of many integrations available with Foxit eSign, like Google Drive, WordPress, and Box. With Zapier, Foxit eSign can integrate with 2,000+ applications, but by itself, it can only integrate with around 12 tools.
How Foxit eSign and DocuSign compare
| Features | DocuSign | Foxit eSign |
| --- | --- | --- |
| Document signing | 5 per month (Personal) 100 per year (Standard and Business) | 100 per year (eSign) 150 per year (eSign Pro) |
| Sign-in process | ✓ | ✓ |
| Reminders and notifications | ✓ | ✓ |
| Signature workflow | ✓ | ✓ |
| Mobile signatures | ✓ | ✓ (No app) |
| Reporting | ✓ | ✓ (Excel only) |
| Bulk digital signatures | Business | eSign enterprise |
| Signature audit and history | ✓ | ✓ |
| Signature document creation | ✓ | X (Templates only) |
| Enterprise scalability | Advanced | eSign enterprise |
| Regulatory compliance | ✓ | ✓ |
| Template library | Personal | 10 (eSign) or 1000 (eSign pro) |
| Custom branding | Standard | eSign pro |
| Internationalization | ✓ | ✓ |
| Access management | ✓ | eSign enterprise |
| API integration | Advanced | eSign enterprise |
Both DocuSign and Foxit eSign have a lot of the same features, each locked behind tiered plans. At first glance, both solutions look similar.
They even have hard caps on how many documents its users can sign per month.
Since an eSign tool is only as good as its features, support, and ease of use, inclusion alone won't tell us which software performs better. We also have to look at the quality of each feature to know which eSign solution comes out on top.
Document preparation
Foxit eSign and DocuSign encourage you to upload or create templates to sign.
Both solutions have a simplified, 4-step eSigning process.
DocuSign includes the most customization features for the cost.
DocuSign and Foxit eSign automate the eSign process by allowing you to upload and create templates directly in its tool. Once you have a steady stack of documents, you can continuously use and distribute them to your clients.
DocuSign and Foxit eSign have similar interfaces. DocuSign prompts you to upload a document after signing in.
So does Foxit eSign, but you also have the option to create a template or go through the options at the top of the screen.
Your eSign tool of choice will initiate the same 4-step process: Upload, assign signers, edit/create and send. Both solutions default to an email invitation, but Foxit eSign lets you review the email's subject line and comments first.
Both DocuSign and Foxit eSign allow you to create templates, but DocuSign has its own way of doing things.
If you upload a blank page, you can play with the drag-and-drop editor to create a fully-loaded template that can be signed and sent to a client. You can also select "Create a Template" from DocuSign's interface.
You can also upload a template or use one of the hundred pre-loaded documents from their template library to add extra variables or boxes.
However, you can only edit what you include in their content blocks, so their creation software is quite limited.
In Foxit eSign, you can technically create a document, but it still prompts you to upload a previous file. You can't start on a blank page.
Instead, upload a blank page yourself and add different data entry and signature fields to customize your document.
Foxit eSign has a limited template library, but what they have is HIPAA compliant.
In the end, both DocuSign and Foxit eSign have a similar-looking creation feature, but DocuSign offers more fields at its lowest tier than Foxit eSigns Enterprise tier.
Winner: DocuSign
Although DocuSign isn't clear in its workflow right away whether or not you can create a template, once you're on board with this feature, you'll gain access to a decent tool.
DocuSign and Foxit eSign nearly tied because they have a similar workflow, but DocuSign has a more sophisticated eSigning platform than Foxit eSign at a lower price tier.
Foxit eSign is straightforward with its ability to create documents, which is nice.
However, Foxit eSign has fewer templates and limits the amount of "envelopes" (documents) you can send to sign.
Setup, price, and integration
All tools have a free trial, but Foxit eSign lets you experience it's eSign Pro tier for free.
Both tools are simple to set up and don't require a credit card for their free trial.
Foxit eSign can integrate with 12 apps, while DocuSign can integrate with over 350+.
Foxit eSign and DocuSign have a similar setup process. All you have to do is add your name, email, phone number, and business name to start using the software.
You'll be able to get the hang of Foxit eSign and DocuSign in under 10 minutes.
Both solutions offer free trials, but Foxit eSign's Pro tier is available with the trial. It's great that you get to experience Foxit eSign's more advanced features before purchasing.
There's just one problem: Foxit eSign doesn't have an unlimited tier. You may be able to use their Enterprise Plan to receive near-unlimited eSignatures, but it will cost you just as much as DocuSign's Advanced Solutions Plan.
DocuSign also doesn't have an unlimited tier, either, but Foxit eSign surpasses the number of envelopes (Foxit eSigns term for "documents") DocuSign can send each month in its eSign Pro Plan.
DocuSign and Foxit eSign have most of the same features, except Foxit eSign doesn't have an app and can only use its reporting feature on Excel.
Their interface on mobile is pretty decent, so you can still sign from anywhere.
It's hard to compete with DocuSign's 350+ integrations, but Foxit eSign does include all of the favorites, like Salesforce, Slack, and Zapier.
When Foxit eSign connects to Zapier, you can integrate over +2000 apps, so that's something.
Although Foxit eSign doesn't have a monthly payment option, it does offer more functionality than DocuSign at a lower price point, despite the fact that some of its features are a little limited.
Winner: DocuSign and Foxit eSign
To be honest, if Foxit eSign had a monthly payment option, it would have won this section.
Foxit eSign definitely offers more for less, and the Zapier integration can make up for its integration shortcomings, but if an entrepreneur can't pay $96-$300 upfront, they can't use the software.
DocuSign and Foxit eSign are easy to set up, but DocuSign integrates with nearly any platform you can think of. DocuSign also has monthly payment plans.
Both solutions tie because their positive and negative features level out.
Branding and white labeling
DocuSign has some advanced branding features.
Foxit eSign isn't the software for you if you require effective branding.
Neither option offers white labeling.
DocuSign has some decent customization features. You can change your fonts, colors, buttons, and banners within your email and documents.
Most of DocuSign's branding capabilities are locked behind their Advanced Solutions Plan, but what they offer in their Standard tier is pretty good.
Foxit eSign also allows you to customize your documents and email. For example, you can display your logo on your signature certificate. However, DocuSign offers slightly more.
Since neither option has white labeling, both solutions are limited as to what they can customize. If you don't want DocuSign's or Foxit eSign's logo present in your documents or emails, you'll have to find another software.
Winner: DocuSign
Although DocuSign doesn't have white labeling, it does allow you to play with more customization options, either with its drag-and-drop editor or in the tools' settings.
Support options
DocuSign has limited support for most of its plans.
Foxit eSign offers exemplary service, even on its free trial.
To upgrade your support options with DocuSign, you must pay an extra fee.
DocuSign and Foxit eSign have similar support options, including 24/7 support, an email/help desk queue, FAQ/forums, live chat, and a knowledge base.
However, Foxit eSign offers support by phone, whereas DocuSign doesn't unless you purchase a separate support plan.
DocuSign starts offering phone support within the Plus Support Plan, but their other options are still available to you.
While DocuSign does prioritize their Enterprise or Plus Support customers, they can still respond to requests within 2-3 days. If you want to get an initial response time of fewer than 2 hours (or emergency support in 30 minutes), you'll have to pay extra.
Foxit eSign was incredibly responsive to my questions on both email and live chat, and most of the information pertaining to their products is easy to find and readily available.
One thing I found strange about Foxit eSign is that they heavily promote their API, but their section explaining the feature doesn't say how to get it.
It also doesn't explain where that feature is located on their price tier. However, several reviewers mention API is in the Enterprise Plan.
We asked Foxit eSign's live chat which price tier has API as a feature, and they answered promptly, but they referred me back to the price comparison page, which didn't have that info.
When I said I didn't see it, they quickly noted that API was locked behind their most expensive plan, which is standard for the industry, but it would be nice if that info was easier to find.
Overall, Foxit eSign's customer service is top-of-the-line, quick, and efficient. I spoke to them before and after signing up for the free trial, and I saw no drop in their wait times or helpfulness. Plus, their support center and FAQ section are incredibly helpful.
Winner: Foxit eSign
Foxit eSign excels with its customer service. Not only do they have just as many contact options as DocuSign, but they also offer phone support for free.
DocuSign is still likely to respond within the day, but you either need to upgrade to its Enterprise option or purchase a Plus Support Plan to receive service that's as fast as Foxit eSign.
If you're a small business owner who can pay for a yearly plan upfront, Foxit eSign will give you more support for your buck.
Our recommendations
Foxit eSign
Independent contractors may prefer Foxit eSign for its eSign and eSign Pro Plans, while organizations will want to opt for the Enterprise Plan, especially for its REST API feature.
All plans allow you to take advantage of Zapier's 2000+ integrations, reusable templates, and audit trails.
Foxit eSign is also one of the cheapest eSignature tools available, but you have to pay upfront for a yearly subscription.
DocuSign
DocuSign is ideal for startups looking to scale or for companies with over 100 employees. DocuSign offers several quality features for its price, including a well-stocked template library and regulatory compliance.
Business Pro Plan holders and above gain access to thousands of integrations like Oracle, Salesforce, Google products, and more.
Want to try another electronic signature instead?
Although DocuSign offers a free trial, you can only send five documents for signing a month.
But, there's a way you can do more for less.
PandaDoc's free electronic signature software allows you to upload and send as many documents as you want! You can also integrate your own payment gateway, so you can populate payment details after your document is signed.
But, that's not all! PandaDoc is a document automated workflow product that operates under several use cases, like document tracking and price quoting, just to name a few.
DocuSign is put to the test in our other articles, too. If you want to see how other eSignature solutions fare against DocuSign, check out our Adobe Sign and SignNow reviews!
Disclaimer
Parties other than PandaDoc may provide products, services, recommendations, or views on PandaDoc's site ("Third Party Materials"). PandaDoc is not responsible for examining or evaluating such Third Party Materials, and does not provide any warranties relating to the Third Party Materials. Links to such Third Party Materials are for your convenience and does not constitute an endorsement of such Third Party Materials.