Time Off Request Form
Customize your time off request form easily with drag-and-drop form fields. Streamline employee time-off requests with complete information. Create a printable form or keep it digital.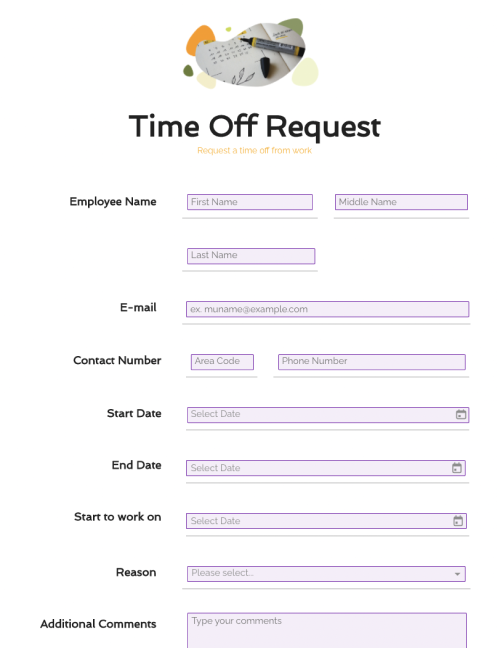 What is a time off form?
Employees use time off forms to request time off from work, whether for a vacation, a personal day, or sick leave with advance notice, such as for a scheduled surgery.
Some companies prefer to call the form an "employee time off request form" to emphasize that filling out the form is merely a request for time off and does not guarantee that the employee's request will be approved by management.
Other companies may call the form a "paid time off request form," "PTO form," or "compensatory time off request form" if they offer paid employee leave.
‌Depending on your company's policies, additional forms may be required for longer leaves of absence, particularly when they involve medical leave or leave necessary because of a disability.
‌Who needs to complete a time off form?‌
Time off forms are completed by an employee who needs time off from work, depending on the company's employment policies or the terms of the employee's contract or labor agreement, if any.
After the employee fills out the form, the employee usually submits the form to a supervisor or the company HR department.
The supervisor or HR department then completes another section of the form approving or denying the request for time off and gives a copy to the employee.
In most cases, employee handbooks dictate who needs to complete a time off form and to whom the form should be submitted for approval.
Why use a time off form?
A time off form is helpful for both an employee and management. It creates a written record of an employee's request for time off and whether the request has been approved, preventing miscommunication between the employee and company.
The form also gives peace of mind. The employee can be assured that the company is aware of the request for time off and can confidently take the time off if it's approved.
The company can plan in advance for the employee's absence to ensure a seamless transfer of workflow and to prevent too many employees from taking time off simultaneously.
Time off forms also make it easier to track an employee's use of time off. Most companies grant a limited amount of time off from work per year.
Using a time off form ensures that both the employee and management can easily confirm how much of that time has been used. This can also apply to tracking paid time off.
What should a time off form include?‌
A time off form should include several standard fields for an employee to fill out, depending on the company's policies:‌
Employee name
Employee department and job title‌
Employee contact information, such as email address and phone number‌
Dates requested for time off
Number of hours requested off‌
Reason for time off (this can include blank space for an employee to fill out; simple check boxes next to terms like "vacation," "sick," "personal," or "other"; or a combination of both)
Whether the time off should be paid or unpaid‌
Employee signature and date
The form usually includes a separate section for an employee's supervisor and/or the company's HR department with these standard fields:‌
Date the time off form was received by the supervisor or HR‌
Name of supervisor/manager‌
Whether the request for time off is approved or denied
Reason for denial (if applicable)‌
The remaining amount of paid time off an employee has (if applicable)‌
Supervisor/HR signature and date
Additional fields can be added to meet your business's specific needs.
Should you use a template to create a time off form?‌
A template for a time off form is a must.
Not only is a template more efficient than individual supervisors creating their own forms, but using a template will ensure that you collect all the necessary information to keep your business running smoothly during an employee's absence.
A template will also help ensure legal compliance. Employee leave is often governed by a slew of employment laws.
Using a standard template form for employee requests for time off will help you consistently apply your employment policies, which goes a long way toward protecting you from employment-related lawsuits.
A template also helps make sure that your time off form complies with all applicable employment laws.
Is a time off form the same as a medical leave form?‌
This depends on the amount of time off needed and the type of medical issue, as well as the employment laws where your business is located.
In the U.S., longer medical leaves and those involving certain health conditions are protected by two federal laws: the Family and Medical Leave Act (FMLA) and the Americans with Disabilities Act (ADA).
Medical leave may also be regulated by state and local laws. Check your local laws to see whether you need a different form for medical leaves of absence.
Because of these laws, many American employers have special forms, separate from their time off forms, for longer medical leaves of absence.
FMLA leave should have its own form. Some employers even create different forms for each type of time off. For example, the employer might have one template for a vacation time off request and another for a medical time off request. 
How do I write a letter asking for time off from work?
A time off request should mention a few things, such as the reason for taking time off, days on which you'd like the time off, how you will be assisting with work opportunities during your time (if you will be at all), when will you be resuming responsibilities, etc.
‌