Equipment Loan Form
Edit forms in a single click. Customize equipment loan forms with intuitive drag-and-drop tools. Collect eSignatures and payments in real-time.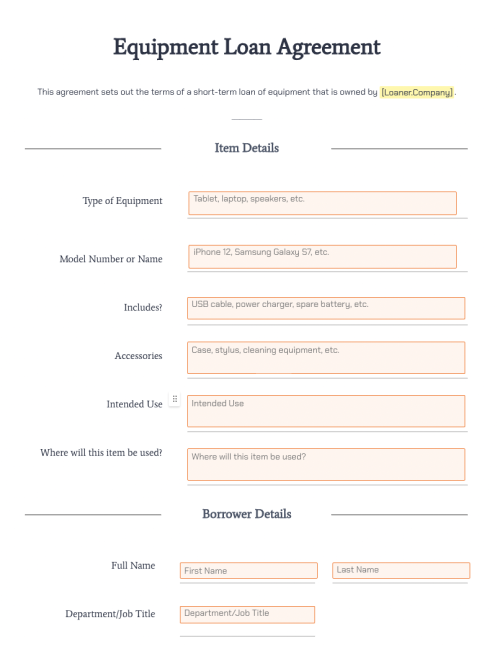 What is an equipment loan form?
An equipment loan form, also known as an equipment borrowing form or an equipment loan agreement, is a document that equipment owners provide to anyone who might want to borrow their gear.
It is used to collect the borrower's personal information and lay out the terms involved in the loan. An equipment loan form helps keep track of who borrowed what and when.
When an organization has many pieces of equipment they lend out, keeping track of where things are is important.
These types of agreements can also help legally protect all parties if any equipment is damaged by tracking who was responsible for it at that time.
What is an equipment loan form used for?
The most basic purpose of an equipment loan form is to record who has possession of that gear and when. Most tools people tend to borrow are expensive or rare items that could be hard to replace.
A loan form provides a paper trail, so the owner always knows where their gear is located. More specifically, these documents record the agreement for one party to lend an item to another under certain terms.
As a lender, you may not want your item to be used in certain ways, or you might want it to stay within a certain area. You can include these types of rules in the agreement terms, so borrowers know what rules to follow.
Finally, these forms also act as a record in case the agreement is broken. If someone borrows your equipment and then claims it belongs to them, you can use the loan document in court to prove where they got it and that the loan was not permanent.
Who should offer an equipment loan form?
Any organization that intends to loan equipment out regularly can benefit from using an equipment loan form.
Because these forms offer legal security, they are crucial to keeping your lending program intact. They ensure that you get your loans back in a timely fashion and give you legal recourse against anyone who breaches the contract.
These types of documents are also useful for groups that want to formalize existing lending programs. If you're already lending items regularly, adding an equipment loan form to your organization can make your program more official.
A selection of organizations that may benefit from equipment lending forms include:
Libraries with expanded lending programs
Companies that allow employees to borrow tools
Community support programs
Resorts and hotels near recreational areas
What should an equipment loan form include?
Every loan agreement form will vary depending on what the loaning party wants to protect. However, most borrowing forms tend to include similar fields.
Here's an overview of the most common types of information an equipment loan document will include:
Descriptionof the item: Describe the item so it's clear what the person is borrowing. Include identifying information like serial numbers, unique markings, and anything else that sets your equipment apart.
Loan start and end dates: This section describes when the loan is officially considered to begin and when the borrower needs to return it. It helps to be specific to avoid complications if the item is damaged.
Personal details: Collecting the borrower's name and contact information allows you to get in touch if something comes up. Personal details like their phone number, email address, and home address allow you to reach out if they're late returning the item.
Terms of the loan: This is where you list any restrictions you have on the item and how you expect the borrower to treat it while they're in possession. For example, you might require them to return a gas-powered piece of equipment with a full tank. You can also include elements like liability waivers to protect your organization in case someone uses the equipment in a dangerous way and gets hurt.
Collateral: If you're lending a very expensive piece of gear, then it may be worthwhile to collect some type of collateral to ensure it is returned. Collateral may be as simple as collecting the borrower's credit card information so you can charge them if they don't return the item after you contact them.
Signature field: Finally, always include a signature field on your loan forms. The signature, or the e-signature for online forms, is what demonstrates that the applicant agrees to your terms. A secure e-signature can help your document hold up in court in case of complications.
Is an equipment loan form the same as a rental form?
Rental forms and equipment loan forms have some significant similarities, but they aren't the same. Both types of documents help people who want to use equipment with organizations that have spare items available.
The major difference between the two is simple: equipment loans are generally free, while equipment rentals have an associated cost.
As a result, the documents for simply loaning an item will not include fields for taking payment upfront. Equipment rentals, on the other hand, generally have elements that allow them to accept payment immediately.
Otherwise, both types include similar elements. Both will describe the item, collect personal information from the borrower, and require a signature field to finalize the loan or rental agreement.
Should your organization use a template to create an equipment loan form?
If you or your organization often lends or rents out any type of equipment, you will likely benefit from using a simple equipment loan agreement template.
Whenever you need to create a new form or update your terms, you can rely on the template to include all important elements and ensure that the legal elements of the agreement are robust.
Instead of creating new documents from scratch every time, a template allows you to save time and money by using a reliable source.
Download the free PandaDoc template today to get started. It's fully customizable, and you can use it as the basis for a wide variety of equipment borrowing agreements.