Home Loan Application Form
Create a custom home loan application for your customers with easy drag-and-drop form fields, automated workflows, and convenient electronic signatures.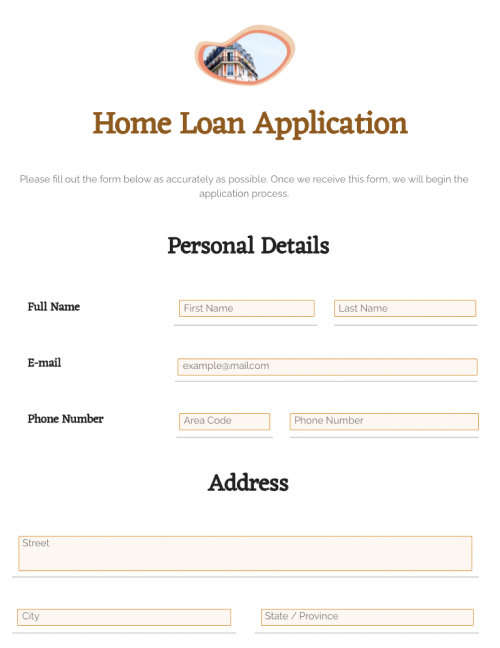 What is a home loan application form?
A home loan application form, also known as a mortgage application form, is a document that someone submits to a lender when they want to buy a home.
Unlike a pre-approval form, a home loan application form is specific to a particular piece of real estate.
Who needs to complete a home loan application form?
Any person who wants to purchase real estate and plans to take out a loan must complete a home loan application form and send it to their lender.
What should a home loan application form include?
Home loan application forms need to include all necessary information that permits lenders to decide whether or not to approve a loan. This includes:
Borrowers' information: The name, age, marital status, dependents, and social security numbers of any borrowers needs to be included on the form. You'll also want to obtain information such as the borrower's current employment status and place of employment.
‌Financial information: Banks need to know all sorts of financial information. Credit history, current assets, and outstanding debts need to be on the home loan or home equity loan application form.
‌Property information: This section contains details about the property the borrower wants to purchase, including its address, cost, and valuation.
‌Declarations: Borrowers are required to explain how they plan to use a property, whether they will reside there permanently, live in it part-time, or rent it out to other people.
‌Signatures: Borrowers must sign that they believe the information they've provided is accurate. If the loan is approved, the lenders will also need to sign the application form. ‌
Should you use a template to create a home loan application form?
Yes! If you work with home loan application forms regularly, using a template is a great idea.
Although home loan applications contain a lot of specialized information when they're completed, the forms themselves are fairly straightforward.
Creating a home loan application form from a template centers all the information you need in one place. You don't have to worry about forgetting a section or reinventing the wheel with each new borrower.
A template keeps things looking professional and streamlined — one with drag-and-drop capabilities and customization options also ensures that you can request additional or out-of-the-ordinary information as needed.
How can an online home loan application form improve accuracy?
When applicants have online access to your application forms, they can gather the required documentation on their own time.
This takes the pressure of having all their information together the moment they step into your office off of your customers. It is especially helpful for first-time homebuyers who are new to the home loan application process.
Borrowers can still ask questions or come into the office if they get confused. But by offering the application form directly to them, they'll be better equipped to collect the necessary documents.
Online forms can also remind people not to leave sections blank.
Instead of highlighting each line borrowers need to sign, you can direct the form to navigate them through those fields, preventing them from advancing prior to completing all sections.
Notice a typo in your home loan application after it has already been sent? No problem! With PandaDoc, you can track documents and know immediately whether people have already opened them.
You can also edit documents in real-time to fix typos or clarify wording without having to track multiple file versions or resend a document link.
PandaDoc offers a complete history of all changes made to a document throughout the signing process for audit purposes and to help you with any potential negotiation debates.
PandaDoc also offers legally binding electronic signature capabilities.
You don't have to worry about documents getting lost or misplaced as they are shuffled from one signing party to the next.
The document can be sent to all necessary parties and signed even if the applicants for the home loan aren't all in the same physical location.
Can you save time with home loan application forms?
Yes! Using a home loan application form can save you and your customers time. You don't have to create new forms each time you have a new applicant.
Signatures can be collected in real-time and automatically uploaded into your system for a quick, paperless process. ‌