As your company grows and you take on more customers, it's harder to keep track of them all, but it's essential that you nurture every relationship.
That's where client management software comes in.
This post will explore the benefits, highlight some free software, and show you how to choose the best client management software for your business.
What is a client management tool?
A client management tool is a type of software for keeping track of clients and ensuring that you maintain strong relationships with them.
It's basically the next step up from contact management software, which is a basic solution for storing and tracking customer data.
By tracking specific interactions with each client, customer management tools assist with customer lifecycle planning, establishing trust, and measuring satisfaction.
They also help you to streamline and automate processes such as scheduling targeted customer communications.
The client data housed in these systems is used by sales, marketing, and customer support teams in order to establish and nurture relationships with existing and potential clients.
The tools are also referred to as customer relationship management or CRM software.
Alongside the key features relating to sales, marketing, and support, client management tools often integrate with other efficiency-boosting tools like document management software.
Why should you use client management software?
If you're a small business, you might have gotten used to managing your clients with spreadsheets, but a CRM system is far more efficient.
As well as seamlessly tracking relationships, software also enables you to analyze data and improve customer retention (which saves on acquisition costs).
Here are some more reasons to use client management software:
Boost sales
So, how do you supercharge your sales team with CRM?
Well, for one thing, the software often includes automation for increased productivity, and lets you see all of your sales data in one central location.
That means sales reps spend less time on admin, and more time on meaningful interactions with clients.
Plus, with the data at your fingertips, there's no need to ask for the same information each time a client calls — you can immediately see details like their preferred name, sales history, personal interests, and any previous problems.
The customer will feel that the company knows and values them, leading to a closer relationship.
Clients who see you as professional, caring, and trustworthy will want to do business with you instead of a competitor.
This connection also improves your brand image and generates referrals, creating further lead generation and sales opportunities.
A sales CRM tool also helps you to anticipate customer needs and offer personalized upselling and cross-selling.
Unified platform
If your client management tools are all housed in different platforms and apps, we guarantee you'll be wasting time by switching between them (and they'll all be costing you money, too).
The best client relationship management software brings a wide range of functions into a single application.
With a CRM tool you just pay one subscription for all the features you need, including task management, file sharing, and communication tools.
The software often integrates with a whole stack of systems and apps, from email platforms to quoting software tools.
For instance, PandaDoc includes useful quoting features that let you customize and quickly share digital quotes with clients.
There are also out-of-the-box integrations with many CRMs, to ensure you get quotes out the door faster and with fewer data entry errors.
When you can call, text, email, or send social media messages to customers from within the CRM, records of all those conversations — and the customer information you gain from them — will be in one database and easily accessible to your sales, marketing, and support teams.
This helps to standardize processes across your company and offer consistent customer touchpoints.
Analytics
Client management software also allows you to collate and make sense of your customer data through built-in analytics and reporting features.
You can track and measure customer activities such as support requests, previous purchases, and how often they engage with your communications.
By identifying patterns in behavior, you'll be better placed to anticipate your customers' future needs.
You'll also be able to spot any recurring issues, giving you the opportunity to improve your service.
Some CRMs let you access customer data in real-time, helping you to analyze satisfaction levels.
Meanwhile, looking at metrics like click-through rates, bounce rates, and demographic data will help you evaluate the performance of a marketing campaign.
Seamless collaboration
As well as building client relationships through data analysis and communication, CRM tools also improve collaboration within and between your teams.
It helps that everyone has access to the same information, especially if your company operates a remote or hybrid working model.
Thanks to built-in communication and collaboration tools, team members can interact through messages and emails, create tasks and alerts, and tag each other on projects — all in the same system.
Most CRMs come with file-sharing and storage capabilities, making it less likely there'll be any duplicated work.
Client management software is also helpful for other business cases, such as document generation you can easily pull data from the CRM to create personalized quotes or contracts.
Click here to see tips for optimizing your proposal content with sales enablement technology.
How we sourced our data
To research this article, we looked extensively at software comparison articles and review blogs, as well as user review websites including G2 and softwareadvice.com.
For information about features and pricing bands, we used the official websites for each tool.
All data was correct as of January 2023, but you should always check for changes before signing up to any software.
The best client management software with free plans
You probably know there are tons of client management software options on the market, with varying capabilities and prices.
If you're on a limited budget, or if you're wanting to try before you buy, then software with a free plan is what you need.
You've probably heard of well-known CRMs like Salesforce and Pipedrive — but they don't offer free plans.
The good news is, there are plenty of Salesforce alternatives that do, and we've listed eight of them here.
Free versions will typically handle the basics, such as organizing your contacts, creating a sales pipeline, and displaying your data on a dashboard.
However, as you'll see, "free" means different things for different tools, so read carefully to see which options have the features you need.
1. HubSpot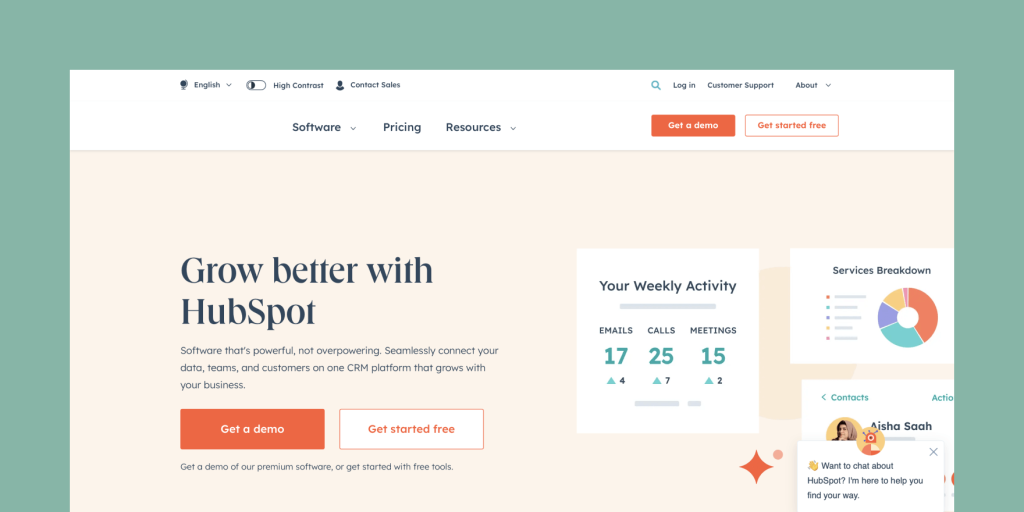 HubSpot CRM is a free bundle that includes features from the Sales, Marketing, Service, CMS, and Operations products. It scores 4.52 out of 5 on softwareadvice.com.
Outstanding features
The free plan is quite generous compared to some of the others, giving you unlimited users and data, and up to one million contacts.
Key features include:
Contact management with automated actions
Deal tracking
Customizable quotes
Customer support tools.
With this tool, you can store, track, manage, and report on all the activities that make up your relationships with customers.
Free users get up to three dashboards, with 10 sales reports per dashboard.
The dashboards also enable you to make calls and update activity logs within them, and you can sync your existing data to HubSpot.
HubSpot scores particularly well on integrations, with more than 800 available on the free plan, from comms tools like Facebook Messenger and Slack to PandaDoc's proposal software.
The Operations Hub functionality lets you make the data bi-directional.
Marketing tools include five email templates and a shared inbox with 2,000 sends per calendar month (emails have HubSpot branding).
The reply tracking feature sends you notifications (200 per month) when recipients open emails and download attachments.
Hubspot CRM also lets you create up to 25 website pages, including landing pages, with drag-and-drop editing and multi-language content creation.
You get premium hosting, mobile optimization, and the ability to connect a custom domain. Plus, there's a standard web analytics dashboard.
Finally, the Service Hub means you can handle support tickets and set up live chat and chatbots (albeit with limited functionality) for your customers.
Unfavorable factors
Although the free version of HubSpot CRM appears to come with a wide range of features, many of them do have limitations.
For example, free users can only have one sales pipeline.
If you want marketing automation, you'll definitely need to look at a paid plan.
Those who do choose to upgrade will find that the pricing can be rather confusing, with each Hub available in three separate tiers and extra charges for users and contacts.
Users report that there's quite a learning curve, and that customer support (missing from the free plan) can be poor.
Pricing
For the CRM Suite (combining the Marketing, Sales, and Service Hubs for less than you'd pay individually), prices begin at $45/month for the Starter plan.
Then there's a huge jump to $1,600/month for Professional, and $5,000/month for Enterprise.
Extra contacts and users cost more.
For instance, in the Starter plan, you'll pay $15 per 1,000 additional contacts per month after the first 1,000.
2. Bitrix24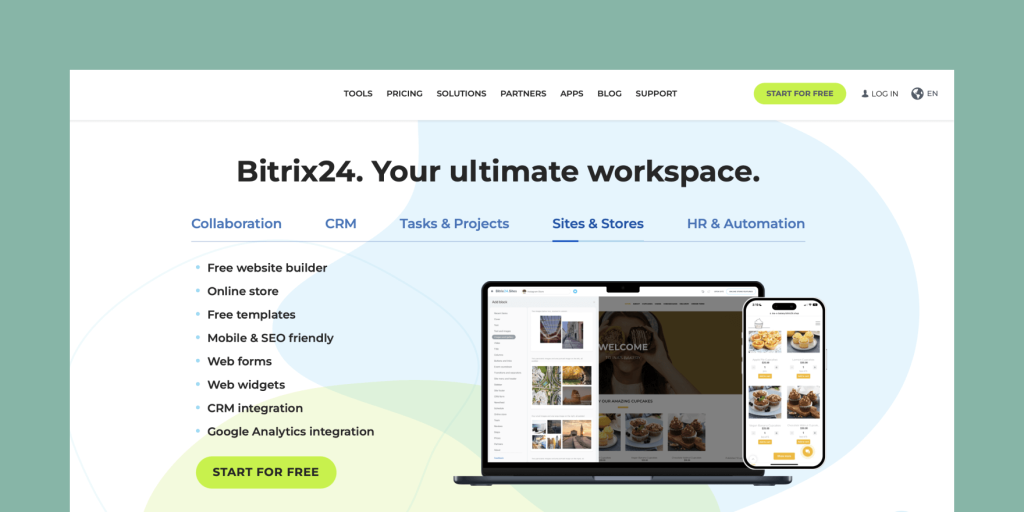 Bitrix24 is an all-in-one platform designed to help sales teams collaborate more effectively.
Available in the cloud or as an on-premises option, it scores 4.1 out of 5 on G2.
Outstanding features
Like HubSpot, Bitrix24 gives you unlimited users in its free plan, but adds unlimited contacts and deals as well as 5GB storage.
Key features include:
Collaboration tools
Task and project management
Automated sales funnels
Custom fields
Product catalog
Reporting tools.
The collaboration features are the standout, with teams able to work together via chat, audio, and knowledge bases, plus video calls for up to 48 people with no time limit.
Bitrix24 throws in a company social network where you can chat and share news in a single workspace. The 290 native integration options include file sharing through OneDrive, Google Drive, Dropbox, and Box.
Bitrix24 is also strong on project management, with the ability to delegate tasks and create workgroups.
You can set up task dependencies and let the system automatically filter them for you, and turn tasks into emails, chats, or video calls in one click.
Manual time tracking and Kanban boards are included.
The intuitive software lets you organize menus and rearrange fields on the contacts page, while the sales funnel view shows the percentages of customers in development, waiting for details, negotiating/reviewing, and closed-won.
Free users can set up five rules or triggers for sales automation.
The free plan also covers reporting.
You can access reports about your relationship with each client, including a graph of the current communication load, and run comparisons with past reports.
On the analytics page, you can track employee performance or activities.
Contact center tools include forms for support teams, live chat, a web widget, and the option to connect social media accounts and messengers to receive incoming messages directly in Bitrix24.
Unfavorable factors
There are plenty of features, especially for collaboration, but the whole effect can be overwhelming.
It takes time to get used to the setup and learn how all the features work, while some users say it's tricky to customize.
Again, there's only one sales pipeline permitted, and there's no customer support available to free users apart from online documentation.
In fact, priority support is restricted to the highest paid tier.
Pricing
Paid plans start at $36/month for the Basic tier, which accommodates five users.
Standard will cost you $74/month for 50 users, and Professional is $149/month for 100 users (all billed annually).
3. Streak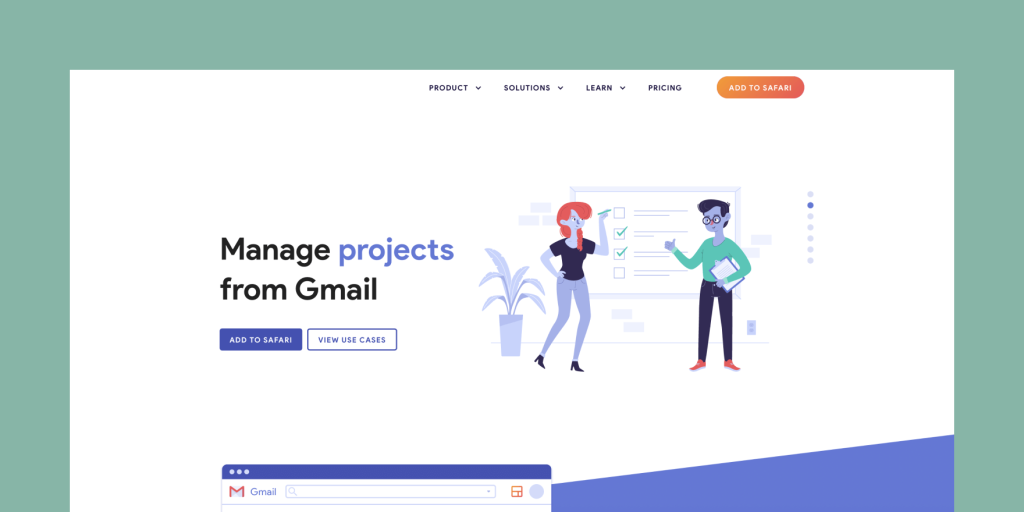 Streak is a CRM that's built into Gmail, which is definitely handy if Gmail is what you're already using.
It's available for desktop and mobile, and has a score of 4.5 out of 5 on G2.
Outstanding features
Streak's free plan is for one user, but you get unlimited contacts and organizations, and 500 rows of data in your pipeline.
Key features include:
Email automation
Task management
Custom columns and fields
Import and export data
Search and autocomplete
File attachments.
Streak is built in the same cloud as Gmail and Google Workspace (formerly, G Suite), so the added CRM features integrate seamlessly with well-known tools such as Sheets, Chat, Drive, and Calendar.
It also benefits from the same high security as the Workspace infrastructure.
After the user-friendly configuration process, you can use the simple spreadsheet-like interface to view contacts, add details, and move them through the pipeline.
You can also link two related pipeline items to navigate between them.
There are multiple pipeline templates for various use cases, or you can create your own.
The Streak Upcoming feature makes it easy to get organized, displaying all your tasks in a single view for the day.
You can also search, filter, group, and sort your data in any configuration and share it with your entire team. Emails, notes, and call logs are also shareable.
The mail merge feature lets you send the same email to multiple recipients with automatic follow-ups, 50 times per day.
Streak lets you create email templates, track when messages have been read, and automatically categorize emails and add them to your pipeline.
If you add new contacts from emails and assign them to any active pipeline, all future emails from this contact will be labeled as a lead or deal, with a column showing notes and activity.
You can view the complete relationship history by clicking on the contact's email address.
Unfavorable factors
Since it's only for one user, the free plan is only suited to solopreneurs or companies with a single sales rep.
There are no integrations apart from Workspace (integrations only start in the Pro+ tier).
Reporting and analytics features are missing, while customer support is just online articles.
Users say there's a learning curve, and that they quickly outgrow the free plan.
Even for paying customers there's not much support, despite some glitchy integrations and downtime.
Pricing
Prices start at $15/month for the Solo plan, which is also for just one user and only has the same basic CRM functions as the free plan. Advanced CRM features kick in with Pro ($49/user/month), Pro+ ($69/user/month), and Enterprise ($129/user/month).
4. Vtiger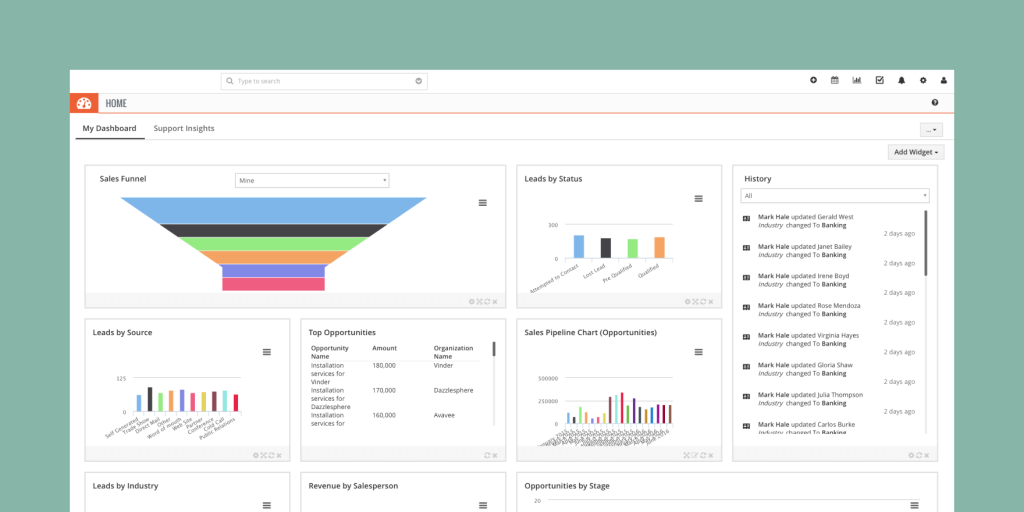 Vtiger One is a unified CRM tool for marketing, sales, and support teams.
It's designed to be easy to use, with some handy onboarding features. G2 users rated it 4.3 out of 5.
Outstanding features
The free plan accommodates 10 users, 3,000 contacts, and 1,000 email sends per month, alongside 3GB storage per user.
Key features include:
Sales intelligence dashboard
Lead scoring
Out-of-box reports and charts
Landing page analytics
Inventory tracking
Mobile app for iOS and Android.
Let's start with those onboarding tools.
As well as a checklist, you'll see a pop-out help video each time you visit a new screen for the first time.
You can then explore the features yourself, so you'll know what to do when it comes to customizing reports and automating workflows.
As well as managing profile scoring, custom lists, deals, leads, and quotes, Vtiger enables activity alerts for you and your team.
It also includes task and project management with milestones, sub-tasks, and to-do lists.
You can set up task dependencies, and choose task views (Kanban, list, or calendar) and a Gantt view of the project.
For email, you get one personal inbox per user and one shared team inbox, with 20 customizable email templates and sequences.
You can track email opens, clicks, and bounces, perform list segmentation, and offer email opt-out. Lead and contact creation from email is automatic.
Vtiger is strong on communication, with built-in phone calls, SMS, and direct messages. Useful features include click-to-call, contact pop-up, call logging, and recording.
There's also a service help desk function with cases, tickets, and a knowledge base.
You can share up to five documents per month, and there are integrations with Google Drive, Dropbox, and OneDrive.
That's handy for collaboration, although no substitute for full document control (click to see how document management systems can leverage business).
Unfavorable factors
Vtiger doesn't allow for two-way email sync, multiple pipelines, or sales forecasting. There's no shared calendar or social integrations, and the integrations in general are pretty basic. Free users only receive customer support via email.
Users report a few issues with slow-loading pages and tricky customizations, plus limited customization with dashboards and email templates. Some have also highlighted glitches with the mobile app.
Pricing
Paid plans cost $30/user/month for One Professional, and $42 for One Enterprise (billed annually). Both give you unlimited users and records.
5. Capsule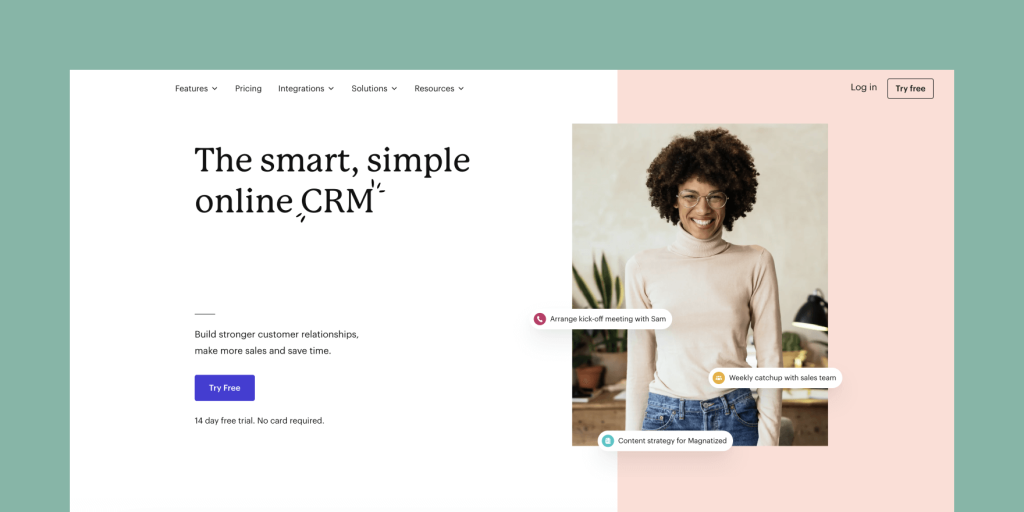 Capsule is a user-friendly cloud-based platform that provides a single view of your prospects and customers.
It scores 4.3 out of 5 on G2.
Outstanding features
The free version of Capsule is for two users, and includes 250 contacts, 50MB storage, plus email storage.
Some key features include:
Lead management
Task and project management
Gmail and Outlook add-ons
Mobile app
Sales analytics
Your own domain.
Capsule has enough basic functionality for a small sales team.
The navigation is simple, including the sales pipeline dashboard.
You can import customers, view contact history, log activity, and track customer milestones.
You also get unlimited custom fields, customized filtered lists, and a customizable sales pipeline, alongside a Kanban visual pipeline.
It's easy to manage events, customer queries, and onboarding.
The project management feature offers calendar view, Kanban view, and list view, with a dashboard that shows you the tasks for the day.
In terms of task management, you can create, assign, and automate tasks.
You'll receive a daily task reminder email, reminders about follow-up tasks, and an email whenever a task is assigned to you,
Capsule also gives you your own domain.
You'll be given a unique URL (capsulecrm.com) at sign-up, and you can use this to access the CRM from anywhere, which is great for remote teams.
Users are promised 24/7 online access with 99.99% uptime, as well as robust customer support.
An iCal subscription is included in the free plan, and you can also connect to the Outlook calendar.
Other integrations include MailChimp, Xero, and Sage, plus API access.
Unfavorable factors
Capsule is a little light on features compared to some free plans.
You can only have one sales pipeline, and there's no email templates or reporting capability.
You won't get phone support, although there is a library of useful articles.
Workflow automation isn't included (that's still in Beta even on the paid plans).
Users mention some glitches with the Mailchimp integration, and that the UI could be improved.
Pricing
Paid plans start at $18/user/month for the Professional tier, which upgrades you to 10GB of storage per user and 50,000 contacts.
Then there's Teams for $36/user/month, and Enterprise for $54/user/month. You can try them all for free for 14 days.
6. Zoho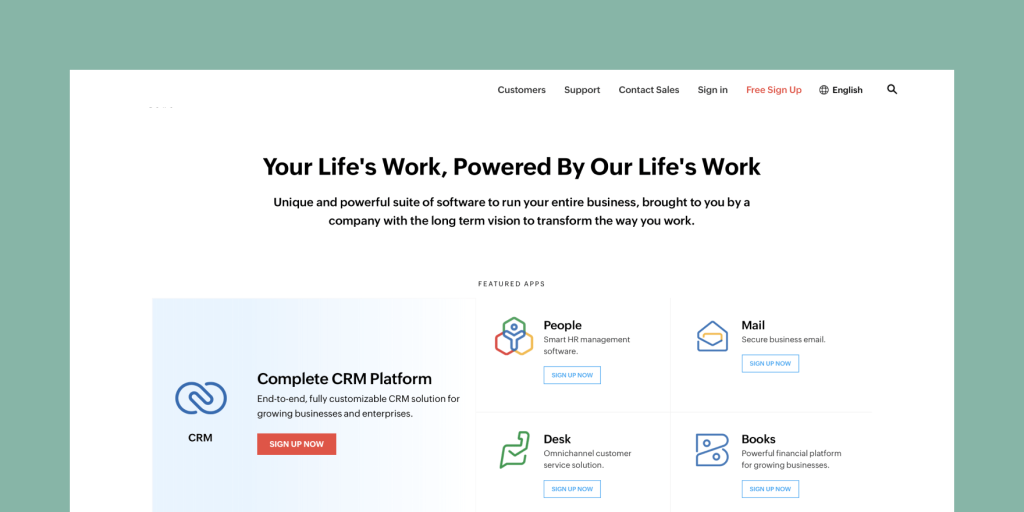 Zoho CRM is a scalable solution thanks to its integrations with other Zoho apps.
The free plan includes automation, and the software scores 4.29 out of 5 on softwareadvice.com.
Outstanding features
The free version accommodates three users, with 5,000 records and 1GB file storage in the cloud.
Key features include:
Lead management
Data import and export
Automation
Reporting and analytics
Built-in gamification.
With its focus on lead management, this CRM is a great complement to the best lead capture apps at the freemium level.
You can track lead activity, quality leads, and view customer buyer preferences.
The software automates lead capture and independently scores the likelihood of conversion based on engagement.
You can also create 2,500 workflow rules (with a maximum of 2,000 active at any time) and automate workflows for up to five routine tasks.
Automation also covers reminders for tasks and email notifications. And you can set up automated email campaigns.
The multipurpose digital contact book makes it easy to create connections, log sales activities, add notes, view deals, and create tasks.
As well as tracking visitors, you'll see a 360-degree view of customer data by clicking on your contacts, and add the best times to get in touch.
You can connect with clients across different channels, and there's an internal chat feature for collaboration.
There are customization options for organizing tabs and layouts, alongside customizable dashboards and email templates.
Free users get five custom list views per module, plus a Kanban view for the Deals and Activities modules.
Zoho CRM also gives you reporting and analytics, with 60 pre-made and customizable reports available.
If you want to, you can connect more features by integrating other Zoho apps (such as customer support, marketing campaigns, and surveys).
This saves you paying for enterprise features that you may never use.
Unfavorable factors
The free plan doesn't have many integrations apart from the other Zoho tools—you need a paid plan for more, including social integrations.
There's no email scheduling, sales forecasting function, or calendar bookings, and only standard reporting.
Some reviews mention poor customer service, and a few glitches with the app. If you're considering a paid plan, remember that the standout AI features are only included in the top tier.
Pricing
There are three paid plans, starting at $14/user/month for Standard.
Professional is $23/user/month; Enterprise $40/user/month; and Ultimate $52/user/month, all billed annually and all for unlimited users. A 15-day free trial is available.
7. EngageBay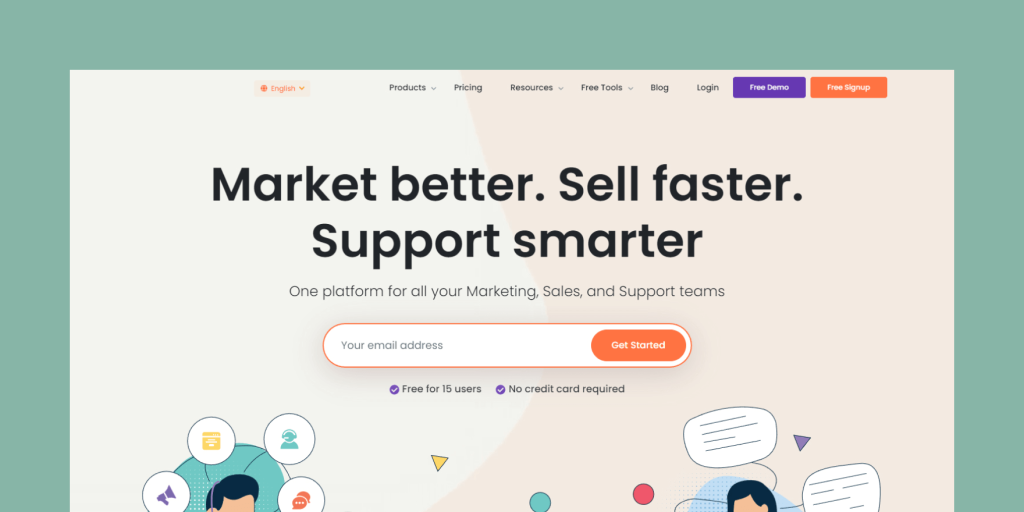 EngageBay offers an all-in-one CRM solution with sales, marketing, and customer support features. G2 users rated it as 4.6 out of 5.
Outstanding features
The free plan is for 15 users, which is generous compared to some other versions. This gives you 250 contacts and 500 MB of file storage.
Key features include:
Multiple pipelines
Video marketing
Predictive lead scoring
Email marketing
Helpdesk tools
Appointment scheduling.
With a 360-degree view of your contacts, EngageBay helps you to manage deals and tasks efficiently.
There's an easy-to-use visual sales pipeline, in which you can drag and drop deals forward as sales advance.
You can also create multiple deal pipelines (rare in free plans) and view a reporting dashboard.
The "smart lists" feature (maximum of two lists on the free plan) lets you segment your contacts by picking a set of filters.
The lists will then update automatically with all the contacts that fit those conditions in the future.
EngageBay gives you email templates and limited access to a template builder, as well as 1,000 branded emails and auto responders.
The app will track and schedule emails, with two email sequences.
Plus, you can create web pop-ups, embedded forms, and use a landing page builder to create one landing page.
The helpdesk tools enable customers to create support tickets, which are automatically assigned to your team.
And there's a live chat module for you to integrate on your website.
As a user, you'll receive email and chat support, plus a free migration service from any other platform.
EngageBay integrates with Gmail, Outlook, and Office, while a social suite supports Twitter, Facebook, and Instagram.
Facebook Ads are "coming soon", according to the website.
Unfavorable factors
If you need automated workflows (other than the basics mentioned above), you'll have to pay for them — and the same goes for profitability analysis and multi-channel analytics.
The free version has no email sync, and the reporting dashboard and lead scoring functions are limited.
Telephone support is only available in the highest paid tier.
Reviewers mention a steep learning curve, and some claim that if you don't log in at least once a week, EngageBay may deactivate your account.
Pricing
Prices start at $12.74/user/month for the Basic plan, if you pay for two years. (Otherwise, it'd be $13.79 when billed yearly, or $14.99 if billed monthly).
Biennial prices for the Growth and Pro plans are $42.49/user/month and $84.99/user/month respectively.
8. Agile CRM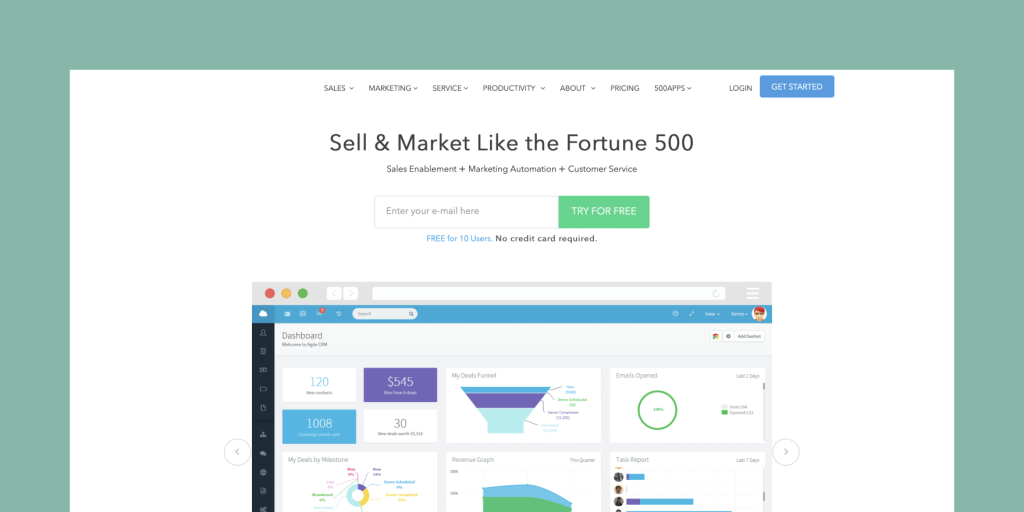 This cloud-based CRM is designed for small businesses and midsize companies (you'll need to install Google Chrome).
It has a rating of 4.06 out of 5 on softwareadvice.com.
Outstanding features
Agile CRM is free for up to 10 users and 50,000 contacts and companies, which compares favorably with some competitors.
Key features include:
Lead management
Gamification
Built-in telephony
Helpdesk tools
Email support.
As well as the generous number of contacts, free users also get unlimited deals, tasks, and documents.
You can create and customize multiple deal milestones and tracks, add custom data fields, and perform lead scoring.
There's also contact level analytics and basic reporting.
Agile CRM has a handy built-in calling feature called "Telephony", which enables you to make and receive calls from your in-app dashboard with a single click.
You'll be able to view caller details and customer histories before, during, and after calls.
You can send 5,000 branded emails, or upgrade that number to 100k for $0.004 per email.
The software lets you track email opens and clicks, and there's an email template builder — alongside a web form builder and a landing page builder.
None of these appear to have limits.
The helpdesk tools include canned responses and service reports, while the appointment scheduling function allows you to share your calendar online so that customers can arrange meetings from anywhere.
Agile CRM integrates with Facebook and Skype, and uses Google Sync so you can synchronize your work mail, contacts, and calendars to your mobile devices. You also get 500 API calls per day.
Unfavorable factors
The free plan has limited analytics, automation options, and customization features, but there's still a learning curve for those with zero tech experience.
There aren't many integration options — you can't link to your contract management software or accounting tools, for example.
Phone support is restricted to the paid tiers.
Users say that some features are not very intuitive (with a few bugs) and that the software lacks tutorials for advanced features.
Pricing
The Starter plan is $8.99 if you pay in advance for two years, otherwise it's $9.99 when billed yearly or $14.99 billed monthly.
It's the same deal for the other tiers, whose biennial prices are Regular: $29.99/user/month or Enterprise: $47.99/user/month.
Top criteria in choosing client management software
So, we've explored eight of the free options on the market, but how do you pick the best client management software for your business needs?
Although each organization will be looking for slightly different things, there are some criteria that are common to all companies.
Here are some essentials to look out for:
Usability
One of the main criteria is that your CRM should simplify your processes.
If it has too much of a learning curve, your teams will waste time on trying to figure it out, making them less productive.
It's going to be used by people from different departments, including marketing, sales, and support, so it's helpful if the software provider offers onboarding and training.
In the interest of saving time, look for organizational features that help teams to track interactions with customers and prospects. If you can automate your workflows, even better.
For example, adding new contacts directly from emails and setting up reminders for follow-up tasks.
Lead management
Sales teams will want a tool with a strong focus on lead management, so that they can guide new leads seamlessly through the sales funnel and increase conversions.
Remember, management is all about building and sustaining relationships.
It's essential that your CRM platform includes not only a customer database but also client-tracking software to help you keep a close eye on new leads.
Integrations
As well as choosing a feature-rich CRM, it's important that the software works well with the other business-critical tools you use, such as accounting, email marketing, social media, and document control systems (what is document control?).
This gives you a constant flow of data between systems, which is good for productivity because teams won't have to copy-paste information or log in and out of different tools during customer conversations.
You've already spent the money on those tools, so it makes sense to keep using them — and users are already familiar with the setup.
Customization
Because every business has different needs, it's best to choose client management software with a degree of flexibility.
This could be as simple as having the option to change the UI layout or customizing email templates to add your own branding.
It's worth noting that advanced customization options are often limited to paid plans, so make sure you check the level of flexibility before signing up.
Data visibility
You need full visibility into your customer data, otherwise you won't be able to make informed decisions.
A CRM already houses this data in one central hub, but look for a tool that gives you insights and lets you choose the way you visualize data.
For instance, you might want to view a visual sales pipeline for a particular sales process.
With the data right there on your screen, you should also be able to spot any problems quickly.
Scalability
Your business might be small now, but the plan is to get bigger, right?
Make sure your client management system is ready to scale with you.
Pay attention to the number of users, contacts, and storage capacity. Can you easily add more?
It's also useful to look beyond the free or basic plans and see what's waiting in the higher tiers, should you ever need them. Is it possible to switch between plans?
Task tracking
As well as tracking client activity, it's good to have a task management feature as part of your CRM.
You should have the ability to create and assign tasks, and see an overview of everything that's currently in progress.
Other useful features are automated reminders and follow-ups, task dependencies, and turning a task into an email or chat.
Reporting
The best CRM software comes with reporting capabilities, and enables you to customize reports to your own preferences.
It should be simple to generate a report from the data on your dashboard, and to share reports with your teams.
You'll also need analytics to make sense of the data and highlight areas for improvement.
Without these tools, it's hard to know if your business is on the right track.
Pricing
Your budget will be a big factor in choosing client management software.
As we've seen, it's possible to get substantial features from a free version, and that's great when you're getting started — especially if you also need money for other business costs, like the best invoicing software.
But small business owners should be aware that freemium plans can be quickly outgrown.
If you are looking at paid plans, check if the prices are per user or charged at a flat rate.
What kind of features will you get for your money? Do your research before making a commitment.
Improve your sales process with the best client management software
The best client management software makes it easier to keep track of all your customers, gathering data on their activities, preferences, and history.
It'll also help you communicate and collaborate as a team, and share information with your other business systems.
With streamlined processes and improved client relationships, you're sure to see an upturn in sales when you use CRM software. Click the link for more tips in the full guide to using CRM.
You can make even better use of the effective communication and collaboration that client management software allows by complementing it with PandaDoc.
PandaDoc gives you many opportunities to use the data made available by client management tools to streamline and improve your sales process.
For instance, once you know precise client or prospect preferences, you can quickly tailor customized quotes with the PandaDoc CPQ feature.
And that's just one example!
To find out all the ways PandaDoc can support your team, schedule a demo now!
Disclaimer
PandDoc is not a law firm, or a substitute for an attorney or law firm. This page is not intended to and does not provide legal advice. Should you have legal questions on the validity of e-signatures or digital signatures and the enforceability thereof, please consult with an attorney or law firm. Use of PandaDocs services are governed by our Terms of Use and Privacy Policy.