CRM, short for customer relationship management, is an approach to managing customer data that enables you to maintain close relationships with all your customers and drive better business results.
To achieve this, having the right CRM software is essential.
CRM software helps you put your customers first and streamline the collaboration of different departments and business units.
This facilitates having a single source of truth for all customer relationships, which is also updated in real-time.
It also helps you provide a seamless omnichannel experience, which is increasingly important for sales.
Today, B2B customers use 10 or more channels to communicate with suppliers and make purchases, according to research by McKinsey & Company.
Additionally, the more customers you're serving, the more complex customer relationship management becomes.
When businesses move from having a few (or a few dozen) customers to hundreds of relationships they need to manage simultaneously, spreadsheets become very limiting and can even be downright damaging to your business.
To manage complex, dynamic data, you need a comprehensive cloud solution, and CRM software is your best bet in such instances.
In this article, we'll look at CRM software and how it can help you make the most of your customer data, build and maintain strong customer relationships, improve team collaboration, and pave the way for success.
We'll also see how different business units can benefit from using a CRM tool and see how you can ally your CRM tool with a document workflow solution like PandaDoc to close deals faster.
What is CRM software — and do you need one?
CRM software is a platform that aggregates all customer data in one place.
Typically, this includes: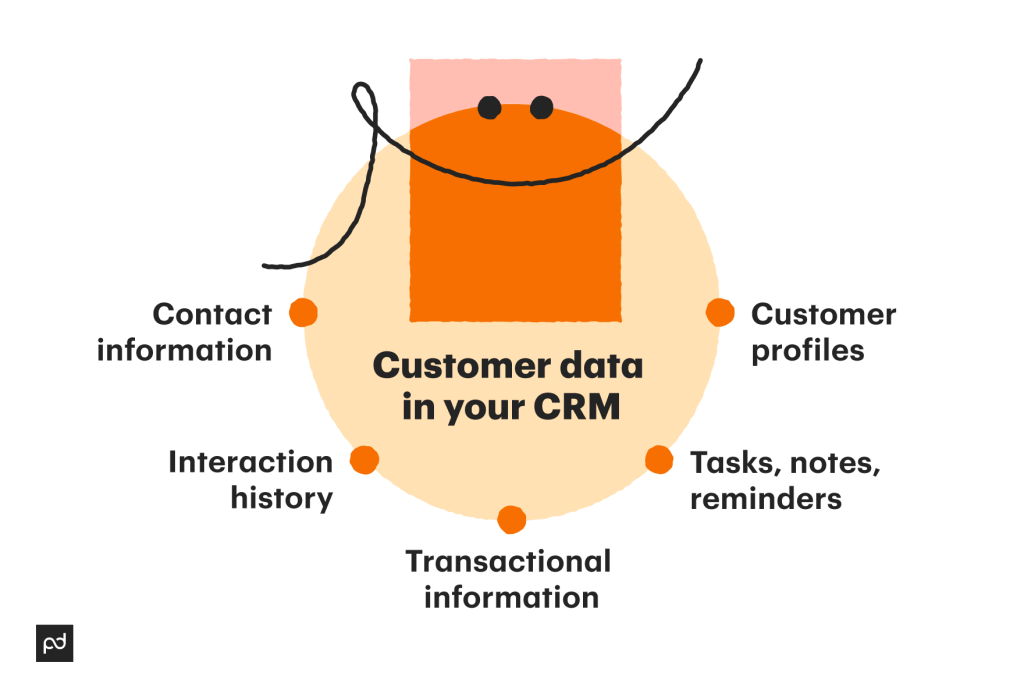 It serves as a central customer relationship management hub that can be accessed by all teams and departments and updated in real-time.
This enables teams to work together seamlessly, build long-term relationships with customers, identify strategic sales opportunities, and provide an outstanding customer experience.
Most importantly, CRM systems help you shift the focus from transactions to relationships, placing your customers in the center of your business.
And you should. Customer-centric businesses are 60% more profitable compared to companies that aren't putting their customers first.

With the right CRM tool, you're able to transition from managing individual customer touchpoints to streamlining the entire customer journey, which can significantly improve customer satisfaction and loyalty.
Complex relationships are the norm nowadays, and customers expect companies to know and understand them, using a personalized approach based on past interactions.
This is only possible if you track all interactions automatically, and can access them instantly in the future.
In fact, the shift to omnichannel sales — where customers use different channels to research products, communicate with companies, and buy — means that companies need powerful, real-time data management tools to navigate relationships in order to keep up and remain competitive.
Customer journeys include everything that happens before, during, and after the sale, across every channel.
And companies that concentrate on these aspects as a whole — instead of on each touchpoint in isolation — experience an overall increase in customer satisfaction of up to 117%, as well as an increase in customers' willingness to recommend the business to others by up to 104%.
CRM software does exactly that — it enables you to provide a seamless customer experience across each medium, and does so by putting your customers first, providing the possibility to personalize your messaging at scale.
For the best results, you need to integrate your CRM with the rest of your tech stack.
How to level up with the right CRM solution
If your organization is managing a few hundred or a few thousand customer relationships, a CRM solution will help you level up and serve your customers better.
With it, you'll be better equipped to:
Manage complex, long-term relationships where communication takes place across different channels
Automate manual tasks and simplify collaboration between different teams
Personalize your messaging at scale, and provide a service that is tailored to the preferences of each customer
Have access to all customer data in a single location and in real-time, allowing you to identify key growth opportunities
Reduce customer churn and maintain steady subscription renewal rates (for subscription businesses such as SaaS companies)
CRM platforms are cloud-based, which makes them infinitely scalable and adaptable to any business, from small businesses to large multinational corporations.
Put your customers first, work seamlessly with all teams, and manage complex customer data
CRM software helps teams put the focus on customers, rather than on transactions, and develop comprehensive ways to improve outcomes.
This is achieved by investing in long-term relationships rather than in one-off initiatives aimed at getting a bunch of new leads.
Let's now look at all the main benefits of CRM software, to see how it can help you achieve more and drive the results you're after.
CRM software enables you to:
1. Redefine the way you manage your customer relationships
Relationship selling is much more efficient than traditional sales approaches, and CRM helps specifically highlight that objective: build and enhance relationships.
In the traditional sales approach, a sales rep makes a sales pitch and then works through the prospect's objections. In this approach, the relationship usually ends right there, with or without a sale.
Relationship selling, on the other hand, means that you consistently put your customers' needs first and strive to create meaningful relationships based on understanding and connection — and provide value beyond the sale.
Aside from the increase in customer satisfaction, relationship selling is tied to better customer loyalty and sales performance.
CRM software is the tool that enables you to build these relationships, and do that at scale, without being limited to the columns of an Excel sheet — or, even worse, to your memory.
With the right CRM product in your arsenal, you can consistently provide excellent service by checking all customer data before each interaction (or during interactions, when you're dealing with an inbound request), and know exactly where your customer stands, what their needs are, and what past objections they had.
This way, you're also able to foresee possible frustrations and manage them proactively, as well as identify disengaged customers and look for ways to bring them back.
2. Have a global overview by connecting data from all your systems
With the right integrations, you can centralize your data and make sure data flows easily between all the tools and apps you're using.
This enables you to have a comprehensive overview of each individual customer relationship and of your entire customer base.
On an individual level, having the timeline of each relationship before your eyes, along with key interactions, helps you strengthen the connection with each customer and provide a tailored, personalized service.
On a global level, armed with the data on all your customer relationships, you can identify:
High-potential relationships that haven't reached maturity yet, and then reach out to those customers to deepen the relationship and bring it to the next stage
Issues that might turn relationships sour down the line, addressing them before they do — and before they lead to customer churn
Nearly-closed deals where you might need one extra call to get your lead to convert
Opportunities to rekindle relationships with inactive customers, to check in with them and make sure they have all the information they need to make the most of their subscription
And if you connect your CRM with PandaDoc, you can manage all contracts and proposals from your CRM and instantly see the status of each document waiting to be signed.
3. Shorten the sales cycle
One of the best ways to shorten the sales cycle is to frequently touch base with your hottest leads, and not let them cool down and run to one of your competitors — while also maintaining a relationship with leads that are lukewarm but still show some potential to convert.
And for this, you need a global overview of all your leads and to know the stage of the sales cycle where each one currently is.
Another benefit of CRM tools is that they enable you to regularly clean your lists of cold leads, redirecting any time and effort you'd spend with them to other leads who have a higher potential.
One of the best ways to shorten the sales cycle with the help of a CRM is to make it super easy for your leads to sign contracts, regardless of the device or channel they're using.
This is very easy to do with the help of a CRM and PandaDoc: Our solution enables you to prepare and send proposals and contracts in minutes, and if you connect it to your CRM, you can fill them in automatically and track their progress in real-time.
3. Use a personalized approach at scale
Automation allows you to personalize your messages at scale.
Recurrent interactions are much easier to manage with a CRM tool, and you'll be far better prepared to personalize your message if you have all customer data at your fingertips at all times.
Email is one of the best ways to personalize your messaging, but it can also be a productivity drain for salespeople — in fact, knowledge workers spend 28% of their work days either writing or answering emails.
A CRM platform helps you optimize this, as it:
Stores all relevant information together
Automates personalization and follow-ups
Lets you keep track of all interactions
Automation is one of the best ways to personalize interactions while still staying efficient, and most CRM systems offer exactly that.
They help you automate repetitive tasks, look up data, and use it in the best way possible to provide customized service.
For CRM automation to be successful you need to make sure all tools from your tech stack are well-connected with each other with the right integrations — and ensure that your data can flow easily from one tool to another.
4. Measure the ROI of sales, marketing, and customer support
CRM software lies at the intersection of sales, marketing, and customer support, and enables you to easily measure the ROI of any of the initiatives of those departments.
Most CRM tools come with powerful reporting and analytics capabilities, which help you track each customer journey from A to Z, and see how the lead was sourced (marketing), what made them convert (sales), and how they interacted with customer support before and after converting (customer support).
This way, you can analyze the ROI of each team's efforts and identify and further develop successful initiatives and approaches.
Additionally, you can make informed decisions about sales quotas and tailor your outreach tactics to your audience's preferences — and gear it toward what works best for them.
How can different business units use CRM software to their advantage?
Each department or business unit will likely use CRM software differently, and with a different goal in mind.
This flexibility is not a problem — on the contrary, it's one of the core benefits of CRM platforms.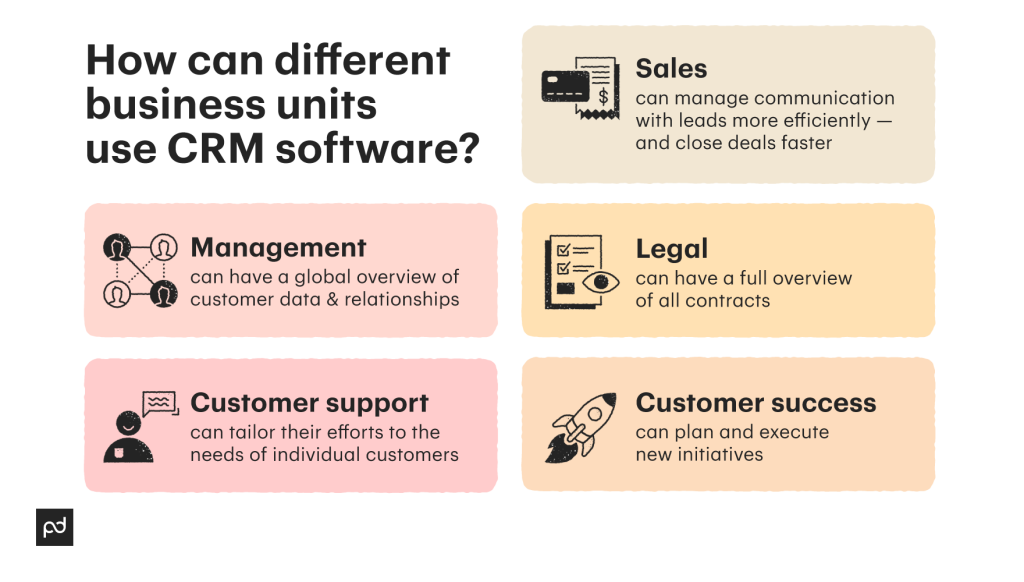 Management can have a global overview of customer data & relationships
To identify the best strategic opportunities for growth, you need to be able to look at your customer data in its entirety and have access to actionable insights.
Most companies understand this: 93% of companies plan to continue to increase investments in data analytics.
CRM platforms collect and aggregate data from different sources, giving you a complete overview of your customer base and your sales pipeline.
This makes them an excellent tool to gain an in-depth understanding of customer behavior, the success of current sales processes, weak points and opportunities for improvement in customer interactions, and so on.
The sales team can manage communication with leads more efficiently — and close deals faster
CRM platforms are an invaluable tool for sales development representatives (SDRs), as they enable them to:
Maintain many relationships at once
Streamline the decision-making process
Automate follow-ups and regular check-ins
Personalize their messages
Adapt their approach to each customer's preferences and needs
See which strategies work best — and which ones don't
Close deals faster
For the last point, using a comprehensive contract management tool like PandaDoc is crucial, as it enables the sales team to prepare and send contracts at a fraction of the time they'd otherwise need — and also make it super easy for leads to sign.
PandaDoc integrates seamlessly with some of the best and most popular CRM tools like Salesforce, Monday.com, Zendesk Sell, HubSpot, Pipedrive, and more.
Legal can have a full overview of all contracts
CRM and legal are not often discussed together, but that's a mistake: your CRM platform can be a valuable asset for your legal department as well, and serve as a point of reference for all contract information with your customers, allowing the legal team to access it easily whenever necessary.
If your CRM software is integrated with PandaDoc, your legal department can simply pull all contracts your company has with clients and review them whenever they need to double-check something, review the contract of a long-term client, or compare contracts.
Additionally, using a CRM with PandaDoc makes it really easy to prepare, create, and send new contracts — which sometimes requires your sales team and your legal department to work together.
Customer support can tailor its efforts to the needs of individual customers
CRM apps empower your customer support team, too, by giving it access to all the information they need to better understand and serve customers.
With the help of a CRM platform, customer support can easily check past interactions of the client, their purchase history, and also any notes other team members might have added to their profile.
All of this helps provide a personalized service that is tailored to the needs of each customer, taking into account their specific preferences.
This can also help you address any issues before they turn into problems, and make sure each customer actually knows how to make the most of each service or product they've purchased.
Customer success teams can plan and execute new initiatives
In addition to all of the above, CRM enables customer success teams to create and develop new initiatives and measure outcomes.
Customer success teams work at the intersection of sales and customer support, helping customers make the most of each purchase and also moving them to the next step in your sales pipeline, either by upselling or cross-selling other products or services.
For this, they need a CRM to obtain detailed, up-to-date customer information, including past interactions, purchases, and preferences — this allows teams to scale their efforts, use new approaches, and design new customer success initiatives.
What is the best CRM tool to streamline customer relationships?
There are plenty of CRM tools on the market, tailored to different businesses' priorities, processes, and needs.
When exploring different options, there are a number of factors to consider. We advise you to look into the following when evaluating each platform:
Usability: Is the platform easy to use or does it have a steep learning curve?
Level of automation: Can the platform help you automate and simplify your processes?
Customization features: Can the CRM system adapt to the needs and functioning of your business?
Integration capabilities: Can your CRM connect to the rest of your technology stack effortlessly?
Reporting and analytics: Does it have powerful reporting and data analysis capabilities?
Best in class: Salesforce sales cloud
Considering those factors, Salesforce Sales Cloud is one of the best CRM systems in the market so far.
It's trusted by more than 150,000 organizations worldwide and was named a leader in Gartner's CRM Customer Engagement Center (CEC) Magic Quadrant for the past 13 years.
Thanks to its customization capabilities and third-party app integrations (available on its AppExchange), Salesforce Sales Cloud is extremely flexible and versatile, allowing organizations to create a truly tailor-made solution for their needs.
And when you integrate Salesforce with PandaDoc, this is where the magic happens. For teams that use both tools together:
The number of completed documents increases by 87%
The time teams need to create documents decreases by 50%
Deals' close rate increases by 36%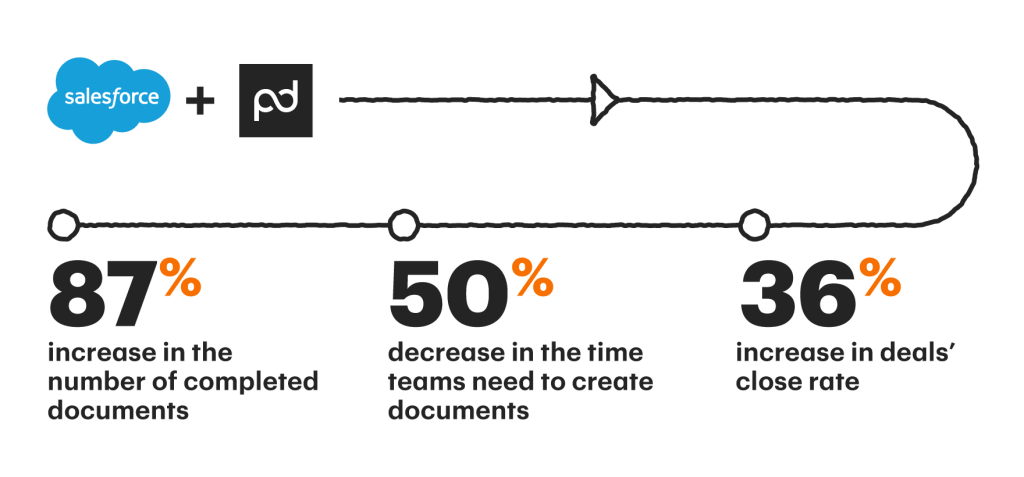 This helps sales teams reach their optimal productivity level and shorten the sales cycle significantly, as they become more efficient in creating and managing documents — and, most importantly, in getting them sent and signed.
Teams are able to populate contract templates automatically by pulling data from Salesforce, which helps eliminate human error and check the status of each document in real-time, creating a single information hub for everything sales-related.
Alternatives: Zoho, HubSpot, Monday.com, and more
There are a number of other popular alternatives to Salesforce, depending on your team's needs, like Monday, Zoho, and HubSpot, and more.
Zoho: Zoho is among the more affordable CRM systems, which can be perfect for small businesses that are looking to scale. With PandaDoc's integration for Zoho CRM, you can create beautiful, personalized proposals, send them to prospects quickly, and track their status from the platform.
HubSpot: HubSpot helps you bring your sales, customer support, and marketing teams closer and streamline their collaboration. PandaDoc's integration for HubSpot enables you to autofill, customize and send documents from the platform, and makes it easier to close deals.
Monday.com: Monday.com is primarily a process management tool with key CRM features integrated into it. It has a vast library of workflow templates that different teams can use, including CRM and sales processes. If you integrate PandaDoc with Monday, you'll be able to streamline repetitive tasks and manage, send, and track customized documents directly from your CRM.
PandaDoc integrates with many other CRM tools, too, such as Zendesk Sell, Copper, Insightly, and more.
Pave the way to better customer relationship management with the right CRM system
In its essence, CRM software helps companies adopt a customer-centered approach to sales and be better equipped to manage complex relationships.
It also helps you transition from managing individual touchpoints to streamlining the whole end-to-end customer journey, which enables you to provide better value to customers and drive optimal business outcomes.
To make the most of your CRM system, you need to integrate it into the rest of your technology stack — and with the right integrations and workflows, you can extend the capabilities of CRM tools to include document management, sales forecasting, knowledge base management, project management, and more.
Originally published Mar 19, 2019, updated Jul 6, 2022
Disclaimer
PandDoc is not a law firm, or a substitute for an attorney or law firm. This page is not intended to and does not provide legal advice. Should you have legal questions on the validity of e-signatures or digital signatures and the enforceability thereof, please consult with an attorney or law firm. Use of PandaDocs services are governed by our Terms of Use and Privacy Policy.