It's no news that Salesforce is dominating the global CRM market: it has a market share of nearly 20%, more than double of its top competitor, SAP.
Marc Benioff founded Salesforce in 1999, having previously been vice president of Oracle. The company was innovative in that it made subscribing to customer relationship management products on a single platform quick and easy.
Salesforce's cloud-based platform made it even easier for businesses to use the software. Cloud-based platforms are cheaper to host, more flexible, quicker to scale, and safer.
The company is also constantly expanding the range of products available on its CRM platform, including new features and many third-party apps.
However, the CRM market is vibrant and filled with different solutions that all focus on different aspects of the experience.
Some of these tools might be more suited to small businesses looking for a simple CRM to automate their sales process while others are tailored to big enterprises to handle several processes related to contact management.
In today's article, we'll highlight some of the best Salesforce alternatives that you might find better suited to your needs.
What makes Salesforce the market leader?
There is a reason why Salesforce has such a dominant position in the market: it's one of the most elaborate CRM platforms in the world, packing lots of game-changing features that can help you transform your business and create a winning CRM strategy.
In fact, here at PandaDoc, we also use Salesforce for our own CRM efforts and we find the platform perfect for our needs. It's easy to use and it offers features you won't find in other CRM tools, including task management, workflow creation, opportunity tracking, and even collaboration tools – all within a single interface.
If you're a fan of Salesforce, you'll be happy to know that PandaDoc offers powerful Salesforce automation.
You can easily streamline your entire workflow and keep everything in one place. Our case studies have even found that this can lead to a 50% reduction in document creation time!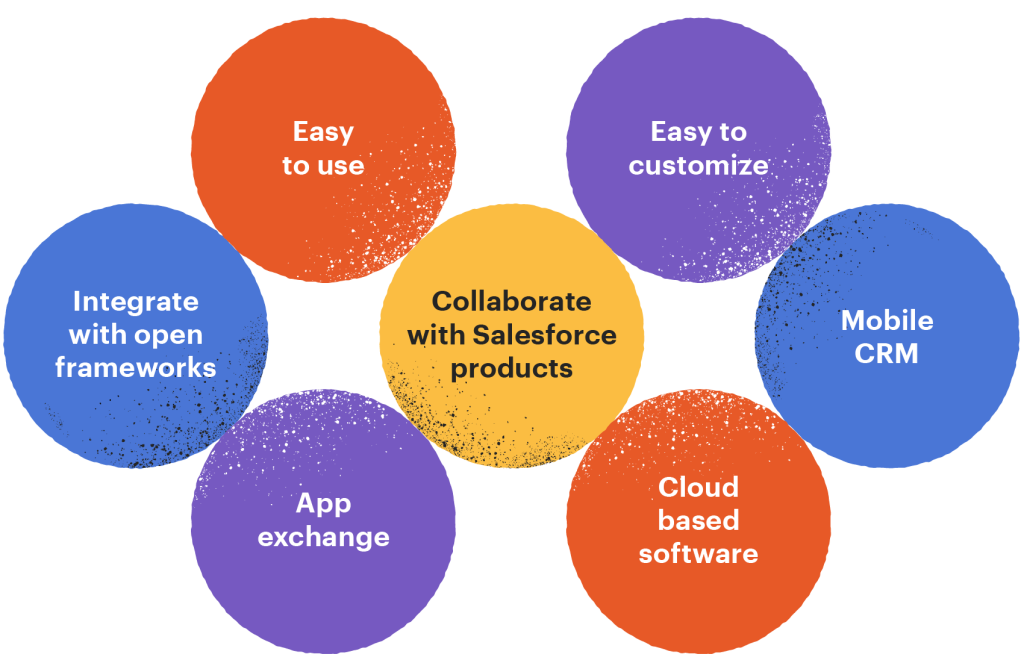 With our Salesforce automation software, you can:
Create personalized documents in record time
Create, send, and track your documents without ever leaving Salesforce
Improve real-time collaboration on documents for your entire team
Automate frequently occurring tasks to save time
Add products from any of your objects to a pricing table in a document
And much more
How we got our data
Before we can get to our list, let's first go over the methodology we used to assess all these CRM tools.
The data for this article was sourced from 40 different websites.
Our main sources were SaaS review websites that already analyzed these tools in great depth, with a particular focus on features, performance, ease of use, and functionality.
We also consulted the websites of each CRM solution for up-to-date info about their plans, user interface, and other factual information.
The key goal here was to separate the relevant, trustworthy websites from ones that might contain irrelevant or paid content. To achieve this, the sites were sorted into five cohorts:
>300.000 visits
200.000 – 300.000 visits
100.000 – 200.000 visits
50.000 – 100.000 visits
<50.000 visits
Each group was then assigned a score depending on the group they occupy. The websites in the first two groups were considered objective and relevant while the websites closer to the bottom of the list required additional vetting.
Here are some examples of the website included in the analysis:
1. Pipedrive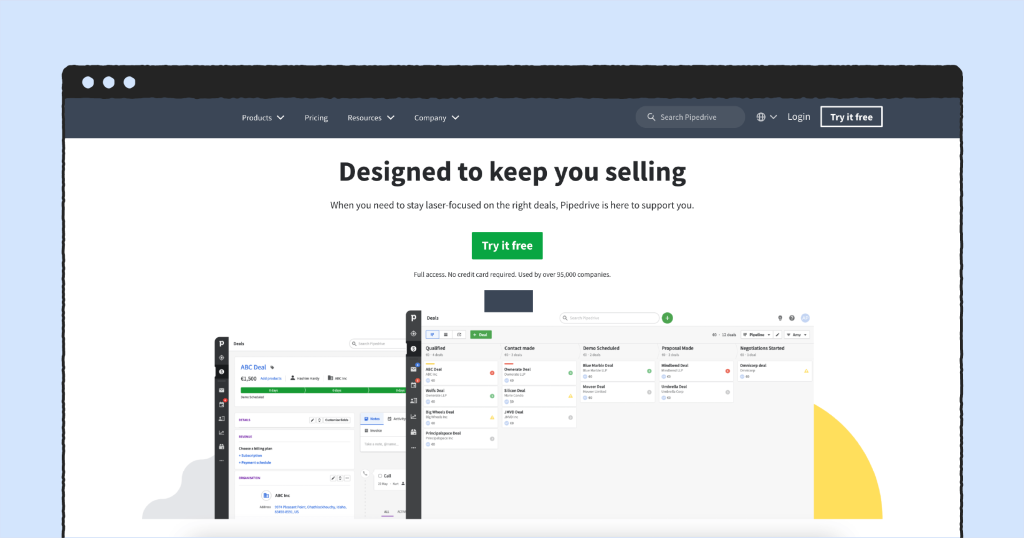 Pricing: Essential ($12.50/user/month), Advanced ($24.90/user/month), Professional ($49.90/user/month), Enterprise ($99/user/month)
Our rating: 4.7/5
G2 rating: 4.3/5
Customer support: 24/7, email, chat, support tickets, knowledge base
Free trial: Yes, 14 days
Ease of use: 5/5
Summary
Pipedrive is a deal-driven CRM system that can also be used for account management and various other business management purposes. It can help with not only marketing and CRM efforts but with the sales process as a whole.
Pipedrive is a tool that puts a lot into design and ease of use: it provides a simple visual overview of the sales pipeline. This ability to visualize the entire sales process, from beginning to end, is a unique feature that may be attractive to small and mid-sized businesses.
The tool offers rich features advanced capabilities such as efficient report generation, lots of integrations, and a lead generation tool with a customizable chatbot called Leadbooster which you can add to your website.
You can also amplify Pipedrive's CRM capabilities with PandaDoc's eSigning and document generation features for end-to-end sales cycle management in a single place. With this integration, you can:
Create and open all connected documents from a Pipedrive deal
Autofill quotes with data from your Pipedrive records
Follow your document statuses from Pipedrive deals without leaving the app
Send documents to collect eSignatures directly from Pipedrive
What makes Pipedrive better than Salesforce?
Pipedrive is a much more streamlined solution – smaller businesses will likely find it easier to navigate and master its learning curve. It's also significantly more cost-effective, making it a better choice for small businesses and solopreneurs.
2. Hubspot CRM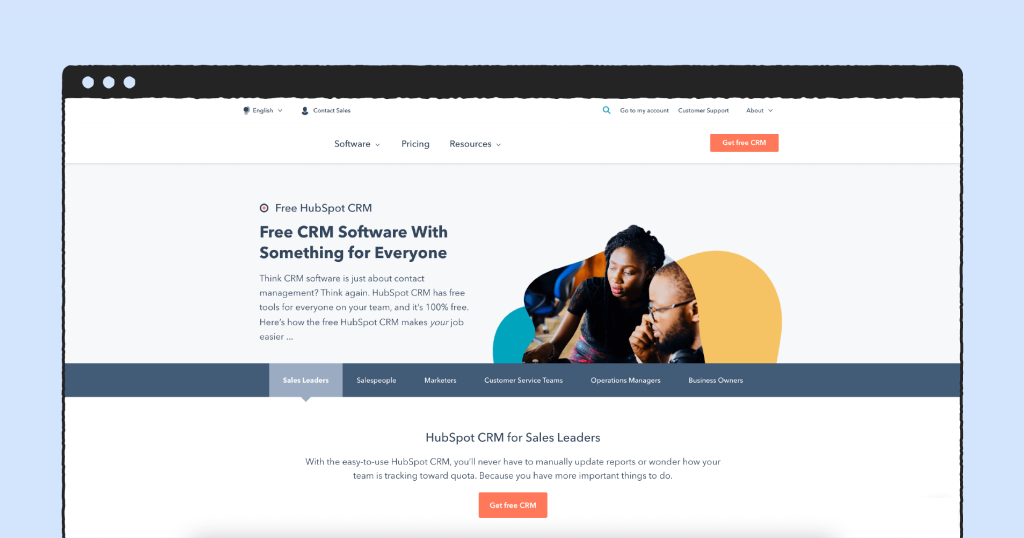 Pricing: Free, Sales Hub Starter ($45/month), Sales Hub Professional ($450/month), Sales Hub Enterprise ($1200/month)
Our rating: 4.6/5
G2 rating: 4.3/5
Customer support: Email and in-app. Phone available starting from the Professional plan
Free trial: Unlimited, Freemium model
Ease of use: 5/5
Summary
HubSpot has been a prominent vendor of cutting-edge marketing technology solutions for quite some time.
It has a strong reputation for being an innovator in areas such as marketing automation and social media campaign management. In the past few years, the company shifted its focus on CRM as well.
The HubSpot CRM solution, however, is not to be confused with its namesake product, HubSpot, which is a digital marketing automation service.
HubSpot CRM is a free bundle that includes free versions of the Sales Hub, Marketing Hub, and Service Hub products. Its logical paid upgrade is the Sales Hub which features sales automation features like lead scoring, sales forecasting, etc.
The lifeblood of Hubspot CRM is its streamlined sales dashboard that shows you things like team activity, sales forecasts, performance, productivity, etc.
The dashboard is also customizable, meaning you can add as many elements as you like and delete those that you don't find necessary.
With PandaDoc's HubSpot integration, you can do everything document-related without leaving the app.
You can access any document from a deal, company, or contact record and edit said document using PandaDoc templates. All those documents can then be tracked within HubSpot as well.
What makes HubSpot CRM better than Salesforce?
HubSpot CRM can be a great addition to your marketing tech stack if you are new to CRM or already use some of HubSpot's other marketing software.
It is much easier to set up than Salesforce and it can be entirely implemented by your team, no need for administration from third parties.
The app is also more scalable and customizable without introducing more complexity.
3. Microsoft Dynamics 365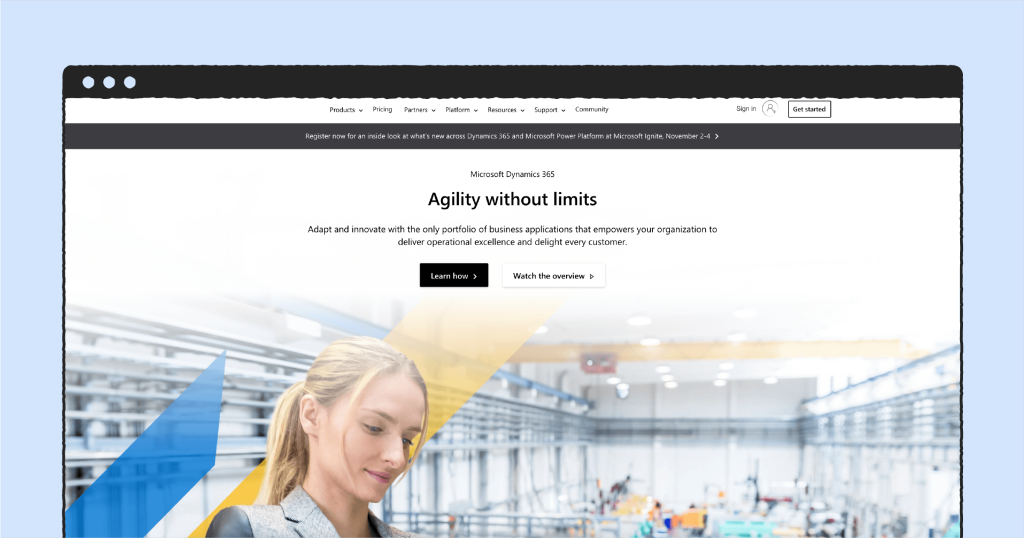 Pricing: Professional ($65/user/month), Enterprise ($95/user/month), Premium ($135/user/month), Relationship Sales ($165/user/month)
Our rating: 4.3/5
G2 rating: 3.7/5
Customer support: Phone and web, 8 AM to 5 PM Central Time.
Free trial: Yes, 30 days
Ease of use: 4/5
Summary
Microsoft Dynamics 365 is an all-in-one enterprise suite that has marketing, finance, operations, and many other capabilities.
Within the suite, Dynamics Sales is the solution that's most focused on CRM with quotes, orders, invoices, and other familiar CRM features.
Dynamics 365 has the classic Microsoft look and feel, which is one of its greatest advantages. Users who are familiar with Microsoft Office 365, SharePoint, and Teams will find the experience intuitive and the interface easy to navigate.
As expected, the tool also integrates with various Microsoft products. People who still want to use Excel spreadsheets can do so quite easily since Dynamics 365 also allows them to integrate data from spreadsheets.
The tool also integrates with PandaDoc, enabling you to pull key data directly from the app and introduce it into your quotes and proposals.
You can also use advanced document analytics to see document creators and managers, know when your documents are viewed, opened, and signed.
What makes Microsoft Dynamics 365 better than Salesforce?
Microsoft Dynamics 365 can be implemented on-premise, which can be important for companies from specific industries where safety is a priority. Many companies rely on private cloud hosting but some still prefer on-premise server boxes.
The app also integrates quite naturally with other Microsoft business products so this CRM tool should definitely be your choice if you're a Microsoft fan.
4. Insightly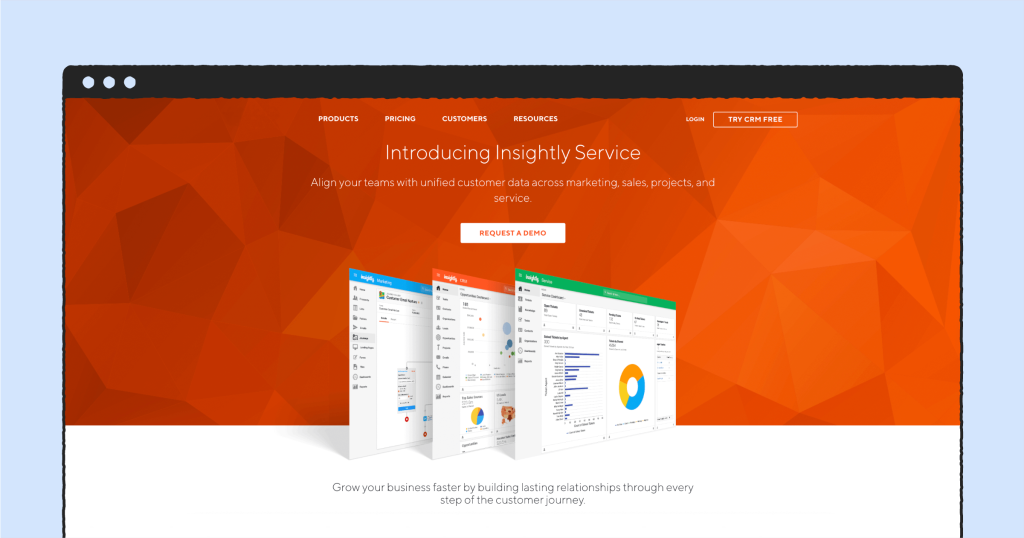 Pricing: Plus ($29/user/month), Professional ($49/user/month), Enterprise($99/user/month)
Our rating: 4.2/5
G2 rating: 4.1/5
Customer support: Help center, online chat
Free trial: Yes, 14 days
Ease of use: 4/5
Summary
Insightly CRM is one of the more advanced CRM solutions that serve the small businesses market. It's a highly intuitive and visually dynamic CRM tool that organizes key CRM functions in an easy-to-understand way.
Insightly's workflow automation options allow you to create complex processes that span multiple steps.
You can send email alerts, update or create records, assign tasks to others when you win opportunities, and even execute your own business logic to sync with external systems such as Oracle, SAP, etc.
The automated sales funnel allows you to create automated activity lists which are basically repeatable tasks that you create for each prospect client as they move through the sales funnel.
These checklists help you keep your sales team on the right track and enable you to monitor each stage of a deal more closely.
Our integration with Insightly will allow sales reps legally-binding electronic signatures that make it easy for sales reps and prospects to sign documents from their computers or mobile devices without leaving the app.
They'll also be able to use our drag-and-drop builder to create detailed proposals and even add embedded media.
What makes Insightly better than Salesforce?
Insightly is much better suited for small businesses that are looking for a simpler solution without too many overpowering features. It's also more cost-effective and streamlined.
5. Monday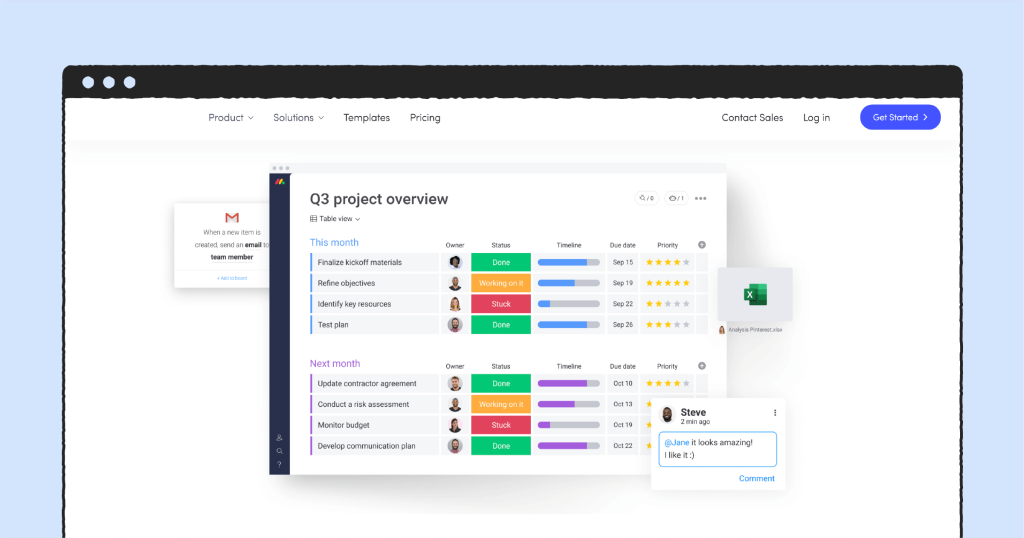 Pricing: Individual (free), Basic ($8seat/month), Standard ($10 seat/month), Pro ($16seat/month), Enterprise (custom price)
Our rating: 4.2/5
G2 rating: 4.7/5
Customer support: Knowledge base, online chat. 24/7 support available in the Enterprise plan
Free trial: Yes, 14 days
Ease of use: 4/5
Summary
Monday is a cross between a project management and a customer relationship management tool.
It focuses on providing a visually interesting customer experience with vibrant kanban boards, timelines, and other elements that seem to have evolved from basic spreadsheets.
This tool can certainly be adapted to many project-oriented needs but it also promotes itself as a CRM and sales solution.
However, Monday.com is project and team driven while specified CRM solutions are sales-driven and can be used right away.
Monday.com does offer some basic sales and CRM features, but it is unlikely to be the focal tool your sales team uses or an efficient customer contact center.
What makes Monday.com better than Salesforce?
It's a viable solution for companies and startups that are looking for basic CRM and lead management functionalities but it's hardly an all-encompassing CRM solution.
However, it's incredibly efficient for task tracking and project management.
6. Zoho CRM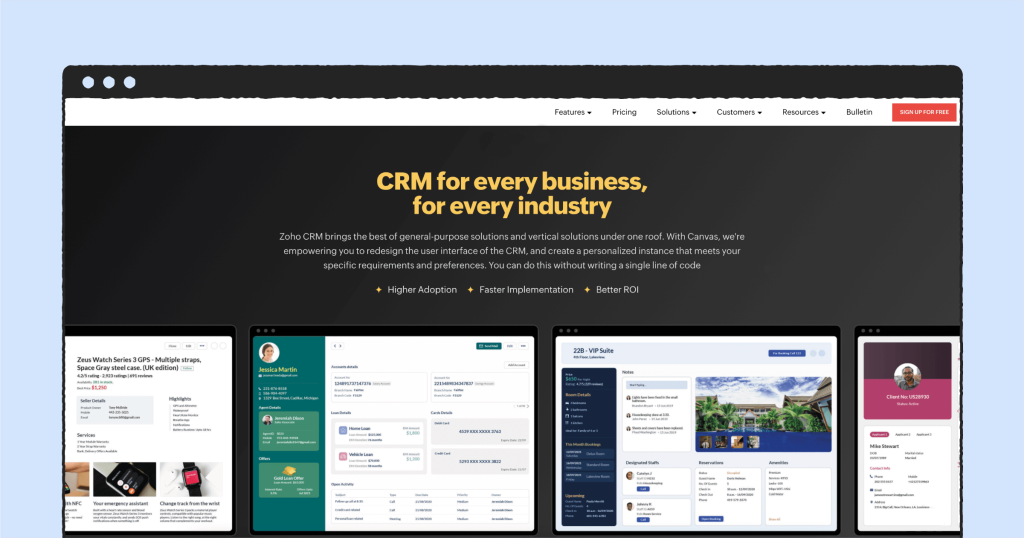 Pricing: Standard ($14/user/month), Professional ($23/user/month), Enterprise ($40/user/month), Ultimate ($52/user/month)
Our rating: 4.1/5
G2 rating: 4.0/5
Customer support: Help center, email. Extra support paid additionally.
Free trial: Yes, 145 days
Ease of use: 3.5/5
Summary:
Zoho is one of the most well-known names in the enterprise software industry, offering more than 40 different tools that help businesses achieve their commercial goals.
Much like Salesforce CRM, Zoho's CRM solution is among the most popular on the market for small to midsize businesses (SMBs).
Zoho CRM is a complex system that requires some customization for the admin to make the most out of it. Creating users, on the other hand, is straightforward compared to Salesforce, and advanced filters make searching for them quite easy.
This software is designed to allow businesses of any size to manage all aspects of customer relationships, from the first contact to closing a sale.
What's obvious when looking at Zoho CRM is that its core features are focused on lead management. Lead capture and nurturing, campaign management, prospecting tools, pipeline tracking, and other functionalities are at the very core of this tool.
If you integrate your Zoho CRM with PandaDoc, you'll be able to build interactive pricing tables directly from Zoho CRM and populate your quotes, proposals, and contracts with accurate data.
You'll also be able to collaborate on documents by adding approvers managers or your legal team and set the approval order so they can view the docs before they are sent.
What makes Zoho CRM better than Salesforce?
You can automate just about everything with Salesforce if you spend enough money. However, Zoho is considerably cheaper if you're on a limited budget. It also provides better customer support at lower price points.
7. Copper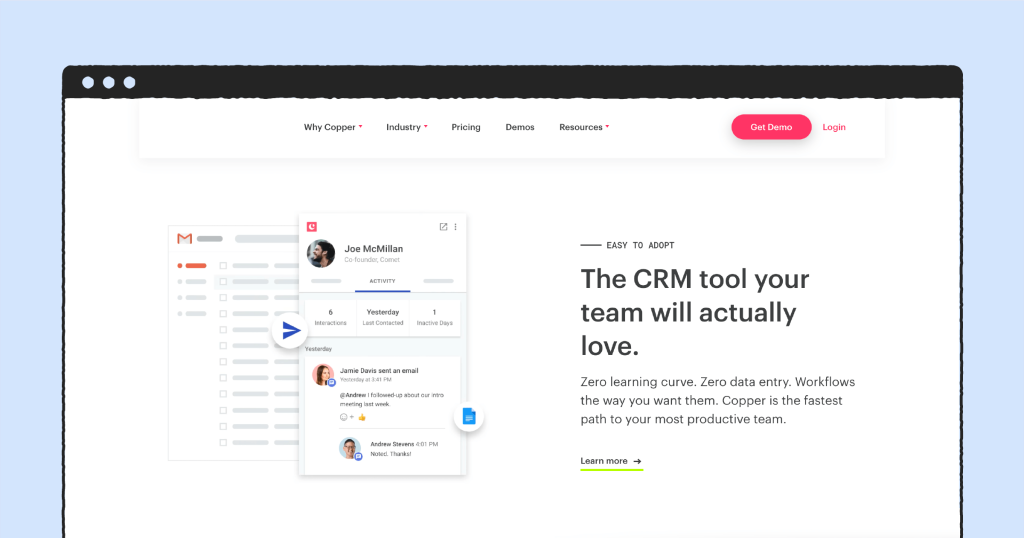 Pricing: Basic ($25/user/month), Professional ($59/user/month), Business($119/user/month)
Our rating: 4.1/5
G2 rating: 4.5/5
Customer support: Help center, support requests, contact form
Free trial: Yes, 14 days
Ease of use: 3.5/5
Summary
Copper used to be called G Suite CRM and you can see that it's still tied pretty closely to Google's productivity and marketing tools environment.
It does a fantastic job at combining the simplicity of a Google app with a CRM app that is slightly less feature-rich than some of its competitors. However, it still offers solid lead management capabilities, especially for small businesses and e-commerce shops.
You can actually access Copper right from Gmail: it will be a sidebar that can you can hide at any time. You'll see pop-ups explaining different features within Gmail the first time you log in.
The Gmail UI focuses on managing contacts, while the web application allows you to dig into opportunities, lead management, and sales pipelines. You can create custom stages and pipelines that fit your business sales process right from the dashboard.
And, if you integrate your Copper with PandaDoc, you'll be able to build impressive proposals right within opportunities and other CRM objects. You'll also have the option to track status updates directly from Copper and see which prospects are ready for follow-ups.
With our integration, you'll have access to any sales document from your CRM but it won't be stored inside Copper, saving you the worry about storage limits.
8. Agile CRM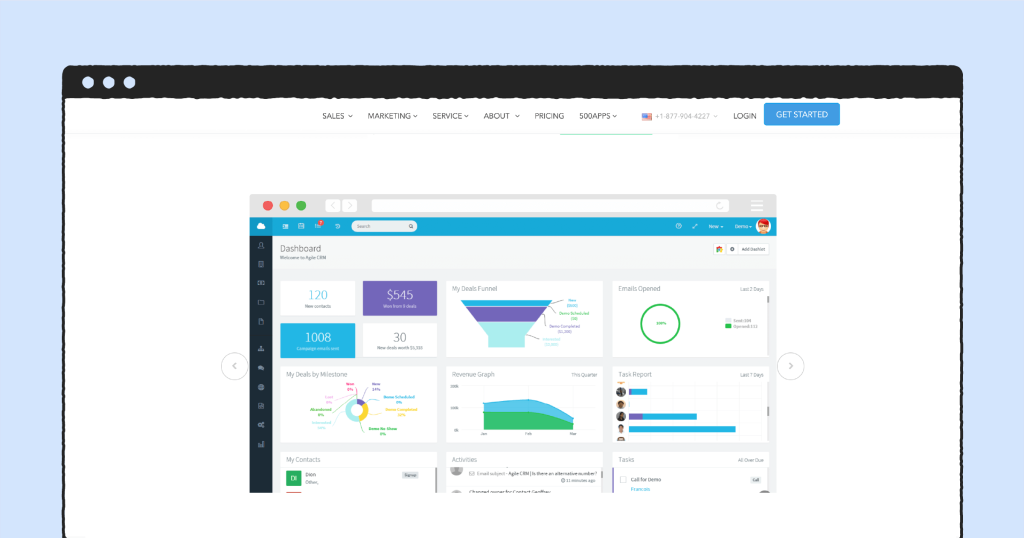 Pricing: Free, Starter ($8.99/user/month), Regular ($29.99/user/month), Enterprise ($47.99/user/month)
Our rating: 4.0/5
G2 rating: 4.0/5
Customer support: Ticket, chat, phone
Free trial: Freemium model
Ease of use: 3.9/5
Summary
Every entrepreneur understands how important it is to keep track of contacts.
Agile CRM not only helps you do this, but it also allows you to get to know your clients better: their preferences, previous interactions with your business, and lots of other information that can make a big difference when closing a sale.
You can use the Deals tool to forecast future income, set goals, and automate follow-ups. This functionality reduces the need for a large sales staff, and it scales effectively as the department grows.
Agile also includes a drag-and-drop builder to help your marketing department run more efficiently. The handy integration with social media also simplifies and streamlines the use of multiple platforms, allowing you to reach a larger audience.
What makes Agile CRM better than Salesforce?
The Free plan is a welcome sight to see, especially given the fact that it allows for up to 10 users. Small companies will find this plan quite useful and if they want to upgrade to one of the paid plans, $8.99/user/month isn't a big price to pay.
While it may lack more complex features, Agile is a great simple solution for those looking to save their budget.
9. Bitrix 24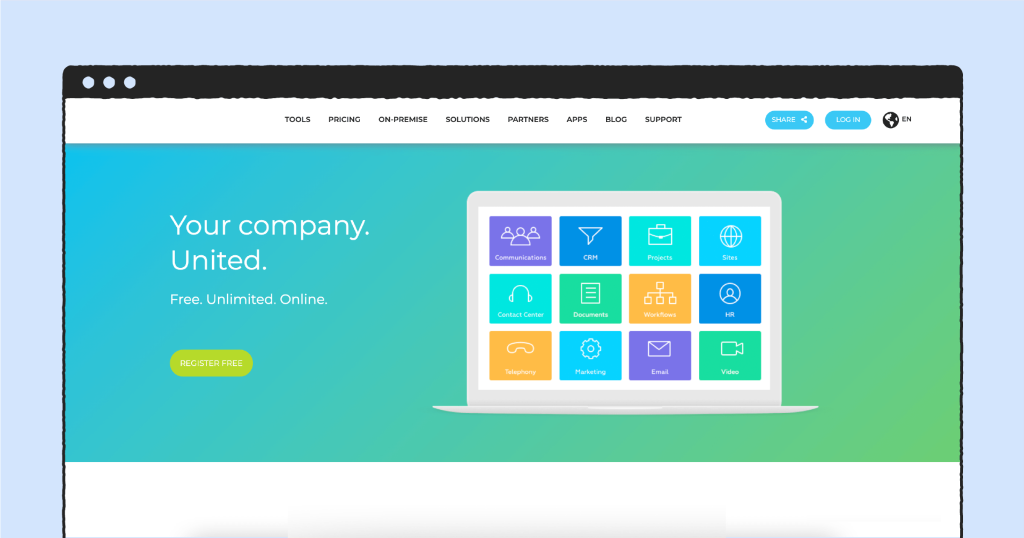 Pricing: Free, Basic ($39/month), Standard ($79/month), Professional ($159/month)
Our rating: 4.0/5
G2 rating: 4.1/5
Customer support: Ticket, chat, phone
Free trial: Yes, 30 days. Freemium model
Ease of use: 4.0/5
Summary
Small and midsized businesses (SMBs) will find a lot of value in Bitrix24's basic collaboration, customer relationship management, and lead management features.
When you sign up for Bitrix24 CRM, you first name your intranet and view your Activity Stream. This stream is not unlike Facebook – it even allows you to compose a message to share with the rest of your network at the top of the page.
You may also share files, events, processes, and more with your colleagues. Adding new users to the intranet is also quite easy.
Web-based lead-capture forms are also a great addition to Bitrix24's lead management features. You may use the new web form designer to create a web form by editing an existing CRM form and adding fields like leads, deals, contacts, company, quotation, using the drag-and-drop editing tool.
Why is Bitrix24 better than Salesforce?
Like Agile CRM, Bitrix24 comes with a free plan – but it supports up to 12 users.
The other plans are charged on a monthly basis for all users, not per user. This makes Bitrix24 one of the most affordable CRM solutions, especially for small businesses.
Other tools to consider
These may be our favorite Salesforce CRM alternatives but they're far from being the only options on the market. Here are some other solutions that might fit your needs even better.
SugarCRM: Packed with features and integrations, easy to implement in email marketing. Also suitable for internal communication.
Freshworks CRM: Formerly known as Freshsales, this tool has a built-in phone system and extensive calling features. Also features AI-powered lead scoring.
Oracle NetSuite: One of the pioneers of cloud-based software. Covers all the basics, including lead management, sales orders and fulfillments, as well as renewals. Has a built-in e-commerce module.
SAP Customer Experience: Another big player in the industry, SAP offers an elaborate CRM solution that takes care of all parts of the process: data collection, content management, customer retention, and more.
Conclusion: The best CRM alternatives to Salesforce
Salesforce is definitely the market leader when it comes to sales and CRM and you'll hardly find a tool that packs all those features in a single platform.
However, we understand that you might not need all those features so you might just be looking for a simple CRM solution that can save you some money.
If you're looking for ease of use and an intuitive UI, Pipedrive might be the best alternative to Salesforce. HubSpot CRM is also up there and it offers a solid free plan, which can be a big plus if you're looking to save.
Other tools have their own advantages, features, and add-ons, so study their plans carefully before you make a commitment. In any case, most of these tools offer a free trial, so you can test things out to be sure you're making the right decision.
Whichever tool you choose, you can rest assured that PandaDoc has a powerful integration to help you make the most out of your customer relationship efforts.
Explore our pricing plans and take a look at what we offer!