Without a doubt, a strong drive for great numbers is at the heart of any high-performing sales team.
But the secret to closing great deals is about more than having strong salespeople on your team.
Salespeople are busy. Between prospecting, sales calls, data entry, quote preparation, and follow-ups, it's very easy for teams to mismanage data and trip over themselves on the way to the finish line.
That's why sales collaboration tools are an essential part of the modern sales lifecycle.
In this article, we'll cover the top sales and creative collaboration tools that you should consider when trying to keep your team focused and on track.
Let's jump right in!
What we know about sales rep collaboration tools
Before we get to the tools, it's worth taking a quick look at some of the problems that can impede sales professionals.
Most "sales teams" are a collection of individual salespeople with their own accounts and performance metrics. Each rep is trying to move their own account through the entire sales pipeline.
But, while most reps aren't working as a collaborative team to close a single deal, they still need to share databases, customer information, and overall team goals.
And this isn't a new concept. Right now, it's estimated that roughly 83% of workers depend on technology to collaborate.
Collaborative software tools typically come with onboard functionality to help team members manage data and sales workflows more effectively. Combined with automation features, file sharing, and more, these tools allow for better team cohesion and greater productivity.
Finding the right collaboration tools is a powerful step forward when trying to optimize sales processes or find new sales opportunities.
Useful whether you're in the office or working from home
While the majority of workers already leverage the power of software collaboration tools, COVID-19 has been a big driver in platform adoption over the past few years.
According to Deloitte, 36% of CMOs transitioned large portions of their workforce over to remote working environments.
And, in all, that may have been the best move for the business. Research from Forrester indicates that collaboration platforms can boost productivity by around 10% for remote workers.
SDRs at home still need to manage a robust sales pipeline and continue driving deals farther down the funnel.
The transition to collaborating remotely — using features like screen sharing and video calls — may have ultimately contributed to higher productivity and a better pace of work.
How we selected our top collaboration tools
There are a ton of great sales team collaboration tools out there, and it would've been impossible to list every single one for this article.
To accurately select and assess the best tools, we analyzed reviews, feedback, and criticism from over 25 different websites and weighted their content based on website views and perceived authority.
These websites included software review websites, user-review websites, tech authority websites, and publications known for reviewing SaaS-based software tools.
To determine authority, our data sources were grouped into five cohorts based on monthly visitors (which we took from Semrush):
>1.000.000 visitors;
500.000 – 1.000.000 visitors;
250.000 – 500.000 visitors;
50.000 – 250.000 visitors;
<50.000 visitors
The websites with the highest visitor traffic and greatest domain authority were given more weight in our calculations and analysis while lower-traffic web and less authoritative websites were scored lower.
However, in-depth reviews and feedback were given considerable analysis and weighed carefully as part of our calculation.
Some examples of the most relevant sources we used were:
Lastly, we also checked with our team and customers to better understand how businesses actually use sales tools, what features they were looking for, and which collaborative tools had been most beneficial to them.
Now that we've covered the basics, let's dive into our favorite sales collaboration tools.
1. PandaDoc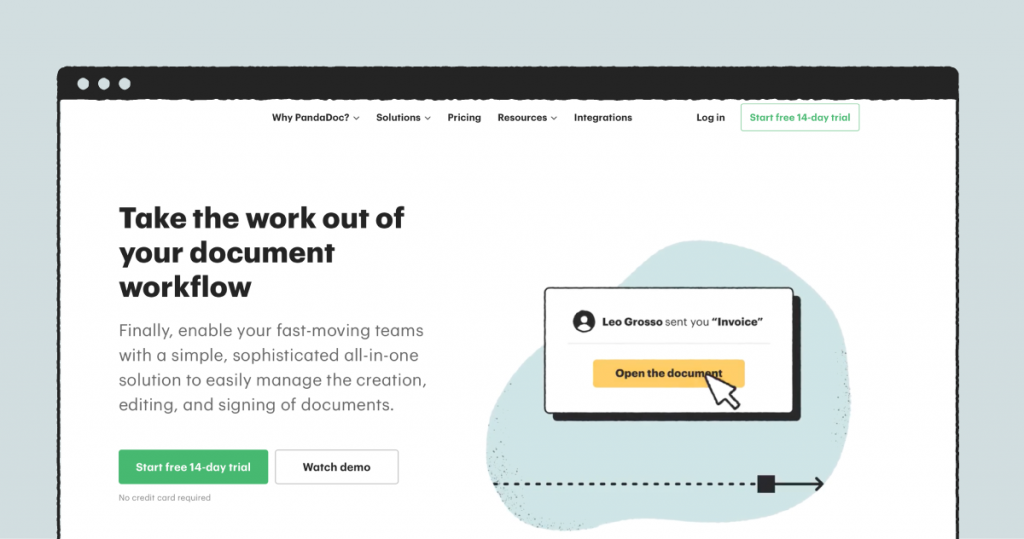 Pros:
Complete document lifecycle management in one place
Supports document editing from Word, Google Docs, etc.
Highly customizable integrations and custom templates
E-signatures and payment gateways are always available
Cons:
Free mode only offers e-signing and basic document prep
Can take time to set up templates and optimize the workspace for maximum team productivity
G2 Rating: 4.6/5
As an all-in-one document management solution, PandaDoc helps businesses of all sizes streamline their sales proposals, quotes, contracts, and more.
The platform's secret weapon is the PandaDoc document editor, which allows users to make quick, real-time edits and changes to documents during the sales process without having to take the documents offline and upload a new version.
PandaDoc can import files directly from Word or Google Docs for complete editorial functionality. That, combined with file storage, template tools, and an onboard CRM makes it a powerful tool for handling all business documentation.
On top of that, the native integration tools will allow you to connect PandaDoc to the rest of your tech stack, so it's easier than ever for businesses to use their preferred tools and combine them with the PandaDoc platform.
Essentials
Business
Enterprise
$19 per month per user
$49 per month per user
Custom pricing solution
1. Unlimited legally binding eSignatures with audit trail
2. Unlimited docs and templates
3. Rich media drag and drop document editor
4. Real-time tracking and document insights
All the Essentials plan features plus:
1. Unlimited documents and eSignatures
2. CRM integration for HubSpot, Pipedrive and more
3. Content library
4. Custom branding
5. Approval workflows
All the Business plan features plus:
1. Single sign-on (SSO)
2. Salesforce and Zapier integrations
3. Team workspaces and custom user roles
4. Redlining and versioning
5. Performance reporting
Start a free trial
Start a free trial
Contact sales
2. Salesloft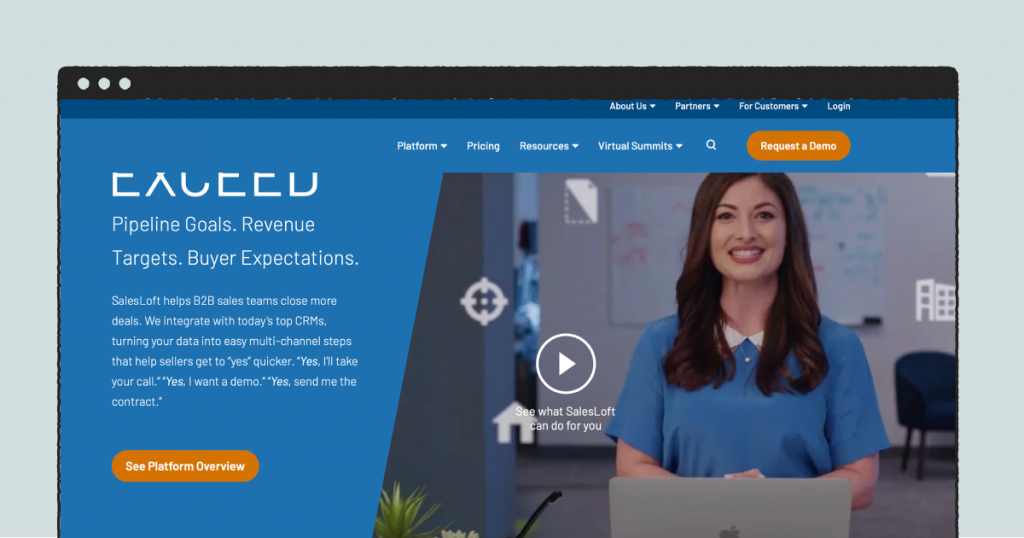 Pros:
Full-scope platform for all aspects of the sales cycle
Better pipeline management and onboarding tools
Powerful analytics and reporting functionality
Cons:
User functionality and metric tracking can be limiting
Dialer feature and call logging could be more streamlined
Packet loss can cause problems when logging information
G2 Rating: 4.5/5
If you're considering the cons we've listed, don't let them discourage you from giving Salesloft a try. It's widely considered to be one of the most efficient sales enablement tools around, and it's used by major companies to get work done.
Salesloft equips your sales team with an arsenal of tools they need to better engage with customers and combines them into a single platform so that all your data is streamlined and collected in a single place.
As a sales enablement tool, Salesloft tries to smooth out the clunkier parts of the sales funnel by consolidating multiple automation and insight tools in one place.
Rather than having reps switch between multiple windows, Salesloft integrates with existing tools and sits on top of your entire process.
The result? A more robust and complete sales process that helps to drive customers down the pipeline from demo to final contract.
While you'll have to request a quote to get a rough estimate on pricing, packages are broken down based on what you want the software to do. There are packages and toolkits to generate leads, close deals, drive engagement, and more.
These piecemeal plans are great for smaller organizations that may not need every feature, but that option is also available as part of the Enterprise plan.
3. Salesforce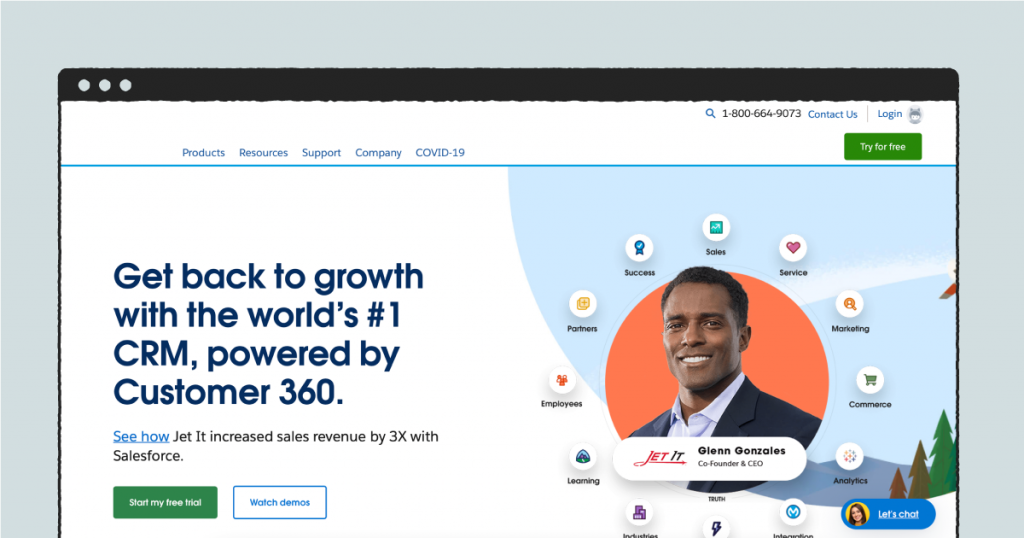 Pros:
The definitive CRM tool for businesses
Many tools offer Salesforce integration and compatibility
Offers a huge variety of customization for data capture
Cons:
Pricing is convoluted and can be difficult to understand
The flexibility of the system means that you'll need to manage how your team uses the platform to make sure that everyone is on the same page
G2 Rating: 4.3/5
There are some benefits to being one of the biggest players in the market when it comes to CRM software tools.
As an online collaboration tool, Salesforce is great because it's the de facto CRM tool on the market and has been for some time. There are other tools out there (like HubSpot, featured later in this list), but they're often combined with some other sales suite or embedded in another platform.
At its core, Salesforce is a CRM tool designed to help your sales team capture and store customer information.
The wide range of flexibility and customization means that sales managers have a huge amount of flexibility when determining how data is captured and what data is important. Plus, Salesforce integrates with most other platforms out there (including PandaDoc!).
Unfortunately, the flexibility of the software is also its Achilles heel. Pricing can be confusing and convoluted, and it can be difficult to figure out what you need, how you're being charged, or what should be charged based on the plan that you have.
The same is true for the CRM itself. Because the system allows you to set up customized layouts that work for your business, it's not designed to be a plug-and-play solution.
Instead, you'll have to set everything up so that your intake flow makes sense and then ensure that your team is capturing all the appropriate information during calls.
4. Slack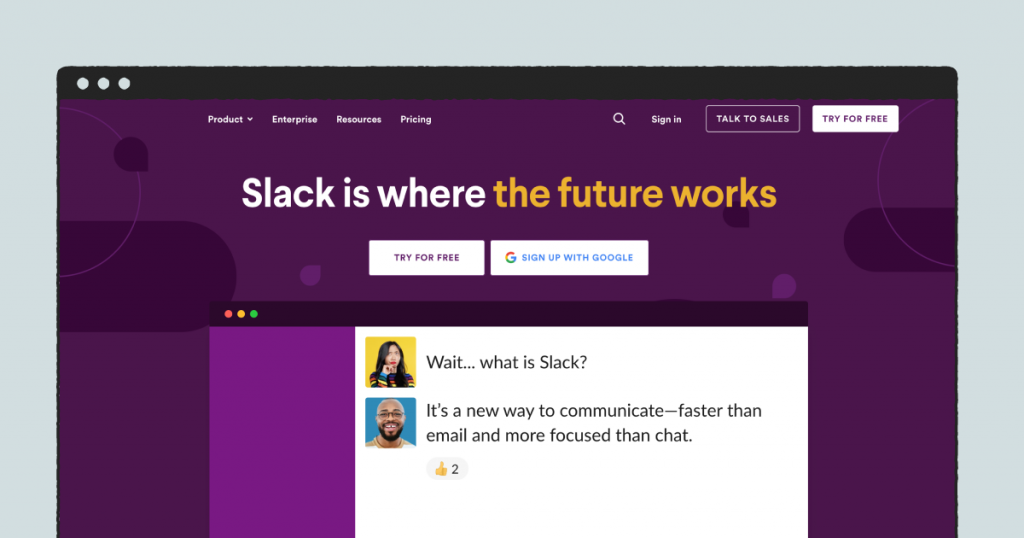 Pros:
User interface is slick and intuitive
Great flexibility when setting up workspaces and rooms
Integrated call and video conferencing tools
Cons:
Finding old threads and conversations can be tedious, even when using the onboard search tool
Free plan comes with limited storage, which fills up fast
G2 Rating: 4.5/5
Slack feels very similar to the Internet Relay Chat (IRC) that surfaced in the early days of the internet. The platform actually leverages some of those early features in order to build an app where team communication is fast and simple.
Though this software tool is primarily used as a text-based chatting platform, users can still partake in video calls, share files, and even integrate with other popular software tools like Dropbox, Evernote, Trello, and others. It's a great platform to kickstart new initiatives, host online meetings, and keep remote sales teams connected.
Outside of interoffice chatting, Slack is a powerful tool for prospecting and sales. Add a custom chatroom and invite prospects into a collaborative workspace where you can meet, share files, and discuss the finer details of the contract.
Because Slack offers a wide selection of meeting functionality, sales reps can meet with people on their terms and on their level without pressuring prospects into taking lengthy phone calls or engaging in ways that make them feel uncomfortable.
This chatting tool also comes with a mobile app so that you can access your messages anywhere, and it offers a good user experience with minimal flaws.
As of 2021, Slack is now part of Salesforce.
Halftime check-in: Increasing workplace efficiency
You've probably noticed by now that the sales collaboration tools on our list are a versatile bunch.
But all of these tools have one thing in common: they can drastically improve workplace productivity and efficiency.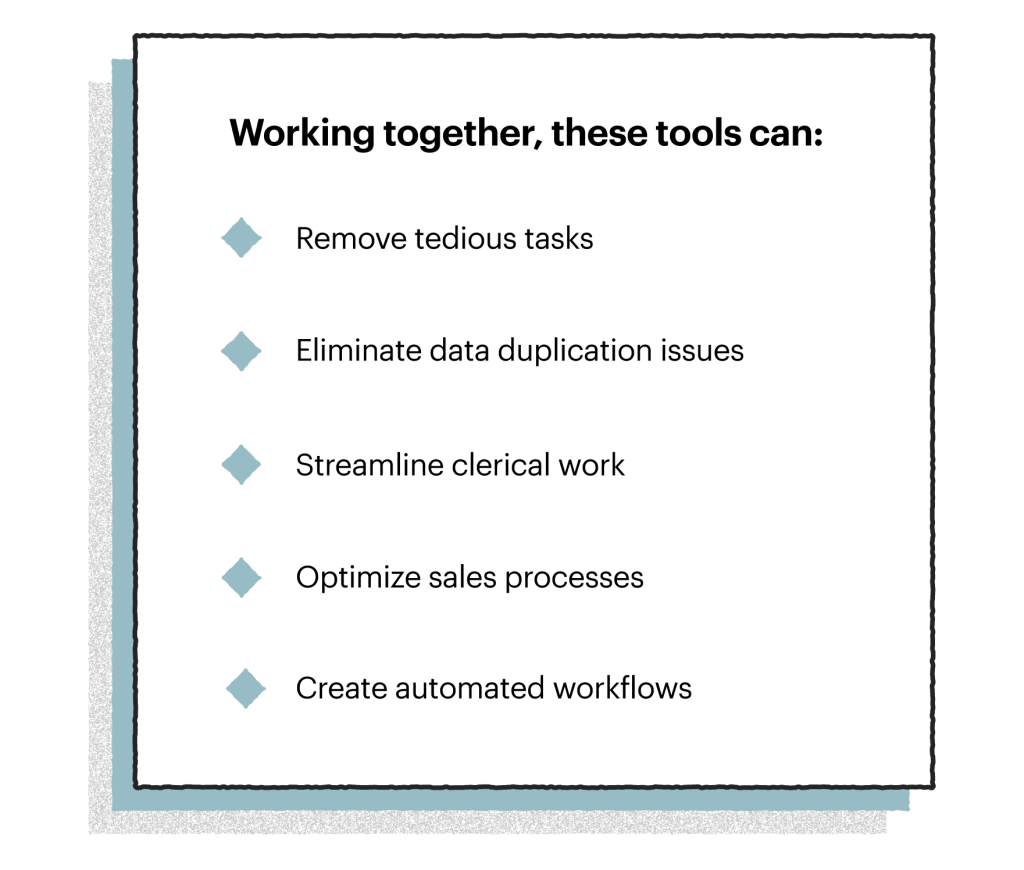 In today's hyper-competitive environment, where every second counts, relationship-based engagement and customer experience are huge drivers behind repeat purchases and long-term profitability.
How important is it? According to Salesforce, roughly 80% of customers say that the experience a company provides is as important as the products and services that it offers.
By adopting the right tech stack and building an efficient workflow for your team, you can free up team members to stay focused on delivering a great customer experience and building deeper relationships with clients and partners.
HubSpot research also indicates that around 90% of customers are more likely to purchase more, and 93% are more likely to be repeat customers, at companies with excellent customer service.
By staying efficient, you can maximize the time investment from your team during every aspect of the sales, service, and retention process.
That's why we leverage many of these great tools at PandaDoc!
5. HubSpot Sales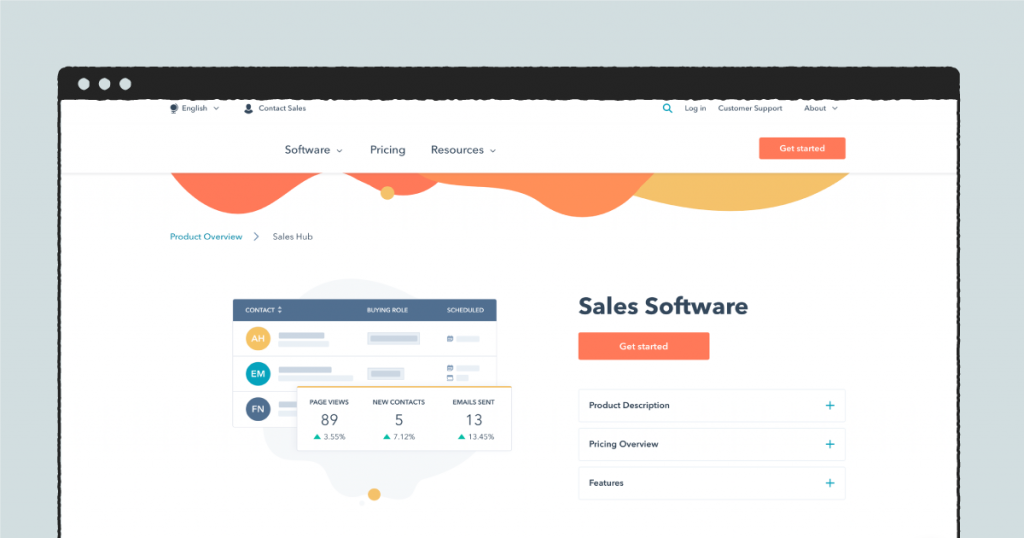 Pros:
Sales tracking is fast, easy, and efficient
Automation and workflow optimization are huge time savers
Intuitive and friendly UI
Cons:
Feature use feels somewhat limited
Expensive compared to competitors
Finding hidden features is a common problem
G2 Rating: 4.4/5
When talking about HubSpot, it's easy to get lost in the sheer amount of tools that they have to help sales and marketing teams succeed. As a sales team collaboration tool, there are few options out there with the features and functionality that HubSpot can provide.
The Sales Hub can help you automate, manage, and personalize your entire sales workflow with ease. You can create task queues, send personalized messaging in the form of chats and video outreach, and much, much more.
At the end of the day, HubSpot is a CRM with superpowers. You can create deals and add them to your pipeline, but you can also send and track emails, manage documents, and make and record calls.
This is a huge plus because these tools transform the idea behind a traditional CRM into a full prospecting and sales suite designed to help your reps seal the deal.
Because this CRM tool is so robust, it's ideal collaboration software for both larger and smaller teams.
HubSpot makes it easier than ever for reps to share customer information and for supervisors to handle deal pipeline and project management.
6. Chilli Piper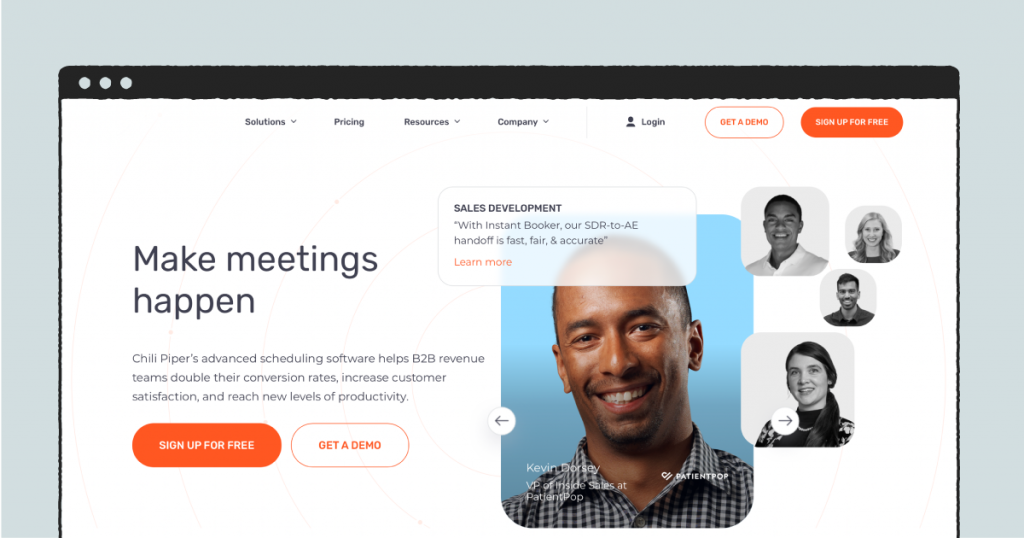 Pros:
Easy to set up and use
Integration with other big products (Salesforce, Google Calendar, etc.)
Support is typically fast and accurate
Cons:
Slow load times
Customization can be a challenge
G2 Rating: 4.7/5
What is a meeting scheduler doing on our list of top sales collaboration tools? We're glad you asked!
Chilli Piper is used by top-performing revenue and sales teams to boost conversion and close deals quickly while ignoring the slow, tedious process that comes with scheduling meetings. The platform handles all aspects of the scheduling process, making logistics fast and easy.
But the platform doesn't stop there. Chilli Piper has a variety of tools to help you evenly distribute inbound leads among your SDR team (based on availability) and to help them schedule follow-ups and handoffs in seconds.
Plus, when you connect Chilli Piper to your CRM, customer information will be added/updated automatically to your database, preventing reps from getting bogged down with data entry.
If you're looking for face-to-face time with your prospects, kickstart the lead gen process by adding this collaboration tool to the top of your sales workflow for much better streamlining for inbound leads.
7. Zoominfo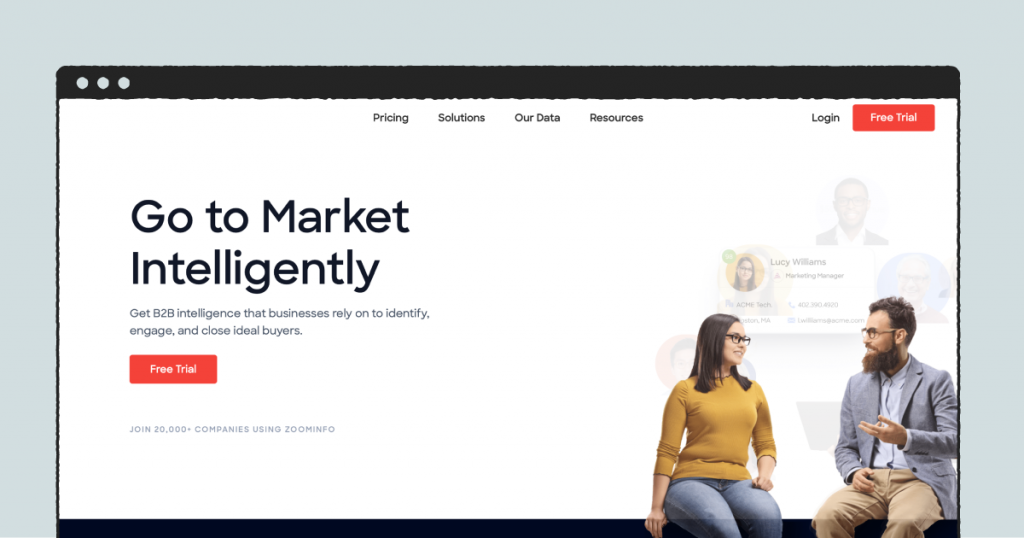 Pros:
Robust search engine and contact database
Great filtering and export tools for contact data
Cons:
Exported data doesn't correctly import to other CRM tools
Data can be inaccurate
Interface can be slow
G2 Rating: 4.4/5
Finding strong, credible leads can be a headache. If you're cold-calling, locating the right individual at a company and matching them with the product you want to sell can be tedious.
That's especially true when you have no insight into the organizational structure of the company.
When you need to prospect for new leads, Zoominfo is a great starting point for your search. The platform can be used for lead enrichment as well, making it possible to deliver additional information to your sales team before they start dialing.
As a collaboration tool, Zoominfo makes it easy for one person to find company stakeholders and decision-makers in a company without sharing that headache with the rest of the team.
By exporting the data from Zoominfo and pushing it to your CRM tool, your team will have access to the information they need to get every interaction off on the right foot.
While we'd never suggest that you take all of the information that Zoominfo provides at face value (because data collected in this way can be inaccurate), this platform can be a huge time saver that can help your team align around your company objectives, priorities, and targets.
On advanced plans, Zoominfo also helps you get better insight into an organization by offering department org charts, purchasing intent data, and corporate hierarchy data.
That way, when your reps pick up the phone to dial, they can understand the prospect's position in the corporate structure as well as the needs that your product is likely to fulfill for a specific individual or role.
8. Monday.com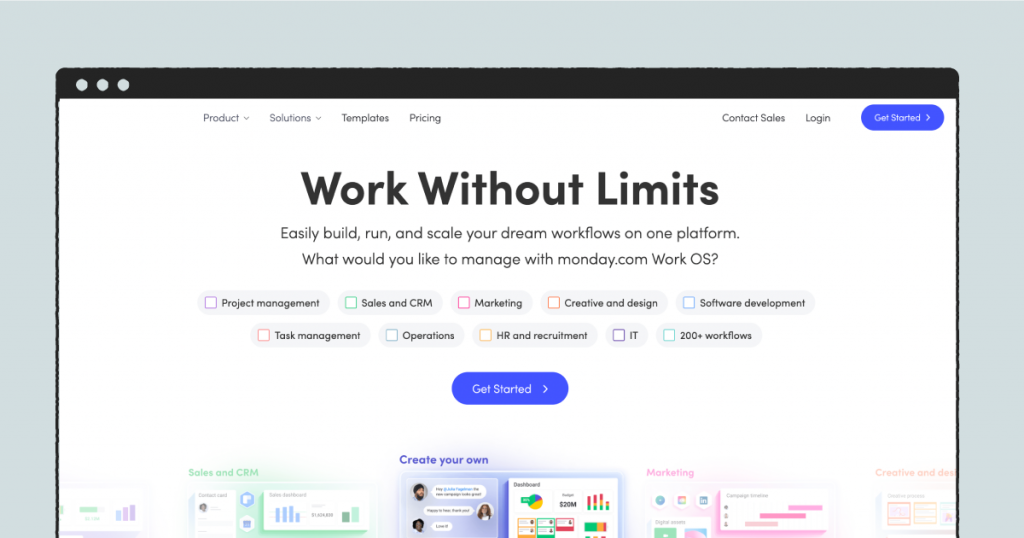 Pros:
Powerful task tracking and project management tool
Easy for users to stay on target and on task
Incredible customization options
Cons:
The free version is very limiting (only two users)
Minimum seat size on paid plans may be frustrating for very small teams
G2 Rating: 4.7/5
We couldn't have a complete list of collaboration tools without talking about monday.com.
This beloved CRM platform allows you to handle everything from lead capture to customer onboarding with easily customizable pipelines and user flows.
The versatility of the boards means that the software can handle anything from project and task management all the way to sales pipelines and CRM data capture.
Plus, monday.com comes armed with a robust selection of tools, including kanban boards and Gantt charts for better visualization and workflow management.
The platform also offers integration and automation tools and, more recently, a shared collaborative documentation feature to help teams share information in a single workspace. This, in turn, helped it to get into our list of the best document collaboration tools.
From a management standpoint, monday.com provides visibility to the entire team so that everyone can keep an eye on their assignments and tasks. This is great for managers working with larger teams and/or with teams working across multiple departments.
Shared visibility can help you recognize bottlenecks early and figure out how best to tackle them before they become a huge issue in your sales funnel.
When used for sales, monday.com can handle everything from pre-sales work all the way to post-sales follow-ups.
For everything that monday.com doesn't do, you'll probably be able to find an integration for it. Google Drive, Microsoft Teams, Asana, and others all connect seamlessly with this platform.
9. Miro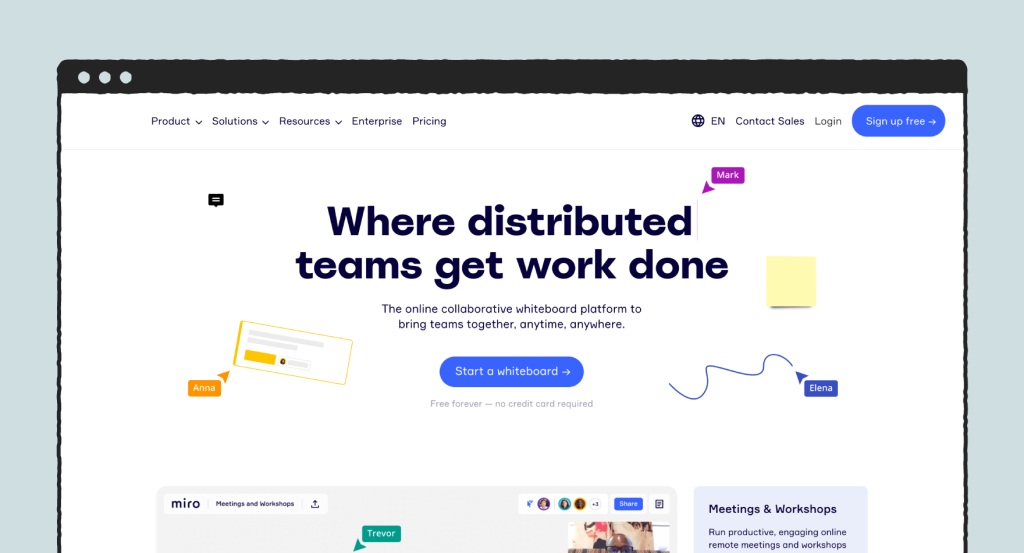 Pros:
Easily create charts, graphs, and visualizations
Flexible tool with multiple use cases
Can be used to collaborate with guests and freelancers
Cons:
Boards can be tricky to set up, especially at first
Data segregation only available on Enterprise plans
G2 Rating: 4.8/5
Miro is a collaborative whiteboard software that sales leaders can use to visualize selling strategies with the team.
Rather than sending out long-form Word documents with a set of instructions about how to move the team forward, you'll be able to create a better sales environment through better, hands-on knowledge sharing.
Building a board in Miro is simple. You can use basic drag and drop tools to create everything from flowcharts to brainstorming layouts and more, depending on what visuals you need to create.
While you can export your charts and graphs and use them in a slide deck or presentation, you can also host meetings in Miro where you can manipulate your visuals to explain how your concepts work.
This level of flexibility also makes Miro a great tool for collaborative selling and building stronger customer relationships. In the same way that mentors and managers can introduce teams to ideas, sales teams can invite customers to their own boards to collaborate with them.
Miro supports guest accounts and allows users to share links easily, so reps working with visual learners can leverage this tool to create a more hands-on experience for users.
Plus, the content created in Miro can be accessed at any time (if allowed), so customers, reps, managers, and anyone else can always hop back into Miro post-call or post-meeting and review those concepts at their leisure.
The sheer flexibility of the tool allows it to work across multiple departments, which is helpful if you want a wide-ranging tool that your entire sales organization can use to share know-how and celebrate sales success.
10. SpatialChat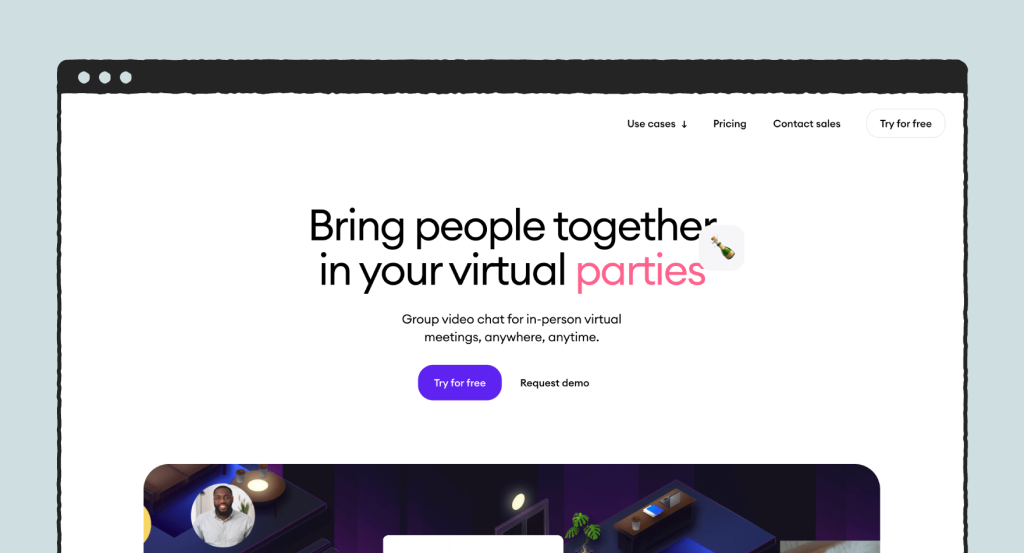 Pros:
Virtual meeting space that emulates real-world meetings
Spatial audio is a cool feature for limiting conversations
Visual elements add a unique dynamic to meetings and chats
Cons:
Missing some basic options, like a waiting room
Lacks some admin controls and tiered user privileges
G2 Rating: 4.8/5
In a "normal" virtual meeting, your attendees are in the same room and one person is speaking. Sure, you can use visuals or open up the floor for some conversations.
Most tools have the ability to use breakout rooms if you want your team to have a conversation, but those options force your team to silo themselves off from other team members.
SpatialChat tries to fix that by creating a virtual meeting space that more closely emulates a real-life meeting. To do this, the company uses a couple of unique and product-defining features.
The first is the visual meeting space. When you join a SpatialChat meeting, your screen will display a top-down view of an office setting.
Meeting administrators can place tables, chairs, and over visual elements to define meeting areas within that virtual space. When attendees join, they can move around the space by clicking with their mouse or tapping on their mobile device.
The second feature is spatial audio — and this is where things get interesting. When members join the chat, where they choose to sit and who they choose to sit next to will determine what they hear.
In order to be a part of a group discussion, they'll need to send the visual representation of themselves on-screen over to the group where the discussion is taking place.
This combination of technologies makes virtual meetings more closely resemble meetings in real life. There aren't any breakout rooms; it's just one big conference room.
Admins will be able to see how individuals congregate and can use this extra layer of visual data to intermingle top performers with newbies and get more information about the team dynamic.
On top of that, SpatialAudio still has all the same basic meeting tools.
You can host traditional video chats as easily here as you could anywhere else, with full audio and one-to-all capabilities enabled, which makes this tool perfect for everything from pitch meetings to town halls.
11. SalesRabbit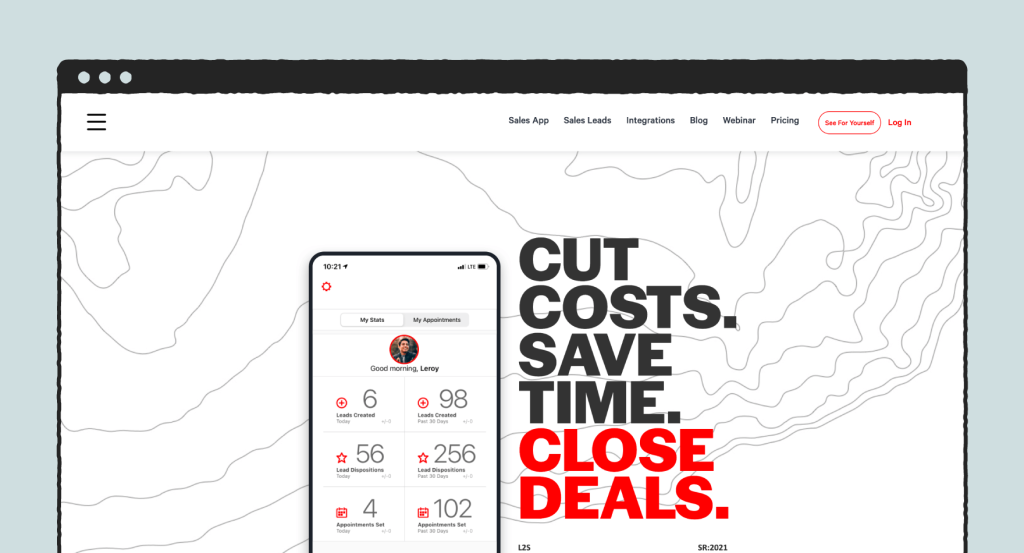 Pros:
One of the go-to tools for direct sales teams
AI tools give reps information before they visit a destination
Digital contracting tools designed around in-home sales
Cons:
Navigation tools aren't as intuitive as they could be
Can be a drain on device batteries
G2 Rating: 4.5/5
Specifically designed for sales departments and teams working in direct sales, SalesRabbit is a go-to tool to help teams stay connected while on the go.
SalesRabbit changes the game by giving sales leaders the tools they need to track and manage the team while empowering reps with the tools they need to follow up with leads and close deals.
The app combines those sales tools with a comprehensive AI that provides customer information to reps before they start knocking on doors.
That way, every rep has a good idea of the environment they're walking into, who might be a good lead, and how they need to present the product in order to garner interest.
From a management and collaboration perspective, SalesRabbit helps reps stay in their lane while working with one another. The app offers team messaging tools so that reps can help one another out along the way and continue to build a collaborative culture.
At the same time, you can define sales territories on a visual map so that reps aren't accidentally crossing into areas that are allocated to other team members.
These visual dashboards and area-defining tools allow for teamwork and a strong sales culture without the ultra-competitiveness that plagues many sales organizations. And that's a huge win for any sales team, whether they're in the office or on the go.
12. Gong.io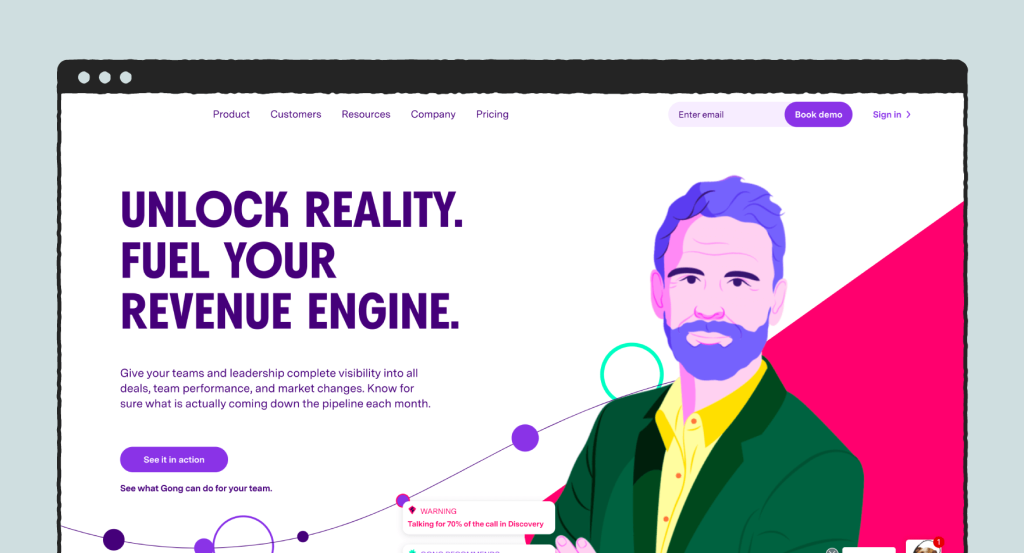 Pros:
Consolidates sales data in one place for easy trend analytics and review
Connects with most sales and meeting tools (Salesforce, Zoom, Teams, etc.)
Mostly lives up to expectations by providing trackable optimizations and improvements for sales teams
Cons:
Gong captures so much data that it can be hard to find what you want, even if you're using filters
Transcription could use some work (although no other company has a better solution)
G2 Rating: 4.7/5
Gong is a sales enablement tool designed to help you consolidate and analyze all of your customer communications and parse them for insights that you can use to grow revenue.
This is something that's impossible for reps and managers to do by themselves, which makes it a useful sales hack. Gong uses AI analysis tools to spot those patterns and turn every conversation and email into searchable data.
When it comes to breaking down silos and team collaboration, adding Gong to your sales organization makes this a systematic process rather than a human-driven initiative.
And, at some level, that's a good thing. Your team doesn't need to spend hours talking about sales processes and hoping to stumble on a common pattern. Gong can help you do that with its own data and analytics.
And, because Gong captures all sales information, it's easy to compare top performers with other reps. This makes Gong an ideal coaching tool because it can help sales leaders train reps using good data and recent examples.
The tool also analyzes performance and makes training recommendations that managers can use to stay consistent across the board.
In team environments, this objective approach to coaching and data consolidation can be a godsend because it removes many objective biases due to team dynamics like seniority and/or favoritism.
With Gong, you can hold managers accountable for how they coach and reps accountable for how they sell, all while gathering insights that you wouldn't have been able to access otherwise.
13. InsideSales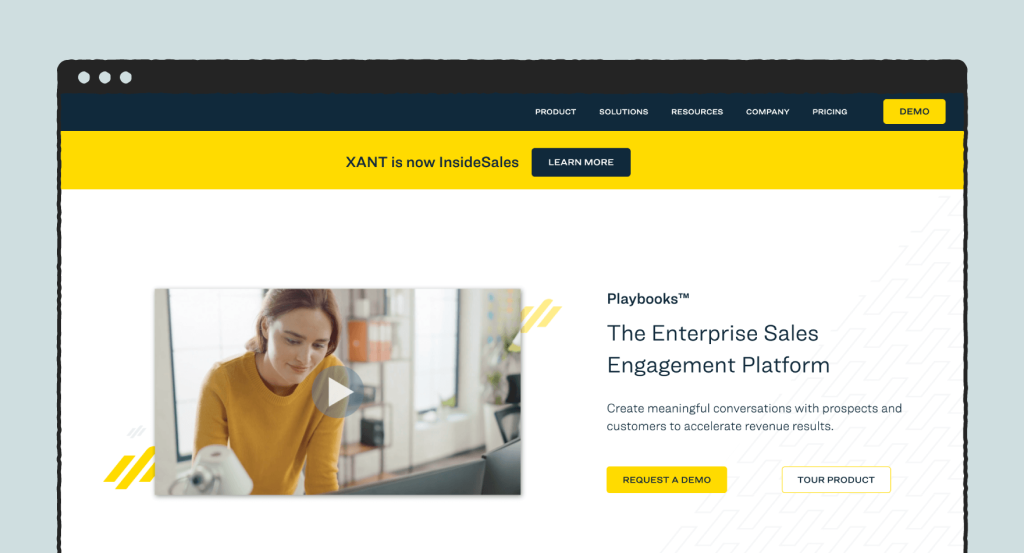 Pros:
Playbooks helps reps stay organized and on task
Automation tools streamline sales workflows and increase output
Unique insights influence how reps approach leads
Cons:
Contact search and email functionality can be lacking
Some CRM integrations could be better
G2 Rating: 4.5/5
InsideSales (formerly Xant) is a sales engagement platform that combines data insights with automation and workflow tools for your team.
All of this is consolidated into a Playbook, which is essentially a sales framework and cadence rolled into a single workflow and backed up by sales intelligence data.
Using Playbooks, your reps will know how to approach a customer, which methods are most likely to earn a response, and what they need to do in order to establish a strong working relationship with the individual.
The platform pulls data from social media (usually LinkedIn), but also offers some exclusive insights that are unique to the InsideSales system.
This level of enhanced sales pipeline management doesn't stop and recommended actions, however. In addition to Playbooks, the platform also pre-writes emails, pre-selects recommended content (like eBooks and other sales collateral), and creates other systematized content that reps can use to drive the conversation forward.
It's also a system that can be accessed from anywhere, so reps will receive notifications on their phones and desktops — anywhere InsideSales is installed — and can take action quickly to push deals along.
Plus, because reps tell the system when they're starting a play, other reps in your organization know that a lead is currently being worked on, so they won't step on one another's toes.
The best tools to get things done
And there you have it: our top list of sales collaboration tools to help you get work done no matter — whether you're in the office or working from home.
Glancing back through our list, you might notice that many of the tools we've highlighted aren't competitors. Often, they're compatible with one another and may even offer integrations where they can share information.
That's important to remember when building your tech stack because there isn't a single software anywhere that will account for all of your needs.
Many PandaDoc customers develop and send docs through our platform while storing their customer information inside Salesforce, and neither PandaDoc nor Salesforce can match Slack as a communication tool.
Choose the tools that work best for your organization and help your team collaborate more effectively. That way, when one rep succeeds, the entire team wins!
Ready to level up your document generation and management? Sign up for a free 14-day trial with PandaDoc to get started.
Originally published September 6, 2017, updated Sep 6, 2021