"If everyone is moving forward together, success takes care of itself"

Henry Ford
Even in the early 20th century, effective teamwork was recognized by thought leaders as one of the key drivers of success.
A strong team pulling together towards the same goal is a powerful asset — it's a defining aspect of the human experience, really.
The psychological state of working together has been found to spark motivation, enjoyment, and task persistence.
So, what can you do as an employer and team leader to facilitate this? You can empower your team with the right tools: group chats, document collaboration tools, task planning software, etc. to make it easier to collaborate.
Today, we'll be going over our top picks among the real-time document collaboration tools.
The importance of effective teamwork
Being a part of an effective team seems to have profound effects on each employee's productivity and motivation.
For example, did you know that nearly two-thirds of employees experience burnout on their job?
One measure that is often recommended to avoid employee burnout — effectively sharing the workload.
Teamwork also seems to drive ideas. In fact, the more diverse the team, the more ideas it might generate!
This study from McKinsey & Company found that teams that are diverse in terms of gender, race, age, etc. are more creative and perform up to 35% better compared to homogenous teams.
Employees also report that the respect of their peers is the No.1 factor that motivates them to go the extra mile. There is no doubt that working in a team drives creativity and helps people manage their workload.
How are we dealing with remote work?
But how is all of this being affected by the global pandemic? Are we finding it more difficult to work in teams now that everyone is scattered?
As expected, remote work has contributed to rising concerns about mental health driven by social isolation.
This large survey of almost 500 organizations employing over six million employees in the U.S. reports that: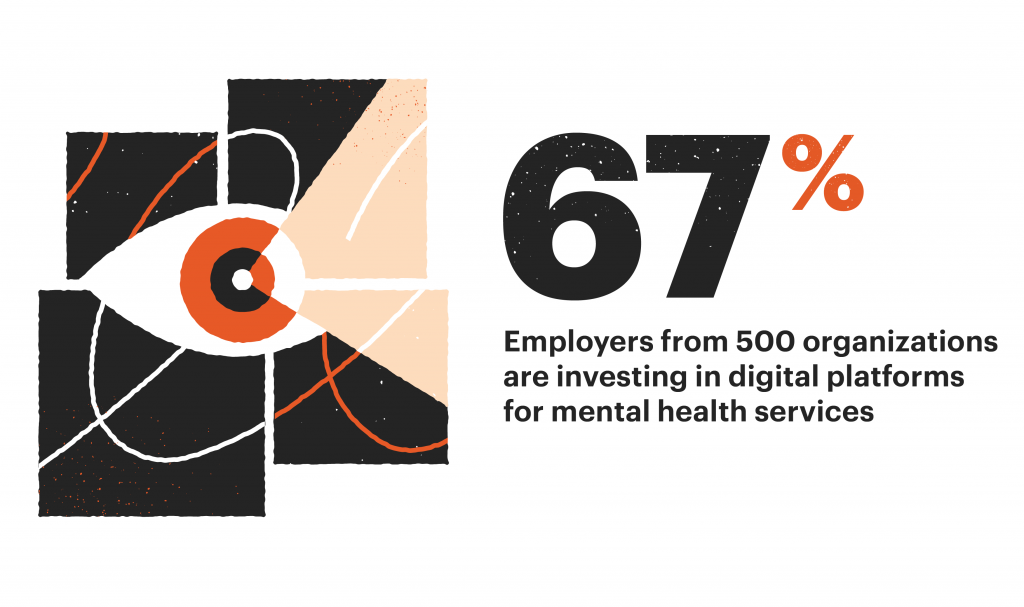 Additionally, 28% of employers offered digital engagement solutions to their employees with 44% considering doing the same.
There is also the other side of this story.
Professor Jeremy Bailenson of Stanford University postulated something he called "Zoom fatigue". He claims that the very nature of video conferencing software is intense and fatiguing and proposes several ways to address these issues.
In short, remote work presents us with a whole new set of challenges and, to respond to these challenges, we'll have to find new ways to connect, collaborate, and stay engaged remotely.
How we sourced our data
The research outlined in this article is sourced from 1.1 million page views of data, as of Jan 2022.
We grouped the articles into four cohorts:
<5.000 page views;
5.000 – 50.000 page views;
50.000 – 1.000.000 page views;
over 1.000.000 page views.
Sources used include review articles, comparison articles, and user reviews for each of the tools mentioned. Most articles come from specialized SaaS and tech publications with substantial experience in the industry, specifically software reviews.
Otherwise, for factual and up-to-date information, we consulted the blogs and other online assets owned by the mentioned tools' developers.
Other sources include news articles, statistics, and studies linked in the article.
The best document collaboration tools
Now that we've set the stage, let's get into our favorite document collaboration tools.
Depending on your company size and needs, you'll find different tools most useful so we included several options here that would make sense for different types of documents and organizations.
1. Monday.com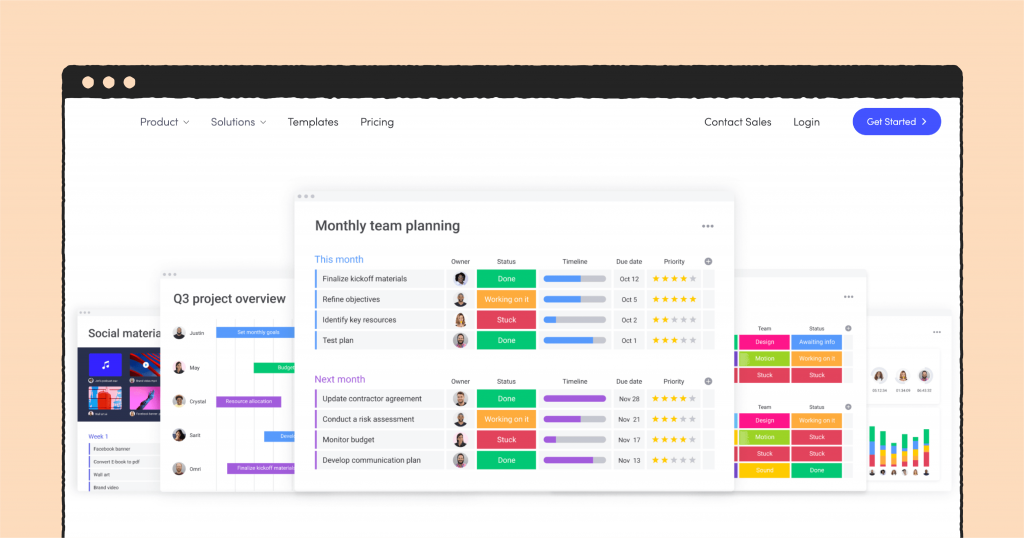 Pros:
Appealing, modern UI
Supports document editing from the most popular platforms (e.g., Figma, Google Docs)
Highly customizable
Cons:
The free version is very limiting (only two users)
Offers no document analytics
G2 Rating: 4.7/5.
Mondays get a bad rap. Yes, it's the start of a new workweek and yes, we have five more days ahead of us but when you're properly organized, all of this comes easier.
This is the idea behind Monday.com — an online collaboration tool that helps you organize, plan, and track all your team's work.
The platform is highly visual and, although it's not a typical project management app, it facilitates task management by allowing users to see their active tasks, track project progress, and fill in for each other.
The key selling point for Monday.com is its attractive interface. If you're familiar with collaboration tools, you might find Monday.com similar to Asana or Airtable: highly stylized collaborative Excel spreadsheets with vibrant colors and good UX.
File sharing on Monday.com is done through a simple drag-and-drop mechanism that keeps all your files centralized in one place. The platform supports all formats and allows you to regulate everything by managing client and team permissions.
You can share files and comments without leaving the platform. Monday.com also supports real-time document editing from platforms like the G-Suite and Figma — also done directly within the app.
Pricing: The Individual plan for up to two seats (free), Basic plan ($8 seat/month), Standard ($10 seat/month), Pro ($16 seat/month), Enterprise (custom price).
Why choose Monday.com: It provides a visually satisfying and efficient overview of tasks, people, and projects.
The file-sharing functionalities allow you to collaborate on files directly through the platform in a variety of apps. The interface is easy to use and you can manage file permissions to ensure safety.
Integrations: Monday.com offers many integrations with all the most popular apps, including Microsoft Teams, Zoom, Google Drive, Salesforce, Zendesk, MailChimp, SurveyMonkey, and many more.
Free trial: 14 days.
2. PandaDoc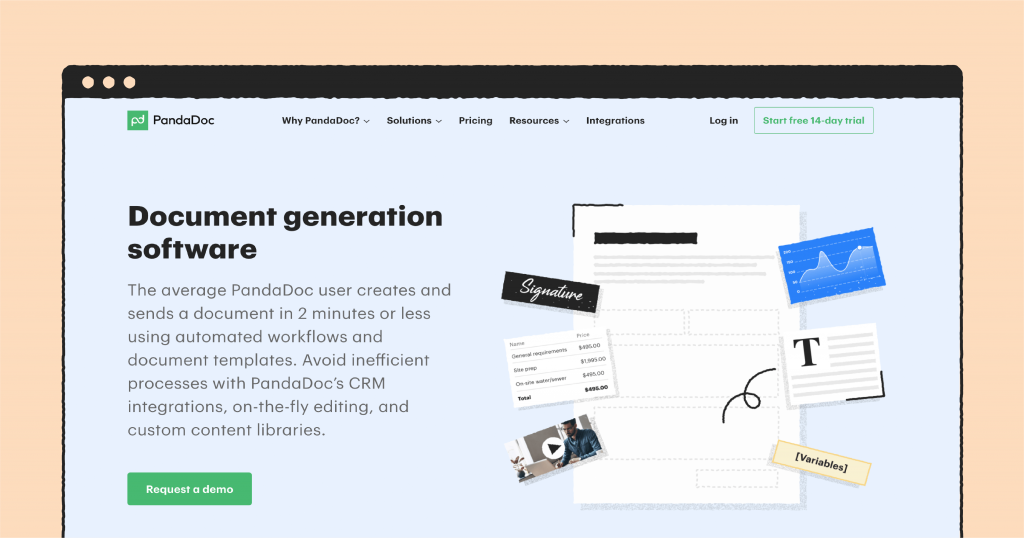 Pros:
Empowers the entire process of document management
Offers templates for all sorts of documents
Has document analytics
Offers eSignature
Cons:
Primarily works in PDF mode, Word is only available in higher tiers
G2 Rating: 4.6/5.
PandaDoc is an all-in-one document management solution that allows you to take charge of the entire process of creation, collaboration, and tracking digital documents to automate contract management.
In practice, this means that you can use PandaDoc to create documents (proposals, quotes, contracts, etc.) with customizable templates, collaborate on those documents across several teams, and send them to your clients to request legally binding eSignatures — all in a matter of minutes.
You can also use PandaDoc to collect payments when your clients sign the contract.
Before sending anything to your clients, you can share and edit documents with your team internally.
With PandaDoc, you can:
Collaborate on documents with the entire team
Increase visibility and monitor employees
Standardize the process and have a centralized way to communicate with your customers
Improve team collaboration and empower your team to make decisions together.
Once you send the file to your client, you can drill down to see exactly which actions your client takes upon receiving it.
Learn how much time they spend viewing your documents, how many times they view them, whether they click links, download your PDFs, and more.
Stay in the loop and receive notifications as soon as your document is opened and completed.
You can go even deeper and track analytics for each page of your document!
Pricing: Free eSign (free for as many documents as you like), Essentials ($19 month/user), Business ($49 month/user), Enterprise (custom price).
Why choose PandaDoc: It provides a centralized place to handle your documents across the entire organization, from creation to tracking client-side analytics.
You can make sure all your documents are on-brand, improve customer experience, and empower your teams to make decisions together.
Your marketing, sales, and customer success teams will be able to use collaboration features to create stunning proposals, case studies, quotes, and other files with zero design experience.
Integrations: countless integrations, including 15 different CRM tools, Microsoft Office, Trello, Slack, Gmail, Zoho, and many others.
Free trial: 14 days.
3. Coda.io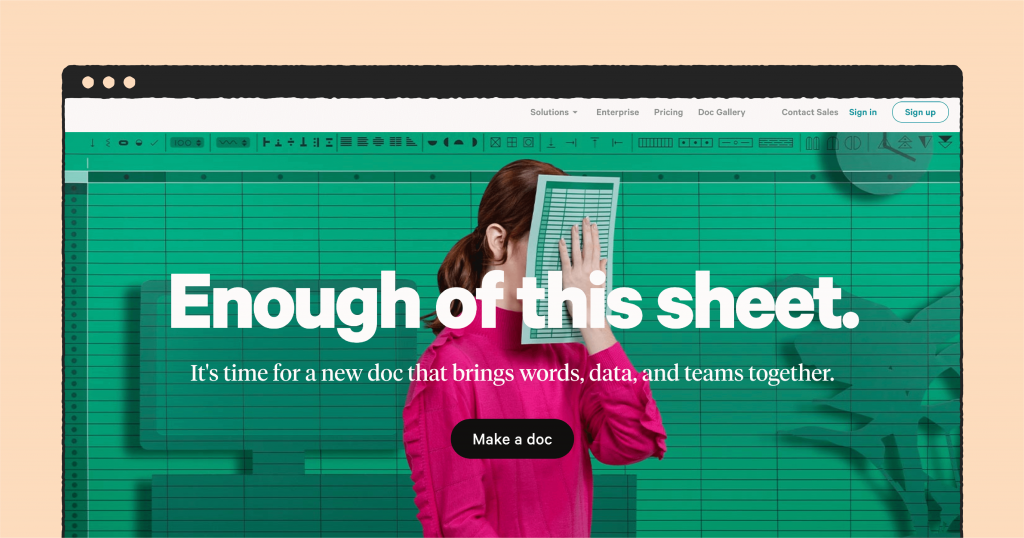 Pros:
You can have all information in a single document
An intuitive drag-and-drop interface
Cons:
You might need to use Zapier for some integrations (which is an additional expense)
Copying and pasting from other sources is too complicated
G2 Rating: 4.7/5.
Coda is a file collaboration app that cuts down on distractions and makes the whole process of document sharing easier.
Unlike Google Docs, Sheets, and similar apps, Coda keeps everything in one flexible workspace that allows your entire team to pitch in without causing mayhem.
No need to switch between tabs or apps — you have building blocks that you can use to grow your collaborative document over time. Using a simple (and fun) drag-and-drop interface, you can turn a blank document into a powerful organizational tool.
It's simple: each document can be enriched with blocks that rest on the right side of the screen. Drag any of these onto the document and they'll become interactive and editable by anyone on the team.
Among these templates, you'll find anything from to-do lists and brainstorming sessions to charts, images, and even polls.
Pricing: The Free plan (free for the entire team but with document size limitations), Pro ($10 month/user), Team ($30 month/user), and Enterprise (custom price).
Why choose Coda: It provides an innovative way to organize your team, drive productivity, and collaborate on documents. You can do everything in one place without the need to constantly switch between documents and workspaces. Formatting, collaborating, and creating workflows is fairly easy.
Integrations: In Coda, these are called "Packs". There aren't too many apps you can integrate with (only 11 in the Team plan) but a lot of the big ones are there: Google Calendar, Intercom, Jira, Zoom, G Suite.
Free trial: You can't try their paid plans, you can only use the free one.
4. Slack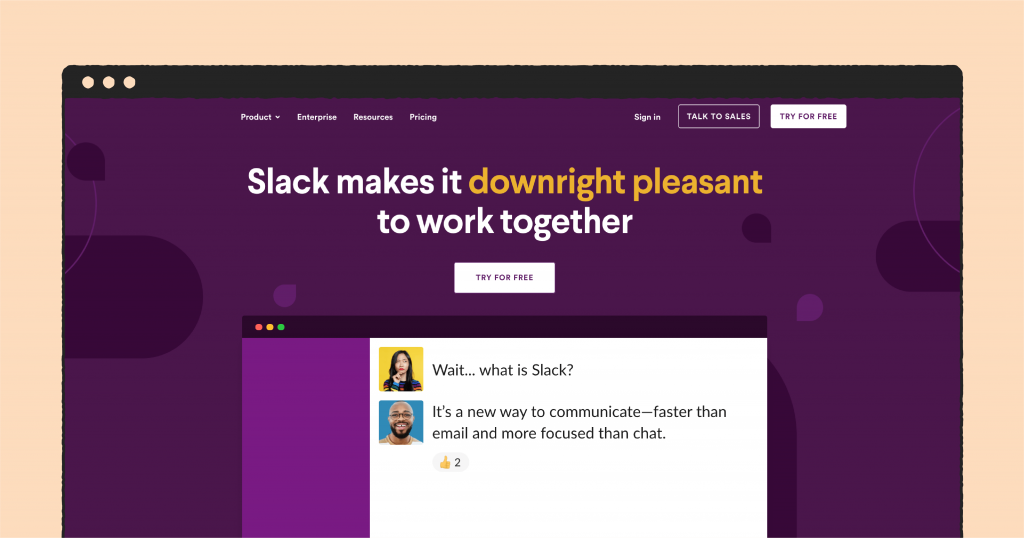 Pros:
Lots of integrations with other tools
You can share Google Docs files quickly and easily
Intuitive UI
Cons:
You can't edit documents in real-time without leaving the app
Can be pricey, especially for larger enterprises
G2 Rating: 4.5/5.
For years now, Slack has been one of the most popular communication tools in the industry.
In such a competitive field, the instant messaging app has established itself as a go-to solution, especially for smaller teams that can benefit from the free version. And, since the acquisition from Salesforce, we can expect Slack to maybe make some interesting moves in the near future.
Since it allows teams to communicate and work together on projects, it makes sense that Slack would introduce some solutions for online document sharing and editing.
On Slack, this happens through some of their many integrations. So, while there are no additional features within Slack to facilitate file sharing, you can integrate with Dropbox, Google Drive, OneDrive, and SharePoint to add your documents and turn Slack into a powerful collaboration platform.
The obvious drawback here is the fact that to collaborate on these files with other team members, you need to leave the app.
For example, the Google Drive integration will allow you to do all sorts of things like sharing Drive files with one click, automatically grant access to files, get updates on Slack for all changes on Drive, and even reply to Drive comments directly from Slack. However, the one thing you won't be able to do is editing a Drive document from the app.
For that, you'll need to leave the platform.
Slack also doesn't support all file types so you might run into some issues here.
Pricing: Free (with limited access to message history), Standard ($6.67 user/month), Plus ($12.5 user/month), Enterprise Grid (custom price)
Why choose Slack: It's a streamlined, user-friendly team chat solution loved by millions. It doesn't have built-in document management features but it offers just enough file-sharing options to help you communicate and collaborate on files at the same time.
Integrations: According to their website, there are more than 2.400 integrations in the library. They include apps of every type: productivity, communication, project management tools, etc.
Free trial: You can't try their paid plans, you can only use the free one.
5. Zoom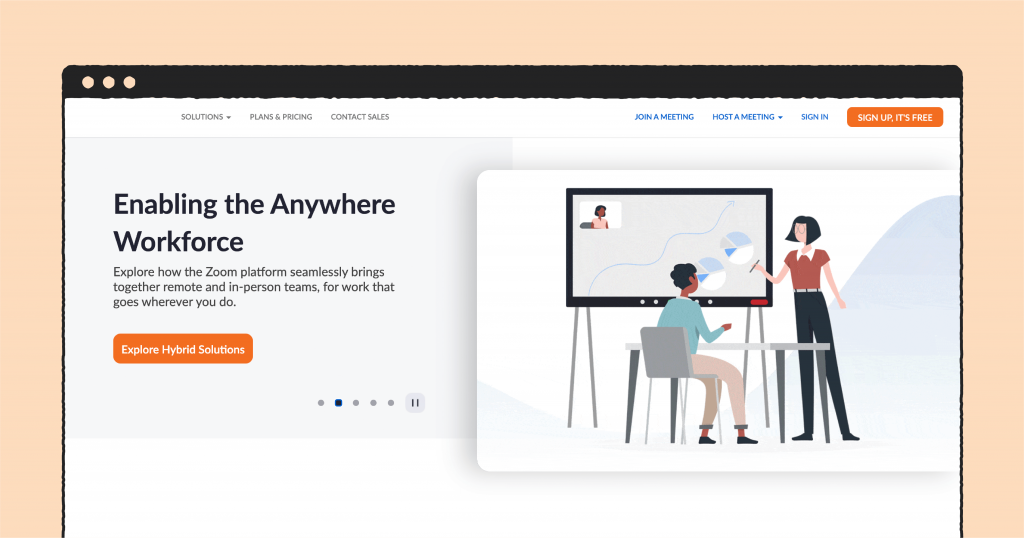 Pros:
Interactive, real-time collaboration
Verbal communication
Cons:
Document collaboration doesn't happen directly on the platform
Tracking everyone's actions, comments, and mark-ups can be confusing
G2 Rating: 4.5.
Zoom has seen a big spike in active users during the global pandemic. As we shifted towards remote work, more and more remote teams became dependent on video conferencing as a primary means of team communication.
And, although Zoom has backtracked on its previous claims of having 300 million active users, its growth is still impressive.
Much like Slack, Zoom has also established itself as a leader in the industry. It's among the most streamlined video conferencing tools, allowing meeting participants to join the conversation with one click, close deals, and effortlessly communicate with other team members.
In addition to providing a very necessary human touch during these times of isolation, a lot of people consider video conferencing the best way to collaborate on a document online.
You can discuss everything through real-time collaboration, share your screen, and use the chat option to share documents.
Pricing: Free (for up to 100 participants and up to 40-minute meetings), Pro ($149/year), Small & Med Business ($199.90/year), Zoom United Business ($350/year).
Why choose Zoom: If you're a fan of live document sharing, video calls might just be your best option. Zoom is likely the best video conferencing solution on the market, with other options like group chat, meeting notes, and video webinars.
Integrations: There is no exact number of integrations mentioned on their website but Zoom integrates with many of the essential organization apps like Skype, Google (both Chrome and Calendar), Microsoft Teams, Zoho, and others.
Free trial: You can't try their paid plans, you can only use the free one.
6. SalesForce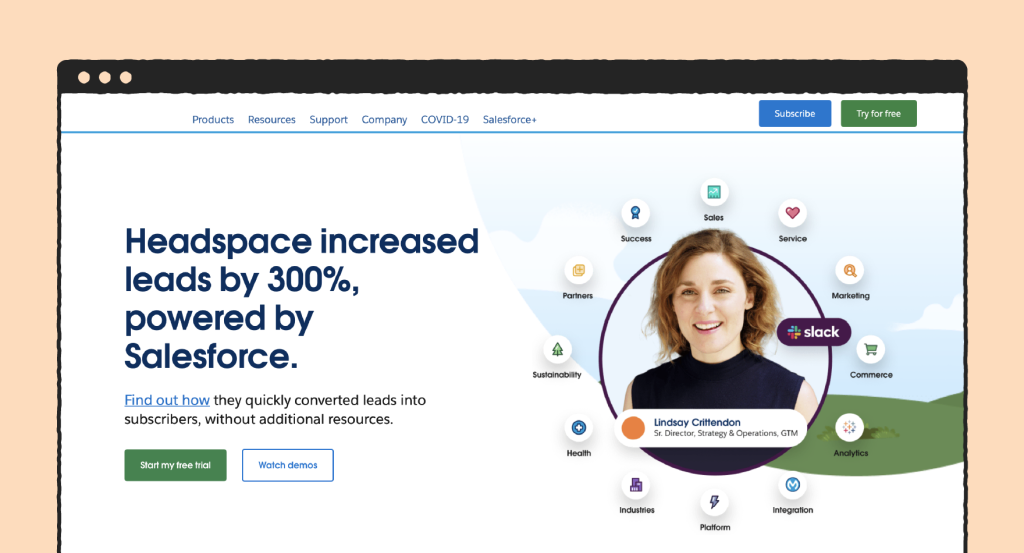 Pros:
Great drag and drop features
Can be used across different industries
Great customer service
Cons:
Loading times and CPU usage
Some say that it's too complex, especially for smaller businesses.
G2 Rating: 4.2.
SalesForce is a great tool that is especially popular thanks to its high level of customizability. You can custom tailor the tool to fit all your business's needs.
However, some do argue that it might be too complex if you don't have any previous experience.
Some key features are lead and contract management, sales and opportunity management, workflow rules and automation, customizable reports and customizable dashboard.
This tool is also hybrid and offers a wide variety of sub-tools, most of which are custom-tailored for different industries like retail or automotive.
Overall, SalesForce is a very popular tool. It offers some of the best security so that you don't have to worry about anyone snooping in or stealing your documents.
You can edit different permissions and customize the tool in any manner you'd like.
Pricing: Essentials (€25 / month per user); Professional (€75 / month per user); Enterprise (€150 / month per user); Unlimited (€300 / month per user);
Why choose SalesForce: SalesForce is an extremely complex tool with a wide variety of useful features. It's one of the leaders in its industry and it's extremely customizable. It also offer very decent pricing plans compared to the value it offers.
Integrations: It also boasts a large list of integrations, some of which include PandaDoc, Google Docs, Gmail, Outlook, LinkedIn, Slack, JIRA, DocuSign, Dropbox, among others.
Free trial: Yes – 30 days.
7. Google Docs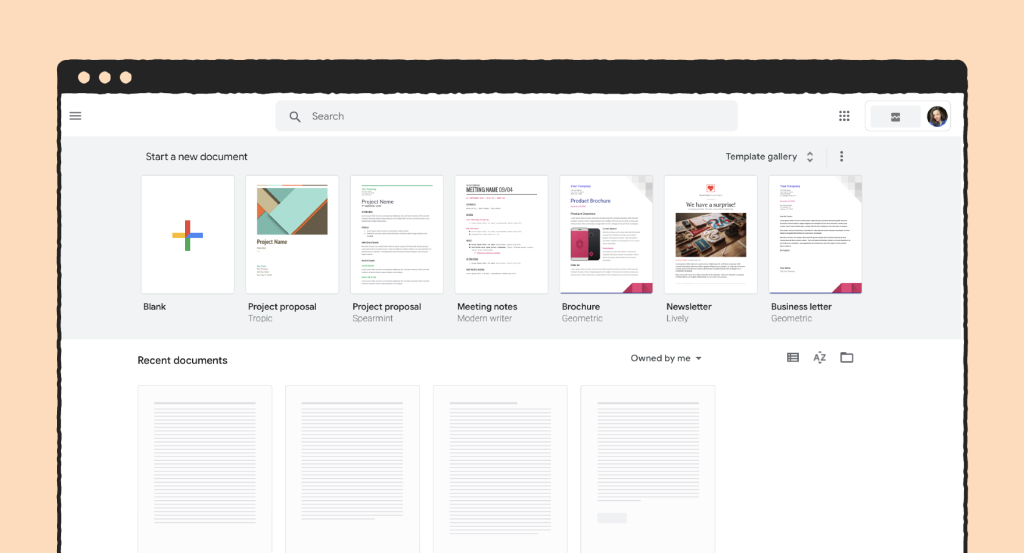 Pros:
great security
great collaboration features
sharing and editing in real-time
Cons:
doesn't offer any referencing functions
doesn't support a large number of fonts
G2 Rating: 4.7
Google Docs is a well-known name in the document editing and collaboration industry.
What's great about it is that it comes with a completely free option that basically includes most popular advanced document collaboration features.
It allows people to work on documents together and edit them in real-time. All changes are automatically saved and you can also install Google Docs offline mode to edit documents without internet access.
This option is also handy if an unexpected internet outage happens, so you don't have to worry about losing any important information written in the document.
Almost every other proposal, contract, or price management tool is integrated with Google Docs, allowing you seamlessly use these tools simultaneously and reap all the benefits of these tools at the same time.
Pricing: Free; Business Starter ($6 / month per user); Business Standard ($12 / month per user); Business Plus ($18 / month per user); Enterprise ($ N/A);
Why choose Google Docs: Google Docs offers great document collaboration features, most of which can be used for free. It's integrated with nearly every other proposal or document collaboration tool on the market, making it extremely convenient.
Integrations: Google Docs boasts an impressive list of integration that has over 200 names on the list. Some of those include PandaDoc, Zapier, Trello, Google Drive, Dropbox, Notion, Click Up, Wrike, Google Meet, Basecamp, Toggl and JIRA, among others.
Free trial: No, but there is a Free plan which you can use whenever you'd like.
8. Filestage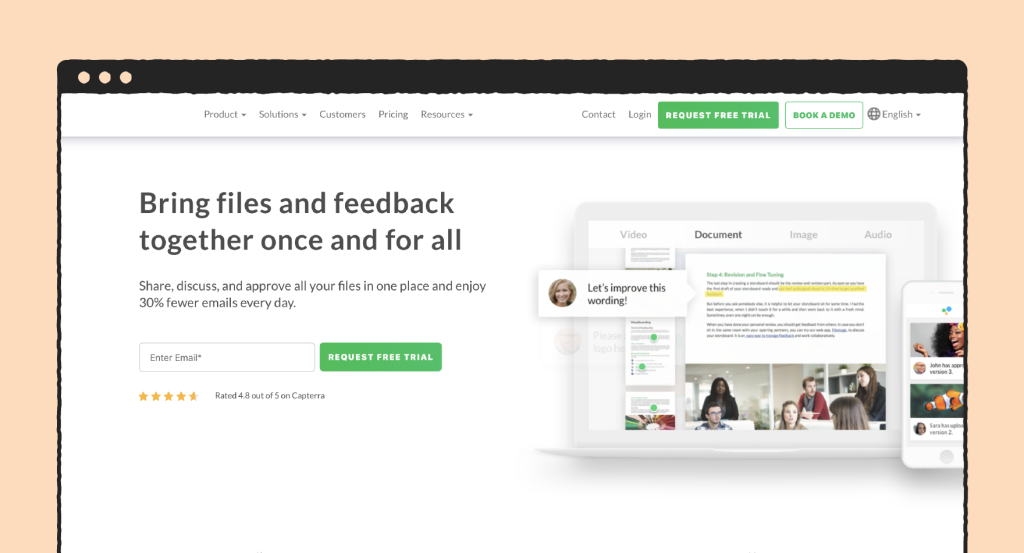 Pros:
Receive and access all feedback in one place
An intuitive and easy-to-use interface
Cons:
The project templates are only available if you upgrade your plan
The tool isn't user-friendly on mobile devices
G2 Rating: 4.7/5.
Filestage is a content collaboration tool that makes the process of reviewing documents faster and easier.
It enables multiple individuals to give feedback on the same document, with the option to discuss that feedback in real-time. The app doesn't require any technical know-how, so you can set up the structure you need in just a few steps.
Your reviewers don't need to sign up to leave their comments. This makes it easier to collect their feedback.
Aside from that, you can use features like automated file sharing, status updates and due date reminders to keep everything in check. You won't miss any deadline with Filestage.
Pricing: The Essential plan ($10 month/seat), Advanced ($20 month/seat), Professional ($40 month/seat) and Enterprise (custom price).
Why choose Filestage: It speeds up the review process, ensuring everyone is aware of deadlines. If you have questions about any feedback, the app enables you to discuss it with others in real-time. It is compatible with multiple file types, allowing you to add documents directly to them.
Integrations: Filestage offers smart integrations with eight apps, including Asana, Google Drive and Dropbox.
Free trial: You can request a free trial for each of their plans.
9. Box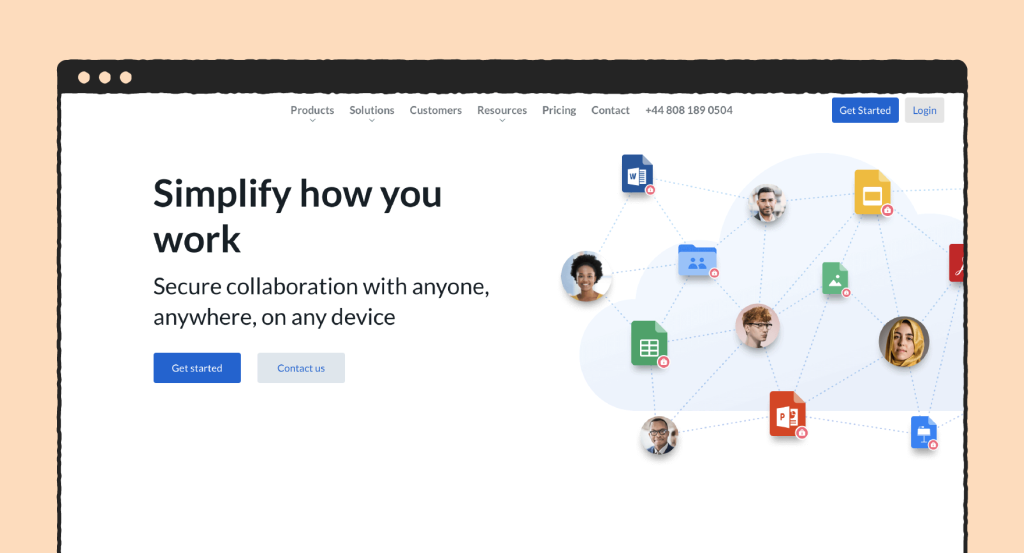 Pros:
It's safe and secure to use
Data storage available over cloud
Cons:
Some file types don't open if you use the preview tool
Users experience syncing issues
G2 Rating: 4.2/5.
Box is a web-based platform suitable for teams that want to instantly share files and access their documents whenever. Its live collaborative authoring tool can be used by experts who want to work together on documents.
In the beginning, Box was a file sharing and storage software. However, the app has evolved over time. It now allows users to create and edit documents in Google Docs and Microsoft 365 simultaneously. Teamwork is at the forefront of this software.
The app is aimed at project managers who want to keep an eye on every piece of content. Box gives them a center view of the content, ensuring they don't miss a thing.
Every edit is automatically saved and team members can easily understand which editor left a comment.
Pricing: The Business plan ($15 user/month), Business Plus ($25 user/month), Enterprise ($35 user/month) and Enterprise (custom price).
Why choose Box: The app is secure, relying on two-factor authentication to ensure safety. Every piece of content you collaborate on via Box is saved on cloud, meaning you won't need to worry about losing anything.
Integrations: Box states you can connect your content across more than 1,500 apps. Some of the apps it integrates with are Adobe, Office and Zoom.
Free trial: You can request a 14-day free trial.
10. Huddle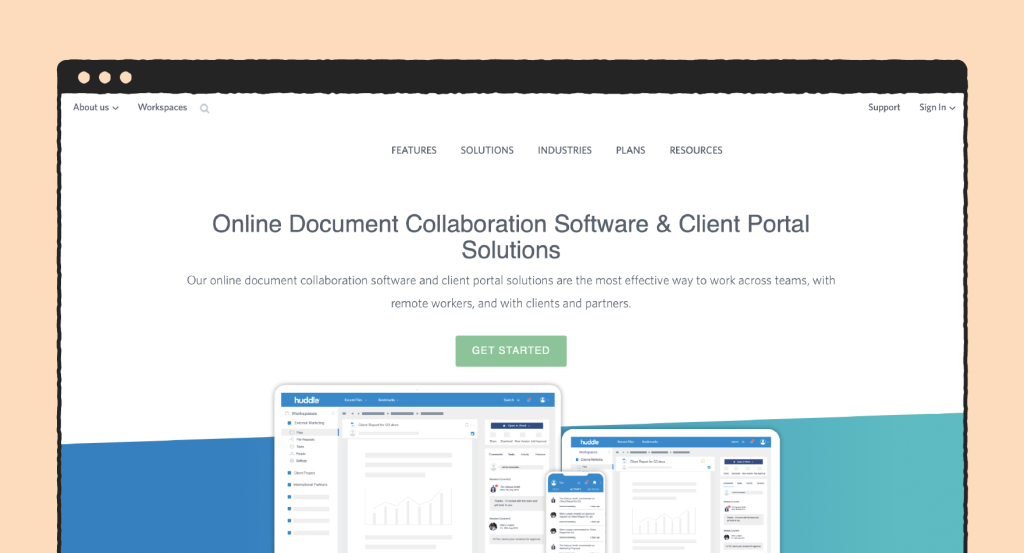 Pros:
Users can access the app while offline
A user-friendly mobile app
Cons:
The Huddle Office plugins may lead to crashes while using Word and Excel
Calendar functionality needs improvement
G2 Rating: 4.1/5.
Huddle is a platform suitable for document collaboration. It makes it easy for teams to go over documents together in a secure environment.
Through its features, the app brings employees together, regardless of where they are working from. It minimizes the need for countless emails and business meetings, connecting every team member in just a few clicks.
Huddle offers everything from version control to real-time editing and high-level security. Users have greater control over sharing and editing of sensitive documents.
They don't have to worry about any breach as Huddle stresses security above everything else.
Pricing: The Huddle plan ($15 user/month), Huddle Plus ($30 user/month) and Huddle Premier (custom price).
Why choose Huddle: The platform works seamlessly with other collaboration tools like Google G Suite and Microsoft Office. Aside from that, it is easy to use, with users having personal dashboards. This allows them to see the real-time activity stream, ensuring they aren't behind with their tasks.
Integrations: Huddle integrates with over 20 apps such as Office, Slack and Dropbox.
Free trial: Users can request a demo.
11. Paperflite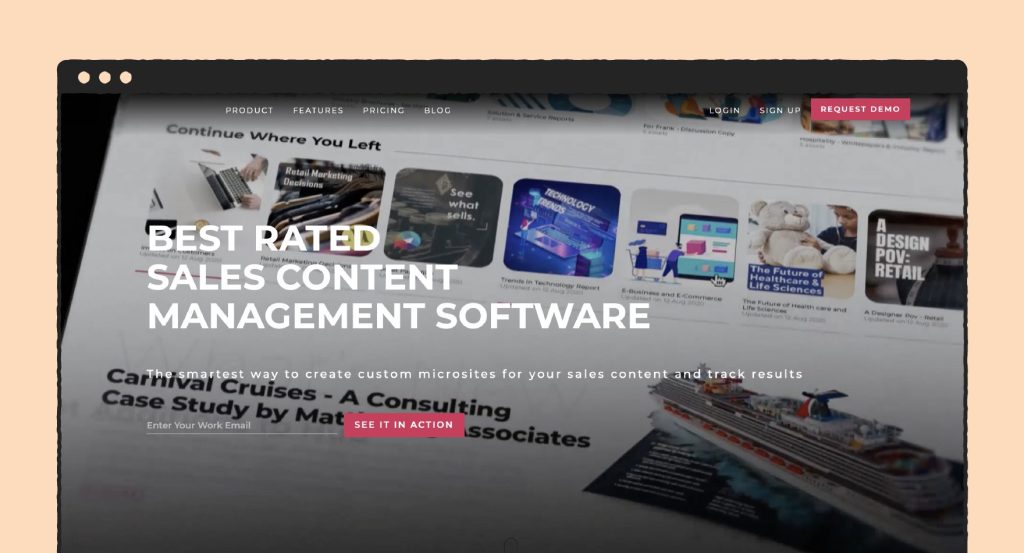 Pros:
An easy-to-use interface
Seamless document import
Cons:
Lacks actionable insights
It offers limited views
G2 Rating: 4.8/5.
Paperflite is a great solution for sales and marketing teams looking to organize and share their content. They won't need to engage in long email chains to keep up-to-date with necessary resources.
With Paperflite, users access a dashboard that enables them to search and find content easily. Whenever there is a document that needs their attention, they can access it via Paperflite.
The tool is also suitable for project managers. It features engagement analytics, which means project managers can see who viewed specific documents. They can use this information to engage their team members.
With this app, you can also track metrics such as downloads and shares. This will give you a clear understanding of how your team members interact with materials.
Pricing: The Paperflite plan ($50 user/month)
Why choose Paperflite: As a project manager, it's crucial you keep track of your team members. Paperflite enables you to do that with advanced metrics that tell you when, how and whether users accessed certain documents.
Integrations: The platform offers a fair amount of integrations, including with HubSpot and Freshales.
Free trial: Users can request a demo.
12. Filecamp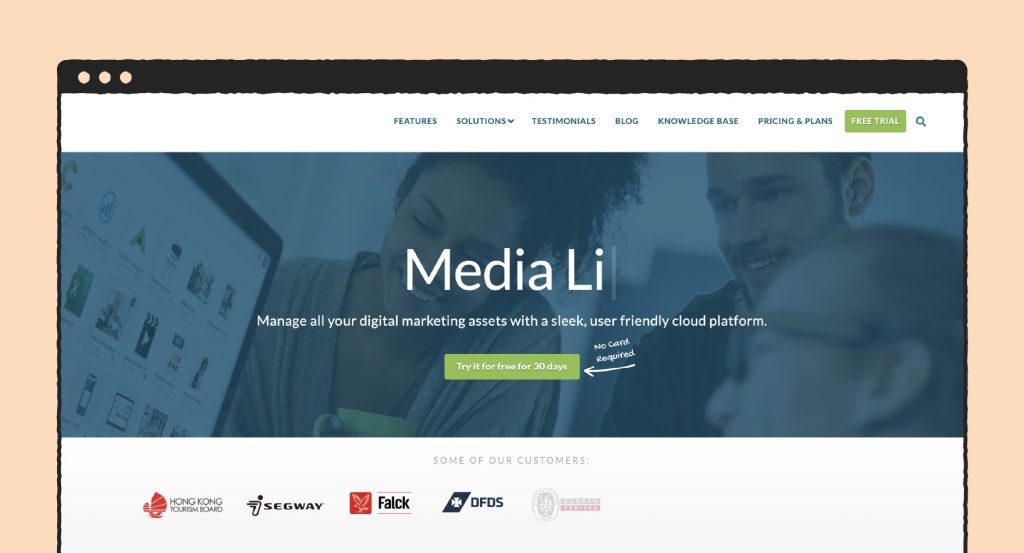 Pros:
Competitive pricing
Customizable branding
Cons:
No integrations available
Lacks plugins
G2 Rating: 4.8/5.
Filecamp is a document management software and a digital asset management tool that streamlines the collaboration process.
The app enables companies to share and organize rich media files and documents. Users can share, edit and comment on documents. Aside from that, they can do document searches or even image captures.
Filecamp is intuitive, offering an easy-to-use dashboard. It takes things to the next level with granular access management. This basically means users can label files if they want to archive them or create a custom workflow.
The platform wants to ensure document and file sharing is as simple and secure as possible.
Pricing: The Basic plan ($29 per month), Advanced ($59 per month) and Professional ($89 per month)
Why choose Filecamp: The main benefit of the app is its granular access control. This means you can control who can access documents, ensuring their security. Apart from that, Filecamp offers reporting and analytics you can use to improve workflow.
Integrations: The platform offers a fair amount of integrations, including with HubSpot and Freshales.
Free trial: Filecamp offers a 30-day free trial.
Choosing the perfect document collaboration software for your team
These five document collaboration tools are all good options and your choice will largely depend on the needs of your team members.
Make sure that your software of choice supports collaboration across different departments and gives you complete control over the process: who can access, edit, and share files.
You want to have a good overview of everything that's going on with your files — there's nothing worse than misplacing or permanently deleting a document.
Find a platform that allows you to do all of this with the least clutter and confusion.
The best part about making this decision is that most of these tools have either free trials or completely free plans so there is almost no risk involved!
Originally published June 1, 2021, updated January 25, 2022