A sales pipeline software is a digital tool for structuring your selling process so you can close deals quicker and expand your firm faster.
In short, pipelines are a method of visualizing all of the options available to you at a specific moment in your sales cycle.
These details are particularly helpful when you're striving to meet your sales objectives. But, to be truly effective, sales pipelines need to represent a structured and repeatable process.
In this article, we're covering 14 apps and platforms that offer sales pipelines.
Let's get started!
How to pick a good sales pipeline software
Everyone agrees that sales pipeline tools are useful.
These tools compress an impressive amount of line item data into a format that is easy to visualize and understand.
That's important because it reduces the amount of time that sales teams need to track deals and nudge them toward the finish line.
The best pipeline tools are customizable allowing you to create various pipeline stages that match your sales workflow.
Most also offer robust options for sorting, filtering, and navigation, including drag-and-drop functionality or automated intake for new leads.
But picking the right sales pipeline software for your team isn't as easy as finding one you like and clicking the buy button.
Why? Because the vast majority of sales CRM software offers some kind of pipeline management workflow.
Often (but not always!), the pipeline you end up using will be part of the CRM solution you ultimately select for your business.
With that in mind, make sure you enjoy using the rest of the software before making your final decision. Sales pipelines are just one feature of a strong CRM.
01. Pipedrive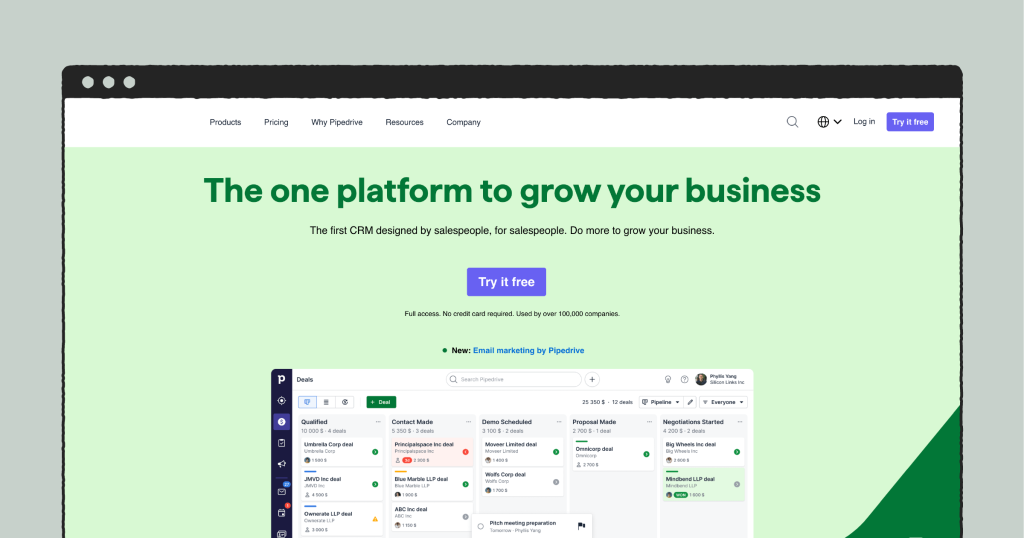 If you're looking for a straightforward tool to help simplify your sales cycle, Pipedrive is a Kanban-style CRM with a visually compelling pipeline that depicts the sales process from start to finish for salespeople.
In short, it's a simple-to-use platform that transforms deal management using basic project management tools to consolidate complex information.
Leads are managed by dragging and dropping contacts along the pipeline, which displays a complete view of contacts, chats, and scheduled sales activities.
You can also use the overview tools to evaluate the health of your process, down to a per-process level.
The software is also highly customizable, allowing users to create a visual representation of their particular sales reporting process.
Teams can create and name as many sales stages as they wish and disable any features they no longer require.
On top of all that, Pipedrive's integration with PandaDoc enables users to add document production and e-signing capabilities to Pipedrive CRM, enabling you to manage end-to-end document workflows in a single solution.
This versatility makes it an excellent solution for firms looking for a straightforward, visible pipeline CRM tool that their entire team can use.
Key features
Reporting/analytics
Contact management
Opportunity management
Goal setting/tracking
Template management
02. Active Campaign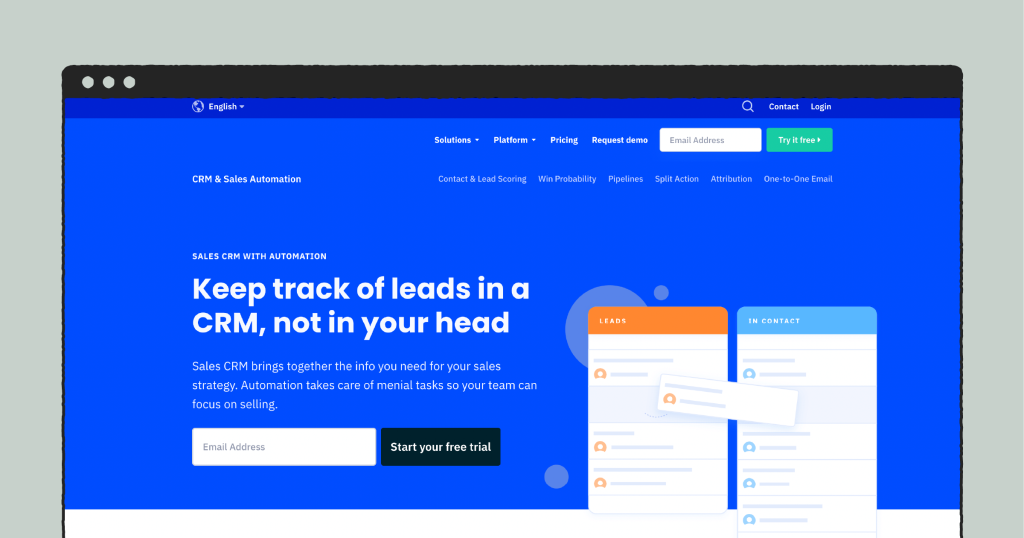 Though Active Campaign is most widely known for its email marketing and outreach capabilities, the platform also offers great CRM and sales automation tools.
With Active Campaign, you'll see sales pipelines consolidated into a drag-and-drop format.
If that sounds a little tedious, don't worry.
Task creation can be automated, and centralizing your data on a single platform will make working within Active Campaign simple and easy.
Lead scoring is also a priority across this platform, and the ability to integrate with various tools for outreach will equip your team with everything it needs to connect with customers and expedite the sales process.
Key features
Powerful sales and marketing automation
Streamline lead capture forms
Automation maps for better workflow visibility
Customized landing pages and form creation
In-depth reporting tools
03. Monday.com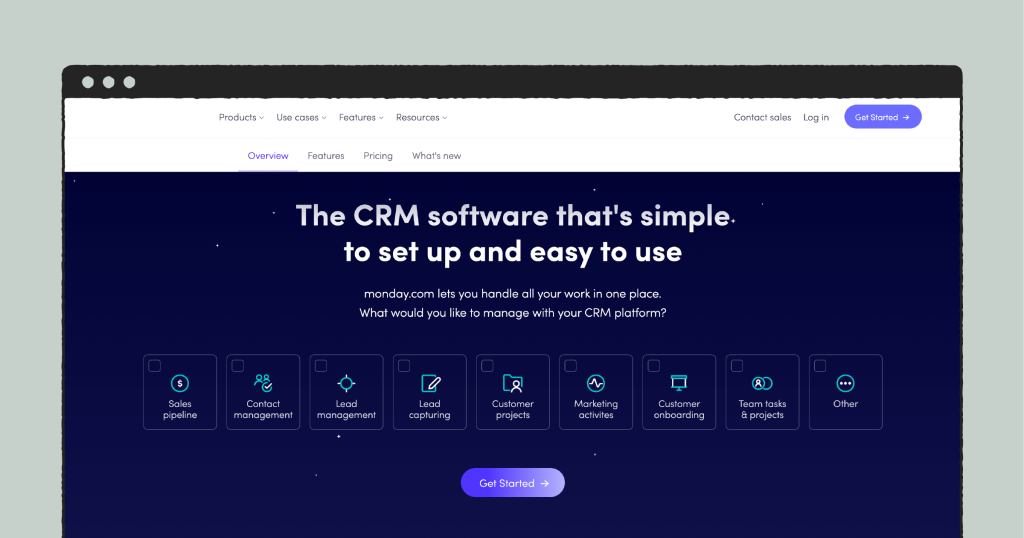 If you're looking for a tool with more versatility than your typical CRM, Monday.com is here to give you a different way to manage your entire workspace.
With Monday.com, you can manage everything from sales and marketing to HR, operations, and software development.
That's because the boards and project management tools that Monday provides are versatile enough to be structured into almost any format.
Between the variety of boards, dashboards, and document creation tools, you'll be able to create a customized sales funnel and deal management tool that suits your unique needs.
Of course, this approach comes with a few drawbacks.
Because the tools themselves are agnostic, you won't be able to leap into a predesigned deals workflow — but you can come close with the sales pipeline template.
Expect to do a little tweaking before you get started. In return, you'll be able to enjoy freedom in your sales process that you won't really see in most other apps.
Key features
Flexible and intuitive project management suite
Versatile modules to help you manage every aspect of your business
Maximum customization options for pipeline creation
Apps marketplace allows you to expand workspace functionality
Some setup is required for the perfect build
04. Agile CRM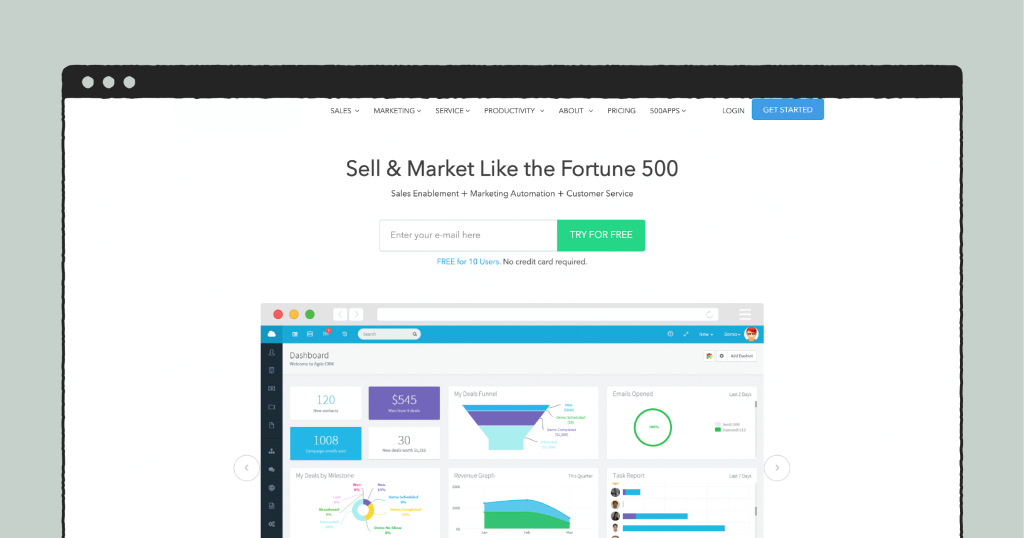 A favorite CRM for large and small businesses alike, Agile features a drag-and-drop sales workflow that makes deal tracking a breeze.
The app features repeatable pipelines, robust filtering tools for searching and sorting, and even predictive analytics to help you monitor pipeline health and performance.
And, where many other brands might force you to pay a hefty price tag for most of these features, Agile offers approachable pricing for every business.
The free plan, which will be enough for most small businesses, even offers everything from lead scoring to basic email marketing.
If you're new to sales and pipeline management, Agile is a great starting point, especially considering the extensive functionality it provides at such a low cost.
Sales pipelines are built into the native app workflow, so you won't have to worry about viewing everything in a separate, standalone tool.
Instead, it's all part of your everyday process, and that makes deal management easier than ever before.
Key features
Powerful free and low-cost plans
Full sales, marketing, and support suites
Intuitive, drag-and-drop opportunity management
Appointment scheduling
Customized milestones generation
05. Salesforce CRM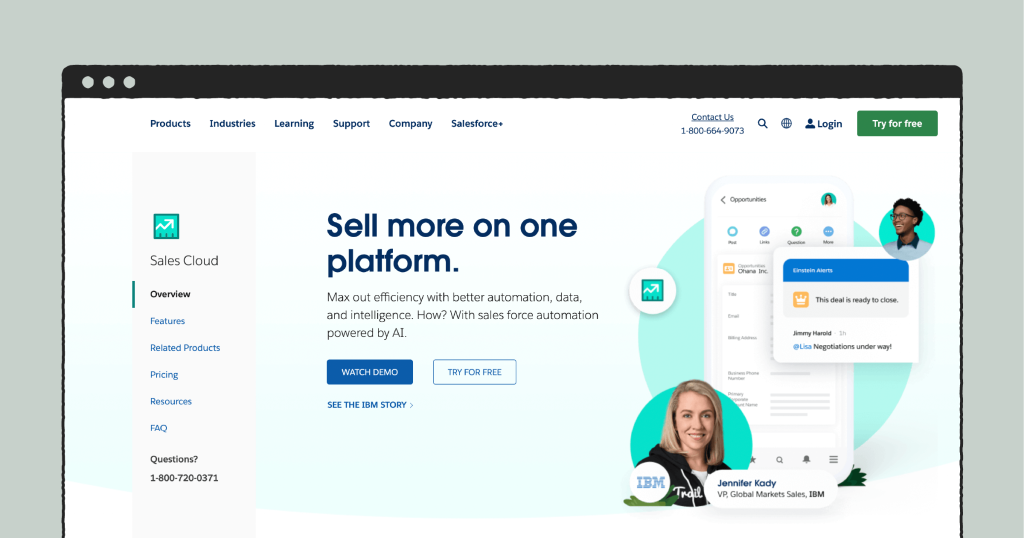 No list discussing customer relationship management would be complete without Salesforce, and you won't be surprised to find that Salesforce also offers deal pipelines to help you stay on top of your opportunities.
With Salesforce, you won't see much in the way of drag-and-drop kanban boards. Instead, sales pipelines are integrated into every opportunity through a feature called sales paths.
Sales paths serve as a visual representation of where the deal sits in your pipeline, and these paths can be customized to suit your business selling style and to meet specific customer needs.
Of course, with Salesforce, it doesn't stop there. You can use the pathing tool to create paths for accounts, campaigns, quotes, work orders, and many other records that materialize as part of your typical CRM process.
That versatility sets Salesforce apart from many of the other apps on our list, which are may offer pipelines for sales but limited functionality for back-of-house management or post-sale support.
Plus, Salesforce offers a huge market of apps and integrations to further empower your team. Using the PandaDoc to Salesforce integration, you can even incorporate your sales documents into your Salesforce customer profile so that all your information stays in one place while working on deals.
Key features
Versatile pipeline creation
Opportunity management
Contact management
Sales and service tracking
The vast amount of integrations
06. Keap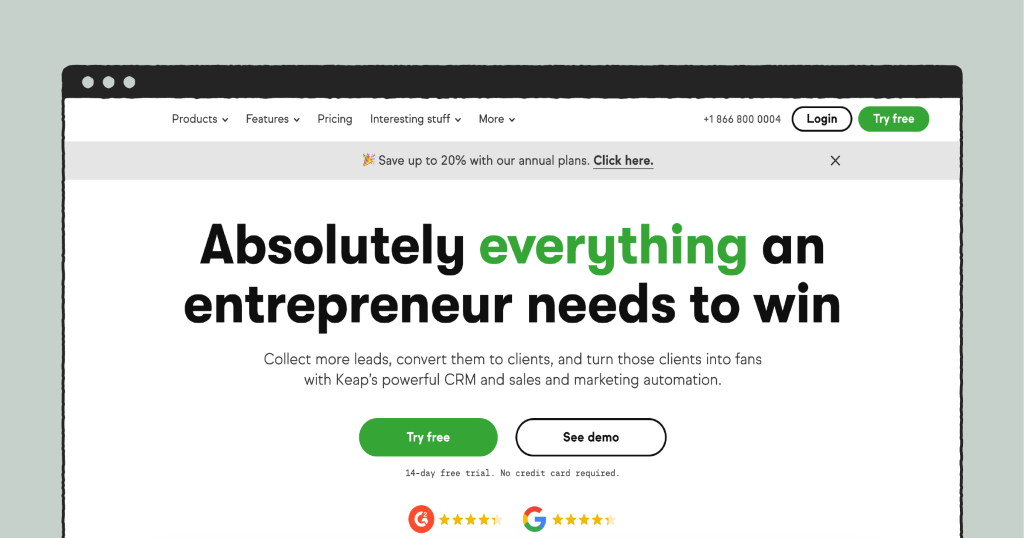 From CRM and sales pipelines to email and text messaging, Keap is focused on helping you do the work that matters while automating the rest.
The entire software suite is set up to help you streamline business operations, and their sales pipeline is no different.
The drag-and-drop tools can help you get away from spreadsheet-based deals management and move into an eye-catching workflow that does wonders for sales tracking and rep engagement.
True to form, Keap also added a unique ability to automate certain stages of your deals pipeline, so that certain actions trigger automatic follow-up tasks to improve engagement and help opportunities close strong.
Automating through each stage of the sales process can be a major boost for teams who are trying to make the most of their time because it eliminates the need to create specialized campaigns to close deals.
Instead, once the system is structured, reps just need to follow the appropriate guidance created through automation to shepherd deals along.
And don't get us wrong: Other tools on our list also have great segmentation automation, too. Keap just puts a special emphasis on it and offers an intuitive UI to back it up.
Key features
Analytics/ROI tracking
Contact management
Customizable templates
Form builder
Drip campaigns
07. Zendesk Sell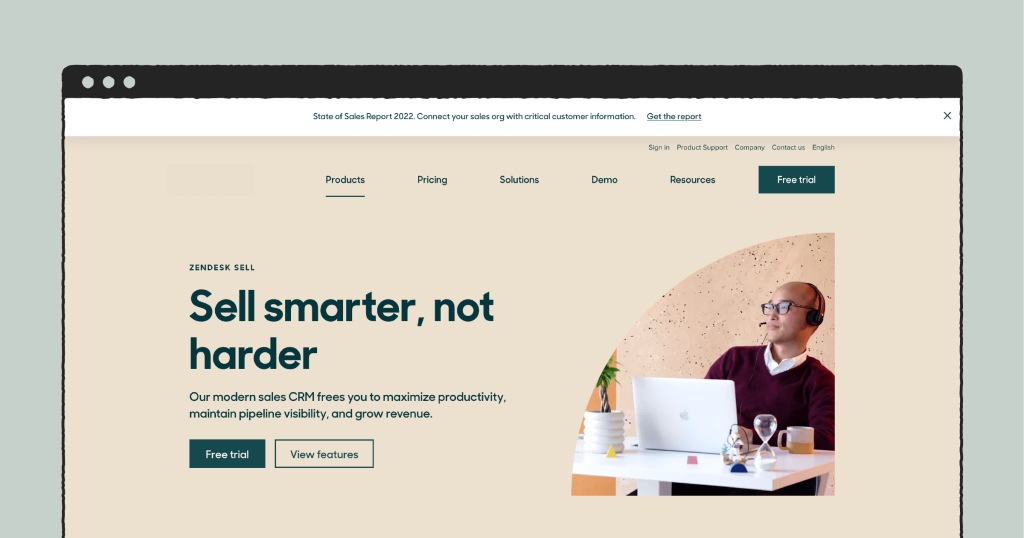 When your team needs to make data-driven decisions that improve the customer experience and increase productivity, Zendesk Sell is a great option.
Use the tools in this sales CRM to easily manage your pipeline, plan meetings, send emails, view deal history, and much more.
Teams can also pull back to get a bird's eye view of the data and figure out which leads deserve the most attention.
As with many other CRMs, Zendesk Sell is focused on delivering all relevant information in one place — but it doesn't necessarily intend to do that alone.
The platform offers API tools to streamline information and pull data directly from other sources. Use this to import records and sales data from other platforms or empower your systems and processes by consolidating the functionality of your entire tech stage into a smooth workflow.
With integrations like Zendesk Sell and PandaDoc, you can even turn data into actionable sales documents, develop stronger proposals in less time, and close business deals faster.
Key features
Contact and account management
Territory and quota management
Lead management
Mobile user support
Forecasting
08. Copper CRM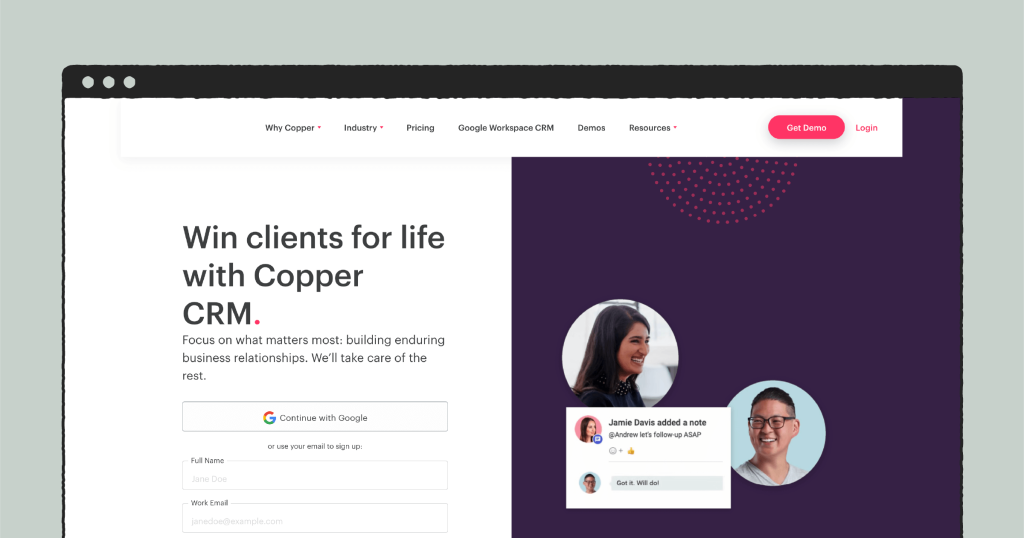 This unique take on CRM and deal management comes from the fact that Copper is closely connected with Google Workspace.
Copper sits on top of Gmail and allows you to work directly out of your inbox to manage deals and customer information.
This approach can drastically reduce the information that you need to copy and consolidate.
Instead, Copper's approach leverages the power of Google and the native correspondence platform you use to reduce manual data entry and help you reach your sales objectives.
That's what makes it such a unique pipeline management tool.
But even though you're working out of your inbox with Copper, you'll still have access to visual sales tools as part of their pipeline deals software.
As with other tools, you can still customize your deals pipeline and monitor all stages of the sales process — all without ever leaving your inbox.
Key features
Email open tracking
Recommended actions based on general activity
A deal-length monitor to help get perspective on sales opportunities
Drag-and-drop functionality to move leads from one funnel stage to another
Personalized email templates
Trigger-based reminders to help sales staff easily follow up with potential clients
9. HubSpot CRM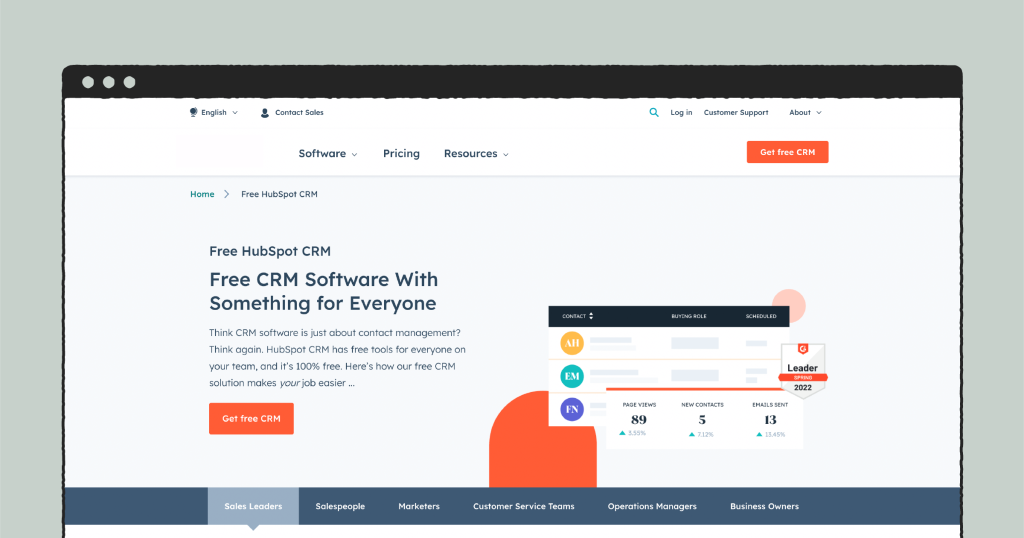 One of the most robust and feature-heavy CRM tools on the market today, HubSpot can help you with everything from contact management for sales to support and operations management for your back-of-house.
However, you don't have to make a major investment to get access to their deals pipeline. In fact, it's free!
With HubSpot, you can customize your pipeline to match your sales process and scale that process as your business grows.
Thanks to intuitive tools, you won't need additional support to make these changes, either.
The drag-and-drop functionality makes it easy for sales reps to manage their own deals, while managers will be able to track pipeline health and deal progress using oversight tools.
As with other tools featured here, HubSpot's deal pipeline is closely tied to the customer data in your CRM platform.
This gives you the ability to evaluate sales performance for specific organizations and focus outreach efforts to maximize the value of every potential customer.
Plus, with the PandaDoc and HubSpot integration, customers get to create, send, eSign, and track all relevant sales docs inside HubSpot CRM, all while saving time, and merging crucial data right into their documents.
HubSpot CRM is ideal for firms searching for a free sales pipeline tool and CRM with the option to upgrade later.
Key features
Opportunity management
Referral tracking
Email marketing
Proposal generation
Customer database
10. FreshSales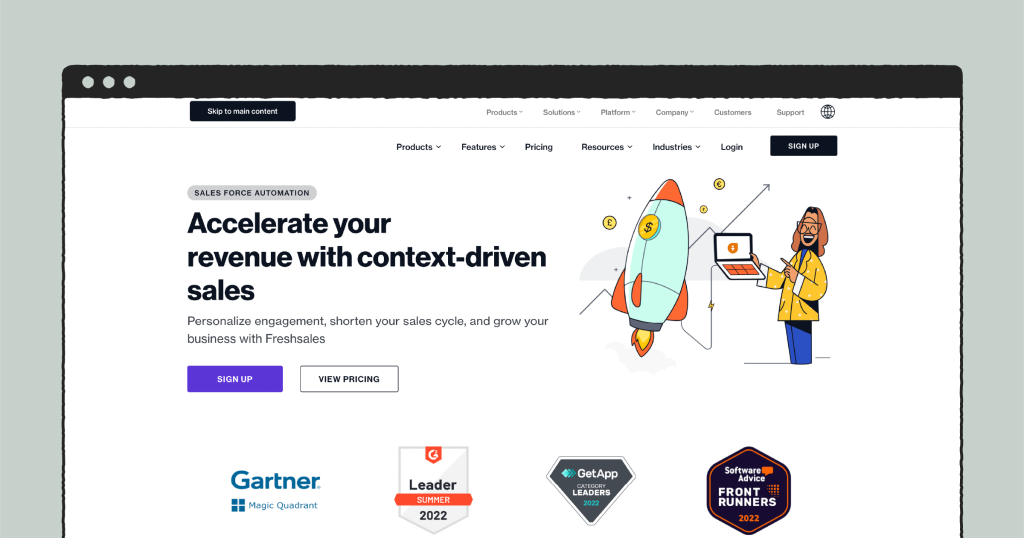 Another CRM tool with a powerful feature set, FreshSales leverages cutting-edge artificial intelligence to assist organizations in gaining deep customer insights as deals proceed through the sales process.
As consumers progress through the pipeline, the AI assistant provides predictive analytics and automatically initiates follow-ups.
Additionally, AI technology automatically enriches records with publically available information to reduce time and increase engagement.
This makes Freshsales ideal for firms with complex sales processes or lengthy lead times that could benefit from artificial intelligence-assisted sales automation.
Auto-assigned rules, automated sales sequences, and holiday routing for when your staff is not in the office are all included in the sales automation capabilities.
The platform even offers omnichannel connectors, which enable you to communicate with consumers via their preferred channels, such as email, WhatsApp, and SMS.
Key features
AI-powered sales tools
Contact management
Alerts/notifications
Dashboard
Lead management
Relationship tracking
11. Streak.com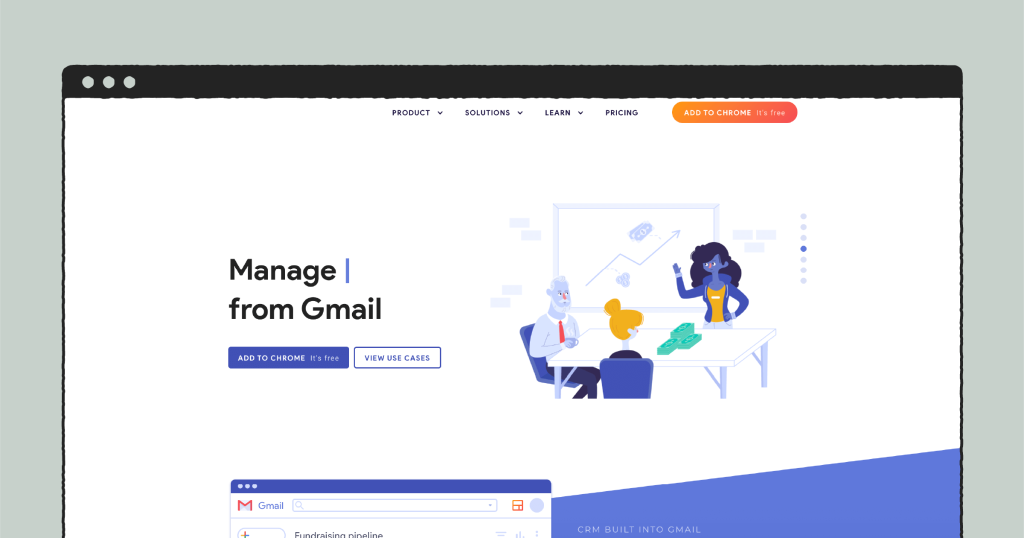 If you're looking for sales and operations management right inside your Gmail inbox, Streak might be right for you.
This platform pushes your entire sales and support pipelines directly into email so that you never have to switch between apps to search for information in order to get work done.
Streak bills itself as a spreadsheet built into Gmail, but the platform offers much more than that.
It adds tracking and custom pipeline views so that you can make better sense of your tasks and daily objectives. The platform even has a mobile app so that you can monitor your business operations while on the go.
You'll also see some very interesting tracking and analytics tools from Streak, including templates, mail merge, link tracking, and much more.
It's a powerful tool for businesses who want to work with tools they already know and love, like Google Workspace and Gmail, and it's affordable enough that businesses of all stripes can use it.
Key features
Integrated with Google Workspace and Gmail
Robust tool for sales, support, and operations management
Powerful tracking and outreach tools
Email templates, snippets, and automated responses
Historical data based on Gmail archives
12. Salesmate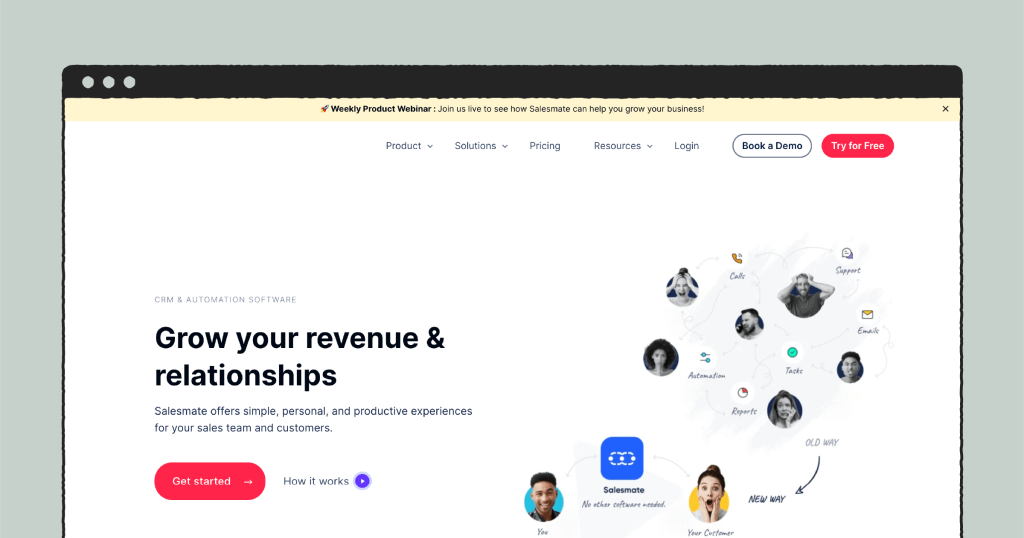 If you're looking for tools to tie all of your customer touchpoints together, Salesmate might be the tool for you.
This platform consolidates all customer relationship management data into a single timeline that you can use to gain a real-time understanding of everything that is going on while a deal is in progress.
It's also great for finding opportunities for cold outreach, especially from past customers who have been dormant for an extended period of time.
In addition to the 360-approach to sales and marketing, Salesmate also offers a sales pipeline designed to help your team eliminate guesswork, automate tasks, and much more.
Plus, as with many pipeline tools, sales forecasting and pipeline management are top-notch.
Salesmate tries to further ease pipeline management by making everything accessible with just one or two clicks.
Visual indicators let you know when tasks are overdue, and you can gather all relevant information on a customer with quick view features that bring everything into focus.
It's simple, fast, and easy.
Key features
Calendar/reminder system
Template management
Performance metrics
Contact management
Event-triggered actions
13. Insightly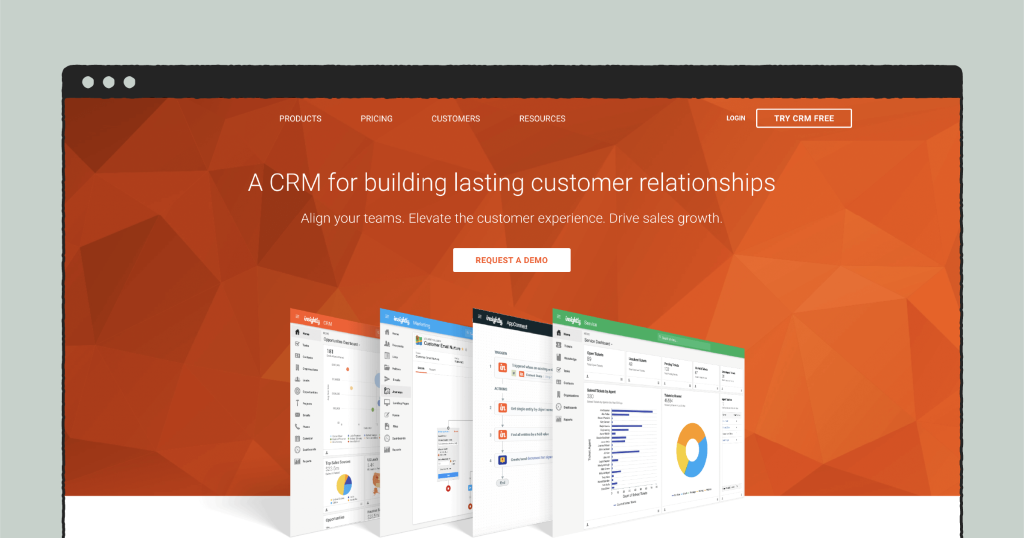 Looking for a sales pipeline that feels a little more integrated with your sales data?
While Insightly does offer sales pipelines, they aren't the drag-and-drop tools that you'll see in most other apps.
Instead, Insightly's pipelines show up as part of your deals page and serve as a signpost for where your deal sits within the sales process.
While this might seem to relegate pipeline management to a secondary role in the sales process, that couldn't be farther from the truth.
With Insightly, you can create multiple pipelines and segment your audiences accordingly. You can also create automated tasks that need to generate as soon as a deal reaches a specific stage of the sales pipeline.
Once the deal gets underway, tasks are created and assigned automatically so that reps only need to check their assignments and get to work on closing those deals.
Of course, as soon as the opportunity moves to the next stage of the pipeline, Insightly will generate a new set of tasks to clear the stage.
This step-by-step approach is useful for making sure that your reps don't get overwhelmed with to-dos and can help your team stay focused on the tasks that are most important for moving deals forward.
Key features
Calendar/reminder system
Marketing automation
Internal chat integration
Mobile access
Segmentation
14. Zoho CRM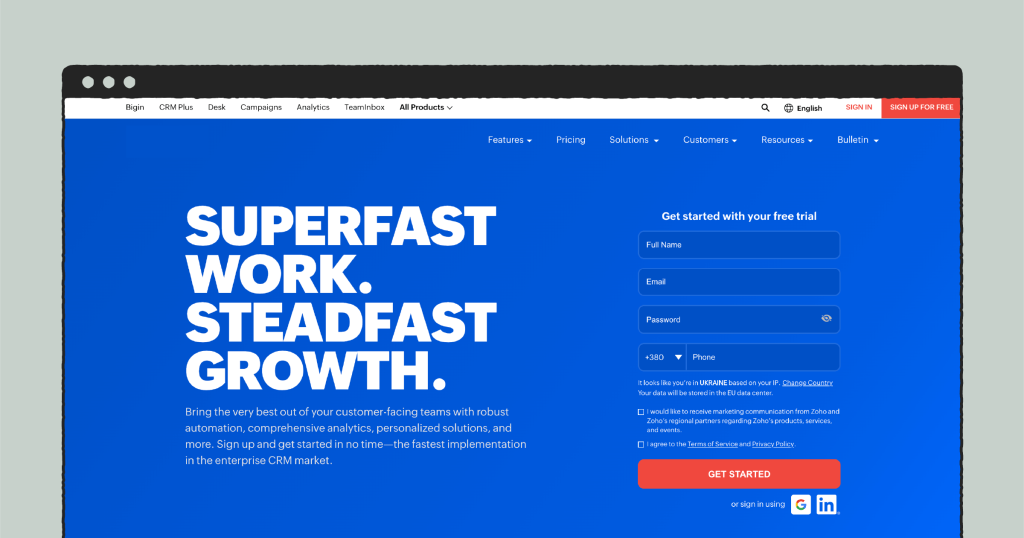 One of the most powerful CRM tools on the market, Zoho CRM is an end-to-end CRM tool that helps organizations to engage with leads and potential customers via web, email, and social media.
This CRM is widely known for its customization and versatility.
The flexibility of the platform allows you to customize your sales funnel so that it meets the needs of your business, which delivers more granular control over the deals process.
From the perspective of deals management, you'll be able to create separate sales pipelines for different sales processes.
This is useful when you're trying to scale across different regions, cultures, or buyer personas so that you can structure a deal flow that meets customer expectations.
As with many other CRM tools on our list, Zoho comes with a variety of other tools to consider, including the ability to generate quotes, forecast sales, and see which team members are performing well in their roles.
It's all possible with Zoho CRM.
Key features
Analytics/ROI tracking
Graphical data presentation
Lead generation
Marketing automation
Contact management
Frequently asked questions
Sales pipeline software divides your sales processes into specific stages so that it's easier to manage.

This is useful for sales teams because it allows them to focus on one aspect of the sales process rather than trying to manage tasks and objectives that won't become relevant until a deal is in its later stage.

Many sales pipeline management software tools also offer a visual element, such as a drag-and-drop kanban board, to make the sales process more visual and interactive.

While the stages you ultimately use to build your sales pipeline may vary, the most common stages are:

Prospecting
Qualification
Proposal
Negotiation
Opportunity Won/Lost
Post-Purchase

Some companies consolidate this into fewer steps (such as combining proposal and negotiation). Others elongate this pipeline, especially if they have a longer selling cycle.

You'll need to make adjustments to your pipeline based on your business and your sales process.

Ideally, you don't want too many things happening at once inside a given stage. You also won't want to have so many stages that reps spend more time managing the pipeline than pursuing deals.

Yes!

Most sales pipeline software helps with this by assigning specific tasks to specific pipeline stages and automating task creation.

When a deal or opportunity enters a new stage of the pipeline, the software automatically generates all tasks associated with that stage and assigns them to the appropriate individuals.

This speeds up project management and allows reps to easily see what needs to be done next.

Yes.

Using dashboard monitoring tools, sales pipelines allow you to easily track the progress of specific deals and see what actions need to be taken in order to close the opportunity.

These tracking tools help to prevent lost deals due to inaction or oversight.
Seize every lead with better sales docs!
Managing your deals the right way is only half the battle. Your customers will still need outstanding sales documents to understand the value of your products and services.
When you need to send a quote or a proposal and move your deal to the next stage of your sales pipeline, PandaDoc is here to help!
Using our online document creation tools, sales teams can create essential sales collateral and send it to customers for review.
You'll even be able to track customer progress with built-in document analytics, so you can learn how customers are interacting with your documents and what buttons your team needs to push in order to move deals forward.
See how PandaDoc can empower your sales process. Sign up for a 14-day free trial to get started.
Disclaimer
PandDoc is not a law firm, or a substitute for an attorney or law firm. This page is not intended to and does not provide legal advice. Should you have legal questions on the validity of e-signatures or digital signatures and the enforceability thereof, please consult with an attorney or law firm. Use of PandaDocs services are governed by our Terms of Use and Privacy Policy.