Contracts are a big deal in modern business.
Every business runs on paperwork, and it doesn't take long before effective contract management becomes critical to operational success.
Failing to manage contracts correctly is also a costly oversight.
According to the IACCM, the global contract management association, poor contracting practices lead to an average value leakage of around 9.2% of company revenue.
In this guide, we'll cover everything you need to know about contract management, how it works, who should use it, and why it matters.
Let's get started!
What is contract management?
Contract management is defined as the overall process of effectively planning, administering and managing commercial contracts with various entities such as vendors, partners, customers, and employees at all stages of their engagement with a business.
The objective is to effectively implement contracts and oversee them from beginning to end.
To illustrate, suppose a company seeks to engage a supplier for IT services.
The company creates a contract specifying work scope, deliverables, timelines, and other relevant terms.
Once approved by the chosen vendor and signed by both parties, the contract begins and is managed for performance.
As the contract is being carried out, the company assesses the vendor's ability to fulfill obligations and ensure compliance with the contract.
This highlights how contract management encompasses the complete contract lifecycle, from creation and initiation to execution and evaluation.
Who will benefit from using contract management software?
Right now, about 65% of businesses currently use a contract management software solution, according to the Corporate Legal Operations Consortium. You can find use cases at all stages of business.
Here are a few examples of candidates who would benefit from a software solution:
Small businesses that regularly issue contracts but lack the budget to hire a dedicated contract manager.
Large businesses with a contracting specialist that want to optimize their contracting workflow.
Organizations looking to transition to a cloud-based environment to handle contract management, e-signatures, and safe, dedicated storage.
As with most digital software, contract management software brings a variety of new management and administrative tools to the table.
Whether you have a dedicated contract manager on staff or you're trying to run the business with a minimal headcount, these tools are worth consideration at every stage of business.
Signs of successful contract management
Contract management solutions truly succeed when they help your business alleviate logistical problems, lower costs, and optimize contract creation times.
Let's cover how contract management software can address your specific pain points based on your business type.
Software & Technology
For IT organizations, contract renewal with customers is critical. However, managing multiple vendor contracts and ensuring compliance with contractual terms and conditions and service-level agreements can be challenging for these organizations.
With the right contract management system, you can easily track contract expirations and renewals and revisit the terms while keeping your customer informed.
Professional Services
HR departments have to manage a range of contracts, including employment agreements, non-disclosure agreements, and contracts that cover employee benefits.
Keeping track of all these can be hard, as HR often requires the involvement and approval of managers and legal teams.
Using legal contract management software provides approval procedures to ensure that all stakeholders have reviewed and agreed to the contract.
Retail or Wholesale
Running a retail or wholesale business can be a daunting task, especially when it comes to managing a myriad of supplier contracts, tracking warranties, ensuring compliance with pricing and rebate agreements.
All these require careful management and frequent updates, resulting in potential errors and time not spent attending to other business needs.
If record keeping is not your organization's strong suit, a contract management solution will save you considerable time in handling your files and help you keep all your business documents organized and secure.
For example, DocuSign CLM, like PandaDoc, offers a complete solution for managing the contract lifecycle (from contract creation, approvals, contract signatures and necessary follow-up throughout execution) while being compliant with various standards such as HIPAA.
However, unlike PandaDoc, DocuSign does not provide a document editor, which makes it a less user-friendly solution.
Users must first create their contracts using Microsoft or Google Docs and then upload them to DocuSign CLM.
Understanding contract lifecycle management
Contract lifecycle management (CLM) is a process that oversees business contracts from creation through every stage of the post-award process, helping companies save time and money in the process.
It standardizes the contracting workflow by mapping out each step and identifying challenges that may arise, ensuring contracts remain active and valid.
By breaking down the workflow into logical stages, CLM simplifies the process for users, contract administrators, and legal teams to resolve issues and move contracts further down the operational pipeline.
The type of contracts that need to be managed vary by company but may include any of the following:
Sales contracts
Sourcing agreements
Purchasing and procurement agreements
Employment agreements
Outsourcing contracts
Registration rights agreements
Underwriting agreements
Leasing contracts
Consulting agreements
Distribution contracts
Intellectual property agreements
Stock option agreements
Underwriting agreements
Software licenses
At a high level, business operations may seem similar from one company to another, but every organization requires different assets in order to produce an effective product or service.
Considering that even a small organization might issue dozens or hundreds of contracts regularly, it's easy to see how these essential documents can become disorganized without consistent oversight.
There are three essential solutions for businesses trying to solve these problems:
Hire a contract manager
Adopt a contract lifecycle management (CLM) process
Utilize contract management software
Effective contract management can be a time-consuming process, but by allocating the appropriate tools and resources, you can easily manage your paperwork and the contractual obligations that go along with it.
CLM: The stages of the contract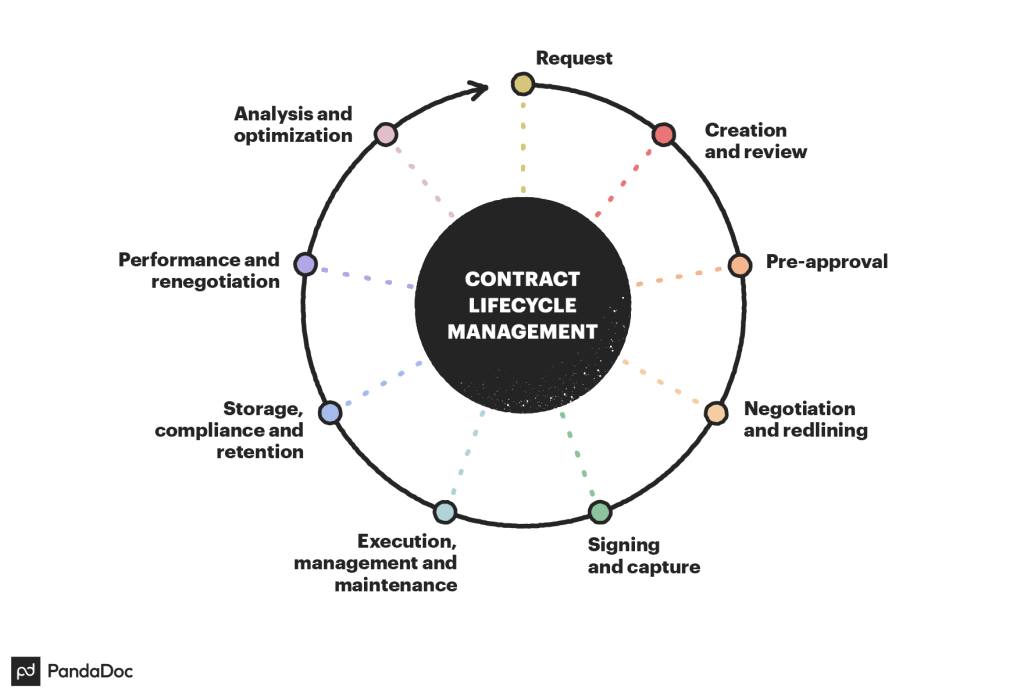 Depending on internal processes and who needs to be involved at each step, the exact stages of CLM vary from company to company.
As companies grow and become more departmentalized, the CLM process tends to morph into a more complex workflow.
Smaller businesses may sign contracts without legal consultation, while larger ones involve legal teams for additional oversight.
Below, we'll walk through the most common steps in the contract management process.
Stage 1. Request
The request for a new contract usually arrives from the sales team, a hiring manager, or a project stakeholder who is close to reaching a tentative agreement with a client, vendor, or potential hire.
When the request is received by the contract manager or designated contracting authority within the organization, this individual notifies all relevant parties — including the legal department and financial team — and oversees the contract throughout its lifecycle.
Your contract manager may also provide a checklist to project stakeholders or request additional documentation in order to proceed with the procurement or expenditure.
Stage 2. Creation and review
During this stage, the contract agreement is written and reviewed internally by your project stakeholders, legal experts, and the financial team.
For complex contracts with specific requests that go beyond a standard boilerplate, this process can take several rounds of negotiation before all teams sign off or approve the document.
At this stage of the process, a contract manager will liaise with each department and work to resolve outstanding issues that stop the contract from moving forward.
Stage 3. Pre-approval
When sign-offs from all major departments are complete, the contract is ready to be sent from your company to the vendor, client, or employee.
At this stage, the contracting manager sends the contract on behalf of the organization.
This is a minor but critical step in CLM because it introduces external partners to the contracting process and positions the contract manager as the primary point of contact to an outside source.
Stage 4. Negotiation and redlining
During this phase of the contract lifecycle, the business and the customer negotiate the terms of the agreement and finalize the details of the contract.
During this process, a contract manager may act as a primary point of contact for each side of the negotiation, ensuring that both sides have the documentation that they need to finalize the deal.
And that's a good thing because contracts are likely to change hands multiple times.
In PandaDoc, you can actually handle your business negotiations without ever leaving the editor. Our in-app commenting and redlining features make collaboration fast and easy by keeping everything online and in one place.
You can even set approvals to put guardrails on rep/client negotiations to ensure that your team is operating within acceptable guidelines.
No more downloading and re-uploading documents. No more back and forth in long email threads and lengthy offsite messaging.
Stage 5. Signing and capture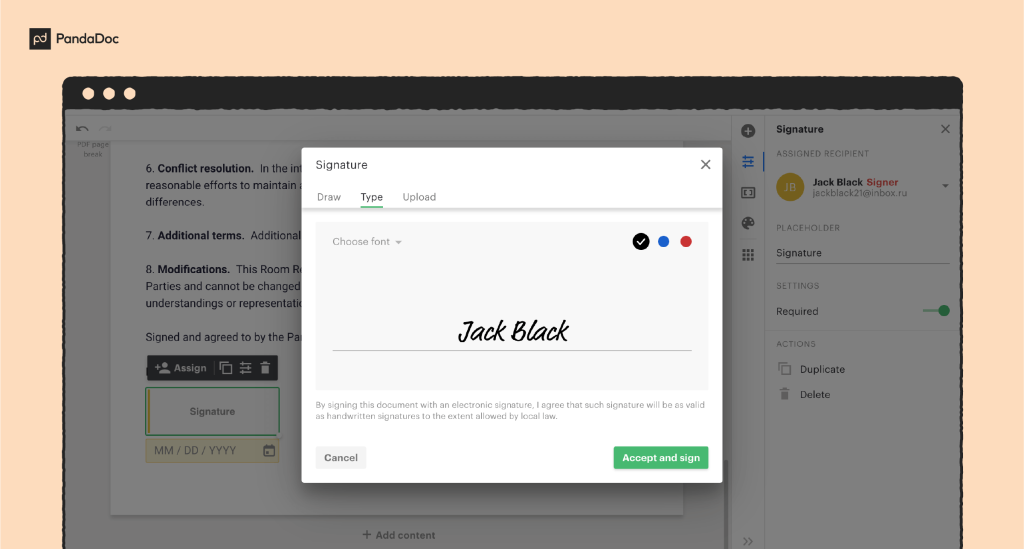 This stage of contract management signals that all involved parties are satisfied with the original contract and any negotiated changes.
All parties sign the contract — either physically or via electronic signature — and copies of the contract are captured by all parties.
The signing process can be challenging, especially if one side becomes unresponsive during the negotiation process or if new customer stakeholders get involved before the signing process is complete.
Based on our internal data, four out of five changes to a contract are related to the signing process.
Your contract managers and project stakeholders can try to jumpstart negotiations and get their contracts signed more quickly by staying on top of this process and setting firm deadlines.
Stage 6. Execution, management and maintenance
When all sign-offs are completed, the contract is then implemented.
External suppliers follow the letter of the contract to deliver goods and services to the organization, and the organization works to satisfy and maintain that vendor relationship.
During this stage, contract managers may act as the primary point of contact for any contracting-related issues that need clarification.
They may also issue approvals for invoices or milestone payments and ensure that the contract is maintained by both parties.
Stage 7. Storage, compliance and retention
All of your business contracts should be stored and maintained in accordance with company policy and government regulations.
During this stage of contract management, the original contract (along with any addenda or modifications) must be stored or retained based on government compliance and industry guidelines.
A contract manager may be responsible for organizing and maintaining all contract data in a searchable format so that all contracts are accessible in the event of an audit, renegotiation, or vendor conflict.
In PandaDoc, you could do that by sorting all relevant documents into folders and subfolders and by keeping a close eye on the status of all documents in the pipeline.
Our filtering tools make it easy to store content and keep an eye on documents in the months or years after they've been signed.
Stage 8. Performance and renegotiation
As contracts age, they may need to be renegotiated based on expected performance or upcoming expiry.
This requires pulling contracts out of storage or connecting with internal and external partners in order to maintain existing terms or set up a new agreement.
If either company has experienced a change in leadership, direction, or personnel, this process may spark the creation of an entirely new contract or result in the discontinuation of goods or services from the external party.
Stage 9. Analysis and optimization
The final step in contract lifecycle management is the most important process for ensuring organizational streamlining.
When your company amasses a sizable number of similar contracts, those contracts should be analyzed and optimized based on their goals, similarities, and performance.
Multiple vendor agreements may be consolidated into a single company boilerplate that requires minimal modification.
Analysis tools can be extremely useful during this phase of CLM.
For example, PandaDoc provides content reporting that you can use to figure out which documents performed best and determine which documents reps use most often, you could use those insights to create even better sales docs.
From there, you can rebuild the most-used documents, optimize them to improve their success rate, and get everyone in your sales team on the same page regarding which documents to send during each phase of the sales process.
This is also an opportunity to manage risk and ensure that contracts contain all necessary clauses to protect the organization, a process that is often overlooked.
One McKinsey study found that eight out of ten contracts failed to contain a benchmarking clause to mandate a period review of pricing against industry standards.
It's equally important for contracts to be analyzed and compared for better opportunities around performance and negotiation.
By creating the right templates and workflows, it's possible to make contracts easier to maintain across the entire CLM process.
What do contract managers do?
A contract manager or a contract administrator manages all contracts made with customers, vendors, partners, and employees.
This individual is responsible for liaising between multiple departments and serves as a primary point of contact for external vendors and suppliers.
Contract managers may also be responsible for issuing invoices, resolving disputes, and providing information to both internal and external teams in order to ensure contract success.
Behind the scenes, a contract manager assists in assuring that contracts are organized, well-maintained, and stored in accordance with company policy and government regulations.
Education and certification requirements
Contract management roles often require a bachelor's degree, usually in finance or business management.
This position may also require a master's degree, depending on the size and scale of the organization.
Salary expectations for contract managers
According to PayScale.com, contract managers can expect to earn between $59,000 and $126,000 per year based on location, experience, and qualifications.
Better contract management with PandaDoc
Contract management is essential for most businesses, but it can be difficult to stay on top of all the paperwork if you do it all yourself.
Fortunately, there are tools and resources to help you along the way.
Effective contract lifecycle management, a contract manager, and contract management software are three major ways that companies keep their contracts organized and up to date.
No matter your company size or where you are with your contracting system, PandaDoc can help!
Sign up for a free 14-day trial to see how the PandaDoc platform, templates, and resources can help you take your contracting process to the next level.
Disclaimer
PandDoc is not a law firm, or a substitute for an attorney or law firm. This page is not intended to and does not provide legal advice. Should you have legal questions on the validity of e-signatures or digital signatures and the enforceability thereof, please consult with an attorney or law firm. Use of PandaDocs services are governed by our Terms of Use and Privacy Policy.
Originally published December 2, 2021, updated May 23, 2023