Contracts are a big deal in modern business.
Every business runs on paperwork, and it doesn't take long before effective contract management becomes critical to operational success.
Failing to manage contracts correctly is also a costly oversight. According to the IACCM, the global contract management association, poor contracting practices lead to an average value leakage of around 9.2% of company revenue.
In this guide, we'll cover everything you need to know about contract management, how it works, who should use it, and why it matters.
Let's get started!
What is contract management?
Contract management is the process of managing commercial contracts regarding vendors, partners, customers, and employees throughout every stage of their relationship with a business.
Companies manage these agreements through a process called contract lifecycle management (CLM) and by hiring contract managers to expedite their contracting workflow.
The type of contracts that need to be managed vary by company but might include any of the following:
Sales contracts
Sourcing agreements
Purchasing and procurement agreements
Employment agreements
Outsourcing contracts
Registration rights agreements
Underwriting agreements
Leasing contracts
Consulting agreements
Distribution contracts
Intellectual property agreements
Stock option agreements
Underwriting agreements
Software licenses
Contracts help an organization codify its business relationships and processes into a legally enforceable framework that it can use to acquire operational resources.
At a high level, business operations may seem similar from one company to another, but every organization requires different assets in order to produce an effective product or service.
This means that both the contract type and the contract terms will vary based on what your business needs. Every business must coordinate with different suppliers and vendors, hire specific employees, and enter into various partnerships in order to earn revenue.
To make matters more complicated, each contract requires some form of action by the issuing business at every stage of its life cycle in order to remain actionable.
Considering that even a small organization might issue dozens or hundreds of contracts in a week, it's easy to see how these essential documents can become disorganized without constant and consistent oversight.
There are three essential solutions for businesses trying to solve these problems:
Hire a contract manager
Adopt a contract lifecycle management (CLM) process
Utilize contract management software
Good contract management can be a time-consuming process, but by allocating the appropriate tools and resources, you can easily manage your paperwork and the contractual obligations that go along with it.
Who uses contract management software?
Right now, about 65% of businesses currently use a contract management software solution, according to the Corporate Legal Operations Consortium. You can find use cases at all stages of business.
Here are a few examples of candidates who would benefit from a software solution:
Small businesses that regularly issue contracts but lack the budget to hire a dedicated contract manager.
Large businesses with a contracting specialist that want to optimize their contracting workflow.
Organizations looking to transition to a cloud-based environment to handle contract management, e-signatures, and safe, dedicated storage.
As with most digital software, contract management software brings a variety of new management and administrative tools to the table.
Whether you have a dedicated contract manager on staff or you're trying to do run the business with a minimal headcount, these tools are worth consideration at every stage of business.
Contract management legality
Businesses without an effective contract management system in place may jeopardize themselves by falling out of legal compliance or misplacing key components of their business infrastructure.
Unmanaged contracts can complicate internal processes and expose a company to risk. Without a clear process, it becomes difficult for vendors to resolve outstanding issues and employees to track the quality of the products or services they receive.
Lacking an effective system or failing to follow standard CLM practices makes contracts more difficult to manage and much harder to track, especially over a longer period.
When a contract must be enforced, the company may need to preserve that contract and all relevant documents for an extended amount of time.
Signs of successful contract management
Successful contract management solutions help your business alleviate logistical problems, lower costs, and optimize contract creation times.
Companies that maintain an effective contract management strategy often see the following benefits:
Contract estimates are more accurate
Agreements are easier to set and implement
Compliance with industry-specific regulations is easy
Deadlines and contract renewals are easier to track
Contracting workflow are standardized
Boilerplate and template agreements are easier to create
Contract revisions and changes are fast and simple
Cash flow gains enhanced visibility
Rogue expenditures are easier to spot
Contracts can be analyzed for performance and outcomes
But, as you've probably guessed, good contract management comes down to more than authoring contracts, receiving deliverables, and throwing the paperwork into a filing cabinet.
If strong recordkeeping isn't a strong suit for your organization, PandaDoc can help you keep all of your business documents organized and secure.
Our document management systems are state of the art and HIPAA compliant. Plus, the documents that you generate with PandaDoc stay in your account forever.
As the name implies, contracts have to be managed for an extended period of time, often over a period of several months or years with no action required between those intermittent stages.
These long periods of dormancy can lead to missed steps in the contracting process.
That's where implementing a reliable CLM process and solid contract management tools can help.
Understanding contract lifecycle management
Contract lifecycle management is a process that companies use to monitor and maintain business contracts from creation through every stage of the post-award process.
CLM allows businesses to save time and money by standardizing their contracting workflow.
By mapping the challenges that a contract will face at each step in the process, it's easier to understand what needs to take place in order for that contract to remain active and valid.
Contract lifecycle management breaks down messy contract workflows into logical stages so that it's easier for users, contract administrators, and legal teams to quickly resolve outstanding issues and move the entire contract further down the operational pipeline.
CLM: The stages of the contract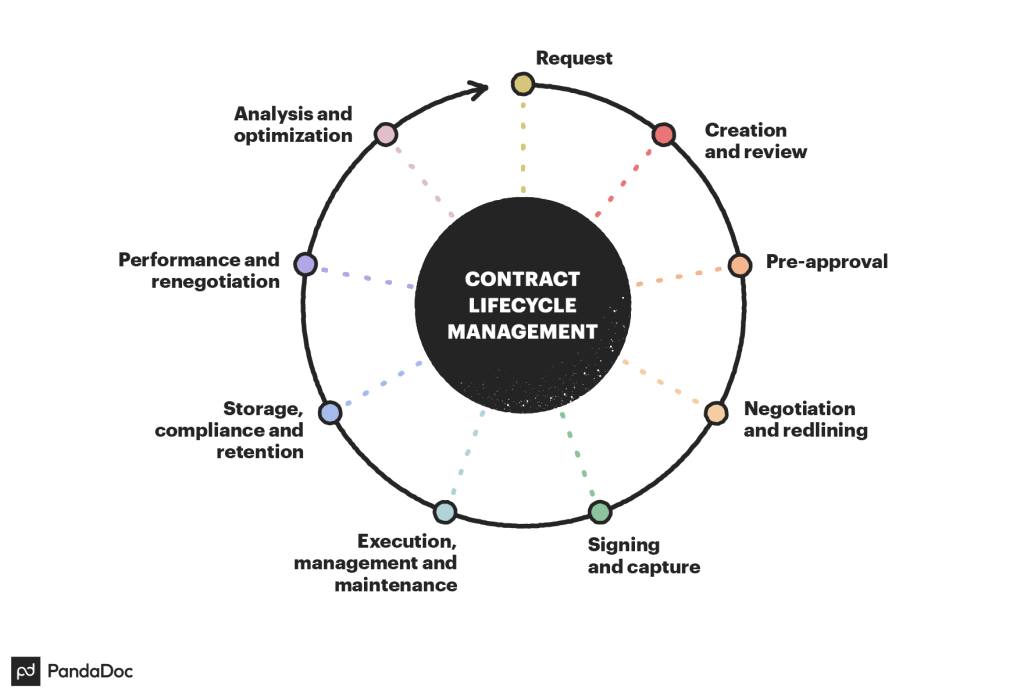 Depending on internal processes and who needs to be involved at each step, the exact stages of CLM vary from company to company.
As companies grow and become more departmentalized, the CLM process tends to morph into a more complex workflow.
For example, if you operate a small business, you may be comfortable signing a contract without consulting a legal team.
A larger organization will have a legal department involved in the contract process, and their contract lifecycle will expand to accommodate the additional oversight that their legal team can bring to the contracting process.
Below, you'll find an example of a contract cycle that contains the most common steps within the contract management process.
Stage 1. Request
The request for a new contract usually arrives from the sales team, a hiring manager, or a project stakeholder who is close to reaching a tentative agreement with a client, vendor, or potential hire.
When the request is received by the contract manager or designated contracting authority within the organization, this individual notifies all relevant parties — including the legal department and financial team — and oversees the contract throughout its lifecycle.
Your contract manager may also provide a checklist to project stakeholders or request additional documentation in order to proceed with the procurement or expenditure.
Stage 2. Creation and review
During this stage, the contract agreement is written and reviewed internally by your project stakeholders, legal experts, and the financial team.
For complex contracts with specific requests that go beyond a standard boilerplate, this process can take several rounds of negotiation before all teams sign off or approve the document.
At this stage of the process, a contract manager will liaise with each department and work to resolve outstanding issues that stop the contract from moving forward.
Stage 3. Pre-approval
When sign-offs from all major departments are complete, the contract is ready to be sent from your company to the vendor, client, or employee.
At this stage, the contracting manager* sends the contract on behalf of the organization.
This is a minor but critical step in CLM because it introduces external partners to the contracting process and positions the contract manager as the primary point of contact to an outside source.
Stage 4. Negotiation and redlining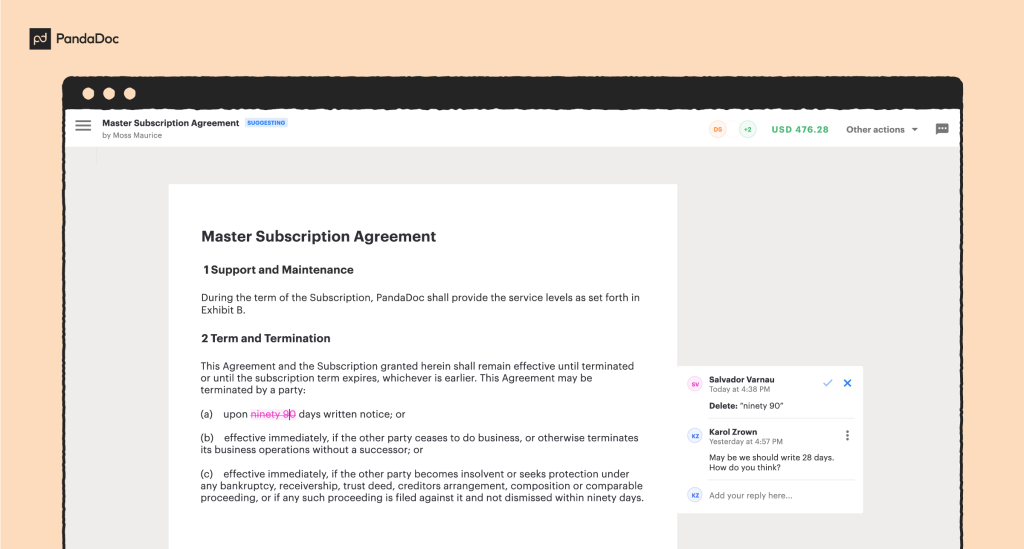 During this phase of the contract lifecycle, the business and the customer negotiate the terms of the agreement and finalize the details of the contract.
During this process, a contract manager may act as a primary point of contact for each side of the negotiation, ensuring that both sides have the documentation that they need to finalize the deal.
And that's a good thing because contracts are likely to change hands multiple times. It's one reason that using a cloud-based contract repository like PandaDoc improves the user experience for everyone involved.
In PandaDoc, you can actually handle your business negotiations without ever leaving the editor. Our in-app commenting and redlining features make collaboration fast and easy by keeping everything online and in one place.
You can even set approvals to put guardrails on rep/client negotiations to ensure that your team is operating within acceptable guidelines.
No more downloading and re-uploading documents. No more back and forth in long email threads and lengthy offsite messaging.
Stage 5. Signing and capture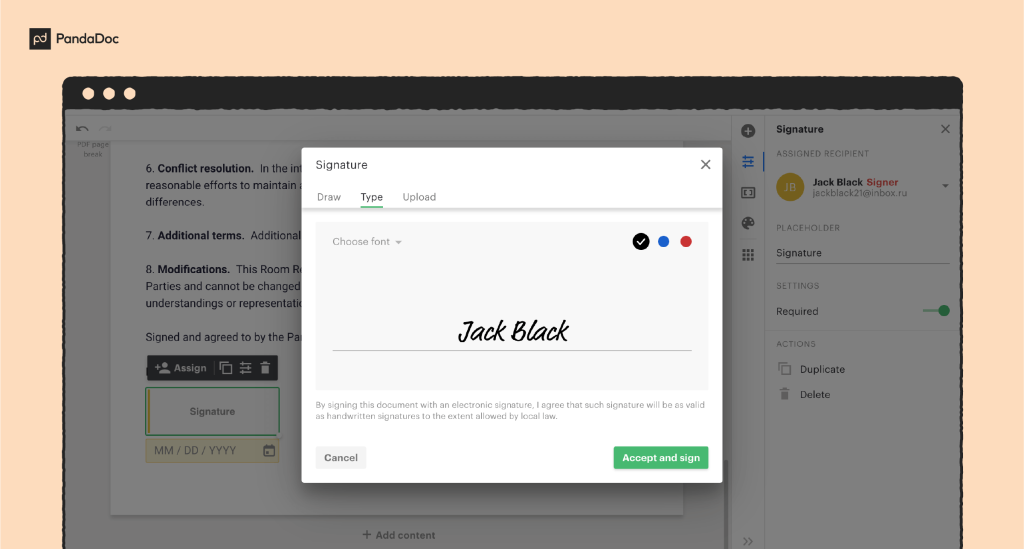 This stage of contract management signals that all involved parties are satisfied with the original contract and any negotiated changes.
All parties sign the contract — either physically or via electronic signature — and copies of the contract are captured by all parties.
The signing process can be challenging, especially if one side becomes unresponsive during the negotiation process or if new customer stakeholders get involved before the signing process is complete.
Based on our internal data, four out of five changes to a contract are related to the signing process.
Your contract managers and project stakeholders can try to jumpstart negotiations and get their contracts signed more quickly by staying on top of this process and setting firm deadlines.
Stage 6. Execution, management and maintenance
When all sign-offs are completed, the contract gets is implemented.
External suppliers follow the letter of the contract to deliver goods and services to the organization, and the organization works to satisfy and maintain that vendor relationship.
During this stage, contract managers may act as the primary point of contact for any contracting-related issues that need clarification. They may also issue approvals for invoices or milestone payments and ensure that the contract is maintained by both parties.
Stage 7. Storage, compliance and retention
All of your business contracts should be stored and maintained in accordance with company policy and government regulations.
During this stage of contract management, the original contract (along with any addendums or modifications) must be stored or retained based on government compliance and industry guidelines.
A contract manager may be responsible for organizing and maintaining all contract data in a searchable format so that all contracts are accessible in the event of an audit, renegotiation, or vendor conflict.
In PandaDoc, you could do that by sorting all relevant documents into folders and subfolders and by keeping a close eye on the status of all documents in the pipeline.
Our filtering tools make it easy to store content and keep an eye on documents in the months or years after they've been signed.
Stage 8. Performance and renegotiation
As contracts age, they may need to be renegotiated based on expected performance or upcoming expiry.
This requires pulling contracts out of storage or connecting with internal and external partners in order to maintain existing terms or set up a new agreement.
If either company has experienced a change in leadership, direction, or personnel, this process may spark the creation of an entirely new contract or result in the discontinuation of goods or services from the external party.
Stage 9. Analysis and optimization
The final step in contract lifecycle management is the most important process for ensuring organizational streamlining.
When your company amasses a sizable number of similar contracts, those contracts should be analyzed and optimized based on their goals, similarities, and performance.
Multiple vendor agreements may be consolidated into a single company boilerplate that requires minimal modification.
Analysis tools can be extremely useful during this phase of CLM.
For example, PandaDoc provides reporting tools that you can use to figure out which documents performed best and determine which documents reps use most often, you could use those insights to create even better sales docs.
From there, you can rebuild the most-used documents, optimize them to improve their success rate, and get everyone in your sales team on the same page regarding which documents to send during each phase of the sales process.
This is also an opportunity to manage risk and ensure that contracts contain all necessary clauses to protect the organization, a process that is often overlooked. One McKinsey study found that eight out of ten contracts failed to contain a benchmarking clause to mandate a period review of pricing against industry standards.
It's equally important for contracts to be analyzed and compared for better opportunities around performance and negotiation.
By creating the right templates and workflows, it's possible to make contracts easier to maintain across the entire CLM process.
Contract managers
A contract manager or a contract administrator manages all contracts made with customers, vendors, partners, and employees.
This individual is responsible for liaising between multiple departments and serves as a primary point of contact for external vendors and suppliers.
Contract managers may also be responsible for issuing invoices, resolving disputes, and providing information to both internal and external teams in order to ensure contract success.
Behind the scenes, a contract manager assists in assuring that contracts are organized, well-maintained, and stored in accordance with company policy and government regulations.
Education and certification requirements
Contract management roles often require a bachelor's degree, usually in finance or business management. This position may also require a master's degree, depending on the size and scale of the organization.
Salary expectations for contract managers
According to PayScale.com, contract managers can expect to earn between $53,000 and $121,000 per year based on location, experience, and qualifications.
Contract management software
New technology tools are also making it easier than ever to stay on top of your contracts.
Modern contract management software can help your team digitize contracting workflows and manage documents more effectively across every stage of contract lifecycle management.
This is key to successful business operations, especially when you consider that a standard contract costs an average of $6,900 with mid- to high- complexity contracts ranging into the tens and hundreds of thousands.
Benefits of contract management software
Used correctly, these software tools are effective solutions for both large companies with dedicated contracting teams and small companies without a contracting manager.
Let's take a closer look at how contract management software can help your team streamline the contracting workflow.
1. Approval workflow
If you're using manual processes for your contracts, it can be very easy for contracts to fall into jeopardy due to a lax approval process.
All relevant stakeholders — on both sides of the contract — need to have an opportunity to review the text, accept changes, and sign the document.
If your team is sending documents out the door without approval from management or legal, you could potentially send a contract that you can't afford or find yourself in an indefensible position with contractual obligations that you simply can't meet.
Despite the major risks in processes that lack approval workflows, they're very easy to set up when using the right tools. Inside PandaDoc, the document editor provides access to the Approval Workflow tool.
As a team administrator, your contract managers and supervisors can set this up so that all documents must be approved by authorized individuals before they are sent to customers.
You can even set conditional approvals so that if a document is valued above a certain threshold or key elements are added to the document (like line item discounts), the approval process is triggered automatically.
Once the document is sent, it moves through your internal pipeline until all approvers have signed off. From there, reps can send everything to the customer with confidence.
2. Collaborative contract negotiation
Traditionally, the redlining and negotiation process can drastically slow the contract approval process.
With manual processes, documents need to be taken offline, reviewed, and resent with all of the updated changes before a new round of reviews can take place.
Equipped with collaborative redlining and commenting tools, modern software platforms make it easier than ever to negotiate and update terms in real time.
Rather than passing a document back and forth over email, you can schedule a virtual meeting, review the contract line by line, and make the suggested changes instantly.
Adding communication tools like commenting and document chatting can be a major time saver for teams without a great automated process because it keeps all feedback consolidated in one place.
Plus, because it's possible to easily share document details with in-house approvers, teams are likely to reach consensus and close deals much more quickly.
3. Instant and secure signing tools
Sending a document via snail mail can add days or weeks to your signing time.
Electronic signature tools allow your team members and your customers to sign and initiate contracts instantly. This can drastically speed up workflows and allow both parties to keep up with the velocity of modern business operations.
But speed isn't the only consideration. Security is also another factor. Because digital signatures are more secure than traditional signatures when administered correctly, they also carry added legal weight in the event of future disagreements.
Tools like PandaDoc give teams the ability to dramatically increase the velocity of the sale while ensuring that the contracts initiated on their behalf are legally enforceable.
4. Artificial intelligence
Some digital platforms offer artificial intelligence tools to help you create contracts more quickly or to assist with contract analysis and optimization.
While the functionality for these tools varies from platform to platform, they typically rely on data sets and input values from your contracts — like the total contracted amount, expiry — in order to help provide data that helps you improve your paperwork.
This is a new and emerging feature for many platforms, and its footprint is still limited in many ways.
5. Templates and automation
Staying in line with basic CLM practices, many software platforms allow you to create templates from commonly used documents. This can drastically expedite your contracting workflow, improve company accuracy, and much more.
By using system tools and templates, it's possible to create an automated workflow where contracts are created with a few simple clicks, details are filled using customized variables, and contracts are dropped into the review process within seconds.
PandaDoc offers two great examples of how automation tools can help you greatly improve your document generation process: the Content Library and the Template Gallery.
Using the Content Library, PandaDoc users can create a library of text snippets, content blocks, and even entire pages so that reps have everything they need to customize a document with approved language and formats.
Meanwhile, the Template Gallery offers 750+ premade templates that teams can modify and customize to fit their needs.
You can even create your own templates, save them, and then direct your team to use them to quickly generate proposals, invoices, and any other kind of business documentation you might need.
Better contract management with PandaDoc
Contract management is essential for most businesses, but it can be difficult to stay on top of all the paperwork if you do it all yourself.
Fortunately, there are tools and resources to help you along the way.
Effective contract lifecycle management, a contract manager, and contract management software are three major ways that companies keep contracts organized and up to date.
No matter your company size or where you are with your contracting system, PandaDoc can help!
Sign up for a free 14-day trial to see how the PandaDoc platform, templates, and resources can help you take your contracting process to the next level.