How to sign an agreement online
Whether another company is hiring you to market its products or vice versa, both parties will need to sign a marketing agreement.
This will ensure that the online contract goes smoothly and will help prevent any communication breakdowns. This page will explain how you can set up and sign a marketing agreement and share it with your clients.
What is a marketing agreement?
A marketing agreement outlines how one company will market another company's products. Or if both companies are going to market each other's products, this is referred to as a co-marketing agreement.
This business document explains how the two companies will work together.
Generally, it outlines the following information:
The scope of the work
The cost of services rendered
The payment schedule
Taxes
Confidentiality
Intellectual property
Termination clauses
This is a sample marketing agreement created by PandaDoc.
For your reference, we also added the same sample of a marketing agreement on this page below.
As you can see, it protects both parties by specifying how the contract will be carried out and how disagreements will be handled.
Listed below is a step-by-step guide on how you can use this template for your next contract.
1. Create your PandaDoc account and sign in
To get started, you'll need to:
Sign up for a PandaDoc account.
If you want to try it first, you can sign up for a free 14-day trial. We don't require any credit card information to get started.
Log in and get started creating your contract, as soon as you've signed up for your account.
Click the green button in the right-hand corner to create a new document.
If you already have a template you want to use, you can upload it.
PandaDoc integrates seamlessly with data storage systems like Google Drive and Dropbox.
2. Enter your information in the highlighted fields
The highlighted fields section makes it easy to see where you need to fill in any information or sign your name.
Select the highlighted section you want to start with and quickly move through the document.
Keep the template as-is or add to it as you see fit.
Use a drag-and-drop feature to place text, images, pricing tables, and anything else you want to include.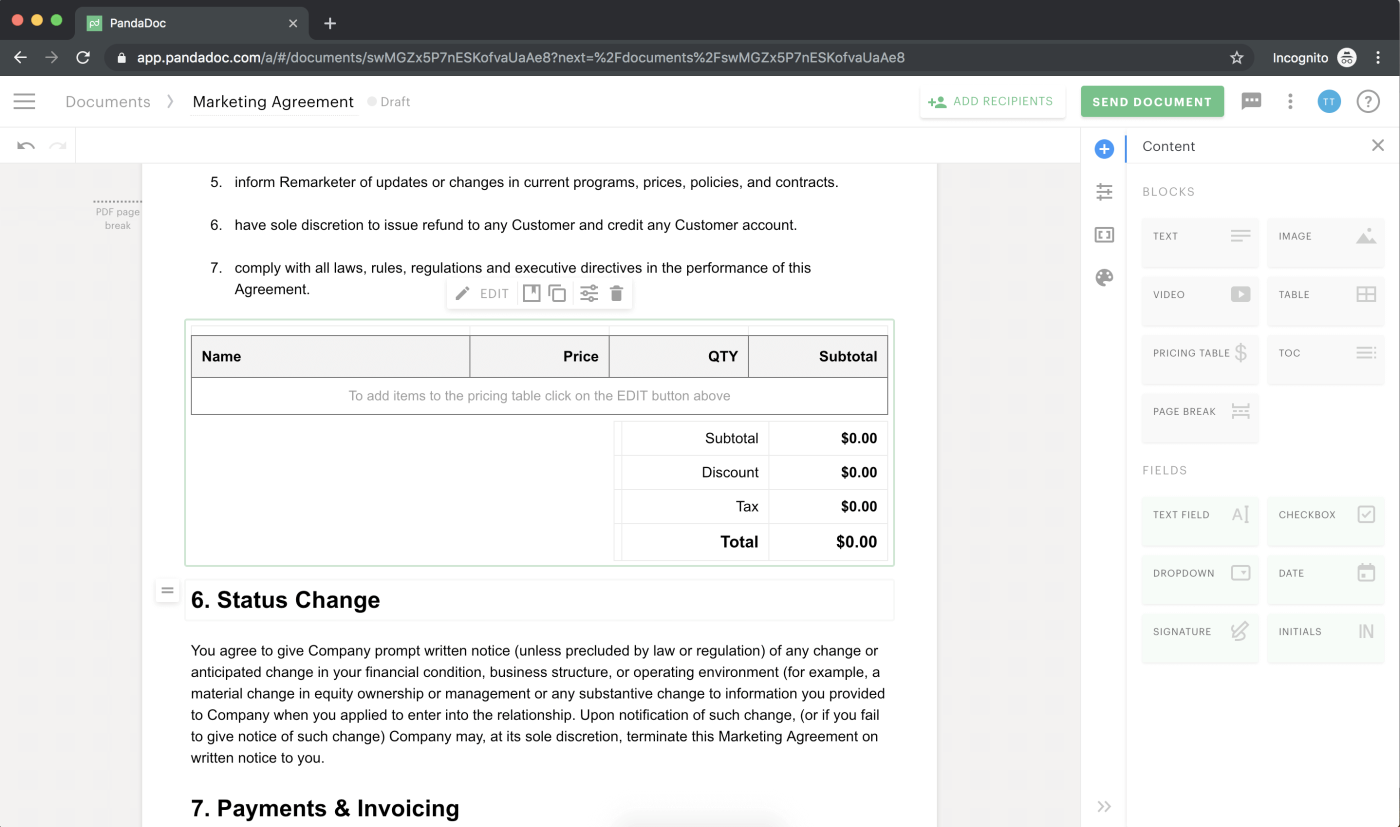 3. Add your eSignature to the marketing agreement
Of course, the most important part of any contract is that you need to sign it.
With PandaDoc, you can sign, type, or upload your eSignature right into the document. Our eSignature tool is 100% ESIGN and UETA compliant so you know your contract is legally binding.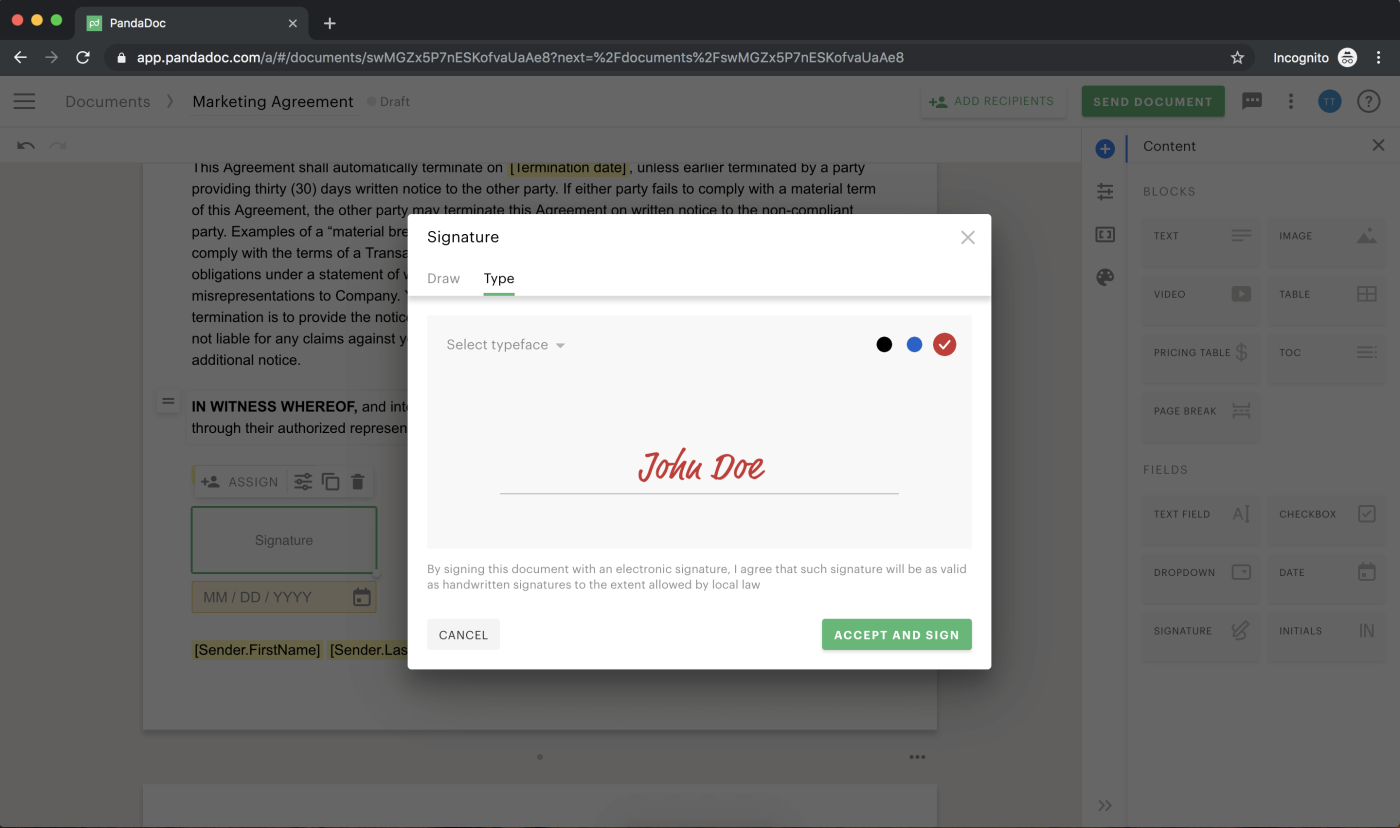 Add your electronic signature to the document.
Click the green button that says Accept and Sign.
Date your contract.
A calendar will pop up automatically so you can choose the correct date.
4. Assign any remaining fields
Now that you've filled in all of your information and signed the agreement, it's time to:
Send the document to the other party to be signed.
Assign the remaining fields, and send your marketing agreement off.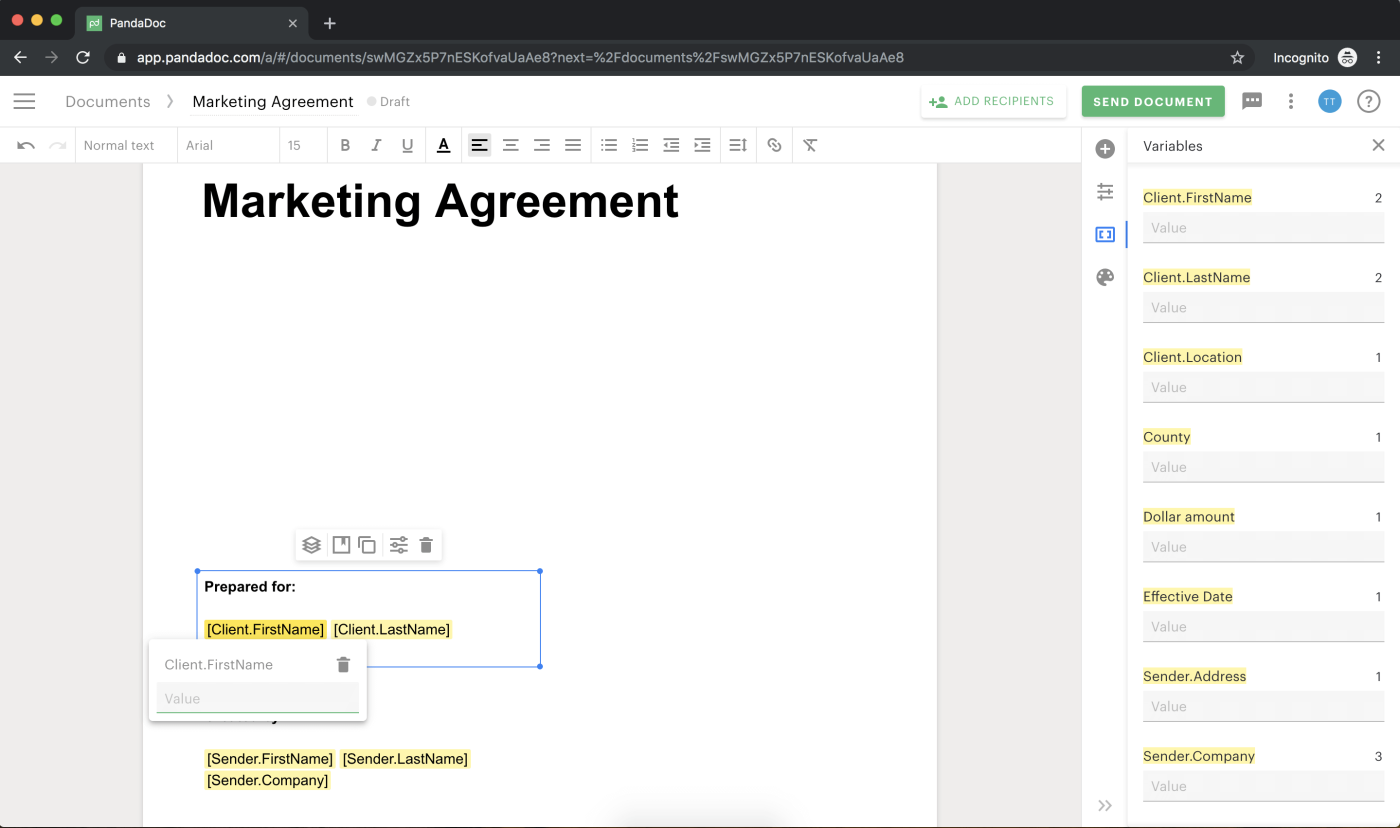 5. Send the agreement to the other party to be signed
The easiest way to send your document to the other person is to send it directly within PandaDoc. You'll simply hit Send and enter the email address of the person you're sharing it with.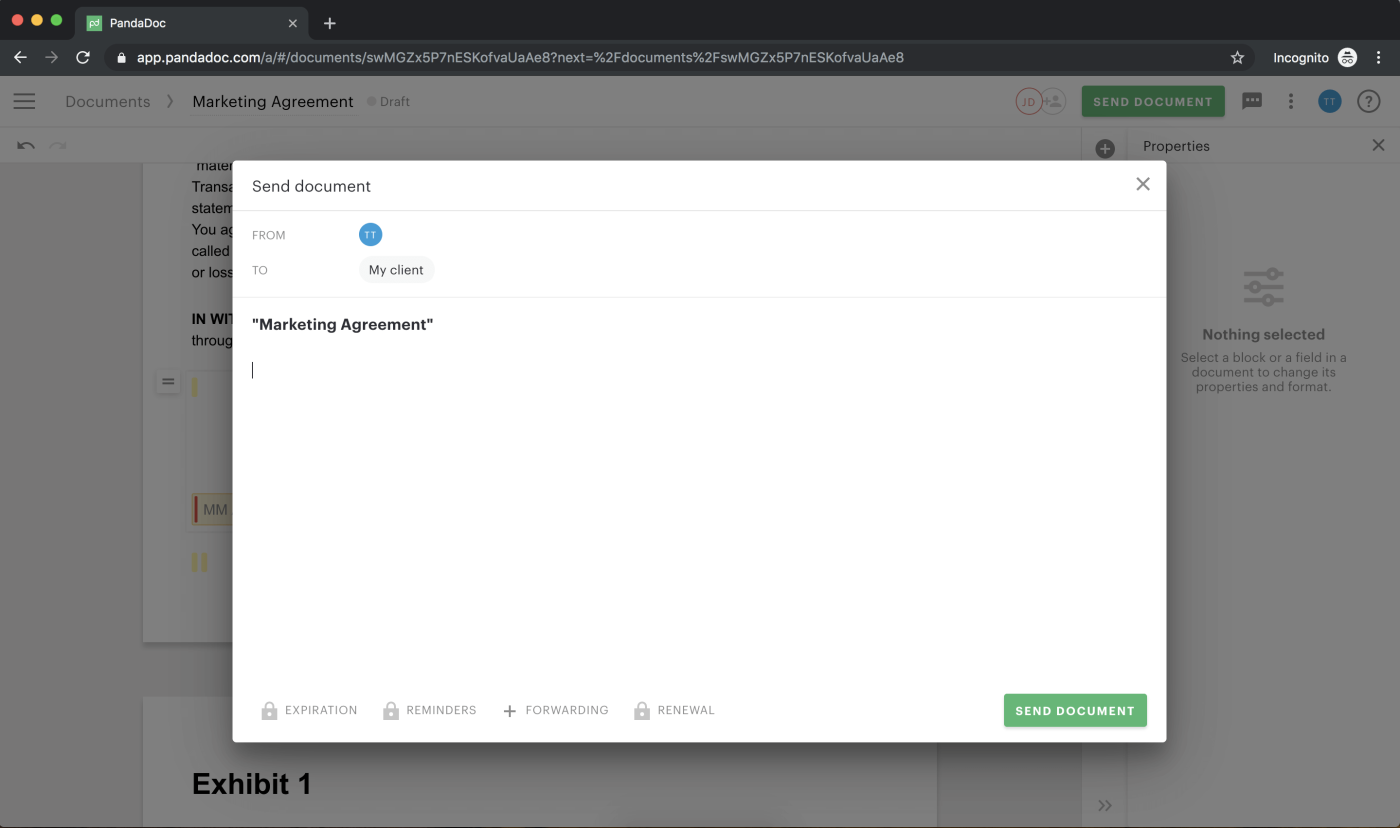 Once the other party signs the document, you'll receive a completed and secure signature certificate.
The signed document includes the signatures of both parties and the date when the agreement was signed.
The signature certificate is helpful to have on file because it ensures that your agreement is legally binding.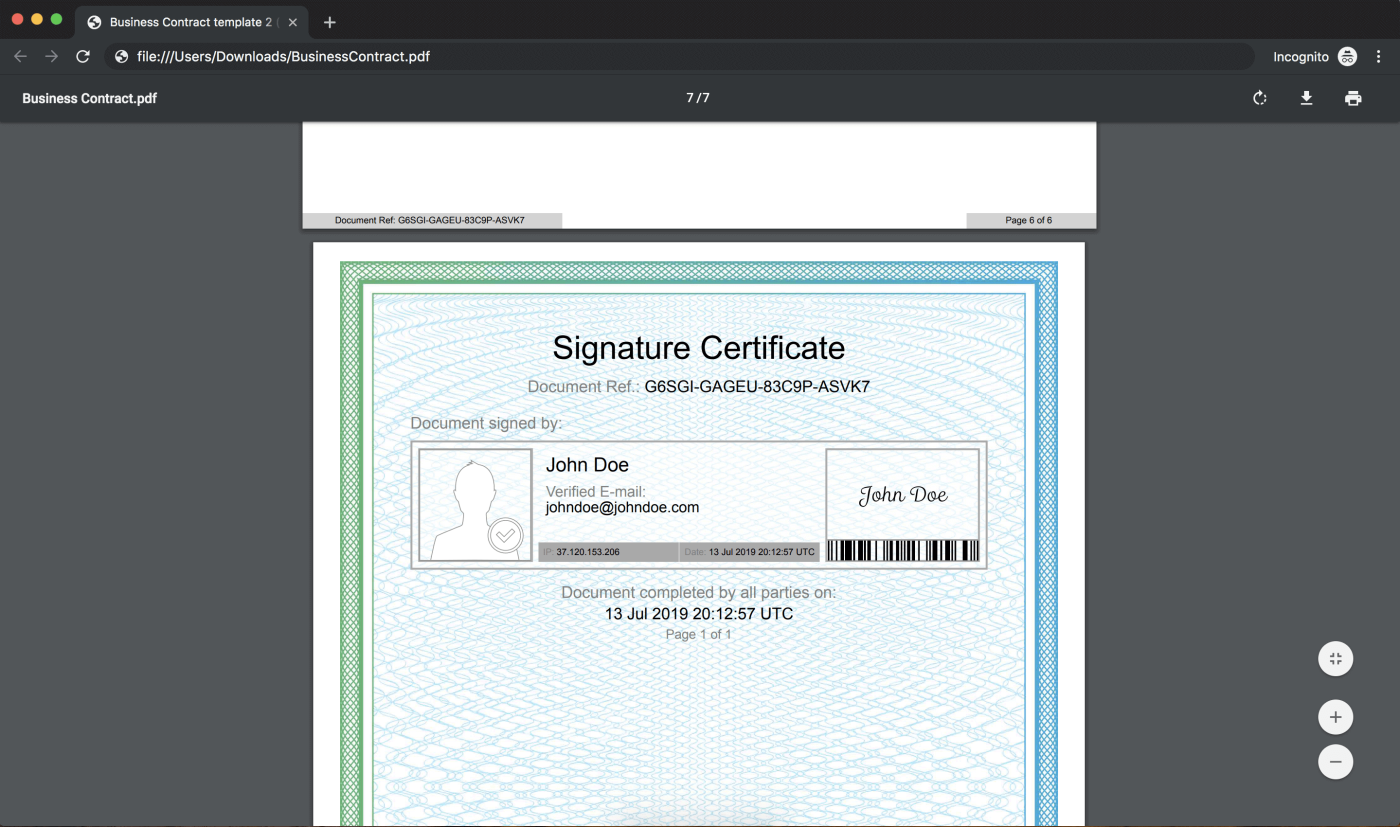 You can create and sign more electronic documents just like this using PandaDoc
One of the best parts of using PandaDoc is our template library. We have hundreds of contract and proposal templates just like this one.
You can quickly create any document and easily add digital signatures.
PandaDoc speeds up your proposal process and ensures you get contracts signed faster. And it will save your entire team valuable time.