How to sign a proposal online
When offering goods or services to prospective buyers, a sales proposal demonstrates your intentions to deliver a product/service once the sale is complete.
A thorough and detailed proposal saves you time and money. A persuasive and powerful proposal closes more deals.
How important is a strong proposal?
Small businesses rely upon the strength of their proposals to drive the sales process and help bring in new clientele, but businesses at every level of enterprise benefit from generating better proposals.
While direct marketing and social media reach help bring new clients to the table, a beautiful and thoroughly crafted proposal helps set you apart from the competition.
More and more organizations are looking for a proposal template that allows them to standardize their proposal look while ensuring all current and future proposals are up to the same level of quality and accuracy.
In many cases, a new proposal template or system can help your team members save time by improving their workflow.
Drafting and issuing proposals, allowing prospects to sign proposals with digital signatures, and automating follow-up with proposal recipients help you to craft better proposals and improve the overall sales process.
Proposal templates offer security and convenience
Proposals are time-consuming and tedious to draft one by one, and thus most businesses elect to use their own proposal template.
Working from a template is particularly helpful to keep you from entering incorrect information which can lock you into a bad agreement.
Proposal software like PandaDoc offers the ability to upload your own template through the user dashboard, which you can then modify.
PandaDoc also allows users the ability to create online signatures to help generate better proposals.
Cloud-based storage helps streamline the process of passing the proposal between any relevant team members for sign-off with an easy electronic signature.
In addition to making it easier to collect digital signatures by storing and editing your proposal template, PandaDoc also helps save time on follow-up by making it clear who has and has not signed.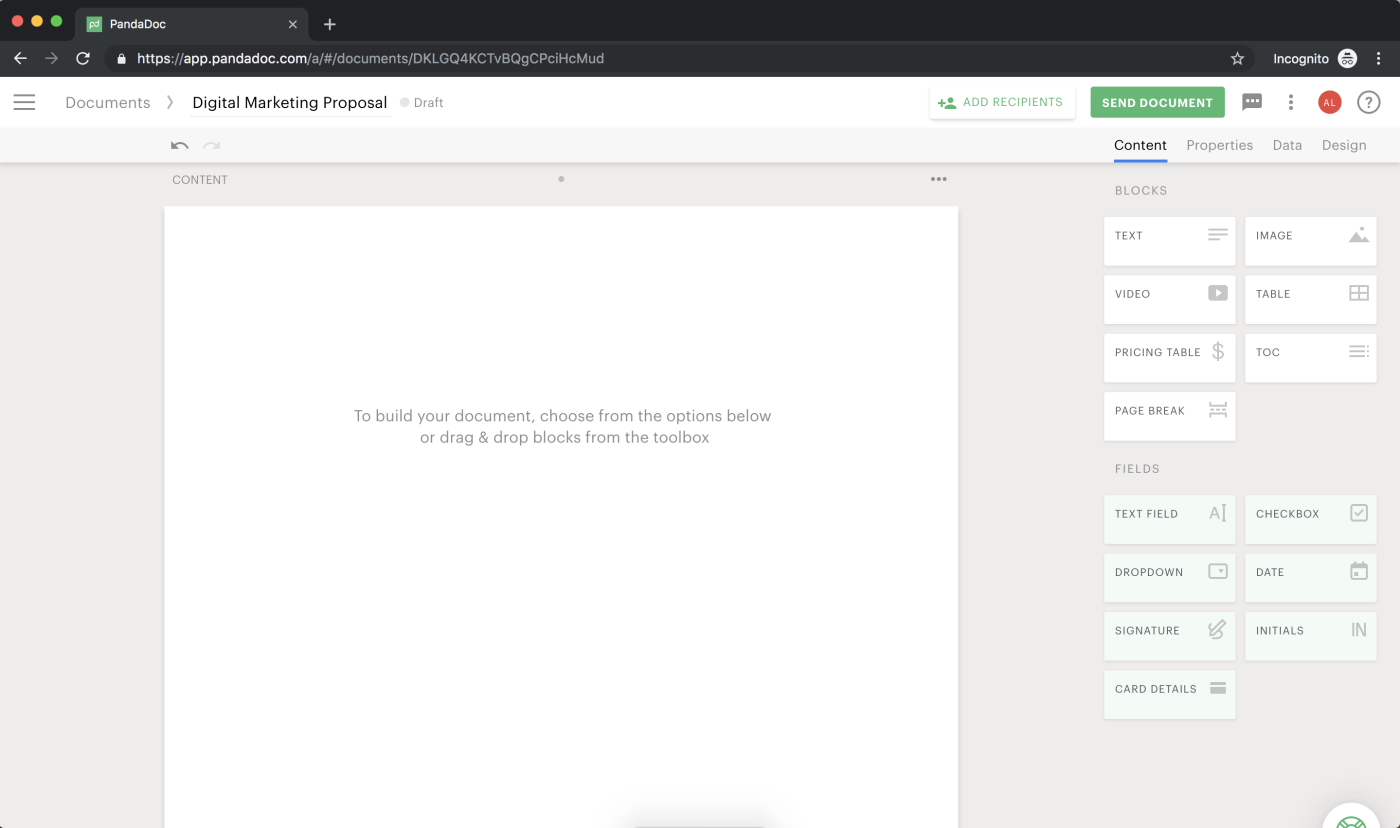 PandaDoc comes with proposal templates you can customize
PandaDoc premade proposal templates can help you get started quickly and easily. For your reference, here's a quick look at a proposal template created in PandaDoc:
Using one of the templates, let's look at how to create, modify, and send a proposal through your PandaDoc account.
1. Upload your proposal template
With PandaDoc, you can create new proposals using your own proposal template which can be uploaded via your user dashboard.
Having your own proposal template to use as a foundation for future proposals will save time and expedite your sales process.
Log in to your PandaDoc account to access the proposal template.
If you don't already have one, create a PandaDoc account.
Upload your own proposal template by clicking on the green Create button in the right-hand corner of your browser window.
Note: Alternatively, you can create your new proposal template directly within PandaDoc by starting with a blank document. This approach gives you the greatest ability to modify and interact with every element of your document.
2. Populate standardized text parameters with the appropriate information
PandaDoc helps save time for users by streamlining the process by which you change the dynamic details of your proposal, such as client name, company name, city, and any other detail that changes from client to client.
The PandaDoc proposal template features various yellow-highlighted text parameters – variables – that allow for quick data entry that is then standardized throughout the whole document.
With the PandaDoc proposal template loaded, click any yellow-highlighted text such as "[Sender.Company]" on page 2 of the document.
A box will pop up that allows you to enter any value, which will then auto-fill throughout the rest of the document.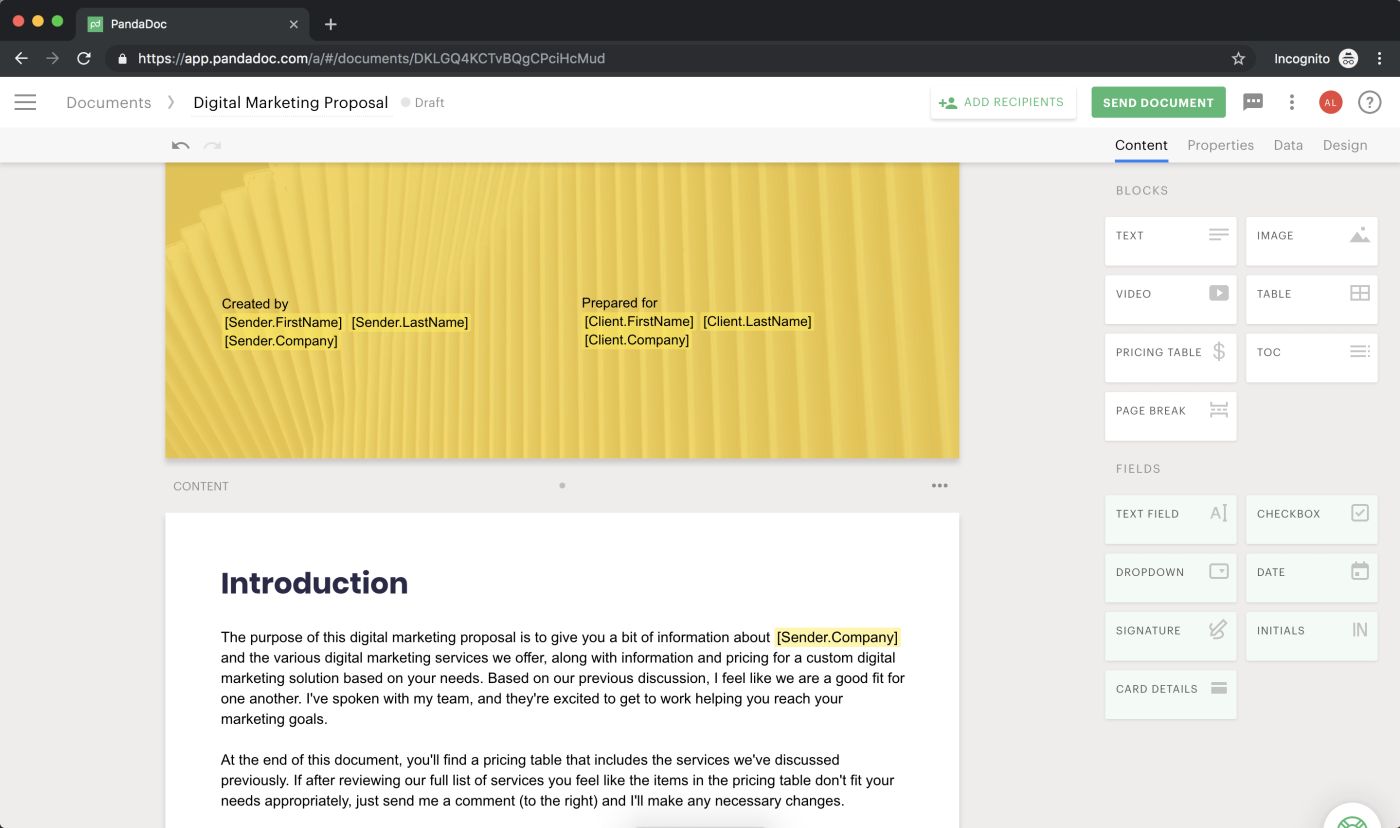 You can create these kinds of modifiable texts in your own template by following the format you see in the PandaDoc proposal template.
For instance, if you offer your clients pay-per-click online marketing services, you can include your PPC fee in your proposal by including a macro like "[PPC.rate]" that you can then auto-populate within PandaDoc.
3. Customize your proposal
To draft and submit better proposals, pay attention to the aesthetic of the proposal template you select; a beautiful and graphic proposal look and feel can help small businesses stand out against the competition.
In addition to tools that allow you to insert text fields and tables, you'll also find tools for inserting images and videos into your proposal template to give it more pop.
PandaDoc user tools include:
Blocks
Text
Image
Video
Table
Pricing table
Table of contents (TOC)
Page break
Fields
Text field
Checkbox
Dropdown
Date
Signature
Initials
Card details
Be sure to explore these tools to unleash PandaDoc to help you craft better proposals.
4. Fill in or assign any signatory fields on your proposal
PandaDoc gives you solutions that give you and your clients the ability to immediately utilize online signatures to sign proposals.
Each proposal recipient sees where they're supposed to sign documents by using the signature field block, allowing clients to sign proposals with a legally-binding electronic signature.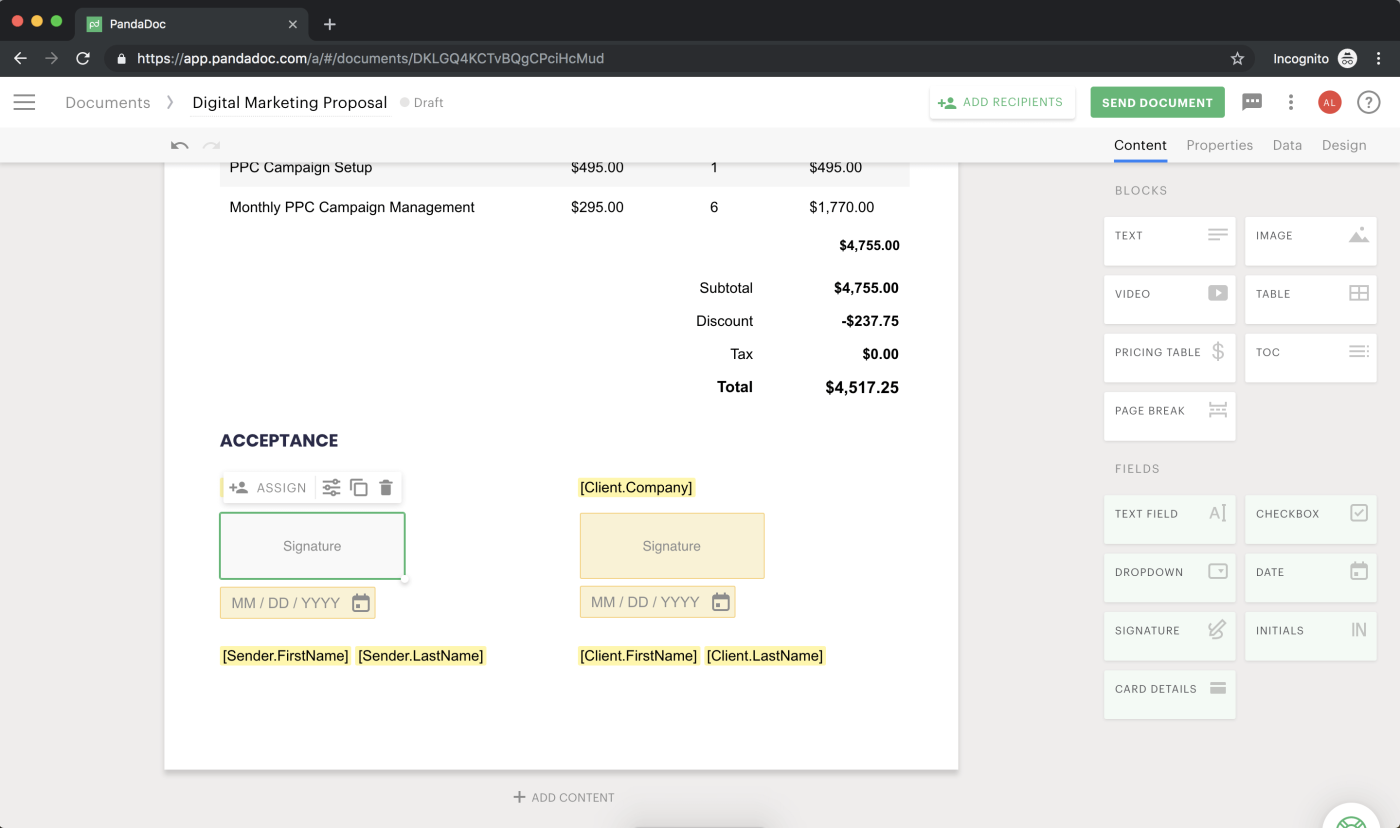 Affix your own electronic signature where appropriate by double-clicking in the signature box and entering your signature.
Click on any signature box you'd like to assign to a recipient and click the Assign button in the box that pops up.
Enter the email address of the recipient.
The recipient of your proposal will be directed to sign in the places where indicated.
5. Complete the document
Remember, this becomes a legally-binding document once signed by all parties, so it is vital that the document contains no errors.
Check for the accuracy of all information.
Click the green Send Document button on the right side of your browser window.
This will check the document for any incomplete or unassigned fields.
You're finished! Ready to create and sign a proposal and start getting new clients?
To draft your first proposal, create a PandaDoc account, then complete and sign your proposal online.
Need to eSign a 3rd-party proposal?
Sign in to your PandaDoc account, upload it to PandaDoc and legally sign. PandaDoc allows you to sign any document including .pdf, .doc, .ppt, .pptx files you need faster.