How to sign a lease online
Lease agreements are essential for rental property owners and apartment hunters alike, but requiring a physical signature to complete the lease signing process can add unnecessary pressure to the entire procedure.
Give would-be tenants the opportunity to sign your rental contract online with PandaDoc.
Streamline your move-in process
Between security deposits, state laws, and walk-throughs after previous tenants vacate the premises, signing a lease can be a challenging process for rental property owners.
Whether you're a management company or a family-owned operation, ensuring that the transition process is smooth for new renters is always a key priority.
Apartment hunting is no easier for would-be tenants, who need to make sure that their lease agreement is signed and that their first month's rent is ready to go before moving into their new home – all before they even get their security deposit back from their previous place of residence!
All of this makes pen-and-paper agreements tedious and frustrating for both parties, especially when new tenants are relocating from a different city or state without much notice.
PandaDoc helps you create rental agreements that provide clarity around your lease term along with clear next steps for renters who want to move into their new home as quickly as possible.
What should you include in your lease agreement?
If you've been working with rental properties for a while, you probably know that the lease needs to cover the major legal aspects of your move-in arrangement.
Often, these documents are created via an addendum or are added to the lease after the fact.
PandaDoc gives rental owners and property managers a way to redesign their entire lease in a flexible and customizable format.
If you're looking to spruce up your current lease agreement, here are a few items that you should be sure to include when creating a new rental contract for your property.
1. Specify your property details
This is a basic item that is sometimes overlooked by newer property owners. It's important that you specify all the details about the rental property itself.
This might include the name of the property, the company that owns it (if any), and the property address.
Because these specifications will carry throughout the whole of the contract and the lease term, it's important that the details are clear from the start.
2. Rent, deposits, and other payments
Signing a lease comes with an agreement to pay rent, fees, and deposits. Make sure that your lease includes information about these critical points.
Paying rent is the most straightforward of these costs, but you should also consider security deposits, when the first month's rent is due and whether it should be prorated based on the move-in date, and what penalties might be involved for lease termination.
Other requirements to consider might be minor things like door-opening or lockout fees, application fees to cover a credit check and application processing, and a notice of fees for damage or failure to meet mandatory leasing requirements such as obtaining renter's insurance.
3. Maintenance, utilities, and access
Before signing a lease, don't forget to ensure that occupants fully understand who pays for utilities, as well as who has access to the rental property and when that access should be used.
Some state laws dictate that maintenance visits must be scheduled, while other states give complete rights of way to the property manager and the maintenance staff.
Be sure to check your local laws for additional clarity.
4. Lease termination and move-out dates
Even when everything goes right, great tenants may be in a hurry to leave without much notice.
A job offer in a new location or a lifestyle change like a marriage or a pregnancy might necessitate an untimely vacancy.
Be sure that your rental agreement covers early lease termination and any related fees, as well as when the last month's rent is due and when former tenants should expect to get their security deposit back.
Note: Keep in mind, that any document you use with PandaDoc to sign will follow the same steps!
Start using PandaDoc to sign a new lease agreement
1. Sign up for PandaDoc
In order to use PandaDoc for your lease signing and move-in process, you'll need to:
Sign up for an account.
Head over to the PandaDoc sign-up page and create an account.
If you're not sure whether PandaDoc will work for you, don't worry.
We offer a 14-day free trial upon signing up, so you'll have plenty of time to assess whether or not we're a good fit for your lease signing process.
2. Download our lease agreement template or upload your own
PandaDoc offers a lease template for new real estate managers or rental management companies who want to jumpstart their online signing process.
Our lease agreement template is pre-coded with custom variables to help you create rental agreements quickly.
We'll touch on how to build a template from your existing documentation below.
If you're already a property manager and you have a rental contract you already use, you can also upload the document directly to PandaDoc and modify it from within the app.
Click on the New Document tab in your PandaDoc dashboard and select Upload Document.
Select a file from your computer to upload.
If your lease agreement isn't stored locally, you can import it into PandaDoc using our native integrations.
PandaDoc supports direct imports from Google Drive, Dropbox, Box, and Microsoft OneDrive.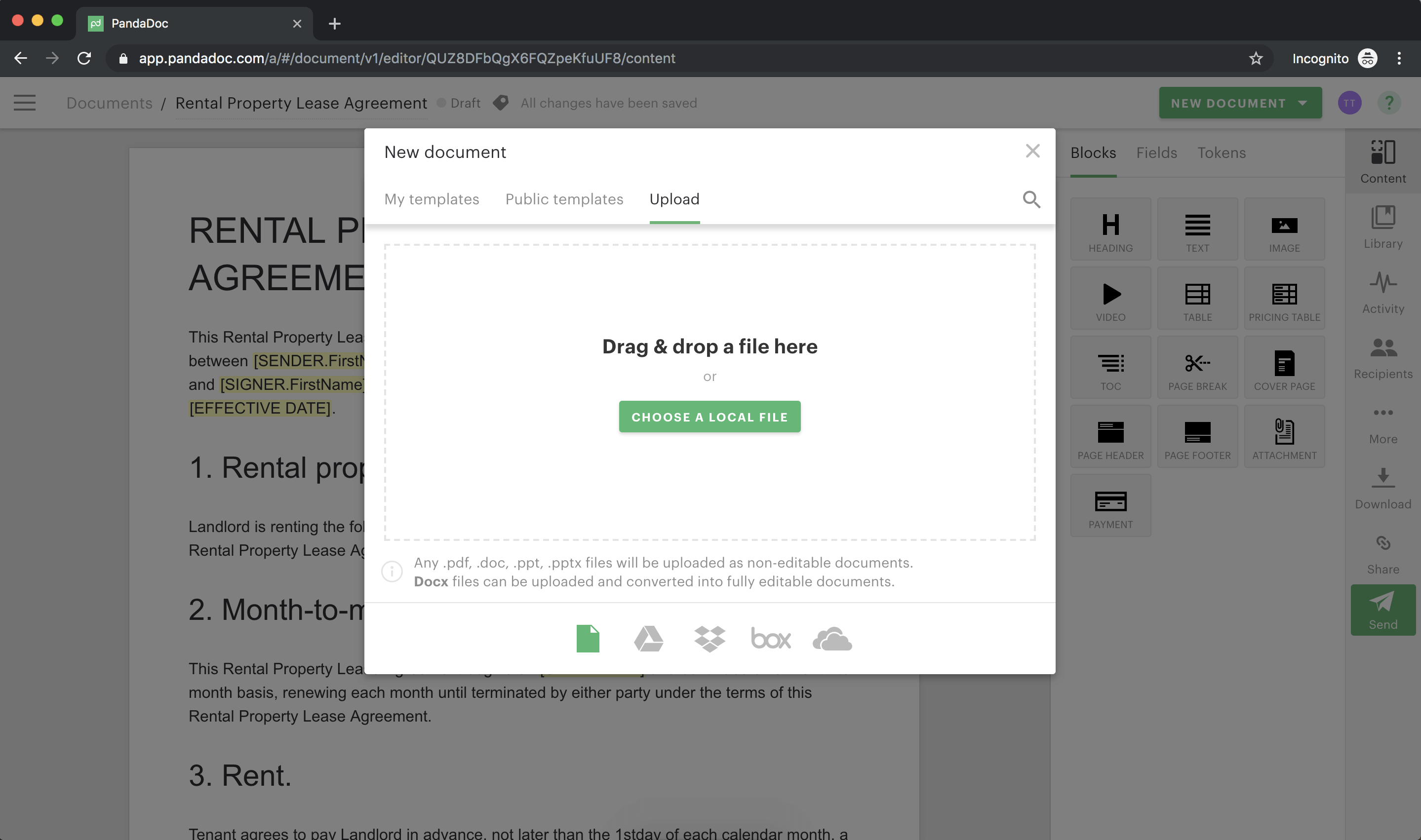 Before importing, pay special attention to the document file type.
Some document types (.pdf, .doc, .ppt, .pptx) will be uploaded as non-editable documents while .docx files will be uploaded and converted to full-editable formats.
3. Review your interface and editing tools
Once the document is uploaded, it's time to look at tools. PandaDoc uses a drag and drop interface to make document customization quick and easy.
Find your rental agreement is positioned on the left side of the screen and the tool navigation sidebar is on the right.
Select a tool, by dragging it from the right sidebar onto the document and edit it from there.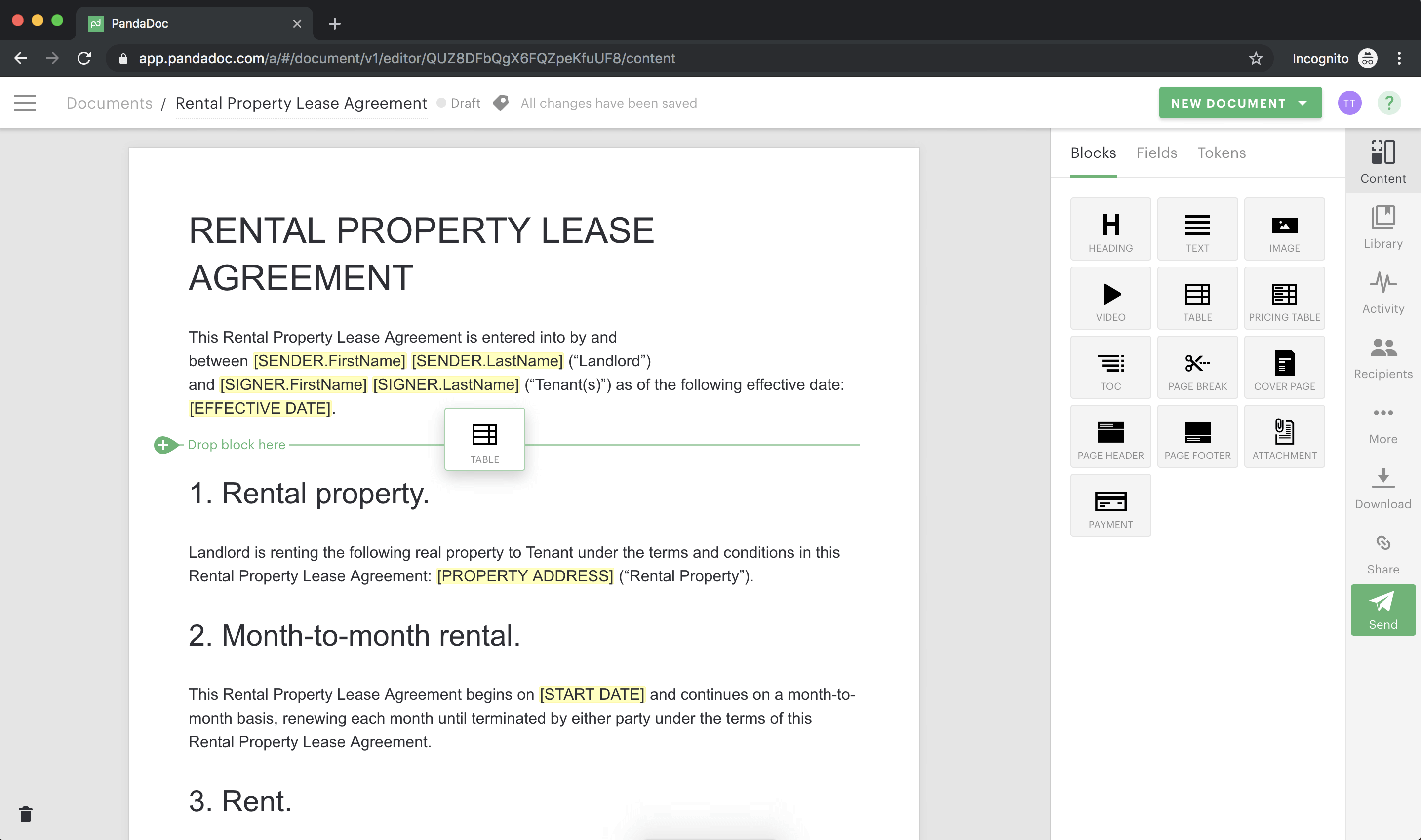 Using PandaDoc editing tools, it's easy to specify the finer points of your rental agreement.
You can designate lease terms, specify monthly rent, or discuss what happens after the lease ends all within a single, customizable document.
If you uploaded a non-editable document type (.pdf, .doc, .ppt, .pptx), you may not have access to all of the native PandaDoc tools and your customization options will look different.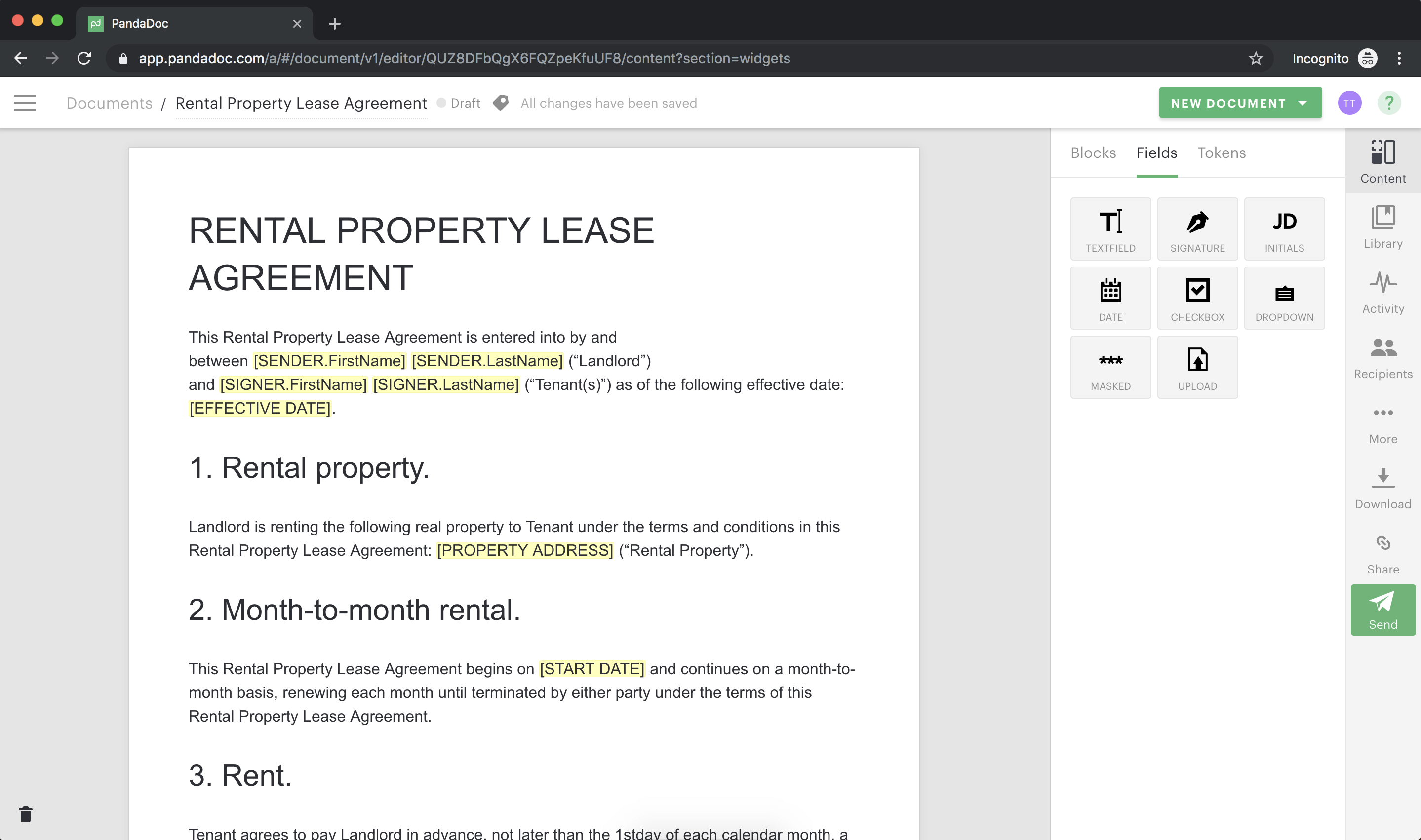 Tools for non-editable documents are called Fields.
This assortment of menus, checklists, and signing boxes can be placed anywhere on your document, including over your existing text.
They can be used on any document (editable or non-editable) and contain essential functions, like signatures and initials, which are important when signing a lease.
Many users who import non-editable documents eventually work to convert those documents to fully editable and customizable formats within PandaDoc.
Let's take a look at some of the native editing and customization tools that PandaDoc offers.
Headings and text blocks to create your lease
Using Headings and Text Blocks, it's possible to create an entire rental contract with all terms neatly arranged and clearly specified.
Drag a heading or text block onto the field, the block will expand to cover the full width of the page.
Place your text under the appropriate headings and use the drag-and-drop functionality to arrange your document in a logical and easy-to-follow format.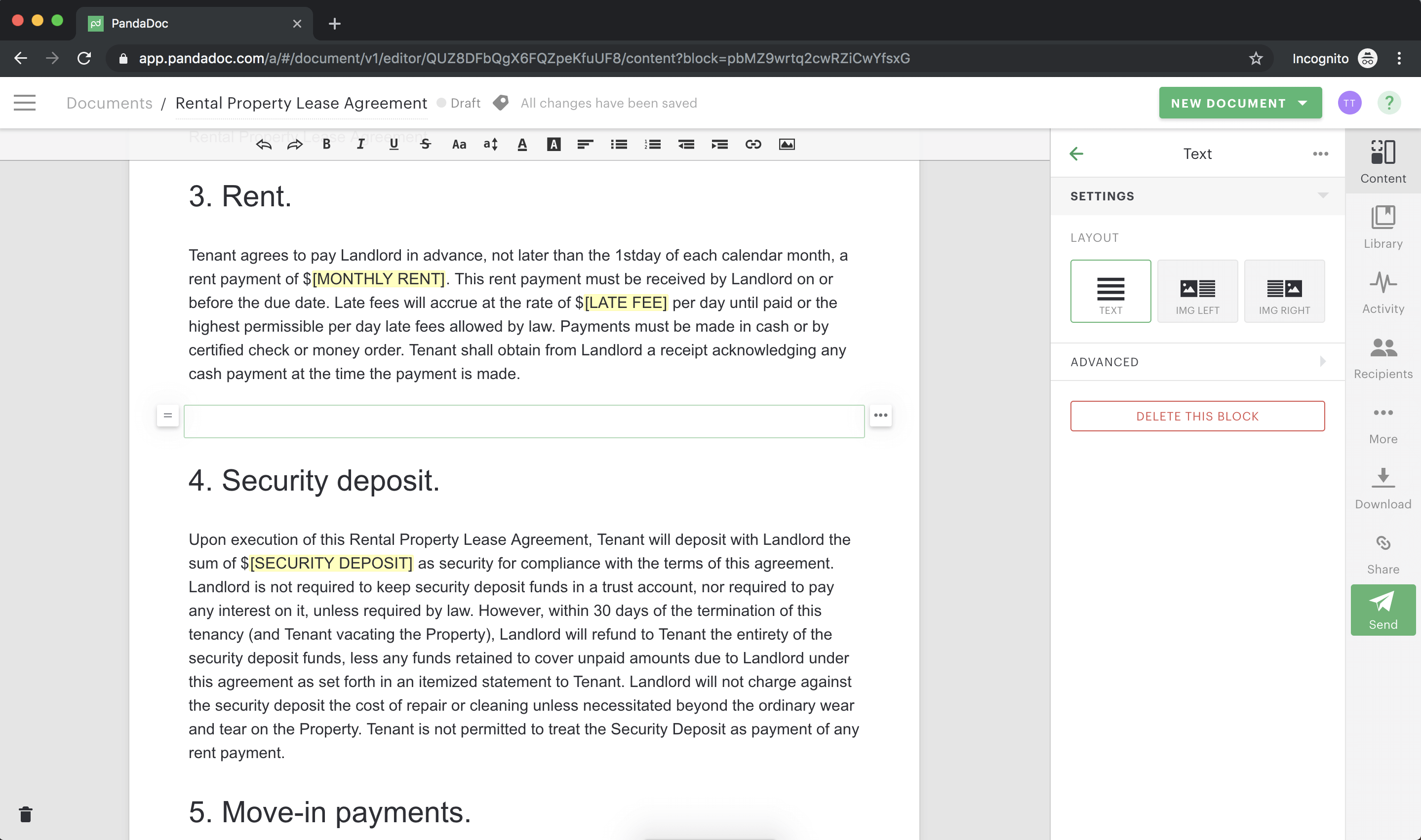 Use tables to build rent payment schedules
While many rental property owners collect the monthly rent on the first of the month, your payment schedule may be different.
Use the Tables function to clearly define when the month's rent is due before signing a lease. You can even designate late fees in a separate column.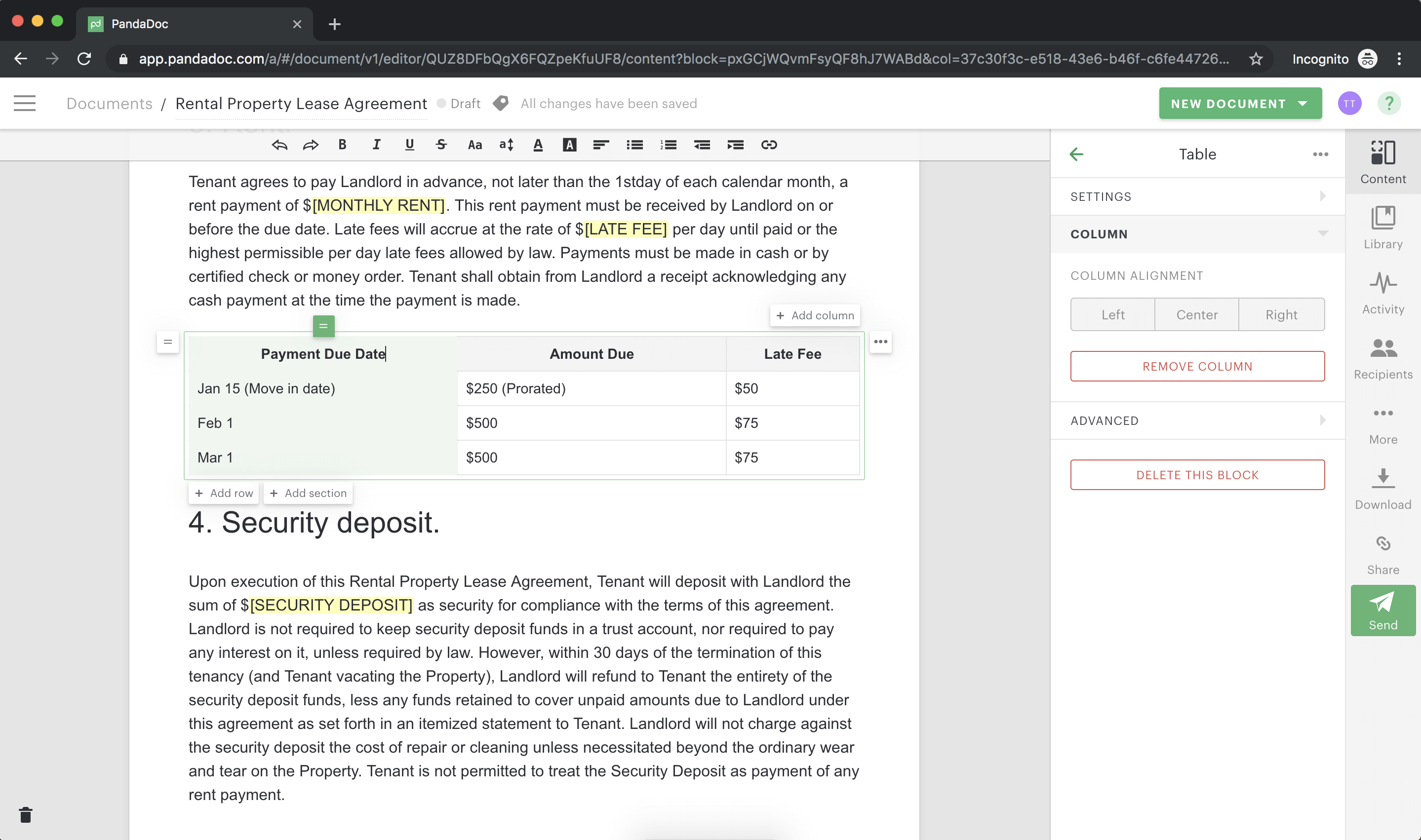 Attach move-in and final walk-through checklists
Often used to protect both the management company and the new tenant, move-in and walk-through checklists give both parties the opportunity to assess and agree upon the state of the rental property before the new tenant moves in.
You can use the attachment function to upload and attach a secondary document to your lease agreement.
This gives you the ability to disclose any pre-built guides and checklists as part of the signing process, ensuring that all new tenants receive all standard documents when signing a lease.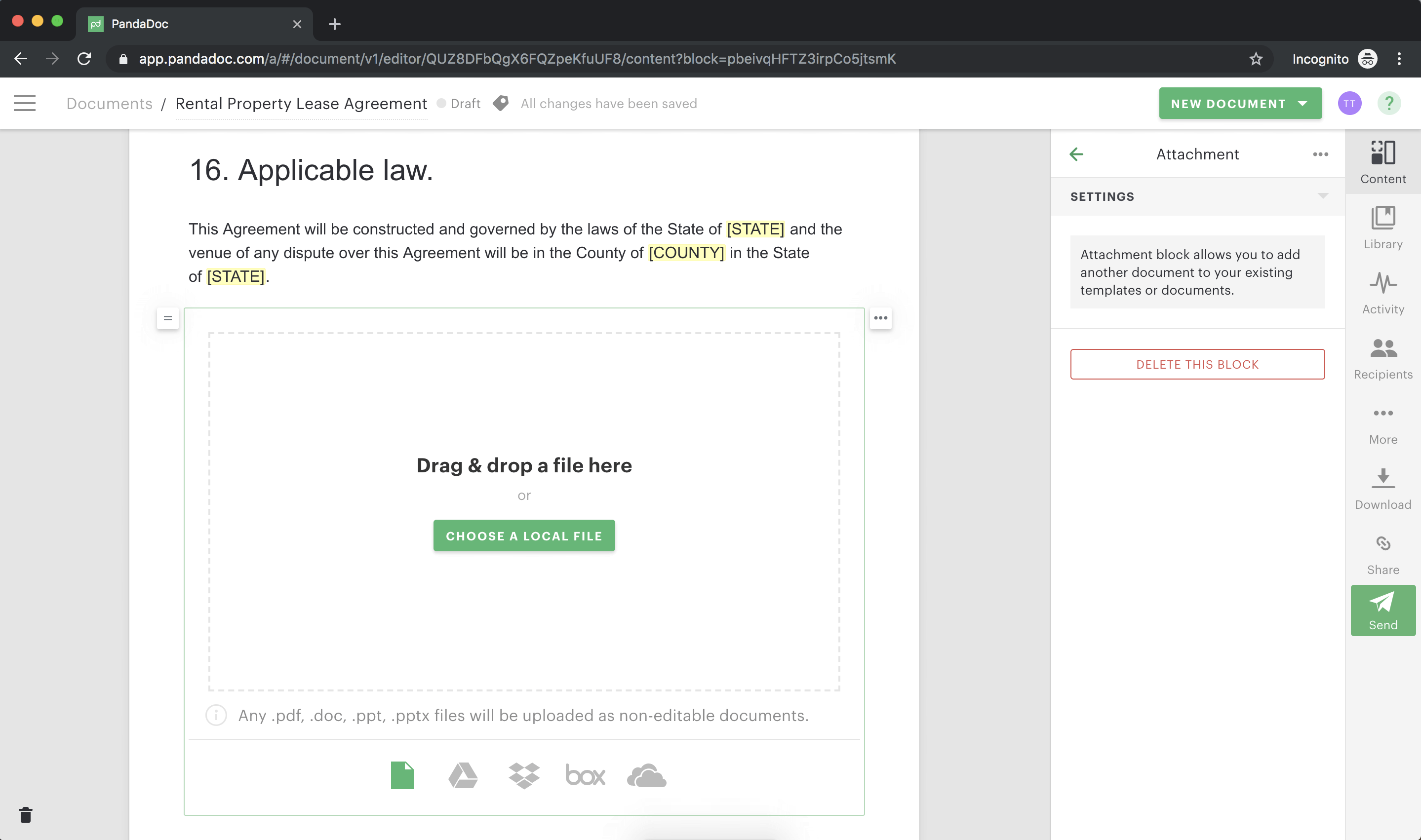 As before, you have the option to upload your files locally or from one of the native PandaDoc integrations. Follow the instructions on the screen to upload your document successfully.
4. Add signature fields to your lease
Once you've successfully uploaded and modified your leasing agreement, use the date and signature tools from the Fields menu to show signers where they should sign and date the lease agreement.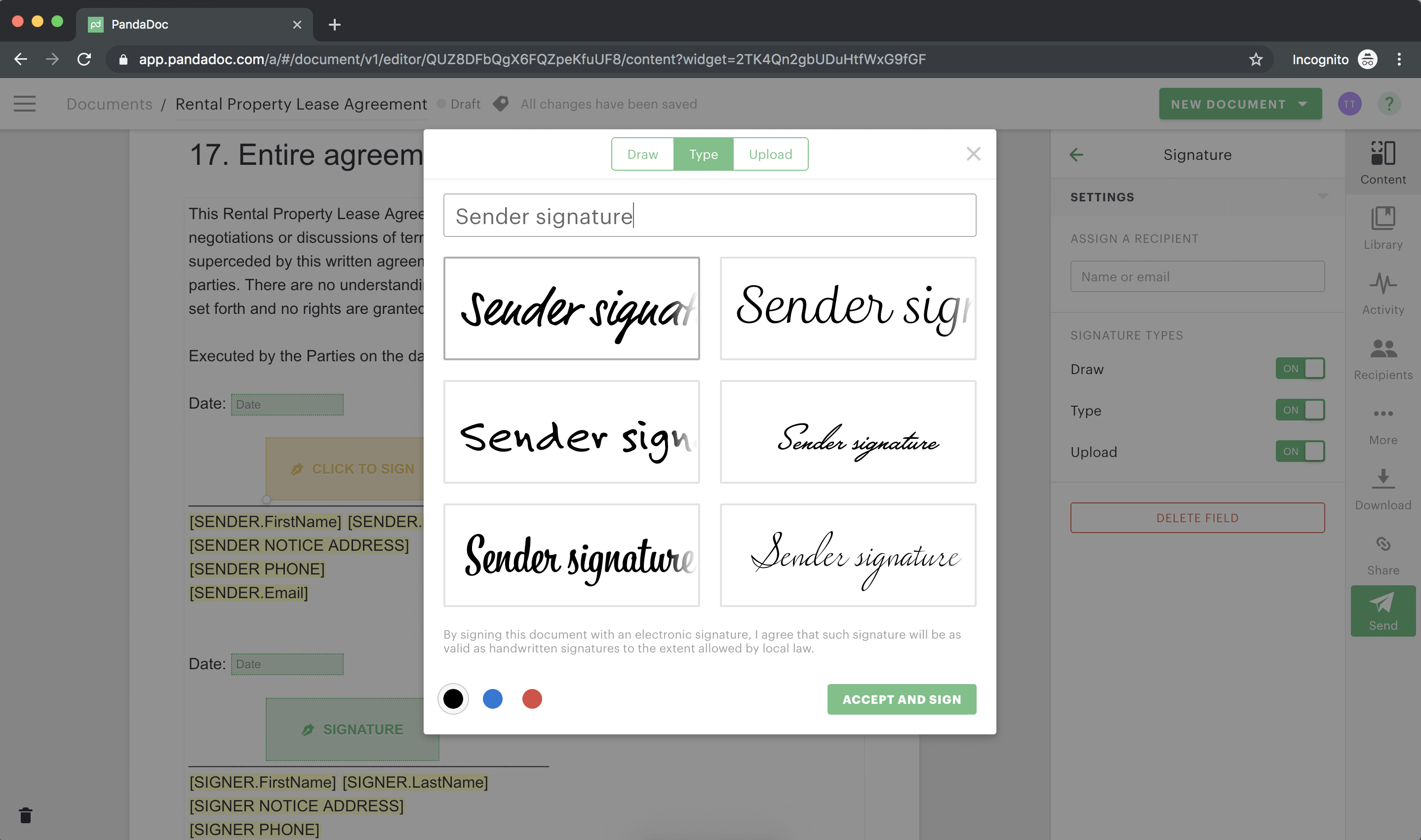 5. Add security deposit and first-month payment options (optional)
Collecting the first month's rent and security deposits is an essential part of signing a lease, but many companies collect this payment separately.
This forces bookkeepers and office administrators to keep track of unnecessary paperwork.
With PandaDoc, it's easy for signers to pay the first month's rent and their security deposit upon signing the lease.
By collecting these payments digitally upon signing, you'll have an electronic record of the transaction rather than a cash payment or a paper check, which can be easily misplaced.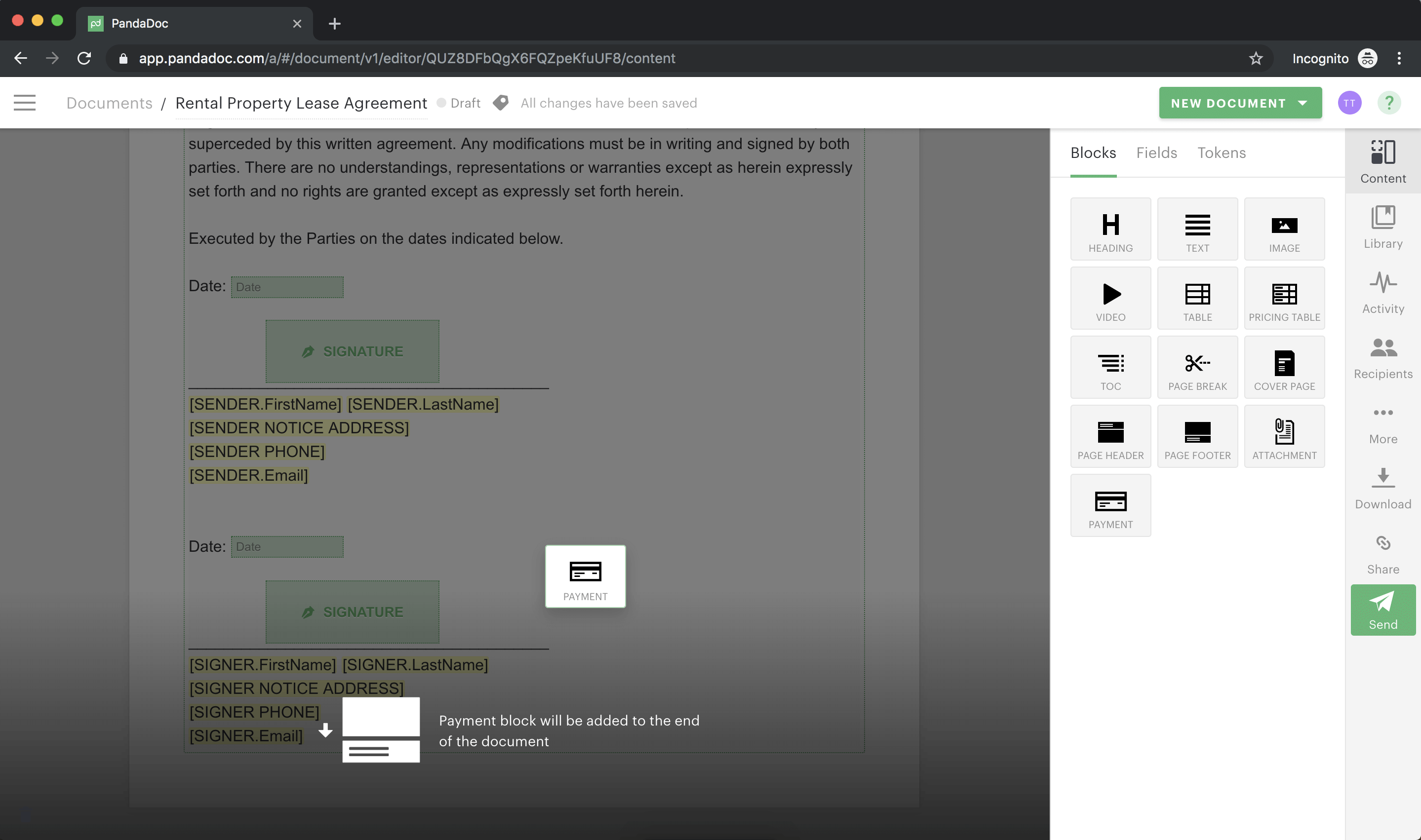 6. Sign your lease and send
PandaDoc gives signers variety when it's time to submit their signatures.
Signers can draw their signature, upload it, or use any of the preselected text options within PandaDoc.
7. Convert your lease agreement to a template using custom variables
Once you've added signatures and payment options to your contract, transforming your contract into a user-friendly template is quick and easy.
Convert your document to a template by clicking More, followed by Convert to the template.
Once your document is converted, quickly peruse the document and replace all non-standardized text (names, addresses, payment schedules, dates, etc.) with custom variables.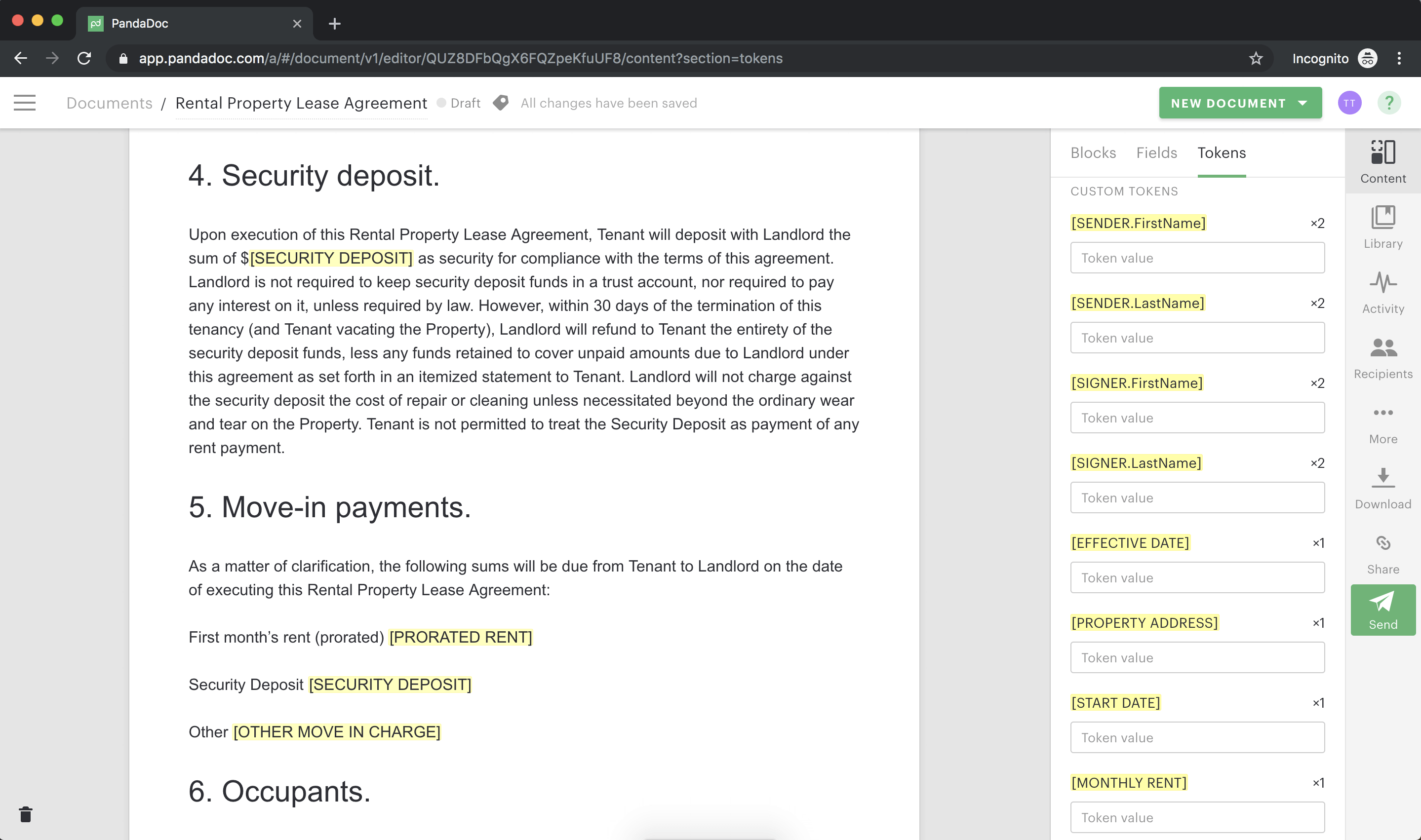 Generate rental contracts in seconds
The next time you create the document, you can use the Tokens tab to quickly fill in all relevant tenant information and generate contracts in seconds.