Create a more streamlined and efficient quoting process by removing bottlenecks and moving to an automated system.
Did you know that 89% of companies have better financial performance than their competitors because of their above-average customer service?

Excellent customer service begins at the point of the first touch, whether that is through your website, an in-person meeting, or through a request for a quote.
Unfortunately, the quoting process isn't smooth or efficient for many enterprises due to manual processes, not enough standard policies and procedures, and errors introduced as the quote is prepared.
Any touch point occurring during the quote process could taint the potential customer's view of your business if you get it wrong.
If your quoting procedure is inefficient, it is time you address this problem.
In this article, we will establish some common problems in quoting processes and helpful tips and solutions to overcome them.
What is the quoting process?
The quoting procedure is part of your sales funnel and involves submitting, approving, and accepting a tender.
For most companies, this process depends on their incoming channels and what specific information the potential client needs.
It also may contain entries for product specifications, such as inventory allocation and client location visits.
For example, the quote for a furniture product may not include the expense you incurred visiting the client's office, but one to fit a ventilation system may.
The specific steps of a quoting process are: acknowledgment of the quote request, creation and internal approval of the quote, the customer's acceptance, and the quote converted to an order or contract.
While these steps appear easy, problems can be introduced in a quote request response if more than one response is created due to manual processes.
Or, the approval workflow can also suffer from discrepancies, depending on the efficiency of your in-house quoting systems.
It also gets tricky when more than one task is part of the workflow or when your staff is demotivated, lacks focus, and fails to give their best effort.
As any good salesperson knows, having mistakes in your sales strategy and the quote process could create challenges and potentially cost you the business.
Below is a breakdown of the specific steps in the process and where some of the issues can be introduced.
How do you make a quote step by step?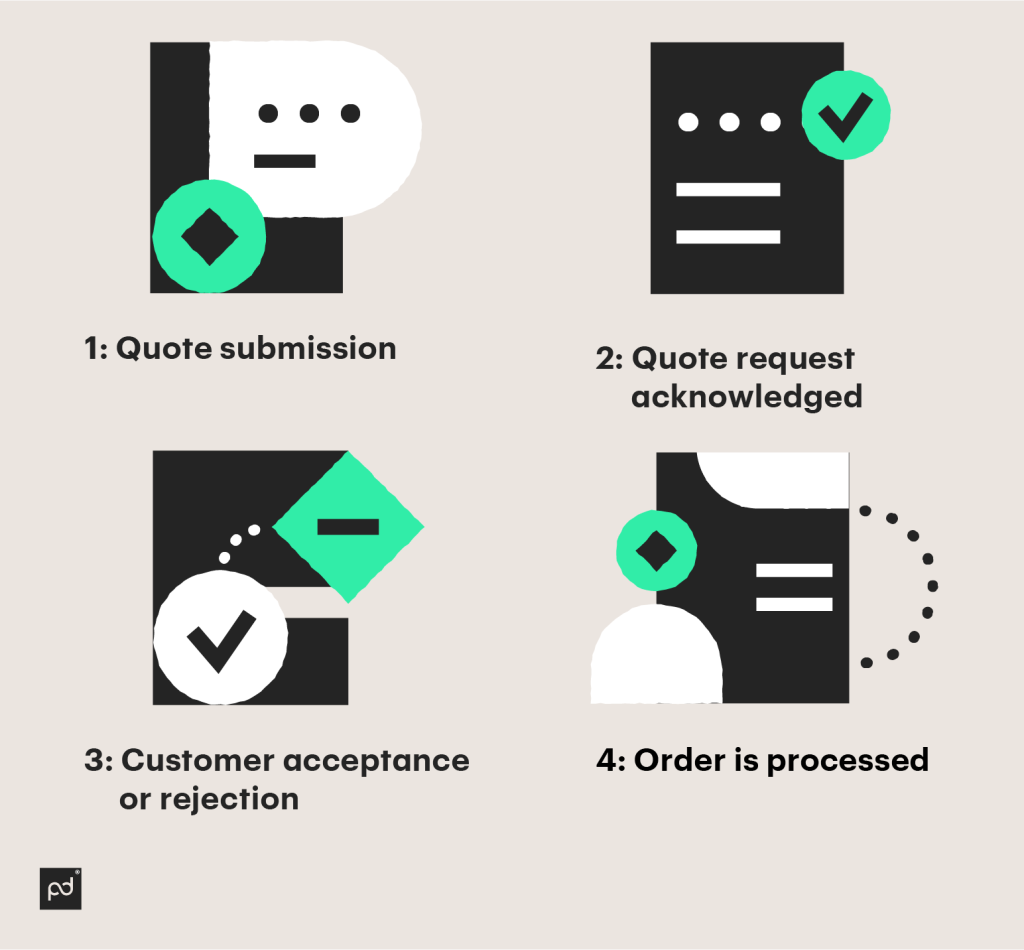 Every company operates differently, and your quote process may vary compared to your competitors.
But most organizations follow the basic steps mentioned below, and it all starts when specific clients request a quote from your team.
Step 1: Quote submission
Corporations often have forms on their websites through which consumers start the request process.
Some organizations have a Contact Us form where the visitors can feed in their details and a generic message to proceed with the request.
Others link a form to specific services or products with additional questions to help the sales team prepare effective quotes.
Others already have a relationship with the client, who then sends an email directly to your sales team.
While having a specific form with all the initial information included is the most efficient way to start the process, not all companies are able to do this.
It is therefore important to follow up with the potential customer (Step 2) as soon as possible to get that missing information before the request enters the pipeline.
This is the first point where manual processes can introduce errors.
If the Contact Us form is too basic and no one follows up in a timely manner, you could lose a potential client as they move on to your competitor.
If, however, you are successful in responding promptly, but the information from the client is incorrectly gathered, this can lead to two potential problems.
First, bad or incorrect information can follow the quote request throughout the funnel, and second, multiple follow-up emails to fix the errors give the client a bad first impression of your ability to pay attention to the details.
Step 2: Quote request acknowledged
After the customer sends a request, the inquiry is received by a staff member to acknowledge it. If the client is a valuable player in the industry, their request may receive priority.
However, typically the request is placed into the queue to be tackled in the order in which they were received.
With a manual queue process, additional problems can be introduced besides getting incorrect information from the client (see Step 1), since there is no real-time tracking in place.
These include an assumption that the request is handled by someone else on the team, it isn't a priority and the request slips through the cracks as a higher priority request comes in, or more than two people begin work on a proposal without realizing that they might be performing duplicate work.
Step 3: Customer acceptance or rejection
The potential customer may accept or reject the quote according to their expectations.
This, in turn, can lead to negotiations. However, should there be delays, errors, or other confusion as to who is handling their quote, what the initial request was, or what negotiations had taken place, this could frustrate a potential client who may walk away from the deal.
Step 4: Order is processed
If they accept the original quote or the amended version, a contract is signed between you and your customer.
Your company earns the project or a sale and then works toward managing it.
If negotiations are bogged down due to inefficient processes, and amendments are not tracked or managed you're less likely to get to the stage of a signed contract.
To address this issue, not only is it recommended to introduce more automated systems, but also to have a good contract administrator to manage and move the process forward without any hitches.
8 common quoting process issues
Whether you send an offer for the first time or the hundredth time, the quoting procedure can be very time-consuming and stressful.
After all, winning a project or a client mainly depends on the type and quality of the tender you design.
However, common issues can disrupt this procedure and impact the results.
Outdated information
Most organizations use documents and spreadsheets to manage contracts, price lists, and related information.
However, this method is risky when other versions of the templates and forms are being used and circulated by team members.
It may also lead to quoting incorrect prices and lowering your profitability.
But thankfully, many cloud-based applications can help centralize this data, ensuring that all your team members have access to the current and updated information only.
Pricing (and other) errors
Decentralized data increases the chances of errors, mainly if divided among multiple channels.
These errors may include mistakes in data entry and price discrepancies that may become considerable hurdles in the quote process.
Most of these issues are a part of manual procedures and are often caused by human errors.
For example, suppose a team member forgets to update information or miscalculates an expense.
As a result, your client or partner might be over or under-charged. An under-charged tender may work well for the other party but might affect your profitability in the long run.
Alternatively, an overcharged offer may harm your relationship with your clientele, and your company may even be considered unprofessional.
Missed upsells and cross-sells
When you inundate your sales representatives with tasks, such as correcting quotes or getting updates on approvals, you take away the opportunity to maximize sales impact.
You also take away time they could be using to cross-sell or upsell to your existing customers.
Cross-selling and upselling your current client base can increase customer retention and drive more profits.
A study by Bain & Company found increasing customer retention rates by 5% increases profits by 25% to 95%.
When you factor in the time required to sell to a new customer versus an existing one, you can see why creating time for cross-selling and upselling is important.
Excessive discounting
Discounts are a great way to encourage customers to buy your products and services.
They encourage the creation of a long-term relationship with you, but excessive discounts could harm your profits in the long run.
This problem is pretty common, especially in companies where the representatives lack a proper system to perform correct calculations based on individual buyer profiles.
It also exists in organizations without central purchase, cost, and discount rules in place to guide their sales team in selecting the right price to quote.
Having a standard discount sheet that all employees reference when negotiating deals and putting together a quote response will address this potential problem.
Long quote processes
The quote process doesn't need to be long, but it also shouldn't be rushed.
You want a process that allows flexibility at all stages to create enough time to tackle any negotiations or challenges that arise while avoiding any basic mistakes or errors.
However, if the process is bogged down with too much back-and-forth communication, mistakes, or clarification requests, it creates a potential conflict in the client's expectations.
Once they are frustrated, it doesn't take long for them to walk away and find someone more efficient.
Ensuring that you track a particular client's quote is in the process and creating notifications or checks to confirm that it isn't stuck will go a long way to improve the efficiency and success of your sales funnel.
Using an automated system with built-in notifications is the most effective solution to this issue.
Lengthy information and spelling mistakes
It is always wise to design an offer highlighting your company's best points and showing your interest in the customer's company.
Your offer should be well-balanced, covering all your policies and demands, but also be brief.
You shouldn't oversell your expertise or reveal more than required.
Too much information on a quote takes attention away from the more important points you make in your quote. Clear, concise proposals are the most effective to seal the deal.
Simple grammatical and spelling errors give the other party a wrong impression of your operation and experience, especially when many organizations take automatic spellcheck for granted.
They give your tender an unprofessional feel and also have a detrimental effect on your business's reputation.
Additionally, the most common mistake in quotes is misspelled names. If you have written the contact person's name wrong, you may fail to sell and deliver a service or product to your buyers.
Therefore, it is imperative to avoid these common errors by proofreading the quotation twice before emailing it to a specific clientele.
Why manual processes cause problems for your sales teams
Manual processes can cause more than just issues with the quotes that are sent out, especially if the in-house system is complicated, requires multiple layers of approvals, and hinges on one or two key personnel in your organization.
They can cause bottlenecks and hurdles and impact your company's reputation and ability to close the deal.
These processes can:
Delay the reception of the quote. If the person who normally responds and traffic quote requests to the rest of the team are out, you may miss a day or more in responding to the request. This could then lengthen the time your team has to put together the quote, delay delivery of it, and cost you the business.
Cause backups in your quoting process. If your current system is complex and outdated, you may experience errors and bottlenecks throughout. Old systems lack streamlined processes, causing duplicate work, backups within the process, and incorrect information being shared with the client.
Delays and disruption to the other departments and systems in your enterprise. When a department fails to acknowledge processes on a timely basis, they also delay all other related procedures that depend on those processes. This not only impacts your quoting process but also prevents your staff from completing any other work outside of that process.
Cause human errors and delays: When an organization has too many people dealing with preparing quotes, human errors and delays are bound to happen. Similarly, if someone makes an error somewhere in the pipeline, the mistake could travel through the whole project without anyone realizing it.
Cause tracking issues: In order for your sales team to understand how the final quote or proposal came together, they need to see and understand all the changes that came before. Some of those notes could get deleted, not added, or be confusing as to which step happened and when.
It is tough to eradicate human errors in an outdated or complex system used to handle the everyday needs of a corporation or business.
And that is why you should exchange your manual quoting procedures for more efficient automated processes.
How do you quote a price to a client?
Since quotes have an essential role in building a strong bond between customers and organizations, it is imperative to curate one that can convert a potential customer into a sale.
Here are some beneficial tips for building an efficient and productive quoting process.
Understand customer needs
The best way to design a perfect quote is by evaluating customer needs and quoting them a price that can cover all costs.
Make sure you go through all the details of the services that the customer needs, product specifications, their budget, expected costs, and the deadline to come up with a quote that may tick all the right boxes for both parties.
Ensure that your quote adequately addresses the client's requested needs by being clear as to what solution fits best for their needs.
This includes keeping their priorities in mind when presenting the proposal so that you lead with your strongest solution.
Finally, don't overlook your profit expectations when designing an estimate.
After all, you need to consider your expenses to run an organization. Generate accurate data to achieve the best outcome.
Streamline the process
Your goal should be to accelerate your quote response time and free your team up to cross- or upsell your current clients.
An effective way to streamline the processes in your sales funnel is to review your standard documents, pricing, discounts, and other policies and modify them as required.
Ensure that the standards are consistent across all clients, industries, or market segments so that clients are quoted according to their projects and demands.
Further, if your entire process is based on manual operations, take measures to automate it. This helps track the progress of approvals and reviews, ensuring that every step goes smoothly.
Automated procedures, such as Zapier, also maintain the audit trail for any changes in the quotation activity.
Any changes after the negotiations are also automatically incorporated into the paperwork used in the quoting process.
By streamlining the approval process, you provide transparency to the other party, shorten the timeframe to turn a proposal around and instill confidence in the potential client as to how you do business.
Use collaborating tools for all teams to access
Collaborative tools help bring teams together and remove one major process introduced in a manual process: multiple versions of the same document floating around the company.
Combining communication and content in a single experience helps your employees be productive and waste less time looking at notes, emails, or other requested changes to the document.
Use automated contract systems
Once your quote is prepared and delivered to the client, you may receive feedback and request amendments before the contract is signed.
This contract is an official document and is an invitation to start and complete the project within the set time frame. It also means that the other party is obligated to pay your enterprise on the agreed dates.
However, not all customers pay on time, and that's where strong customer service matters.
Getting a payment is difficult, and all the related challenges should be discussed in designing and signing the contract.
Final thoughts
The quoting process is a standard funnel within any sales-focused business.
While it appears simple, there are multiple places to introduce errors into the process, especially if your business uses manual procedures.
If you create errors, delays, or fail to account for specific client needs, you may lose the deal you've spent time working to solidify, which is a lose/lose proposition for both parties.
Avoid that by streamlining your process, making fewer mistakes, receiving notifications of any amendments or changes, and ensuring you create the most efficient quote process by automating as much of it as you can with PandaDoc's all-in-one document management solution.
Start a free 14-day trial and see how much of a difference a little automation can make for your business.
Disclaimer
PandDoc is not a law firm, or a substitute for an attorney or law firm. This page is not intended to and does not provide legal advice. Should you have legal questions on the validity of e-signatures or digital signatures and the enforceability thereof, please consult with an attorney or law firm. Use of PandaDocs services are governed by our Terms of Use and Privacy Policy.