CPQ is short for "Configure, Price, Quote," and the term is typically used when referencing the sales process and quoting software.
When a lead asks for a quote from a business based on the list of services or products that the business sells, sales reps need to configure that quote, compile all pricing information, and quote the total cost of labor and goods to the lead.
But this process isn't as easy as it sounds.
In this article, we'll talk about every aspect of CPQ, why it matters, and what software tools you can use to streamline your sales process so that it scales with your business.
Let's jump in!
01. The CPQ process: an overview
The CPQ process is closely tied to the sales pipeline and the quote-to-cash cycle.
It can be broken down into three basic parts:
1. Configuration
While most industries offer a variety of solutions, many companies need something other than an out-of-the-box product.
During the quoting process, your sales reps may be asked to create product configurations that are customized to the customer's needs and can meet those demands.
And those customizations should be available to the customer. According to Deloitte, one in five customers are willing to pay a 20% premium for personalized products.
This is why configuration and flexibility are at the heart of so many pre-sales conversations. Potential customers are looking for the right product to suit their needs.
Often, they don't need to know about every single product offering you have or every single feature that might be available.
It's up to your salespeople to demystify the product and build a customized solution that creates the functionality customers need to get the job done.
2. Pricing
Many organizations can set up a basic feature selection to handle regular customer needs. From the back office, this is typically done using a pricing catalog.
It's even possible to create feature packages for products and services. Think of subscription services that offer a bronze, silver, and gold package.
Between those three tiers, many customers will find exactly what they need without a rep getting involved.
But that won't be a good solution for every customer. Configurable products will require customized pricing for leads that can't find their solution in one of those predefined categories.
PandaDoc offers a dedicated pricing module for this where you can add catalog items and input key information for those items (SKU, Product Name, Price, Description) for fast and easy access.
That way, adding products to the pricing table in the editor is fast and simple.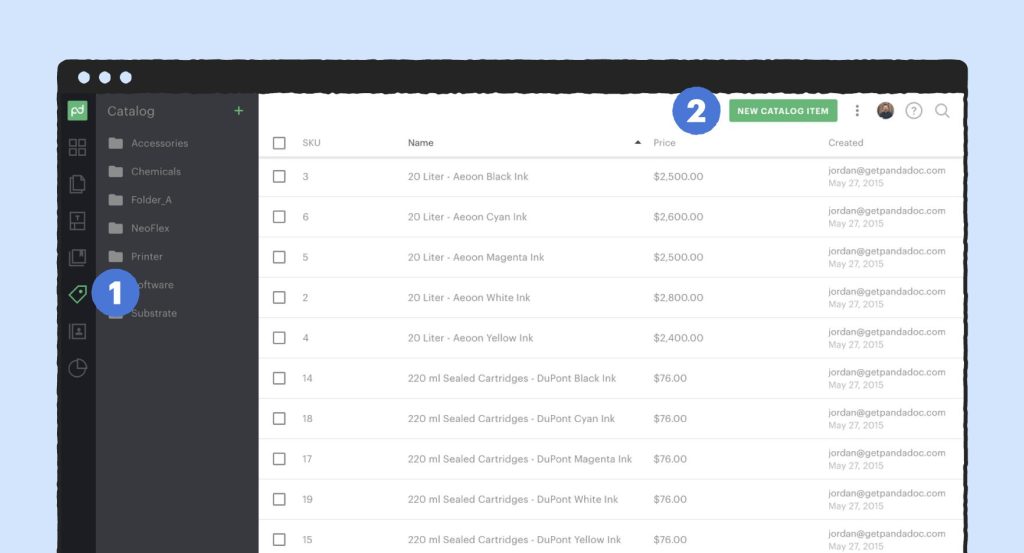 Sales reps need to be able to adapt to those customer needs, but this level of customization can prohibit any automation or standardized pricing solutions that your team might use when creating accurate sales quotes.
Reps will also need to be able to include discounts, swap in product features, and add upsells or concessions to the final total in order to generate accurate pricing.
3. Quotes
Once the pre-sales process is completed, reps need to compile all important information and send it out within a reasonable amount of time.
While it might seem simple, the quoting process can become very complex.
Because quoting complex products and services can be a heavily manual process, it's possible for reps to miss details or quote inaccurate numbers, leading to profit loss or a poor customer experience.
Quoting tools can help to eliminate those errors before they even start. Using the pricing catalog from the previous section, reps building quotes with PandaDoc would simply add pre-defined line items to the pricing table.
All of the pricing and related inventory would be added to the quote automatically.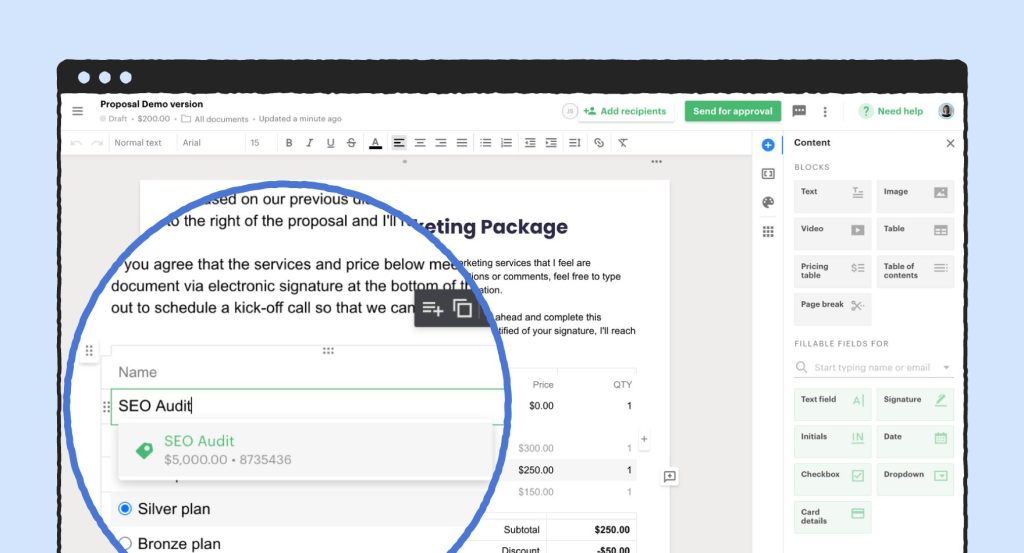 Regardless of how you choose to resolve input issues, quotes must be error-free and fall into compliance with all pricing rules before it goes to the customer.
Many companies have internal business processes to act as safeguards against these errors, including internal reviews and approval workflows that must be completed to confirm the document value.
Unfortunately, these processes take time and elongate the sales cycle, which can be a major disadvantage if you're operating in a competitive market where a competitor can take advantage of your slow response time.
02. Problems with sales growth
As businesses grow and products become more complex, sales teams see their workloads increase exponentially. When this happens, manual processes become much more difficult to scale.
Rather than spending their time selling, reps might be spending more time working with spreadsheets and sending emails rather than chasing new leads and closing deals.
These manual tasks also result in much longer sales processes, lost deals, an elongated pipeline.
If reps are spending too long to finish up one deal and you have a backlog of new leads or inbound contacts, those prospects may not wait long before browsing competitors for an equivalent product.
According to data from a McKinsey Global Institute report, salespeople often spend less than 40% of their time actually selling products.
A lack of data around the products that are actually being sold, what pricing concessions are being made, and which features or services that customers actually use also mean that your team will reach a bottleneck where it's difficult for growth to continue.
Solving problems with your CPQ process is one of the most effective ways to get back on track.
However, in order to do that, you'll need to find a CPQ solution that can help your team succeed.
03. Why use CPQ tools?
If manual processes are slowing down your sales process, CPQ software solutions can help your team get back on track.
CPQ software helps sales reps automate pricing and quote creation by making the configuration process more modular and streamlined.
Using the tools embedded in CPQ software, you'll be able to load your entire product database — as well as any common packages, combinations, or discounts — so that reps can create customized products quickly and easily.
If this sounds complicated, don't worry.
You've seen a CPQ system in action if you've ever been to a fast-food restaurant. Every component of the meal, including all toppings and side items, is loaded into the product catalog.
If the restaurant offers any kind of combo or deal, those packages are preloaded into the database.
When you place your order, the cashier simply inputs what you want into the system, which sends it back to the kitchen for preparation.
If you need to hold a condiment or add a topping, they can make that change at a modular level. The pricing adjusts itself automatically.
Of course, placing a restaurant order is a very basic example of how CPQ software can help your process. However, that flexibility and the ability to create customized orders quickly are at the heart of the CPQ process.
04. Benefits of CPQ software
So far, we've talked about the CPQ process and how CPQ tools can help you create a more optimized and customer-centric sales process, but the benefits don't stop there.
As a sales tool, CPQ systems can have a major impact on rep workflow and customer relationship management.
A properly configured CPQ software tool can deliver the following benefits:
Streamlined proposal generation
More accurate quotes
Increased close rates
Opportunities to add additional revenue streams
Improved lead conversion
Faster sales cycles
Access to real-time sales data
Accelerated onboarding for new reps
Better pipeline management
Improved forecast accuracy
At PandaDoc, our customers see incredible results in document creation time, close rate, and the number of documents that reps complete in a month.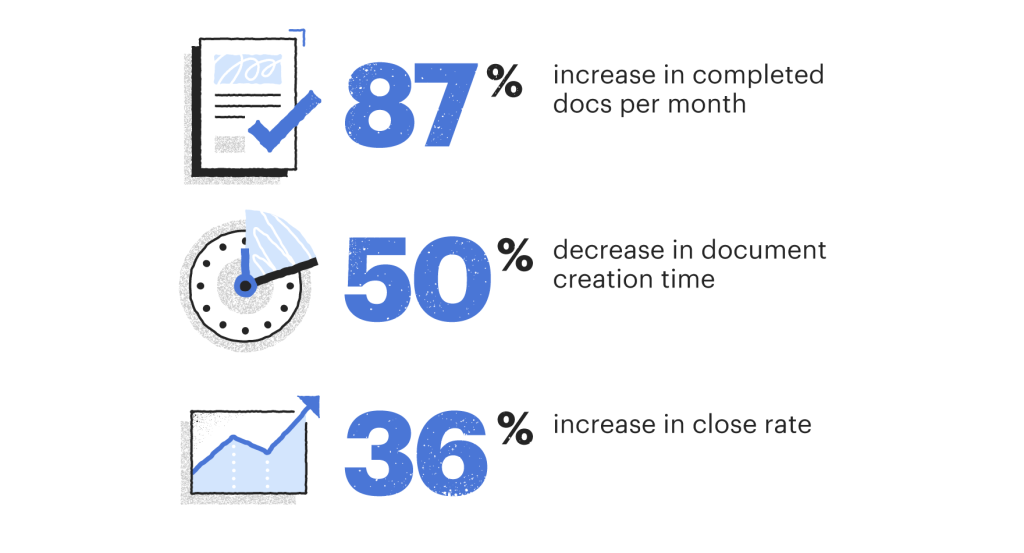 Added to those benefits, CPQ tools typically provide data surrounding what products are selling and how often, you can use them to determine which configurable product combinations align with customer demand and keep them in the back office or stockroom.
05. Implementing CPQ
Now that we've talked about the CPQ process and CPQ software solutions, let's cover when to implement these tools into your standard workflow and what you need to consider when taking that next step.
Step 1. When to implement CPQ software
There are a few reasons that you might want to implement CPQ software within your organization:
You need to standardize your pricing policy
Your reps are bogged down by manual sales processes
You're losing money because of a slow quote process
Your quotes are confusing or inaccurate
Your team is missing renewal and upsell opportunities
When companies make changes to lists of products and services, they often face issues with price control.
In small businesses, where prices are often memorized or no set price is given at a modular level for specific items or features, making a change to pricing models can throw the entire sales process off the rails.
Likewise, reps often need to keep track of previously signed deals and identify opportunities to bundle and upsell product solutions.
If your team is regularly missing those opportunities, it's entirely possible that the team is leaving money on the table and simultaneously leaving customers underequipped to properly solve their own issues.
CPQ software helps you offset and eliminate these challenges by giving you the tools necessary to systematize your entire CPQ process.
Here's what that looks like with PandaDoc:
The team administrator sets up dedicated line items through the product catalog, creates pre-defined templates for all necessary sales docs (invoices, quotes, contracts, etc.), and sets up any required approval workflows that the business needs to ensure quality and control.
Reps work with leads and sell company products and services. When a deal materializes, your sales teams have all of the digital tools they need to create essential documents and close deals quickly.
Once deals enter the document pipeline, PandaDoc document analytics and workflows keep the document on track until it reaches completion.
In this way, software tools like PandaDoc quickly become the right choice to handle major performance issues and expedite sales cycles. As a result, your team saves time, delivers more accurate pricing data, and increases sales.
Step 2. CPQ solutions & your tech stack
Any CPQ software that you consider may need to coexist with other digital tools that you use to drive business.
If you have an ERP system or a CRM platform, finding a CPQ solution that aligns with those other apps and systems can help you get a more holistic view of your customer and their needs. From there, you can locate optimization opportunities and continue to refine your product offering.
The ability to integrate with your tech stack will vary based on the tools you use and their in-built functionality.
Some CPQ solutions may be more focused on being an all-in-one tool that captures all customer data while tools like PandaDoc can offer native integrations for popular CRM and accounting platforms.
Many modern CPQ solutions can also integrate with e-commerce platforms so that reps can even work with customers to build offsite product configurations at the right price.
Step 3. Standardizing your sales process
Before implementing a CPQ solution with your tech stack and your sales team, keep in mind that you'll need to take steps to create a modular sales solution that makes sense for your entire organization.
CPQ tools won't help you if you don't know what products you want to sell or how to price them. If you fail to add key products into the system, reps won't be able to add them to their quotes without using manual processes.
Outside of your standard inventory, you'll also have to factor for "intangible" items like product/service discounts and freebies so that they can be added to quotes and pricing in a simple and logical way.
You might also want to consider when and how these tools can be used on quotes and provide the appropriate training opportunities to anyone with access to them.
06. CPQ software tools
While CPQ tools can be powerful game-changers for businesses of any size, finding the best one for your business can be a little tricky.
There are dozens of great CPQ platforms to pick from. Here's a quick overview of the best ones on the market today.
PandaDoc CPQ
PandaDoc will make your sales workflow easier and smarter. It integrates with all major CRM platforms. The tool merges customer and product data from your CRM. In seconds, reps can generate quotes for new orders.
This tool will notify teams to start fulfillment once a quote is accepted and the signing process is complete.
With PandaDoc CPQ, the sales team won't have to worry about pricing errors. It simplifies quoting with the help of responsive pricing tables.
The software also features other tools, like electronic signatures and payment gateways so that you can create legally binding documents and collect payments with ease.
PandaDoc also provides you with document analytics. Our dashboard provides additional info about your sales team, as well as individual reps, so that you'll have greater insight into how everyone performs. You can choose how to track sales quotes and trends as well as build forecasts.
Whether you're looking for an all-in-one solution or a modular addition to your existing tech stack, PandaDoc is the perfect starting point.
Check out everything that PandaDoc has to offer by signing up for a free 14-day trial.
PandaDoc CPQ vs. Salesforce CPQ
If you are looking for a robust alternative to Salesforce CPQ, PandaDoc will meet your requirements.
Using PandaDoc, you can continue working directly in Salesforce CRM even when switching your CPQ and billing processes away from the Salesforce platform.
With the functionality that PandaDoc provides, you'll get a robust system that also includes payment processing, electronic signature capture, form generation, and much more.
These tools can help you streamline document generation so that reps will save time when creating, sending, and signing your quotes.
Plus, because you're still connected to Salesforce, you'll still be able to populate quotes using your existing CRM data
Similarly, all products and pricing in your onboard product catalog will automatically sync directly from Salesforce (or other CRMs).
In PandaDoc, you'll simply customize the look and feel of your pricing tables, then add any optional items or special offers to complete the quoting process.
With the PandaDoc document builder, it's easier than ever to create documents using the Salesforce platform.
Add your personal content, contact data, and other relevant information to PandaDoc and use it to create your own custom templates and compelling documents in a matter of minutes.
QuoteWerks vs. PandaDoc
PandaDoc is a formidable alternative to QuoteWerks, offering a user-friendly, drag and drop interface along with powerful design and layout tools.
Overall, PandaDoc handles quoting and the CPQ process differently than QuoteWerks. QuoteWerks uses a sales wizard to guide reps through the quoting process.
Users select the products and packages they need, and the software generates a quote based on the product selection.
PandaDoc offers greater flexibility through its interface, including more design control over the look and feel of the document and a more robust set of collaboration tools to help your team close deals even faster.
Plus, because QuoteWerks relies on modular pricing and costly training fees to bring users on board, it may be difficult to build the package you need to get the job done.
For most PandaDoc users, the Business or Enterprise plans are the best paths forward, and our team is always happy to help you select the best plan for your organization.
PandaDoc vs. Zuora
Zuora is a great option if you're a subscription-only business looking to scale your revenue by offering a battery of new subscription services to customers.
But if your sales team is a little more hands-on or you prefer to drive relationship revenue through custom pricing rather than turnkey subscription plans, PandaDoc might be a better fit.
Zuora aims to be an all-in-one solution for its users, but that comes with some limitations if you plan to use an integrated tech stack to keep track of customers or handle billing through your preferred service providers.
This can be difficult to accomplish with Zuora, which uses a four-part software platform and onboard artificial intelligence to keep everything connected.
Summing up
With PandaDoc, you'll find integrations to most major CRMs, as well as key payment gateways like Stripe, Square, and PayPal, but the tool is more modular and easier to integrate.
On top of that, PandaDoc is one of the most well-known eSignature solutions on the market today, so you can close deals with signatures and payment in record time.
With PandaDoc, you'll get quality, flexibility, and legally binding e-signatures all at an affordable price that scales with your business operations.
Frequently asked questions
While you'll find a multitude of CPQ tools on the market today, each one is just a little different in terms of interface and functionality.

Some tools, like PandaDoc, use onboard document editors and templating options for fast and easy quoting. Other tools, like Quotewerks, relies heavily on the power of a product database or takes the user through a guided selection workflow before generating a quote at the end of the process.

Both are viable options, but it all comes down to what works best for your team.

While CPQ can help you improve your sales workflow and quoting process, it won't be able to help if you lack an understanding of what products you want to sell and how they need to be configured to best serve your customers.

As with all automation tools, CPQ software can help you build a reliable system that you can use to create standardized pricing and keep everyone on the same page.  It can even gather data for you so that you understand what your reps are selling and how often.

If your reps aren't recommending the right products or lack the training to cross-sell or upsell solutions that make sense for the customer, CPQ software is unlikely to resolve your issues.

For the most part, yes. Most configure-price-quote software is industry agnostic.

For most CPQ tools, it won't matter what products or services you add to the database. The tools and functionality of the software tool will work the same for every business and in nearly every scenario.

Yes and no. Your CPQ software will help you generate a quote, but not every CPQ tool will help you collect payments.

Some CPQ tools, like PandaDoc, come equipped with a payment gateway so that you can quote and bill at the same time.

On the other hand, Salesforce CPQ relies on Salesforce Billing — a completely separate module within the Salesforce platform — to handle payments and invoicing.

Depending on your CRM or ERP system and other solutions in your tech stack, you may need to narrow your search to CPQ systems that include payment gateways if you currently lack that functionality.

In a nutshell, customer relationship management (CRM) software handles customer profiles and keeps track of any customer orders and correspondence.  It's basically a record of your relationship with a potential customer.

CPQ systems help you build and quote orders for customers that exist within your CRM database.  If you're using a CRM, CPQ works alongside this tool to help you create accurately priced quotes for your customers.  The CRM can then hold a record of those quotes, along with the customer's purchase history, so that you can refer back to it later.

If you don't already use a CRM platform, some CPQ tools may provide support.  PandaDoc offers an onboard CRM that works natively with the CPQ model to streamline signing and sending, but it lacks the robust functionality of a dedicated CRM like Salesforce or Insightly.